Jujutsu Kaisen x SYUNSOKU Sneaker Collaboration Announced For Summer Release
Chugai Mining Co., Ltd. has announced the release of a new sneaker collection by SYUNSOKU in collaboration with the anime series Jujutsu Kaisen which will drop this August.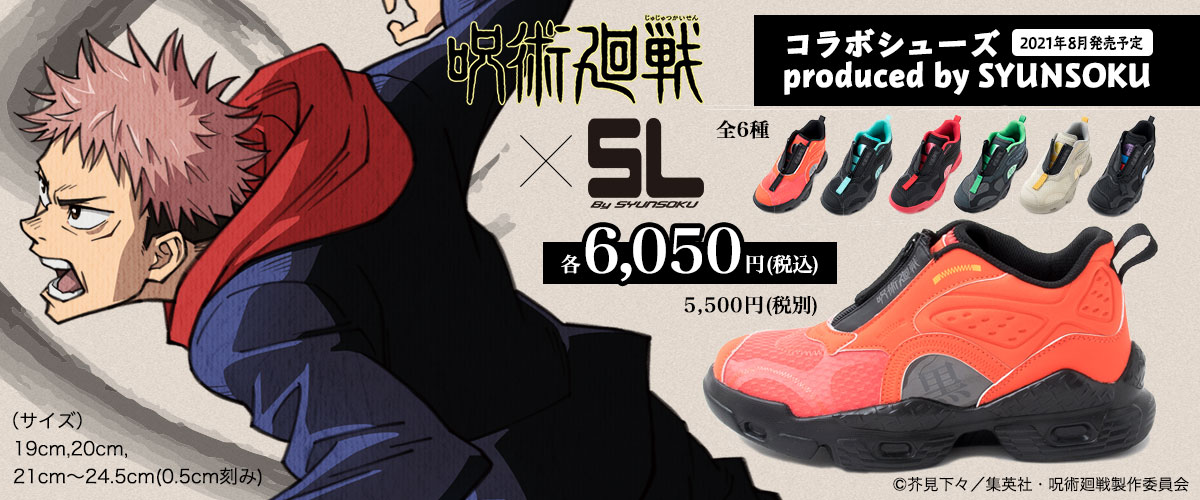 Jujutsu Kaisen Collab Shoes Produced by SYUNSOKU | ¥6,050 Each (Tax Included)
The collection is made up of SYUNSHOKU's simple and stylish SL by SYUNSOKU series of sneakers in six original colour combinations inspired by Jujutsu Kaisen.
The Line-Up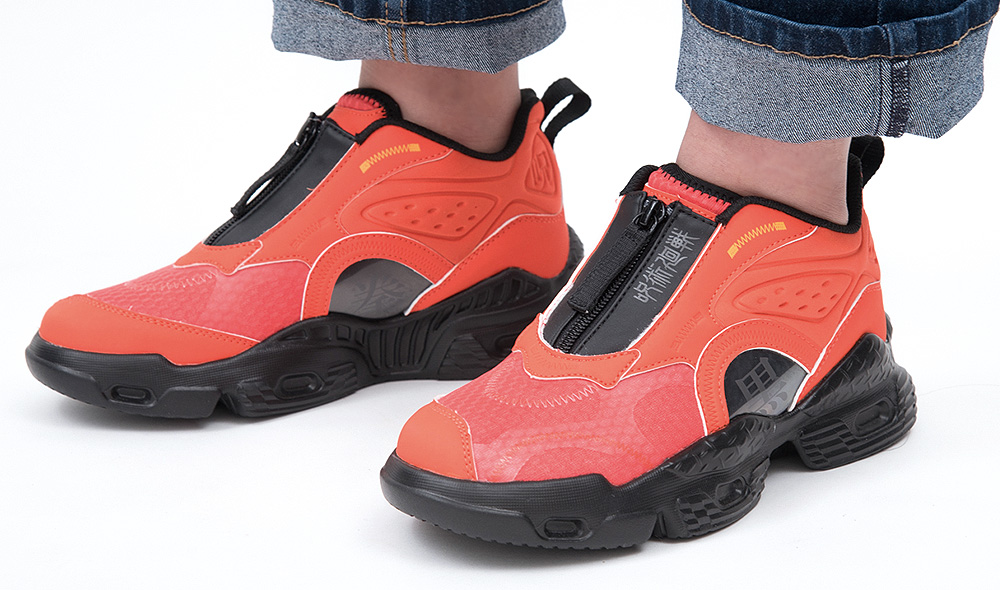 Yuji Itadori Models
Megumi Fushiguro Models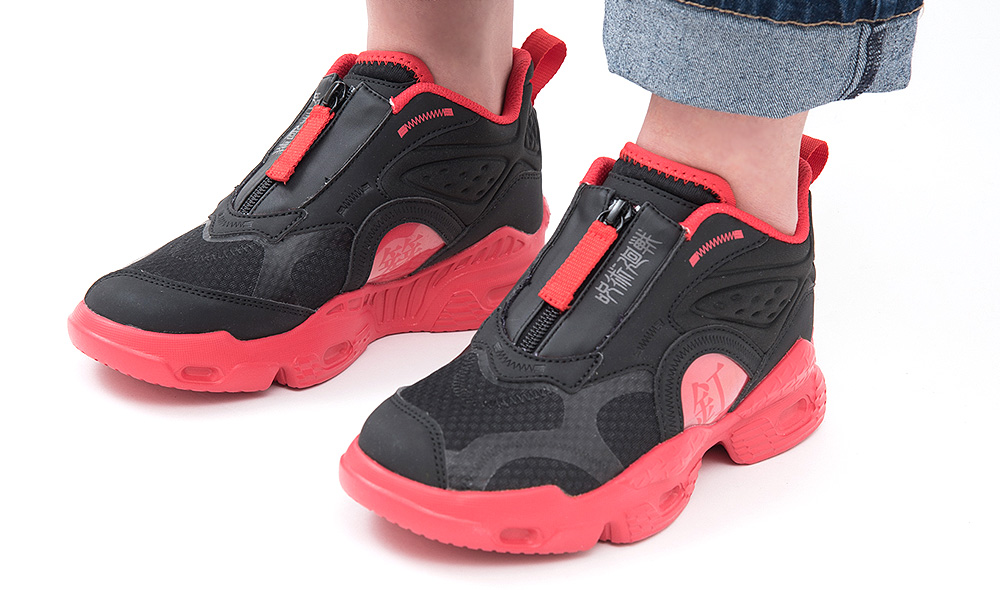 Nobara Kugisaki Models
Toge Inumaki Models
Kento Nanami Models
The shoe box features an original Jujutsu Kaisen design.
©芥見下々/集英社・呪術廻戦製作委員会
RELATED ENTRIES
First Season of SUNRISE x ASOBISYSTEM Anime Series Artiswitch Comes to an End

Artiswitch, a collaborative anime series made by SUNRISE (Mobile Suit Gundam, Love Live!) and ASOBISYSTEM, Kyary Pamyu Pamyu's agency, premiered on YouTube on May 28, 2021. The show, based in Harajuku, has featured a wide range of content pulling from fashion, art, and music trends. A number of now-popular artists and creators were also responsible for contributing to each episode.

Artiswitch Episode 6 Preview


Aiming to highlight the many counter-cultures to come out of Harajuku, such as Urahara and KAWAII fashion, Artiswitch has employed many active creators and artists responsible for making the art, music, and fashion scene so powerful in the area today. The series shows the balance between desire and loneliness present in Gen Z youth, who are excellent at using technology but often confuse what is real and what is fantasy.

 

The series has been available to watch on the official Artiswitch YouTube channel since release, and the final episode of the first season is now available, releasing on September 10, 2021. Because of the contributions of so many talented creators, the short series has been praised both in Japan and abroad.

Artiswitch is set in Ura-Ura Harajuku, where a certain witch named Nina runs a shop, fulfilling her guests' every wish and desire by forcing them to look deep inside their hearts at their true feelings. Customers are sometimes excited, but sometimes hurt, and must make their own choices to try to make their dreams come true.

The insert songs for each episode are sung by a different artist each week, with the songs linking to the story and art of each installment specifically.

Episode 1 Insert Song: G4L – Giga

Episode 2 Insert Song: color – Hakubi

Episode 3 Insert Song: Watashi o Mite – Hakushi Hasegawa

Episode 4 Insert Song: GHOST FOOD (feat. TORIENA) – MoeShop

Episode 5 Insert Song: E de – Yukichi Kasaku/men

Episode 6 Insert Song: Tobu, Saihate (feat. Kana Adachi – yonkey

*Music now available to stream worldwide.

Be sure to look forward to more Artiswitch content, including a second season!

©SUNRISE/Artiswitch Project

Your Voice will Reach the Members in the Fifth UVERworld x nana Online Collaboration Event

16.September.2021 | MUSIC

UVERworld has collaborated with karaoke social media app 'nana' for the fifth 'Screaming for THE LIVE' project. You can participate in the event until September 20, 2021.

The UVERworld and nana collaboration has been held four times since December 2020, proving popular with Crew (UVERworld fans) each time. Even fans who attend the live concerts can't convey their feelings using their voices or meet the members when they want to. In order for Crew's voices to reach the members, nana has agreed to work together with UVERworld to create this collaboration project.

This time, the available songs are 'Rai Chou E' and 'SOUL,' which were released on September 1, 2021. You can participate by singing and cheering along to the official instrumental through the nana app and sharing the recording using the hashtag. The shared voice recordings will be used at future live events.

Don't miss out on this unique experience where the artist and fans are able to connect with their voices!

Zoff Announces New Disney Collection Glasses for 20th Anniversary

Glasses brand Zoff has released a new collection titled the "Disney Collection Zoff 20th Anniversary Line," featuring Mickey Mouse and Minnie Mouse motifs. The collection will be released on September 17 2021 in Zoff stores nationwide and online.

Mickey Mouse Model

Minnie Mouse Model

Case, Glasses Cloth

The very first Zoff store opened 20 years ago. To mark the occasion, a selection of commemorative glasses will be available in their Disney collection, featuring Mickey and Minnie Mouse. The pair are dressed up more than usual, seemingly invited to a fun party. The design is special and full of details, as are all of the models in the Disney Collection.

Be sure to check out these special frames, with their charming Disney features!

Crayon Shin-chan and Adorable Bunny Rabbits Available from Ikumimama Animal Donuts

Ikumimama Animal Donuts has been a popular topic on social media for it's cute creations, many based on popular characters. Now, customers located in Japan can purchase the new Crayon Shin-chan and Otsukimi Usa-chan Donut Sets online! 

Otsukimi Usa-chan Set

Otsukimi Usa-chan (White)

Otsukimi Usa-chan (Pink)

Otsukimi Dango Donuts

Crayon Shin-chan Donut Set

Shin-chan (Normal)

Shin-chan (Sparkling)

Shiro

Buriburizaemon

Himawari

Otsukimi means 'moon-viewing' in Japanese. On the 15th day of the eighth month of the traditional Japanese calendar, it's tradition to hold a celebration to view the harvest moon. The Otsukimi Usa-chan set is perfect to serve during a get-together as you watch the starlit sky with friends. This year, September 21 is the lucky day! Dango, or dumplings, are popular snacks to enjoy during this event, and these coconut-filled Dango Donuts are a fun twist on a traditional treat. 

Shinnosuke, Shiro, Buriburizaemon, and Himawari all make an appearance in the new Crayon Shin-chan collaboration.

Which of these sugary sweets looks the most scrumptious? 

Magnificent Work of Art on Display at Sado Island Galaxy Art Festival Until October 2

Sado Island, sitting off the Japanese mainland close to the Niigata coast, has been holding an incredible art festival since August 8, 2021. The highlight of the event is a massive glowing sculpture, made as a collaboration between Koiwa Kanaami Co., Ltd. and the Nobuaki Furuya+Yuri Fujii Laboratory at Waseda University. The eye-catching installment is meant to honor the historical Sado gold mine, one of the largest in the country, and a designated National Historic Site of Japan.

The peak production period of the mine was 400 years ago, between 1615 to 1645. The mines on Sado produced over 400 kilograms of gold and nearly 38 tons of silver each year, making it one of the largest producers in the world at the time. The town of Aikawa, where the mine is located, is now filled with historical and tourist sites, with many buildings preserved and used as museums to teach visitors about mining technology over the years. A number of rail lines once ran around today's Oma Port, carrying ore and other mining materials.

The Sato gold mine was developed by Takato Oshima, one of the most important engineers in Japanese history, and the man also responsible for creating the first blast furnace and Western-style gun in Japan.

Headlining the event, the 'Scene Spinner' installation consists of two spiral concepts: one, based on the spiral pumping machine used to drain water seeping into the mine, and the other inspired by the rail system around Oma Port. These spirals were made by using a wire mesh frame, which resembles the silhouette of the Sado gold mine. Each piece shown at the Galaxy Art Festival is meant to express the remaining historical importance of this often-overlooked area.

The exhibition site, the former Oma Port, marks the location where materials were brought from the mines, and where the remains of the modern mining industry remain today. Oma Port, which has served as the gateway between Sado Island and the mainland, seems the perfect spot to hold this inspiring event, asking visitors to look around and think about the history made on this beautiful island.

Information

Sado Island Galaxy Art Festival

Running Until October 2, 2021

Address: Aikawa, Oma Terminal (16 Aikawa Shibamachi, Sado City)

Official Site: https://www.koiwa.co.jp/sado-art

Edo-Tokyo Museum to Hold Exhibition Highlighting the 30,000 Year History of Tokyo

Tokyo as we know it today is built upon tens of thousands of years of history. The Paleolithic era, during which traces of human life have been found in the Tokyo area, dates back more than 30,000 years. It might be difficult to imagine what life was like so long ago, but ruins discovered during urban development offer a glimpse into the ancient past. 

The Edo-Tokyo Museum opened in 1993, and is set to begin a large-scale renovation in April 2022. Prior to the museum's temporary closure, a special exhibition titled 'Memories of the City: A Thirty Thousand Year History of Tokyo' will open from September 18 until December 5, 2021. The installation will look back on the history of Japan's capital, from the Paleolithic era to the present day.

Tokyo Takanawa Coast Steam Railway – Hiroshige Utagawa III. 1871. 

Sword-shaped Haniwa. Excavated from Kannonzuka Burial Mound. From the Kofun Period (250-538 CE)

Roof tiles. Excavated from the Site of Musashi Kokubunji Temple. From the Nara Period (710-794 CE)

Scene from Yamabuki no Sato by Ota Dokan. Saitou Yukio, Saitou Yukitaka, Saitou Gesshin, Hasegawa Settan. 1836. 

Excavated Materials from Hachioji Castle Ruins. From the Azuchi-Momoyama Period (1558-1600 CE)

Map of Edo. 1666. 

Procession of the Lords of Edo. Adachi Ginko. 1889. 

Washington Heights (Tokyo Aerial Photograph). Satou Suiyou. 1957.

Blazer worn by the Japanese Delegation at Tokyo Olympic Games. 1964. 

Nipponbashi at Dawn. Kawase Hasui. 1940. 

As urban development continues to progress, it's incredible to look back at the many people who have lived in the Tokyo area, and the many events that have taken place over time. Recently, a new train stop was added to the busy Yamanote Line in the capital, and the remains of an old railroad track were discovered during construction! What else might be hiding beneath the metropolis? 

Tokyo has undergone constant change due to natural disasters, war, and urban development, but historical buildings and important spots that tell the story of the city are being carefully preserved for future generations. Visitors to Japan often comment on this, claiming that so much of Tokyo's beauty comes from it's blend of old and new. 

Information

Memories of the City: A Thirty Thousand Year History of Tokyo

Running: September 18 – December 5, 2021

Hours: 9:30AM-5:30PM (Closed Mondays, with exception of September 20. Closed September 21.)

Address: Edo-Tokyo Museum, Permanent Exhibition, 5th Floor Feature Exhibition Room (1-4-1 Yokoami, Sumida-ku, Tokyo)

Official Site: http://www.edo-tokyo-museum.or.jp/

Rihga Royal Hotel x YOURS BOOK STORE New Accommodation Plan to Discover Your New Favorite Book

Osaka's Rihga Royal Hotel is collaborating with book direction brand YOURS BOOK STORE to produce a one-room one-day accommodation plan titled "Once in a Lifetime ~ Professionals Choose Your Book~." The limited-time plan will be available between September 15 and November 30, 2021.

The lounge on the executive floor, known as The Presidential Towers, was reformed in March 2020 to include a library of 1,000 books, with themes including Osaka, refreshing, relaxing, and children's books. It was then that the room plan collaboration with YOURS BOOK STORE, who was involved in the initial book selection, was proposed.

In the "Once in a Lifetime ~ Professionals Choose Your Book~" accommodation plan, a professional will discuss with the guest to learn more about their taste, with the book director offering 3 personalized book choices per person. The guest can also take full advantage of the hotel library.

Following your trip, a book chosen especially for guests will be sent to your home, with a message card describing how your books were selected. This unique accommodation plan allows you to bask in the afterglow of your trip while waiting to see what kind of book you receive.

Why not check out this unique plan where you can receive your own personalized book recommendation?

KIRBY'S DREAM FACTORY Pop-Up Shop to Open at Nagoya PARCO

Everyone's favorite pink ball is coming to Nagoya! The KIRBY's DREAM FACTORY pop-up shop, previously appearing in Osaka, Shizuoka, and Tokyo, will open in Nagoya PARCO from October 22 until November 8, 2021.

Adorable Original Merchandise Overview

Kirby Plushie: ¥2,420 (Tax Included)

 

Mug: ¥1,650 (Tax Included)

 

Kirby Cookie: ¥540 (Tax Included)

 

Craft Tape: ¥825 (Tax Included)

*Images for promotion only. Designs may differ.

*Product prices subject to change.

*Number of items for sale limited.

Photo Spot

Virtual Factory Experience Ticket: ¥700 (Tax Included)

Limited-Edition Poster

The Kirby franchise began in 1992, when the first title was released for the GameBoy. Since then, a number of titles have been released starring the adorable pink orb, with 34 Kirby games released to date! The latest in the series, Kirby Fighters 2, released in September 2020 for the Nintendo Switch.

KIRBY's DREAM FACTORY is an interactive pop-up experience, where Kirby and Waddle-Dee work together in a sweets factory. Visitors can take photos with their favorite character next to a working conveyor belt, and by holding up a smartphone to the QR code, a number of cool visuals will pop up! Over 100 pieces of exclusive merchandise will be on sale, and everyone who participates in the event will receive a limited-edition poster as a gift.

 

For those who can't make it to Nagoya PARCO, don't worry: the online store will also offer plenty of limited-edition Kirby goods!

*Game Boy and Nintendo Switch are trademarks of Nintendo.

© Nintendo / HAL Laboratory, Inc.

Virtual Talent Kizuna Ai to Hold Global Online Fireworks Event

From her debut in 2016 until 2021, Kizuna Ai was the most subscribed VTuber on YouTube, and the one responsible for the term 'Virtual YouTuber.' Now, this legendary star will be holding a concert available to fans of Japanese culture around the world, while also showing off the beauty of a Japanese fireworks festival. The event will take place on Facebook's Oculus, on the Venues app, on September 25, 2021 in Japan. Anyone who has an Oculus Quest can view the concert for free.

Oculus Venues is a VR video platform, allowing users to enjoy a variety of concerts, sporting events, and comedy shows from the front row. There's no need to worry about grabbing expensive tickets or dealing with crowds when you can enjoy your favorite events from the comfort of your own home!

In January 2021, Kizuna Ai announced a contract with UTA (United Talent Agency), one of the four major agencies in the United States. In April and May, she went on her first virtual US tour. Under the theme of connecting with everyone in the world, Kizuna Ai is attempting this new challenge using Oculus to get closer to fans than ever before. As a guest artist, world-renowned performers HANABI will perform, blending traditional Japanese culture with cutting-edge technological art in this one-of-a-kind DJ-directed space.

Will you be tuning in to Kizuna Ai's fireworks concert?

Information

Kizuna Ai Virtual Fireworks Concert

Date: September 25, 2021, 12:00 (September 24, 20:00 PDT)

Where: Oculus Venues

Admission: Free

Restream: To be streamed on YouTube (Date to be announced.)

Official Site: https://www.oculus.com/

New 237 Color from New Balance, DISH// Appear in New Visual

A new color has been added to the New Balance 237 collection, a modern sneaker which debuted in 2021, inspired by the 1980s New Balance models 420, 1300, and Gator. The 237 was released following the release of the popular 327 in 2020. The fresh and modern design is combined with a retro twist – The upper combines a variation of materials, while the tongue is cut and the outsole is rolled. The design also features the same 70s motifs as the 327, with a large N logo and notched eyelets making a huge impact on the sneaker. The retro design is versatile and easy to style.

Plus, dance-rock band 'DISH//,' a band that continues to grow and refine their activities, have featured in a must-see new visual wearing the brand-new 237 shoes! Be sure to check it out.

Information

New Balance 237

Availability:

New Balance Official Online Store

New Balance Official Store

Available at some New Balance stockists

*Color variation may depend on the store

Hololive VTuber Tokino Sora to Release Cover Album in November

Tokino Sora, the founding member of popular VTuber collective Hololive, will release her third album, 'Re:Play,' in November! Celebrating her 4th anniversary on September 7, the virtual idol announced that the album would be filled with unique cover tracks to commemorate her streaming milestone.

Karaoke covers are incredibly popular on YouTube in Japan, and Tokino Sora commented that this upcoming album was partly inspired by her desire to take on a similar challenge. Though the idol has released a number of original tracks in the past, this album is said to contain a number of different genres unfamiliar to the singer. 'Re:Play' is set to release in November, though an exact date has not been announced. More details will be released in the coming weeks.




Starting on September 8, five unreleased songs are now available to stream as a 4th anniversary gift to fans. Four tracks are acoustic versions: Kotobakaze, Wonderland, Suki, Naichaisouda and Step and Go!! Originally the secret track in the first edition of Tokino Sora's album Dreaming!, Seesaw Game is also available.

Which of these tracks is your favorite?

Ⓒ 2016 COVER Corp.

Rilakkuma, Other Popular Bear Characters to Assemble at '#Kumafes in Ginza Mitsukoshi'

The '#Kumafes in Ginza Mitsukoshi' event will be held at the Ginza Mitsukoshi New Building 7F between September 15 and September 27. San-X have announced that a Rilakkuma will be participating with merchandise available to purchase at the event.

Rilakkuma Store Nagoya / Ueodai Store: Oda Nobunaga Plush: ¥1,848 (Tax Incl.)

Rilakkuma Store Abeno Q's Mall: Kushikatsu Wrapped Rilakkuma: ¥1,518 (Tax Incl.)

Rilakkuma Store Kansai: Rilakkuma with Takoyaki & Sauce : ¥1,738 (Tax Incl.)

Limited Edition Kusatsu Souvenir Onsen Rilakkuma: Kusatsu In-The-Onsen Rilakkuma: ¥2,200 (Tax Incl.)

Limited Edition Miyajima Teahouse Rilakkuma: Even Though He's a Deer, He Still Carries Momiji Manju Rilakkuma: ¥2,420 (Tax Incl.)

Rilakkuma Store Sabou: Lucky Cat Korilakkuma: ¥2,420 (Tax Incl.)

Soft & Fluffy Rilakkuma Plush: ¥4,400 (Tax Incl.)

Dangling Korilakkuma Plush: ¥2,200 (Tax Incl.)

Plush Rilakkuma Pouch: ¥2,200 (Tax Incl.)

A huge collection of regional and limited edition Rilakkuma products  will be available at the event, including items from regional Rilakkuma stores, Rilakkuma Onsen/Teahouse collaborations, and "Rilakkuma & Kaoru-san" items, so don't miss out!

 

©2021 SAN-X CO., LTD. ALL RIGHTS RESERVED.