Jujutsu Kaisen x SYUNSOKU Sneaker Collaboration Announced For Summer Release
Chugai Mining Co., Ltd. has announced the release of a new sneaker collection by SYUNSOKU in collaboration with the anime series Jujutsu Kaisen which will drop this August.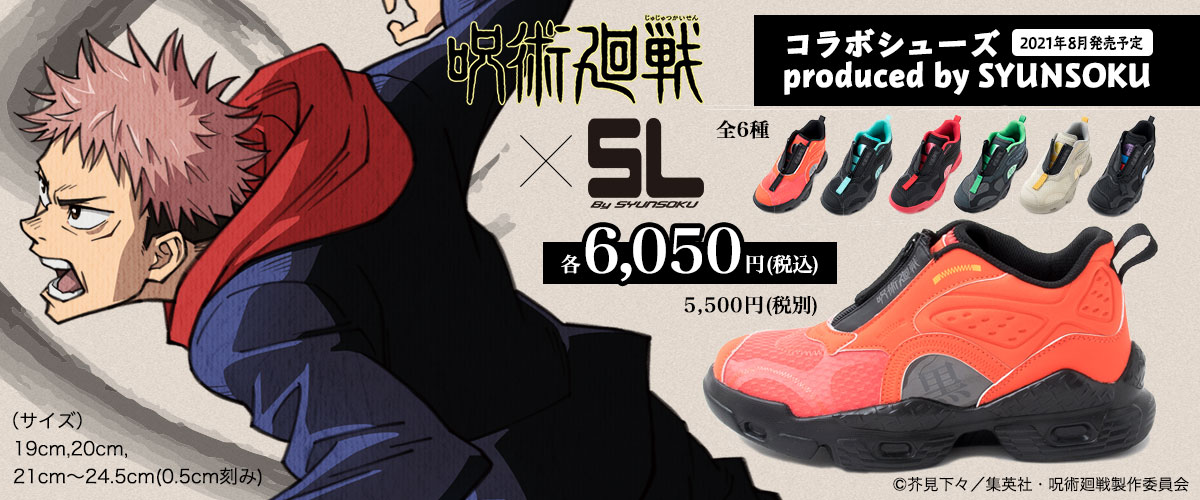 Jujutsu Kaisen Collab Shoes Produced by SYUNSOKU | ¥6,050 Each (Tax Included)
The collection is made up of SYUNSHOKU's simple and stylish SL by SYUNSOKU series of sneakers in six original colour combinations inspired by Jujutsu Kaisen.
The Line-Up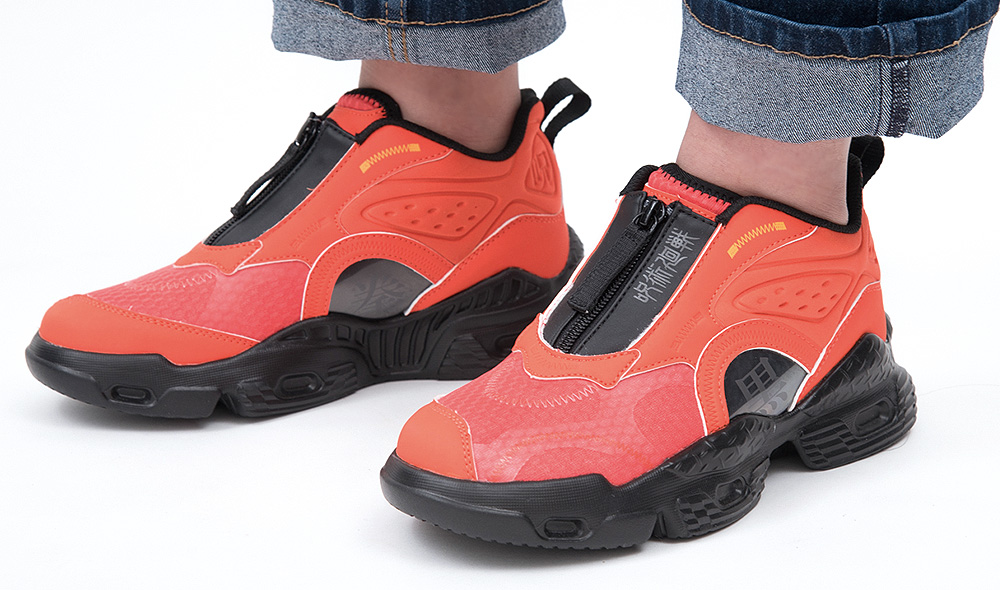 Yuji Itadori Models
Megumi Fushiguro Models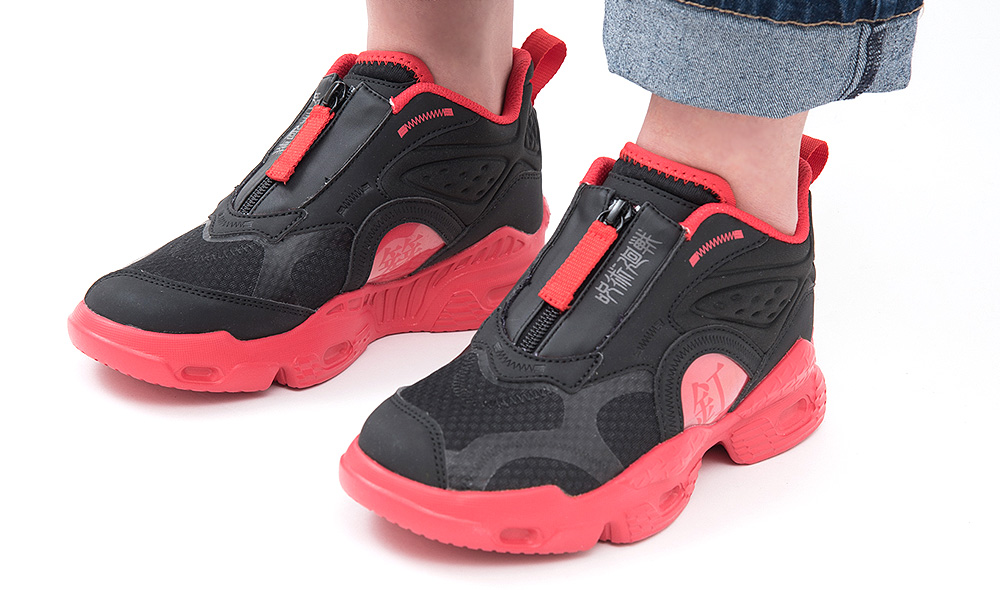 Nobara Kugisaki Models
Toge Inumaki Models
Kento Nanami Models
The shoe box features an original Jujutsu Kaisen design.
©芥見下々/集英社・呪術廻戦製作委員会
RELATED ENTRIES
BEASTARS Collaborates With Tobu Zoo On Exclusive Merchandise

ARMA BIANCA opened orders for a new collection of merchandise that brings together the Legosi, Haru, and Louis from the anime series BEASTARS and Tobu Zoo in Japan.

Acrylic Key Rings: Single ¥650 / Whole Box ¥3,900 (Before Tax)

The stylish trio are enjoying a day out at Tobu Zoo in the merchandise line-up. Hook one of these key rings to your bag, accessories, keys, or place them around your room.

Pins: Single ¥400 / Whole Box ¥2,400 (Before Tax)

The pins feature the characters along with their names (in Engrish it seems!)

Big Acrylic Stands: ¥1,800 Each (Before Tax)

Decorate your desk with a tall acrylic stand of either of the three characters.

Mugs: ¥1,500 Each (Before Tax)

Enjoy your morning coffee with Legosi, Haru, or Louis.

Single-Pocket Pass Case: ¥1,800 (Before Tax)

Keep your cards safe in this handy pass case which features a clear window pocket for showing your ID or other card.

Folders | ¥400 Each (Before Tax)

File your papers with these folders or even use them for decoration.

©板垣巴留(秋田書店)/BEASTARS製作委員会

Relax With Cows and Sheep at Hoshino Resorts Tomamu in Hokkaido

Hokkaido's largest hotel resort Hoshino Resorts Tomamu is set to open its enormous new 100-hectare farm area this summer for a limited time between July 1 and September 30. Guests are invited to sit and lay amongst the farm's animals during the warm season.

Relax in nature

The farm area was originally an agricultural ground home to around 700 cows. Hoshino Resorts Tomamu wanted to bring the space back to its origins for people to enjoy, and so it is now operating as 100s hectares of farmland. The resort has offered a range of limited-time experiences on the land in the past, such as the Cow & Daytime Nap Hammocks where people can doze on hammocks and count the sheep, as well as the Pasture Lounge, and more.

What to expec

Inhale the smells of nature while laying on some comfy beds

Guests are invited to kick back and relax on a warm and cosy bed spanning 30 meters. Its large size means you don't have to come into close contact with everyone, enabling you to enjoy yourself withour worry. Cushions and blankets are also prepared.


Soak up the sights and sounds of the farm

The cows on the grass

Hammocks for a siesta snooze

Yagi the Postman

Information

Farm Beds

Running: July 1, 2021 – September 30, 2021

Price: Free

Time: 10:00-16:00

Location: Hoshino Resorts Tomamu Farm Area

Note: Accessible to hotel and daytrip guests 

*Will not run if the weather is bad

Official Website: https://www.snowtomamu.jp

Experience Japan's Rainy Season Hydrangea With This Special Hotel Plan

Hoshino Resorts KAI Hakone has announced a special hydrangea-themed hotel plan for Japan's rainy season which will run from June 12 to July 4.

Hydrangeas bloom before guest room benches

At KAI Hakone, there is a special guest room with an outdoor bench seating area which looks out into the green forest. Hydrangeas will bloom, providing a gorgeous backdrop as guests enjoy the sounds of the Sukumogawa River.

Hydrangea accessory kit

Guests will be given an accessory kit in their rooms to make their own flower accessories from hydrangea leaves and wooden mosaics. These accessories can be fitted to yukata, used as piercings, and more to serve a Japanese summer vibe.

Enjoy hydrangea sweets and shaved iced

Guests can turn their rooms into a little tearoom with the wooden mosaic plaques provided on which they can tuck into a range of hydrangea-flavoured sweets and desserts along with a cup of matcha. The shaved ice is a KAI Hakone-original made with jelly and syrup coloured purple with hydrangea.

The hydrangea is perhaps the most celebrated flower in all of Hakone, arriving in early summer. It's hailed in a variety of ways, one of the most popular being the Hydrangea Train, a nickname given to the train that runs from Odawara Station to Gora Station. Passangers are treated to an incredible view out the train window as their vision is filled with vivid hydrangea flowers.

This year marks the second that KAI Hakone is offering its seasonal hydrangea plan. If you're able to visit during this time, don't miss out.

Jujutsu Kaisen x UNIQLO T-Shirt Collection Announced

UNIQLO are set to collaborate with Jujutsu Kaisen for the first time ever in a new t-shirt collection from their UT brand on June 4. The Jujutsu Kaisen manga series written and illustrated by Gege Akutami has sold over 45 million copies, making it one of the best-selling series of all time.

The Line-Up

Men's T-Shirts (7 Designs)

Kids T-Shirts (4 Designs) 

This first collection features iconic scenes and lines taken from the main characters of the manga series. The line-up is a must-grab for fans looking to express their love of the series, which saw the first season of its anime adaptation conclude in March. A second collection is planned for release.

©芥見下々 / 集英社

Exquisite Afternoon Tea to be Served in Tokyo in Collaboration With Pierre Hermé

InterContinental Tokyo Bay is set to serve up a special afternoon tea by French pastry chef Pierre Hermé at five of its restaurants including New York Lounge from June 1 to August 31.

A colourful, fruit-filled line-up

From the left: Mosaic Cheesecake, Macarons, Ispahan, Emotion Satine

From the left: Jardin de Misole, Jardin de L'atlas, Infiniment Cassis

Chocolate gateaux line-up

Two jam scones, one with raspberry and one with lemon

The savoury items are made by the French restaurant next door

The full afternoon tea at New York Lounge

The full afternoon tea at Hudson Lounge

The full afternoon tea at Manhattan

The full afternoon tea at La Provence

The full afternoon tea at Italian Dining Zillion

The afternoon tea line-ups are a collaboration between French pastry chef Pierre Hermé, who has been called the pastry industry's Picasso, and award-winning executive chef Junji Tokunaga. Their first time working together, the duo have created an afternoon tea service packed with fruits like passion fruit, raspberry, orange, lychee, lemon, and more. Tokunaga also baked up chocolate gateaux as an homage to Hermé.


Items on the menu include Pierre Hermé's signature Ispahan which is a rose-flavoured macaron stuffed with rose cream, fresh lychee, and raspberry; Mosaic Cheesecake which harmoniously combines griotte cherries and pistachio; the refreshing Emotion Satine in all its passion fruit, orange, cream cheese, and mascarpone richness; four original gateaux chocolate oranges by Tokunaga; scones, and more.

The afternoon tea served at French Dining Manhattan, a restaurant which has a terrace overlooking Tokyo Bay, also comes with its own original savoury line-up, while Fine Dining La Provence and Italian Dining Zillion serve up lunch plates with theirs.


Information

Pierre Hermé x Junji Tokunaga

Running: June 1, 2021 – August 31, 2021

Venues

<Pierre Hermé x Junji Tokunaga Summer Sparkle Afternoon Tea>
New York Lounge/Hudson Lounge/Rainbow Bridge View Dining & Champagne Manhattan


<Pierre Hermé x Junji Tokunaga Summer Sparkle Afternoon Tea-Style Dessert w/Lunch Plan>
La Provence/Italian Dining Zillion

Hokkaido's New Hotel Boasts a Famous Hot Spring and Overlooks the Tsugaru Straits

Core Global Management is set to open the all-new Yunokawa Onsen Umi to Akari Hewitt Resort on July 1, 2021. In line with its opening, Japanese calligrapher Shoko Kanazawa has been put in charge of designing the hotel's name logo.

The sea and sky meet in the Infinity Onsen

Tsukifune: the buffet restaurant

Enjoy Japanese-style food at Kumonami

Tatami baths

Fires prepared by the staff everyday

A look inside the guest rooms

A look inside the guest rooms

Yunokawa Onsen is one of the three major hot spring resorts in Hokkaido. During the Edo period, Matsumae Chikatsumaru, who later became the lord of the Matsumae domain, and Enomoto Takeharu, the president of the former Tokugawa shogunate, are said to have bathed in this very hot spring. Yunokawa Onsen Umi to Akari Hewitt Resort is a chance to enjoy the good old days of Hakodate Yunokawa.

The rooftop offers an unbroken view of the incredible Tsugaru Straits. Guests can also enjoy a tranquil moment at the historic hot spring with a cup of Hakodate's local sake and dango in hand underneath a moonlit sky while surrounded by the lights of fishing fires. There's also a chance for both kids and adults to take a dip in a tatami bath – something you don't really see in Japan.

Information

Yunokawa Onsen Umi to Akari Hewitt Resort

Address: 3-9-20 Yunokawacho, Hakodate, Hokkaido 042-0932, Japan
Access: 5-minutes by car from Hakodate Airport
Official Website: http://hewitt-resort.com/hakodate-yunokawa/

Mineko Orisaku Exhibition Combines Gold Leaf With Photography

FUJIFILM SQUARE in Minato, Tokyo, has announced the HAKU graphy Hommage to Hokusai exhibition by Mineko Orisaku which will run from July 21 to August 19 this year.

Hommage to Hokusai ©Mineko Orisaku

Following sunset (Tanuki-ko Lake) ©Mineko Orisaku

Pine and Mt.Fuji (Kawaguchi-ko Lake) ©Mineko Orisaku

Since announcing her "HAKU graphy" project in 2017, Mineko Orisaku has been experimenting with combining gold leaf and photography. This is different from the usual method of printing photos onto printing paper or washi paper, instead using FUJIFILM's Acuity UV inkjet printer to print delicate gold leaf. This technology allows a wider use of printing materials and colours.

Mineko Orisaku's exhibition is an homage to Hokusai, one of Japan's most celebrated ukiyo-e painters and artists. She has used FUJIFILM's large-format GFX digital camera for her works on Hokusai's Thirty-six Views of Mount Fuji to create something unique to her vision. Her work can be enjoyed alongside another Hokusai exhibition taking place at FUJIFILM Photo Salon Tokyo's Space 1 and 2.

Information

HAKU graphy Hommage to Hokusai
Running: July 21, 2021 – August 19, 2021

Times: 10:00-19:00 (Until 16:00 on August 19)

Entry: Free

Venue: FUJIFILM Photo Salon Tokyo Space 3 inside FUJIFILM Square
Address: Tokyo Midtown West, 9-7-3 Akasaka, Minato-ku, Tokyo, 107-0052
TEL: 03-6271-3350 

Official Website: https://fujifilmsquare.jp/

Explore Harajuku Virtually as Virtual Shibuya Announces New Harajuku Area

Virtual Shibuya has announced that its new Harajuku area will open on May 25, 2021. The virtual experience is hosted on Cluster, a virtual social media platform.

Shibuya 5G Entertainment Project launched the "Virtual Shibuya" back in May of last year in collaboration with KDDI, Shibuya Future Design, and the Shibuya Tourism Association. Officially recognised by Shibuya City, Virtual Shibuya comes in response to the effects of the COVID-19 pandemic which has brought tight restrictions to the economy and people's way of life. It enables people to continue enjoying entertainment from the comfort of their homes by participating in a whole host of virtual events and activities. The project aims to deliver content from Shibuya with live performances from artists, art exhibitions, talks, and more. The use of 5G and the latest cutting edge technology connects the real Shibuya to a virtual space, combining the realms of the digital and real world.

Virtual Harajuku is the second area to open in the service and brings together the iconic locations surrounding Jingumae Crossing such as Laforet Harajuku and Tokyu Plaza. As part of the new area's launch, Japanese pop icon Kyary Pamyu Pamyu has been announced as a Special Supporter of the service. The singer and model made her debut on the streets of Harajuku with her unique fashion. Ten years since her debut, she will continue promoting Harajuku from the service.

Information

Virtual Harajuku au 5G POP DAY OUT 2021
Running: May 25, 2021 – May 31, 2021

Location: Virtual Harajuku (The URL will be revealed in the coming weeks)
Virtual Harajuku Details: https://vcity.au5g.jp/harajuku

Cluster Official Website: https://corp.cluster.mu/

Japanese music streaming site RecoChoku has revealed the top song and album rankings of artists for April 2021 who earn the site's RecoChoku Award for the month.

RecoChoku Award Monthly Music – April 2021

Single Ranking

1st Place: "Take a Picture" – NiziU (Released digitally March 29, 2021)
2nd Place: "Renegades" – ONE OK ROCK
3rd Place: "Film out" – BTS 
4th Place: "Yoru ni Kakeru" –  YOASOBI
5th Place: "Usseewa" – Ado


Album Ranking 

1st Place: "THE BOOK" – YOASOBI (Released January 6, 2021)
2nd Place: "Take a picture/Poppin' Shakin'" – NiziU
3rd Place: "BAN (Special Edition)" – Sakurazaka46
4th Place: "Walpurgis" – Aimer 
5th Place: "Ketsu no Paradise" – Ketsumeishi

In 2020, NiziU took home the Newcomer Ranking award for RecoChoku Yearly Ranking 2020. The girl group takes first place once again in April 2021's song charts with Take a picture which is taken from Take a picture/Poppin' Shakin', their first double A-side single which released on CD on April 7, 2021. The leas track was released digitally on March 29 for a Coca-Cola commercial. It placed at No. 3 in its first week of release. It climbed to No. 2 the following week, and by its third week it hit No. 1 thanks to its CD release and the group performing it live on Nippon TV's Sukkuri, NHK's SONGS, TV Asahi's Music Station 3 Hour Special, and more. The double A-side's other track, Poppin' Shakin', placed at No. 2 on its release but also climbed to No. 1.


The four-track Take a picture/Poppin' Shakin' even made it to No. 2 on RecoChoku's monthly album charts. And on April 30, NiziU released their new "NiziU Scout" content on their official YouTube channel which broke one million views on the same day. 2021 is looking to be a big year for the group.
 

YOASOBI take the No. 1 spot on the Album Ranking for their EP THE BOOK for the fourth month in a row. They are a Japanese music duo formed of composer and Vocaloid producer Ayase and singer-songwriter ikura whose music turns novels in songs. Their popularity grew online with the release of their first song Yoru ni Kakeru in November 2019. The track peaked at No. 5 in the RecoChoku Yearly Ranking for 2020. YOASOBI performed on NHK's annual New Year's Eve television special Kōhaku Uta Gassen in the same year. When the new year opened, the duo released their first EP, THE BOOK, on January 6, 2021 which included Yoru ni Kakeru as well as Ano Yume o Nazotte which adapted Sota Ishiki's novel Yume no Shizuku to Hoshii no Hana, Tabun which adapted Shinano's novel of the same name, Harujion which was used in with food product and film promos, Gunjo which was used in Bourbon's Alfort Mini Chocolate commercial, Encore which was used for a Google Pixel commercial, and more. The track Harujion in particular has helped with downloads of the albums after it was used in a Nintendo Switch television commercial.



YOASOBI's new song Mou Sukoshi Dake was released digitally on May 10. The song serves as the latest theme song for the Fuji TV show Mezamashi TV. The track hit No. 1 on RecoChoku's Single & High Res Single Ranking.

Hello Kitty Diamond Necklaces Released by Japanese Luxury Jewellers U-TREASURE

Japan's luxury character jewellery brand U-TREASURE, which creates accessories for character-loving adults, released a new collection of Hello Kitty-inspired necklaces on Tuesday which are available for a limited time until May 25.

The necklaces feature a simple design with a single diamond stone tipped with Hello Kitty's ribbon. The necklaces come in various versions including platinum, yellow gold, pink gold, and also silver with cubic zirconia. The collection is available to purchase at U-TREASURE's concept store in Ikebukuro and their online shop.

<Hello Kitty Ribbon Necklaces> Platinum 950: ¥88,000 / K18 Yellow Gold, K18 Pink Gold: ¥88,000 / Silver & Cubic Zirconia: ¥16,500

©2021 SANRIO CO., LTD.

Miffy x Tabio Sock Collection to Release in Super Cute Designs

Japanese sock company Tabio is set to release a cute sock collection in collaboration with Miffy on May 17.

The Line-Up

Miffy Short Socks | 3 Colours | ¥1,430 (Tax Included)

Miffy Embroidered Socks | (2 Colours) | Women's ¥1,430, Children's ¥1,210 (Tax Included)

Miffy Short Socks | 3 Colours | ¥1,430 (Tax Included)

Miffy Embroidered Socks | (2 Colours) | Women's ¥1,430, Children's ¥1,210 (Tax Included)

Limited-Edition Novelty




The sock collection arrives with four different sock models featuring adorable Miffy designs. Those who spend over ¥3,300 on the collection will also receive a free Miffy memo pad.

Discover 130 Years of KYOTO BENRIDO's Colourful Photo and Printmaking World

Nara TSUTAYA BOOKS is set to host the KYOTO BENRIDO's World fair from May 15 to July 9, celebrating the history of a store that was established in 1887.

Benrido has been contributing to the inheritance of Japanese culture through the photography, printmaking, and publications of cultural properties for 130 years. The The company owns is one of the world's few remaining collotype studios which provides modern day photographers the unique opportunity to produce prints of their work using this rare process. Collotype was invented in France in the 19th century. It enables one to print images in various tones without the need for halftone screens.

Benrido offers a range of different products such as postcards, folding fans, standing screens, and more, all of which feature artwork by famous artists from the Meiji era to the early Showa era, the Chōjū-jinbutsu-giga, the portfolio of Saul Leiter, and more.

At the fair, visitors can pick up a wide selection of items from collotype pieces to other artistic goods. And starting on May 28, it will also sell items related to Hokusai and ukiyo-e prints.