Japan's Pingu 40th Anniversary Exhibition Heads to Sapporo
Last year marked the 40th anniversary of the Swiss claymation children's television series Pingu which first hit the air in 1980. Japan has been celebrating the milestone with the Pingu Exhibition, and now it's heading to Sapporo Factory in Hokkaido where it will run from April 23 to May 30.
Original material for Pingu by the show's creator Otmar Gutmann will be exhibited, as well as the actual clay figures, dioramas, storyboards, and more that were used during the filming in Switzerland. Until last year's exhibition, many of the 400 or so items on display have never been shown in Japan before.
There is a Pingu Market at the exhibition where fans of the noot-nooting penguin can get their hands on a range of exclusive items, pre-orders, and more. The exhibition also sees the return of the popular Pingu Egg capsule toy which has a mini Pingu figure inside.
Pingu Market Exclusive Merchandise
The market shelves are lined with limited-edition exclusives, pre-orders, items made in collaboration with popular brands, and more. Please note that a ticket to the exhibition is required to enter the shop.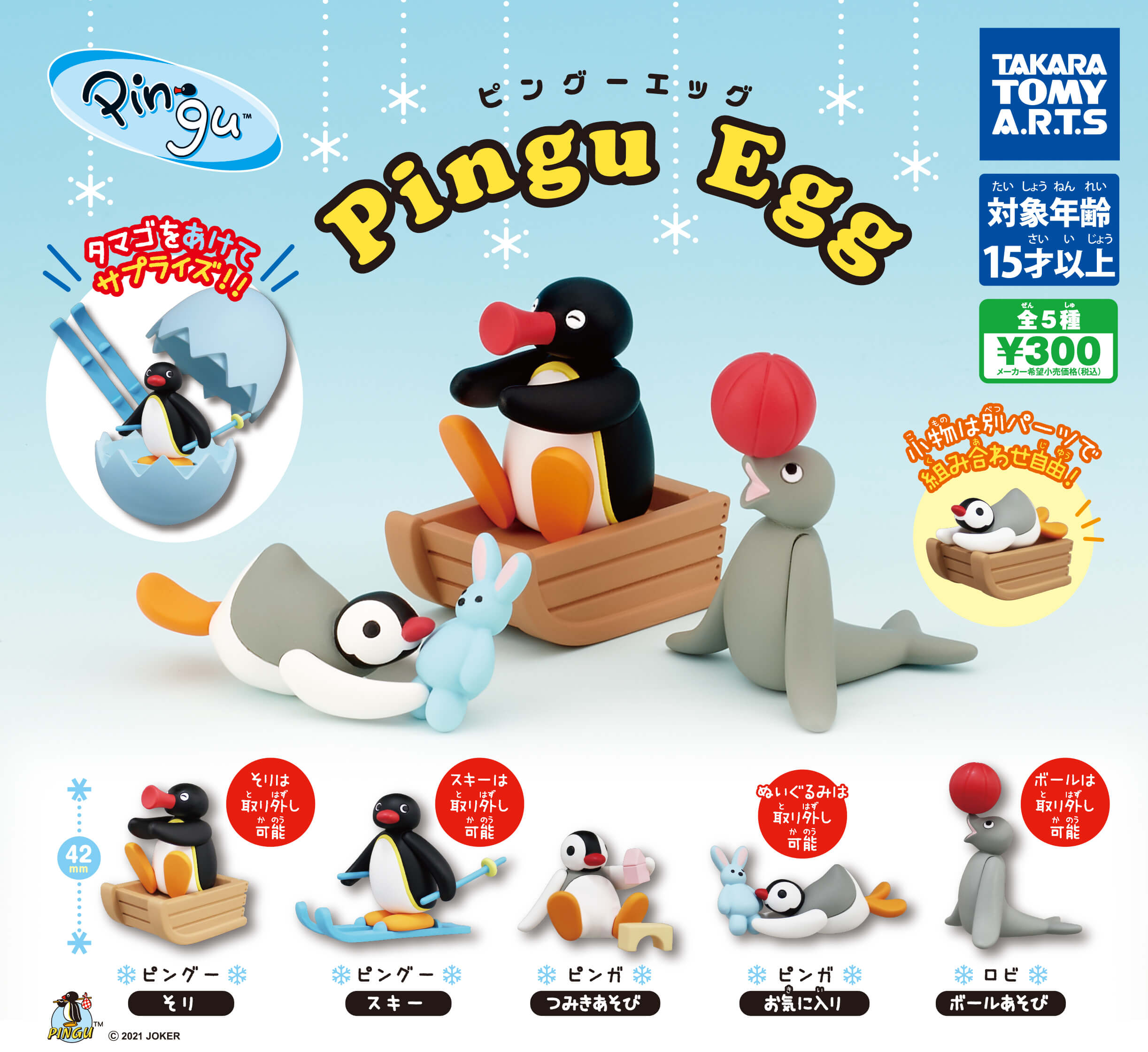 Pingu Egg (5 Possible Prizes) | ¥300 Per Turn (Tax Included)
Have a turn at the capsule toy gacha where the figure you receive in your Pingu Egg is completely random. Each comes with an accessory.
Pingu 40th Figure (Robby) | ¥17,600 (Tax Included)
The Robby figure captures a scene taken from the 7th episode of the Pingu series titled Hide and Seek in English. Only 100 of these figures are available to buy and is limited to one per person.
Information
40th Anniversary Pingu Exhibition
Running: April 23, 2021 – May 30, 2021
Where: Sapporo Factory Floor 3F
Address: 4 Chome Kita 2 Johigashi, Chuo Ward, Sapporo, Hokkaido 060-0032, Japan
Opening Hours
[Weekends, National Holidays, Golden Week] 10:00-19:30 (Last Entries 19:00)
[Weekends & Weekdays From May 10th Onwards] 13:00-19:30 (Last Entries 19:00)
Price: General ¥900 / High School & Junior High School Students ¥900 / Elementary School Students ¥600
Tickets: Available at the exhibition or at Ticket Pia using the P-Code 685-572
TEL: 011-272-9302
Official Website: http://pingu.jp/40th/
RELATED ENTRIES
Relax With Cows and Sheep at Hoshino Resorts Tomamu in Hokkaido

Hokkaido's largest hotel resort Hoshino Resorts Tomamu is set to open its enormous new 100-hectare farm area this summer for a limited time between July 1 and September 30. Guests are invited to sit and lay amongst the farm's animals during the warm season.

Relax in nature

The farm area was originally an agricultural ground home to around 700 cows. Hoshino Resorts Tomamu wanted to bring the space back to its origins for people to enjoy, and so it is now operating as 100s hectares of farmland. The resort has offered a range of limited-time experiences on the land in the past, such as the Cow & Daytime Nap Hammocks where people can doze on hammocks and count the sheep, as well as the Pasture Lounge, and more.

What to expec

Inhale the smells of nature while laying on some comfy beds

Guests are invited to kick back and relax on a warm and cosy bed spanning 30 meters. Its large size means you don't have to come into close contact with everyone, enabling you to enjoy yourself withour worry. Cushions and blankets are also prepared.


Soak up the sights and sounds of the farm

The cows on the grass

Hammocks for a siesta snooze

Yagi the Postman

Information

Farm Beds

Running: July 1, 2021 – September 30, 2021

Price: Free

Time: 10:00-16:00

Location: Hoshino Resorts Tomamu Farm Area

Note: Accessible to hotel and daytrip guests 

*Will not run if the weather is bad

Official Website: https://www.snowtomamu.jp

Hokkaido's New Hotel Boasts a Famous Hot Spring and Overlooks the Tsugaru Straits

Core Global Management is set to open the all-new Yunokawa Onsen Umi to Akari Hewitt Resort on July 1, 2021. In line with its opening, Japanese calligrapher Shoko Kanazawa has been put in charge of designing the hotel's name logo.

The sea and sky meet in the Infinity Onsen

Tsukifune: the buffet restaurant

Enjoy Japanese-style food at Kumonami

Tatami baths

Fires prepared by the staff everyday

A look inside the guest rooms

A look inside the guest rooms

Yunokawa Onsen is one of the three major hot spring resorts in Hokkaido. During the Edo period, Matsumae Chikatsumaru, who later became the lord of the Matsumae domain, and Enomoto Takeharu, the president of the former Tokugawa shogunate, are said to have bathed in this very hot spring. Yunokawa Onsen Umi to Akari Hewitt Resort is a chance to enjoy the good old days of Hakodate Yunokawa.

The rooftop offers an unbroken view of the incredible Tsugaru Straits. Guests can also enjoy a tranquil moment at the historic hot spring with a cup of Hakodate's local sake and dango in hand underneath a moonlit sky while surrounded by the lights of fishing fires. There's also a chance for both kids and adults to take a dip in a tatami bath – something you don't really see in Japan.

Information

Yunokawa Onsen Umi to Akari Hewitt Resort

Address: 3-9-20 Yunokawacho, Hakodate, Hokkaido 042-0932, Japan
Access: 5-minutes by car from Hakodate Airport
Official Website: http://hewitt-resort.com/hakodate-yunokawa/

Mineko Orisaku Exhibition Combines Gold Leaf With Photography

FUJIFILM SQUARE in Minato, Tokyo, has announced the HAKU graphy Hommage to Hokusai exhibition by Mineko Orisaku which will run from July 21 to August 19 this year.

Hommage to Hokusai ©Mineko Orisaku

Following sunset (Tanuki-ko Lake) ©Mineko Orisaku

Pine and Mt.Fuji (Kawaguchi-ko Lake) ©Mineko Orisaku

Since announcing her "HAKU graphy" project in 2017, Mineko Orisaku has been experimenting with combining gold leaf and photography. This is different from the usual method of printing photos onto printing paper or washi paper, instead using FUJIFILM's Acuity UV inkjet printer to print delicate gold leaf. This technology allows a wider use of printing materials and colours.

Mineko Orisaku's exhibition is an homage to Hokusai, one of Japan's most celebrated ukiyo-e painters and artists. She has used FUJIFILM's large-format GFX digital camera for her works on Hokusai's Thirty-six Views of Mount Fuji to create something unique to her vision. Her work can be enjoyed alongside another Hokusai exhibition taking place at FUJIFILM Photo Salon Tokyo's Space 1 and 2.

Information

HAKU graphy Hommage to Hokusai
Running: July 21, 2021 – August 19, 2021

Times: 10:00-19:00 (Until 16:00 on August 19)

Entry: Free

Venue: FUJIFILM Photo Salon Tokyo Space 3 inside FUJIFILM Square
Address: Tokyo Midtown West, 9-7-3 Akasaka, Minato-ku, Tokyo, 107-0052
TEL: 03-6271-3350 

Official Website: https://fujifilmsquare.jp/

Keith Haring: 360° Exhibition in Yamanashi to Explore Pop Artist's Lifework

The Nakamura Keith Haring Museum in Yamanashi is set to welcome the Keith Haring: 360° exhibition which will explore the diverse works of American pop artist Keith Haring. The exhibition will run from May 15, 2021 to May 8, 2022.

Keith Haring was an American pop artist whose work began in the 1980's when he would create spontaneous drawings in the subways of New York City. Haring participated not only in solo exhibitions, but national and international shows too, such as documenta 7 in 1982 and Venice Biennale in 1984. His later works took on more political and societal themes such as drugs, racism, sexuality, and AIDS. Haring died of AIDS-related complications in 1990 at the young age of 31.

Photo by ©︎Makoto Murata

Untitled (Figure Balancing on Dog), 1989

Untitled (KH.200), 1982, The Museum of Art, Kochi

My Town, Peace I–IV, 1987, Tama City Cultural Foundation

Nakamura Keith Haring Collection

One of the most noteworthy appearances at the exhibition is Haring's Figure Balancing on Dog (1989), a rare sculpture made of raw aluminium. As the title suggests, the piece features a person riding atop a dog, which may be a depiction of balance. It brings to mind the relationship between humans and animals and the anxiety towards a strange society that cannot be measured. Other works will also Untitled (KH.200) (1982), My Town which was drawn by 500 children from Tama, Tokyo, My Town, Peace I–IV (1987), and a series of six drawings entitled Bad Boys (1986) which Haring produced in Amsterdam.

For the first time ever, visitors will be able to see photos taken by Japanese art journalist Makoto Murata who interviewed Haring when visiting New York from December 1982 to January the following year.

The exhibition will look at Keith Haring, his diverse work, and deep messages of society from all angles – a 360° view.

Information

Keith Haring: 360°
Running: May 15, 2021 – May 8, 2022

No Fixed Holidays

Opening Hours: 09:00-17:00

Official Website: https://www.nakamura-haring.com/

Disney Princesses Help You to Answer the Question 'What is Love?' at This Tokyo Event

As part of Disney's Ultimate Princess Celebration, a worldwide festival themed on courage and kindness that began in April, an event titled "What is Love? ~The Secret to Shining Bright Lies in the Princess World~" will take place at Shibuya Marui in Tokyo from June 23 to July 29 this year. It will subsequently move to JR Nagoya Takashimaya from August 4 to 23 and finally conclude next year in Shizuoka where it will run from January to March.

This event tries to answer the question "What is Love?" through a range of content that encourages the use of all five senses: visually, digitally, musically, through scent, and more.

 

What is Love? ~The Secret to Shining Bright Lies in the Princess World~

Visitors are guided by 12 Disney princesses who will take them on a journey of their 'love' in six different areas.

 

A Look at the Event

1. Introduction: 12 Shining Princesses

At the event, you will meet the 12 princesses and learn their story, what their personality is like, and more.

2. Opening Theater: Discover the Secrets to Shining Bright

Attend the theatre and watch the stories of the princesses with your own eyes.

3. 7 Keywords Unravelled From Their Stories

Seven keywords that appear in the princesses' stories will be explored, each of which are tied back to love. This will include exhibits of scenes from the Disney animated movies, an AR experience using smartphones, and more.

From Beauty and the Beast

Using their smartphones, visitors can hold up their phones and utilise AR technology to see various scenes from Beauty and the Beast in an area inspired by the library that Beast bestowed upon Belle.

From Tangled

In Tangled, the King and Queen release lots of sky lanterns on Rapunzel's birthday each year in hopes that she will see them and return. Let your own lanterns fly like in the movie and witness a beautiful spectacle.

4. Music and Fragrance: Clad in Radiance Unseen to the Eye

A unique experience combining music and fragrances inspired by the princesses, who radiate from love, will let visitors feel closer to them.

5. Glowing Lines: Words That Make the World Shine

At the Closing Theater, words and lines said by the princesses will be displayed, offering another way of enjoying their world that radiates from love.

6. Prologue: Your Own Unique Story Begins

Pick up a range of merchandise featuring designs of the exhibition's main visual, the seven key words, and more.

 

Services and Content Offered by Disney at the Exhibition

Disney+

Disney+ is a streaming service that brings together all Disney, Pixar, Marvel, Star Wars, and National Geographic content in one place, as well as exclusives. Those at the exhibition can watch the content offered by Disney+ at the Opening Theater.

 

Disney DX App

The Disney DX is an app exclusive to Japan that comes as a set with Disney+. It offers the chance to see cut scenes from movies, behind-the-scenes content, and more. The exhibition utilises this app through AR experiences, so if downloaded, you're sure to have an even more fun time.

A curated list of Disney Princess music is played at the exhibition. If you head to the shop, you can pick up movie soundtracks and other albums. Disney even created a playlist themed on the princesses that's now available on music streaming services.

Information

What is Love? ~The Secret to Shining Bright Lies in the Princess World~

Japanese Event Title: WHAT IS LOVE? ~輝くヒミツは、プリンセスの世界に。~

Running: June 23, 2021 – July 29, 2021

Where: Shibuya Marui (Floors 7F & 8F) *Reception is on floor 7F

Address: Shibuya Marui, 1-22-6 Jinnan, Shibuya-ku, Tokyo

Opening Hours: 11:00-20:00

Official Website: https://PrincessExhibition.jp

*Exhibition will subsequently move to JR Nagoya Takashimaya (August 4, 2021 – August 23, 2021) and Shizuoka (January 2022 – March 2022)w

Yusuke Nakamura Exhibition Opens at the 21st Century Museum of Contemporary Art, Kanazawa

The Yusuke Nakamura Exhibition opened at 21st Century Museum of Contemporary Art, Kanazawa, on April 29. It was also announced that the Japanese illustrator is releasing the first artbook to compile all of his CD cover art on May 28, but the book can be bought early at the exhibition.

Yusuke Nakamura Exhibition

Yusuke Nakamura Exhibition CD Artworks

Yusuke Nakamura has designed covers forASIAN KUNG-FU GENERATION, Masashi Sada, Spitz, and more

Commentary on the CD covers written by the Yusuke Nakamura himself

Rough sketches are featured in the book

A talk between Yusuke Nakamura and Masafumi Gotoh (ASIAN KUNG-FU GENERATION)

It wouldn't be an exaggeration to call Yusuke Nakamura one of Japan's most prolific artists, having worked with some of the country's biggest names such as ASIAN KUNG-FU GENERATION, Gentouki, Masashi Sada, and more. His new artbook, entitled PLAY, compiles all of his CD covers from 2002-2020, commentary, rough sketches, talks, and more. While many things from the book are explored at the exhibition, there's plenty of content exclusive to the book too, so it's a must-grab for fans.

Information

Yusuke Nakamura Exhibition

Running: April 29, 2021 – May 29, 2021

Location: 21st Century Museum of Contemporary Art, Kanazawa

Official Website: https://www.kanazawa21.jp/

PLAY
Release Date: May 28, 2021

Price: ¥2,273 (Tax Included)

Blue Lock Manga Series Announces Exhibition in Shibuya to Promote 14th Volume

In promotion of the 14th volume of Muneyuki Kaneshiro's manga series Blue Lock, an exhibition will take place at SpaceHACHIKAI inside Tower Records Shibuya in Tokyo from May 15 to June 6.

Buy merch and receive these items free

Character illustrated cards


Vinyl-style panels

This will be Blue Lock's first-ever exhibition since it began serialisation in 2018. It will feature displays of manga drafts, uncoloured illustrations, and more. There will also be a special spot for taking photos. A collection of exclusive merchandise will be available for fans to buy, as well as free bonus items when a purchase it made.

© 金城宗幸・ノ村優介/講談社

Sanrio Announces 60th Anniversary Exhibition 'The Beginning of Kawaii'

From Hello Kitty to Pompompurin, Cinnamoroll, My Melody, and more – Sanrio's internationally adored cast of characters can be universally agreed to be representatives of Japan culture of 'kawaii.' In celebration of Sanrio's 60th anniversary, the company have announced an exhibition centred on the beginning of kawaii culture. The event will take place at TOKYO CITY VIEW from September 17, 2021 to January 10, 2022.

60th Anniversary Sanrio Exhibition: The Beginning of Kawaii is currently taking place at Matsuzakaya Art Gallery in Nagoya until June 12 and will move to Ōita Prefectural Art Museum where it will run from July 10 to September 5 before heading to TOKYO CITY VIEW.

 

© 2021 SANRIO CO., LTD. APPROVAL NO. SP610376

This exhibition will not only look back over Sanrio's 60-year history, but will also dive into how Japan's culture of 'kawaii' came about. Fans of Sanrio and Japan's kawaii can expect product and design showcases, in-depth explanations, and more.

Over 800 products, documents, and materials related to Sanrio will be presented, many of which will shine a spotlight on some of their most famous characters out of their roster of 400, such as Hello Kitty and My Melody, and other characters that might not be known to those outside Japan such as best friends Patty & Jimmy.

What to look out for at Sanrio's 60th anniversary exhibition

Unforgettable Tower by Sebastian Masuda

Sebastian Masuda, a pioneer of kawaii culture, will showcase his symbolic art pieces at the event at TOKYO CITY VIEW's observation deck, combining his iconic work against a breathtaking background.

 

The Beginning of Kawaii

Learn about the history of Sanrio's culture of kawaii, beginning as a service to 'move people's hearts' through gifts and products. Visitors will get a chance to see the secrets of Sanrio's iconic style which draw a line under fancy products from other companies.

There will also be a chance to see Japanese illustrators Takashi Yanase, Ado Mizumori, and Rune Naito's work with Sanrio.

The Birth of the Characters

What makes something kawaii or not kawaii? Why do characters not necessarily need to have a story to become so popular? These questions are more will be answered as the exhibition looks at the birth of Sanrio's characters.

Sanrio's Characters

How did their hit characters come to be? During the 1980's, Japan was a warzone for characters. Sanrio changed how characters became popular, moving from characters that were popular with everyone to creating characters that people wanted for themselves – their own personal characters. Discover how Sanrio's long list of characters came about, including ones that have stood the test of time and ones that have declined in popularity.

Ichigo Shimbun

Ichigo Shimbun is a magazine published by Sanrio all about Sanrio and their characters – a familiar read to all fans in Japan. The magazine will be featured at the exhibition.

Hello Kitty: The Character Who Turned Into a Global Icon

Hello Kitty is known the world over, with even Lady Gaga having worn a dress of Hello Kitty plush toys in the past. This dress will be exhibited at the event, amongst many other things related to Sanrio's global idol.

A Battle Between Artists

Artists from various artistic background will participate in the exhibition by creating a range of different Sanrio works. Participating artists and their specialities include Ryūsuke Fukahori (objects), Hajime Nakatomi (bamboo art), Takaya Mori (sculptor), Mio Hashimoto (sculptor), and Risa Fukui (paper cut-outs).

Information

60th Anniversary Sanrio Exhibition: The Beginning of Kawaii

Running: September 17, 2021 – January 10, 2022

Where: TOKYO CITY VIEW (Roppongi Hills Mori Tower Floor 52F)

Address: 6-10-1 Roppongi, Minato-ku, Toky0

Price: TBA

60th Anniversary Sanrio Exhibition: The Beginning of Kawaii Official Website: https://sanriocharactermuseum.com/

Netflix's Devilman Anime Series Gets Online Virtual Reality Exhibition

An exhibition centred on the Devilman manga series by Go Nagai, the 1972 Devilman anime adaptation, and Netflix's 2018 DEVILMAN crybaby anime adaptation, is set to take place on the online exhibition platform Virtual Utopia from April 28 to May 31.

What to look forward to

*Visuals are of an exhibition still in development

*Visuals are of an exhibition still in development

A devilish experience split into 11 areas

Devilman has been entertaining readers and anime-lovers for almost half a decade. The exhibition will depict the comparisons between humans and demons of the series in 11 different areas, each recreating scenes that are sure to be instantly-recognisable to fans.

Main Area: Heart of a Demon / Heart of a Human

The main portion of the exhibition is split into four areas which fans will find themselves going back to numerous times, and in different orders, giving each visitor their own unique perspectives and interpretations. There's also a hidden area which can only be accessed by those who have seen the 'special exhibit.' There's also a free-to-enter area with messages from the creators.

Go deeper into the VR Devilman Exhibition with the voice guide
Forget your usual guides, this exhibition incorporates voiceover guides to walk people through the exhibition. For an extra fee, fans can have Megumi Han, who plays Miki Makimura in DEVILMAN crybaby, and Tomokazu Seki, who for this exhibition is playing Psycho Jenny, guide them through the different areas.

*Visuals are of an exhibition still in development

Users can download the Virtual Utopia app for free, and the exhibition can be attended even without a VR headset. There will also be talks by the author and other notable people in the industry which can be watched live on YouTube, so anyone can get involved.

Ground Y T-Shirt Collaboration

The exhibition is also collaborating with Yohji Yamamoto's fashion brand Ground Y on six original tees.

 ©永井豪/ダイナミック企画
TVアニメ版「デビルマン」©ダイナミック企画・東映アニメ―ション
DEVILMAN crybaby        ©Go Nagai-Devilman Crybaby Project
©VRデビルマン展実行委員会

Mr. Osomatsu Themed Hotel Rooms Open Across Japan

KADOKAWA has announced that it's taking the Mr. Osomatsu themed hotel room from EJ Anime Hotel at Tokorozawa Sakura Town in Saitama, which ran from December 3, 2020 to March 31, 2021, to six hotels in Sapporo, Nagoya, Osaka, and Hakata starting on April 28.

Mr. Osomatsu anime freebies for guests

Design of the free mask case

Free coaster

The 'EJ' of EJ Anime Hotel stands for 'Entertainment Japan.' The hotel aims to have guests living inside the stories they love from a wide range of Japanese media from anime to manga, movies, tokusatsu SFX movies, idol culture, and more. As well as room decorations and the exclusive merch that will be on sale, the hotel is also offering a new kind of accommodation experience by incorporating videos, sounds, lighting, and more. Its restaurant will also offer a selection of food and drink in collaboration with various series including all-out full course dinners.

Due to its popularity with guests, the Mr. Osomatsu themed anime room is heading to six locations across Japan which are listed below.

©赤塚不二夫/おそ松さん製作委員会

Stay in a Penguin Themed Hotel Room at Hoshino Resorts OMO7 Asahikawa

Hoshino Resorts OMO7 Asahikawa opened its Penguin Room on April 6, a single new guest room themed around penguins designed in collaboration with Asahikawa Zoo.

Penguin Room Feature ①

Guests are immediately greeted with penguins galore as the enter their room, with penguin plushies by the bedside, on the ceiling, and pretty much everywhere else. It will be like staying with a family of penguins for the duration of their stay.

Penguin Room Feature ②

After a visit to Asahikawa Zoo, guests can head back to their hotel room where a variety of fun penguin-related items are stocked including games, all of which will remind them of their time at the zoo.

Penguin Room Feature ③

The room is also decorated with boards featuring photos and information of animals at Asahikawa Zoo. The boards are handwritten by the zoo staff, something they do every spring season.

Hoshino Resorts OMO7 Asahikawa previously collaborated with Asahikawa Zoo when a polar bear themed room. Now, penguin lovers can have their dream come true as they spend their time surrounded by penguin decorations in their room. The hotel is just a 30-minute car ride from Asahikawa Zoo, so why not make a plan to experience both if you're visiting Hokkaido this spring?

Hoshino Resorts Tomamu Releases Original Craft Beers

Hokkaido-based luxury resort Hoshino Resorts Tomamu is set to sell a limited-time selection of original craft beers this summer from July 1 to August 31.

Tomamu Pilsner

Tomamu Amber Ale

Tomamu Black Ale

The Japanese word for corn is toumorokoshi, but in Hokkaido it's called toukibi. This collection of corn beers is made with natural water drawn from Hokkaido along with other tasty ingredients. These beers are each made in collaboration with North Island Beer, The Heavy Snow Beer, and Onuma Beer, and come in response to the decrease in occasions to be able to enjoy chilled glass of beer as a result of COVID-19.

The beers have sweet notes of corn and are each made in the style of the three respective beermakers who each have their own malt, hops, and flavours they pick.