Madoka Magica & Magica Record Anime Merchandise Releases at EMooooN
Fans of Puella Magi Madoka Magica and Magica Record won't want to miss out on these new themed backpacks and wristwatches released by KADOKAWA at the apparel brand EMooooN. Available to order until May 23, the merch designs take inspiration from the 2011 film Puella Magi Madoka Magica: The Movie and the anime adaptation of the mobile RPG Magia Record: Puella Magi Madoka Magica Side Story.
The anime studio SHAFT, who animated both of these series, created special illustrations of Madoka, Homura, Iroha, and Yachiyo for this merch drop.
Madoka Kaname Backpack | ¥14,700 (Tax Included)
Inspired by the one and only Madoka, this backpack's outer design features her full name embroidered in the bottom right, while inside fans will discover an original design with magical circles and limitless space. There is plenty of room to store your bits and bobs with both open pockets and a zip pocket. The bag itself has a simple body design which makes it perfect for being nerdy while in a business setting as well as looking stylish when out and about.
Homura Akemi Backpack | ¥14,700 (Tax Included)
Embroidered with Homura's name, this black backpack's inner design features flowers and the starry night sky.
Madoka Kaname Wristwatch | ¥18,480 (Tax Included)
The face of this wristwatch features magical circles and its colours based on Madoka's clothes. Its stylish design also makes it wearable in any situation.
Homura Akemi Wristwatch | ¥18,480 (Tax Included)
Homura's clock face has cogs on it as well as darker colours to match her character design.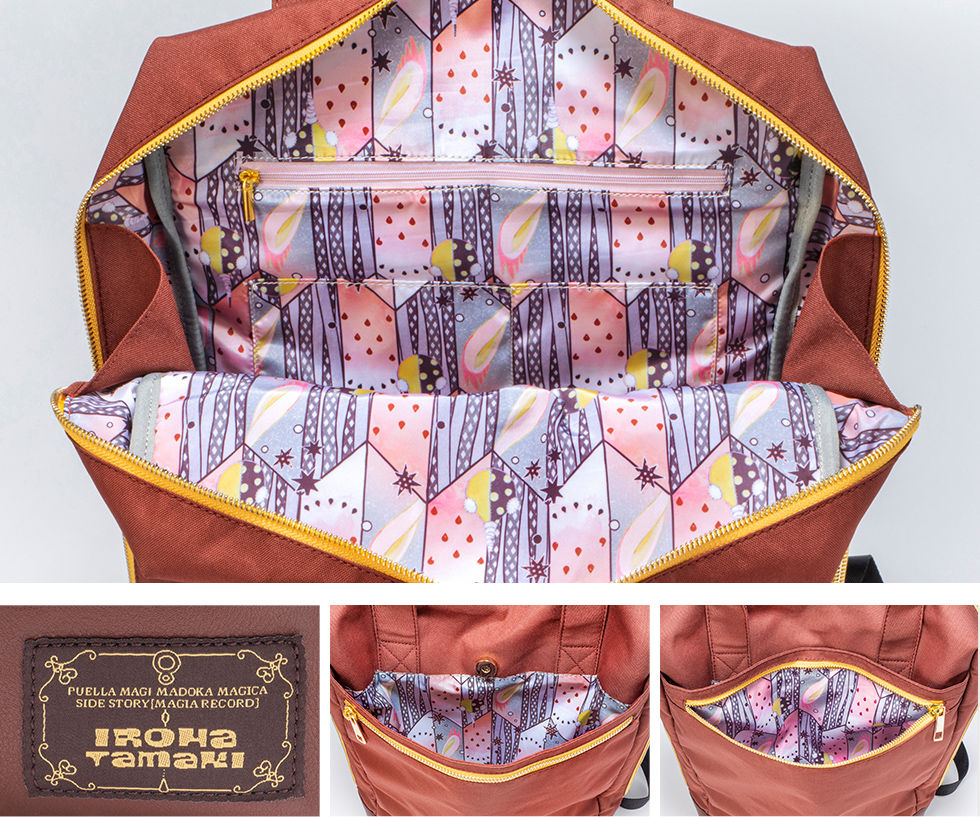 Iroha Tamaki Backpack | ¥14,700 (Tax Included)
The interior design of Iroha's bag was created by Doroinu of Gekidan Inu Curry.
Yachiyo Nanami Backpack | ¥14,700 (Tax Included)
Dorainu also designed the inside of Yachiyo's bag.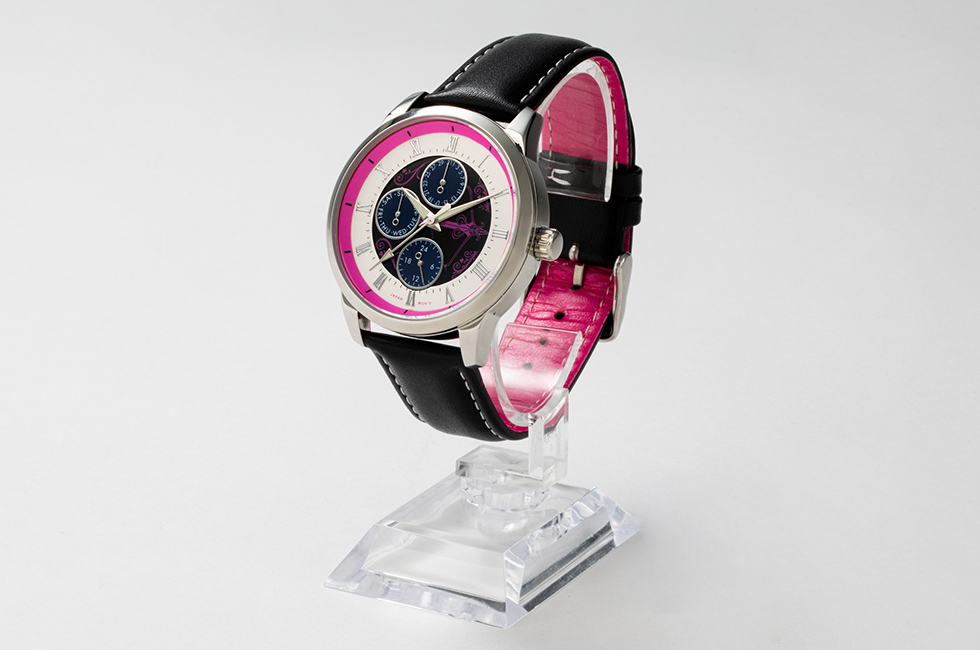 Iroha Tamaki Wristwatch | ¥18,480 (Tax Included)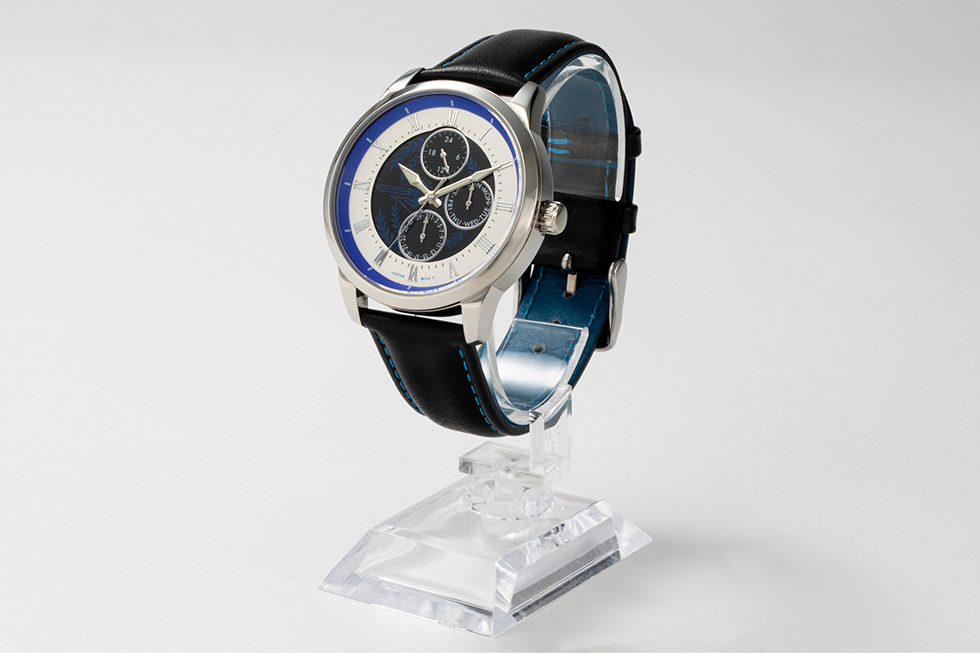 Yachiyo Nanami Wristwatch | ¥18,480 (Tax Included)
Special sets featuring illustrations by SHAFT
Backpack & Acrylic Key Ring Sets
Backpack EMooooN Sets: Madoka, Homura, Iroha, Yachiyo | ¥15,200 Each
Wristwatch & Acrylic Stand Figure Sets
Backpack EMooooN Sets: Madoka, Homura, Iroha, Yachiyo | ¥19,500 Each
©Magica Quartet/Aniplex・Madoka Movie Project Rebellion
©Magica Quartet/Aniplex・Magia Record Anime Partners
RELATED ENTRIES
Red Bull x King Gnu Secret Gig Announced

As part of Red Bull and King Gnu's "Go Louder" project, the Japanese pop-rock band are set to hold an exclusive live concert at a secret location as part of the Red Bull Secret Gig experience, which has taken place at over 10 locations in six countries worldwide. The show is scheduled for early June this year, and applications for tickets opened on April 27.

Tickets to the Red Bull Secret Gig shows are free, but the venue is kept a secret until the last minute, and concertgoers must solve puzzles and riddles. There are two ways to attend the King Gnu concert: in-person and online, each of which will be determined on fans' success in the endeavour.

Information

Red Bull Secret Gig

Date: Early June 2021

A-Prize: Attend the concert in-person

Who's Applicable: Those who are randomly chosen from a pool of people that have figured out the venue

B-Prize: Watch the concert online

Who's Applicable: Those who are randomly chosen from a pool of people that have figured out the venue

Application Periods

A-Prize: April 27, 2021 – May 16, 2021 at 23:59 (JST)

B-Prize: April 27, 2021 – May 31, 2021 at 23:59 (JST)

Official Website: https://www.redbull.com/secretgig-jp

Sesame Street x BAPE® Second Collaboration Launches

The Sesame Street and BAPE® collaboration continues with pre-sales for the children's line-up having launched at BAPE KIDS® Harajuku on April 29 and the men's collection dropping at all A BATHING APE® stores and webstore on May 2.

This collaboration features familiar faces from the Sesame Street series including Elmo, the Cookie Monster, and Big Bird together with BAPE's own BABY MILO®. It's a fun and colourful collection of stripes tees, tees with big graphics on them, and more for the family to coordinate.

There are also special illustrations in line with Children's Day in Japan which falls on May 5.

Information

BAPE® x Sesame Street

Kids' Collection

Pre-Sales: April 29, 2021

Where: BAPE KIDS® Harajuku / BAPE KIDS® Yokohama Takashimaya / BAPE® Online


Men's Collection

Released: May 2, 2021

Where: A BATHING APE® Stores (Select Branches Not Participating) / BAPE® Online


Product Page: https://bape.com/pages/sesame-street-gw

Snoopy Design Eco Bags Release in Collaboration With 11 Brands

Fashion, beauty, and creative company MASH Holdings has announced a collaboration with the Peanuts comic strip titled "TAKE CARE WITH PEANUTS" which sees the arrival of an eco bag collection in collaboration with 11 different fashion brands. The bags were released at USAGI ONLINE, as well as other online stores and shops in Japan on April 28.

The Line-Up

SNIDEL | ¥1,980 (Tax Included)

gelato pique | ¥2,420 (Tax Included)

FRAY I.D | ¥2,200 (Tax Included)

Lily Brown | ¥2,970 (Tax Included)

Mila Owen | ¥3,300 (Tax Included)

CELFORD | ¥2,530 (Tax Included)

Emmi | ¥4,950 (Tax Included)

SNIDEL HOME | ¥3,850 (Tax Included)

Styling | ¥1,980 (Tax Included)

FURFUR | ¥4,950 (Tax Included)

UNDERSON UNDERSON | ¥3,960 (Tax Included)

The eco bags see Snoopy and the Peanuts Gang making an effort to promote sustainable alternatives to plastic bags. Fans of the comic can help the gang take care of the planet with this stylish reusable line-up.

Information

TAKE CARE WITH PEANUTS

Released: April 28, 2021

Available Online:
・USAGI ONLINE: https://usagi-online.com/
・Official online stores of each participating brand


Available In-Store:
・In-store at each participating brand (release dates different for each)

MASH Holdings Official Website: https://www.mash-holdings.com/

Non-Alcoholic Cocktails Made With Vinegar Get Served at Tokyo's Royal Park Hotel

Royal Park Hotel is collaborating with the Japanese condiment brand Mizkan, which is known for its vinegars, mustards, salad dressings and more, to serve non-alcoholic cocktails made with vinegar. The Non Alco-Vinegar Cocktail Fair will be held from May 1 to June 30.

Royal Park Hotel x Mizkan

Tropical Princess/FLORAL BEAUTY Vinegar Cashew/Frozen Fruity Su/Blueberry Black Vinegar Soy Milk Shake/Vinegar Fruit Yogurt/Ponzu & Tomato Ginger

The non-alcoholic vinegar cocktails were created for both drinkers and non-drinkers of alcohol as a way to enjoy the food scene more. The alcoholic drinks used in cocktails gives them a kick, and so does vinegar when used in food. These beverages combine vinegar with a range of fruits, teas, carbonated water, and other ingredients.

The line-up was conceived by the Vinegar Club who have also posted recipes for various cocktails on their website – links below.

Sumikko Gurashi x Hokka Hokka Tei Palm Sized Plushie Campaign Launches

The Hokka Hokka Tei x Sumikko Gurashi campaign is returning again this year as part of a celebration to commemorate the 45th anniversary of Hokka Hokka's first store opening in Soka, Saitama.

Every month, 100 lucky people who are members of the Hokka app have the chance to win a set of five palm-sized Sumikko Gurashi plushies for every Sumikko Gurashi bento they purchase at Hokka Hokka Tei stores in Japan. Each purchase comes with a QR code that can be scanned which will reveal whether they've won or not.

Madoka Magica Announces Sequel to 2013 Rebellion Movie

An online event was held on Sunday to commemorate the 10th anniversary of the anime series Puella Magi Madoka Magica. It was revealed that a new film was in the works titled Gekijōban Mahō Shōjo Madoka Magica: Walpurgis no Kaiten which will served as a sequel to the 2013 movie Puella Magi Madoka Magica The Movie Part 3: Rebellion.

"Well then, let's continue the story" reads the poster's tagline

The film sees the return of all the original staff and cast from the series and previous films.

Staff

Chief Director: Akiyuki Shinbo

Scriptwriter: Gen Urobuchi

Character Designer: Ume Aoki

Animation: SHAFT

Cast

Aoi Yuki as Madoka Kaname
Chiwa Saito as Homura Akemi
Kaori Mizuhashi as Mami Tomoe
Eri Kitamura as Sayaka Miki
Ai Nonaka as Kyōko Sakura
Kana Asumi as Nagisa Momoe
Emiri Kato as Kyubey

Mahou Shojo Madoka Magica scene0

It was also revealed at the event that the Magia Record: Puella Magi Madoka Magica Side Story smartphone game release a new project titled Mahou Shojo Madoka Magica scene0. Check out the official website as well as the promotional video below.

Puella Magi Madoka Magica OST Heads to Subscription Services

A two-disc soundtrack for Puella Magi Madoka Magica was released on all music subscription services worldwide, including Spotify and Apple Music, on Monday.

Madoka Magica Exhibition Announced For Tokyo

Tickets for an upcoming exhibition in Tokyo centred on the franchise will be available to buy this summer. The event will take place at Matsuya Ginza from the end of September 2021.

©Magica Quartet/Aniplex・Madoka Partners・MBS(TVシリーズ)

©Magica Quartet/Aniplex・WR(ワルプルギスの廻天)

©Magica Quartet/Aniplex・Magia Record Anime Partners(マギアレコード)

Information

Gekijōban Mahō Shōjo Madoka Magica: Walpurgis no Kaiten

Japanese Title: 劇場版 魔法少女まどか☆マギカ「ワルプルギスの廻天」

Official Website: https://www.madoka-magica.com/

Furla x LINE FRIENDS Capsule Collection Releases in Japan

Italian luxury goods company Furla has collaborated with the messenger app LINE to release a capsule collection featuring the LINE FRIENDS characters. The collection was released on April 23 at FURLA Shinjuku Scramble Square, FURLA Lumine Omiya, and FURLA Kinshicho PARCO.

FURLA LINE FRIENDS Capsule Collection

The line-up, which is officially titled FURLA LINE FRIENDS, welcomes the popular LINE FRIENDS original characters BROWN, CONY, and SALLY on seven different items such as micro bags, card cases, and more.

The micro bags, which are in this season, make up the entirety of the characters' faces and come with adorable leather. They are perfect for coupling with kawaii outfits, adding a sense of accessory to a look. The slim leather 'envelope' zip case is multipurpose and serves as a bag-in-bag as it can easily slot away in any handbag. There's also card cases with zip pockets so your favourite LINE FRIENDS character can keep your cards safe while you're out and about day and night.

Furla and LINE FRIENDS have also created an original phone wallpaper which can be downloaded.

MICRO BAG | ¥29,700 (Tax Included)

MICRO BAG | ¥29,700 (Tax Included)

MICRO BAG | ¥29,700 (Tax Included)

S ENVELOPE | ¥22,000 (Tax Included)

S ENVELOPE | ¥22,000 (Tax Included)

M CARD CASE | ¥17,600 (Tax Included)

M CARD CASE | ¥17,600 (Tax Included)

Information

FURLA LINE FRIENDS

Released: April 23, 2021

Where: FURLA Shinjuku Scramble Square / FURLA Lumine Omiya / FURLA Kinshicho PARCO

FURLA Official Website: www.furla.com

LIBERE x Naruto Anime Capsule Collection Released

Japanese high-end street brand LIBERE has teamed up with the Naruto anime series to release a capsule collection. Pre-orders opened on April 22 at the fashion brand's official online store and branches.

LIBERE FOR NARUTO

"LIBERE FOR NARUTO" is the theme of the collection which sees Naruto, Sasuke, Sakura, Kakashi, Shikamaru, and Itachi all serving a street-ninja style by wearing the items in the line-up. Each also incorporates family crests and colours that represent the cast. It includes tees, long-sleeved shirts, hoodies, bags, caps, and more, all of which have details like straps, pockets, and zippers, and all of which come with special tags, plastic bags, and dust bags that were specially made for this collection.

Pierrot, the animation studio who animated Naruto and Naruto: Shippuden, also created a look-book for the release which combines the anime with real life. A special poster will be included in all purchases.

(C)岸本斉史 スコット/集英社・テレビ東京・ぴえろ&LIBERE(R)

niko and … Collaborates With Kumamoto Painter to Promote New Store Opening

Style editorial brand "niko and …" opened pre-orders for a new collection with Kumamoto resident oil painter Takeshi Matsunaga at its new AMU PLAZA KUMAMOTO branch on April 23. The line-up is set to be subsequently released via the online webstore "st." as well as five branches of niko and … on April 29, including their Tokyo store.

MATSUNAGA TAKESHI MEETS niko and … KUMAMOTO

The line-up is a collection of everyday items from tote bags and mugs to key rings, pencil cases, iPhone cases, t-shirts, caps, and more. Each item features a design inspired by Rakunou Gyunyu, a brand of milk that's hugely popular in Kumamoto. Matsunaga adds his delicate touch to the oil-painted series. Part of the proceeds generated from the sales of these items will be donated to the city of Kumamoto in support of restoration efforts from the 2016 Kumamoto earthquakes.

niko and's new Kumamoto store also has a cafe attached to it, "niko and … COFFEE," where a milk smoothie will be sold for a limited time until September 30. Each will come with a milk-flavoured wafer featuring Matsunaga Takeshi's art on it.

Information

niko and … x Matsunaga Takeshi

Pre-Sales: April 23, 2021

Where: niko and … AMU PLAZA KUMAMOTO

General Sales: April 29, 2021

Where: .st / niko and … TOKYO/ Five branches of AMU PLAZA in Kyushu (Oita, Kokura, Hakata, Kagoshima, Nagasaki)

Buy on .st: http://www.dot-st.com/nikoand
Buy on niko and…: https://www.nikoand.jp

Crayon Shin-Chan Teaches Bicycle Safety in Animated Video

Japanese bicycle shop Asahi has teamed up with the anime series Crayon Shin-chan as part of its spring promotion campaign to spread awareness of the importance of riding your bike safely. Check out the collaborative video below.

The video was released to highlight the rules and manners of bike riding as with the sunny spring season comes more riders. It stars Shin-chan and his parents and is sure to have fans of Yoshito Usui's series reminiscing on the manga and anime while taking into account the importance of protecting yourself and those around you. Playing in the background of the video is Hashirigaki by Japanese rock band Macaroni Enpitsu. The song, which sings of youthful days, was used as the main theme for the new anime film Crayon Shin-chan: Shrouded in Mystery! The Flowers of Tenkazu Academy.

As part of Asahi's spring campaign, their official website also has information on things to consider when choosing a bike, how to praticing riding with training wheels, and more, all presented by the Kasukabe Defence Force from Crayon Shin-chan. The website is also giving 10 lucky people a chance to win a Nintendo Switch Lite by completing and posting the colouring-in sheet you get when buying a children's bike on their website to Instagram.

My Hero Academia T-Shirt Collection Lets Fans Celebrate Their Favourite Characters in Style

Japanese cut and sewn fashion brand GOOD ROCK SPEED has released a new collection of tees inspired by My Hero Academia, Kōhei Horikoshi's ongoing manga series that's published in Weekly Shonen Jump. The fifth season of the series' anime adaptation began airing last month, and a new anime film, My Hero Academia The Movie: World Heroes' Mission, is slated for release this year.

The collection includes six tees by GOOD ROCK SPEED, a brand known for collaborating with rock bands, films, and more both inside and outside Japan. This however marks its first tie-up with an anime series. The tees feature fashionable designs and are pigment-dyed, giving them a used look. Each features a motif to a different character in the series, which will be instantly-recognisable to My Hero Academia fans, but just stylish t-shirts to others, meaning fans can express their love for the series low-key.

Izuku Midoriya | ¥4,950 (Tax Included)

Izuku Midoriya, also known as Deku, is the protagonist of the story who receives his Quirk from All Might. His tee has his signature move written on the front pigmented in a colour reminiscent of the character.

Katsuki Bakugo | ¥4,950 (Tax Included)

Katsuki Bakugo is Deku's childhood friend, and Stun Grenade is his iconic explosive super move.

Shoto Todoroki | ¥5,950 (Tax Included)

Half-Cold Half-Hot is Todoroki's Quirk, a character whose right side casts ice and left side fire.

All-Might | ¥4,950 (Tax Included)

All-Might, the symbol of peace.

Endeavour | ¥4,950 (Tax Included)

Endeavour is a Pro Hero also known as the Fire Hero.

Eraser Head | ¥4,950 (Tax Included)

Eraser Head is a Pro Hero and the homeroom teacher of U.A. High School's Class 1-A, Deku and the main gang's class.

Element x Demon Slayer: Kimetsu no Yaiba T-Shirt and Skateboard Collection Released

Element and the globally-lauded anime series Demon Slayer: Kimetsu no Yaiba have come together to release a capsule collection featuring tees and skateboards with graphics of the anime's main characters.

KIMETSU A SS

KIMETSU B SS

KIMETSU TANJIRO SS

KIMETSU ZENITSU SS

KIMETSU LOGO SS

The vibrant ensemble combines the world of Demon Slayer with Element's iconic logo. The tees were released on April 16, with the boards and other items set for release this September. The collection is available via Element's Japanese website as well as on Bandai Fashion.

(C)吾峠呼世晴/集英社・アニプレックス・ufotable