Japanese Illustrator Cotoh Tsumi Opens Exhibition in Tokyo
Japanese illustrator Cotoh Tsumi is now holding a solo exhibition of her iconic artwork at the atmos propeller street branch of Japanese sneaker select shop atmos in Tokyo. The exhibition, which is themed on girls wearing sneakers, is running until May 9.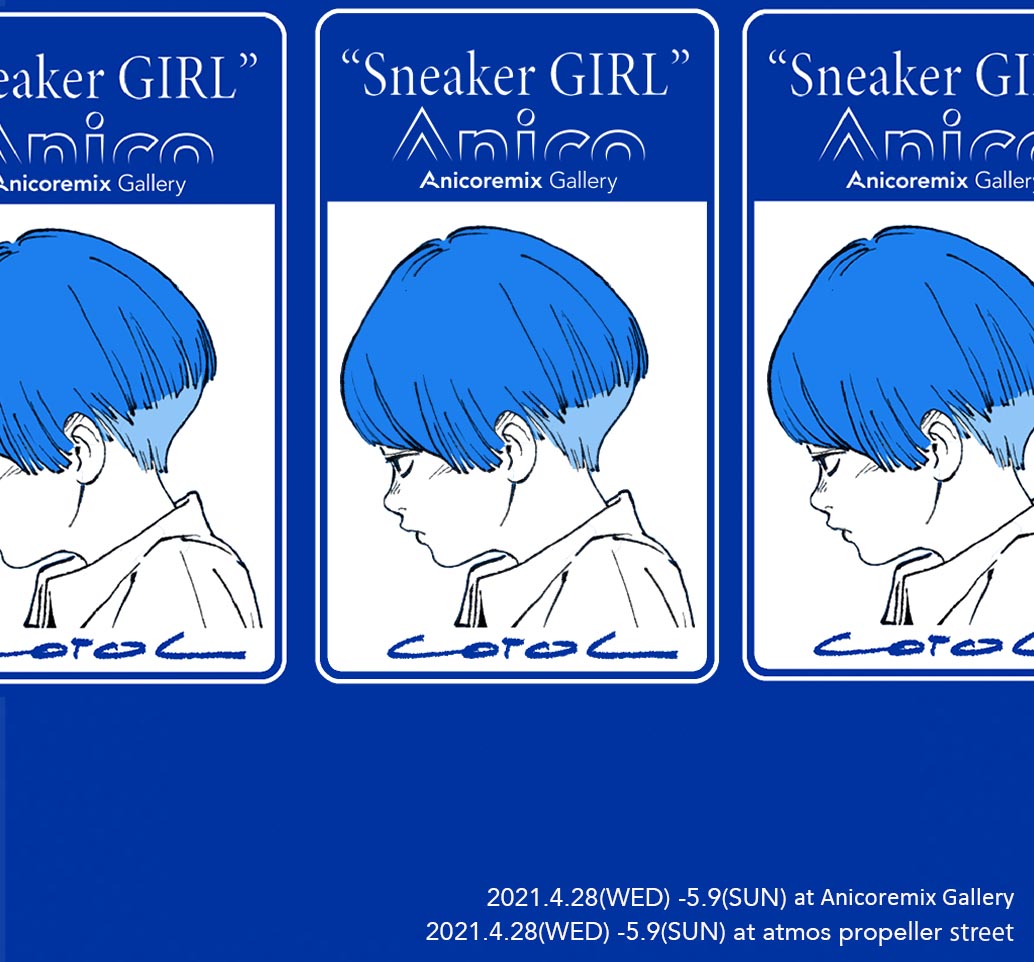 Cotoh Tsumi became well-known for creating the visuals for the Japanese music unit YOASOBI. They also created the main visual for the atmos con Vol.8 event held last month and even released a capsule collection. Now, their "q" exhibition is being held at atmos propeller street's Anicoremix Gallery. The subheading for the exhibition reads, "You understand surface-level cuteness, but if you say you know anything about me, you're a liar." The exhibition brings together illustrations from the artist's archive.
Exclusive merchandise will also be sold such as t-shirts and posters
RELATED ENTRIES
Since 2019, musical duo YOASOBI has taken Japan and the rest of the world by storm. Producer and songwriter Ayase, along with singer-songwriter Ikura, base their tracks on short stories, bringing books to life. Their debut single, Yoru ni Kakeru, was released on December 19, 2019, and spent three weeks at the top of the Oricon charts. Their first EP, 'THE BOOK,' was released in January 2021, and now, 'THE BOOK 2' is less than two weeks away. The duo will also be performing in this year's Kouhaku Uta Gassen New Years' special. In February 2021, YOASOBI held their first solo concert at the KEEP OUT THEATER in Shinjuku. 

'THE BOOK 2' will release on December 1, and the pair's first face-to-face one-off concert, titled Nice to Meet You, will take place at Nippon Budokan from December 4 to 5. 

'THE BOOK 2' will be a limited edition-only release, and the CD will come in a ring binder package. The album will also be available to stream. To commemorate this new release, the group's first album will be getting a second run starting November 30. 

Shoe Brand atmos to Open Limited-Time Pop-Up Shop in Collaboration With BLUE HAMHAM

BLUE HAMHAM, the adorable character designed by animator Arimura Taishi, is teaming up with popular sneaker shop atmos for the two brand's first-ever collaboration collection! Merchandise will include a T-shirt and hoodie, both unisex, and both available in three sizes. These will be on sale from November 19 until November 28 at the atmos online store and the atmos x BLUE HAMHAM Pop-Up Store being held at the atmos pink flagship store in Harajuku.

Lineup

atmos x BLUE HAMHAM Long Sleeved T-Shirt

atmos x BLUE HAMHAM Hoodie

AR Filter

BLUE HAMHAM are four music-eating space hamster brothers from a planet called 'Proxima b.' Their animations on Twitter, TikTok, and other social media platforms have garnered over 300 million views worldwide. Bringing Tokyo sneaker culture to the world, atmos derived its name from the word 'atmosphere,' and aims to be a shop as natural as the air around you. This is sure to be a collab unlike any other!

Guests to the pop-up store can enjoy a photo booth, allowing visitors to take photos with BLUE HAMHAM. A special AR filter on Instagram will also let guests transform into one of these space hamsters!

Information

atmos x BLUE HAMHAM

Collaboration Merch on Sale: November 19, 2021

Details: https://www.atmos-tokyo.com/lp/atmos-blue-hamham-pop-up

atmos x BLUE HAMHAM Pop-Up Store

Running: November 19 – November 28, 2021

Address: atmos pink flagship store Harajuku (Iberia Building 1F, 6-5-3 Jingumae, Shibuya)

Sneaker Art Project artrA to Hold Final Exhibition in Osaka and Tokyo

Street culture is ever-evolving, and sneakers play a big part in street fashion. Combining sneakers and art, the artrA project is about to wrap up its first successful season. SNKRDUNK, Japan's premier sneaker selling app and popular shoe shop atmos have teamed up for this exhibition, which will feature the famous AIR JORDAN 1. These exhibitions have taken place in seven cities across Japan since July. The final exhibitions will be held in Osaka in November and in Tokyo in December. 

A total of 26 up-and-coming illustrators, graphic designers, and even ukiyo-e artists have come together for this unique event. The artwork in this exhibition will incorporate the AIR JORDAN 1 brand, and merchandise featuring this street-styled artwork will be available at the venue.

Those who purchase a T-Shirt on-site will be entered into a raffle to win a pair of AIR JORDAN 1 sneakers. In addition, a special lottery will allow winners to purchase a pair of sneakers to take home. 

Be sure to keep an eye out for the second season of the artrA project brought to you by ASOBISYSTEM!

Information

artrA – SEASON 1 FINAL –

"artrA Vol.8" in OSAKA

Running: November 19 – November 23, 2021

Hours: 10:30-20:00

Address: atmos SHINSAIBASHI (2-7-6 Shinsaibashisuji, Chuo-ku, Osaka) 

Admission: Free

"artrA Vol.8" in TOKYO

Running: December 24 – December 26, 2021

Hours: 11:00-19:00

Address: A.F GALLERY (3-21-8 Jingumae, Shibuya, Tokyo)

Admission: Free

Official Site: http://asobisystem.com/

150 Japanese Artists to be Featured in ILLUSTRATION 2022 Publication Next Month

Selling over 110,000 copies to date, the ILLUSTRATION series shows off the current state of Japan's art scene. Japanese artists are recognized around the world for their unique style, and 150 diverse pop-culture creators will be featured in ILLUSTRATION 2022, releasing on December 6, 2021. Compared with last year's release, this tome will feature ninety percent new artists, keeping readers abreast of the state of contemporary illustration today. 

ILLUSTRATION 2022 (Standard Edition)

ILLUSTRATION 2022 (Special Edition)

The cover art was provided by Tsumi Cotoh, known for her work with popular music duo YOASOBI. The book was designed by up-and-coming designer Arima Tomoyuki. 

At the end of the book, readers can enjoy an interview with Sony Music Entertainment's Yohei Yashiro, the man behind YOASOBI. PIEDPIPER, the general producer of Kamitsubaki Studio, also gave an interview. Tsumi Cotoh and Arima Tomoyuki also discuss the process of creating the book. 

ILLUSTRATION 2022 utilizes the newest artbook printing technology, 'Brilliant Palette,' to deliver the most high-quality color prints. A Special Edition featuring a unique cover will be sold in limited quantities, so try to grab one while you can!

Japanese Artist MAI YONEYAMA Featured in London's Saatchi Gallery "START ART FAIR 2021"

Animator and Illustrator MAI YONEYAMA has been chosen to represent Japan at the START ART FAIR 2021. The exhibition will be held at the Saatchi Gallery in London, known as one of the most famous contemporary art galleries, with over 70 artists from 25 countries and galleries around the world expected to participate. MAI YONEYAMA will be presenting her work titled "00:00:00;00" (Sequence), a piece symbolizing her own life.

The artwork is one of the stand-out pieces of this year's fair, having been recognized by Hermitage Museum curator Dimitti Ozerkov's team and featured by START.art, a global curators collective.

A LOT, 2021

Es, 2021

Id, 2021

DISCOVER, 2021

silk moss, 2020

VISIONS, 2020

YONEYAMA started her career as an animator on the GAINAX, the anime company in charge of 'Neon Genesis Evangelion.' She is well known in the animation industry, having also worked for the anime production company Trigger: She was the animation director for 'Kill la Kill' and character designer for 'Kiznaiver,' before taking charge of the visual development for 2019 hit movie 'Promare.' She is also a well known illustrator, even producing artwork for the 'Evangelion' apparel brand 'RADIO EVA.' Not only did she produce the artwork for the Kanebo 'KATE' brand commercial featuring Ayanami Rei – She was also in charge of the direction and filming. 

YONEYAMA's art career is in full swing, having held her first solo art exhibition "SHE" in 2019, followed by "EGO" in 2021. 

You can feel the emotion and movement in her works, boosted by her experiences as an animator. There is often influenced of Japan and Asia in her art, adding even more depth. 

"00: 00: 00: 00" (Sequence) is a collective piece formed of 16 works, with each individual piece flowing as one when put together. The word "sequence" is a term often used in the movie and animation industry to refer to a collection of scenes that can be combined to create one story. In regards to the title, YONEYAMA commented on the meaning of the title, saying "Sequences exist at any moment, for every person including myself. Each moment within that sequence is like it's own piece of art." Regarding the artwork concept, she said that "For me, drawing for animation reminds me of the preciousness of each single moment. I expand a single moment to create each frame, repeating this countless times. I love how each moment interacts with one another, creating a flow of moment when played back and forth, so I turned it into an art piece.

 

The word is based on 16 flowers and their meanings, with the drawing of a girl placed on top of each flower. You can see the technique and perspective learned from YONEYAMA's experience in animation have been applied to each piece, conveying minute details such as breathing, emotions, outlook, and the space around the character, confirming the idea that "Animators are people who can create life." As you follow the flowers using the language of flowers, the character leaves her innocence as a freesia, gradually changing into the embodiment of a lily, pure but dignified. Each eye-catching piece has been drawn one by one, perfectly capturing the flower meanings and conveying both cuteness and beauty. With all 16 pieces displayed together, the full artwork will impress any viewer.

 

 

 

"00:00:00:00" could be said to symbolize MAI YONEYAMA, and has attracted a huge amount of interest, even capturing the attention of Dimitri Ozerkov's team.  Dimitri Ozerkov is a Russian art historian and curator who has been responsible for the contemporary art department of the Hermitage Museum since 2007.  He is a member of START.art, a group formed of curators from around the world, and is also in charge of the Hermitage 20/21 Contemporary Art Project, which collects and exhibits contemporary art in traditional museums around the world. As the curator for such a prestigious museum, the works collected by him to be displayed at the 'START ART FAIR 2021' are highly anticipated. 

 

 

Impressively, rather than being proud, the humble YONEYAMA is grateful to her predecessors for allowing her to get this far, but she has announced that her goal is "To move people's hearts as herself." 

Turning art into words, she communicates through her artwork, transcending time and language. 

Be sure to pay attention to what animator and illustrator MAI YONEYAMA does next!

©MAI YONEYAMA

SSS by applibot Illustrator Sevnzel Opens Second Solo Exhibition at atmos Kyoto

The Kyoto location of Japanese sneaker shop atmos will begin hosting a solo exhibition by Sevnzel, an illustrator associated with the creative group SSS by applibot! The event will take place between October 30 and November 7, 2021. 

Lineup

Sevnzel #424D99-BLISTER PACK GOSPEL 01 atmos Ver.

Sevnzel #424D99-BLISTER PACK GOSPEL 01

atmos × Sevnzel Collaboration L/S TEE NAVY

atmos × Sevnzel Collaboration L/S TEE WHITE 

Sevnzel has worked on character designs for Pokemon Sun & Moon and Tensai TV Kun hello, and also created the animated mascots for the NEC LAVIE VEGA laptop. The artist has been posting pages from a new full-art comic titled #424D99 on his Twitter page for some time, and the long-awaited first paperback volume has just been released. 

At Sevnzel's first solo exhibition in September, the artist displayed and sold oversized printed panels of each page of the new comic. A performance at the atmos Sendagaya store also utilized projectors and monitors, with the artist completely taking over the space. 

During the exhibition at the atmos Kyoto location, unique blister packs featuring the first volume of his comic will be on sale. These will come in two versions: a standard version and an atmos collaborative version, which has only been produced in limited quantities. Collaborative T-shirts will also be available during the event period. 

Guests can also enjoy oversized posters of pages from the manga, as well as newly drawn works of characters from the series from other SSS by applibot members including representative Masafumi Takagi, Mai Yoneyama, BUNBUN, Taiki, PALOW., ISSSAI, and NAJI Yanagida. 

Information

atmos x #424D99 EXHIBITION GOSPEL 01 JAPAN TOUR

Running: October 30 – November 7, 2021

Address: atmos Kyoto (420 Sakuranocho, Nakagyo-ku, Kyoto)

Hours: 11:00-19:00

Official Site: https://www.atmos-tokyo.com

New Balance 327 Web Commercial Features AKB48 Performing New Single

AKB48's new single Nemohamo Rumor has been making waves with its catchy beat and incredible choreography. The group's first new single in a year and a half, members Nana Okada, Yui Oguri, Hitomi Honda, and others are performing the track in a new web commercial for New Balance 327 sneakers! The CM is available on ABC Mart's official website, as well as AKB48's official YouTube channel. 

To commemorate the release of the new commercial, 48 lucky people will receive a purchase bonus, including an original photo card and snapbook in a new app lottery campaign. A special pop-up will also be held on the second floor of ABC-MART GRAND STAGE Ginza starting September 23, 2021. 

ABC-MART GRAND STAGE Ginza 2F Special Pop-Up

Participating AKB48 Members

Behind-the-Scenes

While the choreography for Nemohamo Rumor is incredibly complex and demanding, the members didn't show a single sign of exhaustion or fatigue during shooting, instead happily chatting with each other and commenting on each other's performance the entire time. As we checked the footage, we were incredibly impressed by how the shoes looked as they performed. 

YOASOBI, a unit who turns short novels into music, made their debut in November 2019 with 'Running into the Night,' a song which exploded in popularity upon release and swept the number one spot in the music charts and went viral internationally. The monumentum was unstoppable, taking number one on the 202 Billboard JAPAN song and streaming charts, and even featuring in the 71st NHK Kōhaku Uta Gassen. 

On January 6 of this year, the group released their first EP 'THE BOOK,' which was made with the concept of "a short story turned into music." The EP was well received, garnering attention for its release as a "reading CD." It won first place in the Oricon Digital Album Ranking for five consecutive weeks, while the seven songs each ranked in the Apple Music TOP15 Chart and the Billboard Japan 2021 Ranking for the first half of 2021 in June. Their latest song 'Sangenshoku' was featured in the Billboard JAPAN TOP Artist ranking, jumping straight to 34th upon release. Their monumentum never seems to stop.

The teaser video for new song 'Taishō Roman' was uploaded to YouTube by YOASOBI on September 15 2021. The new song is based on the novel 'Taishō Roman' by NATSUMI. The short novel won the 'YOASOBI Contest Vol.2,' a competition held by monogatary.com and Futabasha in July 2020, with 2,086 entries overall.

The full novel was released in YOASOBI's first EP 'THE BOOK,' allowing fans to enjoy the upcoming song. The CD jacket visual was also released just before the MV teaser. The teaser previews a retro atmosphere, reflecting the song title. You can also hear an excerpt of the novel as read by vocalist ikura. At the end of the video, a preview of the song is played, raising expectations for the full song even higher! Be sure to check it out.

Adidas Originals and atmos Collaborate to Release Sneakers Based on Shibuya's Hachiko

A new pair of kicks based on the iconic symbol of Shibuya, Hachiko, will be released for round three of the SHIBUYA PACK! This collaboration between Adidas Originals and sneaker shop atmos will be sold at A.T.A.D, atmos stores and atmos Online on September 18, with lottery registration open now. The sneakers will also be available from the Adidas App and the Adidas Online Shop starting September 25. 

Adidas Originals SUPERSTAR DOG atmos "HACHI": ¥15,400 (Tax Included)

These exclusive Superstars, a timeless pair of sneakers from the Adidas Originals brand, will feature a unique texture that expresses the character of the dog Hachiko. The shoe's tongue features a silver Trefoil logo, while the midsole has the address of where Hachiko's statue is located. Of course, there's a special Hachiko design on the insole! 

Hachiko is a famous symbol of Shibuya, with his statue being a popular meetup point for friends and couples. Known for his loyalty to his owner, the dog waited for over nine years for the man to return after his death. 

Proceeds from the sale of these sneakers will be used to support the YOU MAKE SHIBUYA souvenir program, which is helping to revitalize the local community by selling products marked with the special YOU MAKE SHIBUYA logo!

Information

Adidas Originals SHIBUYA PACK – Round 3

Release Dates/Where to Buy: 

September 14: Lottery Opens

September 18: A.T.A.D, atmos stores, atmos Online Store Pre-orders open

September 25: Adidas App, Adidas Online Shop

Official Site: https://www.atmos-tokyo.com/

New 237 Color from New Balance, DISH// Appear in New Visual

A new color has been added to the New Balance 237 collection, a modern sneaker which debuted in 2021, inspired by the 1980s New Balance models 420, 1300, and Gator. The 237 was released following the release of the popular 327 in 2020. The fresh and modern design is combined with a retro twist – The upper combines a variation of materials, while the tongue is cut and the outsole is rolled. The design also features the same 70s motifs as the 327, with a large N logo and notched eyelets making a huge impact on the sneaker. The retro design is versatile and easy to style.

Plus, dance-rock band 'DISH//,' a band that continues to grow and refine their activities, have featured in a must-see new visual wearing the brand-new 237 shoes! Be sure to check it out.

Information

New Balance 237

Availability:

New Balance Official Online Store

New Balance Official Store

Available at some New Balance stockists

*Color variation may depend on the store

RecoChoku Announces Winners for Best Music of August 2021

10.September.2021 | MUSIC

Japanese music streaming site RecoChoku has announced the top song and album rankings for August 2021!

RecoChoku Monthly Music Award – August 2021

Single Ranking

1st Place: Love Letter – YOASOBI (Released digitally August 9, 2021)

2nd Place: Suiheisen – back number

3rd Place: Dry Flower – Yuri

4th Place: SMILE ~Harewataru Sora no Youni~ – Keisuke Kuwata

5th Place: Apoptosis – Official Hige Dandism

 

Album Ranking

1st Place: Editorial – Official Hige Dandism (Released digitally August 18, 2021)

2nd Place: THE BOOK – YOASOBI

3rd Place: Belle Original Soundtrack – Various Artists

4th Place: Magia Record 2nd Season Theme Song Collection – ClariS, TrySail

5th Place: Senko Hanabi – Sandaime J SOUL BROTHERS from EXILE TRIBE

YOASOBI's Love Letter took the top prize in the single ranking. Written as a collaborative project with the SUNDAY'S POST radio show on TOKYO FM, the song was inspired by a letter sent in by a sixth grader, Hatsune-san, expressing gratitude for music. The Osaka Toin High School Brass Band, after impressing the nation at the SING YOUR WORLD event last month, also performed on the track. As the title would imply, it truly is a love letter written to music itself. Resonating with audiences, it reached the top of the weekly chart upon release on August 11.

The music video for Love Letter was released on August 31, and channels the love and appreciation for music found in Hatsune-san's letter. Since release, it has continuously trended on social media, and has over 4 million views on YouTube. YOASOBI will release their next track, Taisho Rouman, on September 15.

Official Hige Dandism took the top spot in the Album category, with their long-awaited second album Editorial containing popular tracks like I LOVE…, Laughter, and Cry Baby. This 14-song release comes almost two years after their last album release. On RecoChoku, it was #1 for two consecutive weeks. Official Hige Dandism began a nationwide tour on September 4.

New Balance 996 Model Sneakers to be Redesigned, Relabeled

Since their creation in 1988, the 996-model sneaker has been one of New Balance's most popular models. This month, the 996 will be reborn as the New Balance Standard, with the same comfortable feel and some minor changes to the logo.

In the new campaign, Natsume Mito, Saki Shibata, Fumiko Aoyagi, and Shiho Takechi will be modeling the new shoes, each in a sleek new color. The photos are meant to depict women living their daily lives with positivity, as they did in 1988 and as they do today.

The 996 model sneakers are the third model in the 99X series. Released in 1988 as a running shoe meant to be used on paved surfaces, its comfort and design has made it a best-seller among both men and women.

Will you be grabbing a pair of these updated kicks?