New Hamtaro Merchandise Features Kawaii Original Artwork
Fashion variety store IT'SDEMO released a new collection of Hamtaro merchandise online and in-store on May 11.
Original artwork features on the items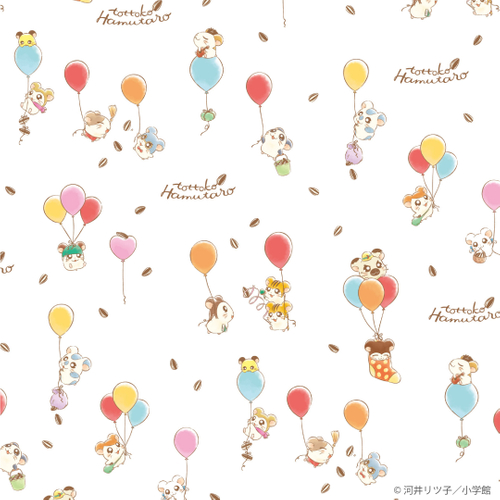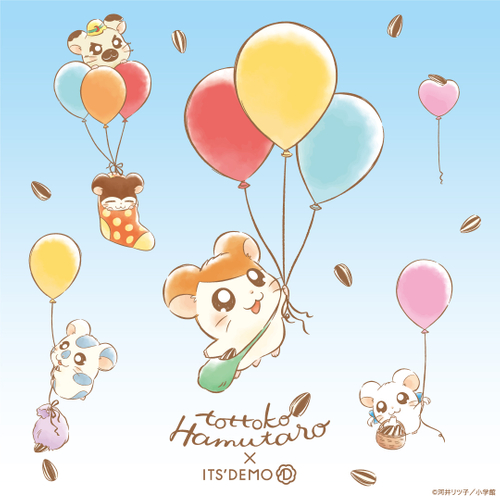 The line-up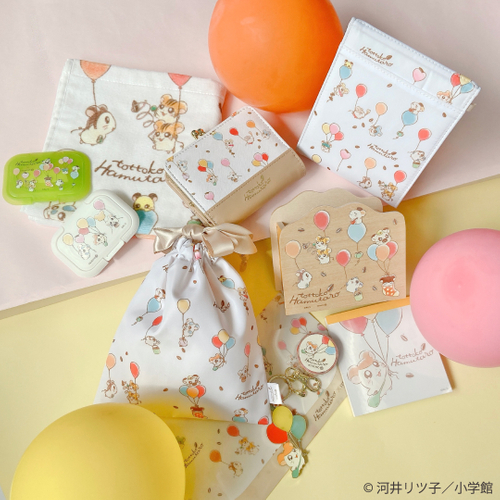 The new and original artworks include Hamtaro and friends holding colourful balloons and flying as well as the adorable hamsters adorably enjoying strawberries. The collection includes towels, stationery, pouches, and more, all perfect for those who adore all things kawaii from Japan.
©河井リツ子/小学館
RELATED ENTRIES
A BATHING APE® x READYMADE Reveal Third Collaboration Collection

A BATHING APE® first opened in 2013 and has since received support from many artists and celebrities. Now, they have revealed their third collaboration with the globally popular READYMADE, dropping on October 23 2021 in A BATHING APE® stores, GR8, MAXFIELD, and the BAPE.COM Webstore.

Lineup

BAPE®×READYMADE TIGER SHARK DOWN JACKET : ¥607,200 (Tax Incl.)


BAPE®×READYMADE MULTI POCKET CARGO PANTS : ¥187,000 (Tax Incl.)


BAPE®×READYMADE TIGER SHARK BASKETBALL SHORTS : ¥165,000 (Tax Incl.)


 

BAPE®×READYMADE CLUTCH BAG : ¥429,000 (Tax Incl.)

BAPE®×READYMADE BABY MILO® PLUSH DOLL : ¥220,000 (Tax Incl.)

 

BAPE®×READYMADE GHILLIE SUIT BAPE® 1000%BE@RBRICK : ¥330,000 (Tax Incl.)


The third collaboration collection is formed of six items; The luxurious down jacket, which is covered in logos, has made its long-awaited return following the first collaboration, where it sold out almost instantly. In addition to the shorts, which were super popular during the first and second collaborations, the iconic READY MADE cargo pants have also joined the collaboration. If you turn over the front pocket, you'll notice that it's covered in the famous BAPE® CAMO.

The BAPE® APE HEAD symbol has been combined with READYMADE's vintage military fabric to create a unique 60cm BABY MILO® PLUSH DOLL and GHILLIE SUIT BAPE® 1000%BE@RBRICK. With Akimoto Kozue as the main visual model, this collection is sure to leave an impact.

 

 

Don't miss out on this powerful third collaboration!

 

Demon Slayer Event Scheduled to Take Over Tokyo Skytree

Globally-beloved series Demon Slayer will take over the world's tallest tower starting October 21! The 634-meter spire will be periodically lit up in the image colors of the anime's main characters, and the Tembo Deck will be filled with photo spots, original merchandise, and a themed menu of dishes for fans. 

[1] Observation Shuttle

[2] Arrival Area

[3] Corridor

[4] Wraparound Area (1)

[5] Wraparound Area (2)

[6] Sorakara Point

Limited-Edition Light Purple Ribbon

Original Merchandise

*There will be a limit to the number of items that can be purchased. 

*Items available until sold out.

Guests spending ¥3,000 including tax will receive an original shopping bag. 

Original Photo Service

Original Paper Frame

Original Cafe Menu

Menu Purchase Bonus

Original Coaster Design available from October 21 – November 30, 2021

Original Coaster Design available from December 1, 2021 – January 20, 2022

SKYTREE ROUND THEATER Special Screening

*Video recording is prohibited.

Tokyo Skytree Mascot Sorakara Dressed as Nezuko

Special Illuminations

When guests step out of the elevator 450 meters above the ground, several members of the Demon Slayers Corps will be assembled to meet them at a photo spot. Ribbons the color of wisteria flowers will be available for visitors to write their wishes on, and they can be tied up to create a beautiful tree of prayers and hopes. Original merchandise, food, and photo spots will be available exclusively at Tokyo Skytree during the event. 

Every inch of Skytree's observation floor is decorated with Demon Slayer art. The inclining spiral section is covered with images of popular lines from the series written in calligraphy, and Skytree Round Theater will display a special animated sequence. Skytree's adorable mascot Sorakara will be clad in Nezuko cosplay to welcome guests, and anyone in Tokyo will be able to see the tower light up in various colors representing popular Demon Slayer characters.

©吾峠呼世晴/集英社・アニプレックス・ufotable ©TOKYO-SKYTREE

©吾峠呼世晴/集英社・アニプレックス・ufotable
©TOKYO-SKYTREE

Hello Kitty and Cosmetics Company Shu Uemura Release Holiday Collection

Japanese cosmetics brand Shu Uemura is releasing two new holiday collections in collaboration with beloved Sanrio character Hello Kitty! The first collection, featuring twelve items, will go on sale on November 1, 2021, and the second collection, featuring four items, will be available on November 15, 2021. Only limited quantities will be available. Preorders are now available on the official online store. Certain products will also be available at Sanrioworld GINZA 1F starting October 30 to celebrate the new collaboration. 

Bold, edgy, and chic makeup looks

Rich Collection Lineup

1st Collection Lineup

Rock the Party Palette (6 limited-time colors/ 4 existing colors): ¥9,900 (Tax Included) 

Discogram Eye Palette (6 limited-time colors): ¥7,150 (Tax Included) 

Unlimited Disco Glitz Lipstick (2 limited-time colors): ¥4,070 (Tax Included) 

Unlimited Satin Lipstick (2 limited-time colors): ¥4,070 (Tax Included) 

Unlimited Lacquer Shine Lipstick (1 limited-time color/1 existing color): ¥3,740 (Tax Included)

Unlimited Cream Lipstick (2 limited-time colors): ¥4,180 (Tax Included) 

Ulim8∞Sublime Beauty Cleansing Oil (Limited-time packaging) 450ml: ¥12,650 (Tax Included) / 150ml: ¥5,060 (Tax Included)

Limited-Time Channel Goods

*Available only at the official online store and Global Flagship Beauty Boutiques

Unlimited Satin Lipstick VIP Auburn: ¥4,070 (Tax Included) 

Hard Formula 9 Seal Brown: ¥2,860 (Tax Included) 

Rock the Party Premium Makeup Box: ¥35,200 (Tax Included) 

Rock the Party Mini Lipstick Set: ¥7,150 (Tax Included) 

*Available only at the official online store and Global Flagship Beauty Boutiques

The new collaborative collection is inspired by Tokyo nightlife and is perfect for creating both a glamorous rock 'n roll look or something more soft and sweet. A number of new shades of eyeshadow and lipstick appear in this holiday collection, so why not snag some of these high-quality goods before they're gone? 

© 2021 SANRIO CO., LTD. APPROVAL NO. L614617

Information

shu uemura x Hello Kitty 1st Collection

Limited-Time Release Starting November 1, 2021 / 12 Items Total

Preorders Begin October 15, 2021

2nd Collection

Limited-Time Release Starting November 15, 2021 / 4 Items Total

Preorders Begin November 8, 2021

Where to Buy: 

Shu Uemura Locations Nationwide and Online / Global Flagship Beauty Boutiques

Official Site: https://www.shuuemura.jp

Shiseido x Pokémon T-Shirts Collab Exhibition Held at Minato Mirai, Yokohama

The limited-time 'BEAUTY EXPANSION' exhibition is being held at 'Shiseido Global Innovation Center S/Park' between October 15 and 20 2021. 

 

For the event, Shiseido's beauty artists have collaborated with 'Pokémon Shirt,' the personalized Pokémon shirt service. The special exhibition relives the visual collaboration between Shiseido's top hair and makeup artist Harada Tadashi and 'Pokémon Shirt,' with behind the scenes footage and more.

From the inspiration for the Harada Tadashi and 'Pokémon Shirts' collaboration to the three key visuals,  the exhibition has been split into sections to show how the visuals were created. With drawings, crocheted hair parts, and more, you'll learn about the order of production, how visuals are created, and even how new ideas about beauty are formed. 

 

Not only can you relive the creation process of a top creator, but you will also experience the ever-changing and evolving expression of "beauty." The music used for the promotional video was inspired by the key visuals and produced by Conisch, a music writer and producer who has worked for many animated TV shows and has even previously written the theme song for Pokémon. The hair and makeup fashion show held on October 20 will be broadcast on YouTube, with guest appearances from Harada Tadashi and Conisch themselves. The incredible show will combine the world of Pokémon, the key visuals, and all kinds of motifs to match the space, so be sure to check it out! 

 

©Pokémon. ©Nintendo/Creatures Inc./GAME FREAK inc.
ポケットモンスター・ポケモン・Pokémonは任天堂・クリーチャーズ・ゲームフリークの登録商標です。

Information

BEAUTY EXPANSION

Duration: October 15 ~ October 30 2021 (closed on Sunday)

Venue: Shiseido Global Innovation Center (S/PARK)

Official Site: https://spark.shiseido.co.jp/ 

Opening Hours: 11:00 ~ 18:00

Address: 1-2-11 Takashima, Nishi-ku, Yokohama City, Yokohama 

Entry Cost: Free

 

Online Streaming

Availability: October 20 ~ December 31 2021

Shiseido on YouTube: https://www.youtube.com/user/SHISEIDOofficial 

Maruoka Castle in Fukui Teams Up with NAKED for Updated Projection-Mapping Event

Japanese creative company NAKED has begun a new projection mapping event at Maruoka Castle in Fukui, as well as the nearby Otenshuzen Park. The company has also introduced a new way to safely promote the area's beautiful nighttime scenery, with the NAKED Distanced Lanterns. 

Since 2014, NAKED has used new creative and futuristic technology to better highlight the appeal of local sites around Japan. 

In March 2021, NAKED's influence at Maruoka Castle became permanent with the start of the Maruoka Castle x NAKED Hikari Musubi installation. The castle itself is one of the oldest in Fukui prefecture, and visitors and locals alike can now enjoy a symphony of beautiful lights shining on the historic landmark year-round. This new version of the projection-mapping project is 'Hikari Musubi ~Creating the Future~', and it hopes to convey the charm of Sakai city to the rest of the world. 

The company brought its projection-mapping technology to Shinzen Izumi Elementary School in Tokyo in 2014 and to Kesennumakoyo High School in Miyagi in 2015. In 2016, NAKED launched the 0 x 0 Mugen Project in collaboration with the Osaka University of Arts, which supports the projects of students at the university as well as those of prospective students. 

Event Overview

Maruoka Castle Tower

The theme of this projection-mapping show is 'From Maruoka Castle to the World and the Future.' The Maruoka Junior High School Chorus Club is responsible for some of the event's music. 

NAKED Distanced Lanterns®︎

A participatory artwork allowing people to create light while maintaining social distance, the NAKED Distanced Lanterns project has invited local citizens to design lanterns to display outside Maruoka Castle. 

Information

Maruoka Castle x NAKED Hikari Musubi ~Creating the Future~

Address: Maruoka Castle (1-59 Maruokacho Kasumicho, Sakai, Fukui)

Running: October 1, 2021 ~ *Daily Screenings

Hours:

Maruoka Castle Tower Projection-Mapping – Twice daily at 20:00 and 21:00

Otenshuzen Park Projection-Mapping – 18:00-21:00

NAKED Distanced Lanterns®︎ – Six Days Only, on October 1, 2, 8, 9, 15, 16

Official Site: https://maruoka-castle.jp/

KEITA MARUYAMA and niko and…Release New Mountain Lodge-Themed Collection

In August, designer KEITA MARUYAMA and editorial fashion brand niko and… announced the release of their first collaborative collection, GARDEN CAMP. Now, the two have teamed up for the second time for MOUNTAIN LODGE, with pieces going on sale on October 29, 2021. 

Everything in the collection, from item design and visual direction to in-store displays, was supervised by Maruyama. His playful worldview has been blended with the unique stylings of niko and…, with graphics and motifs picked from the collection archives of the 1990s and 2000s and redesigned with a modern perspective. Original textiles were also created exclusively for this new collaboration featuring staples of the outdoors like deer and checkered patterns. The colors used aren't usually seen in niko and…releases and will be rare additions to any wardrobe. 

On the special collaboration website, actress Mai Fukagawa stars in the collection's main visual. The first 500 to pre-order from the collection and spend over ¥5,000 (including tax) will receive an original magnet assortment set (3 pieces) as a gift. *While supplies last. Designs are random. The gift will be sent separately in early November. For those picking up at a store, the gift will be shipped to your registered address.

Ranma 1/2 x THANK YOU MART Release New Limited Collaboration Items

The KAWAII speciality ¥390 store THANK YOU MART has announced a new and limited 'Ranma 1/2' collaboration with popular manga artist Takahashi Rumiko, available from October 15 2021. 

 

The 'Ranma 1/2' collaboration is finally here! The stylish retro designs feature Ranma, Shampoo, alongside Ranma's father (Panda) and their rival Ryoga. Each product will be available in THANK YOU MART stores nationwide for a limited time.

 

The fun design combines the retro aesthetic of the original manga with a Chinese twist, showing the characters dressed in Chinese-style clothing and pajamas. Of course, each item only costs ¥390! (¥429 incl. tax)

Tote and iPhone Case

Pouch

This adorable flat tote and iPhone case features Ranma and Shampoo wearing Chinese style clothing. The design can also be found on both the clear pouch and window pouch, all perfect for daily use.

Accessory Case

iPhone Case & Stickers

This accessory pouch with a convenient mirror shows a pajama-wearing Ranma on both sides, while the iPhone case appears to be covered in stickers. With stickers also available in this 19 piece collection, adults will fall in love with this new collaboration!

 

To commemorate the new collaboration, the shop is hosting a giveaway on both Twitter and Instagram. Three lucky winners will receive the clear pouch, a tote bag, and the embroidered socks as a prize. To enter, just follow the official accounts and Retweet (Twitter) or Like (Instagram) the giveaway post. Why not try your luck?

 

© Takahashi Rumiko / Shogakukan

Information

Manga 'Ranma 1/2' Limited Original Collab Items

Release Date: October 15 2021

Price: ¥429 (Tax Incl.) *Specified items are buy-one-get-one-free.

Location: THANK YOU MART Stores / THANK YOU MART Online Stores (Official/Yahoo!/Rakuten/Amazon)

Official site: https://www.390yen.jp/ 

no mark.Café in Tokyo Collaborates with Parent-Child Art Unit Musee du Aouvre

Located in an old traditional Japanese house in Kiyosumi Shirakawa, no mark.Café has a cozy ambiance for guests looking to escape the hustle and bustle of the city. From October 15 until November 30, the cafe is collaborating with the parent-child art unit Musee du Aouvre, and thirteen works from the group's blog will be on display throughout the building. A campaign will also be held, giving visitors the chance to receive some original coasters and a small wind God figure to sit on the side of a coffee cup. 

Campaign Present A. Aouvre Coaster / B. Aouvre Wind God Figure

The cafe aims to be a place where guests can enjoy art as they relax, and to further this idea, they will be collaborating with a number of artists in the 'CAFE DE ART' project. 

The first collaboration is with Musee du Aouvre, an art unit consisting of a father and son duo who copy famous works of art. These aren't just any forgeries–they are incredibly adorable and pay proper homage to the original creations. Thirteen works will be selected from the pair's blog and will be exhibited under the title 'The no mark.Café Great Counterfeit Exhibition.' A 2022 calendar and postcards of the works will be on sale at the store, and videos will provide information about the original works of art. Visitors can also participate in the Twitter and Instagram campaign to win a special collaborative item!

A BATHING APE® Meets MGM's 'Pink Panther' for First Collaboration

A BATHING APE® has announced their first collaboration with MGM's popular character, the 'Pink Panther.' 

The 'Pink Panther' was born over 50 years ago and has come to represent MGM. He first appeared on TV screens during the opening and ending themes for the legendary detective show of the same name. He was so popular that he received his own TV show, comics, merchandise, and is still relevant to this day.

Now the global star has paired up with A BATHING APE® to create a new collaboration line, fusing the iconic character and the brand's unique graphics.

The 'Pink Panther-esque' hoodie has the brilliant ABC CAMO diamond print on the back, while the L/S TEE has a slender and comfortable fit, printed with the original Pink Panther themed Pink Diamond edition of the famous ABC CAMO. 

The S/S TEE is available in both kids and adult sizes. The 'Pink Panther's' rival 'Inspector Clouseau' also appears in the collection, combining the animated world with BAPE®'s iconic designs. 

Be sure to check out the BABY MILO® illustrated pieces too! This collectible collaboration is filled with both cute and surreal pieces.

The collection will be available in A BATHING APE® stores and on the official web store from October 16 2021. Be sure to check out the very first new-generation collaboration between the 'Pink Panther' and A BATHING APE®!

 

Information

A BATHING APE® x PINK PANTHER

Release Date: October 16 2021

Available Stores: A BATHING APE® Stores Nationwide and the Official Web Store

Collaboration Webpage: https://bape.com/pages/pinkpanther 

Artist Maki Ohkojima Collaborates with UpcycleLino to Create Sustainable Items

Artist Maki Ohkojima is inspired by life and the environment. UpcycleLino is creating completely recyclable products that produce zero waste. It makes sense that these two would collaborate, and their new items ask people to think more about their relationship with nature. With a theme of 'circulation,' these items will be on sale at participating shops around Japan and online. 

UpcycleLino × MANDALĀJU Big Band Collared Shirt

UpcycleLino × MANDALĀJU Sketched Tote Bag

UpcycleLino × MANDALĀJU Scarf

The 'Tree of Life' project is inspired by the theme of coexistence between the environment and all living things. It is important to protect limited resources for future generations. UpcycleLino is a completely sustainable company, using fabric scraps from other projects to create brand new clothes. 

People, animals, insects, plants, and all other living things exist in the circle of life, and this is the message conveyed through Maki Ohkojima's art. What can we do to better coexist with the planet? 

©角川武蔵野ミュージアム

Information

Kadokawa Musashino Museum 'Maki Ohkojima Art Exhibition – Perforated Spiral' 

Date: October 8, 2021 ~

Address: Kadokawa Musashino Museum (3-31-3 Higashi Tokorozawa, Saitama)

Hours: Sunday-Thursday: 10:00-18:00 (Last Entry at 17:30) / Friday, Saturday: 10:00-20:00 (Last Entry at 19:30)

Official Site: https://kadcul.com/

Collaboration Items

October 8, 2021~

Where to Buy: 

Kadokawa Musashino Museum Shop

nest Robe: https://store.nestrobe.com/nestrobe/ / CONFECT Online Shop and the following shop locations: Omotesando, Ginza, KITTE Marunouchi, Takasaki, Umeda, Kyoto, Nagoya, Okayama, Hiroshima, Fukuoka, Osaka Takashimaya

Cinnamoroll Releases Second Single, Commemorative Event and Tower Records Collaboration Goods

Cinnamoroll, one of Sanrio's most popular characters, is collaborating with Tower Records to commemorate his second idol single 'Star Dome.' An event will be held, while collaboration goods will be available in 35 Tower Records stores nationwide and online.

Cinnamoroll is a male puppy who first appeared in 2001 and debuted in 2002. He is extremely popular, taking first place in the Sanrio Character Ranking four times. He made his idol debut with his first single in 2020 and is pushing forward with second single "Star Dome," which will be released as a CD on November 4.

34 Stockists / Products Available Online

Products Available in the Shibuya Store / Akihabara Store / Abeno Hoop Store / Online

Sweater

T-Shirt

Products Available in the Shibuya Store / Abeno Hoop Store / Online *Scheduled to be 

released on December 2.

Bracelet (Silver)

Bracelet (Pink Gold)

'Star Dome' Regular Edition Jacket

'Star Dome' First Press Limited Edition Jacket 

The collaboration goods scheduled to be released on November 3 will feature Cinnamoroll in his 'Star Dome' costume and the Tower Records logo in all-new illustrations. In addition, a release event will be held at the Shibuya store on November 3 and at the Abeno Hoop store on November 27. Customers who spend over ¥3,000 (Tax Incl.) on collaboration goods will be invited to participate in a mini live and photo session.

Be sure to check out Cinnamoroll's second single along with the limited edition merchandise!

Information

Cinnamoroll x TOWER RECORDS 2021

Online Products

Sales Start: November 3 (Bracelets will be sold on December 2)

Goods Reservation Start: October 14 In Store, New Year for Online Orders (*Mini live and photo sessions cannot be booked in advance. Tickets will be sold on a first-come first-serve basis in store on the day of the event. 

Details: https://tower.jp/cinnamoroll

Cinnamoroll Mini Live Shibuya: https://towershibuya.jp/2021/11/01/158634
Abeno Hoop: https://tower.jp/store/news/2021/11/118001

Cinnamoroll 'Star Dome'

Release Date: November 4

Regular Edition: ¥1,300 (Tax Incl.)

First Press Limited Edition: ¥1,800 (Tax Incl.)

New 'Uramichi Oniisan' Collab Hotel Room Designed Using 'URA' and 'OMOTE' Motifs

Sunshine City Prince Hotel has revealed a new "Uramichi Oniisan" themed plan, available to reserve for a limited time between October 2 and December 31.

Hotel Staff Costume Illustration

 Pajama Costume Chibi Illustration


©Kuze Gaku・Ichijinsha / Uramichi Oniisan Production Comittee

Star Can Badge / Hotel Keychain / Mask Case (URA & OMOTE ) / Original Notepad / Hotel Key Card 

Cafe & Dining 'Chef's Palette' Original Drink with Bonus Coaster

'URA-Room' with Chibi Character Illustration

 

The 'Uramichi Oniisan' anime became a hit in Summer 2021, known for its cast of famous voice actors.

The new artwork produced for the hotel features the characters in hotel staff uniforms and pajamas, perfect for the hotel-themed collaboration. The 'OMOTE ROOM' is designed using the new illustrations, while the 'URA ROOM' uses the chibi characters. Each room features a sound clip from Uramichi Omoteda (CV: Kamiya Hiroshi). Original merchandise and drinks are available to guests, plus the famous "Bird Finding Game" is available to play in each room, making it a must-see for fans!

Dive into the 'Uramichi Oniisan' world with this new collaboration hotel room!