New Hamtaro Merchandise Features Kawaii Original Artwork
Fashion variety store IT'SDEMO released a new collection of Hamtaro merchandise online and in-store on May 11.
Original artwork features on the items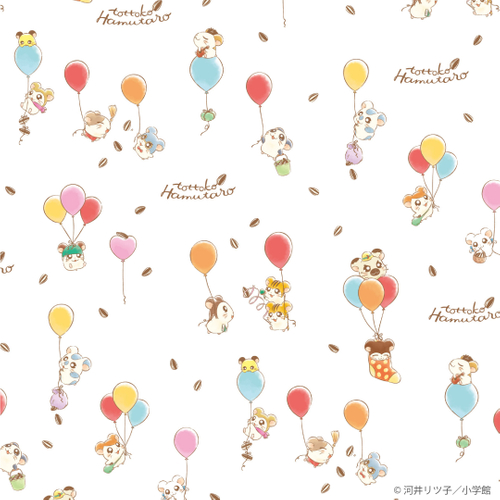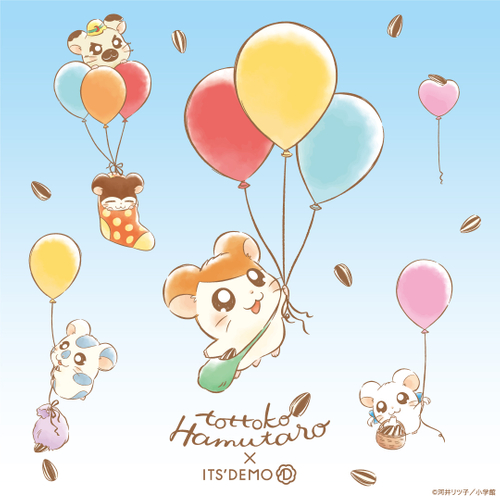 The line-up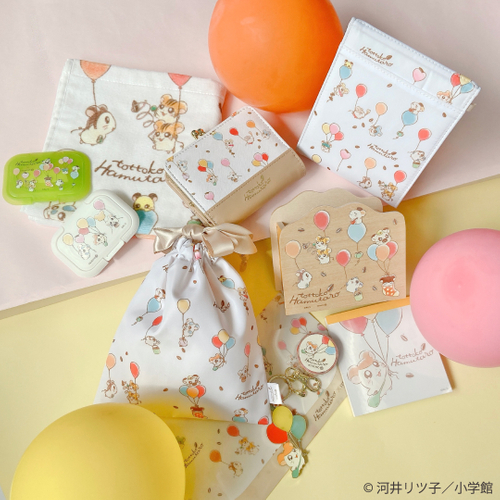 The new and original artworks include Hamtaro and friends holding colourful balloons and flying as well as the adorable hamsters adorably enjoying strawberries. The collection includes towels, stationery, pouches, and more, all perfect for those who adore all things kawaii from Japan.
©河井リツ子/小学館
RELATED ENTRIES
Baskin-Robbins Japan Releases T-Shirt Collection Inspired by 9 Ice Cream Flavours

Japanese fashion brand LEPSIM teamed up with Baskin-Robbins to release a t-shirt collection at LEPSIM stores and the online shop .st on June 2.

The Line-Up

Baskin-Robbins Flavour T | ¥3,850 (Tax Included)

Baskin-Robbins Recipe T | ¥3,850 (Tax Included)

Multipurpose Pouch

LEPSIM is a fashion brand specialising in clothes, cosmetics, lifestyle goods, maternity ware, and more, all of which is aimed at "making women smile." This ties in with Baskin-Robbins' motto of "We make people happy" which it does so in Japan with its 1,200 branches. The tee collection features two different kinds of t-shirts inspired by nine ice cream flavours you can order at Baskin-Robbins. The 'Flavour T' includes classic vanilla, azuki bean, colourful orange sorbet, and musk melon colours, as well as 2 tie-dye designs based on their Caramel Ribbon and Love Potion 31. The 'Recipe T' line-up is a more stylish and sophisticated take with ice cream colours and sleek typography. Each t-shirt also comes with a vinyl multipurpose pouch which is perfect for storing cosmetics, face masks, and other little bits and bobs.

Mizkan Launches Gudetama Egg on Rice Collaboration With Sanrio

Mizkan launched a social media campaign last Tuesday in collaboration with Sanrio's popular character Gudetama. As part of the campaign, the lazy egg character is featuring on the packaging for Mizkan's 'Tamago Shoyu Tare,' an egg soy sauce topping for rice. There are eight designs in total, and all limited in stock.

The campaign invites foodies to make their best version of N-TKG, that's an abbreviation of natto tamago kake gohan, or natto egg on rice. 30 lucky people have the chance to win an original Quo card featuring a Gudetama design. All they need to do is follow Mizkan on Twitter and post their creation along with the Japanese hashtag #マイベストNTKG ("My Best NTKG") while quoting the campaign tweet.

N-TKG Recipe Maker

Mizkan have created a special N-TKG maker where you can make your own digital natto egg on rice. You enter six alphabetical letters which will give you a variety of toppings to creating your own dish. You can then use this as reference for actually making it in real life.


How to Make
1. Enter 6 letters into the recipe maker
2. Make your own original N-TKG using the toppings chosen by the letters you pick
3. Try making the dish yourself!

Information

#マイベストNTKG Campaign
Submission Period: June 1, 2021 – July 31, 2021
Official Website/N-TKG Recipe Maker: https://mizkan-ntkg.com/  


Hololive x Capcom Net Catcher Release Second Merch Collection

Capcom's online crane game Capcom Net Catcher released its second merch collection in collaboration with Hololive on Saturday. This time, they have a line-up of items featuring the VTuber Tokoyami Towa including acrylic smartphone stands, mouse pads, and tapestries.

The Line-Up

Acrylic Smartphone Stand (2 Designs)

Mouse Pad (2 Designs)

Tapestry (2 Designs)

The artwork for the merch was designed by Mitsuki Yano and LAM who are known as the character designers for the Hololive VTubers Airani Iofifteen and Kureiji Ollie.

Featured Hololive Character

Tokoyami Towa

In order to become an archdemon, she joined the human society for further studies. She should be studying but is now addicted to gaming. She realized that the method commonly known as "streaming" is also a way to communicate with humans. She is now in the "trial and error" process.

YouTube: https://www.youtube.com/channel/UC1uv2Oq6kNxgATlCiez59hw
Twitter: https://twitter.com/tokoyamitowa (@tokoyamitowa)

Mitsuki Yano


A Hokkaido-based illustrator who designed the Indonesian VTuber Airani Iofifteen. Illustratrates for games, light novels, TCG, and other media.


Twitter: https://twitter.com/mituk1 (@mituk1)
Website: http://nanairo-box.blogspot.com/p/blog-page.ht

LAM


An up-and-coming illustrator working in character design, visual work, book illustrations, and more. Designed the Indonesian VTuber Kureiji Ollie. Held their first exhibition, 'Eyes and Thunder,' in 2020.

Twitter: https://twitter.com/ramdayo1122(@ramdayo1122)

Kizuna AI x Alaina Castillo Perform 'down 4 u' Song Collaboration

American singer Alaina Castillo released her debut album parallel universe pt. 1 on May 29. The Japanese release of the album includes the song down 4 u performed in collaboration with the world famous virtual YouTuber Kizuna AI.

After amassing hundreds of thousands of subscribers on YouTube, Alaina Castillo was noticed by RØMANS, the Grammy-nominated producer known for working with such artists as Alicia Keys, John Legend, Demi Levato, Lewis Capaldi, and others. Since 2019, Alaina has released a string of singles and as well as an EP. She also made it onto Spotify RADAR, an emerging artist program which helps up-and-coming artists with exposure. Her hit single just a boy was also picked up by V of BTS.

Alaina is a fan of Japanese anime and anime characters. In the music video for her single wishlist which dropped last year, Kizuna AI made an appearance. Alaina herself repaid the favour by performing as a guest at the final show of Kizuna AI's 'Virtual US Tour' in New York on May 30. The two artists came together once more by performing down 4 u feat. Kizuna AI, a track sung in English and Japanese. Comments from excited fans around the world flooded into the live stream.

At the end of the show, the two danced to Kizuna AI's AIAIAI feat. Yasutaka Nakata.

This marks Alaina's first collaboration with another artist as well as Kizuna's first collaboration with an artist from the US.

Alaina's new album parallel universe pt. 1 features seven tracks including pocket locket, parallel universe, make it rain, and down 4 u.

Identity V x Death Note Crossover Launches

NetEase's multiplayer horror game Identity V is currently holding a crossover event with the anime series Death Note. Running until June 27, fans of the series can look forward to seeing some familiar faces in thrilling mind battles.

Death Note is a manga series written by Tsugumi Ohba and illustrated by Takeshi Obata which was serialised in Weekly Shonen Jump from 2003-2006. The manga has over 30 million copies in circulation. Its anime adaptation aired from 2006-2007. The story tells of a notebook called the Death Note where if you write someone's name in it they die. It is one of the most well-known series both in Japan and overseas. One of the aspects of the series that draws people in most are the mind battles between its two intellectual protagonists; Light Yagami and L.

Ryuk is a Shinigami, or Death God, and is the one who drops his Death Note into the human world which is eventually found by the protagonist Light Yagami. He did this on on purpose because he was bored one day and wanted to see what would happen if a human had a Death Note. In the game, he will pursue the Survivors.

Light Yagami, the protagonist of Death Note, finds the notebook one day and after discovering its secrets, decides to rid the world of criminals and people he deems villains under the guise of Kira. He will try to escape the Hunters in the game.

L is the second main character of Death Note. Known as the world's greatest detective, he is tasked with trying to discover why so many people are dying randomly in Japan and who this mysterious Kira is. He will fight against the Hunters.

Misa Amane is a fashion model and supporter of Kira. She also has her own Death Note and eventually becomes the Second Kira. In the game she will take on the role of an engineer and use her skills to make changes to the Manor.

A range of accessories, character actions, furniture, and more themed on Death Note are also rolling out as part of the crossover. Items include apples which are Ryuk's favourite, Misa's Death Note, Light's pen, L's handcuffs, and more.

Discover all kinds of mysterious during the event

The game is littered with mysterious to be discover and solved. Players can complete daily sign-ins to receive rewards such as Crossover Essence, collecting clues with L by participating in matches, and much more.

©大場つぐみ・小畑健/集英社・VAP・マッドハウス・NTV・D.N.ドリームパートナーズ

Studio Chizu Releases 5th T-Shirt For 10th Anniversary

Since January, Studio Chizu has been teamed up with the Japanese apparel brand Graniph to release a new t-shirt design every month in celebration of their 10th anniversary. The fifth and final design was released on May 26.

Studio Chizu's past works have enjoyed great success both in Japan overseas and include Wolf Children (2012), The Boy and the Beast (2015), Mirai (2018), and the highly-anticipated forthcoming entry Belle (2021). All the films are directed by the Academy Award-nominated Mamoru Hosoda.

Mirai x tupera tupera

The past four t-shirt designs have included The Girl Who Leapt Through Time, Summer Wars, Wolf Children, andThe Boy and the Beast, each illustrated by a different popular artist. The fifth and final design is for Mirai which was drawn by tupera tupera and features Mirai, Kun, the mother, the father, and the pet dog Yukko.

Graniph posted an interview with tupera tupera on their YouTube channel which you can watch below in Japanese.

tupera tupera Interview

(C)2018 スタジオ地図
(C)STUDIO CHIZU

My Hero Academia x Clorets Collaboration Announced For Japan

As part of a new campaign by Clorets, the chewing gum brand is set to collaborate with the My Hero Academia when it rolls out a new stock of gum tubs on June 7 featuring design from the anime series

The gum tubs come in four My Hero Academia designs

Win prizes as part of the collaboration

My Hero Academia is an ongoing manga series by Kōhei Horikoshi's serialised in Weekly Shonen Jump. It's set in a world where 80% of people have special powers known as "Quirks." In the story, people with Quirks aspire to become heroes to protect people and the society they live in. The gum collaboration features for tub designs for Clorets' Mint Clear Mint Gum.

The designs feature illustrations the main character cast including Midoriya Izuki, Bakugo Katsuki, Uraraka Ochako, Iida Tenya, Todoroki Shoya, Asui Tsuyu, Kirishima Eijiro, Yaotorozu Mmo, Kaminari Denki, and Jiro Kyoka. The designs also feature the main visual for the anime's ongoing fifth season.

As part of the collaboration, Clorets are holding a campaign for fans of My Hero Academia to win a selection of prizes including 30 illustration reprints. Full details will be announced by Clorets at the link below.

©堀越耕平/集英社・僕のヒーローアカデミア製作委員会

VTuber Yukihana Lamy Releases Her Own Sake Called 'Yuki-Yo-Zuki'

Yukihana Lamy, a Virtual YouTuber associated with hololive, launched her own Japanese sake project in February to bring her dream to life of making her very own sake by hand. That sake has now been released by the name of Yuki-Yo-Zuki, a premium brand daiginjo sake.

The sake was created in collaboration with Meiri Shurui, a Japanese sake brewery which has been around since the Edo Period. Every single ingredient in the drink was considered from scratch including the type of rice, the ratios, yeast, alcohol content, and so on. The sake is made by hand in a brewery located in Mito, Ibaraki.

Yuki-Yo-Zuki uses Fukushogun Daiginjo as its base, a sake that won Gold in the Sake category at IWC2020. It's made with a combination of Yamada Nishiki and Biyama Nishiki rice as well as ginjoka, the highest quality daiginjo, known for its light spicy kick and fruity notes. The bottle features an illustration of Yukihana Lamy drawn by Abara Heiki, an artist Lamy likes, with a fusion of black and silver inspired by the meaning of drink's name: 'Snowy Evening Moon.'

Nike x atmos Release Exclusive Japanese Collection

atmos teamed up with Nike as part of their 'Move to Zero' sustainability project to release a collection of Japan-exclusive colours of the Space Hippie model on Monday.

The Line-Up

NIKE SPACE HIPPIE 01 | ¥15,400 (Tax Included)

NIKE SPACE HIPPIE 02 | ¥18,150 (Tax Included)

NIKE SPACE HIPPIE 03 | ¥21,450 (Tax Included)

OVER PRINT T-SHIRT (GUCCIMAZE) | ¥6,600 Each (Tax Included)

OVER PRINT T-SHIRT (COIN PARKING DELIVERY) | ¥6,600 (Tax Included)

OVER PRINT T-SHIRT (BOTANIZE) | ¥6,600 (Tax Included)

Free EMAKE CUSHION to the first 50 people

Space Hippie is Nike's exploratory footwear collection inspired by life on Mars—where materials are scarce and there is no resupply mission. Created from scraps, or "space junk", Space Hippie is the result of sustainable practices meeting radical design. The uppers are made from recycled polyester, and soles are a combination of Nike's impact absorbing material used when making their ZoomX foam and material scraps. The plain shoebox, too, is made from recycled materials.

This new sustainable collection are upcycled designs made in collaboration with atmos, atmos pink, UNDEFEATED, BAI, and X-girl. There's also a collection of t-shirts which are available on first-come, first-served basis to those who pick up a pair of Space Hippie sneakers. Designs were made by popular graphic artists GUCCIMAZE and COIN PARKING DELIVERY as well as the up-and-coming shop BOTANIZE.

Tongari Corn Chips x Belle Anime Film Collaboration Announced

House Food Groups has announced that it will roll out limited-time packaging of its popular Tongari Corn snack in early July in collaboration with the upcoming anime film Belle which will be released in Japanese cinemas on July 16, 2021.

There will be six packaging designs in total with three each for both the salted and the grilled corn chips. The designs include the poster for the anime film on the front and scenes from the film and the 10th anniversary poster for Studio Chizu, who are animating the film, on the back.

The film is being directed by Mamoru Hosoda who is known for such hit anime films as The Girl Who Leapt Through Time (2006), Summer Wars (2009), Wolf Children (2012), The Boy and the Beast (2015), and of course his 2018 hit Mirai which was nominated for an Academy Award in the category Best Animated Feature Film at the 91st Academy Awards.

Studio Chizu describes the story: "The protagonist of this story, Suzu, is a 17-year old high school girl living with her father in a rural town of Kochi — their town is a textbook definition of depopulation in the Japanese countryside. Wounded by the loss of her mother at a young age, Suzu one day discovers the massive online world, "U," and dives into this alternate reality as her avatar, Belle. Before long, all of U's eyes are fixed on Belle (Suzu), when one day the mysterious and infamous Dragon-like figure appears before her."

Product Line-Up

Assari Shio (Salted)

Delightfully seasoned with sea salt, 50% of which comes from the deep ocean, to perfection so you never get bored of the chip's moreish flavour.

Yaki Toumorokoshi (Grilled Corn)

Grilled corn flavoured and seasoned with umami-packed soy sauce.

The Packaging

Assari Shio Packaging

Yaki Toumorokoshi Packaging

Enjoy a packet of Tongari Corn or some Japanese snacks while you watch Belle!

Information

Tongari Corn x Belle Packaging Collaboration

Release Date: Early July 2021

Where: Japan

House Foods Group: https://housefoods-group.com/

Re:Zero x New Era® Cap Collection Features Emilia & Rem Designs

Japanese online retailer ARMA BIANCA released a new collection of caps by New Era® in collaboration with the anime series Re:Zero − Starting Life in Another World featuring Emilia and Rem designs.

 

The Line-Up

Emilia | ¥8,228 (Tax Included)


The cap features the letters 'EMT' decorated with Emilia's hairpin. The underside of the cap is decorated with various scenes of Emilia from the anime series along with the words 'Emilia-tan,' 'Seriously,' and 'Angel' in Japanese. The tip of the cap also has the New Era logo on it.

Rem | ¥8,228 (Tax Included)


The front of Rem's cap has 'FROM 0' embroidered on the front and scenes of the popular character underneath. It also has phrases she says written in English including 'Let us start over from here,' 'From one…,' and 'No.' This cap also bears the New Era logo.

The caps have a casual and simple design to them, making them easy to coordinate with outfits while also celebrating the globally-popular anime.

©長月達平・株式会社KADOKAWA刊/Re:ゼロから始める異世界生活2製作委員会

Koala's March Cookies x Police × Heroine Lovepatrina! Collaboration Launches

In promotion of the tokusatsu film Police x Heroine Lovepatrina! ~Challenge from a Phantom Thief! Let's Arrest with Love and a Pat!~, which was released in Japan on May 21, Japanese snack company Lotte released a special version of its popular Koala's March cookies on Friday.

Lovepatrina's March | ¥3,240 (10 Boxes)

Police x Heroine Lovepatrina! ~Challenge from a Phantom Thief! Let's Arrest with Love and a Pat!~

 

Police × Heroine Lovepatrina! is a Japanese tokusatsu TC drama series which first aired in July last year. Its fourth and latest entry is Girls × Heroine.

Lotte's collaboration launched in promotion of the new film which hit Japanese theatres on May 21.

Check out the cute packaging for the popular cookies!

© TOMY・OLM/劇場版ラブパトリーナ製作委員会