Osamu Tezuka's Astro Boy, Black Jack, and Princess Knight Get International Merchandise Release
Amazon is now listing a new collection of merchandise based on Osamu Tezuka's manga series Astro Boy, Princess Knight, and Black Jack in Japan, the US, UK, France, Germany, Spain, and Italy.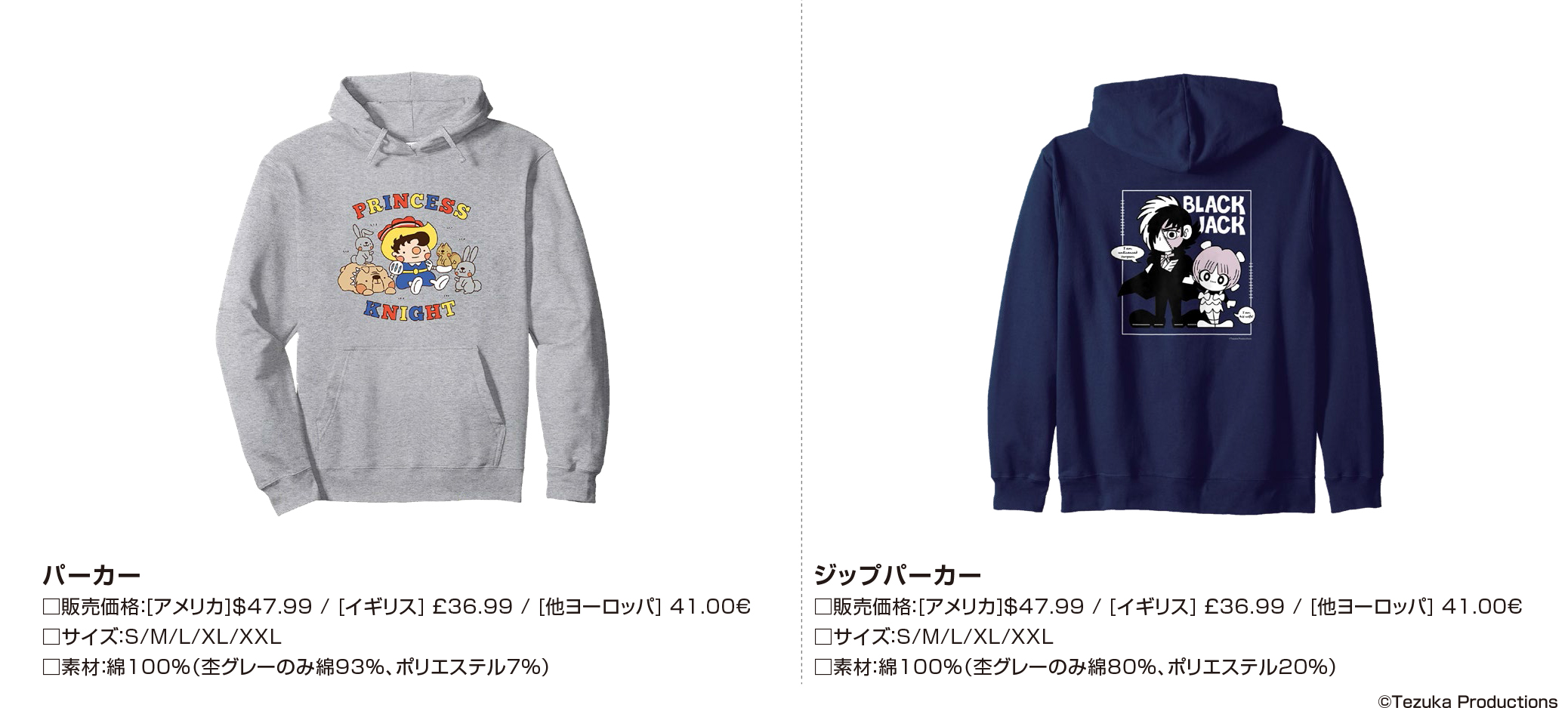 The items released at the end of April as part of the "Merch by Amazon" service. This Amazon-exclusive collection was first released in Japan, and with its surging popularity from fans, it's now available to order in the US and Europe.
(C)Tezuka Productions
RELATED ENTRIES
AMBUSH® Announces Second Astro Boy Collaboration Collection in Extremely Limited Quantities

On July 29, AMBUSH® will launch some special collaboration items inspired by the legendary series Astro Boy! These items are available in extremely limited quantities. 

Astro Boy is a sci-fi hero manga set in the future starring the titular 100,000 horsepower character Astro Boy. A kindhearted robot, Astro Boy uses his strength to save people from danger, and the character's more human-like qualities highlight the relationship between people and technology. AMBUSH® is looking to the future, using Astro Boy to highlight what they think the days ahead will bring.

Astro Boy x AMBUSH Figure(Produced by Bait Inc)
Only 50 Pieces Available

©︎TEZUKA PRODUCTIONS     


Astro Boy x AMBUSH Necklace (Produced by Bait Inc)
Only 300 Pieces Available

©︎TEZUKA PRODUCTIONS



This collection features an all-black Astro Boy figure by Bait and a necklace perfect for daily wear. Both show the character in his iconic pose and emphasize the heart detail carved into his chest, symbolizing his humanity. 

Don't miss these exclusive items before they're gone!

PROJECT [ATOM 2003-2023] Begins, Features Art by French Creator Victor Kaito

AAAA Artists & Creators, a creative project aiming to connect people, has launched PROJECT [ATOM 2003-2023] under the supervision of Tezuka Productions. In Osamu Tezuka's vision of the 21st century, Astro Boy was born in 2003. In the year 2023, the popular animated series will celebrate its 60th anniversary. 

The key graphic art for the project was influenced by street culture and was provided by Victor Kaito, who is largely active in Paris, France.

PROJECT [ATOM 2003-2023] aims to collaborate with a number of companies and products and will continue celebrating Astro Boy through the next year and beyond. Looking towards the next 20 years, what will Tezuka Productions create next? Fans of this piece of Japanese pop culture history won't want to miss out on what the project does next, so keep checking back here for more information. 

Comment from Kaito


"Anime and manga are representative of Japanese pop culture, and they are both incredibly popular with French youth as well. I've been reading Osamu Tezuka's Astro Boy since I was a small child, and the character, who was born in 2003, is turning 20. I feel like the world depicted in the Astro Boy series has become a reality. Looking back over the last two decades and looking 20 years into the future, how will science and technology be used to help the environment? How will it make life better for people? I tried to think like Astro Boy when I pondered these questions, and that's how my art came to be." 

©Tezuka Productions
©GLOBE. VICTOR KAITO

Theme Song for Japan's First Amazon Original Film 'HOMESTAY' Performed by ZUTOMAYO

The first Japanese Amazon Original movie HOMESTAY, a live-action adaptation of Eto Mori's classic novel 'Colorful,' will be released worldwide to Prime members on February 11, 2022. 

The film is a moving mystery following a dejected soul reaching the train station to death. He is told that he is 'lucky' and will have another chance at life, and is then placed in the body of a 14-year-old boy named Makoto Kobayashi who has just committed suicide. Watched over by a neutral spirit, the soul must figure out what his greatest sin and mistake was in his former life before his 100-day time limit in Makoto's body runs out. He also wants to find out why Makoto decided to end his life in the first place.

Japanese rock band ZUTOMAYO has been chosen to perform the film's theme. Debuting in 2018, the group is known for being secretive, never releasing a full member list, and crediting different people for music, arrangements, and music video production after each release. The only recurring member, an unidentified woman named ACA-Ne, wrote the song Sode no Kiruto exclusively for the film. With a clear voice and powerful lyrics delicately describing the subtleties found in a young man's heart, the music adds to an already emotional story.

ACA-Ne commented on the film. "The original novel was a big influence on me when I was in school, so I'm so thankful to have been chosen to provide music for the film. I wanted to really write something for those struggling–to bring out all of those difficult feelings. Please enjoy the song!" 

Be sure to watch the film on February 11!

©2022 Amazon Content Services LLC

Information

HOMESTAY

Streaming Release Date: February 11, 2022

Tezuka Productions Starts First Official NFT Project "From the Fragments of Tezuka Osamu"

Tezuka Productions has officially started an auction for the company's first NFT project starting on December 1, 2021. These will feature the beloved character Astro Boy, an intrinsic part of Japanese popular culture. 

Manga is a huge part of Japanese pop culture and has impacted people and industries around the world. Osamu Tezuka laid the foundation for the medium's popularity, and is still called "the Godfather of Manga." He studied medicine at Osaka University in his early years but soon decided to become a manga creator, making his debut in 1946. His works had a major impact in postwar Japan, appealing to readers of all ages with easy-to-read dialogue and many themes that spoke to the people, including dignity, the destruction of nature, and the harm of war. In his lifetime, he drew over 150,000 manuscripts and worked on over 700 titles. 

This new NFT project features many of Tezuka's beloved works and will be offered in two forms: Mosaic Art NFTs and Generative Art NFTs. While Astro Boy takes center stage for now, Black Jack and Phoenix will be coming soon. 

In his later years, Tezuka wrote for boys' magazines creating beloved children's stories. It's hard to imagine how the author would have handled the current pandemic sweeping the globe. Certainly, he would have tried to help cheer up the children of the world, and with this in mind, Tezuka Productions will donate 20% of each NFT sold to donate to UNICEF and other organizations benefiting children in Japan.

840 colorful original Tezuka works are available, with the original texture of these creations kept intact. Osamu Tezuka left behind a massive number of manuscripts, with 95% of them being in black and white. Many of these images are very rare and have never been included in any books or magazines. How would you like to own one of these one-of-a-kind tokens?

© 2021 Tezuka Productions, All Rights Reserved.
Produced by double jump.tokyo Inc.

Classical Music From Anime Series takt op.Destiny Now Available on Amazon Music

Currently-running anime series takt.op Destiny now has a dedicated playlist on Amazon Music! The series, available to stream in the west on Crunchyroll, tells the story of a world shaken by a black meteorite. Monsters appear from the crater, and those who hold the power of the "Musicart" can use the power of music and sound to defeat the beasts. 

The soundtrack features a selection of tracks used in the series and was made possible by Universal Music, which owns the world's oldest classical label Deutsche Grammophon. The playlist also features commentary on each piece of classical music by Kouki Uchiyama, who plays the role of Takt Asahina in the series. Featuring pieces by Herbert von Karajan and Leonard Bernstein, this is a great way to learn more about classical music through anime!

CAPCOM vs. Tezuka Osamu CHARACTERS' Exhibition Coming to Ikebukuro PARCO

Originally held as a special exhibition at the Osamu Tezuka Manga Museum in Takurazuka, the CAPCOM vs. Tezuka Osamu CHARACTERS' Exhibition is coming to the Kanto Region for the first time starting October 1. The event will be held on the 7th floor of Ikebukuro PARCO until October 18, 2021.

The collection features characters from Tezuka's many manga works, and pits them against many popular characters from Capcom properties, including Street Fighter, Resident Evil, Monster Hunter, and more. Seeing popular personalities from Astro Boy and Black Jack with these modern video game characters is quite a sight!

This year's event will feature new main event illustrations, new Devil May Cry and Ace Attorney exhibits, and an updated layout.

In addition to the products previously sold in Takarazuka, new merchandise will also be available for purchase at the venue.

©CAPCOMCO.,LTD.ALLRIGHTSRESERVFD.

©TEZUKAPRODUCTIONS

Information

CAPCOM vs. Tezuka Osamu CHARACTERS' (Dash)

Running: October 1 – October 18, 2021 (11:00-20:00)

Where: PARCO FACTORY (Ikebukuro PARCO 7F)

Official Site: https://art.parco.jp/parcomuseum/detail/

New YouTube Video Highlights Famous Evangelion Scenes in 11 Languages

On August 13, 2021, the fourth and final installment of the Rebuild of Evangelion film series, Evangelion: 3.0+1.01 Thrice Upon a Time, was made available on Amazon Prime Video exclusively for Prime members. The service has also released Evangelion: 1.0 You are (Not) Alone, Evangelion: 2.0 You Can (Not) Advance, and Evangelion: 3.0 You Can (Not) Redo.  

To commemorate the newest film's worldwide streaming release, a new YouTube video is highlighting some of the most popular scenes from the Rebuild of Evangelion film series. Check out how the characters sound in 11 different languages! Be warned, it contains spoilers for the final film!





(The languages featured are: English, French, German, Italian, Brazilian Portuguese, Castilian Spanish, Latin-American Spanish, Chinese, Hindi, Korean, and the original Japanese.) 

 

From hearing Shinji's famed line 'I mustn't run away, I mustn't run away' in Japanese to hearing Kaworu utter "I'm looking forward to seeing you, Shinji Ikari," in German, the trailer is full of memorable moments in its brief two minute and 35 second runtime, with classic lines delivered in ways audiences may have not heard them before. Fans of the series may be able to quickly discern which line is which, even hearing them spoken in a foreign language!

The final line is spoken by Shinji's original English voice actor, Spike Spencer, bidding farewell to 'all Evangelions." 

Evangelion: 3.0+1.0 Thrice Upon a Time has made over ¥10.22 billion ($92.7 million) at the Japanese box office since it was released on March 8, 2021, making it the highest-grossing film in the series. 

©khara

*Translations and video availability may vary by country.


Information

Evangelion: 3.0 1.01 THRICE UPON A TIME

Now Available on Amazon Prime Video (released August 13, 2021)

Evangelion: 3.0+1.0 Thrice Upon a Time Director Hideaki Anno Gives Message For International Release

Amazon is set to release the anime film Evangelion: 3.0+1.0 Thrice Upon a Time worldwide on August 13, offering it dubbed in 10 languages and subtitled in 28.


Originally released in Japan on March 8, 2021, Evangelion: 3.0+1.0 Thrice Upon a Time is the fourth and final instalment of the Rebuild of Evangelion film series. The film's theatrical run ended on July 21 where it was revealed that it had received 10.22 billion yen in total, making it the highest-grossing film in the franchise and the first film distributed by Toei to reach this mark.

An online panel titled Comic-Con@Home was streamed on July 23 which was attended by the film's director and writer Hideki Anno. The full video can be seen below.

"It's been 16 years since this movie was remade," explains Anno. "I was planning to finish it in about 8 years, but it took twice as long. So I'm relieved that it is finished."


Asked about what he thinks attracts fans to the franchise, he says: "The story of the work, the drama, and the technical quality are kept as high as possible. We work hard to maintain high quality. And this is not possible without the efforts of our staff and cast. Aside from that, maybe there was something in Evangelion that people around the world emphasized with. It might be the emotions, or the structure that could be taken as their own stories. This is something that people all over the world feel for themselves, so it is hard to say what attracts them."


Anno also discusses his enthusiasm towards seeking new goals. "Now that I've turned 61 this year, from now on, I plan on making some new live-action movies instead of Eva. For animation, it'd be great if I have a chance to do it again after I take some live-action shots." He continues: "Making a live-action video is totally different from animation. Because I can do a lot of things that I can't do with animation, that's why I'm really looking forward to it."


At the end of his talk, he comments: "Not only Evangelion, but my work basically deal with themes unique to Japan, aimed at people who grew up in Japan. I am really grateful and honoured that such works are seen and loved by people all over the world. Thank you so much for supporting Evangelion, and I hope you enjoy the film."


Amazon Prime Video is currently streaming the first three films in the film series: Evangelion: 1.0 You Are (Not) Alone, Evangelion: 2.0 You Can (Not) Advance, and Evangelion: 3.0 You Can (Not) Redo. The final film, Evangelion: 3.0+1.0 Thrice Upon a Time, will be released on the service worldwide on August 13, 2021.

©khara

Information

Evangelion: 3.0+1.0 Thrice Upon a Time

Amazon Prime Video Release Date: August 13, 2021

Perfume's New Song 'Polygon Wave' to Feature as Theme Song for Amazon's The Masked Singer

Perfume have been announced as the panelists for the Amazon Original show The Masked Singer which is set to be released on Amazon Prime Video in Japan on September 3, 2021. The J-pop trio come as the latest names to be announced as regulars for the show alongside MIYAVI, Kiko Mizuhara, and Bakarhythm. Their new song Polygon Wave, which is their first in a year, will feature as the show's main theme song.

The Masked Singer is a popular series that has been adapted for 50 countries around the world. This Japan-original adaptation will feature 12 performers wearing masks with Oizumi Yo as the host along with and guest panellists.

Perfume comments about appearing on the show

a-chan
"As a fan of the show, I'm happy The Masked Singer is being made in Japan! The show is making it possible for a lot of amazing people to come together too, so please look forward to it."

KASHIYUKA
"I never thought they'd make a Japan-original version, so I was shocked when we received the offer. It's a chance to discover new sides and charms of the performers."

NOCCHi
"I was happy when we got the call. All of the performers ooze talent, even with the masks on, so it got me excited without even thinking. I think this is gonna be a show unlike we've ever seen before, so please look forward to it."


About the theme song Polygon Wave


a-chan
"We were given a drama song that captures a world that even people 100 years from now would yearn for. It's refreshing, elegant, nostalgic, and light. Doesn't it make you want to dance? It does me."

KASHIYUKA
"I am so honoured that we were picked to do the theme song for The Masked Singer! The song has an infectious and nostalgic melody that makes you relax your shoulders. It really pulls you in. That tantalising aspect of hearing the voice of someone whose face you can't see for the mask links well with the feeling of this song. I want people to listen to it on the go while they're gazing out of a window."


NOCCHi
"I feel like the song captures that image of the 'near future' you hear when people say the phrase, or perhaps even beyond that. [Yasutaka] Nakata never fails to create an interesting world. Look forward to seeing where Perfume goes from here."

©2021 Amazon Content Services LLC

Information

Amazon Original番組「ザ・マスクド・シンガー」 テーマソング 「ポリゴンウェイヴ」 
配信開始日:2021年7月2日(金)より
Amazon Music他、各音楽配信サービスにて配信開始

ザ・マスクド・シンガー
配信開始日:2021年9月3日(金)より配信開始
※視聴にはプライム会員登録が必要です。
※配信内容・スケジュールは予告なく変更になる場合がございます。
話数: 本編9話 初回3話 以降毎週金曜順次配信
出演: MC:大泉洋 パネリスト:MIYAVI、Perfume、水原希子、バカリズム ほか(ゲストパネリスト出演予定)

Exclusive Collection Releases in Collaboration with Japanese Manga Legend Osamu Tezuka

HIRUME, a company in Japan that provides creative idea using Japanese traditional techniques and material, has launched an exclusive collection in collaboration with Osamu Tezuka, a Japanese manga legend, from March 24 to April 13 at HIRUME Hankyu Umeda in Osaka.

Silk Scarf "Phoenix" | ¥42,000 (tax not included)

Modal Cashmere Scarf | ¥52,000 (tax not included)

3 set of Mamezara small plates | ¥3,800 (tax not included) / single Mamezara ¥1,500 (tax not included)

2 set of Mamezara small plates | ¥2,800 (tax not included) / single Mamezara ¥1,500 (tax not included)

Osamu Tezuka changed the concept of Japanese manga and established the ways to express manga with stories that led it into the realm of art. Tezuka's characters continue influencing all genres, including literature and movies from generations to generations. His eternal theme of life and its preciousness was pierced in all his works which continue sending powerful messages.

The collection has inspired by Tezuka's manga series Phoenix, his life work that he continued to work passionately until his late years, and Black Jack, which is still popular overwhelmingly among the doctors. The silk scarf embellishes prints of Black Jack. Mamezara the small plates come with 2 designs of Phoenix and Black Jacks gorgeously.

The collection with Osamu Tezuka's manga that you can enjoy in your daily life is unmissable.

Information

HIRUME × TEZUKA CHARACTERS

Running :From March 24 ,2021 to April 13,2021

Address: 61 Koto Koto Stage 6F, Umeda Hnakyu, Osaka

Official Site:https://www.hirume.jp

Osamu Tezuka's 'Phoenix' Original Anime Production and Projection Mapping Showcased at Dogo Onsen

Dogo Onsen, a hot spring located in the city of Matsuyama in Ehime Prefecture, is currently undergoing maintenance work but is still open for business, with customers enjoying their dip in the onsen as usual. While this work is being carried out, the facility has launched the Dogo REBORN Project. As part of the project, Dogo Onsen is collaborating with Osamu Tezuka's manga series Phoenix which includes the creation of an original anime by Tezuka Production along with a projection mapping show in the evenings.

The first episode of the original anime production was posted in May 2019 and the second in February of this year. Earlier this month, on October 1, subtitles in English, Korean, and Traditional/Simplified Chinese were posted on both episodes. The third episode will be shown at Dogo Onsen.

Dogo Onsen launched the "Dogo Reborn 2020 Campaign" on August 7 as a way to show gratitude to frontline medical workers, which included putting up a special art piece called Blue Phoenix along with over pieces of wall art with messages on them.

The Dogo REBORN Project has much more planned going into the future.

©手塚プロダクション/松山市 2020
©TEZUKA PRODUCTIONS