Japan's Ultimate Confectionery Collaboration Invites Shiroi Koibito, Hagi no Tsuki, and Hakata Torimon
Japanese confectionery giants ISHIYA, KASHO SANZEN, and MEIGETSUDO launched the "Nippon no Omiyagenki Project" (Japan's Happy Souvenir Project) on May 16, 2021.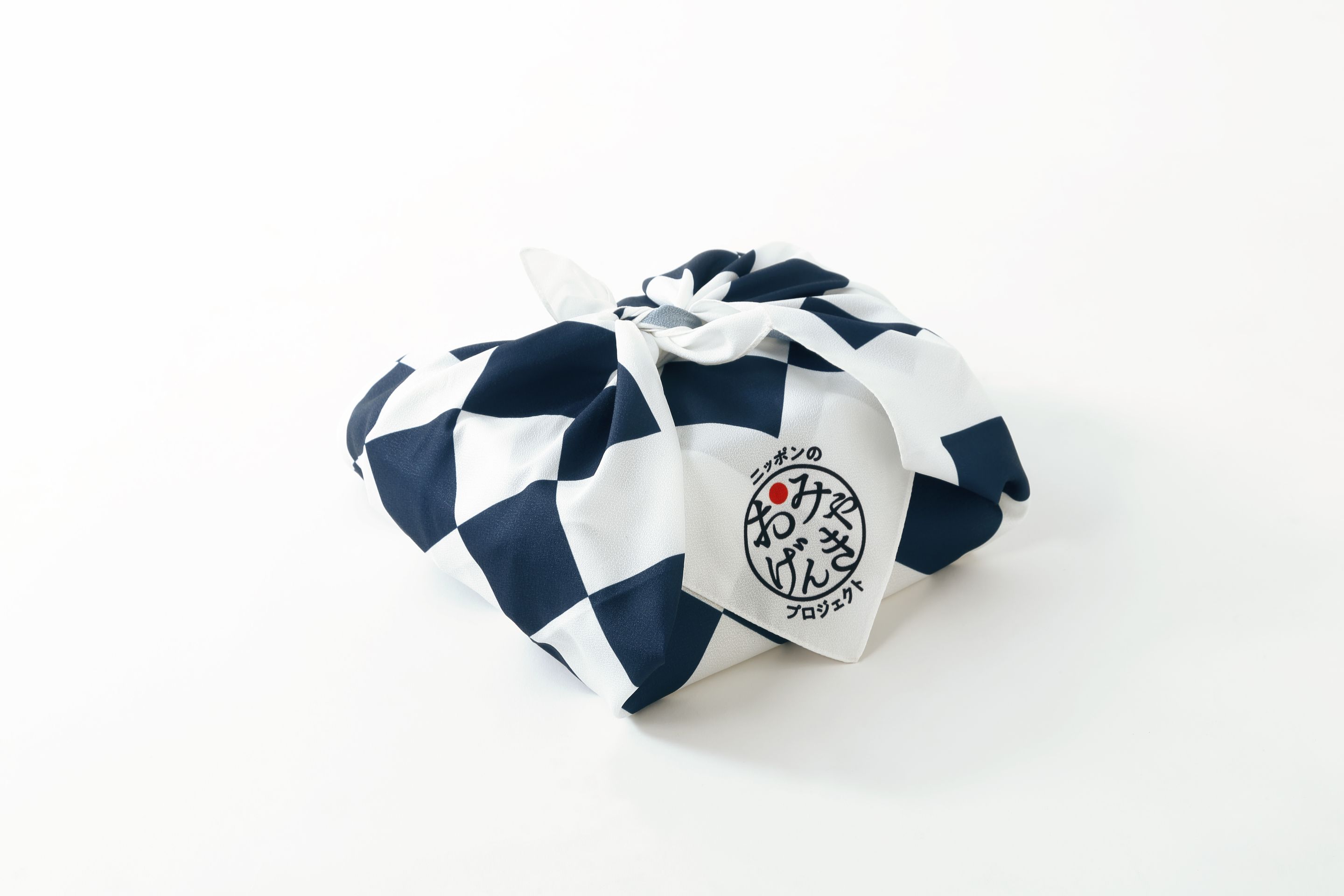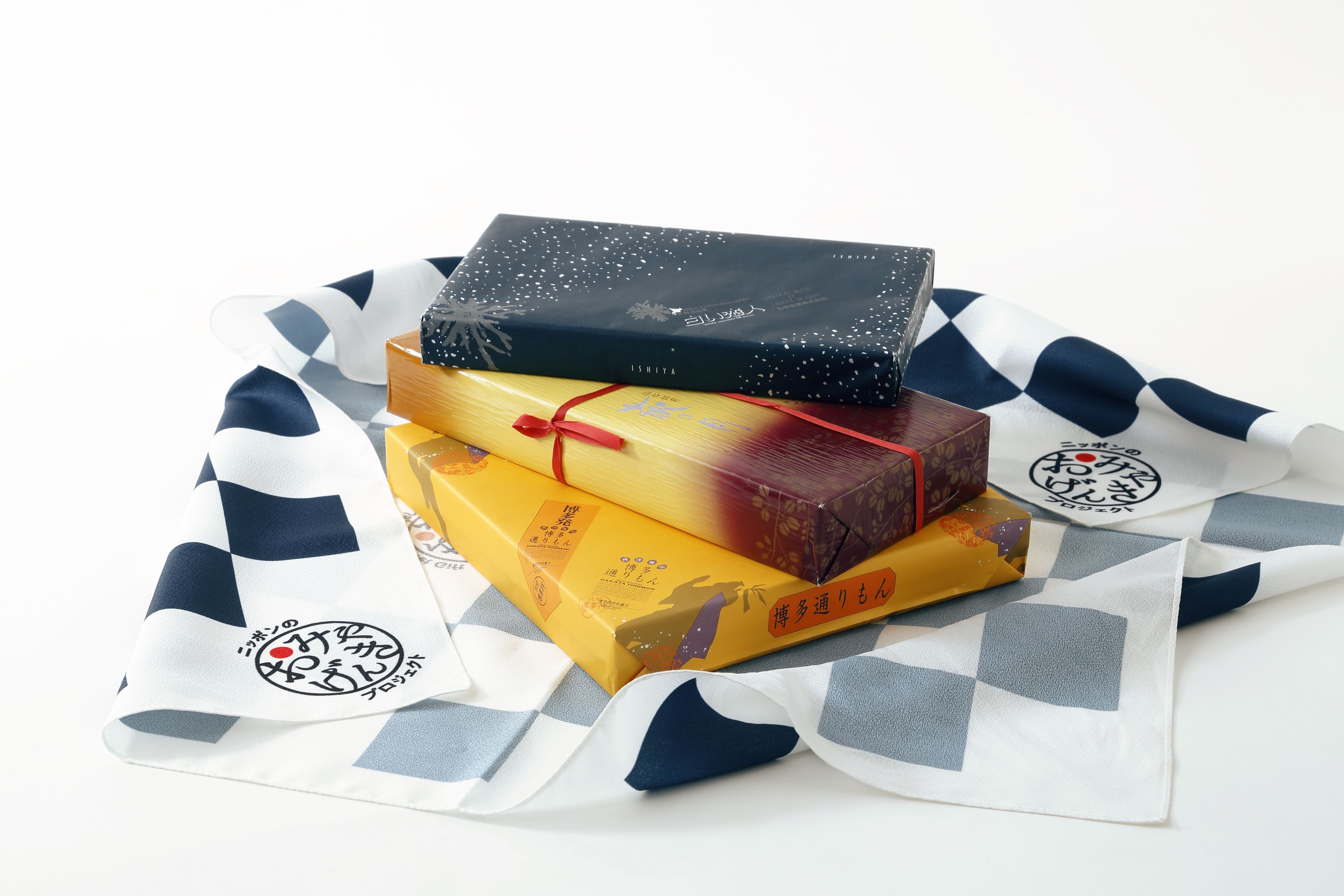 The project arrives in response to the decrease in tourism as a result of the COVID-19 pandemic. The three brands have come together to start a project to cheer people up with the power of snacks.
For the project's first release, they rolled out their Omiyagenki Box via the project's official website on May 16 which includes confections by all three companies wrapped in an original furoshiki cloth.
Omiyagenki Box | ¥5,400 (Tax Included)
Comments from the 3 Companies' Representatives (Translated by MMN)
Hajime Ishimizu (President and CEO at ISHIYA CO., LTD.)
"The Omiyagenki Project is a joint effort between our three companies to show hospitality to our customers whose roots lay in their birth-place, who love their home, and yet who kindly travel to us. Though we cannot travel at this moment in time, we hope that our snacks remind the people of Japan of our great regions."
Hidefumi Tanaka (President and CEO at KASHO SANZEN.CO.,LTD.)
"This is the season to enjoy the green scenery of the mountains and rivers, the countryside, the ocean that glimmers endlessly, and the sights of Tohoku, while enjoying something tasty. We deliver these feelings to you in a single wrapper with our brand that represents Hokkaido and Kyushu, and the feeling of travelling to these places."
Shinichiro Akimaru (CEO at MEIGETSUDO CO., LTD.)
"We are unable to travel or go on business trips due to COVID. It's a time where we have become unable to think about souvenirs. But we want to deliver happiness to the hearts of people in any way we can, and so we hope to give strength and happiness to Japan, even if it's only a little, with the power of souvenirs from three companies based in Hokkaido, Miyazaki, and Fukuoka."
Keep up to date with the project's latest additions at their official website below.
Information
Omiyagenki Box
Released: May 16, 2021
First Batch Shipping: Late May 2021
Second Batch Shipping: Early June 2021
Official Website: https://omiyagenki.base.ec/
RELATED ENTRIES
Pocky on the Rocks, Popular Since the 1970s, Reimagined for Modern Tastes

Pocky is one of the most popular Japanese snacks around the world, and a new way to enjoy it is here. Since the 1970s, Pocky on the Rocks has been a popular way to enjoy the tasty treats during the summer. A modern version has just been unveiled, and six special boxes with exclusive designs will be released on June 14 along with a new campaign, recipe submission contest, and a collaboration with select cafes around Japan. 

Pocky on the Rocks was first introduced in an ad campaign in 1976. People began putting Pocky sticks in a cool glass filled with ice or using the sticks as muddlers for alcoholic drinks. This stylish summer snack has been reimagined for 2022, and customers are inspired to pair the sticks with their favorite drink, stick them into ice cream, or add them to a cup of seasonal fruit!

Pocky on the Rocks in the 1970s

Pocky on the Rocks Today

Collaboration with 5 Cafes in Tokyo and Kansai

Cafe Roman – Takadanobaba, Tokyo

Cream Soda

Cafe Negura – Shimokitazawa, Tokyo
Dark Cherry Soda

DORSIA – Sannomiya, Kobe
Heart Strawberry Milk

Sunshine Cafe – Higashi-Umeda, Osaka
Almond Mixed Juice

Poem Cafe – Motomachi, Kobe
Lemon Squash


Pocky's limited edition packaging, coming June 14, will feature a recipe for the 2022 Pocky on the Rocks. A recipe submission contest will also be held on Instagram, and anyone can participate. On the campaign website, fans can find collaboration recipes made in conjunction with five different cafes around Tokyo and the Kansai region. Of course, you can also grab these treats at each shop!


Fans can win retro goods in another ongoing campaign simply by snapping a picture of a Pocky receipt.

You've probably tried Pocky before, but have you ever tried Pocky on the Rocks? 

Japanese Confectionary Series Tabemas Releases Chiikawa Sweets at FamilyMart Stores

Bandai's Japanese confectionary project Tabemas has been transforming popular characters into tasty treats for years. Starting April 5, over 16,600 FamilyMart stores nationwide will offer sweets inspired by illustrator nagano's popular characters Chiikawa and Usagi!

This is the first time these characters have been featured in the Tabemas series. Fans can grab Chiikawa with sparking eyes or smiling with red cheeks, a sparkly-eyed Usagi, and the adorable cat Hachiware. It will be difficult to eat something so painfully cute, but each is sure to taste delicious! The Chiikawa sweets are milk and custard flavored, Usagi is sweetened with caramel, and Hachiware offers the taste of strawberry milk. 

(C)nagano / chiikawa committee

Information

Chiikawa & Usagi Tabemas

Price: ¥398 each (Tax Included)

Release Date: April 5 ~

Where to Buy: Chilled Dessert Corners at 16,600 participating FamilyMart Stores Nationwide

*Limited quantities available.

*May not be available at all locations.

Fujiya Celebrates 111th Anniversary with Milky Sweet Retro Accommodation Plan

Fujiya is celebrating 111 years with a special collaboration with Hoshino Resort! The sweets company is well-known for 'Milky,' one of the most popular candies in Japan, and now, fans of these sweets can surround themselves completely with retro vibes. To inspire younger generations to travel again, a Milky-inspired room plan is now available to book. 

Four Unique Features of the Milky Sweet Accommodation Plan

1. A Milky Sweet Room with a Retro Feel!

This sweet room is completely covered with retro Milky style! The candy's mascot Peko-chan takes center stage in Taisho clothing, and guests can enjoy a Milky snack set and Milky bath salts to complete this one-of-a-kind experience.

2. Become Peko-chan with Adorable Costumes!

Dress up as Peko-chan with your best friend and take some hilarious pictures! These tops and overalls are included with the room, but feel free to wear them out and about.

3.  Milky-flavored Popcorn Available in Collaboration with TAMARIBA!

Popcorn sweetened with Milky powder is now available at TAMARIBA. Enjoy this tasty treat as you explore the grounds, and enjoy the special bag featuring Peko-chan. 

Location: TAMARIBA / Available: 15:00-19:00 / Price: Free
*Available while supplies last

4.  Enjoy Special Experiences at BEB5 Karuizawa and BEB5 Tsuchiura

BEB5 Karuizawa


Find Retro Peko-chan in Karuizawa Hoshino!

All-you-can-eat French Toast with Milky Sauce

BEB5 Tsuchiura


Make a Milky Smoothy on a Bike!

Peko-chan Retro Photo Cycling Tour in Tsuchiura!

Kyary Pamyu Pamyu Collaborates with Hakodate Sweets Shop Senshu An for LOCAL POWER JAPAN Project

Celebrating the 10th anniversary of her major label debut, Kyary Pamyu Pamyu is staying active in 2022. Next month, the singer will finally take to the stage at Coachella 2022 in California. In conjunction with the nationwide tour, the LOCAL POWER JAPAN Project was launched to energize Japan through the appeal of regional towns and cities. Finally making it to the northern Japan city of Hakodate, details surrounding the singer's sweet new collaboration have been announced!

 

Kyary is teaming up with the traditional Japanese confectionary shop Senshu An in Hakodate, founded over 162 years ago. This time, the special collaboration logo was inspired by Kyary Pamyu Pamyu's 2012 hit Candy Candy. The logo was originally written traditionally in black ink, but it's recieved a major pop makeover in pastel shades of yellow and green to pay homage to the set of the Candy Candy music video.

The shop is well-known for its original Yama Oyaji, a popular souvenir from Hokkaido. The new collab product feature Kyary's face and dancers, perfect for fans of the singer–though they might be a little too adorable to eat. Made one by one by skilled craftsman using carefully selected Hokkaido azuki beans as the base, each sweet features soft pastel colors to welcome spring. The sweets are placed in a special package wrapped in original collaborative wrapping paper. Be sure to grab them from the online store before they're gone on April 18!

A collaborative T-shirt is also on sale featuring the new logo and the singer's 10th-anniversary logo. Get one from the LOCAL POWER JAPAN Project website by March 30!

Doraemon Reappears as a Traditional Japanese Candy

The Tabemas brand transforms popular characters into traditional Japanese sweets. A new chilled Doraemon dessert is now available at Lawsons locations nationwide, but it might be too cute to eat.

Everyone's favorite robot cat is showing off two distinct impressions in this 2022 release. Do you like the winking Doraemon or the playful one with his tongue sticking out?

Be sure to try one of these intricate sweets! You don't need to visit a traditional sweets shop to get an authentic taste of Japan.

(C)Fujiko-Pro,Shogakukan,TV-Asahi,Shin-ei,and ADK

Japanese Sweets Brand Tohouen Offers Cherry Blossom & Cat-Inspired Spring Manju

Tohouen, a Japanese confectionary maker in Gifu Prefecture, has begun selling a springtime version of its popular cat-inspired manju. Inspired by the many cats that like to stroll around the shop's headquarters, the new release includes cherry blossom-colored cat paws. 

A traditional sweet in Japan, Manju is made from flour, rice powder, and buckwheat, with a tasty sugar and anko (red bean paste) filling.

Do you think these are too cute to eat? 

Information

Cherry Blossom Cat

Release Date: March 2, 2022

Where to Buy: Tohouen Stores, Tohouen Online Shop

Kyary Pamyu Pamyu Announces Collaboration with 165-Year-Old Confectionary Shop 'Koeido'

Celebrating the 10th anniversary of her major-label debut, Kyary Pamyu Pamyu is back in the news. The artist will perform at this year's Coachella, one of the largest music festivals in the United States, and recently released her first full-length album in three years 'Candy Racer' in October 2021.  On January 16, Kyary embarked on the largest tour of her career, 'Kyary Pamyu Pamyu 10th ANNIVERSARY JAPAN TOUR 2022 CANDY WAVE,' which will see the singer performing 30 shows across Japan. In conjunction with the nationwide tour, the "LOCAL POWER JAPAN Project" was launched to energize Japan through the appeal of regional towns and cities. Following a T-shirt collaboration with a 156-year-old kamaboko shop in Kanagawa, Kyary has teamed up with Gunma-based ekiben maker Oginoya to release her own bento box!

On February 6, Kyary held a concert in Okayama–the next stop on the LOCAL POWER JAPAN Project. This time, the singer is collaborating with a 165-year-old Japanese confectionary shop named Koeido. The store is famous for its original kibidango, a type of sweet mochi dumpling.

As part of the 'Collaboration Logo' project, partner companies see their traditional logos transformed as a tribute to Kyary Pamyu Pamyu's works. This time, the motif was inspired by 'KPP BEST,' an album released in 2016.

Original Kyaridango: ¥1,300 (Tax Included) / 15 pieces 

These tasty 'Original Kyarydango' have the same taste as traditional kibidango, but feature Kyary's face printed in edible ink. These sweet sets were sold in limited quantities at the Okayama Civic Hall, and are now available to purchase on the LOCAL POWER JAPAN Project website until February 20.

A T-shirt featuring the collaboration logo has also been revealed. The front features the Original Kyarydango and the updated logo, while the back is decorated with the Kyary 10th Anniversary logo and project logo. The shirt is also available on the LOCAL POWER JAPAN Project website. 

Information

Koeido (Okayama) x LPJP Collaboration Kibidango 'Original Kyaridango'

Price: ¥1,300 (Tax Included) / 15 pieces

Address: Okayama Civic Hall (2-2-1 Marunouchi, Kita-ku, Okayama)

Online Sales

Running: February 6 – February 20 at 23:59

LOCAL POWER JAPAN Project Online Shop: https://store-localpowerjapan.com/ 

*These products are made to order. Shipping is scheduled for the end of February.

Koeido (Okayama) LPJP Collaboration T-shirt

Price: ¥3,300 (Tax Included)

Available: February 6 – February 20 at 23:59

LOCAL POWER JAPAN Project Online Shop: https://store-localpowerjapan.com/ 

*Please allow two weeks to one month from the time your order is placed for item to ship. Part of the proceeds from the sales of these T-shirts will be donated to selected recipients for local development and social contributions.


Japanese traditional confectionery brand OKOSHIYA TOKYO opens in Marunouchi Building

Japanese traditional confectionery Okoshiya Tokyo, a brand specializing in okoshi (rice cake), opened in the Marunouchi Building on December 15, 2021.

OKOSHIYA TOKYO is a brand specializing in okoshi, operated by a small Japanese confectionery manufacturer in downtown Tokyo which is celebrating its 60th anniversary. OKOSHIYA TOKYO opened in Tokyo's Marunouchi Building as a store where customers can directly purchase the long-established okoshi, which has been sold only through the online store.

OKOSHIYA Maple Almond(60g)

aun 18 pieces (6 types x 3 pieces)

OKOSHIYA TOKYO's crispy okoshi is a new texture that can be eaten easily. The sweetness is kept low so that you can enjoy the natural flavor of the ingredients. It has a nostalgic and comforting taste.

Marunouchi (3 types x 3pieces) *Marunouchi Building Limited Edition

There are many theories about the origin of the word "okoshi", but it comes from the word "koshi", which means "to rise", and has been eaten as a confectionery for good luck. It can be used as a "friendship blessing" for friends who meet again after a long absence, a "cheering blessing" for those who are working hard towards their dreams and goals, a "love blessing" for a beloved partner, or to " bring good fortune" to newlyweds who are starting a new chapter in their lives. Let's convey not only the delicious taste but also your feelings to your loved ones through OKOSHIYA TOKYO's okoshi.

Information

OKOSHIYA TOKYO

Where: B1 1-4-2 Marunouhi, Chiyodaku, Tokyo, Maru Biliding B1F

Access: One-minute walk from Marunouchi South Exit of JR Tokyo Station, directly connected to Tokyo Station on the Marunouchi Line.

Opening Hours: Weekdays/Saturday 11:00~21:00 /Sunday/Bank Holiday 11:00~20:00

Official site: https://okoshiya.official.ec/

Sweets Brand Made in Pierre Hermè Releases New Sugar-Coated Cookies

Made in Pierre Hermè, a sweets brand dedicated to sharing the wonders of Japan with the world, is now selling karintou, a type of fried-dough cookie coated in brown sugar and sesame seeds. 

Karintou: ¥810

 

The thinly-baked cookies have a gentle sweetness from the domestic flower, and combined with the fragrant sesame seeds baked into the dough, it's impossible to eat only one. 

Left: Shimantogawa Genryu Green Tea: ¥1,404 / Right: Shimantogawa Genryu Roasted Green Tea: ¥1,404

These tea varieties are the best to enjoy with karintou. Grown in the tea fields above the Shimanto River in Kochi Prefecture, these leaves are surrounded by fresh water and clean air. Thanks to the moderate temperature and the natural veil created by the fog, sunlight is slightly blocked, giving a more mellow flavor to each green tea.

Adorable Hamster-shaped Cakes from Kyoto Now on Sale

Aoki Koetsudo, a 129-year-old confectionery shop in Kyoto, and 2:00, a Kyoto-based company specializing in unique products, have come together to create some incredibly cute hamster-shaped cakes. These pastries are called monaka, and feature azuki bean jam filling sandwiched between two crisp wafers made from mochi. Each set includes 6 wafers, six helpings of bean jam, and a bag of nuts, so customers can enjoy creating the pastries themselves! 

How to Enjoy Hamster Monaka

Fill the Hamster-shaped monaka with as much azuki jam as you like. 

Cover the monaka with the wafer and add one of the nuts provided. 

Paint the eyes and ears with chocolate to give each pastry some personality!

Projection-Mapping Event to Take Over Main Gate of Okazaki Castle in Aichi Prefecture

Okazaki Castle in Aichi Prefecture has a fascinating history, known as the birthplace of Tokugawa Ieyasu and once the fourth largest castle in Japan. Now, a new projection-mapping event by the digital artist group Hitohata will cover the main gate of the structure in incredible lights from November 12 to November 14. 

During the event, incredible images of the city's cultural assets and artworks will be brilliantly shone on the gate, including those by Reizi Tamechika. The region's popular Mikawa Fireworks will proudly make appearances as well, along with more modern digital art.

At the same time, the Sakurajo Bridge x FORUM 8 Central Rally 2021, also produced by Hitohata, will be held at the nearby Sakurajo Bridge. 

Information

Okazaki Castle Main Gate Projection Mapping

Running: November 12 – November 14, 2021 

Hours: 18:00-21:00

Address: Okazaki Castle in Okazaki Park (561-1 Kosei-cho, Okazaki City)

Admission: Free, no reservations required

Official Site: https://www.hitohata.jp

Halloween Sweets Now Available at Historical Kyoto Sweets Shop Tsuruya Yoshinobu

Founded in 1803, Tsuruya Yoshinobu is a famous Japanese sweets shop specializing in wagashi, or traditional Japanese confections. To celebrate Halloween, the shop is now selling some themed treats through the end of October. 

Halloween Pumpkin/Halloween Ghost Japanese Sweets

Happy Halloween Cookie Assortment

The celebration of Halloween dates back to the ancient Celtic festival of Samhain, before later being Christianized as All Hallow's Day. A day to ward off evil spirits and celebrate the fall harvest, it has become a much less serious holiday in recent decades. Children dress up in costumes and go door-to-door asking for candy, and the past is largely forgotten. The sweets available at Tsuruya Yoshinobu are decorated with cute expressions and are sure to be a hit at tea time with friends and family. Be sure to keep an eye out for the ghosts, featuring six different expressions!

Japanese sweets aren't as strong as their American counterparts, and each is sculpted like a work of art. These will melt in your mouth and are perfect for enjoying with matcha, tea, or coffee! Be sure to fill out the blank card along with the cookie gift box for a thoughtful gift this holiday season.

Information

Tsuruya Yoshinobu Halloween Wagashi

On Sale: 

Happy Halloween Cookie Assortment, Available October 10 – Late October: ¥1,620 (Tax Included)

Halloween Pumpkin Japanese Sweets, Available October 16-31: ¥486 each (Tax Included)

Halloween Ghost Japanese Sweets, Available October 16-31: ¥486 each (Tax Included)

Where to Buy: Tsuruya Yoshinobu

*Please note that products are only available in-store, not online. 

*Certain locations may not offer these products. 

Official Site: https://www.tsuruyayoshinobu.jp/