Hilton Tokyo's Dessert Fair 'Crystal Mermaid in White Lagoon' is Luxuriously Mouth-Watering
Hilton Tokyo is serving up a special dessert buffet this summer which it's calling ''Crystal Mermaid in White Lagoon.' It will be available at the hotel's Marble Lounge on the first floor from June 4.
'Crystal Mermaid in White Lagoon | Weekdays: ¥5,000 – Weekends: ¥5,400
As the name suggests, the delicious line-up imagines a mermaid princess who resides in the emerald green ocean with the sun beating down and reflecting off the water's surface. This picturesque scene comes to life in the form of 30 colourful desserts, 5 light foods, a selection of high-quality teas, 20 non-alcoholic cocktails, and more. All of this can be enjoyed as a projection mapping show takes place in the restaurant to the relaxing sounds of the ocean.
On the menu is the 'Rosy Shell Gem,' a rose-flavoured shortcake with a fluffy sponge stuffed with white peach and mixed berries. There's also the 'Blue Lagoon' cake with a white wine mousse and honey-roasted blueberries and blackcurrants, as well as the 'Pearl Bracelet' made with white sesame seed bavarian cream and refreshing passion fruit and pineapple.
The 'Deep Sea Sinking Emerald' creates the image of a mermaid finding a treasure that has sunk deep in the ocean. It's made with a chocolate ganache that's topped with a deep-green alcoholic Mojito jelly. The 'Mermaid's Treasure Box' is a meringue decorated with summer fruits like mango and apricot which are the jewels of the treasure box. The 'Love Letter in a Bottle' is inspired by a love letter in a glass bottle not reaching its destination. It has a plum and grape mousse with mascarpone cheese.
Other items on the menu include the vanilla custard jelly dessert 'Mermaid's Tears Religieuse,' the hermit crab-like acai and blueberry jelly yogurt mousse 'Mermaid's Attendant,' the 'Loving Mermaid' galette bretonne which looks like a mermaid's tale, 'Sunset Jelly,' and more.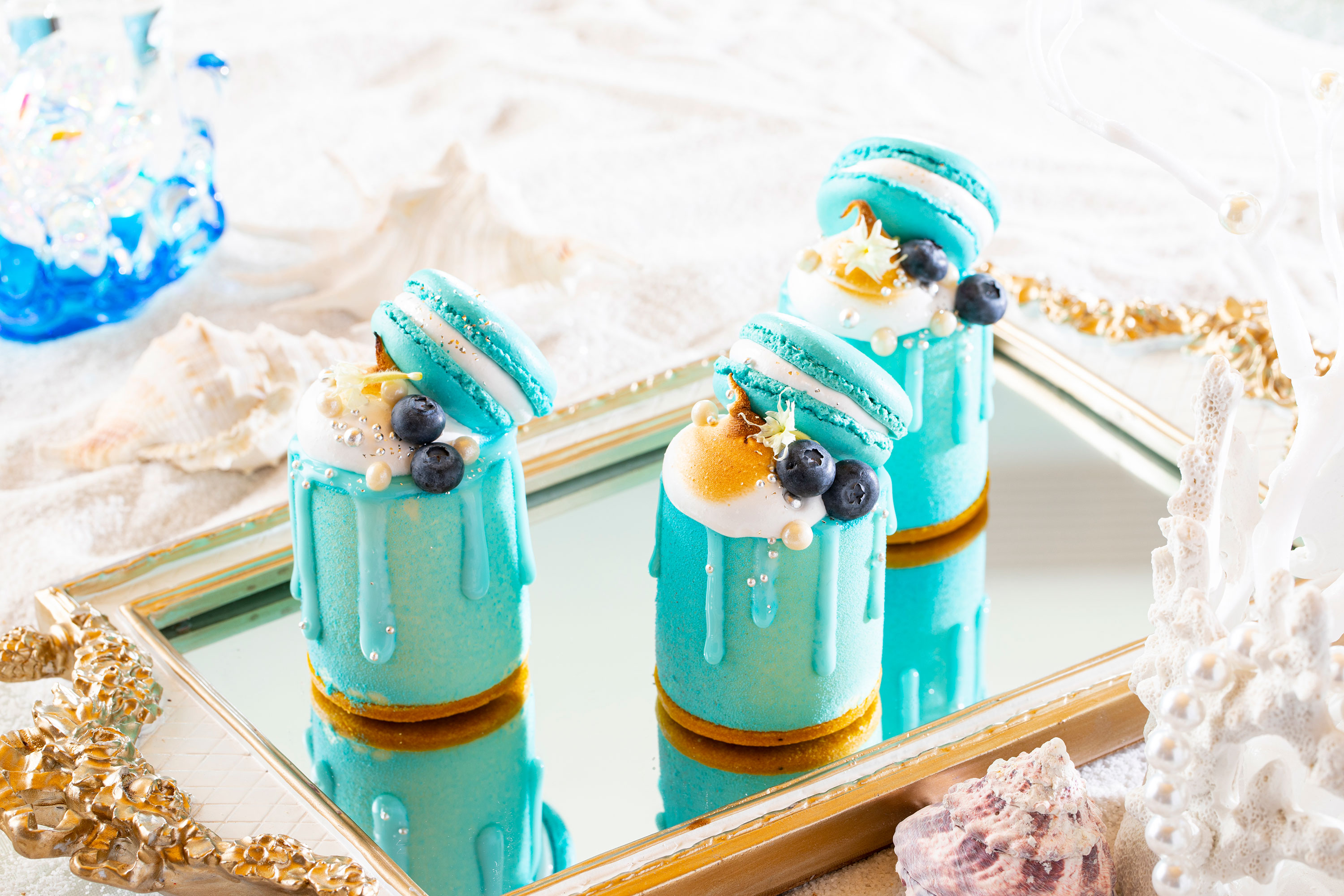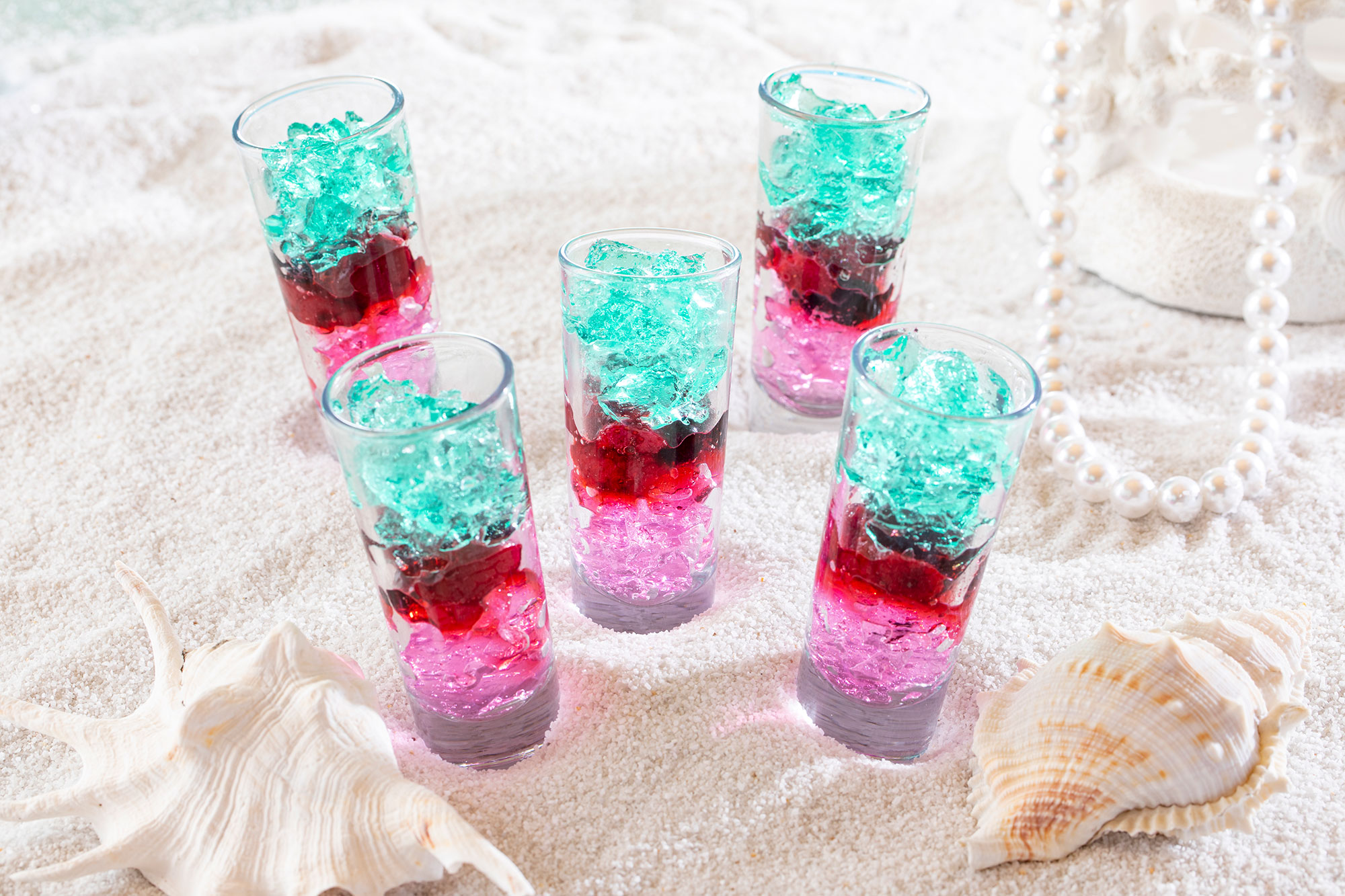 For drinks, there's high brand teas like Earl grey from Ronnefeldt as well as Mango Dream, Soft Peach, a variety of mermaid-inspired non-alcoholic cocktails, coffee, and so on.
Feast upon the treasures of the ocean at the Crystal Mermaid in White Lagoon buffet.
RELATED ENTRIES
Grab a Takeout Hydrangea Parfait at Itohkyuemon in Kyoto

Itohkyuemon, one of Kyoto's most famous green tea shops which established in the latter part of the Edo Period, is now serving a takeout hydrangea parfait at its main branch in Uji, Kyoto.

Uji, the city where Itohkyuemon is based, is home to Mimuroto Temple which is famous for its hydrangea. The temple bustles with sightseers and tourists during Japan's rainy season who flock to gaze upon the gorgeous flowers. The tea shop's limited-time hydrangea parfait was first released in 2013 and has gone to become their most popular seasonal parfait every year. So that lots of people can continue to enjoy the popular dessert, Itohkyuemon is offering the parfait as a takeout option so customers don't have to eat indoors.

The parfait is made with matcha and hydrangea mashed sweet potato and hydrangea-coloured crushed jelly, and is topped with leaf-shaped matcha cookies, blueberries, and other colourful treats that bring to mind Uji's rainy season.

Krispy Kreme Releases Summer Edition Doughnuts For a Limited Time Only

Krispy Kreme Doughnuts Japan is releasing two new doughnuts themed popular seals in the aquarium and a floating ring from June 23 until July 22. 

Seal Custard

Watermelon Slim Ring 

Seal Custard is a seal motif donut. The surface of the fluffy dough coated with white chocolate and filled with custard cream using Hokkaido milk and vanilla beans. The charm point is a mouth drawn with milky and rich white chocolate on the face drawn with bitter chocolate. The charm point is a mouth drawn with a bitter chocolate on a face coated with milky and rich white chocolate.

Watermelon Slim Ring is a ring donut coated with white chocolate motif a large floating ring with a red pattern drawn with a juicy watermelon glaze. The colorful contrast of red and white gives you a summer-like breeze and sweetness. 

Why don't you try the adorable donuts that are perfect for the summer?

Information

Seal Custard /Watermelon Slim Ring 

Running: June 23, 2021- July 22, 2021
Available: Krispy Kreme Doughnuts Japan

Official Site:https://krispykreme.jp/

Harajuku's New Snoopy Themed Cafe 'PEANUTS Cafe SUNNY SIDE Kitchen' to Open This Summer

The Snoopy-themed PEANUTS Cafe chain of cafes is set to open the all-new PEANUTS Cafe SUNNY SIDE Kitchen branch inside WITH HARAJUKU in Harajuku, Tokyo, this July, where it will serve an all-new, gorgeous healthy food menu.

The Peanuts franchise has been active in its marketing efforts in Japan this year, promoting messages of love and friendship, themes that are threaded through the globally-celebrated Peanuts comic strip.



PEANUTS Cafe SUNNY SIDE Kitchen keeps with those important themes, serving up a menu of healthy light food as well as sustainable products.

Their food line-up includes no-fry doughnuts, granola made with organic ingredients, open sandwiches stuffed with fresh vegetables, and more. The cafe also has its own collection of merchandise with kitchenware to promote healthy eating as well as environmentally-friendly and sustainable items.

If you're staying in Tokyo and frequenting Harajuku but have had your fill of the district's famous crepes, why not let Snoopy cook you up some healthy grub?

(C) 2021 Peanuts Worldwide LLC

Information

PEANUTS Cafe SUNNY SIDE Kitchen
Location: WITH HARAJUKU

Grand Opening: Late July 2021
Official Website: http://www.peanutscafe.jp/

Dress Like EarthBound's Ness With New Era's Hat Collection

New Era has announced its first collaboration with the Mother video game series, also known as EarthBound outside Japan. Two hats, one inspired by Ness's hat from Mother 2, and a 'SMAAAASH!!' version, will be released at the Mother no Hiroba pop-up shop at Shibuya PARCO as well as at participating TOCHIBI stores in Japan on July 1.

NEW ERA® 9FIFTY™ SMAAAASH!!/Ness – ¥7,700 Each (Tax Included)

Both hats feature New Era's iconic 59FIFTY® model, which was first released in 1954, and feature the 9FIFTY™ snapback adjuster. One is coloured red and blue with a white top, just like Ness, and the other is full black with the word 'SMAAAASH!!' on the front.

The Mother no Hiroba pop-up shop will be open at Hobo Nichijo on the 8th floor of Shibuya PARCO in Tokyo from July 1 to 11. EarthBound fans can get their hands on a range of related merchandise.

©SHIGESATO ITOI / Nintendo ©HOBONICHI

Information

MOTHER x New Era Collection

Released Date: July 1, 2021

Product Details: https://www.1101.com/n/s/mother2_newera_pre

MOTHER no Hiroba Pop-Up Shop

Running: July 1, 2021 – July 11, 2021

Opening Hours: 11:00-20:00

Location: Hobo Nichijo (Shibuya PARCO Floor 8F)

Address: 15-1 Udagawacho, Shibuya, Tokyo

Entry: Free

Demon Slayer: Kimetsu no Yaiba Turns Into Confections at Japanese Convenience Stores

Bandai's character-inspired Japanese confectionery series Tabemas released a new collection of traditional Japanese wagashi confections and tarts inspired by the Demon Slayer: Kimetsu no Yaiba anime series at Lawson convenience stores across Japan on June 15.

Tabemas Demon Slayer

'Tabemas' is an abbreviation of the Japanese words taberareru masukotto, meaning 'mascots that you can eat.' It is a Japanese confectionery series that combines well-known characters and Japanese sweets made from ingredients like red bean paste, sugar and rice flour.

Their line-up of three confections are based on Tanjiro, Nezuko, and Zenitsu from the series, each of which captures their charm points in terms of colour and design. Tanjiro is chocolate flavoured, Nezuko is strawberry, and Zenitsu is custard.





Tabemas Demon Slayer: Kimetsu no Yaiba 2021 | ¥285 Each (Tax Included)

Demon Slayer Tarts

Tabemas has also baked up some no-baked cheesecake tarts featuring designs of Tanjiro, Nezuko, Zenitsu, Inosuke, Tomioka, Kyojuro, and Shinobu.


Demon Slayer: Kimetsu no Yaiba Tarts | ¥249 Each (Tax Included)

©︎ 吾峠呼世晴/集英社・アニプレックス・ufotable

Information

Tabemas Demon Slayer: Kimetsu no Yaiba 2021

Released: June 15, 2021

Available: At the chilled sweets section of Lawson convenience stores in Japan

*Natural Lawson and Lawson Store 100 stores not participating

Kokonoe Honpo Tamazawa, a wagashi Japanese traditional confectionery maker that has been around since 1675, released its new emoji-themed 'EMOCHI' collection as part of the WA!GASHI Project on Wednesday, a day which also happened to be Wagashi Day.

EMOCHI | Pick Your Own Set of 3 | ¥1,512 (Tax Included)

EMOCHI | Recommended Set of 3 – A | ¥1,512 (Tax Included)

EMOCHI | Recommended Set of B – A | ¥1,512 (Tax Included)

EMOCHI | Recommended Set of 3 – C | ¥1,512 (Tax Included)

EMOCHI | Full Set of 10 | ¥3,996 (Tax Included)

Kokonoe Honpo Tamazawa is a 346-year-old confectionery company based in Sendai, renowned for their wagashi-making skills and original techniques while they use to constantly innovate on their sweets. This new collection of sweets with a smile features emoji in three flavours: white bean paste, yuzu bean paste, and miso bean paste.


The collection links how emoji are used to communicate feelings through text in the form of texts and emails like how wagashi, or traditional Japanese sweets, are often used to express gratitude as part of Japan's culture of gift-giving.



There are 10 emoji to pick from, perfect for giving as a gift to someone to send a message or as a treat for yourself, and each comes with one of eight message cards.

Benzaiten Daifuku Opens New Fruit Confectionery Store Inside GINZA SIX

Benzaiten opened its first store in 2019 and since then has opened over 50 branches up and down Japan. The confectionery brand, which specialises in fruit-filled daifuki, has now opened a new store inside Tokyo's luxury shopping centre GINZA SIX.

Yellow Papaya | ¥950 (Tax Included)

Tayo no Tamago Red Mango | ¥1,500 (Tax Included)


Fig | ¥1,000 (Tax Included)


Kiwi | ¥650 (Tax Included)

Benzaiten has over 10 types of fresh seasonal fruits ordered in from the market every day to make their daifuku with, most of which use the entire fruit. They are very particular about the mochi used to make the daifuku to ensure the original delicious flavour of the fruit is maintained and maximises. They use two layers of high quality white bean paste and habutai to hand-prepare the daifuku every day.

Information

Benzaiten GINZA SIX
Address: GINZA SIX (Floor B2F), 6-10-1 Ginza, Chuo-ku, Tokyo
TEL: 03-6804-3382
Opening Hours: 11:00-19:00

Official Website: https://benzaiten-daifuku.jp/

Butter no Itoko x Samantha Thavasa Open Second Store Together at Tokyo Skytree

Butter no Itoko and Samantha Thavasa opened their second collaborative store branch in the desserts area of Tokyo Skytree Solamachi last Tuesday.

Butter no Itoko is a Nasa-based confectionery company co-developed by Chus and Shinrinno Bokujo, a company specialising in milk from Jersey cattle. It opened a store in collaboration with Samantha Thavasa last year at Haneda Airport Terminal 2.

Samantha Thavasa Exclusive Butter no Itoko Salted Caramel

Banana Smoothie

Solamachi Exclusive Samantha Thavasa x Butter no Itoko Eco Bag

The new store will sell a whole range of tasty treats including the salted caramel Butter no Itoko which was first released at the Haneda Airport branch, Shinrinno Bokujo's soft service ice cream, updated 90 Banana Smoothies, and more. There's also a limited-edition complete box of milk, chocolate, red bean paste butter, and salted caramel Butter no Itoko youc na get your hands on which were first released in April.

If you spend over ¥3,000 on desserts at the new store, you can also get your hands on the exclusive eco bag. These are available on a first-come, first-served purchase.

Information

Butter no Itoko x Samantha Thavasa Tokyo Skytree Town Solamachi

Grand Opening: 10:00-22:00 (currently operating on reduced hours at 10:00-20:00)
Address: Tokyo Skytree Town Solamachi Floor 1F East Yard 9, 1-1-2 Oshiage, Sumida, Tokyo, 131-0045, Japan
Samantha Global: https://samantha-global.com/

Butter no Itoko Official Website: https://butternoitoko.com/

Hard Rock Cafe Releases Limited-Edition Pins of Ueno Zoo's Panda Xiang Xiang

Hard Rock Cafe Ueno is celebrating the 4th birthday of Ueno Zoo's giant panda Xiang Xiang with a collection of birthday pins. The limited-edition line-up was released on Thursday.

4th Birthday Pin | 300 Available | ¥2,200

4th Birthday Pin 2 | 500 Available | ¥2,200

The two pin designs are limited in stock, the first featuring Xiang Xiang with her mother and father has 300 available, and the second one has the cute giant panda on an aeroplane branded with her birthday date with 500 available.

Both pins capture Xiang Xiang's energetic personality and are cute souvenirs to take home after meeting her at Ueno Zoo.

Information

Hard Rock Cafe x Ueno Zoo Pims
Released: June 10, 2021 at Hard Rock Cafe Ueno Station Tokyo

Address: Atre Ueno Floor 1F, 7-1-1 Ueno, Taito-ku, Tokyo

TEL: 03-5826-5821
Also available online: https://hrcjapan.official.ec/

Hard Rock Japan Official Website: http://hardrockjapan.com/

Mr. Fullswing Manga Celebrates 20th Anniversary With Themed Cafe in Ikebukuro

In celebration of Mr. Fullswing's 20th anniversary, Animate are collaborating with the manga series to serve up a themed menu at their own Animate Cafe in Ikebukuro from June 23 to July 26. The entire menu including the meals, drinks, and desserts are all inspired by the series, and fans can get their hands on some exclusive merchandise too.

Mr. Fullswing is a baseball manga series written and illustrated by Shinya Suzuki which was serialised in Weekly Shonen Jump from 2001 to 2006. This year marks 20 years since it was first released.

Menu item names have been translated from Japanese.

A peek at the manga-themed menu

Is That Rice? No, It's Curry | ¥1,000

Rations From Shiba | ¥1,000

Gou's Secret Batting Form ~Hachiku~ | ¥800

Sei's Secret Batting Form ~Utsusemi~ | ¥800

Terrible Tatsuragawa's Glasses | ¥600

A peek at the merch

CoLotta Acrylic Plate Key Rings | 15 Designs | ¥800 Each 

Acrylic Character Key Rings | 14 Designs | ¥800 Each

Acrylic Uniform Key Rings | 14 Designs | ¥650 Each

Campaign to win a free photo card

24 photo cards based on the manga volume front covers

Win a birthday bromide photo

For every ¥2,000 spent at the cafe on menu items or merchandise, customers will receive one free photo card. There is also a birthday campaign being held from July 19 where you can win a free birthday bromide for every ¥2,000 spent.

(C)鈴木信也/集英社

BEAMS Showcase Their Historical Fashion Archive at The National Art Center in Tokyo

BEAMS is celebrating its 45th anniversary this year. At such an important milestone, it's important to take a look back at where the brand has come from, and so BEAMS is taking part in the Fashion in Japan 1945-2020 exhibition that opened at The National Art Center, Tokyo, last Wednesday. Followers of the Japanese fashion are able to see their early products when they first opened in the late 1970's to their Shibuya Casual style, known as Shibu-Kaji, from the late 80's. It's an historical, nostalgic throwback across their archive. Exclusive merchandise is also being sold featuring the 'American Life Shop BEAMS' logo which they branded upon establishing the brand.

A look at just some of the exhibits on display

BEAMS shopping bag from 1977

Shibu-Kaji outfit from late 1980's

Exhibition-exclusive souvenir merch inspired by vintage BEAMS

This exhibition follows the unique trajectory of Japanese clothing, especially in post-World War Ⅱ Japan, as seen from both sides: that of designers who transmit culture by creating clothes and ideas, and that of users who receive it by wearing the clothes and at times create era-defining grassroots fashion movements. It offers a comprehensive overview that references the predominant media of each era, such as newspapers, magazines, and advertisements.

In the mid to late 1970's, BEAMS was at the forefront of spreading casual wear to people, stocking some of the country's most notable brands and designers. BEAMS opened its first store in Harajuku in 1976 where it sold shirts, shoes, and other items. In 1977 they introduced their own shopping bag, and the following year opened up their first BEAMS F selling traditional men's style clothing. It was around this time that beams released their POPEYE magazine too. All of this and more is explore at the exhibition along with commentary.

A talk event titled "Lifestyle Tips: POPEYE & BEAMS" will also take place on July 3 at the museum.

Information

Fashion in Japan 1945-2020
Running: June 9, 2021 – September 6, 2021

Venue: The National Art Center, Tokyo

Address: 7-22-2 Roppongi, Minato-ku, Tokyo
TEL: 03-5777-8600
Opening Hours: 10:00-18:00 (Until 20:00 on Fridays and Saturdays)

*Last entries 30 minutes before closure

*Exhibition content subject to change
Official Website: https://www.nact.jp/english/exhibitions/2020/fij2020/


Talk Event
Title: Lifestyle Tips: POPEYE & BEAMS
Date: July 3, 2021

Time: 14:00-15:30
Venue: The National Art Center, Tokyo

Pompompurin's 25th Anniversary Celebrated With Limited Edition Dessert at FamilyMart

Sanrio teamed up with the convenience store chain FamilyMart to commemorate the 25th anniversary of their popular character Pompompurin with a special soufflé and macarons that hit shelves up and down Japan on June 8.

Pompompurin Soufflé Pudding | ¥276 (Before Tax)

Pompompurrin & Cinnamoroll Macarons | ¥350 (Before Tax)

Pom's Kitchen Campaign

The Japanese pudding-style soufflé is made with smooth and velvety custard and caramel. It's sold in a cup in three different original designs. Also available as part of the celebration is a set of macarons made to look like Pompompurin as well as Cinnamoroll, another one of Sanrio's most popular characters. They are wearing cute king and queen crowns respectively.

A campaign is also being held where you can win some special Pompompurin merchandise by posting a photo of a rice dish inspired by Pompompurin on social media. More details can be found on the campaign website below.