Kirin Announces Restoration Project With Gogo no Kocha Milk Tea
Kirin Beverage launched the Gogo Tea Happiness Project on June 1, 2021. The project will donate the proceeds made from select products to locations in Japan that require support in restoration efforts. The first product to launch is the 'Gogo no Kocha for HAPPINESS Kumamoto Strawberry Tea' which released in limited quantities in Japan on Tuesday.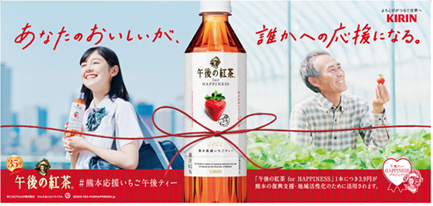 Kirin Group launched a similar project in 2011 called the 'Kirin Bond Project.' in 2016, they began efforts to support the people of Kumamoto after the earthquake that struck there that year – to 'bind' them to the future. From then until 2018, they also shot commercials for their Gogo no Kocha milk tea brand at Miharashidai Station, Shirakawa River, and other places around Kumamoto, as well as promoted the village of Minamiaso to showcase its beautiful natural environment.
The Gogo Tea Happiness Project takes Kirin back to Kumamoto to continue helping to support restoration efforts, something the company has been doing since July 2011 after the Great East Japan Earthquake struck. For every bottle of Gogo no Kocha for HAPPINESS Kumamoto Strawberry Tea sold, not only does 3.9 yen of the proceeds go towards supporting Kumamoto, it also gives people around Japan the chance to try a type of strawberry grown in Kumamoto called yuubeni. The project also ties in with the 35th anniversary of Kirin's Gogo no Kocha tea.
Information
Gogo no Kocha for HAPPINESS Kumamoto Strawberry Tea
Japanese Product Name: キリン 午後の紅茶 for HAPPINESS 熊本県産いちごティー
Released: June 1, 2021
Available: Japan
Price: ¥140 (Before Tax)
Official Website: https://www.kirin.co.jp/
RELATED ENTRIES
LiSA & yama Appear in New Commercial For ZONe Energy Drink

In promotion of their new Ver.2.0.0 energy drink, which hit shelves in Japan last Tuesday, ZONe released a TV commercial featuring Japanese artists LiSA and yama. The new beverage, which is advertised as putting people in the zone of invincibility, contains the highest amount of caffeine put in a ZONe drink yet: 150mg of the stuff, which is sure to keep people buzzing throughout the day. The packaging has also been updated to feature the new 'ZONe EYE' which symbolises that you're in the zone and nothing will stand in your way.


LiSA in the ZONe
     

Dive into the zone with LiSA who knocks back her drink and immediately takes on the ZONe EYE. She grabs her mic and belts out a hardcore performance, showing off her incredible voice, before winking at the camera.

yama in the ZONe

                         


When yama chugs her can she says the words 'Into the ZONe' along with the futuristic-sounding voice. She is surrounded by a whirlpool of the energy drink which flows along to the sound of her gorgeous high-tone vocals. The track itself is titled Ketsuryu ('Blood Flow') and was written for this commercial.


Interview

LiSA


・What did you think of the commercial and your appearance?

"For me, it was a live performance. Even I was surprised at the show of power that ZONe has [in the commercial] when it turns on your switch. I enjoyed it like a real live performance, since the part when I switch into that invincible zone was filmed just as I look in the video."



・Tell us about the song RUNAWAY which features in your commercial.
"The song is about quitting while you're ahead in life. It's the start of a new era, heading into that invincible zone to laugh lots, sing, dance, and enjoy everything."



yama

・Tell us about the song Ketsuryu which features in your commercial


"ESME MORI kindly wrote this song for me. It's a song that brings up the topic of being bored in life, and feeling lonely, but that you can still find someone special or something you can immerse yourself in to light up your life. It's about keeping your heart moving even if those things disappear. I hope it encourages people, even if just a little."

Information

ZONe x LiSa/Yama TVCM

Released: June 8, 2021

Where: Japan
ZONe Official Website: https://zone-energy.jp/

Kumamon Promotes Strawberry and Whipped Cream Pastry For Pasco Kumamoto Project

The Pasco Kumamoto Prefecture Project is a collaboration between the Japanese pastry company Pasco and Kumamoto Prefecture which has appointed Kumamon, the mascot of Kumamoto, as its head to promote local foods.

The project was started as a reconstruction and restoration effort to help support Kumamoto after the devastating earthquake that struck in 2016 and the 2018 Japan floods. For every select product sold, 0.5 yen is donated to the relief effort to aid victims of the disasters.

The Pasco Kumamoto Prefecture Project is set to run until end end of September this year. It released two items on April 1 as part of the project. It is now releasing two new products: the "Strawberry Jam & Milk Whipped Cream" pastry and "Pancake Omelette Custard & Milk Whipped Cream." The milk, strawberries, and eggs used for these confections are all sourced from Kumamoto

The pastry recipe creates whipped cream from milk and layers it with a strawberry jam made from yuubeni, a popular brand of strawberry grown in Kumamoto, before baking. The pancake omelette is a combination of Jersey milk, eggs, and custard cream to create a fluffy dessert.

Pasco carefully selects ingredients as part of Kumamon's promotional products

The ingredients used in the recipes for these food products are all carefully selected to go deliciously well with Pasco's bread. This includes milk, eggs, and yuubeni strawberries. Pasco plans to used Kumamoto-grown rice for a new product in August.

 

Scan the code on the packaging and meet Kumamon!

A special Kumamon AR service has also been created as part of the project. If you scan the code on the packaging of these products using a smart device, you can take a photo together with Kumamon as pictured above. He has the same design as on the packets.

Information

Pasco Kumamoto Prefecture Project – 2nd Release

Running: June 1, 2021 – July 31, 2021

Available: Supermarkets and shops in Japan

Pasco Official Website: https://www.pasconet.co.jp/

VTuber Yukihana Lamy Releases Her Own Sake Called 'Yuki-Yo-Zuki'

Yukihana Lamy, a Virtual YouTuber associated with hololive, launched her own Japanese sake project in February to bring her dream to life of making her very own sake by hand. That sake has now been released by the name of Yuki-Yo-Zuki, a premium brand daiginjo sake.

The sake was created in collaboration with Meiri Shurui, a Japanese sake brewery which has been around since the Edo Period. Every single ingredient in the drink was considered from scratch including the type of rice, the ratios, yeast, alcohol content, and so on. The sake is made by hand in a brewery located in Mito, Ibaraki.

Yuki-Yo-Zuki uses Fukushogun Daiginjo as its base, a sake that won Gold in the Sake category at IWC2020. It's made with a combination of Yamada Nishiki and Biyama Nishiki rice as well as ginjoka, the highest quality daiginjo, known for its light spicy kick and fruity notes. The bottle features an illustration of Yukihana Lamy drawn by Abara Heiki, an artist Lamy likes, with a fusion of black and silver inspired by the meaning of drink's name: 'Snowy Evening Moon.'

Cinnamoroll's Warm & Fluffy Dessert Party to Grace Hilton Osaka This Summer

Hilton Osaka's second floor restaurant Folk Kitchen has announced a collaboration with Sanrio to serve up Cinnamoroll's Warm & Fluffy Dessert Party, a food menu themed on Sanrio's popular character Cinnamoroll who took home the number one spot in the 2020 Sanrio Character Ranking. He was born up on a cloud in the sky, and that's where guests are invited to dine with him: on his dessert wonderland, featuring around 25 dreamy-cute items, atop a fluffy cloud. The restaurant will take on special decorations for the menu's duration, and guests might even spot some other familiar Sanrio faces too like Hello Kitty, My Melody, and more.

Raindrop & Dance Yogurt Ring Cake

Kuru Kuru Coffee Cup Peach Mousse

Warm & Fluffy Cloud Mousse

Cafe Cinnamoron Cream-Loaded Pastries /Brown Sugar Chocolate Flower Tarts

Marshmallow Truffle

I Dropped My Ice Cream – Chocolate Mousse & Blackcurrant Cake

This is Hilton Osaka's third summer dessert buffet in a row held in collaboration with Sanrio's characters. Focusing on the greatly loved Cinnamoroll, whose fandom is mostly made up of those in their teens and 20's, guests can look forward to tucking into a deliciously kawaii menu. The restaurant's pastry chef Hyaku, also known as the wizard of smell and texture, recommends the 'Raindrop & Dance Yogurt Ring Cake' which is made with a fruity mango cream that melts into a creamy sour mousse. The raindrops are represented by chocolate, and the fluffy cloud is actually crunchy meringue. The dessert captures the bright and sparkly world of Cinnamoroll.

The 'Kuru Kuru Coffee Cup Peach Mousse' is loaded with peach compote and vanilla mousse for an exquisite balance of flavours. It's topped off with Sanrio characters made of chocolate.

The 'Warm & Fluffy Cloud Mousse' has a gorgeous pink gradation. Inside the honey mousse is a refreshing layering of sudachi citrus jelly, fresh orange, and pistachio biscuit.

There's also the 'Cafe Cinnamoron Cream-Loaded Pastries' and 'Brown Sugar Chocolate Flower Tarts' which capture the cuteness of Cinnamoroll.

There's also a refreshing dessert-in-a-glass for cooling down over the summer: the 'Marshmallow Truffle' which is inspired by unicorns. It has alternating layers of raspberry and lychee cream which when mixed create all-new delights for your taste buds.

Another fun item on the menu is the 'I Dropped My Ice Cream – Chocolate Mousse & Blackcurrant Cake.' Now that's a mouthful! The ice cream cake is steeped in elderflower foam which goes amazingly well with the chocolate mousse. Other bites include the hibiscus-scented 'Almond Panna Cotta White Peach Compote' and the 'Rainbow Agar-Agar' among other things.

Cinnamoroll's Warm & Fluffy Dessert Wonderland – Sanrio Characters Collaboration Afternoon Tea Set

There's even a special afternoon tea set served in a cute little jewellery box!

There are many kawaii moments to be had in Japan, and this is one of many!

Information

Cinnamoroll's Warm & Fluffy Dessert Wonderland – Sanrio Characters Collaboration Tea Party

Japanese Name: シナモロールのふわもこスイーツワンダーランド ~サンリオキャラクターズ コラボティーパーティー~

Running: June 4, 2021 – September 12, 2021

Where: Folk Kitchen (Hilton Osaka Floor 2F)

Serving Times: Everyday 15:00-16:30

Price: [Weekdays] ¥4,900 Per Person / [Weekends] ¥5,300 Per Person

Afternoon Tea Set

Running: June 4, 2021 – September 12, 2021

Where: MYPLACE Cafe & Bar (Hilton Osaka Floor 1F)

Serving Times: 12:00 until daily limited stock runs out

Price: ¥4,500 Per Person

Official Website: https://osaka.hiltonjapan.co.jp/plans/restaurants/sweets/folkkitchen-2106

AMAZAKE STAND to Open its Second Branch in Sendai Serving Rice-Malt Sweet Sake

AMAZAKE STAND opened its first branch in Kamakura a year and a half ago as the first store in Japan serving homemade rice-malt amazake sweet sake. The cafe has announced that its second branch will open in Sendai on June 10, 2021. It hopes to promote the delicious taste of amazake to more people and pass it down to the next generation.

Homemade Amazake – Plain (Small Size) | ¥390 (Tax Included)

Strawberry Chocolate Amazake – Blueberry Cheesecake Amazake – Apple Pie Amazake | From ¥600 Each (Tax Included)

Amazake is a great alternative for those who can't handle the taste of ordinary strong sake. The cafe makes it with koji and rice from Tohoku and offers it in a range of different flavours. All beverages are made without granulated sugar and include a range of ingredients that have beautifying effects on the skin and help with recovering from fatigue such as grape powder, amino acids, and Vitamin B.

Enjoy a Cup of High Quality Japanese Tea in the Morning at This New Cafe in Nagoya

Mirume Shinryoku Sabo is a new cafe and tea-lover paradise that opened in Nagoya on May 10, 2021, serving high quality bottled Japanese tea, desserts, and other delicious delights.

Daifuku : Eat-In ¥250 (Tax Included)

Ise Tea Sweet Bean Jelly: Eat-In ¥250 / Store ¥500 (Tax Included)

Ise Tea Cheesecake: Eat-In ¥350 / Store ¥3,300 (Tax Included)

Mirume Shinryoku Sabo is the newest cafe to be opened by Shinryoku Sabo, an award-winning tea company in Mie Prefecture. The cafe's tea experience includes using a kyuusu, which is a type of small teapot, to brew Isecha green tea. Customers can learn the best way to prepare tea from an in-house instructor of Japanese tea, who will also provide backstory on the tea leaves used. Their deliciously brewed cup can be paired with a variety of desserts like daifuku, maju, cheesecake, and more.

The cafe also sells the "Morning Bottle," its signature bottled cold-brew tea which is prepared on the day in the early morning. Bottles can be returned to the cafe to be reused, allowing for no waste. Since the tea is cold-brewed, it also contains little caffeine.

Information

Mirume Shinryoku Sabo
Address: 1-36-57 Nagono, Nishi Ward, Nagoya, Aichi 451-0042, Japan
Opening Hours: [8:00-10:00] Morning Bottle only / [11:00-22:00] Cafe & Store
Closed: Wednesdays

TEL: 052-551-3366

Official Site:https://www.shinryokusabo.co.jp/

Hatsune Miku Features in Pocari Sweat Promotion as Official Ambassador

Otsuka Pharmaceutical released a 30-second video titled "Netsunarero" on their official YouTube channel on May 6 announcing Hatsune Miku and members of Leo/need from the Project Sekai Colorful Stage ft. Hatsune Miku mobile game as the official ambassadors for the Japanese sports drink Pocari Sweat.

The importance of "Netsunare"

The video stresses the importance of netsunare – sweating in order to get used to the heat during summer. Leading the promoting of this message is Hatsune Miku who is followed by Leo/need, MEIKO, Mirai Akari, Fuji Aoi, and YuNi. The video features the original song Waiting for Clear Weather created by Orangestar for the Project Sekai Colorful Stage ft. Hatsune Miku mobile game. The popular track has been streamed over 1.9 million times as of April 2021.

The Character Line-Up

Since December 2019, Otsuka Pharmaceutical has appointed Hatsune Miku, MEIKO, Leo/need, MEIKO, Mirai Akari, Fuji Aoi, YuNi, and other familiar faces as official ambassadors for Pocari Sweat to spread information on how to overcome Japan's hot summer weather to the world. It is part of the beyond2020 project which Otsuka describes: "With an eye to 2020 and beyond, this cultural program will contribute to the creation of a legacy befitting a maturing society that will make the next generation proud, through Japan's strength which consists of its local and diverse culture."

Leo/need from Project Sekai Colorful Stage ft. Hatsune Miku

Project Sekai Colorful Stage ft. Hatsune Miku is a mobile game for iOS/Android. The members of Leo/need include guitarist and vocalist Ichika Hoshino, keyboardist Saki Tenma, drummer Honami Mochizuki, and bassist Shino Hinomori. They will release their first single on June 9, 2021.

Twitter Campaign

Otsuka Pharmaceutical is also holding a Twitter campaign in Japan as part of the promotion where 200 random people can win a box of seven 500ml Pocari Sweat bottles for cooling down in the summer heat.

How to Sign Up

Step 1: Follow Pocari Sweat on Twitter @pocarisweat_jp

Step 2: Retweet or quote any of Pocari Sweat's posts featuring the hashtag #ネツナレろ ("Netsunarero")

Running: May 6, 2021 – May 19, 2021 (Japan Only)

Campaign Site: https://pocarisweat.jp/action/pocarimiku/netsunarero/

© SEGA / © CP / © CPM / © Mirai Akari Project / © YuNi / © Fuji Aoi

Godzilla Energy Drink Releases in Japan to Promote Godzilla vs. Kong

In promotion of the Godzilla vs. Kong movie, Japanese soft drink manufacturing company Cheerio Corporation released a new energy drink called GODZILLA ENERGY on April 30.

The Godzilla franchise began in 1954 with the first movie release. Since then, it has gone on to receive 29 films, three animations, and three Hollywood adaptations. An anime series began airing last month, and Godzilla vs. Kong was released worldwide on March 31 (but is releasing in Japan on May 14).

GODZILLA ENERGY is imbued with the full force of Godzilla's energy so you too can stomp relentlessly on your way to victory. The 500ml can has today's standard 210mg caffeine and 630mg arginine今.

The can's design features a monstrous image of Godzilla with a neon logo and the drink itself is the same vibrant colour.

TM & © TOHO CO., LTD.

Information

GODZILLA ENERGY

Released: April 30, 2021

Where: Japan (Cheerio Online Shop / Cheerio Vending Machines in Japan / Stores in Japan)

Godzilla Official Website: https://godzilla.jp

Non-Alcoholic Cocktails Made With Vinegar Get Served at Tokyo's Royal Park Hotel

Royal Park Hotel is collaborating with the Japanese condiment brand Mizkan, which is known for its vinegars, mustards, salad dressings and more, to serve non-alcoholic cocktails made with vinegar. The Non Alco-Vinegar Cocktail Fair will be held from May 1 to June 30.

Royal Park Hotel x Mizkan

Tropical Princess/FLORAL BEAUTY Vinegar Cashew/Frozen Fruity Su/Blueberry Black Vinegar Soy Milk Shake/Vinegar Fruit Yogurt/Ponzu & Tomato Ginger

The non-alcoholic vinegar cocktails were created for both drinkers and non-drinkers of alcohol as a way to enjoy the food scene more. The alcoholic drinks used in cocktails gives them a kick, and so does vinegar when used in food. These beverages combine vinegar with a range of fruits, teas, carbonated water, and other ingredients.

The line-up was conceived by the Vinegar Club who have also posted recipes for various cocktails on their website – links below.

niko and … Collaborates With Kumamoto Painter to Promote New Store Opening

Style editorial brand "niko and …" opened pre-orders for a new collection with Kumamoto resident oil painter Takeshi Matsunaga at its new AMU PLAZA KUMAMOTO branch on April 23. The line-up is set to be subsequently released via the online webstore "st." as well as five branches of niko and … on April 29, including their Tokyo store.

MATSUNAGA TAKESHI MEETS niko and … KUMAMOTO

The line-up is a collection of everyday items from tote bags and mugs to key rings, pencil cases, iPhone cases, t-shirts, caps, and more. Each item features a design inspired by Rakunou Gyunyu, a brand of milk that's hugely popular in Kumamoto. Matsunaga adds his delicate touch to the oil-painted series. Part of the proceeds generated from the sales of these items will be donated to the city of Kumamoto in support of restoration efforts from the 2016 Kumamoto earthquakes.

niko and's new Kumamoto store also has a cafe attached to it, "niko and … COFFEE," where a milk smoothie will be sold for a limited time until September 30. Each will come with a milk-flavoured wafer featuring Matsunaga Takeshi's art on it.

Information

niko and … x Matsunaga Takeshi

Pre-Sales: April 23, 2021

Where: niko and … AMU PLAZA KUMAMOTO

General Sales: April 29, 2021

Where: .st / niko and … TOKYO/ Five branches of AMU PLAZA in Kyushu (Oita, Kokura, Hakata, Kagoshima, Nagasaki)

Buy on .st: http://www.dot-st.com/nikoand
Buy on niko and…: https://www.nikoand.jp

McDonald's Japan Releases Peach Smoothie and Frappe Made From Three Kinds of Peaches

McDonald's Japan is releasing two new beverages at McCafé by Barista® on April 28 each made with three varieties of peach: the Gorotto Peach Smoothie and Fuwa Fuwa Peach Creamy Frappe.

Gorotto Peach Smoothie: Regular ¥440 / Large ¥480

Fuwa Fuwa Peach Creamy Frappe: Regular ¥490 / Large ¥530

McDonald's Japan's original Peach Smoothie and Peach Frappe beverages first appeared in 2015 and have been slurped up by customers every year since. This year, they return even juicier and more delicious than ever before by being made with three kinds of peach juice: yellow peach, white peach, and for the first time, nectarine.

The Gorotto Peach Smoothie cup is topped with a sauce made from fresh white peach pieces that give an exquisite sweet kick to the richly sweet yellow peach. The nectarine adds a sweet and sour layer to the mix for the ultimate peach combination. The Fuwa Fuwa Peach Creamy Frappe has all of this plus a topping of fluffy whipped cream. And for an extra ¥60, customers can double the amount of sauce they can have on either of these drinks.

While these limited-time drinks are on offer, customers can pick up a stamp card. For every peach frappe or smoothie ordered, they'll get a stamp. Collect all four and get yourself a free regular-sized mango smoothie, green smoothie, chocolate frappe, or espresso frappe. The card is valid from April 28, 2021 to September 30, 2021.

Information

Gorotto Peach Smoothie / Fuwa Fuwa Peach Creamy Frappe

Release Date: April 28, 2021

Where: McCafé by Barista branches of McDonald's in Japan

McDonald's Japan Official Website: https://www.mcdonalds.co.jp/

Appreciate Kumamoto's Culture at New Tokyu Hands Store in Amu Plaza Kumamoto

Tokyu Hands is opened a new lifestyle shop called Hands Be inside Amu Plaza Kumamoto in front of JR Kumamoto Station April 23. The shop will sell a range of everyday products from beauty to stationery, seasonal, and more, that showcase Kumamoto's culture and craftsmanship. Whether it be for yourself or a gift for someone else, there's something for everybody.

Kumamoto culture

Kurikawa Uchiwa Shoten

Kurikawa Shoten is a specialist in Japanese uchiwa fans that first opened in 1889. Kumamoto is the third biggest producer of uchiwa fans together with Kyoto and Marugame and is the only place passing down the traditional kutani craft of fans. Their fans are durable and long-lasting, enjoyed as gifts at children's birthday parties, weddings, as well as at company commemorations and elsewhere. To celebrate Hands Be's opening, the Kurikawa Shoten is providing fans with original colours exclusive to the new store.

Coffee Arrow

Coffee Arrow is a coffee shop that opened in Hanabatacho in the central ward of Kumamoto back in 1964. Customers can get their hands on a range of original coffee beans, merchandise, and more.

Coming together during these times

BLUE SEED BAG 

"HOLD hands be Happy" is the message written on the recyclable, eco-friendly BLUE SEED BAG which is made using washed blue sheets that were actually used as part of the restoration efforts after the Kumamoto Earthquake struck in 2016. The bags are a reminder that even though many of us can't hold hands with us during the pandemic, we are still connected by our hearts.

Wesign

Javasparrow is a manufacturer and service focused on creating products around "familiarity" and "connection." The Wesign is a set of two lights that connect to Wi-Fi. These unique lights can be used by lovers or family members who live apart or long-distance, so that you know when the other is on or offline, helping everyone feel connected.

Original bandana available for the grand opening

Hands Be is also offering a free bandana for the opening to anyone who spend over ¥3,000 (tax included).

Information

Hands Be Amu Plaza Kumamoto

Opening Date: April 23, 2021

Where: Amu Plaza Kumamoto Floor 3F, Kasuga, Nishi-ku, Kumamoto-shi, Kumamoto

Official Website: https://hands.net/