Artiswitch Anime's Main Theme to be Performed by yonkey
New-generation music producer and track maker yonkey released his new song Tobu, Saihate. (feat. Kana Adachi) on May 28. The song serves as the main theme for the anime Artiswitch.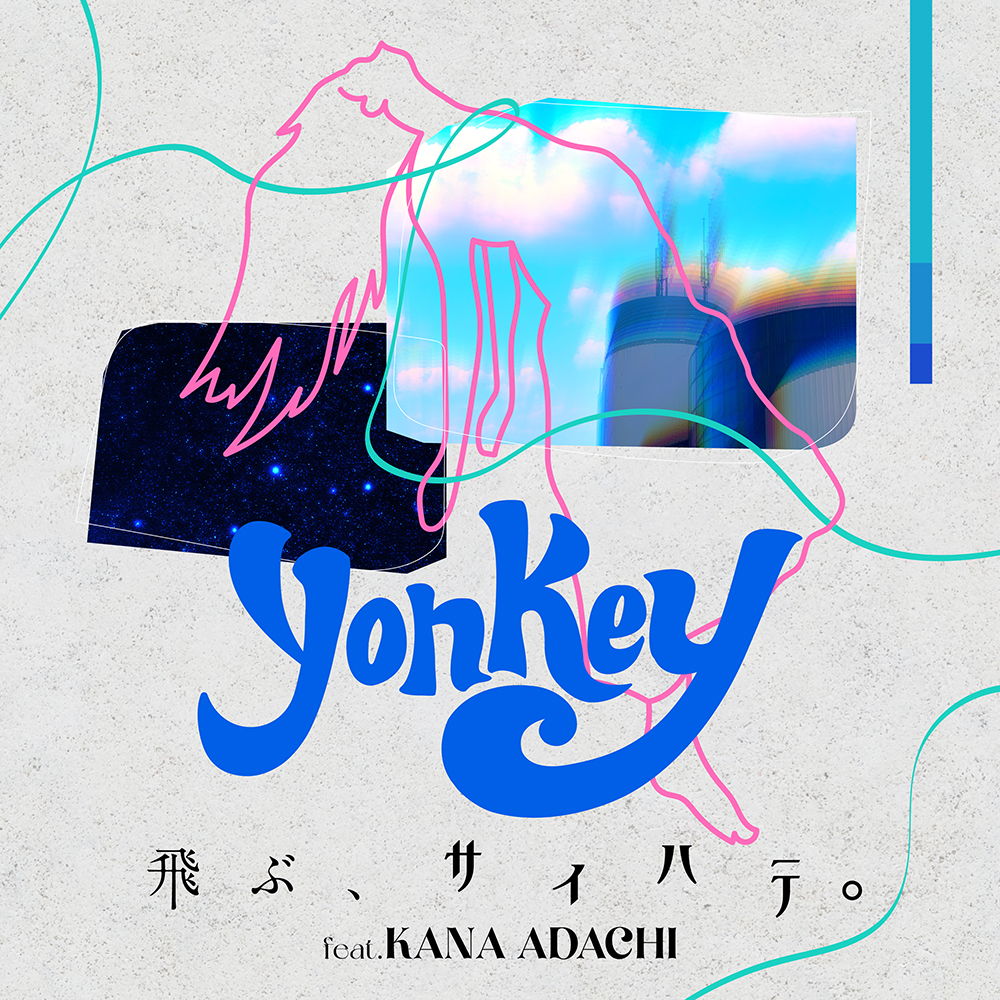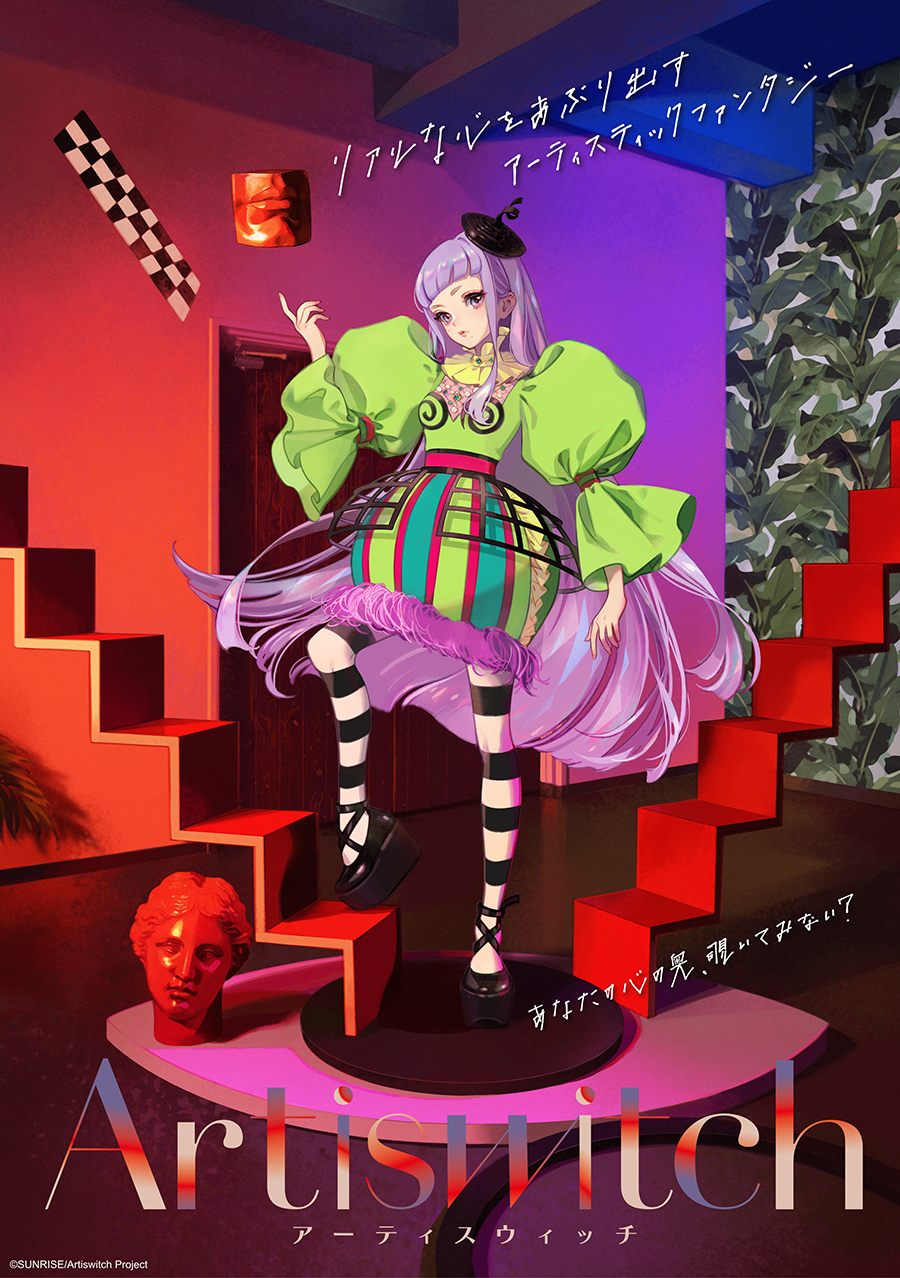 yonkey is a producer who has worked with countless music artists from a diverse range of genres and generations, such as Tempalay, TENDRE, AAAMYYY, Ace Hashimoto who has performed with Mac Miller and Thundercat, Japanese rapper sanari, and more. He has also produced for ATARASHII GAKKO! when they made their international debut from 88rising, has been involved in a remix project for the anime series Lupin III, has written songs for Kai Kubota and sorane, and much more. His production work spans far and wide across the industry, both in Japan and overseas.
Tobu, Saihate. (feat. Kana Adachi) comes as the first song from yonkey in almost a year. The track serves as the main theme for an original animation by Sunrise and ASOBISYSTEM called Artiswitch, the first episode of which is now available to watch on the anime's official YouTube page. The track features Kana Adachi on guest vocals, a singer-songwriter with over 1.3 million followers across her social media pages. It features yonkey's trademark edgy electronic sound with majestic strings to weave a dramatic ballad. Kazuma Ikeda, who is directing Artiswitch, also directed the music video for the song.
yonkey | Comment
"I could not contain my surprise when I was first asked to write this song, since it's my first time doing a main theme for an anime. The melody incorporates themes of facing [challenges], pain, and fighting. It's a great match for Adachi's emotional and beautiful vocals. The track itself moved me deeply. I'd love for people to enjoy it alongside the Artiswitch story, [the first episode of which] was released at the same time as the song!"
Kana Adachi | Comment
"This was my first time working with yonkey. I was really taken aback when I was invited to sing on this song, but I was excited more than anything. When I received the demo and listened to it, it felt like a different world compared to what I usually sing to, so I was able to take on the song with a fresh perspective. I sang each and every phrase with equal value. Please enjoy it together with the Artiswitch anime [which started] on the 28th!"
RELATED ENTRIES
ATARASHII GAKKO! Wins Grand Prize in the TikTok Trend Awards for the First Half of 2023 with 'ATARASHII GAKKO! Wins Grand Prize in the TikTok Trend Awards for the First Half of 2023 with 'OTONABLUE'

The wildly popular track OTONABLUE by ATARASHII GAKKO! won the top prize for the first half of 2023 in the TikTok Trend Awards.

Although the track was initially released years ago, OTONABLUE became popular this year after its curious neck-swing dance became a popular subject on TikTok. As of June 21, 2023, the total number of videos using the song on the short video app exceeds 3.1 billion. The award recognizes the track's incredible impact on TikTok, considering the total amount of likes and views on related videos. The neck-swing dance has become a major trend with young people both on the app and outside of it.

The group performed OTONABLUE live at the awards ceremony, wowing the crowd with their rendition of the iconic choreography. The award was bestowed by Ichiro Yamaguchi of Sakanaction, a TikTok ambassador and presenter at the ceremony.

Information

■ TikTok Trend Awards 2023 (First Half) Overview
The first half of the TikTok Trend Awards nominates popular hashtags, challenges, music, food, items, and other trending subjects on TikTok during the first half of 2023. The most popular trend in each category is chosen after a comprehensive evaluation of the app's data, and the winners are picked by measuring the number of total posts and the number of views inside the app.

Special Site
https://activity.tiktok.com/magic/eco/runtime/release/64954f7c32040b046858c775?appType=tiktok&magic_page_no=1

Fashion and Art Inspired Anime Series 'Artiswitch' Inspires More Music Videos

Artiswitch, a collaborative anime series made by SUNRISE (Mobile Suit Gundam, Love Live!) and ASOBISYSTEM, Kyary Pamyu Pamyu's agency, premiered on YouTube on May 28, 2021. The show, based in Harajuku, has featured a wide range of content pulling from fashion, art, and music trends. A number of now-popular artists and creators were also responsible for contributing to each episode, in February, a new music video series related to the series premiered on YouTube! Three new videos are scheduled to premiere in April.

Uncolor is a collaboration between ASA Wu, a trilingual singer from Taiwan with an adorable image, and NANCY SNAKE, an illustrator known for her psychedelic pop worldview that combines realism and romanticism.

Paint was created by KIHOW, an artist who is also the vocalist of the music group MYTH & ROID, and Anzu, an up-and-coming female illustrator who also won the Pixiv High School Illustration Contest 2020 CLIP STUDIO PAINT Award.

The song Sticky was composed by trackmaker KOTONOHOUSE and written and performed by Moeno Chiyuki, who is very active on social media. The two teamed up with illustrator Nah, who has a very unique view of women and who uses color in a way that no other artist does.

The next three music videos will pop up during the month of April, with Uncolor releasing on April 1 at 20:00.

Part 2: Participating Artists



#04 – Uncolor / Premiering April 1 at 20:00
Music: ASA Wu / Illustrator: NANCY SNAKE


#05 – Paint / Premiering April 15 at 20:00
Music: KIHOW / Illustrator: Anzu


#06 – Sticky / Premiering April 29 at 20:00
Music: KOTONOHOUSE & Moeno Chiyuki / Illustrator: Nah

 

©️SUNRISE/Artiswitch Project

First Season of SUNRISE x ASOBISYSTEM Anime Series Artiswitch Comes to an End

Artiswitch, a collaborative anime series made by SUNRISE (Mobile Suit Gundam, Love Live!) and ASOBISYSTEM, Kyary Pamyu Pamyu's agency, premiered on YouTube on May 28, 2021. The show, based in Harajuku, has featured a wide range of content pulling from fashion, art, and music trends. A number of now-popular artists and creators were also responsible for contributing to each episode.

Artiswitch Episode 6 Preview


Aiming to highlight the many counter-cultures to come out of Harajuku, such as Urahara and KAWAII fashion, Artiswitch has employed many active creators and artists responsible for making the art, music, and fashion scene so powerful in the area today. The series shows the balance between desire and loneliness present in Gen Z youth, who are excellent at using technology but often confuse what is real and what is fantasy.

 

The series has been available to watch on the official Artiswitch YouTube channel since release, and the final episode of the first season is now available, releasing on September 10, 2021. Because of the contributions of so many talented creators, the short series has been praised both in Japan and abroad.

Artiswitch is set in Ura-Ura Harajuku, where a certain witch named Nina runs a shop, fulfilling her guests' every wish and desire by forcing them to look deep inside their hearts at their true feelings. Customers are sometimes excited, but sometimes hurt, and must make their own choices to try to make their dreams come true.

The insert songs for each episode are sung by a different artist each week, with the songs linking to the story and art of each installment specifically.

Episode 1 Insert Song: G4L – Giga

Episode 2 Insert Song: color – Hakubi

Episode 3 Insert Song: Watashi o Mite – Hakushi Hasegawa

Episode 4 Insert Song: GHOST FOOD (feat. TORIENA) – MoeShop

Episode 5 Insert Song: E de – Yukichi Kasaku/men

Episode 6 Insert Song: Tobu, Saihate (feat. Kana Adachi – yonkey

*Music now available to stream worldwide.

Be sure to look forward to more Artiswitch content, including a second season!

©SUNRISE/Artiswitch Project

Virtual Harajuku to Showcase Artiswitch's First Original Animation by Sunrise Studio & ASOBISYSTEM

Artiswitch is a Harajuku-focused fashion, art, and music project launched by Japanese animation studio Sunrise (Mobile Suit Gundam; Love Live!) and ASOBISYSTEM, who are perhaps best known as the agency that Kyary Pamyu is signed to, as well as working with other artists such as Yasutaka Nakata and promoting Japanese pop culture to the world from Harajuku where they are based. As part of the project's launch, they will feature a pre-showing of an original animation on Virtual Harajuku on May 27, 2021 at 20:00 (JST).

Virtual Harajuku is the second area to open inside Virtual Shibuya, a service that recreates Tokyo's area of Shibuya and its entertainment facilities virtually. Artiswitch's original animation will feature as part of 'Virtual Harajuku au 5G POP DAY OUT 2021' which is being held as part of the opening ceremony of Virtual Harajuku which opened on Tuesday (May 25).

The original animation will be Artiswitch's first released to the world. A special talk show will also take place hosted by Barbie of the Japanese comedy duo Fall in Love. Guests will include Utano Aoi and Yutaro who voice Nina and Akihiro in the animation. MIOCHIN, who has been called the leader of Harajuku's girl scene and has over 1.6 million followers on TikTok, will also make an appearance. The trio will talk about their favourite parts of the animation, stories from Harajuku, and more. All the guests will appear in Virtual Harajuku as avatars on a special stage located in a virtual version of Jingumae Crossing.

The event can be enjoyed with or without a VR headset for free on smartphones, PC, and Mac. Head inside Virtual Harajuku to enjoy the animation and event yourself.

The animation will also be subsequently released on Artiswitch's official YouTube channel on May 28, 2021 at 20:00 (JST). Six episodes are planned in total.

"Artiswitch" Teaser

Animation Promotional Video


Be sure to check out Artiswitch's first release coming this week!

©SUNRISE/Artiswitch Project 

yonkey & sanari Collaborate On New Song 'Time Slip' & Music Video Released

17-year-old rap artist sanari features on the newest and 3rd single by yonkey, Time Slip, which was released today together with a music video.

yonkey composed the melody, track, and lyrics for the song. Its catchy pop melody is addictive, especially when coupled together with sanari's silky vocals. The track is mixed with organic sounds like percussive beats and a music box sound. It's the perfect colourful springtime song for the season.

The music video was directed by malloonx, a young high schooler and video director.

yonkey | Comment

"The theme of this song is travelling between the past and and future. It has a warm tone to it, with percussive beats that make free use of sounds from everyday life and the sound of a music box. sanari's silky vocals match with it perfectly. I'm confident about this one! Please be sure to give it a listen!"

sanari | Comment

"When I first heard yonkey's track, I was taken aback that an artist as incredible as this existed! I know how amazing his tracks are, and how considerate he is down to the tiniest of details. There are times when the track goes in a completely different direction to what you were expecting too, so he's fun to listen to. But I was super glad I was allowed to sing how I felt on this pop piece!"

malloonx | Comment

"For this video I animated movements using only images. It was my first time trying it, but I think it came out pretty entertaining, even in a way for myself. The song yonkey has made is super catchy and pop. I feel good listening to it, so it was fun working on it."

Information

yonkey – "Time Slip (feat. sanari)"

Released: April 1, 2020 (Digital Release)

Download/Stream:  https://lin.ee/Bzyur7y/lnms

yonkey Drops New Track 'Haunter' in Collaboration with Chicago's Ace Hashimoto

yonkey is a 22-year-old music producer known for his edgy hip-hop electric fusion. Known as the front man in his band Klang Ruler, his YouTube videos are followed by a large number of enthusiastic fans consisting largely of teens and young people in their early 20s. Some of his videos got over 50,000 views in just two months. 

yonkey's second single, which has already been released,  features vocalist Ace Hashimoto (Brandun DeShay) who is famous for being in Odd Future alongside Tyler, the Creator and is also an avid Japan fan. Through the power of music, the two musicians crossed the international border, joining forces for an epic collaboration. yonkey from Tokyo composed the music and created the track, while Chicago's Ace Hashimoto wrote and sung the lyrics, layering it with a number of melodies and brushing up on the instrumental arrangement. 

The cleverly weaved lyrics are entirely in English and reflect Ace Hashimoto's edgy style. The flowing rhythm bounces with pop vibes. Mixing it with yonkey's refined track, the dope duo churned up their new song Haunter (feat. Ace Hashimoto). 

A statement by yonkey

It was a pleasure to have Ace Hashimoto jump in on my second ever track. With Ace's dope lyrics as the base for the song, I created a track inspired by lofi hip-hop, which is popular worldwide. I'm so proud of what we made so please check it out!

A statement by Ace Hashimoto

It was incredibly fun making Haunter. Usually I write songs while discussing the track in the same room as the artists and producers but this time, yonkey's manager was there to help with communication and we discussed our ideas over messages. It was a very unique experience for me to create a song with yonkey without directly talking to him. I first discovered yonkey's songs in Chicago through my manager and my friend Moe Shop. After visiting Japan in 2017, I became eager to work with Japanese musicians. It's usually difficult to work with Japanese musicians when you don't live in Japan but that just made this experience all the more special. yonkey is an amazingly talented producer and I'd love to make more tracks with him. It would be incredible if we could perform Haunter in Japan together and get Moe Shop to jump in on it too.

LINE RECORDS Award-Winner yonkey Releases His First Single And Music Video With AAAMYYY

Last year, Kyary Pamyu Pamyu's agent company ASOBISYSTEM collaborated with LINE RECORDS; a music label managed by messenger app LINE. The collaboration saw a nationwide audition called ASOBISYSTEM THE AUDITION 2018 that aimed to seek out talented individuals. The winner was announced to be track maker and singer yonkey, who was presented with the LINE RECORDS award which grants his debut as a music artist from LINE RECORDS along with the privilege to release music digitally from LINE MUSIC. For yonkey's debut, he teamed up with electronic musician AAAMYYY to released his first single with a featured guest vocalist. The song is called Downer Love (feat.AAAMYYY).

As an exceptional track maker, yonkey worked with AAAMYYY from lo-fi psychedelic pop band Tempalay to create a sensational song. yonkey fused his traditional songwriting style with cutting-edge electronic vibes and edgy hiphop. yonkey was in charge of overlooking all areas of the making of the single from the writing of the lyrics and music to the editing. 

Downer Love is a song about a broken heart. While the song has a dark side to it, AAAMYY's relaxing vocals are like a beautiful streak of pure light. yonkey's unique vocal track layering is definitely worthy of note.

yonkey Downer Love (feat. AAAMYYY) Official Lyric Video

A statement by Yonkey:

I am so happy to have teamed up with AAAMYYY to now be releasing my first ever song as yonkey. I made this song about heartbreak because it really suits AAAMYYY's beautiful vocals. The song has a tight beat and the chorus builds up beautifully. I arranged it to give the song a beautiful reverberating echo. 

A statement by AAAMYYY:

yonkey's producing skills really shine through the track. The track is smoothly arranged down to the finest detail. From the breathing to the nuances hidden in the lyrics, yonkey has pushed himself to deliver a wonderful song that is full of positive vibes. One by one, yonkey is delivering his wonderful and interesting songs to the world, so please don't take your eyes off him for a second!