Ado's 'Yoru no Pierrot' Music Video is Illustrated by KEIGO INOUE
Following his collaborations with virtual YouTuber Kizuna AI as well as Eve for the Jujutsu Kaisen anime opening Kaikai Kitan, Japanese illustrator KEIGO INOSUKE has now joined hands with Ado to create the music video and CD cover artwork for her new song Yoru no Pierrot (Clown of the Night).
Yoru no Pierrot is written and composed by biz, a Vocaloid producer who previously worked on Ado's song Freudmeta. On the same day the music video dropped on June 14, advertisements lit up the big screens at Shibuya Scramble Crossing in Tokyo (see below). The video itself depicts a futuristic Scramble Crossing, illustrated by digital artist KEIGO INOSUKE whose name is known both in Japan and overseas.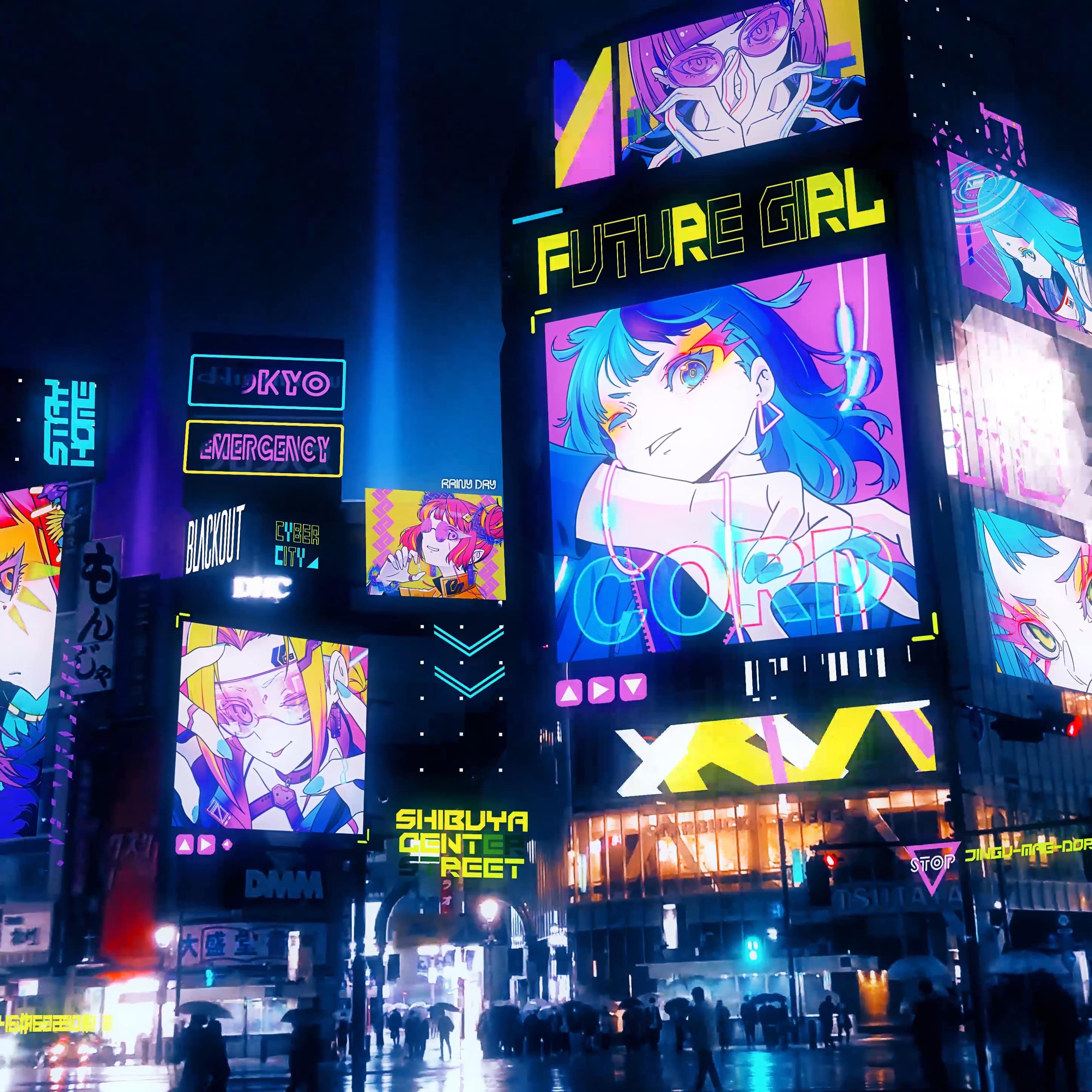 RELATED ENTRIES
Shibuya PARCO's Dwiky KA Exhibition Collaborates With Japanese Brands and Artists

PARCO opened the Dwiky KA Exhibition at its Shibuya branch on Friday where it's set to run until August 9. Dwiky KA is an Indonesian artist who has collaborated with many music artists and apparel brands.

Dwiky KA x HYSTERIC GLAMOUR

Dwiky KA x BiSH

Dwiky KA x Kosuke Kawamura

Dwiky KA x Kosuke Kawamura

Dwiky KA x Tappei

Robot exhibit

As part of the exhibition, a line-up of merchandise and original items is being sold, including collaborations with brands Hysteric Glamour and balansa x YAGI, artists Kosuke Kawamura and Yappei, and idol punk band BiSH.

Information

YAGIBOY & GALLERY X presents Dwiky KA exhibition "LABRAX"
Running: July 30, 2021 – August 9, 2021

Location: GALLERY X

Address: Shibuya PARCO Floor B1F, Udagawacho, Shibuya, Tokyo
Opening Hours: 11:00-20:00
Price: ¥500 (Tax Included)
Official Website: https://art.parco.jp

Art For Social Change Project Launches in Japan Using Waste to Create Art

Innovation Design launched its new 'Art For Social Change' project at haishop in Shibuya Scramble Square on July 21 which sees artwork made from waste.

According to Japan's Ministry of the Environment, 42.74 million tonnes of garbage has been thrown out since 2019. That's the equivalent of around 115 Tokyo Domes, or 918g of waste per person everyday. The waste cannot be exported, and so real action is required to reduce the amount of waste create on the island country of Japan, especially when thinking 20 years down the road.

That's where haishop comes in. Using caps from detergent, which are actually no longer sold, as well as plastic caps and other materials resulting from waste, it will create a new identity for waste together with consumers in the form of art. Art For Social Change aims to send a message to society to make real transformations in the world through the medium of art.

It's easy to imagine what happens when creating a product up to its completion, but considering what happens to it after it's been used is a lot more difficult. Every year, the available capacity at final disposal sites decreases more and more. The important topic at hand is getting everyone in Japan to really treasure the products they buy, to conceive ideas on how to prolong longevity of the things that people purchase, and construct a new society centred on recycling and reusing. And this isn't just a Japan problem – it's a global one. That's the message which Art For Social Change carries.

 

The only conditions on participating with the project is that you agree with its goal and that you use materials on sale at haishop. Everyone is invited regardless of age or gender.

The artworks in action


4th year students from Nitobe Bunka Elementary & Junior High School used waste materials to create 'souvenir' theme products which the children are helping to sell at the shop. The proceeds go back to the school itself while helping teach children about new ways of reusing and recycling.

Souvenirs created by the students of Nitobe Bunka Elementary & Junior High School

Mascara bottles made using caps from detergent bottles

HMV Record Shop Shibuya Commemorates 7th Anniversary With Special Edition Vinyls

HMV Record Shop Shibuya is celebrating its 7th anniversary by releasing 14 special edition vinyl records. The Tokyo-based record shop opened in August 2014.

<7 Inch> Makafushigi Adventure! / Romantic Ageru yo: ¥2,200 | <7 Inch> TV Manga Dragon Ball Hits Collection LP: ¥4,400 | <7 Inch> Dragon Ball Z CHA-LA HEADCHA-LA / Detekoi Tobikiri Zenkai Power!: ¥2,200

Hubert Laws, Eloise Laws "Family" ¥2,090 | HIROSHI FUJIWARA& K.U.D.O. PRESENTS "Michael Jackson/Jackson 5 Remixes" LP ¥3,850 | Manami Kakudo – "oar" LP ¥3,850 | Takumi Moriya Trio "Waiting in Vain feat. Ernest Ranglin/Burnin and Lootin" ¥2,420 | TOSHIO MATSUURA GROUP – "PINA" ¥2,530

MAYER HAWTHORNE "Rare Change/Only You" ¥1,980 | DJ KAWASAKI "ONE WORLD" LP ¥4,180 | FROMM "Aliens (with Kim Feel) / Hold Me Like It's Forever (with Car, the garden) ¥1,980 | CHEEZE – "LOSER/Today's Mood" ¥1,980 | Choi Jungyoon "Dance With Me Baby/Delete You" ¥1,980

LEARNERS "TEENAGE KICKS" (2nd Press/Different Cover) | 400 Copies | ¥1,650

TONDABAYASHI RAN Design LUCKY7 GIRL T-Shirt (White/Grey) | ¥3,080 Each

TONDABAYASHI RAN Design LUCKY7 GIRL Slip Mat | ¥2,200

HMV Record Shop Shibuya is located in Udagawacho, an area of Shibuya that was known as the holy ground of vinyl records in the 90's. Since opening on August 2, 2014, the store has enjoy many customers for its collection of second-hand records, special editions, vinyl-related merchandise, and more.

In celebration of seven years since its grand opening, HMV Record Shop Shibuya has released 14 titles such as three records commemorating the 35th anniversary of the Dragon Ball anime series, limited-edition exclusives, and more. The records will also roll out at other HMV Record Shop branches as well as HMV&BOOKS Online from July 28.

A collection of merchandise has also been released for the celebration with designs by Tokyo-based artist TONDABAYASHI RAN such as tees and a slip mat. A sale for second-hand vinyls also began at the Shibuya branch on July 22.

Aimyon Releases 'Seishun to Seishun to Seishun' Music Video

Aimyon posted a music video for her song Seishun to Seishun to Seishun on July 9. The track is originally taken from her 3rd single Kimi wa Rock o Kikanai which was released all the way back on August 2, 2017.

The song featured as a couple track on the single which dropped almost four years ago. It was made for a commercial for Kirin Beer's Tanrei Green Label. It has always been a popular song amongst fans who are sure to be delighted at this long-awaited video.

 

Aimyon – "Seishun to Seishun to Seishun"【OFFICIAL MUSIC VIDEO】

The video was directed by Pennacky who also worked on Aimyon's Choyo music video. It features Aimyon, the song's producer Sunday Kamide, and his band in a tiny diorama of a train and its journey.

Aimyon | Comment

"I told my staff a long time ago that I wanted to make a music video of this song one day, but there wasn't an opportunity and the days and months just began to build up. I never thought we'd pick up this song again in this way. My prayers were answered and we made a music video. We have that summer breeze and feeling of youthfulness on board. It's an exciting video, so I hope people enjoy it together with the song."

Pennacky (Director) | Comment

"It's an honour to be the director of this famous song by Aimyon. I hope people who know about the song already, as well as those who have yet to hear it, will enjoy it."

Louis Vuitton Opens Pop-Up Store in Shibuya's Miyashita Park

Louis Vuitton opened a pop-up shop on the second floor of their Shibuya Men's Store in Miyashita Park on July 5. The pop-up shop is called 'Temporary Range' and is reminiscent of Virgil Abloh's rainbow-coloured 2019 Spring/Summer collection.

The store is celebrating Abloh's iconic LV Trainers by showcasing the latest editions of the sneakers as well as selling various designs exclusive to the branch.

Temporary Residency opens as one of the men's fashion events taking place as part of 'Louis Vuitton: Walk in the Park' which has taken place in Pont Neuf in Paris, Soho in New York, and now for the first time in Japan, Shibuya in Tokyo. It opened as a way to delve deeper into the concepts and icons crafted for the Maison by Abloh.

(C)LOUIS VUITTON_TOMOYUKI KUSUNOSE

Information

Temporary Residency
Location: Louis Vuitton Shibuya Men's Store (Floor 2F)
Address: MIYASHITA PARK North, 6-20-10 Jingumae, Shibuya, Tokyo

Running: July 5, 2021 – August 1, 2021

Opening Hours: 11:00-20:00
Louis Vuitton Official Website: www.louisvuitton.com

EVISEN SKATEBOARDS x Tetsuya Nagato Exhibition to Open at Shibuya PARCO

EVISEN SKATEBOARDS and art director Tetsuya Nagato are set to run the "EVIHONDOKO" exhibition at Shibuya PARCO from July 16-26.

EVISEN SKATEBOARDS is one of the most popular skateboarding companies in Japan. It has collaborated with brands such as SEIKO and adidas Skateboarding, released products developed by artists who incorporate elements of Japanese culture and tradition, is associated with big names in the skateboarding world both inside and outside Japan, and more. The company is teaming up with Tetsuya Nagato who has worked in the music, fashion, and art industries since the late 90's. He has worked as an art director for top artists and fashion brands in Japan.

One of the decks that will be showcased that was designed by Tetsuya Nagato using techniques from Dafen, a village in Shenzhen, China, which is known for oil painting. Visitors will even be able to purchase it. While the pieces are copies rather than originals, they can be produced in large quantities.

A range of apparel and other goods will also be sold at the exhibition, and there'll even be a skateboarding ramp and DJ event.

Information

EVIHONDOKO Exhibition

Japanese Event Title:「蝦本床 -EVIHONDOKO-」

Running: July 16, 2021 – July 26, 2021

Venue: GALLERY X (Shibuya PARCO Floor B1F)

PARCO Official Website: http://www.parco.co.jp

BiSH Releases Kingdom Anime Opening Theme 'STACKiNG' Music Video

Japanese idol group BiSH, often called the 'punk band without instruments,' released the full music video for their new song STACKiNG on Monday. The track will feature as the second opening theme for the anime series Kingdom from July 18.

BiSH / STACKiNG [OFFiCiAL ViDEO]

The song is also available to listen to on major music streaming and download services. It will feature on their upcoming 4th album GOiNG TO DESTRUCTiON set to release on August 4.

Eve Releases 'Dramaturgy' Live Film to Celebrate Original Music Video Breaking 100 Million Views

In celebration of Eve's Dramaturgy breaking 100 million views, a live music video of the song was released on his official YouTube channel.

Dramaturgy – Eve MV(Live Film ver.)

Dramaturgy is featured on Eve's 2017 album Bunka and his second to hit 100 million views following Kaikai Kitan, the opening theme for the anime series Jujutsu Kaisen.

Eve has over 3.1 million subscribers on YouTube and over 1.1 billion views. He also enjoys 3.5 million listeners on Spotify every month.

Matcha Republic Takes Kyoto's Uji Matcha to Tokyo For the First Time

Uji-based matcha tea shop Matcha Republic is taking their menu to Tokyo for the first time with a pop-up shop inside Shibuya Hikarie which will run from July 15-28.

Matcha Ink Hikarie Exclusive Version Premium Matcha Latte | ¥681 (Tax Included)

Original Clear Shopping Bag

Matcha Republic's ink bottle matcha lattes are super popular on Japanese social media. For their Tokyo pop-up shop, their premium matcha latte arrives in an exclusive design. The dirnk is made from only the best picked matcha leaves to make a smooth, milky beverage. The bottle is also sold in an original shopping bag.

Matcha Panna Cotta Hikarie Exclusive Version | ¥681 (Tax Included)

The brand's popular panna cotta set also arrives in a Hikarie exclusive design. The delicious dessert is made with fragrant Uji matcha.

PREMIUM GOLDEN UJI MATCHA CASTELLA | ¥2,381 (Tax Included)

Matcha Republic's moist matcha castella is sprinkled delicately with gold leaf, creating a luxurious dessert.

Information

Matcha Kyowakoku

Location: Shibuya Hikarie ShinQs B2 Food Stage

Running: July 15, 2021 – July 28, 2021

Opening Hours: 11:00-20:00

Official Website: https://www.matcha-republic.com

Sendagaya's Japanese Tea Cafe Hachiya Reopens After Renovations

Hachiya, a Japanese tea cafe located in Setagaya, Tokyo, reopened on June 28 after undergoing renovations.

Handmade onigiri rice balls

Seasonal fruit anmitsu with Japanese tea set

Hachiya offers a new way to enjoy Japanese tea, serving it in a range of styles such as carbonated, as a tea latte, in smoothies, and more. It's located in Setagaya, a stylish and relaxed part of Shibuya that's surrounded by trees and plants and has become more talked about in recent years. Alongside the cafe's reopening, it has also introduced new items to the menu such as onigiri and animitsu which can be enjoyed together with a cup of tea.

Matcha with confections

Ice cream available in four flavours: vanilla, nanko-ume, sobacha, and kusa mochi

Other new menu items include a set of matcha and confections as well as four different ice cream flavours, all of which go perfect with Japanese tea.

The cafe has incorporated a new lightning system and has also introduced a special coating that uses photocatalysis which can eliminate up to 99% COVID-19, allowing for guests to enjoy their time there safely.

Information

Hachiya

Reopening: June 28, 2021

Address: 3-2-10 Setagaya, Shibuya-ku, Tokyo

Opening Hours: 8:30-18:30 (Last Orders 18:15)

Closed: Weekends / National Holidays/ New Year

Acccess: 2-minutes on foot from Kita-Sando Station / 8-minutes on foot from Harajuku Station

Hachiya Official Website: http://8ya.jp/

Tokyo Revengers Anime's Bloody Halloween Arc Ending Theme to be Performed by Nakimushi

An event held on June 19 for the anime adaptation of Ken Wakui's Tokyo Revengers manga, which was attended by the main voice cast who read lines from the anime, premiered the 3rd key visual and promotional video for the upcoming Bloody Halloween Arc which is set to begin airing this July.

Check out the PV below.

Tokyo Revengers 3rd PV

Nakimushi will perform the ending theme Tokyo Wonder for the new arc which will begin airing from episode 13 on July 3. The song will be released as a digital single the day before on July 2.

In promotion of the new arc, advertisements for the series are set to roll out across Shibuya in Tokyo – the same location where the series is set. Posters for the manga, anime, and live-action film will be plastered up from July 1 to 14. Various shops in Shibuya will also sell exclusive merchandise as part of the promotion. The Shibuya Tourism Association is even getting involved by opening a pop-up shop, handing out street maps of Shibuya with Tokyo Revengers designs on it, and more.

©和久井健・講談社/アニメ「東京リベンジャーズ」製作委員会

Netflix's The Naked Director x Shibuya 5G Entertainment Project Launch Collaboration

In promotion of the second season of the Netflix Original series The Naked Director, which launched worldwide on June 24, the Shibuya 5G Entertainment Project is teaming up with the series to hold a stamp rally around the city of Shibuya, combining the real world with the virtual by using AR technology. Viewers of the series need to head to various locations around Shibuya and can scan QR codes which will display various references to The Naked Director along with voiced quotes from the series. Those who visit all the spots and collect all the virtual stamps will also enter for a chance to win some exclusive merchandise.

Shibuya's giant screens are displaying The Naked Director as part of the promotion, and Takayuki Yamada himself has recorded new lines for it. The AR collaboration isn't only happening in Shibuya either – the official website is hosting a Japan nationwide AR experience too amongst other things.