BOOM BOOM SATELLITES held their last concert at Shinkiba STUDIO COAST on June 18th, 2017. Guitarist and vocalist Michiyuki Kawashima passed away last year on October 9th at 47 years old.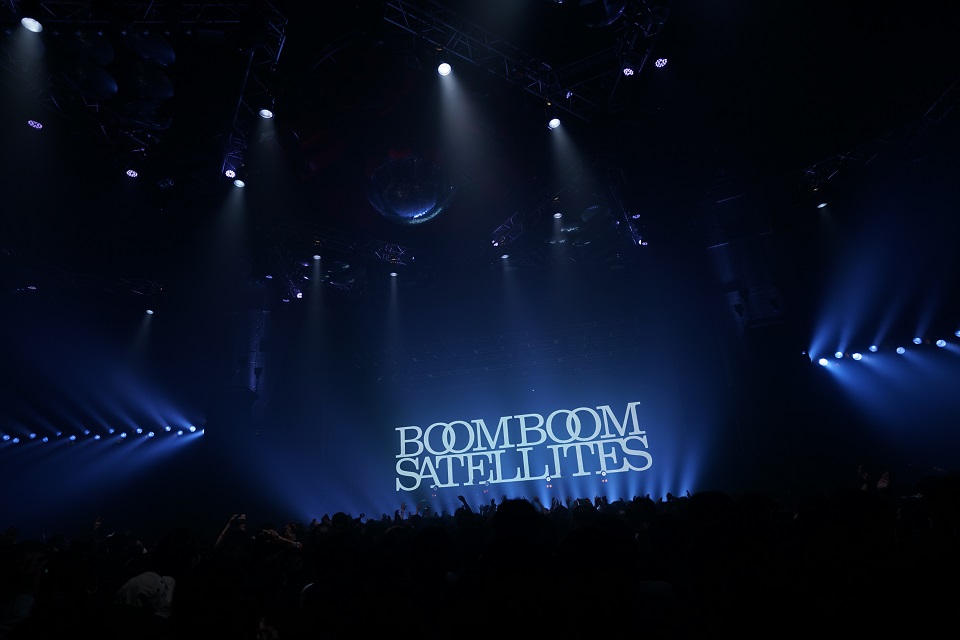 The concert was announced in line with the release of the band's greatest hits album 19972016 back in March. With the absence of fellow member Kawashima, it was an intimate show together with the fans that focused on the band's yesteryear as a duo, bringing a conclusion to their long history of music.
The performance began with the latest and last single from BOOM BOOM SATELLITES titled LAY YOUR HANDS ON ME, making it the first time for the song to be played live. The stage curtain dangled and the bustling crowd fell silent as the sound of Kawashima's echoed throughout the room, followed by his vocals that moved in time with a rippling effect on screen.
The next song to play was NINE during which silhouette of Kawashima appeared. The crowd's excitement peaked for the fourth song "BACK ON MY FEET" as the curtain finally fell to reveal BOOM BOOM SATELLITES member Masayuki Nakano, support drummer Yoko Fukuda, and support guitarist Kanji Yamato. On stage with them was Kawashima's mic stand, making it feel like a true BOOM BOOM SATELLITES performance. The 4-piece band performed "MORNING AFTER" and "KICK IT OUT," and Nakano sang enthusiastically the words "Together with Kawashima."
As they began to play "BLIND BIRD," the curtain was lowered once more to display the song lyrics along with atmospheric images of the city, giving the world a sense of wonder and fantasy. The next song was "STARS AND CLOUDS" from their final EP for which the entire room fell silent, followed by Kawashima's most beloved ballad "STAY." The room filled with applause for this very moving climax.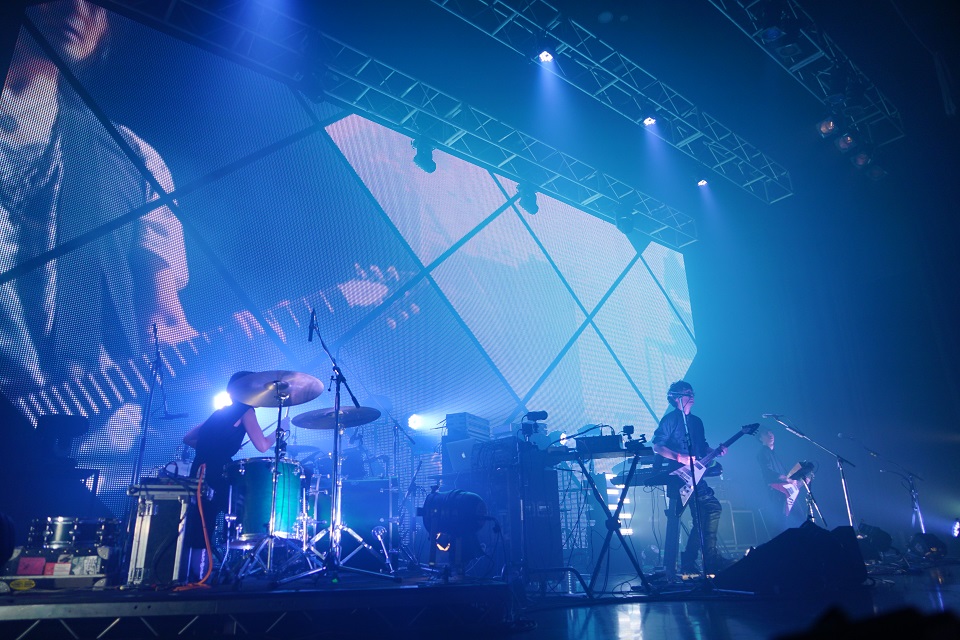 Towards the end of the set, the band played "FLARE" and "NARCOSIS," two tracks for which the choruses were the last for Kawashima to record on and the first time for BOOM BOOM SATELLITES to perform them. A moving video was shown throughout, showing footage that traced back the steps of the band's history. Teary fans could be seen in the crowd for this exceptionally emotional moment.
At the very end, a recording of Kawashima from the their performance back in 2013 was played to close the band's 20 year journey. "I have one final thing to say. We are BOOM BOOM SATELLITES! Thank you very much!"
A teary Nakano used up the rest of his energy to express his gratitude to fans: "You have all supported us for such a long time. I have no words. I wholeheartedly thank you from the bottom of my heart for treasuring us. All of you are Kawashima and I's most precious pride. Please keep on treasuring the music that we have both made." (*translated from Japanese)
"I am convinced that Kawashima was here on stage with us too on June 18th." Just as Nakano said, the band successfully gathered together to perform the live show that Nakano and Kawashima created together.
It was also announced during the concert that a BOOM BOOM SATELLITES documentary is in the works. Anticipation continues as fans await for this final present from the band.
■Information
BOOM BOOM SATELLITES Greatest Hits Album "19972016" Now On Sale
・First Press Limited Edition (4 CDs containing 60 songs / Blu-ray featuring live and tour footage / Special packaging)
    SRCL9211~9215/¥6,667+tax
・Regular Edition A (2 discs including "19972016" and remastered version of "19972007")
    SRCL9216~9217/¥3,333+tax
・Regular Edition B (2 discs includnig "19972016" and "20082016")
    SRCL9218~9219/¥3,333+tax
■iTunes Digital Download Link
・"19972016 & 20082016″ http://urx.red/BjeZ
・"19972016 & 19972007 Remastered-" http://urx.red/Bjf3
Related Article:MAN WITH A MISSION's song "Dog Days" features in the new "Asahi Dry Zero" TV commercial song!