Tropical-Rouge! Pretty Cure Anime Film Main Theme and OST Release Announced
The new anime film Tropical-Rouge! Pretty Cure is set to hit theatres in Japan on October 23, 2021. Before that, however, fans can get their hands on the film's main theme single and soundtrack which is set to drop on October 21. Examples of songs include the insert song Chandelier Shiawase no Kuni which features five of the main cast members singing, the ending theme, Daisuki no Snowball sung by Machico, and more.
Tropical-Rouge! Pretty Cure Key Visual Reveal


The soundtrack is composed by Shiho Terada who also composed for the the TV anime series. It includes the BGM, insert songs, and more.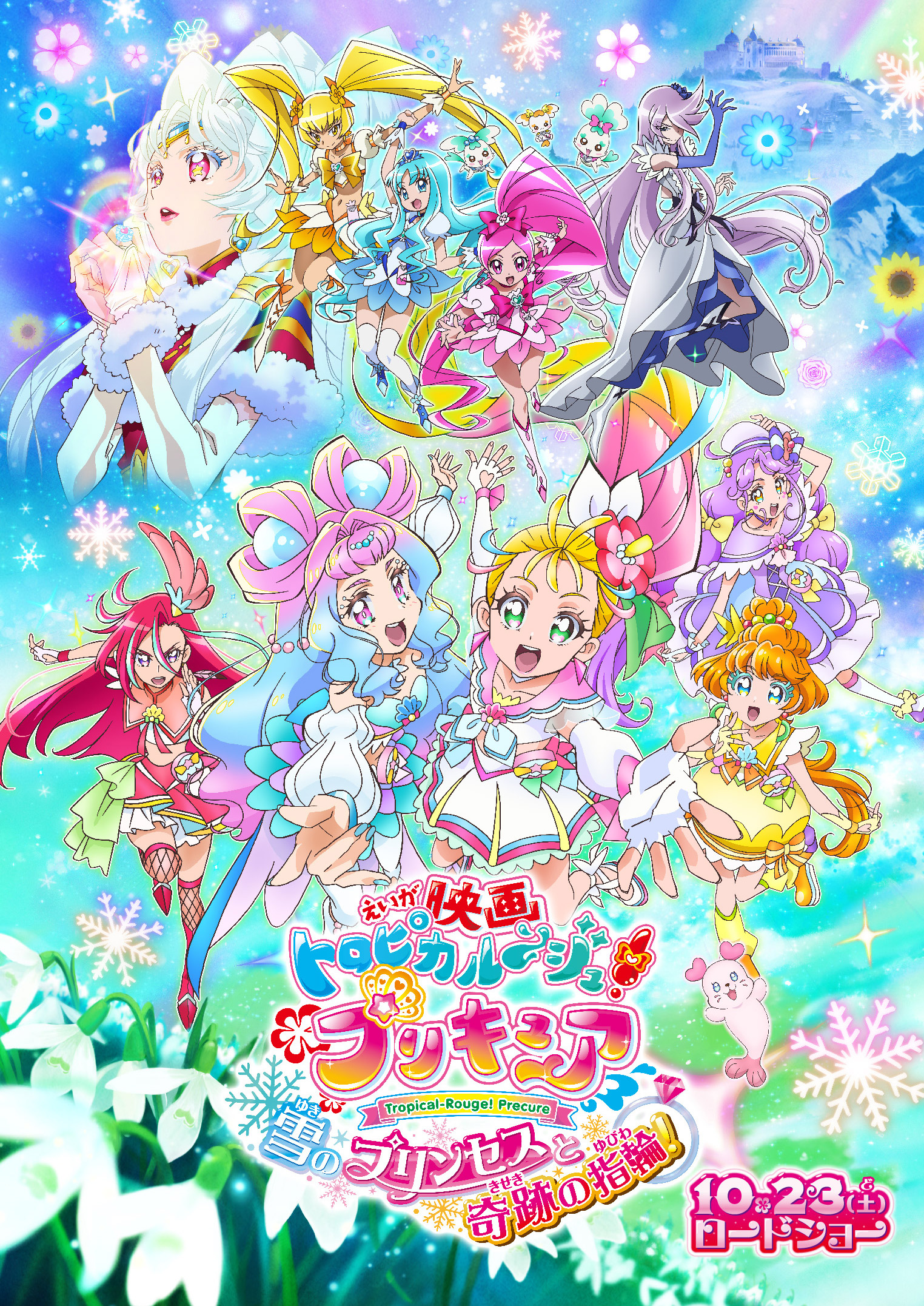 ©ABC-A・東映アニメーション
©2021 映画トロピカル~ジュ!プリキュア製作委員会
RELATED ENTRIES
Attack on Titan Song 'ətˈæk 0N tάɪtn<TFSv>' Gets Anime Music Video

An animated music video for the track ətˈæk 0N tάɪtn<TFSv> from Attack on Titan The Final Season has been uploaded to YouTube. The song will be featured on the upcoming second soundtrack, scheduled to be released on June 22 and composed by Hiroyuki Sawano. The track itself was played during a crucial moment in Episode 87. 

The music video features footage from The Final Season Part 2, which aired from January to April.

ətˈæk 0N tάɪtn<TFSv> – Attack on Titan The Final Season OST (Official Music Video)

The soundtrack will include 15 tracks including Ashes on the Fire -PTV- and Footsteps of Doom. Fans of the series won't want to miss picking it up, and it will also be available to stream on all major streaming services this week.

The final episodes of Attack on Titan The Final Season will air on NHK General in 2023.

©諫山創・講談社/「進撃の巨人」The Final Season製作委員会

Attack on Titan Song 'Ashes on the Fire -PTV' Gets Animated Music Video

An animated music video for Ashes on the Fire -PTV- from Attack on Titan The Final Season has been released! Featuring music by Kohta Yamamoto, the upcoming second soundtrack, set to be released on June 22, is already becoming a hot topic online. It will also include the full version of Footsteps of Doom, which played during a vital scene in episode 80. The song has over 4 million plays on YouTube, an incredible feat for a song from an anime soundtrack. The final episodes of Attack on Titan The Final Season will air on NHK General in 2023. 

Ashes on The Fire -PTV- / Attack on Titan The Final Season OST

Footsteps of Doom / Attack on Titan The Final Season OST 

Attack on Titan The Final Season OST 02 Announcement Trailer

The soundtrack will include 15 tracks including the popular song the ətˈæk 0N tάɪtn<TFSv>. Be sure to give it a listen whenever you're feeling nostalgic for this incredible series!

Second Attack on Titan The Final Season Soundtrack to be Released, Featuring 'Footsteps of Doom'

A second soundtrack for Attack on Titan The Final Season will be released on streaming services on June 22, 2022.

Attack on Titan The Final Season Part 2 aired from January to April of 2022. The new soundtrack will include the full version of Footsteps of Doom, written by Kohta Yamamoto and played during episode 80. The song has over 4 million plays on YouTube, an incredible feat for a song from an anime soundtrack. 

The album will also include a new version of Ashes on the Fire and the track ətˈæk 0N tάɪtn<TFSv>.

Attack on Titan The Final Season Original Soundtrack – Footsteps of Doom Sample Video

The album jacket features a new illustration of Eren Jaeger drawn by animator Takashi Kojima, who was in charge of the opening animation for Attack on Titan The Final Season Part 2.

The final episodes of Attack on Titan The Final Season will air on NHK General in 2023. 

©諫山創・講談社/「進撃の巨人」The Final Season製作委員会

Anime Series World Trigger Original Soundtrack Vol. 2 to be Released in April

The soundtrack for World Trigger Seasons 2 & 3, which both aired in 2021, will be released on April 27, 2022.

The anime adaptation of Daisuke Ashihara's sci-fi action manga, currently serialized in Jump Square, first premiered in 2014. A second season aired from January to April 2021, and a third season ran from October 2021 until January 2022. 

The soundtrack will contain a total of 39 sounds. The music was composed by Kenji Kawai, who has written the music for the series since season one. On October 17, 2021, the World Trigger Symphonic Band event was held at the Tokyo Garden Theater.

©葦原大介/集英社・テレビ朝日・東映アニメーション

Original Soundtrack for Anime Series takt op.Destiny Released

The soundtrack for the anime series takt op.Destiny, which wrapped in December 2021, was released on February 23, 2022! Available in standard and limited-edition versions and on streaming services, a trailer for the collection of classical tracks has also been uploaded to YouTube!

 

The standard two-disc set includes 52 tracks from the anime series, while the limited edition includes 4-discs covering all classical tracks found in the show and voice tracks by the main cast. A 68-page booklet includes interviews with the show's director and composer, original drawings, storyboards, and more behind-the-scenes details. 

 

Composer Yorihiro Ike commented on the soundtrack. "It's still so fresh in my mind. I realize now that the series was actually a love-focused drama, so when I wrote the song With Love, it was all the more meaningful. It was an important piece of work for me. The soundtrack includes everything from classical pieces to jazz riffs. It won't disappoint, so please, give it a listen." 

      

The teaser trailer includes the song With Love, an important song inspired by the show's main character.

takt op.Destiny Original Soundtrack Teaser Trailer

 

The series, available to stream in the west on Crunchyroll, tells the story of a world shaken by a black meteorite. Monsters appear from the crater, and those who hold the power of the "Musicart" can use the power of music and sound to defeat the beasts. Produced by MAPPA and MADHOUSE and directed by Yuki Ito, it became a global hit, and will expand into the video game market in the future.

 

©DeNA/takt op.Phil

Anime Visual Prison Blu-ray/DVD Collection and Soundtrack Released

A four-part Blu-ray and DVD version of new anime Visual Prison, airing from October 8, has been announced, along with a 43-track soundtrack titled 'Visual Prison Original Soundtrack." Produced by A-1 Pictures, the anime was written by Agematsu Noriyasu, with music from Elements Garden and character designs by Katagiri Ikumi. 

The DVD Vol.1 jacket and bonus items have also been revealed, both featuring illustrations from character designer Katagiri Ikumi.

 

"Visual Prison" Blu-ray & DVD Vol.1

Original Soundtrack


The Limited Edition Vol.1 DVD comes with a three-sided case illustrated by Katagiri Ikumi, a Digi-Jacket featuring the characters, a selection of character songs, the Katagiri Ikumi Setting Collection, a color booklet, and a Polaroid-style Photo Card. The first volume features O★Z as drawn by Katagiri Ikumi alongside a whole selection of bonus goodies, so be sure to check it out!

©Noriyasu Agematsu,Afredes/Project VP

Information

Visual Prison

Airing Date: October 8 2021 Onwards

 

Vol.1

Visual Prison 1

Release Date: December 15 2021 

Price: Blu-ray: ¥8,250 (Tax Incl.)

DVD: ¥7,150 (Tax Incl.)

Non-specific Store Bonus:

For customers who purchase both the Blu-ray/DVD Vol.1 and the Original Soundtrack: A5 Clear File

Main Story: Ep1, Ep2, Ep3

Limited Edition Bonus:

・Three-sided case with illustration by Katagiri Ikumi

・Anime Illustration Digi-Jacket

・Artist Song CD (Tracklist: Guilty†Cross / ECLIPSE (1st Gen), Charme's Metempsychosis, Gokujō Jealousy, AI=ZO)

・Katagiri Ikumi Setting Collection

・Color Booklet

・Polaroid-style Photo Card

 

Vol.2

Visual Prison 2

Release Date: January 26 2022

Price: Blu-ray: ¥8,250 (Tax Incl.)

DVD: ¥7,150 (Tax Incl.)

Main Story: Ep4, Ep5, Ep6

Limited Edition Bonus:

・Three-sided case with illustration by Katagiri Ikumi

・Anime Illustration Digi-Jacket

・Artist Song CD

・Color Booklet

・Polaroid-style Photo Card

 

Vol.3

Visual Prison 3

Release Date: February 23 2022

Price: Blu-ray: ¥8,250 (Tax Incl.)

DVD: ¥7,150 (Tax Incl.)

Main Story: Ep7, Ep8, Ep9

Limited Edition Bonus:

・Three-sided case with illustration by Katagiri Ikumi

・Anime Illustration Digi-Jacket

・Artist Song CD

・Color Booklet

・Polaroid-style Photo Card

 

Vol.4

Visual Prison 4

Release Date: March 23 2022

Price: Blu-ray: ¥8,250 (Tax Incl.)

DVD: ¥7,150 (Tax Incl.)

Main Story: Ep10, Ep11, Ep12

Limited Edition Bonus:

・Three-sided case with illustration by Katagiri Ikumi

・Anime Illustration Digi-Jacket

・Artist Song CD

・Color Booklet

・Polaroid-style Photo Card

 

 

 

Visual Prison: Original Soundtrack

Release Date: December 15 2021 

Tracklist: 43 Songs

Price: ¥3,300 (Tax Incl.)

 

Official Site: https://visualprison.com/ 

Pretty Cure AR Rally Event Announce in Collaboration With Shibuya

Shibuya Tourism Association is teaming up with the internationally-beloved magical girl franchise Pretty Cure in promotion of the upcoming new anime film Healin' Good♥Pretty Cure: Yume no Machi de Kyun! tto GoGo! Daihenshin!! which will be released on March 20, 2021. The collaboration will take the form of an augmented reality (AR) rally event which will take place at 15 locations dotted around Shibuya in Tokyo from March 22 to 31.

AR Rally Map

AR Rally Prizes

Location ③: Original Pin

Locations ⑤, ⑩, ⑮: Original Wallpapers (3 designs for each location)

Airissun (Shibuya PR Mascot)

In the new anime film, the characters get their hands on the "Dream Pendant," something which allows their dreams to be seen in the form of a hologram. Shibuya plays a part in the film where Shibuya's own PR mascot, Airissun, will make an appearance.

The AR rally event will have fans collecting virtual stickers across 15 different locations throughout Shibuya as highlighted on the map. This is done via the official website where stickers can be exchanged for merchandise.

©2020 映画ヒーリングっど♥プリキュア製作委員会

Dororo Anime Soundtrack Album Illustration By Original Illustrator Hiroyuki Asada Revealed

Manga Dororo by Osamu Tezuka was made into an anime 50 years ago. This continual sensation is getting an official soundtrack which will be released on August 14. The CD will be titled TV Anime Dororo Music Collection Tamashi no Kodou. Hiroyuki Asada, who creates the original character design drafts, designed the illustration for the CD jacket, which has just been unveiled to the public. 

First-Press Limited Edition Version

The whimsical illustration shows Dororo and Hyakkimaru snuggling together, alone in a vast barren desert. The first-press limited edition soundtrack version comes in a luxurious tall-size DigiPak sleeve and consists of three CDs. The regular edition contains a two-disk dual case. 

Regular Version

The booklet will contain statements by illustrator Hiroyuki Asada and Yoshihiro Ike, who was in charge of the music. As a bonus, the CD jacket illustration has been adopted for use on an A2 poster, which will be sold at Animate stores countrywide. The design will also feature on clear files which will be sold on Amazon. Please check them out.

You can also view this illustration in advance at the TV Anime Dororo Original Art Exhibition Tamashi no Kodou, which is currently taking place. Please stop by to admire the illustration with your very own eyes. 

 

Dororo © Tezuka Productions Co., Ltd./TWIN ENGINE Inc.

Information

TV Anime Dororo Music Collection Tamashi no Kodou 

(TVアニメ「どろろ」音楽集-魂の鼓動-)

Release: August 14, 2019

First-Press Limited Edition 2 CDs + Blu-ray: ¥3,800 (before tax)  AICL-3745~7

Regular Edition: 2CDs: ¥2,800 (before tax) AICL-3748~10

TV Anime Dororo Original Art Exhibition Tamashi no Kodou

Running: May 31, July 15, 2019 (July 15th is a national holiday)

Opening Hours: 12:00 ー 20:00 (※Last entries accepted: 19:45) 

Closed: Tuesdays, Wednesdays, Thursdays 

Venue: space caiman (Kadokura building B1, 4-5-15, Nihonbashihongokucho, Chuo Ward, Tokyo)

Official Website: https://www.wani.com/special/dororo

Dororo

RNB (Nankai Broadcasting) : June 28, 2019 (Friday)  2:00 am (subject to change)

MBC (Minaminihon Broadcasting): August 2, 2019 (Friday) 1:45 am 

Jidaigeki Senmon Channel: November 2, 2019 (Saturday) 2:00 am

Amazon Prime Video (Available in Japan and overseas) 

Official Website: https://dororo-anime.com