Kyu Shiba Rikyu Garden is a former Daimyo Garden, or imperial garden, of the early Edo period, along with the Koishikawa Kōrakuen Garden. Part of the charm of the garden is the large pond in the middle which people can walk around to appreciate the serene surroundings. The garden is a diamond in the rough as it is situated in a part of Tokyo where offices are dotted everywhere. The garden itself feels cemented in history and is a popular spot visited by company workers on their break, as well as tourists. There is a quiet stillness to the garden, a place where you can even experience feeling the changing seasons. Today, we take a stroll through the Kyu Shiba Rikyu Garden with Saki Shibata.
A Daimyo Garden with a history deep-rooted in early Edo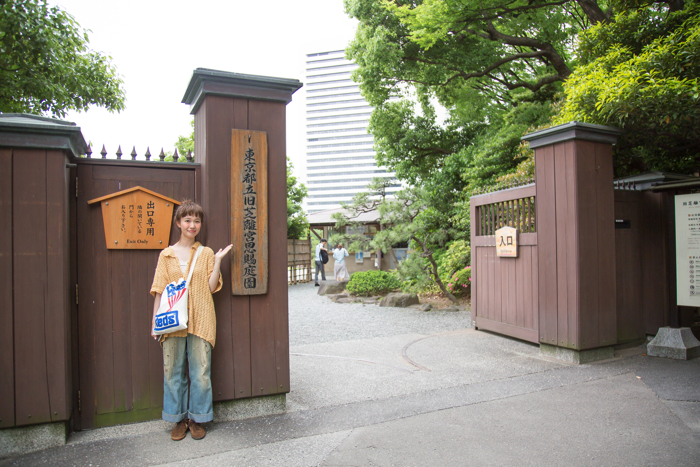 The garden is a 1-minute walk from the north exit of the JR Hamamatsuchō Station, and a 3-minute walk from the B2 Exit of Daimon Station via either the Toei Asakusa Line or Toei Ōedo Line. Hamamatsuchō Station is just 17-minutes from Shibuya Station on the inner loop of the Yamamote Line, so it's easy to get to.
General Admission to the garden is just ¥150, and ¥70 for Over-65s. Entry is free for those below elementary school grade, people residing in the city, and middle school students enrolled in the area. The scenery you will witness as you enter the garden is unique to that of such a city—a beautiful contrast between the greenery and the pond water against a backdrop of towering buildings.
A garden where you can feel nature against your skin
You can experience the true essence of Japan by seeing pine trees up close and personal. The bright green laws in summertime are fresh; the faint scent of grass will leave you feeling tranquil. You get to see the flowers dotted around Kyu Shiba Rikyu Garden change with the seasons, meaning you can enjoy hanami, or flower-viewing in Spring, Summer, Autumn and Winter.
It's a place where you can spend a relaxing time and dedicate some graceful reading time. Although it's in the middle of Tokyo, the garden is far away from all the ruckus, so you can get nice and comfortable.
>>next page