New Cocktail Menu Gets Served at KYOTO YURA HOTEL MGallery
KYOTO YURA HOTEL MGallery is now serving a new cocktail and afternoon tea menu in collaboration with Perrier Promotion.
KYOTO YURA HOTEL MGallery is a hotel group based in Paris, France which operates over 5,000 hotels and resorts in 110 countries worldwide. Together with the mineral water brand Perrier, the two companies launched the 'Perrier Promotion with KYOTO YURA HOTEL MGallery' on July 21 which includes a special cocktail and afternoon tea line-up being served up at Lounge & Bar 1867.
Perrier x MURAKAMI Tote Bag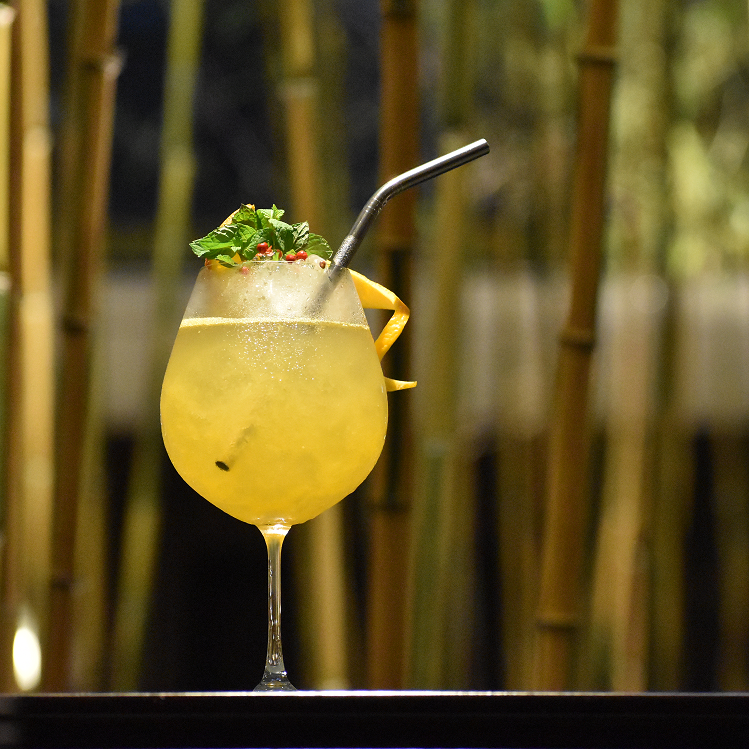 Perrier Cacao & Orange Asian Fizz Mocktail | ¥1,300 (Tax Included)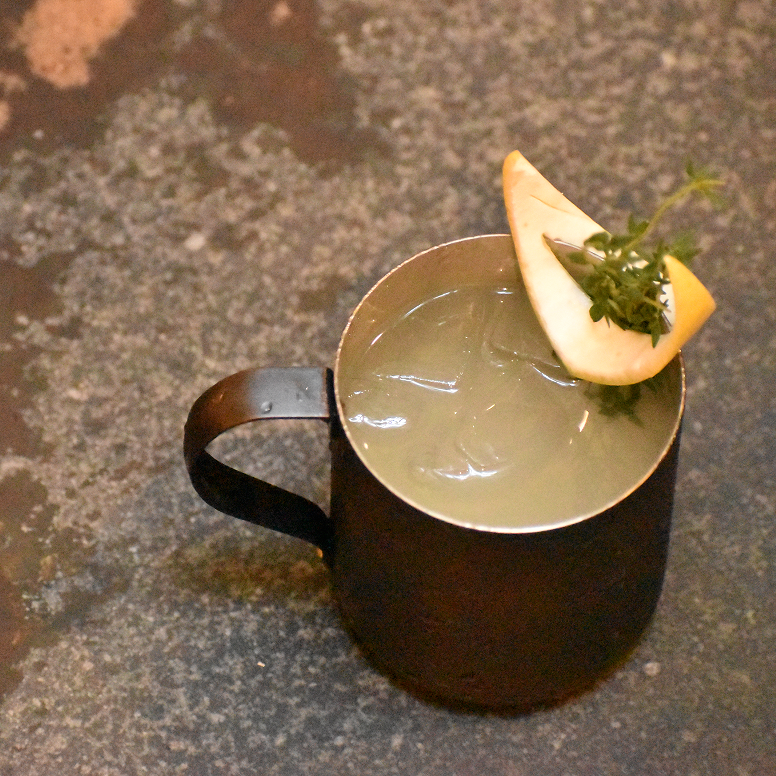 Perrier Umami & Ryokucha Green Tea Sour Mocktail | ¥1,300 (Tax Included)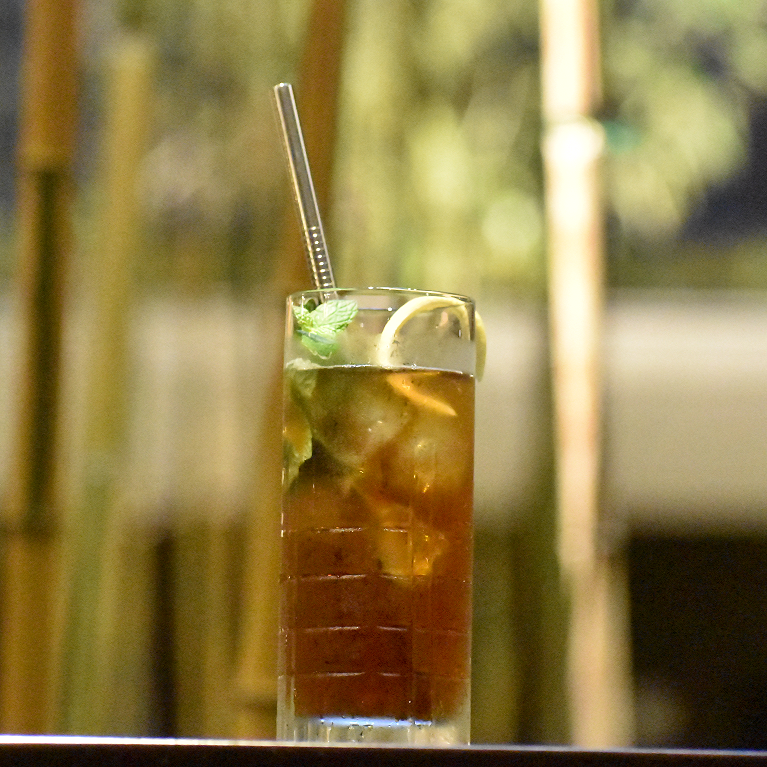 Perrier Citrus Iced Tea Mocktail | ¥1,300 (Tax Included)
Perrier Evening Iced Coffee Cocktail | ¥1,700 (Tax Included)
Perrier Flower & Fruit Afternoon Cocktail | ¥1,700 (Tax Included)
Perrier Promotion with KYOTO YURA HOTEL MGallery is an all-day special event taking place at the hotel. At both the hotel entrance, as well as Lounge & Bar 1867, an artwork collaboration by Takashi Murakami and Perrier is being displayed for the duration of the event, adding a colourful vibe to the spaces.
The drinks line-up includes three mocktails which are available on the free flow drinks menu when ordering the hotel's popular afternoon tea. The afternoon tea set was conceived by pastry chef Jennie Chiu and is packed full of summer fruits like passion fruit and mango.
During the collaboration, the first 200 people to order either the afternoon tea set or high tea set will also receive a free novelty tote bag featuring the Takashi Murakami's characters Kaikai and Kiki.
In the evenings, the Perrier Pop-Up Bar are serving two alcoholic cocktails alongside the mocktails.
RELATED ENTRIES
Photography and Noh Theater Collide in New Collaboration between Hiroshi Seo and Hosho School

In a new fall collaboration, the prestigious Hosei School of Noh Theater, established during the Muromachi Period, and photographer Hiroshi Seo will present a unique blend of traditional culture. 'Experience Noh and Art in Autumn ~Noh at Night: The Tale of the Heike 'Kiyotsune' x BEYOND PHOTO BY HIROSHI SEO' will begin for four limited showings starting September 24, and will connect the photographer's work 'BEYOND' with the theme of water present in the classic tale of Heike. Ancient and modern will overlap during this special autumn event, so don't miss it if you're in Tokyo!

The Story of The Tale of Heike 'Kiyotsune'

During the 12th century, the Minamoto and Taira clans were at war. Awazu-no-Saburo returns to the capital after the Taira were defeated in battle, carrying with him a keepsake for his lord Kiyotsune's wife: a lock of hair that Kiyotsune left before committing suicide. Saburo visits the wife, and upon learning of Kiyotsune's death, she can barely stand the sight of his hair, ordering that the keepsake be returned to a shrine in Kyushu. Upon falling asleep, she sees his ghost in her dreams, and they argue over what has occurred. Kiyotsune recounts his final days, choosing suicide by drowning over capture and defeat. He is then blessed, and finds his way from Hell to eternal enlightenment. 

BEYOND PHOTO BY HIROSHI SEO Exhibition

In 2020, the COVID-19 pandemic changed the world. Yet even during this turmoil engulfing the world, artists were trying to make a new path. Photography is but a fragment of the real world, but through the eyes of the one taking the photo, it becomes an art form, and allows us to see the world in a different way. For this exhibition, Hiroshi Seo will present several new works, including photographs from Sado Island, the home of Noh, where one-third of all Noh stages in Japan are located. This chain of water-inspired images will weave together with the story of Kiyotsune, and will tell a brand-new story for modern audiences. 

Information

Experience Noh and Art in Autumn ~Noh at Night: The Tale of the Heike

'Kiyotsune' x BEYOND PHOTO BY HIROSHI SEO 

With Performance: September 24, 2021 (Tickets on sale now.)

No Performance: September 25, 2021 (Free admission for photo exhibition only. No admission to auditorium.) 

With Performance: October 29, 2021 (Tickets on sale now.)

With Performance: November 26, 2021, 17:00 (Tickets on sale September 25.) 

Address: Hosho Noh Theater, 1-5-9 Hongo, Bunkyo-ku, Tokyo

Tickets: https://nohlife.myshopify.com/

Official Site: http://www.hosho.or.jp/nohgakudo/

詳細・Official Site:http://www.hosho.or.jp/nohgakudo/

Hotel New Otani Announces Second PAUL & JOE Collaboration

Hotel New Otani Tokyo has collaborated with PAUL & JOE for the second time to offer a new accomodation plan, which will be available for one-night stays between December 1 2021 and January 4 2022.  The rooms will not be available between December 31 and January 2.

This collaboration room will allow you to surround yourself in the world of PAUL & JOE, a Parisian brand PAUL & JOE that is extremely popular with young women in their 20s and 30s. The initial collaboration was so popular that within just 10 days, all of the available dates within three months were sold out. This Christmas edition will only be available for one month, so be sure to book while you can.

The pink and ivory room features the brand's icon; Designer Sophie's beloved cats, Nunet and Gypsy. The decorations also feature Crisantemo flower motifs.

Not only is the wallpaper covered in PAUL & JOE motifs, but even the smaller pieces such as cushions, curling irons, and brushes are themed too. In addition, to celebrate the festive season, the room will include a special Christmas tree, allowing you to enjoy a special Christmas with somebody special, sharing a view of Tokyo Tower.

The second round of cosmetics is focused on the 2021 CHRISTMAS COLLECTION. The 'Lipstick Treatment' features adorable cats wearing Santa hats, while the 'Lipstick Limited' comes in a luxurious Christmas red – and also features cats in hats! Plus, the new 'Wrapping Hand Cream' will wrap your hands in a fresh moisturising texture. In addition, the best-selling 'Moisturizing Foundation Primer,' which was renewed on September 1, and the P&J skincare selection (oil, lotion, cleansing), each must-haves for the upcoming dry season, have been miniaturized into take-home samples in a limited edition pouch, especially for hotel customers.

Alongside the limited cosmetic samples, there will be matching pajamas and slippers available for purchase and take home, with a that will take you even deeper into the PAUL & JOE world. While these cat-and-floral print PJs are perfect for a girls-only gathering, a men's line has also been released due to popular demand, ideal for spending a romantic Christmas in matching pajamas.

 

 

Why not spend a wonderful Christmas in this PAUL & JOE room?

Information

PAUL & JOE Room ~Christmas~

Reservation Dates:

Friday & Saturday Rooms: September 14 2021~

Weekday & Sunday Rooms: Late October 2021

Room Duration: December 1 2021 ~ January 4 2022

※Unavailable between Dec. 31 and Jan. 21

Location: Hotel New Otani Tokyo

Reservations: https://www.newotani.co.jp/tokyo/stay/plan/paul-joeroom/  *Reservations can only be made online

Crayon Shin-chan and Adorable Bunny Rabbits Available from Ikumimama Animal Donuts

Ikumimama Animal Donuts has been a popular topic on social media for it's cute creations, many based on popular characters. Now, customers located in Japan can purchase the new Crayon Shin-chan and Otsukimi Usa-chan Donut Sets online! 

Otsukimi Usa-chan Set

Otsukimi Usa-chan (White)

Otsukimi Usa-chan (Pink)

Otsukimi Dango Donuts

Crayon Shin-chan Donut Set

Shin-chan (Normal)

Shin-chan (Sparkling)

Shiro

Buriburizaemon

Himawari

Otsukimi means 'moon-viewing' in Japanese. On the 15th day of the eighth month of the traditional Japanese calendar, it's tradition to hold a celebration to view the harvest moon. The Otsukimi Usa-chan set is perfect to serve during a get-together as you watch the starlit sky with friends. This year, September 21 is the lucky day! Dango, or dumplings, are popular snacks to enjoy during this event, and these coconut-filled Dango Donuts are a fun twist on a traditional treat. 

Shinnosuke, Shiro, Buriburizaemon, and Himawari all make an appearance in the new Crayon Shin-chan collaboration.

Which of these sugary sweets looks the most scrumptious? 

Rihga Royal Hotel x YOURS BOOK STORE New Accommodation Plan to Discover Your New Favorite Book

Osaka's Rihga Royal Hotel is collaborating with book direction brand YOURS BOOK STORE to produce a one-room one-day accommodation plan titled "Once in a Lifetime ~ Professionals Choose Your Book~." The limited-time plan will be available between September 15 and November 30, 2021.

The lounge on the executive floor, known as The Presidential Towers, was reformed in March 2020 to include a library of 1,000 books, with themes including Osaka, refreshing, relaxing, and children's books. It was then that the room plan collaboration with YOURS BOOK STORE, who was involved in the initial book selection, was proposed.

In the "Once in a Lifetime ~ Professionals Choose Your Book~" accommodation plan, a professional will discuss with the guest to learn more about their taste, with the book director offering 3 personalized book choices per person. The guest can also take full advantage of the hotel library.

Following your trip, a book chosen especially for guests will be sent to your home, with a message card describing how your books were selected. This unique accommodation plan allows you to bask in the afterglow of your trip while waiting to see what kind of book you receive.

Why not check out this unique plan where you can receive your own personalized book recommendation?

The National Museum of Modern Art in Kyoto Opens Meiji Era Exhibition

A special exhibition titled 'Japanese Landscapes Discovered: Views from and for the Outside World,' showcasing a private collection of Meiji era paintings, is now on display at the National Museum of Modern Art in Kyoto until October 31, 2021.

Inside the Exhibit

Inside the Exhibit

 

This exhibition is designed to take visitors on a journey through the Meiji period (1868-1912), the beginning of Japan's modern era, through oil and watercolor paintings of the time, and through the landscapes and customs depicted in these pieces of art. During this time, many foreign painters visited Japan, and were inspired to paint the country's beautiful landscapes and unfamiliar customs, bringing these creations back to their countries of origin. Japanese artists studied these unfamiliar painting techniques, and made their own culturally-inspired paintings, often selling them to foreign visitors as souvenirs.

Many works on display in this exhibition have never been shown publicly, with many being brought back to Japan from locations abroad. These include long-lost oil paintings by Kuroda Seiki and a massive newly-discovered work by Tamura Soryu. Other Japanese artists inspired by Western-style on display include Hiroshi Yoshida, Jirokichi Kasagi, Shotaro Koyama, and Ioki Bunsai.

Also on display are works by foreign artists who visited Japan during this period, including British news painter Charles Wirgman, French news painter Georges Bigot, and British landscape painters Alfred Parsons, Alfred East, and John Varley Jr. These three men in particular triggered a watercolor boom in Japan during the late Meiji period. Vibrant female painters such as British watercolorist Ella du Cane, a lover of Japanese gardens, also make an appearance.

Be sure to see these incredible depictions of Japan before they're gone.

Information

Japanese Landscapes Discovered: Views from and for the Outside World

Running: September 7 – October 31, 2021

Hours: 9:30-19:00 (Until 20:00 on Friday and Saturday)

Closed: Mondays, and on September 21. *The museum will be open September 20.

Tickets/Official Site: https://www.momak.go.jp/

*Admission is open until 30 minutes before closing.

*To prevent the spread of COVID-19, hours are subject to change. Please check hours before visiting.

Famous Oil Blotting Paper Brand's Yojiya Café Reforms Three Popular Parfait Flavors

The Yojiya Café, opened by the Yojiya brand famous for its Aburatorigami, or facial oil blotting paper, will be renewing its menu from September 13. The popular face parfait, which features the logo alongside a Kyoto woman with a mole, comes in three flavors available – Kinako, Matcha, and Milk Tea. Each parfait comes with a sauce, so you can adjust the taste as you eat.

 

Kinako Parfait: ¥1,200 (Tax Incl.)

Matcha Parfait: ¥1,200 (Tax Incl.)

Milk Tea Parfait: ¥1,200 (Tax Incl.)

The Yojiya Café is currently open in two locations, Gion and Sagano Arashiyama, offering a relaxing space to rest between shopping and sightseeing.

The café has renewed their iconic Kinako Parfait, which combines Japanese Kinako and Western Maple Syrup, along with the Matcha Parfait, which is packed full of matcha ice cream, jelly, and cookies. The Milk Tea Parfait is made with a rich Japanese Tea and Earl Gray ice cream.

Take a trip to Yojiya and find out which parfait is your favorite!

Information

Yojiya Café – Parfait Renewal

Release Date: 14 September 2021

Availability:

Yojiya Café Gion

Address: Izawa Building 2F, 266 Gionmachi Kitagawa, Higashiyama-ku, Kyoto

Opening Hours:

Weekdays 11:00 ~ 17:00 (LO16:30)

Weekends/Holidays: 10:00 ~ 18:00 (LO17:30)

YOJIYA CAFE Sagano Arashiyama

Opening Hours:

Weekdays 11:00 ~ 17:00 (LO16:30)

Weekends/Holidays: 10:00 ~ 18:00 (LO17:30)

Address: 2 Tateishicho, Sagatenryuji, Ukyo-Ku, Kyoto

Official Site: https://www.yojiya.co.jp/

Blue Bottle Coffee Opens New Cafe Inside SHIROIYA HOTEL in Gunma

Initially announced in July of this year, Blue Bottle Coffee Japan will open their newest shop on the premises of the SHIROIYA HOTEL in Maebashi, Gunma Prefecture on September 17, 2021. The new shop is part of a recent initiative to revitalize the city, and make Maebashi an inspiring art and culture destination.

Shiroiya Cafe Limited Menu

Blue Bottle Coffee x Nakamata Fuwafuwa Wanuki Coffee Cream & Anko

Shiroiya Cafe Limited Item


Blue Bottle Coffee x Nakamata Maebashi City Tote Bag (Limited quantities available)

SHIROIYA the PÂTISSERIE×BLUE BOTTLE COFFEE 


Grapefruit and Coffee Tart

Maebashi was once a large manufacturer of silk, and was crucial to Japan's modernization. In 2016, a number of creative minds from both Japan and abroad gathered in the city with the goal of revitalizing the town center. With that in mind, they first renovated the 300-year-old Shiroiya Ryokan, opening the SHIROIYA HOTEL in December 2020. Blue Bottle Coffee was a perfect fit for the project, with a continued goal of fostering community and using their proceeds to help develop towns and cities.

Blue Bottle Coffee Shiroiya Cafe as designed by Keiji Ashizawa Design, also responsible for designing cafes in Minatomirai and Shibuya. Keeping with a comfortable theme, the cafe is designed to let in ample amounts of light. Historic bricks from Maebashi were a key material used in the flooring. Both the SHIROIYA HOTEL and the new Blue Bottle Cafe feature art pieces by Yoshio Shirakawa, an artist from the area.

The Blue Bottle Coffee x Nakamata Fluffy Wanuki Coffee Cream & Anko is only available at the Shiroiya Cafe, and is a collaboration with Wamukashi Nakamata, a confectionary shop in town. A special Maebashi-themed tote bag will also be on sale in limited quantities.

To commemorate the opening of the Shiroiya Cafe, the PÂTISSERIE, located inside the hotel, will serve a limited-time Grapefruit and Coffee Tart.

Would you like to visit Maebashi on your next trip to Japan?

Information

Blue Bottle Coffee Shiroiya Cafe

Opening Date: September 17, 2021

Address: SHIROIYA HOTEL, 2-2-15 Honmachi, Maebashi, Gunma

Hours: 8:00-19:00 (Opens at 10:00 on opening day.)

Official Site: https://store.bluebottlecoffee.jp/

Hyatt Centric Kanazawa Reveals Halloween Inspired Menu for October

All-day restaurant FIVE – Grill & Lounge, located within the Hyatt Centric Kanazawa hotel, will begin serving up a selection of Halloween-inspired treats beginning October 1, including cake sets, parfaits, muffins, and various lunch and dinner items.

Guests will also be able to enjoy some mischievous cocktails and mocktails inspired by witches and ghosts!

Halloween Cake Set 

Black Sesame Pudding

Mummy Macaron

Ghostly Mousse

Pumpkin Ice Cream Sandwich

Coffin Tart

Monster Cream Puff

Halloween Parfait Set

Halloween Dinner/Lunch Course

Halloween Muffin Box

Halloween Cocktails 

Spooky Night

Hallo-Wine Sangria

I sWitch (Mocktail)

The Halloween Cake Set is filled with ghoulish treats, each one displaying incredible attention to detail. In the Halloween Parfait Set, guests can enjoy a tower of different sweets, including black currant and chocolate. Themed with creepy eyeball decorations throughout, it offers a variety of overlapping textures and tastes guests will want to savor until the last bite.

 

When thinking of Halloween, the colors orange and purple instantly come to mind. For the Halloween Dinner/Lunch Course, the menu's creators went with a more dark theme, envisioning a ghost appearing at any moment. The entire restaurant will be decorated in black and gray, creating a truly haunting dining experience.

Don't miss out on the Halloween Muffin Box, a set of mini-muffins made with fresh autumn ingredients, and offering a much cuter feel. Quantities are limited!

The gin-based Spooky Night cocktail is refreshing, with a bold blue color and red-rim on the glass, sure to turn your mouth bright crimson. Hallo-Wine Sangria, house-made with autumn fruits, has a unique design, with a skeleton rising from the glass! For those wanting a mocktail, the I sWitch asks guests to pour the accompanying red syrup over the cotton candy, changing both the appearance and flavor of the drink as if by witchcraft!

Which of these treats would you be after?

niko and…Celebrates 80th Anniversary of Curious George with New Collab Items

Japanese fashion brand "niko and…" will release a collection of Curious George-inspired items to celebrate the character's 80th anniversary. These items are now on sale at the brand's stores nationwide, and on the official web shop, as well as on ZOZOTOWN and Rakuten Fashion.

Collaboration Items at a Glance

Remote Control Box: ¥1,540 (Tax Included) / Slippers: ¥2,090 (Tax Included) / Tissue Case: ¥4,180 (Tax Included)

Large Plushie: ¥4,840 (Tax Included) / Medium Plushie: ¥3,520 (Tax Included) / Vinyl Umbrella: ¥1,320 (Tax Included) / AC Adapter: ¥2,860 (Tax Included) / Charging Cable: ¥1,760 (Tax Included)

Masking Tape: ¥440 each (Tax Included) / Bath Chair: ¥2,970 (Tax Included) / Bath Bucket: ¥1,430 (Tax Included) / Alarm Clock: ¥1,540 (Tax Included)

Curious George is celebrating his 80th anniversary in 2021. In Japan, the monkey character was first introduced in 1954, and has been loved by countless people ever since. This collection combines the humorous and retro feel of Curious George with the sensibilities of "niko and…," creating a unique mash-up of products.

Are you a fan of Curious George? Which of these products are you most likely to grab?


※Curious George and related characters, created by Margret and H.A. Rey, are copyrighted and registered by Houghton Mifflin Harcourt Publishing Company and used under license.All Rights Reserved.

※Universal Studios Licensing LLC(ユニバーサル・スタジオ・ライセンシング LLC)との商品化契約に基づき、株式会社アダストリアが企画・制作した商品です。

Collaborative Music Project MAISONdes Releases New Track Featuring Nagumoyuuki and riria.

12.September.2021 | MUSIC

MAISONdes is a unique music project. Extremely popular on TikTok, it's described only as 'a fictional apartment building somewhere,' where a different singer and creator features on each and every track. Each song is even labeled with a room number. This allows up-and-coming artists to collaborate in ways they never expected, and leaves the listeners enjoying an all-new sound. Rather than stick to what's comfortable, artists taking part in the project express themselves freely with their new creative partner.

Following artists like yama, Nakimushi, Kujira, Moka Sato, Riu Domura, Wanuka, and haruno, we come to Room #107. This time, Nagumoyuuki and riria are up to bat in the new single Natsukaze ni Tokeru, out September 8. Nagumoyuuki wrote the lyrics and arranged the track, while riria provided the vocals.

Room #107 – 'Natsukaze ni Tokeru' feat. riria., Nagumoyuuki / MAISONdes

MAISONdes began a YouTube channel in February 2021, and has already featured plenty of creators leading the new music scene. Released in May, 'Yowanehaki feet. Wanuka, asmi' won the TikTok Song Ranking four times in a row and has over 100 million views on the app. In August, vocalist asmi appeared on THE FIRST TAKE. The song also attracted a great deal of attention on Line Music, Spotify, and Apple Music.

In Fall 2019, singer-songwriter riria posted a video to TikTok and YouTube, in which she performs without showing her face. Currently, the artist has over 1.3 million followers on TikTok.

 

Nagumoyuuki is an up-and-coming composer who has written music for yama, who performed in Room #101, and who has featured massively popular singer Ado in her own work.

Comment from riria.

I was incredibly honored to participate in the MAISONdes project, and to sing Nagumoyuuki's incredible song. It wasn't the type of song I usually sing, so I was able to express myself in a new and fun way. Please give it a listen!

Comment from Nagumoyuuki


riria did an incredible job singing this song, which is about two people just passing the time during a quiet night. I hope you enjoy listening to it, no matter what's going on in your life.


The illustrations used for the song were created by NANAKI PANTZ, who has also contributed to other videos from MAISONdes in the past.

This track is sure to be another hit across SNS, and the future's looking bright for MAISONdes! Be sure to check out the rest of their tracks on YouTube.

Anohana Anime Series Commemorates 10th Anniversary with Tokyo Amusement Park Asakusa Hanayashiki

Tokyo-based amusement park Asakusa Hanayashiki, said to be the oldest such park in Japan, will hold an event starting September 18 to celebrate the 10th anniversary of the Anohana anime series.

The event itself will feature a brand-new illustration of the six main characters standing outside the gates of Asakusa Hanayashiki, as well as original merchandise, a menu of Anohana-inspired food, and a park-wide stamp rally. Those purchasing special tickets in advance will get exclusive offers, so don't miss out if you're in Tokyo!

Original Illustrations for the Event

Illustration Card (only for special ticket holders)

Ticket Holder (only for special ticket holders)

Stamp Rally Card

Special Stamp Rally Postcard

Those purchasing a dish from the special menu will receive a randomly selected coaster (7 designs) as a present.

Collaboration Menu

JinTantanmen: ¥1,000 (Tax Included)

Menma's Favorite Sweet Curry: ¥1,000 (Tax Included)

Super Peace Busters Drinks (6 varieties): ¥600 each (Tax Included)

Usamaru Shaved Ice: ¥500 (Tax Included)

Menma's Favorite BOMBOM Croquette Burger DX: ¥550 (Tax Included)

Original Merchandise at a Glance

Hanayashiki Collaboration Original Illustration, Modern Japanese clothing ver. BIG Acrylic Stand (6 designs): ¥1,980 each (Tax Included)

Hanayashiki Collaboration Chibi Attraction ver. Pins (12 designs): ¥440 each / BOX: ¥5,280 (Tax Included) *Random

Receive a random original Bromide (6 designs) for spending over ¥2,000 on collaboration goods.

Information

Anohana x Asakusa Hanayashiki

Running: September 18 – October 10, 2021

Location: Asakusa Hanayashiki

Hours: 10:00-18:00 (weather permitting) *Last entrance 30 minutes before closing.

Closed on: September 28 and October 5

Advance Tickets on sale from 7Ticket at 7-11 locations now.

*Information subject to change.

Event & Ticket Details: https://event.amnibus.com/anohana-hanayashiki/

SPINNS Collaborates with Popular YouTubers Uchira3shimai in New Autumn Visual

Uchira3shimai are featured in the Autumn season visual for apparel brand SPINNS. The new visual poster appeared in store and online on September 5 2021. Four Autumn visuals will be released, alongside a new collaboration collection.

Behind the Scenes

Collaboration Items

With over 490,000 subscribers, popular YouTubers Uchira3shimai have appeared in the SPINNS Autumn visual. The new collection is titled "○○○3shimai STYLE." The YouTubers are shown in some of SPINNS most trendy items, wearing caps, printed shirts, and flare pants.

You can easily spot the individuality of each sibling in this unmissable Autumn visual!