Second Pokémon Room Summer Vacation Project comes with Original Themed Recipes
Cosmos Hotel Management have announced a new Pokémon Room option at APARTMENT HOTEL MINIMARU, complete with special Pokèmon original recipes. APARTMENT HOTEL MINIMARU is a hotel service that offers spacious rooms and kitchen spaces, ideal for families and large groups.
You can make lasting summer memories as you cook adorable themed meals as a family in their incredible new Pokémon themed room.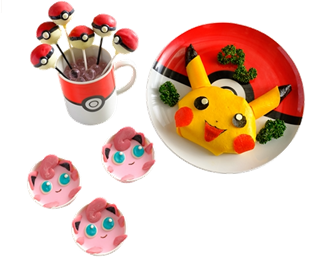 Original Recipe (preview)
The dining and sleeping areas of the impressive new room are covered in Pokéball motifs, while the cute Pokémon appear to be playing hide and seek throughout the wallpaper. You'll be greeted by a giant Snorlax plushie on the bed and have your food served on Pokèmon themed plates and cups – Perfect for Pokèmon lovers! The room will be available at MINIMARU in Tokyo, Kyoto, and Osaka.
Following their Pokémon Card Game Sword & Shield / Family Pokémon Card Game free summer vacation project, MINIMARU have prepared several original recipes for guests of the new Pokémon Room. Try making some cute Pokémon dishes and desserts in the kitchen for yourself, with recipes including Pikachu Omurice and more!
The Pokémon Room offers 7 special dinner and snack recipes for parents and children to make during their stay. The ingredients are easily obtained at the local supermarkets and cooked in the kitchen space. You can even share your handmade masterpiece on social media using the hashtag #ポケモンルームレシピ (pokémonroomrecipe).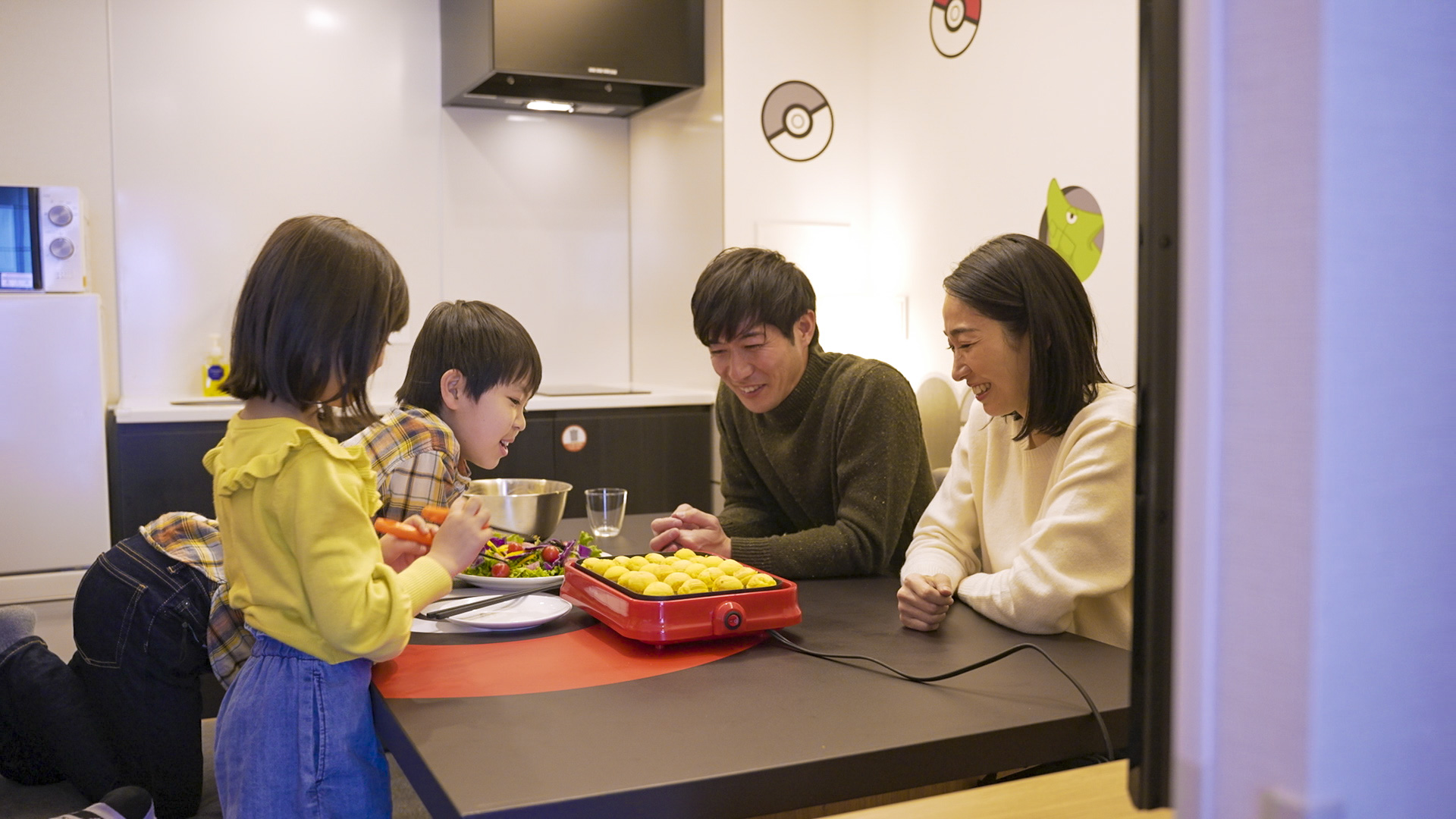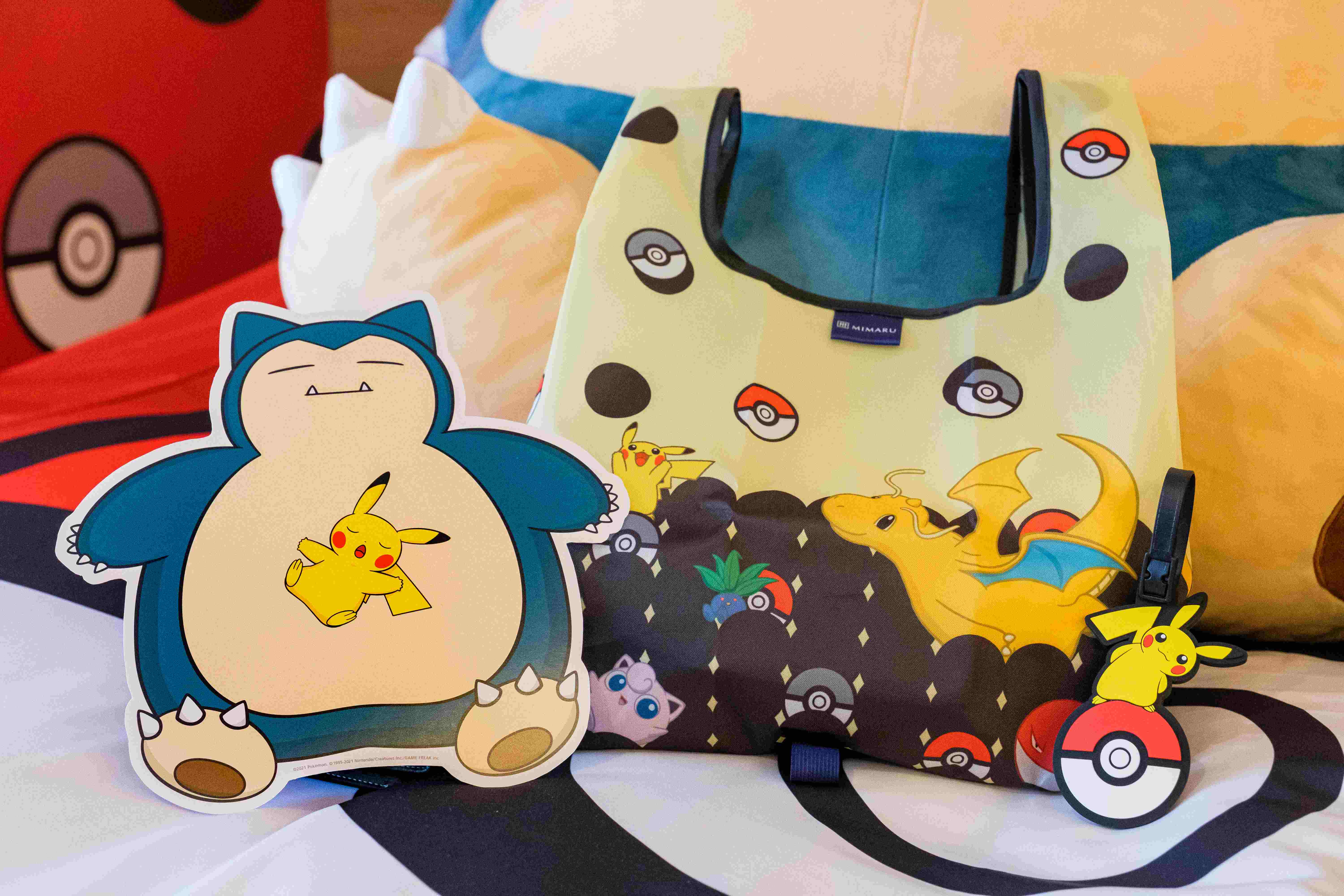 ©2021 Pokémon. ©1995-2021 Nintendo / Creatures Inc. / GAME FREAK inc.
ポケットモンスター・ポケモン・Pokémonは任天堂・クリーチャーズ・ゲームフリークの登録商標です。
RELATED ENTRIES
MANON Releases 'L.M.S.N,' a Collaboration with NY-based Artist Kyunchi

Starting in October 2022, artist MANON released new music for four consecutive months. Continuing her exploration of the HyperPop genre, her new track L.M.S.N feat. Kyunchi is now streaming.

MANON is known for releasing music with up-and-coming artists, and for this new track, she's collaborated with NY-based HyperPop artist Kyunchi. L.M.S.N was composed by trackmaker Kiraku, who also worked on MANON's previous release. The song is a Gal anthem, packed with Kiraku's signature sound and 'Gal Rap' performed by MANON and Kyunchi.

Kyunchi

MANON

<Comment from MANON>

"I've wanted to collab with Kyunchi for so long, and it's finally happened.

When I go to parties, I have a habit of being loud and not holding back, so people tend to shoot me these judgmental looks. But I don't care! I always think "LET'S MAKE SOME NOISE!!" This song is just that–it's us doing what we want to do at the moment. ⭐️That's the vibe.

I feel like gals from the 2010s are all about YOLO–they give off this super strong vibe. That's what I was trying to channel in this track, but then Kyunchi's bad bitch rap made it so much more intense. The jacket was also inspired by blinged-out images from the 2010s and was made by Kiraku's friend onumi!

When you hear this song, be sure to MAKE SOME NOISE!!"

Information

L.M.S.N feat. Kyunchi – MANON (Digital Single)

Release Date: May 24, 2023

Streaming URL: https://orcd.co/lmsn

Lyrics: MANON, Kyunchi / Prod.: Kiraku

■Kyunchi Profile

Kyunchi is a New York-based, candy-coated, gender-bending, post-modern, hyperpop, scene kid. Not bound by age, gender, nationality, or religion, the artist debuted in 2019 with Kyunshi Shopping Spree, produced by Ayesha Erotica. In April 2022, they released Mecha Angel Genesis♡, produced by writer syva of Codomo Mental INC. WORLDWIDE☆GIRL feat. nonamera was released on August 31, produced by syva and featuring nonamera on vocals.

Instagram: @kyunchi.jp
Spotify: Kyunchi

Drama Series Zenra Meshi, Starring Yutaro, to Get Official Photo Book in June

The Kansai Television drama Zenra Meshi, starring Yutaro, is getting an official photobook release on June 23, 2023 titled Zenra Meshi Official Photobook -Our Recipes Start Here-.

The unusual romantic comedy follows an elite businessman hiding an incredible secret–he loves to eat naked to relieve his stress. One day, this habit is revealed, and Ichijo finds himself quickly falling in love.

The official photobook will include over 30 pages of gravure photos of Yutaro (Miki Mahiro) and Shori Kondo (Futa Ichijo). Set as an epilogue taking place after the main story shown in the series, Futa and Miki can be seen enjoying a picnic date with a handmade bento and spending cozy time together in PJs at home.

Also included are 20 pages of solo photos of Futa wearing a suit and posing in front of a beautiful night scene and Miki wearing a hoodie in a restaurant that smells of spices. Both shoots were intended to look as though a lover snapped the images. The photobook also includes Mizuchi's Recipe Notebook, highlighting recipes from around the world with comments by popular cookbook author Yummy. Fans can also look forward to plenty of interviews with the cast and crew along with behind-the-scenes filming and production details.

Information

Zenra Meshi Official Photobook -Our Recipes Start Here-
Release Date: June 23, 2023
Price: ¥3,850
Publisher: Tokyo News
*The book may be released on a different date depending on the area.

■Purchase Bonus
Amazon: Limited Edition Cover
We! Premium Limited Store: Photo (Shori Kondo)
Seven Net Shopping: Autographed Photobook (Shori Kondo or Yutaro)

<Notes>
*The start date and time for orders may vary depending on the store. Check each company's website for details.
*Purchase bonuses and limited-edition copies are available while supplies last.
*Additional retailers and special offers may be added in the future.
*Availability will vary by store. Please check with each location for details.

Official Photobook Release Event
Date: June 24, 2023
Venue: Tokyo
More details will be released later in TOKYO NEWS magazine&mook (https://zasshi.tv/)

ATARASHII GAKKO! Named as Ambassadors for NIKE Gamma Force

Nike's Gamma Force line, a modern interpretation of classic 80s sneakers, will be available at ABC-MART and ABC-Mart Online. To celebrate the launch, a new visual and collaborative video featuring the members of ATARASHII GAKKO! have been released.

In the video, the girls are seen performing a flashy dance while wearing shoes from the Gamma Force line. The featured song, SUKI LIEwas featured on the group's new EP ICHIJIKIKOKU and in standard ATARASHII GAKKO! style, the members express themselves freely while holding absolutely nothing back.

Information

ATARASHII GAKKO! x Gamma Force Bonus Campaign
Those who purchase shoes from the Gamma Force line at ABC-MART stores or online will receive original stickers featuring ATARASHII GAKKO! One sheet will include special edition stickers, including key visuals and illustrations of the members wearing Gamma Force and their signature socks.

Special Site
https://www.abc-mart.net/shop/e/e1000650w/

*One sticker sheet per purchase will be available while supplies last
*Bonus campaign begins May 11 both in stores and online
*The campaign will end once all stickers are gone

bala Releases Remix of 1st Single 'barla' Featuring BBY NABE

In March, the Tokyo-based girl artists and creators' collective bala released its first single, barla. On April 26, a remixed version of the track featuring BBY NABE was released on streaming services.

The song barla, produced by Shinichi Osawa (Mondo Grosso) and written by Kenmochi Hidefumi (Wednesday Campanella), first dropped on March 8. The song has been well-received for its stylish music video highlighting the unique backgrounds and interests of each member. The remix features BBY NABE, a bilingual rapper who is the same age as the members. His song PINK SWEET was a viral hit, and the artist is known for producing music across several different genres. barla (feat. BBY NABE) is an anthem for the current generation featuring the rapper's catchy flow over a dance tune that brings back the house sound of the late 90s.

Information

barla (feat. BBY NABE) – bala (Digital Single)
Release Date: April 26, 2023
Streaming URL: https://orcd.co/o6xar5r

FRUITS ZIPPER Holds First Anniversary Concert, Announce Appearance at the 'Sayonara Nakano Sunplaza Music Festival' in June

On May 4, the 7-member idol group FRUITS ZIPPER held the first Tokyo performance of their first-anniversary concert tour at Toyosu PIT.

Tickets for both the Tokyo and Osaka shows sold out immediately after they went on sale. To celebrate the first anniversary of the group's debut, the lucky fans who were able to snag tickets came together at Toyosu PIT.

In the year since their debut, FRUITS ZIPPER has skyrocketed in popularity, performing live at several idol festivals and some of Japan's largest fashion events, and successfully touring Tokyo, Nagoya, and Osaka. Their show at LINE CUBE SHIBUYA garnered incredible attention.

For the first anniversary concert, the stage was transformed by a special set and the member appeared in new never-before-seen costumes. They performed a total of 17 songs, and each member expressed their gratitude to their fans during the MC segments.

During the performance, it was announced that the group would perform at the Sayonara Nakano Sunplaza Music Festival on June 26. The venue, which has seen countless performances over its long history, will be demolished and replaced to commemorate its 50th anniversary. Fans are excited to see their favorite artists perform on this legendary stage, and many are curious to see how it will be transformed in the future.

FRUITS ZIPPER has also released the song Cho Medetai Song ~Konnani Shiawasede Iinokana? ~ (The Super Joyful Song ~Is It Okay to Be This Happy?~) on all major streaming services. The track was co-written by Sho Yamamoto, who wrote the group's hit song Watashino Ichiban Kawaiitokoro, currently with over 700 million views on TikTok, and Gento Miyano, who has written songs for numerous popular artists. The super-happy pop tune has a sound reminiscent of idol tracks from the 2000s and has been a smash hit at live shows, stirring the fans into a frenzy.

Information

<Sayonara Nakano Sunplaza Music Festival Performance Information>
Sayonara Nakano Sunplaza Music Festival
Date: June 26, 2023
Venue: Nakano Sunplaza (Tokyo)

Ticket information and additional information will be posted on the official FRUITS ZIPPER Twitter page(@FRUITS_ZIPPER)as it becomes available.

<Release Information>
FRUITS ZIPPER New Single
Cho Medetai Song ~Konna ni Shiawase de Iinokana?~
Streaming Date: May 4, 2023
Streaming URL: https://kawaiilab.lnk.to/CSKSI
Available on all major music streaming and download sites

1. Cho Medetai Song ~Konna ni Shiawase de Iinokana?~
2. Cho Medetai Song ~Konna ni Shiawase de Iinokana?~ -Instrumental-

<FRUITS ZIPPER Tour Information>
FRUITS ZIPPER Japan Tour 2023 AUTUMN
9/3 – Zepp Namba (Osaka)
9/5 – Zepp Nagoya (Aichi)
9/8 – Zepp Fukuoka (Fukuoka)
9/10 – BLUE LIVE HIROSHIMA (Hiroshima)
9/13 – PENNY LANE24 (Hokkaido)
9/16 – KT Zepp Yokohama (Kanagawa)

Kyary Pamyu Pamyu to Release 'CANDY CANDY (Moe Shop Remix), Artist to Perform Solo Concert at Hibiya Open Air Concert Hall in July

A Moe Shop Remix of Kyary Pamyu Pamyu's legendary song CANDY CANDY, originally released in 2012, will appear on streaming services on April 21.

Moe Shop is a DJ and trackmaker whose one-of-a-kind sound is influenced by French electronica and Japanese pop music. Having amassed a global following, the creator claims to be greatly influenced by Yasutaka Nakata, Kyary Pamyu Pamyu's producer.

CANDY CANDY (Moe Shop Remix) is the second remix to be released by the Harajuku star. In 2020, Ninja Re Bang Bang (Steve Aoki Remix) was released to massive fanfare. The new pop tune has a completely different vibe than the original, and fans won't want to miss it.

Recently, it was announced that Moe Shop would be performing as the opening act for the three U.S. dates of Kyary Pamyu Pamyu's POPPP world tour starting in May. The two artists will also be collaborating on a special YouTube Live, allowing fans from around the world to participate in the festivities. The jacket illustration for the single, created by illustrator Natsumi Yoshida, has also been unveiled.

After the world tour concludes, Kyary Pamyu Pamyu will hold a special solo concert on July 15 at the Hibiya Open Air Concert Hall. 'Kyary Pamyu Pamyu Special Live 2023 ~Midnight Sun~' will be held to commemorate the 100th anniversary of the venue.

Information

CANDY CANDY (Moe Shop Remix) – Kyary Pamyu Pamyu
Release Date: April 21, 2023
Streaming URL: https://moeshop.fanlink.to/candy-candy-remix-jp

<Solo Concert Information>
Celebrating 100 Years: Kyary Pamyu Pamyu Special Live 2023 ~Midnight Sun~
Date: July 15, 2023
Venue: Hibiya Open Air Concert Hall
Time: Open at 16:30 / Show starts at 17:30
*No admission for preschool-aged children

■Tickets
KPP Club Member Pre-sale: April 17, 18:00 ~ April 24, 23:59
URL: https://kyary.net
Front Block Reserved Seats: ¥9,900 (Tax Included) *Only available to KPP Club members, bonus merchandise included
General Reserved Seats: ¥5,500 (Tax Included)

Sponsor: Hibiya Open Air Concert Hall 100th Anniversary Executive Committee
Planning/Production: ASOBISYSTEM Co., Ltd.

Contact:
HOT STUFF PROMOTION
050-5211-6077
https://www.red-hot.ne.jp/

<World Tour Information>
Kyary Pamyu Pamyu WORLD TOUR 2023 -POPPP-
May 15 – New York|Webster Hall
May 17 – Los Angeles|The Novo
May 19 – Chicago|Anime Central
June 2 – Barcelona|PRIMAVERA SOUND 2023 Parc del Forum
June 5 – Paris|Cabaret Sauvage
June 7 – London|London EartH Hall
June 9 – PRIMAVERA SOUND 2023 Ciudad del Rock

Special Tour Website
https://wt2023.kyary.asobisystem.com/

ZEROTOKYO and ASOBISYSTEM Collaborate on ASOBIZA Party Event

ZEROTOKYO, an entertainment mecca known for heating up Tokyo nights, is teaming up with ASOBISYSTEM to create an exciting new party! ASOBIZA, named after the origin of Kabukicho, will be held on April 28.

The lineup includes music artists as well as charismatic figures at the top of their fields in fashion, beauty, and art. Transcending musical genres and generations, this night will embody ZEROTOKYO's concept of being a true "Entertainment Junction."

Additional performers may be announced in the future.

HARAJUKU COLLECTIVE, a Collaboration Between Hot Topic & Studio Ghibli, Gets Pop-Up Store at Shinsaibashi PARCO

Last year, the HARAJUKU COLLECTIVE collaboration appeared at AF Gallery in Harajuku from August 10 until August 28, garnering massive acclaim from fans. The collection is now being sold at Shinsaibashi PARCO until March 12, 2023.

HARAJUKU COLLECTIVE is a Studio Ghibli-inspired apparel collection by the popular American counterculture chain Hot Topic. Bringing more Japanese culture to the ongoing Studio Ghibli collaboration launched in 2014, Hot Topic stores began selling original items produced by nine Japanese creators and brands, as well as some original American items produced by Hot Topic's executive designers.

The lineup of Japan-original items includes T-shirts, tote bags, and other items featuring exclusive artwork by up-and-coming creators. These items depict beloved characters from Studio Ghibli's works, as well as logos created for the collaboration. Fans won't want to miss grabbing these unique items!

 

Details on the Previous HARAJUKU COLLECTIVE Pop-Up Store: https://www.moshimoshi-nippon.jp/ja/625747

Rilakkuma 20th Anniversary Cafe Be Held in Omotesando, Tokyo in March and April

To commemorate the 20th anniversary of Rilakkuma and his adorable friends, the Rilakkuma 20th Anniversary Cafe will open in Omotesando, Tokyo from March 9 until April 16, 2023. You'll want to come and spend a peaceful time looking back at two decades of everyone's favorite lazy bear!

The menu features colorful and festive dishes inspired by Rilakkuma, Korilakkuma, Kiiroitori, and Chairoikoguma. The characters express their thanks for 20 successful years, and fans can enjoy floats topped with Rilakkuma and friends wearing ribbons and topped with ice cream, a jelly soda inspired by Chairoikoguma and his friends in the honey forest, and a hot drink inspired by Rilakkuma's favorite pudding.

Menu

Rilakkuma's Honey Mustard Hamburger

コリラックマのクリームパスタ

Korilakkuma's Cream Pasta

Kiiroitori's Egg Burger

Chairoikoguma's Cheese Curry 

Rilakkuma and Friend's Celebratory Cake

Congratulatory Flower Parfait

You Can Choose♪ Rilakkuma and Friends Mini Ice Cream

You Can Choose♪ Rilakkuma and Friends Floats 

Honey Forest Jelly Soda

Relaxing Pudding Drink

Take-Out Drink Bottle

Original Merch

Acrylic Clip (7 varieties, random)

Acrylic Keychain (5 varieties, random)

Mini-Bottle / Muddler with Charm (4 varieties)

Lunch Tote / Drawstring Bag

Acrylic Stand with Clip / Cork Coaster

Stuffed Animal

In addition, the cafe will offer original goods, special offers, and a Twitter campaign to celebrate Rilakkuma's 20th anniversary.

Come enjoy the elaborate original menu and goods while sharing memories at this limited time themed cafe!

©2023 San-X Co., Ltd. All Rights Reserved.

Information

RILAKKUMA 20th Anniversary Cafe
Venue: BOX cafe&space Omotesando
Running: March 9 – April 16, 2023
Address: Pine Under Flat B1F (5-13-2 Jingumae, Shibuya-ku, Tokyo)
Reservation Fee: ¥715 (Tax included) *Reservations include bonuses.
*Reservations can be made for up to four guests per application.

Online Shop: https://rilakkuma20th-cafe.jp/online_store/
Sales Open: March 9, 15:00 – April 16, 23:59
(Items will ship starting in early May 2023.)
Official Site: https://rilakkuma20th-cafe.jp

Tokyo Diary Map #1: Actor Ryo Ogata Recommends Relaxing Spots in Tokyo

The new Tokyo Diary Map series aims to introduce readers to awesome spots in Tokyo that they might want to visit! Each entry features locations recommended by a single artist or talent, and fans will get to not only discover new places to visit in Japan's capital, but also get to learn more about the thoughts and feelings of these unique individuals.

The first participant in the Tokyo Diary Map series is Atsushi Ogata, a multi-talented TV personality and actor. Last year, he appeared as a beauty-concious man on Nippon TV's DANCING SANMA PALACE, spurring a major buzz by revealing his cosmetic routine. He's also a notable actor, having appeared in the papercraft theater company's 7th performance Sekai ga Asa wo Shiroutomo (Though the World May Know Morning), telling the story of a man and a woman, a couple of friends, and a certain woman "until morning."

 

  

-Tell us about your favorite spot in Tokyo!

"Daikanyama T SITE TSUTAYA. I feel like I can really relax there. I love being surrounded by my favorite fashion magazines, and no matter what magazine you pick up, they're all so exciting and educational. That's what I like about bookstores–you can pick up something you're not usually interested in and learn something new. It's the best."

Daikanyama T SITE TSUTAYA
16-15 Sarugakucho, Shibuya-ku, Tokyo
https://store.tsite.jp/daikanyama/

– How do you like to spend your time at Daikanyama T SITE TSUTAYA?

"I pick up a new book, find a seat, and take my time reading. I like people-watching and checking out people's fashion too. Also, there's a nice café called ivy place nearby, where I can read while having a relaxing cup of coffee."

Ivy Place

東京都渋谷区猿楽町16-15

https://www.tysons.jp/ivyplace/

 

-You studied fashion design in the United States. How did that experience influence you? How do you want to make use of that experience going forward?

 "Learning about fashion at art school was very inspiring. It was also very interesting to see how people with different ethnic backgrounds dress and to see their individual personalities. For example, I saw high school students wearing backpacks instead of using school bags. I just loved seeing people's unique fashion. It made me realize something that I still believe in to this day–that there's  nothing more beautiful than wearing what you like in your own way. I'd actually like to create my own clothing brand in the future, so I hope to put my high school fashion design studies to good use."

–Which apparel stores do you frequent?

I always peek into Dover Street Ginza!

Dover Street Ginza
Ginza Komatsu West Building (6-9-5 Ginza, Chuo-ku, Tokyo)
https://ginza.doverstreetmarket.com

-What fashion styles are you interested in lately?

"I like a lot of different genres, but lately I've been into chic styling, like pairing shirts and sweaters. I dream of dressing like Thom Browne. I want to try to buy at least one piece from his collection.

-You post a lot of illustrations on your Instagram. Do you usually like to draw? When do you lke to create? 

"I bought an iPad to draw because I really wanted something to do something new during COVID. For me, when I plan time to draw something, it never goes well, so I tend to just draw when inspiration suddenly strikes. I have no particular style, I just draw whatever I want!"

-What inspires you as someone so expressive? What has piqued your interest lately?

"I get inspiration from a wide range of different people. It could be people walking on the street, people on the train…lately, I've been meeting the most inspiring and wonderful people. Listening to their stories is what inspires me the most. Fashion inspires me, humanity inspires me, people's auras inspire me."

 

-Finally, please give a message to those who are planning on coming to Japan!

"Japan is just wonderful. It's the best. The food, the people, the scenery, all of it is incredible. Once you visit, you'll definitely want to come back. Please come and enjoy!" (Laugh)

ShowMinorSavage, Formed by SOTA and MANATO of BE:FIRST and Aile The Shota, Releases Long-Awaited 1st EP

ShowMinorSavage, a new unit formed by BMSG's Aile The Shota along with SOTA and MANATO from BE:FIRST, have released their first EP! ShowMinorSavage was added to all major streaming services on February 22, 2023.

The three artists met at a BMSG audition and immediately hit it off, sharing similar musical backgrounds and interests. Unsurprisingly, they formed ShowMinorSavage soon after.

Their unit name comes from their intention to transform minor acts in the music scene into major acts, showing how savage they can be. Their first EP was created with this idea very much in mind.

ShowMinorSavage / SUPER ICY (Prod. Chaki Zulu) -Music Video-

The EP features the first songs produced under the group name ShowMinorSavage, including No Cap Navy, a song sampled from SKY-HI's Nanairo Holiday created by the three members, and Thinkin' bout you, a dope hip-hop track expressing the member's love and featuring a vocal loop by TRILL DYNASTY. The groovy and extremely danceable song SUPER ICY was produced by Chaki Zulu.

The major debut of ShowMinorSavage is sure to create waves in the music scene, and you won't want to miss it!

Dance Vocal Group BALLISTIK BOYZ Release New Track 'Drop Dead' with Popular Thai Group TRINITY

BALLISTIK BOYZ, currently busy training in Thailand, released a new track titled Drop Dead feat. TRINITY on February 16. This marks the group's first time collaborating with a popular Thai artist, and to commemorate the occasion, the music video has also been released on the High Cloud Entertainment YouTube channel.

In September 2022, BALLISTIK BOYZ moved their base of operations to Thailand to realilze the group's motto of "music has no borders." The group has since appeared at a number of live events, including the OCTO POP FEST in October 2022 and the BIG MOUNTAIN MUSIC FES 12, one of the largest festivals in Southeast Asia.

Drop Dead feat.TRINITY – BALLISTIK BOYZ from EXILE TRIBE (Music Video)

Drop Dead feat. TRINITY was created following an encounter with TRINITY, a popular T-pop group that shares the same aspirations as the BALLISTIK BOYZ. The group is known for blending pop and rap with addictive Trap and EDM beats, and this new track shares the feelings many experience while chasing their dreams. Designed to give listeners a bit more fighting spirit, it's perfect for blaring when you need a pick-me-up.

The music video tells the story of how BALLISTIK BOYZ and TRINITY met in a foreign land, taking on the world stage and trying to make it where many challengers have lost their dreams and given up. Filmed in spectacular locations across Thailand, the video has plenty of cinematic flair.

Footage from the song's recording sessions can be seen on the New School Breakin', a brand-new reality show on High Cloud Entertainment's YouTube channel. Fans can also see the first collaboration performance between the two groups during the BIG MOUNTAIN MUSIC FESTIVAL 12.

Comment from BALLISTIK BOYZ

"We're proud to announce the release of our first international production, Drop Dead!!

 This time around, we collaborated with TRINITY, an incredible group from Thailand. Fusing together J-pop and T-pop, we're aiming to bring Japanese music to the rest of Asia, and from Asia, we want to spread to the rest of the world. This song really shows off our determination in the music, lyrics, and choreography!

This is our first attempt at completely English lyrics, and I think it gives a brand new feel to the BALLISTIK BOYZ. I hope you'll listen to it and check out the music video!

We'll continue to work hard to take this song to the next level, so please continue to support us!"

Information

Drop Dead feat.TRINITY – BALLISTIK BOYZ from EXILE TRIBE
Stream and Download: https://ldh.lnk.to/Drop_Dead_feat_TRINITY

New School Breakin' (Reality Show)
BALLISTIK BOYZ from EXILE TRIBE & PSYCHIC FEVER from EXILE TRIBE, who restarted their activities in Thailand aiming to be active on the world stage, will take on new challenges in the reality show New School Breakin'. Popular Thai actors and artists appear in the series, taking on tons of unique missions and challenges as the members of BALLISTIK BOYZ work towards achieving their dreams.

How to watch: https://youtu.be/uNLXPiln5tE