NAKED Infectious Disease Prevention Art Experience Now Open At Shibuya Hikarie
The creative company NAKED is hosting NAKED URANAI, an art experience that combines  AI, technology, and fortune telling. The exhibition will be held until August 27, 2021 in Tokyo at Shibuya Hikarie.
Infectious disease prevention has been transformed into art with the 12 NAKED TSUKUBAI astrological hand-washing experience and the CLEAN JUNGLE which incorporates aromas with natural antiviral effects.
Experience Areas
Divination: Western astrology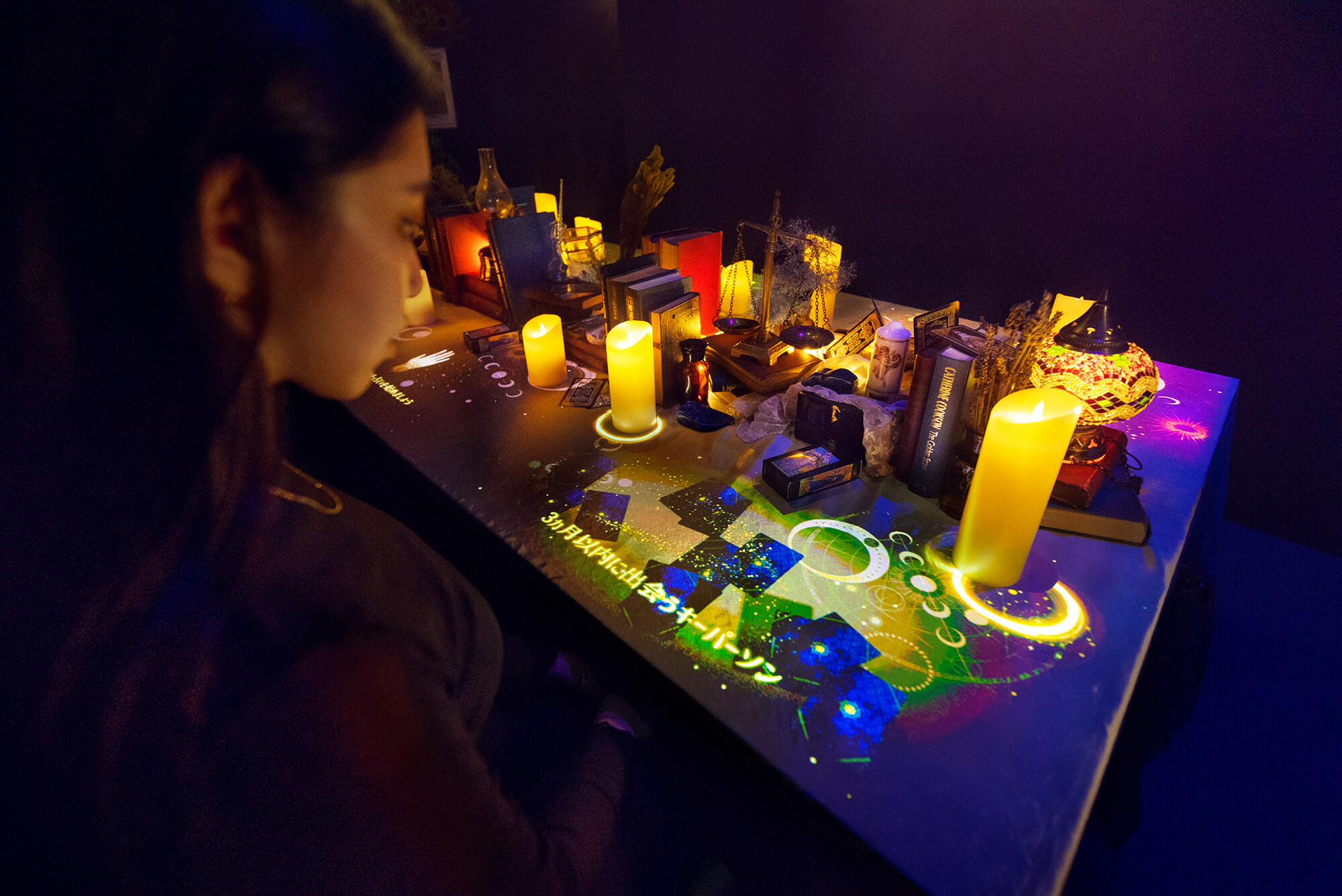 Divination: Tarot Cards
Divination: Dream deciphering
Divination: Numerology
Following last year's Nijō Castle Summer Festival 2020, NAKED have been focusing on the artistic side of disease prevention. Due to the current circumstances, NAKED URANAI, held at Shibuya Hikarie Hall B, has taken disease prevention measures to the next level while incorporating them into the experience:  The exhibit limits visitor numbers, requires reservations, has fully ventilated air, and the space is cleaned every 30 minutes.

NAKED TSUKUBAI was popularized in 2020, transforming hand sanitization into a work of art. The act of Tsukubai, or cleaning your hands in a basin before entering a tea room, has been updated by NAKED to suit the modern era. At the exhibit you can have your fortune told as you disinfect your hands, with one of 12 constellations being projected onto your palm.
CLEAN JUNGLE uses a natural tea tree scent, known for its antibacterial and antiviral properties, allowing you to cleanse your body and mind before having your fortune told.

Make sure to keep an eye on NAKED as they continue to evolve and adapt art for the new normal.
RELATED ENTRIES
teamLab Forest Fukuoka's Interactive Digital Art Installation Gets Autumn Theme

Starting September 23, teamLab Forest Fukuoka will be transformed for the autumn season! The interactive digital art installation will feature animals made entirely of fall foliage, and guests can enjoy red and orange leaves fluttering through the one-of-a-kind 3D world. 

teamLab's prolific works are known for changing with the seasons. This autumn version of the popular exhibition will only be on display for a limited time, and visitors can use their
smartphones in the Catching and Collecting Forest to catch and collect the animals on display! The forest and ocean scenery will change as you explore, and starting on September 23, the trees will begin to show off beautiful autumn colors.

In the Forest of Movement, guests can enter the 'Shifting Valley, Living Creatures of Flowers, Symbiotic Lives' exhibit, where creatures made of autumn flowers exist in a three-dimensional space. The space is meant to make guests think about the cycle of death and rebirth, as flowers blossom and die each and every year.

The 'Soft Terrain and Granular Topography' will display tons of colorful grains raining down on visitors, while the 'Flutter of Butterflies, Ephemeral Life' will change the usual butterflies to have autumn colors as they fly around guests. This is a kind of autumn scenery you can't see anywhere else, so be sure to come to Fukuoka during this beautiful season!

Information

teamLab Forest Fukuoka – SBI Securities Co., Ltd.

Venue: BOSS E・ZO FUKUOKA 5F (Next to Fukuoka PayPay Dome)

Address: 2 Chome-2-6 Jigyohama, Chuo-ku, Fukuoka

Official Site: https://www.teamlab.art/jp/e/forest/

NAKED Night Walk Art Project to Open at Famed Zuiganji Temple in Matsushima

Japanese creative company NAKED will hold a Night Walk event at Zuiganji Temple in Matsushima, located near one of the top three most scenic spots in Japan. The event will run from October 29 until November 23, 2022.

The NAKED Night Walk was created to revitalize hot spring resorts and other tourist spots during the pandemic. This special event will bring the illuminated experience to Zuiganji Temple, one of the Tohoku Region's most famous Zen temples. Guests will be invited to carry beautiful lanterns around the grounds, maintaining social distancing while enjoying the cool evening weather. These lanterns will cast one of three unique designs onto the ground below–a starry sky, a camellia flower, or a lotus. 

Guests can also enjoy NAKED's Flower Fortune Telling, pulling unique paper flowers from a massive wall, with each holding a personalized fortune. These flowers can then be tied to a nearby tree to further spread NAKED's art. You can also take home your flower as a souvenir!

The event will only run for a limited time. For more information including admission fees and hours, see the official website!

Information

NAKED Night Walk – Matsushima, Zuiganji Temple (National Treasure)

Address: Zuiganji Temple (Chonai-91 Matsushima, Miyagi District, Miyagi Prefecture)

Running: October 29 – November 23, 2022

Hours: Weekdays 17:00-20:00 / Fridays, Weekends, Holidays 17:00-21:00

Official Site: https://zuiganji.or.jp/

NAKED to Open DANDELION PROJECT for Peace in Umeda, Osaka

NAKED and Ryotaro Muramatsu's interactive art installation, the DANDELION PROJECT, is coming to Umeda, Osaka. The project aims to connect people around the world, stressing the importance of world peace. Those wanting to participate may do so from October 7 until October 9 at Umekita Sotoniwa Square. 

In July 2020, Umekita Sotoniwa SQUARE opened under a unique premise–it would be open for 1,000 days only. The outdoor area was inspired by cities of the future, featuring plenty of green space. The DANDELION PROJECT fits in perfectly with this concept, using modern technology and networking to create art that also serves as a universal prayer for peace. This is the second time the work has been exhibited in Osaka–it was shown in Nakanoshima during the Osaka Hikari no Renaissance 2021 event last December.

 

The DANDELION PROJECT is inspired by the idea of world peace and hopes to help transcend barriers and connect people in an increasingly divided world. So far, it has appeared in 25 locations–19 in Japan and six abroad. In Japan, it has popped up at Tokyo Tower, Nijo Castle, and other historical sites. Abroad, it has been shown in Paris, Singapore, San Francisco, and Shanghai. The piece aims to bring about change by planting (or installing) dandelion-inspired art around the world, while it invites people visiting these dandelion exhibits to send their prayers for peace as a digital flower in real-time. 

 

The exhibition will also be a satellite venue for NAKED GARDEN ONE KYOTO, a next-gen art project allowing guests to experience Kyoto virtually from September 15 until December 25, 2022.

Information

NAKED – DANDELION

Running: October 7 – October 9, 2022

Venue: Umekita Sotoniwa Square
*Open daily during event period
Hours: 18:00-21:00
Entry: Free
Official Site: https://sotoniwa-uk.com/ 

NAKED's Halloween Event Coming to Tokyo Tower for a Limited Time

Digital art collective NAKED will hold a special Halloween projection mapping show at Tokyo Tower! The Tokyo Tower City Light Fantasia ~Halloween Party 2022~ event will run from September 16 until October 31 on the 2nd floor of the tower's main deck. 

NAKED has collaborated with Tokyo Tower in the past to create shows inspired by the seasons. These incredible illuminations captivate audiences at night, and this fall, visitors will be captivated by autumn leaves dancing in the breeze along with silvergrass swaying and the sound of chirping insects. The scene will eventually change into something more spooky–a ghost will appear alongside witches, bats, and pumpkins! The main deck will be enveloped in Halloween colors perfect for a fall photoshoot!

Information

TOKYO TOWER CITY LIGHT FANTASIA ~Halloween Party 2022~

Venue: Tokyo Tower Main Deck (150m), 2F North Side Floor
Running: September 16 – October 31, 2022
Hours:
September 16 – September 30 / 18:00-Close
October 1 – October 31 / 17:30-Close
Entry: Guests can enjoy the main deck for only the price of entry to the observation deck.

Home Cooking Themed Yowamushi Pedal LIMIT BREAK Collaboration Cafe to Open in Shibuya

Fans of Yowamushi Pedal won't want to miss this special collaboration! Chugai Grace Cafe, located on the seventh floor of Shibuya MODI, will be running the Yowamushi Pedal LIMIT BREAK cafe from September 22 until October 17, 2022.

Collaboration Menu

Sakamichi Onoda and Sangaku Manami's Udon & Onigiri Plate 


Yasutomo Arikita and Kuroda Yukinari's Hamburger & Salad Plate

Hayato Shinkai's Chocolate & Banana Mini Parfait

Sohoku High School Mango Whipped Cream & Calpis Drink

Hakone Academy Mint Whipped Cream & Calpis Drink

Goods

Pin (Random Holographic included, 9 varieties)

Acrylic Figure Stand (9 varieties)

Pin, Mini Character Ver. (Random Holographic included, 16 varieties)

Acrylic Stand (16 varieties)

Table Plate (9 varieties)

Shoulder Bag

Menu Order Bonus / Online Preorder Bonus

Coaster (1st Half): September 22 – October 4, 2022

Coaster (2nd Half): October 5 – October 17, 2022

The collaboration cafe focuses on dishes you may find at home, such as udon, onigiri, and even a chocolate banana mini parfait as a dessert. New original goods with exclusive illustrations will also be available for purchase!

©渡辺航(週刊少年チャンピオン)/弱虫ペダル05製作委員会

Hotel Gajoen Tokyo Displays India-Ink Painting from the Film 'Sen wa, Boku o Egaku'

From October 1 until November 27, Hotel Gajoen Tokyo will hold a special event in conjunction with the film Sen wa, Boku o Egaku. Visitors to the hotel's historic One Hundred Steps Staircase will be surrounded by a world of color and paintings made from India Ink.

Fisherman and Woodcutters Room with Colored Wood Carvings

Grapevine, Hiromasa Togami.

Atelier (Image courtesy of Toho)

The coming-of-age story Sen wa, Boku o Egaku won 3rd place in the 2020 Honya Taisho and the 2019 TBS King's Brunch Book Grand Prize. The book received rave reviews from booksellers nationwide and has now been adapted into a live-action film by Norihiro Koizumi, best known as the director of the Chihayafuru film adaptation. The film will be released on October 21, 2022. As a tie-up project with the film, the One Hundred Steps Staircase, a Tangible Cultural Property of Tokyo built in 1935, will be the setting for an incredible display of paintings that appear in the film.


Information

Sen wa, Boku o Egaku at the One Hundred Steps Staircase
~The World of India-Ink Filled with Color~

Running: October 1 – November 27 *Open daily during event period
Hours: 11:00-18:00 (Last entry at 17:30)
Venue: Hotel Gajoen Tokyo, One Hundred Steps Staircase (Tangible Cultural Property of Tokyo)
Tickets/Details:
https://www.hotelgajoen-tokyo.com/100event/senwabokuoegaku

teamLab to Hold Solo Exhibition at Seoul's Pace Gallery

Art collective teamLab will hold a solo exhibition at Pace Gallery in Seoul from September 2 until October 29, 2022. Titled 'teamLab: Massless Suns,' the exhibition will mark the opening of the expanded gallery space at the internationally-recognized art landmark. The collective will also be unveiling a new work, Massless Suns and Dark Spheres, in which countless light and dark objects without boundaries fill the space around guests.

Massless Suns and Dark Spheres

Dissipative Figures – Human

Dissipative Figures – 1000 Birds

 

As visitors stare into the strange balls of light and darkness, it will seem as though the space around them is warped. If you reach out to try to touch the light spheres, they will shine brighter, and the orbs around them will respond in succession. The work questions the nature of existence and relies entirely on visitor perception.


Continuous Life and Death at Now of Eternity II

Waves of Light

Resonating Microcosms – Solidified Light Color, Sunrise and Sunset

In March, the Pace Gallery opened a new exhibition space dedicated to experimental and immersive interactive works. Those familiar with teamLab will recognize some of their most popular works appearing during the exhibition, including the Dissipative Figures series and Waves of Light. 

In the newly-opened outdoor courtyard, the work 'Resonating Microcosms – Solidified Light Color, Sunrise and Sunset' will be on display, constantly transforming due to wind and rain, as well as influence from guests. A new concept work, 'Solidified Light Color,' will shine with 61 colors, inviting the environment and visitors to become a part of the art itself.

 © チームラボ

Information

teamLab: Massless Suns
Running: September 2 – October 29, 2022
Venue: Pace Gallery Seoul (267 Itaewon-ro, Yongsan-gu, Seoul)

Kuroko's Basketball Cafe to Open at Chugai Grace Cafe in Shibuya

From August 26 until September 18, Chugai Grace Cafe at Shibuya MODI will hold a special collaboration cafe with the popular series Kuroko's Basketball!

Menu at a Glance

Ryota Kise's French Onion-style Carbonara

Daiki Aomine's Teriyaki Burger over Rice

Shintaro Midorima's Lucky Monaka

Tetsuya Kuroko's Vanilla Shake

Atsushi Murasakibara's Violet Blueberry Water

 

Goods

Pin (Cafe ver.)

Type A (7 varieties)

Type B (7 varieties)

Mini Acrylic Stand (Cafe ver.)

Type A (7 varieties)

Type B (7 varieties)

Nametags (Cafe ver.)

Type A (7 varieties)

Type B (7 varieties)

Mini Bromide (Cafe ver.)

Type A (7 varieties)

Type B (7 varieties)

Holographic Sticker (Cafe ver., 14 varieties)

Clear Case (Cafe ver.)

Menu Order Bonus: 1 Coaster (28 varieties, random)

Web Order Bonus: 1 Coaster 

Fans of the series will be able to sample a number of unique dishes inspired by characters from Kuroko's Basketball. Original goods featuring newly-drawn cafe-inspired illustrations will also be available, and guests will be able to enter a drawing to win a one-of-a-kind tapestry.

© 藤巻忠俊/集英社・黒子のバスケ製作委員会
©「黒子のバスケ」アニメ10周年プロジェクト

Information

Kuroko's Basketball x Chugai Grace Cafe

Running: August 26 – September 18, 2022
Venue: Chugai Grace Cafe, Shibuya MODI 7F
Reservations Now Available
Details: https://chugai-grace-cafe.jp/collaboration/kurobas/

*Priority for admission will be given to customers with reservations. Same-day seatings will be available depending on availability. See the official website for more details.

*All measures to protect guests against COVID-19 are outlined on the official website.

*Contents are subject to change without notice. We apologize for any inconvenience. 

Web Sales:
Chugaionline: https://chugai-grace-cafe.jp/collaboration/kurobas/
Order Period: September 27 – October 4 at 23:59
Shipping Date: November 2022

Official Site: http://www.kurobas.com/

NAKED Exhibition Inspired by Tea Master Sen no Rikyu Opens at 21st Century Museum of Contemporary Art in Kanazawa

NAKED's newest work, inspired by Sen no Rikyu, has opened at the 21st Century Museum of Contemporary Art in Kanazawa! The exhibition will run through September 3 and blends physical art pieces found in the museum with the Metaverse. 

NAKED's first exhibition at this popular Kanazawa Museum brings visitors a modern version of chanoyu, or the 'Way of Tea.' This year marks the 500th birthday of Sen no Rikyu, a historical figure who had a significant influence on the tea ceremony still found in Japan today. NAKED wants to honor his contribution to shaping this massive part of Japanese culture. Visitors are invited to a traditional tea ceremony room, but the experience itself has been modernized by NAKED. This unprecedented art exhibition allows both those who know nothing about Sen no Rikyu and those who know him well to experience his philosophy and aesthetics in an entirely new way.

Gate: Greetings from the Master

Open-air: The Crossroads of this Transient World

Wash Basin: Where the Four Seasons Float

Dry Landscape Garden: The Teachings of Rikyu

Tea Whisk: "Make a Good Tea for your Guest."

Hanging Scroll: The Master's Memories

Small Room: Evolution

Tearoom: The End and the Beginning

NAKED Fuji Canele

Tsukubai, or a low stone basin filled with water, is used to cleanse the hands before entering a tearoom. Using interactive art, the water's surface is covered in digital flowers that blossom when a guest's hands pass over the basin. 

In the 'Small Room: Evolution' area, guests will find the Sustainable Contemporary Golden Tearoom, which was created by NAKED staff together with sixth graders using golden trash collected at Kanazawa University Elementary School. The calligraphy on display in the tearoom was also done by children, with the best creations selected to be included in the exhibition. The scent was produced by EarthRing, an aroma brand located in Hakusan, Ishikawa Prefecture. The 'Tea Whisk' area offers a unique experience for all five senses, including the scent of matcha, which guests can smell when they mimic the act of prepping tea. 

In addition, guests can purchase special NAKED Fuji Canele and a Kutani ware Original Tumbler with special tea-inspired motifs. The Canele is a triple collaboration with Fukumitsuya, the oldest sake brewery in Kanazawa, so don't miss out!

Information

NAKED Meets Sen no Rikyu

Venue: 21st Century Museum of Contemporary Art, Kanazawa, Civic Gallery B
(1-2-1 Hirosaka, Kanazawa, Ishikawa)

Running: August 6 – September 3, 2022
*For more information about tickets, please visit the official website.
Tickets / Details: https://meets.naked.works/kanazawa21/

teamLab Opens Art-Filled Nighttime Botanical Garden Exhibition in Osaka

Art collective teamLab will open a permanent nighttime exhibition at the Nagai Botanical Garden in Osaka starting July 29, 2022. On-site video footage shows off several new works, such as Sculptures of Dissipative Birds in the Wind, a digital work impacted by the environment. Birds flying around the work and the wind's strength impact how the art moves.

Life is Flickering Light Floating in Darkness – Sunflowers

In summer, 20,000 sunflowers bloom in the Life Garden, where seasonal flowers are transformed into an interactive space filled with illumination. This was opened to the public for a limited time to celebrate the exhibition's opening and will be open until August 5.

The Nagai Botanical Garden covers 240,000 square meters and is home to roughly 1,200 species of plants. teamLab has transformed the space, with the digital art pieces changing according to the behavior of guests. 

In the future, teamLab plans to introduce seasonal works, making use of plants that bloom in spring, summer, fall, and winter.

Resonating Microcosms in the Common Camellia Garden – Liquified Light Color, Sunrise and Sunset

Floating Resonating Lamps on Oike Lake

teamLab's art project Digitized Nature explores how nature can become art. The concept of the project is that non-material digital technology can turn nature into art without harming it.





Field of Light Color – Muhlenbergia Capillaris

 

teamLab Botanical Garden Osaka is a botanical garden by day and an art space by night. The art space transforms interactively, influenced by wind and rain, as well as by the behavior of the people and birds in it. People become a part of the artworks along with nature, and a part of the long continuity of time. The artworks, people, and nature; the self and others; the past, present, and future; all form a continuity without boundaries.

Come soothe your soul in the heart of Osaka.

©チームラボ

Manga Series 'Eren the Southpaw' Hijacks Reebok Harajuku and Shibuya Stores

Reebok has appointed a number of popular artists in Japan and abroad to take part in their new campaign titled 'Life is Not a Spectator Sport -Move, Move!-' This collaboration started in March 2022.

 

As a part of this collaboration, Reebok is teaming up with the manga series Eren the Southpaw. Kappa's popular ensemble drama highlights a number of creators, and has a very poignant tagline: "To all those who couldn't become geniuses." Reebok's brand message matches this and is meant to be a manifesto for life, telling people to never give up, act on their own convictions, and find their own path. 

Reebok Classic Store – Harajuku Interior

Stickers / Pins

Original Scene from Eren the Southpaw 

To commemorate the release of Reebok's flagship model INSTAPUMP FURY 95 in Sax Blue, a huge piece of window art was redrawn by Kappi. The artist also provided an original manga featuring an entirely new story. Fans can find this at the Reebok Classic Store Harajuku and on the official Reebok Twitter page. The Reebok stores in Harajuku and Shibuya have also been completely taken over by Eren the Southpaw, completely decorated from top to bottom in images from the series. 

teamLab Botanical Garden in Osaka Debuts Illuminated Nighttime Sunflower Field and More

Art collective teamLab will open a permanent nighttime exhibition at the Nagai Botanical Garden in Osaka starting July 29, 2022. Tickets for teamLab Botanical Garden Osaka are on sale now at the official website, and a new group of exhibits take full advantage of the beautiful setting. In summer, 20,000 sunflowers bloom in the Life Garden, where seasonal flowers are transformed into an interactive space filled with illumination. As the flowers change each season, so will the art.

Resonating Microcosms in the Common Camellia Garden – Liquified Light Color, Sunrise and Sunset 

Life is Flickering Light Floating in Darkness – Sunflowers

Other works on display include Life is Continuous Light – Bald Cypress and Life is Continuous Light – Crepe myrtle, both taking advantage of the natural environment. The 240,000 square meter park will be completely transformed, with the digital art pieces changing according to the behavior of guests. More exhibits will be added in the future.

Crepe myrtles at Nagai Botanical Garden

Nagai Botanical Garden opened in 1974, and had its reopening on April 1, 2022 following extensive efforts to create an environment where plants can thrive and grow into the future, involving tree thinning, replanting of trees in anticipation of root growth, and soil improvement.

Nagai Botanical Garden's Bald Cypress

 

teamLab's art project Digitized Nature explores how nature can become art. The concept of the project is that non-material digital technology can turn nature into art without harming it.

Floating Resonating Lamps – One Stroke

Universe of Fire Particles – Secondary Forest

teamLab Botanical Garden Osaka is a botanical garden by day and an art space by night. The art space transforms interactively, influenced by wind and rain, as well as by the behavior of the people and birds in it. People become a part of the artworks along with nature, and a part of the long continuity of time. The artworks, people, and nature; the self and others; the past, present, and future; all form a continuity without boundaries.

Come visit another dimension right in the heart of Osaka!

©チームラボ