Chibi Maruko-chan x ITS'DEMO First Collaboration Merch Announced
Long-running Nippon Animation series Chibi Maruko-chan and women's lifestyle store ITS'DEMO have announced their first collaboration! 
Product List
Two unique prints were used for this collaboration, featuring our favorite elementary schooler Chibi Maruko-chan and her classmates surrounded by a gorgeous oriental floral design. The original author of the series, Momoka Sakura, will also have some works featured in the collection!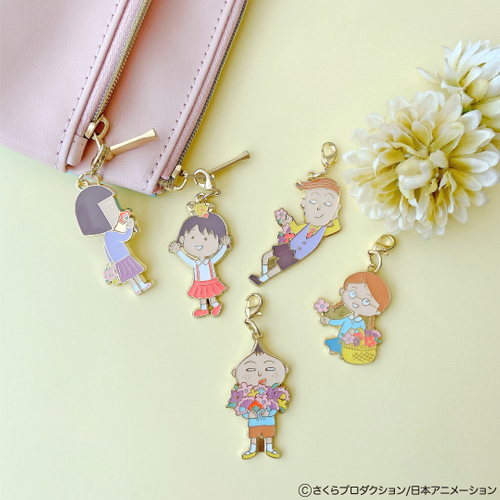 Seventeen original items will be available for purchase at ITS'DEMO shops nationwide beginning August 10, 2021, while the ITS'DEMO online shop will have the items in stock starting August 17, 2021. 
This release is sure to bring you back to your childhood, filling you with warm and fuzzy nostalgic feelings. Be sure to check it out, and let us know which products you like the most! 
RELATED ENTRIES
Attack on Titan Collaborates with Tobu Zoo on New Sketchbook, Other Products

The online commerce site ARMA BIANCA has opened preorders for some collaborative products between Attack on Titan and the Tobu Zoo.

Tobu Zoo, located in Saitama, combines a zoo, an amusement park, numerous gardens, and more. A new sketchbook is available as part of this collaboration and is perfect for amateurs and professionals. The brand is one of the most popular art brands in Japan.


Collaborative Sketchbook: ¥935 (Tax Included)

Three designs are available, featuring Eren, Levi, and a group shot of Eren, Jean, Erwin, and Levi. Featuring a rough texture, the pages are rough and durable and are perfect for watercolor. Fans can use it as a notebook too!

A BATHING APE and Reebok Release New Collaboration Collection

The newest collection between BAPE and Reebok is introducing two new unique pieces of footwear, bringing together the best of both brands. The new kicks are now on sale at participating stores around Japan, as well as the Reebok Online Shop.

A BATHING APE, one of Japan's leading streetwear brands, and global fitness brand Reebok, headquartered in Boston, have come together for the CLUB C and INSTAPUMP FURY sneakers. This isn't the first time the two companies have released some awesome products, and it most likely won't be the last.

 

The distinctive graphics and detail found in BAPE products have been fused with Reebok's signature design to create an iconic silhouette.

BAPE® x Reebok CLUB C

BAPE® x Reebok COLOR CAMO CRAZY INSTAPUMP FURY

The CLUB C 85 sneakers feature new red and blue stitchwork and the BAPE STA logo on the side panel. The INSTAPUMP FURY shoes feature an asymmetrical BAPE camo design perfect for street-savvy fashionistas.

The collaboration campaign features popular R&B singer Bryson Tiller, labelmate and rapper Pardison Fontaine, singer and MC Ryan Trey, and singer Nia Sultana. The photography was handled by Bryson's longtime collaborator Ro.Lexx.

gelato pique Announces First Collaboration Collection with EAMES OFFICE

Popular loungewear brand gelato pique has started selling nineteen new items in collaboration with EAMES OFFICE Los Angeles. These unique pieces are available at participating locations nationwide, the official online store, and USAGI ONLINE.

Geometric Series

Logo Jacquard Series

Chair Motif Series

T-shirts

Pieces include those from the Geometric Series, which uses recycled yarn for environmentally-friendly products, and the Logo Series, which sport the bold EAMES logo across the front. Each item is light and comfortable to fit with the usual gelato pique feel. 

The Chair Motif Series, decorated with famous chairs and birds, is made of 100% environmentally friendly cotton. The T-shirts are also made of recycled material. 

AAPE and TOMMY JEANS Release Second Collaborative Collection

AAPE and TOMMY JEANS have teamed up for a second collaboration collection! Combining the style and tastes of both brands, these pieces are largely inspired by skateboarding and street culture, and fans can snag a number of winter pieces, accessories, and collectibles.

The collection's color palette of red, white, blue, and green promise something for everyone. The main looks include the original CAMO jacket, a 2-in-1 checkered Sherpa fleece windbreaker, a classic flag denim jacket, and a reversible vest. 

 

The campaign will also feature four New York skaters: Kyota Umeki, Lucinda Jacobson, Brandon James Scott, and Hank Korsan. The four will be shown in a documentary-style series as they race past the city's famous landmarks in the Lower East Side and Brooklyn's Brighton Beach. 

Starting on January 18, 2022, the AAPE store in Shibuya will offer an original skateboard deck as a first-come, first-served gift to those spending over ¥50,000 on Tommy x AAPE items!

Globally Popular Netflix Series 'Squid Game' Gets Collaboration Collection with BAPE

BAPE has begun selling a new collaboration collection with the popular Korean Netflix series Squid Game.

Premiering in September 2021, Squid Game has become one of the most popular Netflix series of all time around the world. Fans immediately latched on to its innovative setting, in which well-known children's games like tug-of-war and marbles have been transformed into battle royale's with only one player left alive. 

The collaboration between Squid Game and BAPE includes a number of t-shirts inspired by scenes from the show. Preorders are now open until 14:00 on January 31, 2022.

BAPE®×SQUID 

APE HEAD TEE

BABY MILO®️ TEE

RAGLAN TEE

 

The main character's number, '456,' is featured prominently in the new collection, along with other graphic tees. Fans shouldn't miss out before they're gone!

Information

BAPE®×SQUID 

Preorders Open Now

Where to Order: BAPE.COM, Netflix.shop

*Preorders close on January 31, 2022 at 14:00

Details: https://bape.com/pages/squidgame

X-girl Announces Collaboration Collection with Horror Manga Artist Kazuo Umezu

Since its early days, women's streetwear brand X-girl has offered easy and timeless items for every kind of girl. Starting January 21, the apparel brand is teaming up with horror manga legend Kazuo Umezu for a new collection of wearable items! This coincides with Umezu's Art Exhibition celebrating his huge body of work including The Drifting Classroom and Makoto-chan. 

THE GREAT ART EXHIBITION S/S TEE

MY NAME IS SHINGO S/S TEE

FACE S/S TEE 



The collection will include three T-shirt designs, including one design being shown for the first time. One graphic was drawn by Umezu exclusively for the collection as well!

Information

X-girl x Kazuo Umezu
Release Date: January 21, 2022
Participating Stores: X-girl store, X-girl Osaka, X-girl Nagoya, X-girl Fukuoka, Online Store
X-girl Stores:  https://x-girl.jp/stores/
X-girl Official Online Store (Calif): https://calif.cc/pages/xgirl

Mister Donut Collaborates with Belgian Royal Chocolate Brand Wittamer

Mister Donut locations nationwide are now selling products from the 'misdo meets Wittamer' collection, developed in collaboration with the Belgian royal patisserie brand Wittamer. These tasty treats will be available at participating shops until late February. 

Since 2017, under the brand slogan "Good Things Come to Mister Donut," the brand has collaborated with a number of companies from around the world to invigorate its already delicious selection of sweets. To start 2022, the beloved donut chain is teaming up with Wittamer to bring their 'Chocolat Samba' and 'Praline Chocolat' to customers throughout Japan.

The newly-developed chocolate donut batter is made by applying the same method to make cakes to donuts, creating a light mouthfeel very much like taking a bite of chocolate cake. By combining it with ganache cream and whip, the flavor becomes even richer. It might be difficult to take a bite of something so beautiful, but if you're near a Mister Donut, you should give these a try before they're gone!

misdo meets Wittamer Collaboration

Chocolat Samba: ¥200 (Without Tax)
The donut's chocolate dough is covered with ganache cream and filled with ganache whip. Pay close attention to the glossy texture inspired by the Chocolat Samba cake.

Chocolat Hazlenut: ¥200 (Without Tax)
Covered in graham cracker hazelnut cream and filled with ganache whip, the cocoa powder on top takes the flavor to new heights.

Chocolat Caramel: ¥200 (Without Tax)
Caramel mocha cream and ganache blend together with caramel chocolate and nuts for a decadent and luxurious treat.

Chocolat Blueberry: ¥200 (Without Tax)
Chocolate dough and blueberry jam blend seamlessly with ganache cream. Topped with raspberry-flavored chocolate flakes, this is a showstopper.

Information

misdo meets Wittamer Collaboration

Running: January 7 – Late February 
Available at Participating Mister Donut Locations Nationwide

Official Site: https://www.misterdonut.jp

Otome Game Tears of Themis Inspires Limited-Time Cafe in Ikebukuro

From January 14 until February 6, Ikebukuro Sunshine City's E-DINER will feature a special menu inspired by the MiHoYo otome game Tears of Themis. 

Original Food Menu

Minase's Orange Pancakes: ¥990 (Tax Included) / Sakyou's Omurice with Handmade Tomato Sauce : ¥1,100 (Tax Included) / Moritsuki's Avocado Sandwich: ¥1,100 (Tax Included) / Izumi's Fresh Blueberry Parfait: ¥990 (Tax Included)

Original Drink Menu

Non-alcoholic Cassis Orange / Hot Blended Coffee / Matcha Cream Latte / Violet Jelly Soda: ¥880 each (Tax Included)

Purchase Bonus

Guests will receive one random coaster (9 varieties) for each food or drink order.

Merchandise

Acrylic Stand: ¥1,320 each (Tax Included)

Chibi Character Acrylic Stand: ¥1,100 each (Tax Included)

Holographic Pins: ¥550 (Tax Included)

A4-sized Clear Folder Set: ¥770 (Tax Included)

Mug: ¥1,650 (Tax Included)

Masking Tape: ¥440 (Tax Included)

SNS-style Clear Sheet: ¥330 (Tax Included)

B2-sized Tapestry: ¥3,300 (Tax Included)

Canvas Art: ¥4,400 (Tax Included)

Blanket: ¥5,500 (Tax Included) / On sale starting January 24

Aomori's Be Easy Brewing and UNITED ARROWS Release Collaborative Craft Beer

UNITED ARROWS has released its first craft beer in collaboration with Be Easy Brewing, located in Hirosaki City, Aomori Prefecture. The brew is available at the UNITED ARROWS BOTTLE SHOP, which sells select alcoholic beverages from both Japan and abroad. 'Apple Pie Ala Mode' went on sale starting January 2 at the UA BAR on the first floor of the UNITED ARROWS Harajuku flagship store, H BEAUTY AND YOUTH, and the California General Store. 

Be Easy Brewing offers a selection of unique and constantly changing beers using ingredients found in Aomori like apples, strawberries and Tsugaru rice. From IPAs to wheat ales, the company is always experimenting with different styles. This strange collaboration was born after UNITED ARROWS expressed a fascination with the high quality and incredible taste of Be Easy Brewing's beers.

'Apple Pie Ala Mode' is a Berliner Weisse with a slightly sour taste combining apple juice, cinnamon, and vanilla. 

Information

Apple Pie Ala Mode
Price: ¥770 (Tax Included)
Size: 350ml
ABV: 5.5%
Where to Buy: UA BAR(UNITED ARROWS Bar Harajuku 1F), H BEAUTY AND YOUTH, California General Store

※The UA BAR will serve the beer on draft for a limited time.
※There will be no lottery for in-store sales. The beer will be available to purchase starting January 2, 2022.
※Available while supplies last.

IDOLiSH7 Celebrates Second Album Release with Tower Records 'NO ANiME, NO LiFE' Collab Campaign

Popular vocal group IDOLiSH7 is celebrating the release of their second album 'Opus' with Tower Records. The 'IDOLiSH7 x NO ANiME, NO LiFE' collaboration campaign will be underway from January 11 until January 24 at Tower Records and TOWERmini locations, as well as Tower Records Online.

IDOLiSH7 is a 7-member male idol group consisting of Iori Izumi, Yamato Nikaido, Mitsuki Izumi, Tamaki Yotsuba, Sogo Osaka, Nagi Rokuya, and Riku Nanase. 'Opus' was released on January 12, and contains recent tracks such as THE POLiCY, the theme song for the third season of the IDOLiSH7 anime series. Two brand-new songs are included on the album, so fans shouldn't miss it!

As part of the collaboration, special posters will be displayed in stores, and band member Riku Nanase will be in charge of the in-store announcements. Those who purchase the album will receive a special receipt featuring a message from the members, and designs will vary from store to store. Nine locations will also be displaying standee panels of the members, perfect for a photo spot!

IDOLiSH7 × NO ANiME, NO LiFE. Special Collaboration Poster

Collaboration Poster


Running: January 11 – January 24, 2022
Locations: Tower Records and TOWERmini locations *Not posted at Vivre Yokohama, Nagoya PARCO, and TOWERmini Morinomiya Q's Mall

Nanase Riku In-store Announcements

Running: January 11 – January 24, 2022
Broadcast Locations: All Tower Records and TOWERmini stores *Excluding Vivre Yokohama, Nagoya PARCO, and TOWERmini Morinomiya Q's Mall


https://www.youtube.com/user/TowerRecordsJapan

Special Receipts

Special Receipt 

A total of seven types of special receipts will be available, with participating members varying by store.
Available: January 11 – January 24, 2022
Applicable Product: IDOLiSH7 – 'Opus' 

Standee Panel Exhibition

Standee panels of IDOLiSH7 members will be on display at participating stores. The members on display will differ depending on the store.
Running: January 11 – January 24, 2022

Tower Records Original Bonus

Oversized Postcard



One oversized postcard will be given for each eligible purchase.
Participating Locations: Tower Records, TOWERmini, Tower Records Online
Applicable Product: IDOLiSH7 – 'Opus' 

Tower Records Exclusive Online Lottery Campaign

Mini Signboard

Cheque-style Card


10 winners will be selected by lottery.
Purchase Deadline: January 24 at 23:59
Applicable Stores: Tower Records Online
Applicable Product: IDOLiSH7 – 'Opus' 

Newly-Released Products

Limited Edition A

Limited Edition B

Standard Edition

New Collection Announced Between AAPE BY A BATHING APE and Minecraft

AAPE and Minecraft have teamed up to launch a new men and kids apparel collection on January 1, 2022. The main graphic used to promote the project combines elements from Minecraft's blocks and pixels and AAPE's Moonface.

Lineup

Pullover Hoodie (Camo)

Pullover Hoodie

Crewneck #1

Crewneck #2

T-shirt #1

T-shirt #2

Kids T-shirts

Kids Crewnecks

The collection items feature characters from the popular game including Steve, Alex, and the Creepers, along with AAPE's classic camo design. This is the first time that AAPE's recognizable design scheme has been combined with video game characters.

Men's and kid's sizes are available, making this the perfect collection for families who game together!

KEITA MARUYAMA and Sumo Wrestler Chiyonofuji Announce First Collaboration

Designer KEITA MARUYAMA has launched the first in a series of collaborations with the Chiyonofuji Project at the pop-up event 'KEITA MARUYAMA Lucky Charms Market' at Ginza Mitsukoshi. The items are also available at the KEITA MARUYAMA Official Online Store.





Chiyonofuji Mitsugu, nicknamed 'The Wolf,'  was a professional sumo wrestler and the 48th yokozuna of the sport. Yokozuna is the highest rank one can achieve, and during his 21-year career, Chiyonofuji set records for most career victories and most wins in the top division, which earned him an entry in the Guinness World Records. The embroidery used in the new collection was supervised by Sawako Sakai, the creator behind the accessory and bag brand wild rose hips. These pieces will include cashmere blend organic cotton knitwear, velvet embroidered drawstring bags, and more.

On January 2, 2022, KEITA MARUYAMA and Chiyonofuji's son Go Akimoto, welcomed customers at the Ginza Mitsukoshi store.

Message from Go Akimoto, Chiyonofuji Project

When KEITA asked me to collaborate with him, I instantly said "Yes!" Instead of the typical streetwear designs that have been made under the Chiyonofuji brand in the past, these couture-like designs use embroidery, which is KEITA MARUYAMA's specialty. These products are like rare art pieces. I hope that tons of people will come visit the shop. 





Message from Designer KEITA MARUYAMA

Chiyonofuji was one of the biggest stars of the Showa era. Our generation was so enthralled by his incredible sumo skills, his figure, and his charm. We called him 'The Wolf,' and he inspired us. I'm so happy to be able to collaborate like this after all these years. I think everything turned out wonderfully, and the embroidery is top-notch.

Information

KEITA MARUYAMA × Chiyonofuji First Collaboration
Release Date: December 29, 2021 

Where to Buy: Ginza Mitsukoshi 1F Promotion Space 'KEITA MARUYAMA Lucky Charms Market' (4-6-16 Ginza, Chuo-ku, Tokyo)
KEITA MARUYAMA Official Online Store

Online Store / Official Site: https://www.keitamaruyama.com