Special Area for Doraemon Tokyo Banana Opens in JR Tokyo Station
Popular souvenir brand Tokyo Banana is celebrating 30 years! These tasty treats are a must-buy for those visiting Japan, and now, a familiar face will be popping up at a special area in the JR Tokyo Station Tokyo Banana shop: Doraemon Tokyo Banana Tokyo Station opens on August 6, 2021. Our favorite blue robot-cat just turned 50 in 2020, and this is the perfect way to celebrate!
Doraemon Tokyo Banana 'Found it!' 
Shop Image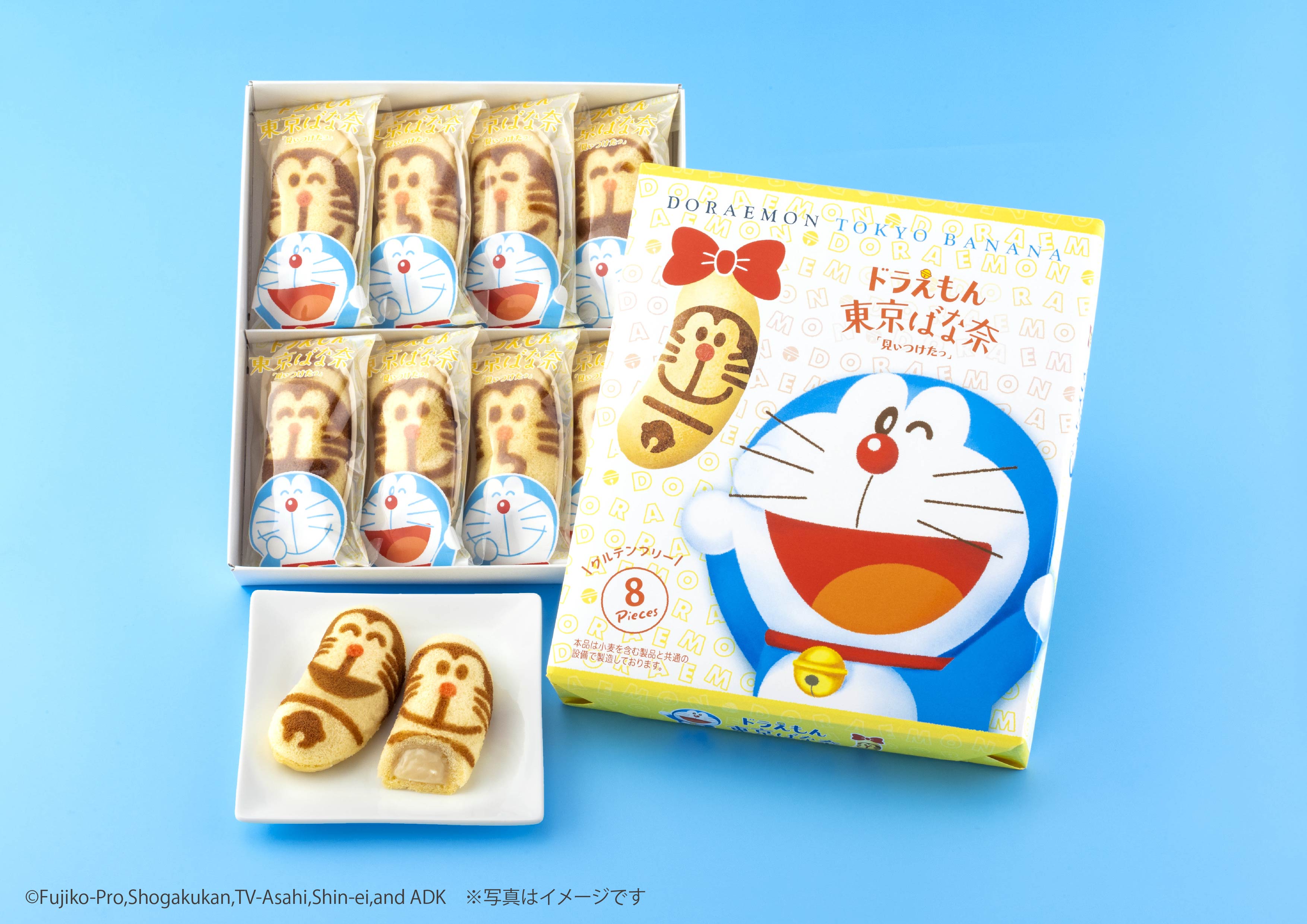 Package Design
The Doraemon Tokyo Banana is a fluffy, gluten-free sponge cake. Created to celebrate the original creation of these dreamy sweets, the special Doraemon Tokyo Banana Tokyo Station area is now open at JR Tokyo Station. Adorned with various super cute designs, you'll also be able to find these treats at convenience stores across Japan!
Visitors will also be able to purchase a special gift box, complete with a gently smiling Doraemon design. The box contains eight Tokyo Banana sweets, and is perfect as a souvenir for family and friends–or even for yourself! The sweets within are decorated with random Doraemon designs, so you'll have to open the box to find out which ones you got! This item is sure to bring joy to all Doraemon fans both young and old.
A two-pack Doraemon Tokyo Banana will also be available. Three different Take-copter varieties and three different Anywhere Door varieties will be on sale, each with uniquely adorable designs to make you want to collect them all. Be sure to check out this special area, and pick up some memorable gifts!
(Please note that the shop has certain quantities of each package, and not all packages may be available depending on the date.
This product is manufactured in the same facility as products containing wheat flour.)
©Fujiko-Pro,Shogakukan,TV-Asahi,Shin-ei,and ADK
RELATED ENTRIES
Photography and Noh Theater Collide in New Collaboration between Hiroshi Seo and Hosho School

In a new fall collaboration, the prestigious Hosei School of Noh Theater, established during the Muromachi Period, and photographer Hiroshi Seo will present a unique blend of traditional culture. 'Experience Noh and Art in Autumn ~Noh at Night: The Tale of the Heike 'Kiyotsune' x BEYOND PHOTO BY HIROSHI SEO' will begin for four limited showings starting September 24, and will connect the photographer's work 'BEYOND' with the theme of water present in the classic tale of Heike. Ancient and modern will overlap during this special autumn event, so don't miss it if you're in Tokyo!

The Story of The Tale of Heike 'Kiyotsune'

During the 12th century, the Minamoto and Taira clans were at war. Awazu-no-Saburo returns to the capital after the Taira were defeated in battle, carrying with him a keepsake for his lord Kiyotsune's wife: a lock of hair that Kiyotsune left before committing suicide. Saburo visits the wife, and upon learning of Kiyotsune's death, she can barely stand the sight of his hair, ordering that the keepsake be returned to a shrine in Kyushu. Upon falling asleep, she sees his ghost in her dreams, and they argue over what has occurred. Kiyotsune recounts his final days, choosing suicide by drowning over capture and defeat. He is then blessed, and finds his way from Hell to eternal enlightenment. 

BEYOND PHOTO BY HIROSHI SEO Exhibition

In 2020, the COVID-19 pandemic changed the world. Yet even during this turmoil engulfing the world, artists were trying to make a new path. Photography is but a fragment of the real world, but through the eyes of the one taking the photo, it becomes an art form, and allows us to see the world in a different way. For this exhibition, Hiroshi Seo will present several new works, including photographs from Sado Island, the home of Noh, where one-third of all Noh stages in Japan are located. This chain of water-inspired images will weave together with the story of Kiyotsune, and will tell a brand-new story for modern audiences. 

Information

Experience Noh and Art in Autumn ~Noh at Night: The Tale of the Heike

'Kiyotsune' x BEYOND PHOTO BY HIROSHI SEO 

With Performance: September 24, 2021 (Tickets on sale now.)

No Performance: September 25, 2021 (Free admission for photo exhibition only. No admission to auditorium.) 

With Performance: October 29, 2021 (Tickets on sale now.)

With Performance: November 26, 2021, 17:00 (Tickets on sale September 25.) 

Address: Hosho Noh Theater, 1-5-9 Hongo, Bunkyo-ku, Tokyo

Tickets: https://nohlife.myshopify.com/

Official Site: http://www.hosho.or.jp/nohgakudo/

詳細・Official Site:http://www.hosho.or.jp/nohgakudo/

Tokyo Revengers Characters Speak Local Dialects on New Posters Across Tokyo Station

Starting September 13, characters from the popular anime series Tokyo Revengers are taking over Tokyo Station in a unique new poster campaign! In addition to one main poster featuring all main characters, 47 local posters–one for each Japanese prefecture–are being displayed throughout the massive train station, with characters speaking in local dialects to promote different areas of Japan. For those learning Japanese, this is a neat way to learn more about the unique vocabulary used throughout the country. 





A fun Twitter campaign is also underway, asking fans to tweet #オレの地元が最強 (#MyHometownIsTheStrongest). The special prize will be a B0 Japan Revengers poster, given to only one winner, with the remaining 47 winners able to snag a B2-size poster. 

A special advertisement for Japan Revengers will appear in the morning edition of the September 17th edition of the Asahi Shimbun newspaper. Additionally, to celebrate the release of the 24th volume of the Tokyo Revengers manga series, those who purchase the new volume will receive one randomly-selected 47-prefecture illustration card during the in-store campaign.

Be sure to check out which prefecture your favorite character is repping! 

Kuroko's Basketball Pop-Up Shop in Akihabara to Features New Illustrations

BANDAI NAMCO Amusement is hosting a character pop-up store for anime 'Kuroko's Basketball,' featuring new illustrations of the characters dressed in trad style. The shop will be open from September 16 2021 at the Atre Akihabara Store, stocking original goods using the new artwork.

Kuroko's Basketball Acrylic Stand trad style ver. (7 types): ¥1,980 each (Tax Incl.)

Kuroko's Basketball Can Badge trad style ver. (7 types): ¥540 each (Tax Incl.)

Kuroko's Basketball A4 Acrylic File trad style ver.: ¥550 (Tax Incl.)

Kuroko's Basketball Cloth Poster trad style ver.: ¥1,800 (Tax Incl.)

Kuroko's Basketball Spoon trad style ver. (7 types): ¥1,200 each (Tax Incl.)

Kuroko's Basketball Fork trad style ver. (7 types): ¥1,200 each (Tax Incl.)

Kuroko's Basketball Acrylic Board trad style ver. (7 types): ¥530 per lottery ticket, A Prize

Kuroko's Basketball Jacket Style Acrylic Keychain trad style ver. (7 types): ¥530 per lottery ticket, B Prize

Kuroko's Basketball Can Badge trad style ver. (7 types): ¥530 per lottery ticket, C Prize

Kuroko's Basketball Die-cut Illustration Sheet trad style ver. (7 types): ¥530 per lottery ticket, D Prize (random)

Be sure to check out this limited shop to immerse yourself in the world of Kuroko's Basketball!

©Fujimaki Tadatoshi / Shueisha, Kuroko's Basketball Production Committee 

Hotel New Otani Announces Second PAUL & JOE Collaboration

Hotel New Otani Tokyo has collaborated with PAUL & JOE for the second time to offer a new accomodation plan, which will be available for one-night stays between December 1 2021 and January 4 2022.  The rooms will not be available between December 31 and January 2.

This collaboration room will allow you to surround yourself in the world of PAUL & JOE, a Parisian brand PAUL & JOE that is extremely popular with young women in their 20s and 30s. The initial collaboration was so popular that within just 10 days, all of the available dates within three months were sold out. This Christmas edition will only be available for one month, so be sure to book while you can.

The pink and ivory room features the brand's icon; Designer Sophie's beloved cats, Nunet and Gypsy. The decorations also feature Crisantemo flower motifs.

Not only is the wallpaper covered in PAUL & JOE motifs, but even the smaller pieces such as cushions, curling irons, and brushes are themed too. In addition, to celebrate the festive season, the room will include a special Christmas tree, allowing you to enjoy a special Christmas with somebody special, sharing a view of Tokyo Tower.

The second round of cosmetics is focused on the 2021 CHRISTMAS COLLECTION. The 'Lipstick Treatment' features adorable cats wearing Santa hats, while the 'Lipstick Limited' comes in a luxurious Christmas red – and also features cats in hats! Plus, the new 'Wrapping Hand Cream' will wrap your hands in a fresh moisturising texture. In addition, the best-selling 'Moisturizing Foundation Primer,' which was renewed on September 1, and the P&J skincare selection (oil, lotion, cleansing), each must-haves for the upcoming dry season, have been miniaturized into take-home samples in a limited edition pouch, especially for hotel customers.

Alongside the limited cosmetic samples, there will be matching pajamas and slippers available for purchase and take home, with a that will take you even deeper into the PAUL & JOE world. While these cat-and-floral print PJs are perfect for a girls-only gathering, a men's line has also been released due to popular demand, ideal for spending a romantic Christmas in matching pajamas.

 

 

Why not spend a wonderful Christmas in this PAUL & JOE room?

Information

PAUL & JOE Room ~Christmas~

Reservation Dates:

Friday & Saturday Rooms: September 14 2021~

Weekday & Sunday Rooms: Late October 2021

Room Duration: December 1 2021 ~ January 4 2022

※Unavailable between Dec. 31 and Jan. 21

Location: Hotel New Otani Tokyo

Reservations: https://www.newotani.co.jp/tokyo/stay/plan/paul-joeroom/  *Reservations can only be made online

Back to the Future Exhibition Displays Props from 1985 Film in Japan for the First Time

The Hot Toys flagship store, TOY SAPIENS Tokyo, will begin hosting a free Back to the Future event titled RETRO SAPIENS starting September 18, and running until October 31, 2021. 

Along with the opening of this exciting event, the TOY SAPIENS Tokyo store is also unveiling its new location. The much larger shop is now an easy walk from Shibuya Station and Harajuku Station!

After the event at the Tokyo location concludes, the event will travel to three more TOY SAPIENS stores nationwide, to allow more fans to see these legendary props in person. RETRO SAPIENS will open in Osaka in November 2021, and in Nagoya in February 2022. 

One-of-a-kind props, clothing items, and set pieces from the Back to the Future film will be on display for the first time ever in Japan during this event. If you're a fan, be sure to come and enjoy–admission is free! A number of Back to the Future related merchandise will also be on sale, including figures, apparel, and items only available at the RETRO SAPIENS event. These limited-edition products will also be available online at the TOY SAPIENS Official Online Store starting September 21. 

A special Cosbaby Keychain will also be handed out to guests who clear certain conditions while enjoying the event. Those who purchase Back to the Future merchandise will receive a RETRO SAPIENS-themed shopping bag on a first-come, first-served basis. 

Information

RETRO SAPIENS Tokyo

Running: September 18 – October 31, 2021 *September 18-20 reserved for advanced ticket holders.

Hours: 11:00-19:00 (Last entry at 18:30.) 

Address: TOY SAPIENS Tokyo (Ichigo Jingumae Building 1F, 6-25-16 Jingumae, Shibuya, Tokyo)

Admission: Free

Official Site: http://hottoys-store.jp/retrosapiens/

Crayon Shin-chan and Adorable Bunny Rabbits Available from Ikumimama Animal Donuts

Ikumimama Animal Donuts has been a popular topic on social media for it's cute creations, many based on popular characters. Now, customers located in Japan can purchase the new Crayon Shin-chan and Otsukimi Usa-chan Donut Sets online! 

Otsukimi Usa-chan Set

Otsukimi Usa-chan (White)

Otsukimi Usa-chan (Pink)

Otsukimi Dango Donuts

Crayon Shin-chan Donut Set

Shin-chan (Normal)

Shin-chan (Sparkling)

Shiro

Buriburizaemon

Himawari

Otsukimi means 'moon-viewing' in Japanese. On the 15th day of the eighth month of the traditional Japanese calendar, it's tradition to hold a celebration to view the harvest moon. The Otsukimi Usa-chan set is perfect to serve during a get-together as you watch the starlit sky with friends. This year, September 21 is the lucky day! Dango, or dumplings, are popular snacks to enjoy during this event, and these coconut-filled Dango Donuts are a fun twist on a traditional treat. 

Shinnosuke, Shiro, Buriburizaemon, and Himawari all make an appearance in the new Crayon Shin-chan collaboration.

Which of these sugary sweets looks the most scrumptious? 

Nihonbashi Art Aquarium Museum Closes for Renewal and Relocation

The Nihonbashi ART AQUARIUM will be closed on September 26 2021 to make way for new exhibits and works. The museum is scheduled to be relocated in the first half of 2022.

The ART AQUARIUM Museum opened in Nihonbashi, Tokyo on August 28 202 with the concept of "a museum where life dwells." This will be the largest renewal in the history of the museum Museum, opened by writer and general producer Hidetomo Kimura, with the addition of more exhibits and new and improved interactive areas.

The Nihonbashi Art AQUARIUM Museum opened alongside the 2020 Tokyo Olympics and Paralympic, with the expectations that visitors would come from both within Japan and overseas, thanks to the exhibitions which easily explain and represent Japan's proud traditional culture and performing arts, but due to Covid restrictions, foreign tourists are still unable to enter the country. Despite this, the Museum saw many customers and with the closing of the Olympic and Paralympic Games, the museum will be closed in preparation to relocate to the new ART AQUARIUM. If you want to see the Nihonbashi location for yourself then this is your last chance!

In addition, the "ART AQUARIUM" digital tour is being held from September 12, allowing you to appreciate the Museum in a digital format until the reopening.

Make sure to check out the Nihonbashi ART AQUARIUM while you have the chance!

Information

ART AQUARIUM Museum

Address::1-3-9 Nihonbashihonchō, Chuo-ku, Tokyo

Opening Hours: 10:00~19:00 (L.A 18:30)

Official Site: https://artaquarium.jp

niko and…Celebrates 80th Anniversary of Curious George with New Collab Items

Japanese fashion brand "niko and…" will release a collection of Curious George-inspired items to celebrate the character's 80th anniversary. These items are now on sale at the brand's stores nationwide, and on the official web shop, as well as on ZOZOTOWN and Rakuten Fashion.

Collaboration Items at a Glance

Remote Control Box: ¥1,540 (Tax Included) / Slippers: ¥2,090 (Tax Included) / Tissue Case: ¥4,180 (Tax Included)

Large Plushie: ¥4,840 (Tax Included) / Medium Plushie: ¥3,520 (Tax Included) / Vinyl Umbrella: ¥1,320 (Tax Included) / AC Adapter: ¥2,860 (Tax Included) / Charging Cable: ¥1,760 (Tax Included)

Masking Tape: ¥440 each (Tax Included) / Bath Chair: ¥2,970 (Tax Included) / Bath Bucket: ¥1,430 (Tax Included) / Alarm Clock: ¥1,540 (Tax Included)

Curious George is celebrating his 80th anniversary in 2021. In Japan, the monkey character was first introduced in 1954, and has been loved by countless people ever since. This collection combines the humorous and retro feel of Curious George with the sensibilities of "niko and…," creating a unique mash-up of products.

Are you a fan of Curious George? Which of these products are you most likely to grab?


※Curious George and related characters, created by Margret and H.A. Rey, are copyrighted and registered by Houghton Mifflin Harcourt Publishing Company and used under license.All Rights Reserved.

※Universal Studios Licensing LLC(ユニバーサル・スタジオ・ライセンシング LLC)との商品化契約に基づき、株式会社アダストリアが企画・制作した商品です。

Collaborative Music Project MAISONdes Releases New Track Featuring Nagumoyuuki and riria.

12.September.2021 | MUSIC

MAISONdes is a unique music project. Extremely popular on TikTok, it's described only as 'a fictional apartment building somewhere,' where a different singer and creator features on each and every track. Each song is even labeled with a room number. This allows up-and-coming artists to collaborate in ways they never expected, and leaves the listeners enjoying an all-new sound. Rather than stick to what's comfortable, artists taking part in the project express themselves freely with their new creative partner.

Following artists like yama, Nakimushi, Kujira, Moka Sato, Riu Domura, Wanuka, and haruno, we come to Room #107. This time, Nagumoyuuki and riria are up to bat in the new single Natsukaze ni Tokeru, out September 8. Nagumoyuuki wrote the lyrics and arranged the track, while riria provided the vocals.

Room #107 – 'Natsukaze ni Tokeru' feat. riria., Nagumoyuuki / MAISONdes

MAISONdes began a YouTube channel in February 2021, and has already featured plenty of creators leading the new music scene. Released in May, 'Yowanehaki feet. Wanuka, asmi' won the TikTok Song Ranking four times in a row and has over 100 million views on the app. In August, vocalist asmi appeared on THE FIRST TAKE. The song also attracted a great deal of attention on Line Music, Spotify, and Apple Music.

In Fall 2019, singer-songwriter riria posted a video to TikTok and YouTube, in which she performs without showing her face. Currently, the artist has over 1.3 million followers on TikTok.

 

Nagumoyuuki is an up-and-coming composer who has written music for yama, who performed in Room #101, and who has featured massively popular singer Ado in her own work.

Comment from riria.

I was incredibly honored to participate in the MAISONdes project, and to sing Nagumoyuuki's incredible song. It wasn't the type of song I usually sing, so I was able to express myself in a new and fun way. Please give it a listen!

Comment from Nagumoyuuki


riria did an incredible job singing this song, which is about two people just passing the time during a quiet night. I hope you enjoy listening to it, no matter what's going on in your life.


The illustrations used for the song were created by NANAKI PANTZ, who has also contributed to other videos from MAISONdes in the past.

This track is sure to be another hit across SNS, and the future's looking bright for MAISONdes! Be sure to check out the rest of their tracks on YouTube.

French Artist Jean Jullien Provides Main Visual for Shibuya PARCO Art Week 2021

Last year's Shibuya PARCO Art Week was met with incredible fanfare, and the 2021 event is now set to begin on September 17! This year, acclaimed French artist Jean Jullien is in charge of the main visual for the showing.

The exhibition will be held at NANZUKA 2G, located on the 2nd floor of Shibuya PARCO, as well as within the PARCO MUSEUM TOKYO on the 4th floor.

Shibuya PARCO Art Week 2021 Features

Martin Margiela: In His Own Words

© 2019 Reiner Holzemer Film – RTBF – Aminata Productions

#HotelKawashima

Kensaku Kakimoto Exhibition 'Devoting Time' Collaboration with Luke Bubb, Piotr Stopniak

mono100 x Natsuki Kurachi POP UP

Nori Okawa Solo Exhibition 'Good Boy, More Drunk'

Hikaru Ichijo Exhibition 'CHIDORI ASHI,' with a motif of 'people who are carried away by alcohol'

Mariko Enomoto Solo Exhibition 'Moments,' depicting the fluctuations of daily life

Emi Ozaku Solo Exhibition 'Good something for you'

Exhibition of Tetsuji Aoyama's works, '21XX A Future Odyssey ~Someday in a Hundred Years~

Exclusive collaboration products by VOILLD x FACE on sale

Shun Komiyama Photo Exhibition 'The Wind Responds,' by MIDORI.so Gallery

A group exhibition '' DONOKO? '' Portrait series Curated by TOKYO URBAN ART

"Welcome back to your "Home Position" – Selecting art for the interior based on 'likes'





At 'WHITE CINE QUINTO' on the 8th floor of Shibuya PARCO, visitors can see a powerful documentary film about Martin Margiela, Martin Margiela: In His Own Words. Also on the 8th floor, a hands-on exhibition titled #HotelKawashima will feature Akira Kawashima of the comedy duo Kirin becoming the manager of a hotel. The comedian's voice will also be used for the in-house announcements throughout Shibuya PARCO.

An ART PASSPORT, distributed by the gallery and other stores throughout the complex, contains plenty of information about the events throughout the museum, as well as exclusive special offers. Be sure not to miss the interview with Jean Jullien!

Jean Jullien Exhibition「PAPER PEOPLE」/「POCKET PARENTS」

©Jean Jullien Courtesy of NANZUKA

©Jean Jullien Photo by Shigeru Tanaka Courtesy of NANZUKA

©Jean Jullien Photo by Shigeru Tanaka Courtesy of NANZUKA

Jean Jullien's solo exhibition "PAPER PEOPLE," curated by NANZUKA, will be held at the PARCO MUSEUM TOKYO on the 4th floor, and will depict the creative process of the artist through the medium of paper. Jullien, who has a deep knowledge and love of Japanese manga culture, is sure to bring some charm and comedy to the showing, as is typical of his style. The artist, from Brittany in France, has always been inspired by Japan, and also by the natural beauty of his homeland. Each of the nearly 50 works in the exhibition were created during the Coronavirus pandemic, and 25 special screen prints will be on sale via lottery, both at the event and online.

In the "POCKET PARENTS" exhibition at NANZUKA 2G on the 2nd floor of the complex, Jullien's upbringing and experiences as a parent are expressed in a hilarious story about aging and responsibility. Compared to "PAPER PEOPLE," this offers a different perspective from the artist, which visitors can learn more about in his interview.

Anohana Anime Series Commemorates 10th Anniversary with Tokyo Amusement Park Asakusa Hanayashiki

Tokyo-based amusement park Asakusa Hanayashiki, said to be the oldest such park in Japan, will hold an event starting September 18 to celebrate the 10th anniversary of the Anohana anime series.

The event itself will feature a brand-new illustration of the six main characters standing outside the gates of Asakusa Hanayashiki, as well as original merchandise, a menu of Anohana-inspired food, and a park-wide stamp rally. Those purchasing special tickets in advance will get exclusive offers, so don't miss out if you're in Tokyo!

Original Illustrations for the Event

Illustration Card (only for special ticket holders)

Ticket Holder (only for special ticket holders)

Stamp Rally Card

Special Stamp Rally Postcard

Those purchasing a dish from the special menu will receive a randomly selected coaster (7 designs) as a present.

Collaboration Menu

JinTantanmen: ¥1,000 (Tax Included)

Menma's Favorite Sweet Curry: ¥1,000 (Tax Included)

Super Peace Busters Drinks (6 varieties): ¥600 each (Tax Included)

Usamaru Shaved Ice: ¥500 (Tax Included)

Menma's Favorite BOMBOM Croquette Burger DX: ¥550 (Tax Included)

Original Merchandise at a Glance

Hanayashiki Collaboration Original Illustration, Modern Japanese clothing ver. BIG Acrylic Stand (6 designs): ¥1,980 each (Tax Included)

Hanayashiki Collaboration Chibi Attraction ver. Pins (12 designs): ¥440 each / BOX: ¥5,280 (Tax Included) *Random

Receive a random original Bromide (6 designs) for spending over ¥2,000 on collaboration goods.

Information

Anohana x Asakusa Hanayashiki

Running: September 18 – October 10, 2021

Location: Asakusa Hanayashiki

Hours: 10:00-18:00 (weather permitting) *Last entrance 30 minutes before closing.

Closed on: September 28 and October 5

Advance Tickets on sale from 7Ticket at 7-11 locations now.

*Information subject to change.

Event & Ticket Details: https://event.amnibus.com/anohana-hanayashiki/

SPINNS Collaborates with Popular YouTubers Uchira3shimai in New Autumn Visual

Uchira3shimai are featured in the Autumn season visual for apparel brand SPINNS. The new visual poster appeared in store and online on September 5 2021. Four Autumn visuals will be released, alongside a new collaboration collection.

Behind the Scenes

Collaboration Items

With over 490,000 subscribers, popular YouTubers Uchira3shimai have appeared in the SPINNS Autumn visual. The new collection is titled "○○○3shimai STYLE." The YouTubers are shown in some of SPINNS most trendy items, wearing caps, printed shirts, and flare pants.

You can easily spot the individuality of each sibling in this unmissable Autumn visual!