Buddhist-Life Themed Cafe Opens at Takayama Zenko-ji Temple in Gifu
Takayama Hotel Zenko-ji isn't your typical hotel: this Buddhist temple invites anyone, regardless of faith or nationality, to stay in one of its five rooms. The property has now opened the 'Activity Cafe Zenko-ji,' a place to rest and relax while learning more about various cultures and, of course, traditional Buddhism. 

The well-ventilated and airy temple.
All drinks, including coffee and tea, are free of charge. 

The Takayama Zenko-ji Lounge Area
Enjoy free Wi-Fi, ample power supplies, and clean restrooms. 
Feel free to work remotely and have meetings in the main hall. 
Being in a new space will open up your mind and expand your creativity. 
The cafe was first opened for a limited time beginning in April 2021, inviting locals and tourists alike to come and find stress relief while praying for an end to the Coronavirus pandemic. However, given the location's immediate popularity, it will now be open for good. 
In the midst of the Coronavirus pandemic, an increasing number of people have lost their physical and mental balance. For both the locals and visiting tourists, the temple is meant to be a place where anyone can find a sense of calm and peace of mind. Deep in the city of Takayama, this is where people are meant to relax, feel energized, and regain who they used to be before this stress became the new normal.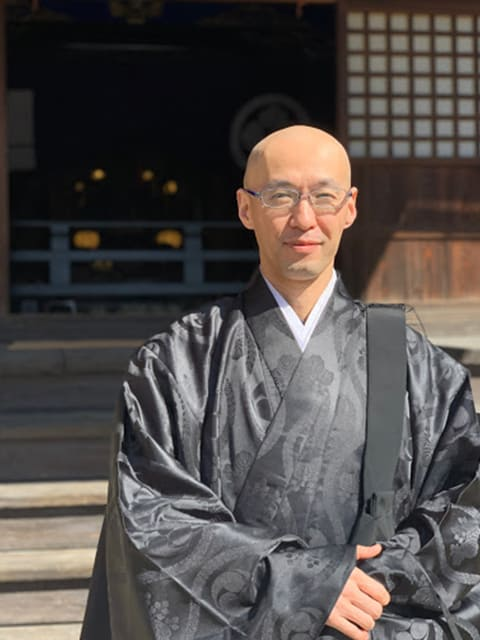 Hiroshi Yamamoto, a Buddhist priest who works as the manager at Temple Hotel Zenko-ji, is the founder of the Activity Cafe. Hoping to help bring back the bustling tourist atmosphere of Takayama, he intends the space to be a meeting ground for locals and visitors from around the world to interact naturally. 
After graduating from an American university and working as an English teacher, Yamamoto became ordained as a Buddhist monk. Now a certified meditation instructor, he specializes in teaching meditation and Buddhist programs in English. 
Those utilizing the cafe can experience asceticism by walking through a dark tunnel to help find their inner peace, and can also try their hand at sutra-writing!
How would you like to spend some time at the Activity Cafe in Takayama?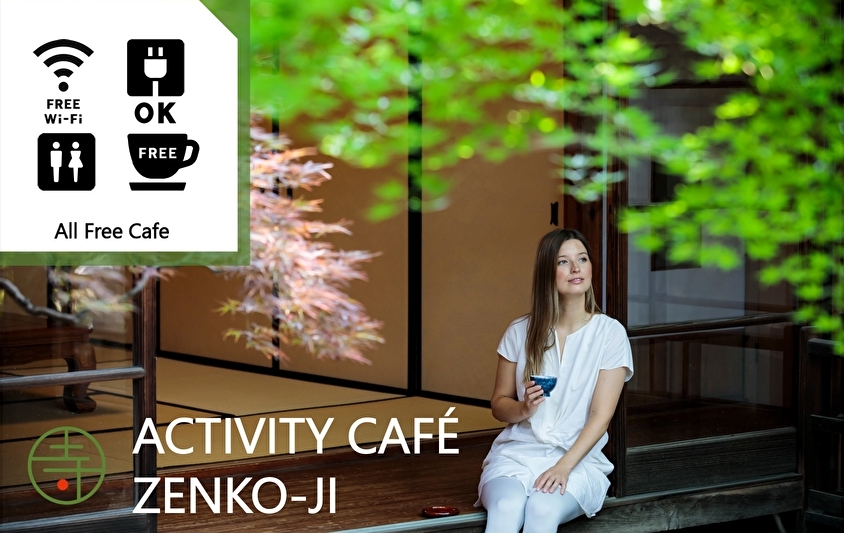 Information
Activity Cafe Takayama Zenko-ji
Address: 4-3 Tenma-cho, Takayama, Gifu
Phone: 0577-32-8470
Reservations not needed
Official Site: https://oterastay.com/zenkoji/cafe/
RELATED ENTRIES
Kumagaya City, Saitama Bath Cafe Hareniwa no Yu Opens After Rebranding

Cafe BIVOUAC, located in Kumagaya, Saitama Prefecture, will reopen Bath Cafe Hareniwa no Yu on September 18, 21, after a full rebranding.

The space aims to be 'a garden that clears a guest's body and mind.' Visitors can enjoy a full bath and sauna, freshly-picked vegetables at the Haruniwa Dining Room, and a lush green lounge in which to relax and unwind.

The Haruniwa Dining Room, run by The Farm, a resort in Chiba Prefecture, offers healthy dishes filled with fresh local vegetables from Kumagaya with carefully-selected main ingredients.

In addition, a collaboration with fashion brand 'niko and…' will also begin upon reopening, offering the perfect comfy clothes to wear while enjoying the property.  The lineup  includes an original bath bag and sauna hat, each sold exclusively at Hareniwa no Yu.

Information

Bath Cafe Hareniwa no Yu (Cafe BIVOUAC)

Open: September 18, 2021

Address: 939 Kubojima, Kumagaya-shi, Saitama

Phone: 048-533-2614

Official Site: https://ofurocafe-bivouac.com/

Healing 'Panda' Sweets Available at Gelato Pique Café for a Limited Time

A selection of healing monotone panda sweets will be available at the Gelato Pique Café between September 6 and September 25. The collection is titled "everyday PANDA! ~Sweets Time with Pandas~."

Menu


Panda Crepe

Panda Gelato

Panda Float

Goods

Gelato Pique Café Original Panda Glass/Mug
Available from September 6


Gelato Pique Panda Motif Eco Bag / Panda Motif Hand Towel
Online reservations open September 2, available instore from September 8


In 2021, the Gelato Pique Café announced two rounds of animal themed sweets, proving hugely popular on social media. For Easter they released "Bunny Sweets" with rabbit ears motifs, while a series of "Polar Bear Sweets" was released during the Summer. Now, a selection of "Panda Sweets" is the latest to join the animal collection. 

 

The chocolate and banana Panda Crepe is filled with a healing ganache and banana,  while the Panda Gelato has cocoa biscuits studded around the pandas neck, along with rounded eyes and ears. The "healing monotone" Panda Float combines the Gelato Pique Café's original Guatemalan coffee blend with Royal Blue Bourbon.

 

Along with this "everyday PANDA!" Fair, we have a large lineup of panda goods that will make you happy just by having them.  Goods that are perfect for presents, souvenirs, and rewards for yourself can be purchased at each gelato pique cafe store and EC site, so please look forward to that too!

There is a huge lineup of panda goods that will brighten your day releasing alongside the "everyday PANDA" fair, which make perfect gifts for friends – or yourself! You can view the goods lineup in store and on the Gelato Pique website.

Marvel Superhero Cafe to Open in Osaka for Limited Time

A limited-time Marvel themed cafe is coming to Umeda, Osaka from September 16 until October 17. Produced by OH MY CAFE, the concept is centered on themes such as power, courage, talent, justice, and friendship, and the menu will be filled with items inspired by the many heroes of the Marvel universe.

The cafe menu features original items representing the worlds of Spider-Man, Iron Man, Captain America, Thor, and Black Widow. All dishes are healthy, low-sodium, and low-sugar. Various original pieces of merchandise will also be available for fans of American comics!

Menu

Marvel Paprikash: ¥1,759 (Tax Included)

<Spider-Man> The Best Chicken Sandwich in Queens: ¥1,650 (Tax Included)

<Captain America> American Tomato Pasta: ¥1,979 (Tax Included)

<Thor> Hammer Curry in the Desert: ¥2,089 (Tax Included)

<Black Widow> Jet-Black Squid Ink Gratin: ¥1,869 (Tax Included)

<Iron Man> Evening Donut-style Bagel Sandwich: ¥1,979 (Tax Included)

<Captain America> Ramune Soda: ¥1,209 (+¥770 for coaster) (Tax Included)

<Iron Man> Cherry Soda:  ¥1,209 (+¥770 for coaster) (Tax Included)

Marvel Cafe Latte: ¥989 (+¥1,650 for mug) (Tax Included) 

Marvel Tea Bottle: ¥769 (Tax Included) / Bottle and Charm: ¥1,320 (Tax Included)

Customers who make a reservation in advance will receive one random original mask case (7 designs). 

Original Merchandise

 

Acrylic Keyring (6 designs): ¥825 (Tax Included)

Square Pins (13 designs, random): ¥495 (Tax Included) / Marvel Case: ¥1,100 (Tax Included)

A5-size Clear Folder (7 designs, random): ¥385 (Tax Included)

Tote Bag: ¥1,100 (Tax Included) / Marvel Bandana Handkerchief: ¥1,650 (Tax Included)

Menu Art Series A4-size Clear Folder: ¥440 (Tax Included) / Menu Bandana Handkerchief: ¥1,650 (Tax Included) / Acrylic Magnets (6 designs): ¥715 (Tax Included)

Avengers: Endgame Clear Folders (5 designs, random): ¥550 (Tax Included) / Avengers: Infinity War Postcards (8 designs, random): ¥275 (Tax Included)

Ⓒ 2020 MARVEL

Chiikawa Themed Cafe to Open for Limited Time at Shizuoka PARCO

Twitter-famous character Chiikawa is coming to Shizuoka PARCO starting September 16! Guests can enjoy a cafe on the first floor of the facility serving specially-crafted treats, and can head to the fourth floor for a shop selling original Chiikawa cafe goods.

Menu

Hachiware Cream Soda / Chiikawa Cream Soda / Usagi Cream Soda: ¥990 each (Tax Included)

Fluffy Cloud Latte with Character Sugar: ¥1,100 (Tax Included)

Yoroi-san's Strawberry Milk: ¥990 (Tax Included)

Best Friends Cookie Set (3 cookies): ¥880 (Tax Included, takeout only)

Each drink order will come with a random coaster (15 designs total). 

Merchandise

 

Mug: ¥1,540 (Tax Included)

Cafe Chef Plushies: ¥1,430 (Tax Included)

Cafe Employee Plushies: ¥1,430 (Tax Included)

Bowl: ¥2,200 (Tax Included)

Random Acrylic Keychain (8 designs): ¥660 (Tax Included)

*Limit 2 items per person per type of merchandise. For random items, the limit is 10 items per person per type.
*Images are for reference only. Not all products are shown.
*Contents are subject to change. 

4th Floor Shop Special Goods

Special Gift

Guests spending ¥4,400 or more (including tax) will receive an original cork coaster!

 

The Chiikawa manga, created by Japanese illustrator nagano, is extremely popular on Twitter for its cute illustrations and heartwarming stories. In August, the second Chiikawa book was released.

Who is your favorite Chiikawa character?

©nagano

Information

Chiikawa Cafe Drink Stand

Running: September 16 – October 3, 2021

Hours: 10:00-20:00 (last food order at 19:00, last drink order at 19:30)

Location: Shizuoka PARCO 1F (6-7 Koyamachi, Aoi-ku, Shizuoka)

Chiikawa Cafe Shop

Running: September 16 – October 3, 2021

Hours: 10:00-20:00

Location: Shizuoka PARCO 4F

Admission Free

Details: http://the-guest.com/chiikawa_shizuoka/

Official Site: https://shizuoka.parco.jp/

Nature-filled Digital Detox Cafe HANARIDA Opens in Harajuku

Zoomers are used to life with their smartphones and computers. While life certainly is more convenient being able to connect instantly with your friends, have you ever felt a certain emptiness despite this? According to the Ministry of Internal Affairs and Communications, young people in their 20s spend approximately four to five hours looking at screens per day. However, sometimes, it can be nice to put down your phone and enjoy a cup of tea with your friends in front of you. With those thoughts, the HANARIDA Harajuku cafe open on August 8 2021. The hidden cafe is filled with flowers and greenery, aimed at adults. Here you can enjoy a quiet time away from the bustle of the city, relaxing with a cup of dry fruit-infused herbal tea.

Every sunday is a digital detox day, meaning that smartphones and laptops are banned in the cafe. You can leave your phone with the staff to receive a free drink. With the comfy interior and a selection of board games, conversations will flow naturally to create a home-like space, even without technology

The flowers and trees in the cafe, which was decorated by a professional flower artist, are all real. The atmosphere changed based on the time of day – the sunshine lights up the cafe while the warm lights make for a relaxing evening. You won't get tired of this cozy space! 

Experience relaxation away from the busy city while watching the flowers bloom throughout the day, as you puff on a dried fruit Hanakemuri hookah. The hookah used by HANADIRA is both nicotine and tar free, meaning they can be enjoyed by non-smokers. 

Their drink selection for Valentine's day 2021 was a huge hit on social media, particularly the Sakicha dry fruit tea. The tea is now available on the menu, so make sure to try it for yourself!

Information

HANARIDA Harajuku

Opening Date: September 8 2021 

Opening Hours: 11:30 ~ 24:00 (No regular holidays)

※Closes at 20:00 until September 12 due to the current state of emergency declaration.

Address: Section L Pop-up House 2F 4-27-2, Jingumae, Shibuya, Tokyo 

Seven minute walk from JR Harajuku Station

https://goo.gl/maps/bXVEsW735gHT7kZD9 

※Under 20s are denied entry to the cafe

Official Site: https://hanarida-official.com/ 

Kyoto Sweets Cafe eXcafe Gion-Shinbashi Restarts Popular Breakfast Menu for Weekends

The calm Machiya sweet shop eXcafe Gion-Shinbashi will be restarting the popular eXcafe Breakfast (Calico) menu on weekends from September 4 2021. This is the perfect spot to start your Gion adventure, packed full of ancient city charm and history. 

 

eXcafe currently has three store locations in Kyoto: Kyoto-Arashiyama, Gion-Shinbashi, and the newly opened Gion Yasaka.

eXcafe Gion Shinbashi is located in an area where you can appreciate the beauty of Gion, with the ever changing scenery fully reflecting the four seasons. Even on sunny weekends, the area isn't overly busy and the sky is beautifully clear, making it the perfect spot for commemorative photos.

 

The returning breakfast menu is the eXcafe Breakfast (Calico), made up of charcoal-grilled toast with a calico cat motif. The fluffy bread is thickly cut and can be completed with your favorite topping: Bean paste, butter, whipped cream, or fruits. The breakfast set also includes a drink and Mitarashi dango dessert, making it the perfect way to spend a relaxing moment at the beginning of your trip, or as a break from your early-morning sightseeing.

Morning walks in Gion are particularly refreshing at this time of year, making a perfect break from the intense Summer heat. It is also ideal for visiting the Yasaka Shrine.

You'll feel even cooler as you listen to the flowing Shira River, the water gently bubbling under the cobblestones of the famous Tatsumi Bridge. Although it is located in a trendy area, the eXcafe Gion-Shinbashi is a welcome break from the bustle of the city, surrounded by cobblestone alleys and wooden townhouses.

 

Stop-motion Series Pui Pui Molcar Gets Collaboration Cafe for Limited-Time

Adorable stop-motion series Pui Pui Molcar is getting a limited-time cafe run! The Mogu Mogu Molcar Restaurant will open in four areas–Tokyo, Osaka, Shizuoka, and Sendai–starting September 2. 

Main Visual

Those who reserve a seat early will receive a randomly-selected sticker. (5 designs.)

For each drink ordered, guests will receive a random paper coaster. (5 designs)





Menu

Who Caused the Traffic Jam? PUIPUI Temarizushi: ¥1,430 (Tax Included)

Cat Rescuing Operation – Meat! Meat! Pasta: ¥1,540 (Tax Included)

Zombies and Lunch Green Curry: ¥1,540 (Tax Included)

Pui Pui Racing Salad: ¥1,210 (Tax Included)

Time Molcar Stew: ¥1,320 (Tax Included)

It's a Prank? It's Tiramisu: ¥1,430 (Tax Included)

Mission Impossible Pancakes: ¥1,430 (Tax Included)


Everything is a Surprise Box Cake: ¥1,100 (Tax Included)

Angelic Parfait: ¥1,320 (Tax Included)

Let's Molcar Party Drinks: ¥880 each (Tax Included)


Masked Shiromo Cafe Latte: ¥990 (Tax Included)

Chewing Chewing Popcorn Smoothie: ¥1,100 (Tax Included)

Original Merchandise

Acrylic Keychains (5 designs): ¥700 (Tax Included)


Pins (5 designs): ¥450 each (Tax Included)

Acrylic Stands (5 designs): ¥1,100 each (Tax Included)

Mug: ¥1,800 (Tax Included) / Tag Roll: ¥800 (Tax Included)

Neck Strap: (5 designs): ¥1,700 each


Drawstring Pouch: ¥1,200 (Tax Included)

Pui Pui Molcar is the first animated television series directed by Asaki Misato, and has captured the hearts of children and adults alike with it's short episodes and fluffy characters. The series began broadcasting in January 2021, and in only the first week, the official Molcar Twitter page exceeded 100,000 followers. The show is available on Netflix in the west, and is being rebroadcast in Japan each Tuesday morning on TV Tokyo. 

The cafe menu utilizes each episode's title, and guests can enjoy reliving their favorite moments of the show through artfully-plated dishes. 

What would you order at the cafe? 

©Tomoki Misato JGH・Shin-Ei Animation/Molcars

Information

Mogu Mogu Molcar Restaurant

Locations

Tokyo

Location: TOKYO BOX cafe&space Tokyo Solamachi

Address: 1F Tokyo Skytree Town Solamachi, 1-1-2 Oshiage, Sumida-ku, Tokyo

Running: September 2 – October 17, 2021

Osaka

Location: #702 CAFE&DINER Namba Parks

Address: 7F Namba Parks, 2-10-7 Nambanaka, Naniwa-ku, Osaka

Running: September 2 – October 9, 2021

Shizuoka

Location: kawara CAFE&KITCHEN Shizuoka PARCO

Address: 3F Shizuoka PARCO, 6-7 Konyacho, Aoi-ku, Shizuoka

Running: September 8 – October 11, 2021

Miyagi

Location: GabuLIcious Sendai

Address: 1-2F 1-6-3 Chuo, Aoba-ku, Sendai

Running: September 10 – October 11, 2021

Online Shop Open: September 2, 11:00 – October 17, 23:59

Online Shop: https://molcar-cafe.jp/online_store

Reservations/Official Site: https://molcar-cafe.jp/

*The cafe will take thorough measures to prevent the spread of COVID, and will implement various safety measures for both customers and employees. For more information, refer to the official website. 

New BT21 Cafe Coming to Tokyo, Yokohama, Nagoya, Osaka, and Okinawa

The 9th BT21 Cafe ~Relaxing Holiday~ will be open for a limited time in six venues across Tokyo, Yokohama, Nagoya, Osaka, and Okinawa. If you're a fan of these adorable LINE FRIENDS, just take a look at the menu items and goods on offer!

Main Visual

The Menu

Chicken and Orange Hot Sandwich: ¥1,760 (Tax Included) 

Grilled Vegetable Curry: ¥1,870 (Tax Included)

Tandoori Chicken Tacos: ¥1,870 (Tax Included)

Scrambled Eggs with Smoked Bacon: ¥1,870 (Tax Included)

Mug Collection

Combo Meals

Pistachio and Chocolate S'mores: ¥1,540 (Tax Included)

Cinnamon Apple Pie: ¥1,540 (Tax Included)

Maple Lemon German Pancake: ¥1,650 (Tax Included)

Mixed Berry German Pancake: ¥1,650 (Tax Included)

Strawberry Mojito/Kiwi Mojito/Peach Mojito: ¥990 each (Tax Included)

Coffee (Iced/Hot) / Black Tea (Iced/Hot): ¥550 (Tax Included)

Original Merchandise 

Pins (Random, 7 designs): ¥660 (Tax Included)

Acrylic Keyrings (7 designs): ¥770 (Tax Included) / Clear Folder: ¥440 (Tax Included)

Stickers (7 designs): ¥770 each (Tax Included) / Placemat (2 designs): ¥1,000 each (Tax Included)

Swizzle Stick (7 designs): ¥990 each (Tax Included) / Tote Bag: ¥1,650 (Tax Included)

Canvas Pouch: ¥1,980 (Tax Included) / Mini-towel (7 designs): ¥990 each (Tax Included)

Bandana (2 designs): ¥1,320 each (Tax Included) / Marshmallows: ¥972 (Tax Included)

Customers who book a table in advance will receive a randomly selected A5-size clear folder and a random clear coaster for each drink ordered.

The first installment of the 9th BT21 Cafe run, ~MY LITTLE BUDDY~, began in July 2021. The menu and goods, based on cute babies and their friends, received rave reviews. 

 

~Relaxing Holiday~ is inspired by summer and being outside with friends. Menu items look like what people may eat while camping, and the original character art features your favorite BT21 characters eating their favorite foods. Various soups and desserts are available in cute souvenir cups, and anything ordered is perfect for posting on social media!

Which menu item looks the most delicious to you? 

 

*Images for reference only. 

©BT21

Information

BT21 Cafe 9th Run ~Relaxing Holiday~

Tokyo 1:
Address: SHINJUKU BOX café&space Lumine EST (B1F 3-38-1 Shinjuku, Shinjuku-ku, Tokyo)
Running: August 28, 2021 – October 3, 2021

Tokyo 2:
Address: HARAJUKU BOX Alta (3F 16-4 Jingumae 1-chome, Shibuya-ku, Tokyo)
Running: September 16, 2021 – October 31, 2021

Yokohama:
Address: Collabo_Index Lumine Yokohama (6F 2-16-1 Takashima, Nishi-ku, Yokohama, Kanagawa)
Running: September 1, 2021 – October 3, 2021

Nagoya:
Address: Nagoya Box café&space (B1F LACHIC, 3-6-1 Sakae, Naka-ku, Nagoya, Aichi)
Running: September 30, 2021 – November 7, 2021

Osaka:
Address: Shinsaibashi contact (1-6-24 Kitahorie, Nishi-ku, Osaka)
Running: August 27, 2021 – September 23, 2021

Okinawa:
Address: OKINAWA BOX café&space (Naha OPA 2F, 1-20-1 Izumizaki, Naha, Okinawa)
Running: September 3, 2021 – October 3, 2021

Official Site: https://2021-2.box-cafe.jp/

BT21 is a globally popular cast of characters from LINE FRIENDS.
*The products and menu items produced and sold by LEGS COMPANY, Ltd. are the result of an official license agreement with LINE FRIENDS Co., Ltd. and may not be reproduced or sold without permission from LINE FRIENDS Co., Ltd. 

Upcoming The Prince of Tennis CG Film Inspires Limited-Time Cafe

Capcom Cafe Ikebukuro will be hosting a special cafe inspired by the upcoming The Prince of Tennis film, releasing in theaters September 3. The cafe will run from September 3 until October 14. 

The Prince of Tennis ran in the popular manga magazine Shonen Jump from 1999 until 2008, and found incredible popularity in Japan. It was adapted into an anime series in 2001, running for 178 episodes, and has also been transformed into 15 stage musicals, a live-action film, a radio show, multiple video games, and more. The upcoming 3DCG film was announced in 2019. 

In a teaser image released to promote the special cafe, main character Ryoma appears beside other characters from the series in an adorable tiny style. More details about the menu and goods offered will be revealed soon, so keep an eye out for an update!

What goods are you hoping to see sold at the cafe? 

©TK/S ©RPT
©CAPCOM CO., LTD. ALL RIGHTS RESERVED.

Cafe & Gift Shop Disney HARVEST MARKET By CAFE COMPANY Pre-Opens

Disney HARVEST MARKET By CAFE COMPANY, pre-opening for reservations on August 12, is a new cafe and gift shop that offers "Food that connects with the future." 

The 'Health-ertainment' themed menu is healthy for people, society, and the earth itself, while staying tasty, fun, and enjoyable to reflect Disney's world view.

 

Menu Sample


Afternoon Tea Party: ¥3,200 per customer (2+ guests)
An Afternoon Tea set with seasonal fruits, pancakes, open sandwiches and drinks.


From the bottom: Otoboke Barista Cafe Latte: ¥770 / Cheerful Farmer Jumbo Mushroom Burger: ¥2,530 / Fluffy & Crumbly Doggy Potato (Curry Flavor): ¥935 / Cute Chef's Pink Berry Pancake: ¥2,200 / Stylish Patisserie Double Berry Glass: ¥1,980 / Careless Fisherman's Wholegrain Carbonara : ¥2,200 

The menu is made up of the characters and stories that make up Disney, starting with Mickey and Minnie Mouse, perfect for both adults and children.  

In addition, with the concept of Japan Local, there will be a special menu that allows you to experience the four seasons of Japan, with menu items that reflect Japanese seasonal events.

By combining the act of eating with entertainment through Disney's world view, the customer can enjoy a "delicious and fun" food experience. 

Oh!Miyage ~GOODS EXPERIENCE~

The gift shop offers not just Omiyage (souvenirs) but Oh!Miyage, filled with original products and traditional crafts made by trustworthy creators from across Japan. The gift shop provides an experience packed with the fun of choosing, buying, gifting, and using your purchases while offering awareness of both yourself and the makers. 

 

A 'Harvest' Experience Full Of Disney

The Harvest store is decorated with wood and greenery,  built using both new and recycled goods made from waste materials.

The menu represents the four seasons of Japan by combining Japanese culture and natural motifs with designs inspired by Mickey and Friends.

 

 

The back of the store is taken up by a huge white Mickey Mouse statue, standing 1.7m tall. The statues outfit and display changes based on the season, welcoming guests as a symbol of the store. Limited merchandise based on the statue's hand towel and muffled designs are scheduled to be released in the future. 

 

BGM

The store background music is full of timeless and beloved tunes, perfect for relaxing in a cafe. Songs have been selected from Disneyland Records and Burns Vista Records, both popular since the 1950's, including legendary Disney tunes from the Sherman Brothers and Annette.

You can also hear rare tracks sung by Mickey Mouse, Minnie Mouse, Donald Duck, and other disney characters within the playlist.

Make sure to enjoy this Disney-colored 'Health-ertainment' experience for yourself!

Information

Disney HARVEST MARKET By CAFE COMPANY

Location: 2-21-1, Shibuya Hikarie 7F, Shibuya, Tokyo

Telephone: 050-3733-5055

Opening Hours: 11:00~20:00 (FOOD L.O.19:00  DRINK L.O. 19:00)

Official site: http://d-harvestmarket.com/ 

*The above information is based on regular opening hours and seat availability. Please note that the store is currently operating at different opening times and reduced seating to prevent the spread of Covid-19.

Long-Standing Kyoto Tea Wholesaler Yamamasa Koyamaen Opens Cafe in Tokyo

TZEN, a company dedicated to promoting traditional Japanese culture around the world, has teamed up with Yamamasa Koyamaen, a tea wholesaler in business since the Edo period, to open a new matcha cafe in Tokyo!

ATELIER MATCHA, a quick walk from Ningyocho station, is harnessing the concept of 'the third wave of matcha,' serving up premium matcha in a cozy atmosphere. 

MATCHA Cookies & Cream Shake: ¥748 (Tax Included) 

MATCHA with Warabimochi and Red Bean Topping: ¥748 (Tax Included)

MATCHA Jelly Cider: ¥660 (Tax Included)

MATCHA Granola and Yogurt Latte: ¥715 (Tax Included)

MATCHA Cotton Candy Milkshake: ¥748 (Tax Included)

MATCHA Affogato: ¥660 (Tax Included)

MATCHA Shot (Espresso Style): ¥220 (Tax Included) / MATCHA Water: ¥275 (Tax Included) / MATCHA Green Tea: ¥330 (Tax Included)

Supreme MATCHA Terrine: ¥660 (Tax Included)

(This is a partial menu, all prices are for those dining in.)

Matcha is becoming popular around the world. ATELIER MATCHA was created to offer customers a unique experience which showcases the true taste and culture of this beloved tea grown in Japan. 

Yamamasa Koyamaen is a Kyoto institution, cultivating and grinding matcha tea leaves for 160 years. Over 1,000 tea retailers, department stores, domestic and international trading companies and hotels stock their high-grade matcha, gyokuro, sencha, and other specialty teas, making them one of the most recognized and respected names in this traditional Japanese art. The company even prefers to call themselves a 'studio' rather than a 'factory', using the 800-year history of tea cultivation in Uji, Kyoto as a starting point to create their masterpieces. 

ATELIER MATCHA is Yamamasa Koyamaen's first cafe, and also the company's first experience selling directly to consumers. 

Blending the highest-grade matcha with locally made sweets, the cafe hopes customers will enjoy these original creations while surrounded by the relaxing aroma of tea. 

The matcha used in the cafe includes signature Yamamasa Koyamaen blends, including Ogurayama and Tennozan, both varieties often used in tea ceremonies. For a limited time, the cafe is offering a single-origin blend with one rare variety of matcha, as well as a beverage made with tencha, which are the leaves used to make matcha before being ground down in a stone mortar. Visitors can also enjoy gyokuro and hojicha teas, made from carefully selected leaves. 

Pulling recipes from Yamamasa Koyamaen's book 'Kyoto Uji-Koyamaen: Simple Matcha Drinks to Enjoy at Home,' the menu features refreshing drinks blending the traditional with the modern, with unexpected combinations of soda, fruit and yogurt. Seasonal drinks will also be making an appearance, including shaved ice in summer and chocolate drinks in winter. 

The name MATCHA SHOT packs a punch, using matcha instead of espresso for a needed pick-me-up. MATCHA WATER, a refreshing cup of watered-down tea, offers a way to fully enjoy the fullness and more hidden flavors of this popular Japanese tea. 

As expected, ATELIER MATCHA also has a sweets menu set to impress: these sweet treats feature only the best, created with the top 0.03% of total national matcha production. This insanely high-quality matcha is a part of Yamamasa Koyamaen's ultimate matcha experience project, titled "ALL FOR ONE," which provides these rare leaves to some of the country's top professionals in various fields. 

At opening, only limited qualities of the Supreme MATCHA Terrine, made by well-known pâtissier Toshi Yoroizuka, will be available. 

These authentic matcha creations are perfect for a hot summer's day, or as a gift for a friend. When in Tokyo, don't miss it!

Information

ATELIER MATCHA 

Address: 1-5-8 Nihonbashi Ningyocho, Chuo Ward, Tokyo 103-0013, Japan

Access: 30-second walk from Ningyocho Station/5-minute walk from Suitengumae Station

Open Date: August 2, 8:00

Hours of Operation: 8:00-19:00 (Last order 18:30)

Closed on Tuesdays (Open daily throughout August) 

Phone Number: 03-3667-7277

Official Site: https://ateliermatcha.com/

Pretty Boy Detective Club Anime Themed Cafe Menu to be Served in Osaka

As part of their AniCook project which gets people to enjoy anime through cooking, CookpadTV have announced that the 7th series they are collaborating with is Pretty Boy Detective Club. The collaboration includes a food menu inspired by the series that will be served on the 5th floor of Shinsaibashi PARCO in Osaka from August 19 to September 5.

Food

Trump Demi Hamburger / Hagoita Chirashi Chahan

Desserts

Starry Sky Cream Pancakes / Yubiwa Academy Middle School Gateau Chocolate / Auditorium Cheesecake

Drinks

Manabu's Assam Blue Moon Tea / Nagahiro's English Breakfast Sesame Tea / Michiru's Earl Grey Acerola Tea / Hyota's Ceylon Mango Tea / Sosaku's Darjeeling Hazelnut Tea

Get 1 of 5 stickers with every food and dessert order, and 1 of 5 postcards when ordering a drink

Exclusive merchandise

Acrylic Stands | 5 Designs

Acrylic Keyrings | 5 Designs

Acrylic Coasters | 5 Designs

Pins | 5 Designs

The dishes and drinks on the menu were created to get people enjoying food more. The cafe is also selling a range of exclusive merchandise both at the cafe and online.