Shibuya Hikarie ShinQs "DOKI DOKI Otona no Ennichi" festival for adults is packed with cuteness!
Shibuya Hikarie ShinQs shopping area is launching its "DOKI DOKI Otona no Ennichi" event.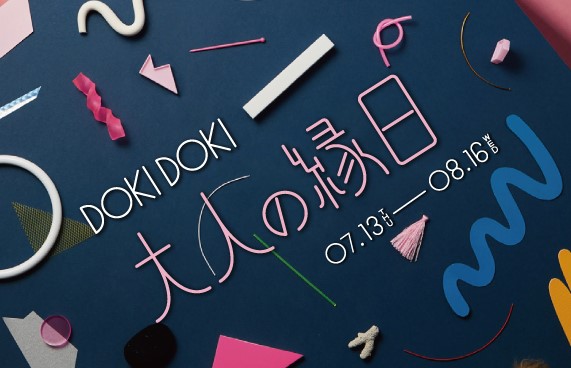 This is a festival for adults to have the time of their lives! The entire shopping area will be transforming its look to take on the appearance of stalls. Of course, the necessary features of a festival have also been considered, such as photogenic food that you can try while walking around. Elements of traditional Japanese culture, characters, a lineup of goods and a hint of sparkle – colour your summer with festival fun!
Berry DECO will be selling their festival-themed icing cookies "Ennichi stick cookie" at ¥357 each. With such a cute look like this you won't be able to get enough! ♡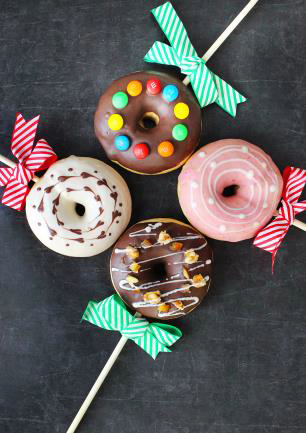 How about a bagel that looks like candy? Buy a "Lollipop" from BAGEL&BAGEL for ¥380! This is a Hikarie limited product.
Don't forget to check out the pop up store "BLOCK natural ice cream" which will only be around during the festival period! This is Hikarie's first shop that also doubles up as an exhibition. This specialist ice candy store uses healthy ingredients that are high in dietary fibres such as konnyaku and agar. Fresh fruits sourced from within Japan are used in abundance. The desserts are served in a colourful animal cup. ※This stall will be on the 1st floor of the venue from Thursday 13th July 〜 Thursday 31st August.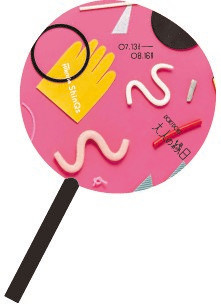 Get your hands on a Mikuji uchiwa! (Traditional Japanese fan with a shrine fortune slip design) These "OTOME Mikuji Uchiwa" were designed by up-and-coming artist unit "otome journal". Just like the mikuji fortune slips that you can find at a shrine, each of them have a unique message! The mini size of the uchiwa fan makes it easy to carry in a handbag. Later, this fan will be a reminder of your great summer!
Set your heart free with the festival feeling at Shibuya Hikarie ShinQs DOKI DOKI no Ennichi! ♪
■Information
DOKI DOKI Otona no Ennichi (DOKI DOKI 大人の縁日)
Festival period:13th July 〜 16th August(Thurs)〜 (Weds)
Location:Shibuya Hikarie ShinQs basement 3F 〜 5F
Website:http://www.hikarie.jp/
Related article:Kiki&Lala Café with a "grown-up" atmosphere ♡ "Little Twin Stars" a pop-up café, will open in Shibuya Hikarie's "ShinQs" for a limited time.
Related article:【Tokyo Stroll】Visiting "Coci la elle" in Daikanyama to get our hands on a colourful umbrella!
RELATED ENTRIES
Demon Slayer: Kimetsu no Yaiba x Lagunasia Theme Park Collaboration Event Begins in March

Lagunasia, a theme park managed by Laguna Ten Bosch, has announced an event in collaboration with the TV anime series Demon Slayer: Kimetsu no Yaiba which will run from March 6 to June 5.

©Koyoharu Gotouge / Shueisha・Aniplex・ufotable

©Koyoharu Gotouge / Shueisha・Aniplex・ufotable

The event will feature an immersive attraction called "Trial of Recollection: Tanjiro's Journey" as well as a rally event to hunt down all the stickers around the theme park, a Demon Slayer themed menu line-up, exclusive merchandise, and more.

Further details will be announced in the coming months.

Demon Slayer: Kimetsu no Yaiba Anime Event Slashes Into Kyoto Until March

An event centred on the TV anime series Demon Slayer: Kimetsu no Yaiba is now taking place in Kyoto at Toei Kyoto Studio Park, Kyoto Railway Museum, and Shijō-Ōmiya Station and Arashiyama Station on the The Keifuku Randen Tram Line until March 14, 2021. Fans of the series can participate in a 'keyword rally' where they'll be walking around Kyoto trying to locate specific words to win prizes, enjoy unique Demon Slayer exhibits at each of the venues, gets their hands on original merch, tuck into themed food, and more.

Pins (17 Designs) | ¥440 Each (*Design chosen is random)


Long Chocolate Baumkuchen | ¥1,080

Merch includes pins of the anime series's main characters, a special baumkuchen cake based on the Infinity Train from the Demon Slayer: Kimetsu no Yaiba the Movie: Mugen Train film, and more. Online orders are also available in Japan at Chugaionline.

Fans still hyped over Demon Slayer: Kimetsu no Yaiba the Movie: Mugen Train, which broke records in Japan to become the highest-grossing film of all time in the country, can expect to stock up even more of their favourites for their collection at the event.

©吾峠呼世晴/集英社・アニプレックス・ufotable

Information

Demon Slayer: Kimetsu no Yaiba Exhibition

Event Name in Japanese: 鬼滅の刃 京ノ御仕事 弐
Running: December 26, 2020 – March 14, 2021
Locations: Toei Kyoto Studio Park / Kyoto Railway Museum / Randen (Shijō-Ōmiya Station and Arashiyama Station)
Event Page: https://www.toei-eigamura.com/kimetsu/
*Event opening hours subject to sudden change or cancellation depending on COVID-19.

Online Orders
Running: Until January 31, 2021 at 23:59

Shipping: March 2021 (Japan only)

Chugaionline: https://www.chugai-contents.jp/blog/event/eigamura_kimetsu/

Tokyo Welcomes New KISS,TOKYO Bench at Shibuya River Street

What is being dubbed as a new sightseeing spot in Shibuya, "KISS,TOKYO," an artistic bench, appeared at Shibuya River Street on Christmas Day. The street runs from SHIBUYA STREAM towards Daikanyama.

About KISS,TOKYO

"KISS,TOKYO" is a project and nod towards those who love Tokyo, taking inspiration from the "I♡NY" slogan and logo. Japan isn't a country where kisses are used as greetings like other places around the world, but the bold notion of "KISS,TOKYO" expresses the feeling of love wards the people and city. It's a mark to welcome visitors to the capital of Japan.

The bench was made in cooperation with the Shibuya City Tourism Association and Tokyu and under a crowdfunder.

Pop-Up Store

A pop-up shop is now open at WIRED SHIBUYA selling merchandise with the KISS,TOKYO logo on it. It will run until January 31, 2021.

If you're planning a trip to Shibuya, make sure you get a photo with the city's new sightseeing and tourist spot.

Information

KISS,TOKYO Bench

Location: Shibuya River Street (3-22 Shibuya, Shibuya-ku, Tokyo)

Pop-Up Store
Running: December 25, 2020 – January 31, 2021
Location: WIRED SHIBUYA (3-27-1 Shibuya, Shibuya-ku, Tokyo)

KISS,TOKYO Official Homepage: https://kiss.tokyo/

Gintama Themed Cafes to Open in Shibuya and Sapporo in Collaboration With Tower Records

Tower Records is promoting the upcoming release of the anime film Gintama The Final by turning two of its own Tower Records Cafe branches in Sapporo and Shibuya into Gintama-themed spaces serving inspired dishes and selling exclusive merchandise.

Merch Collab

Gintama x  Tower Records Trading Acrylic Key Rings (6 Designs) | ¥800 (Before Tax)


Gintama x  Tower Records Towel | ¥2,500 (Before Tax)

Get your hands on a Gintama x  Tower Records key ring or towel featuring the main cast wearing Tower Records aprons just like the real-life staff at the music store chain. These items are available to pick up at 41 Tower Records stores, three Tower Records Cafes, and their official website.

Cafe Collab

Tower Records Cafe has collaborated with numerous anime series before, but this will be its first with Gintama. Two menus will be rolled out, the first being served from January 1, 2021 to January 14, 2021 and the second from January 15, 2021 to January 24, 2021. The first menu is themed on the series's six main characters while the second menu will be based around Gintama The Final as well as the two-part anime special Gintama The Semi-Final.

Menu ① (Excerpt)


Kagura's Tenshidon With Kombu Salad | ¥1,480 (Before Tax)

Inspired by the heroine of Gintama, Kagura, and served with her favourite vinegar kombu salad.

Toshiro Hijikata's Mayo Chicken Nanban | ¥1,480 (Before Tax)

Hijikata is known for his love of mayo, so it was only right that this mayo chicken nanban be served with three types of mayonnaise.

Gintoki's Week's Worth Of Sugar Parfait | ¥1,380 (Before Tax)

A strawberry-loaded parfait with plenty of sugar content, just how Gitoki likes it.

Kotaro Katsura's Elizabeth Dessert | ¥1,380 (Before Tax)

An Elizabeth crepe with something hidden inside…

Gintoki's Perm Drink | ¥750 (Before Tax)

A cotton candy dessert drink inspired by Gintoki's luscious natural perm.

Shinsuke Takasugi's Blueberry Smoothie | ¥750 (Before Tax)

A cool blueberry smoothie whose delicious flavour comes from it being chilled in the refrigerator.

Menu ② (Excerpt)


Yorozuya's Special Curry | ¥1,480 (Before Tax)

Inspired by the friendship between the three members of Yorozuya, with the white rice representing Gintoki, the pink (sakura denbu) Kagura, and the blue (powdered cheese) Shinpachi.

Sadaharu's Pancakes | ¥1,280 (Before Tax)

Inspired by the pet of Yorozuya, served with three sides representing the three members.

Shinpachi's Ramune | ¥750 (Before Tax)

A ramune based on Shinpachi, topped with a cherry to express his cherry boy-ness!

Takeout-Only Menu

Gintama Quote Omurice | ¥1,280 (Before Tax)

Classic Japanese omurice served with one of six famous quotes in Japanese from the series. Not available at the Nagoya Sakae SKYLE or Umeda NU Chayamachi branches.

Yorozuya Gin-chan's Takeout Drink | ¥900 (Before Tax)

A takeout drink based on Yorozuya Gin-chan with two different coloured jellies at the bottom to represent Shinpachi and Kagura with the white Calpis drink being Gintoki.

Bonus Items


Coasters (6 Designs)

Those who reserve the bonus item ticket at Ticket Pia machines will receive one of six possible Tower Records x Gintama coasters.

Menu ① Postcards (6 Designs)

Menu ② Postcards (6 Designs)

For every item ordered on the menu, you'll get a free postcard. This includes takeout items.

Set of 3 Bookmarkers (6 Designs)

Those who order a food item, dessert, and a drink all together will get a set of three bookmarkers.

Lunch Mat (During Menu ② Servings Only)

Those who dine at the cafe during the second menuy serving will receive a free lunch mat featuring the key visual for Gintama The Semi-Final.

©空知英秋/劇場版銀魂製作委員会
©空知英秋/集英社・テレビ東京・電通・BNP・アニプレックス

Information

Gintama x Tower Records Merch Collab
Pre-Orders: December 10, 2020

Release Date: December 24, 2020
Merch Collab Page: https://tower.jp/gintama/

Gintama x Tower Records Cafe Collab
TOWER RECORDS CAFE Shibuya
Address: Tower Records Shibuya Floor 2F, 1-22-14 Jinnan, Shibuya, Tokyo

Opening Hours: 10:45-20:50
Menu ①: December 24, 2020 – January 7, 2021

Menu ②: January 8, 2021 – January 17, 2021

*Closes at 17:20 on December 31 and closed for the day on January 1 and 2

TOWER RECODRS CAFE Sapporo PIVOT
Address: PIVOT Floor 5F, 4 Chome Minami 2 Jonishi, Chuo Ward, Sapporo, Hokkaido
Opening Hours: 11:20-20:00

Menu ①: January 5, 2021 – January 21, 2021

Menu ②: January 22, 2021 – February 7, 2021

TOWER RECODRS CAFE Nagoya Sakae SKYLE (Takeout Menu Only)
TOWER RECORDS CAFE Umeda NU Chayamachi (Takeout Menu Only)
Menu ①: January 5, 2021 – January 14, 2021
Menu ②: January 15, 2021 – January 24, 2021

Cafe Collab Website: https://tower.jp/gintamacafe

Gintama The Final
Release Date: January 8, 2021
Official Website: https://wwws.warnerbros.co.jp/gintamamovie/

Gintama The Semi-Final (dTV Japan Only)
Episode 1: January 15, 2021

Episode 2: January 20, 2021
Official Website: https://pc.video.dmkt-sp.jp/ft/s0007147?campaign=sgm100149

Online Shonen Jump Festival 'Jump Festa 2021' Opens App Download and Announces Schedule

Shueisha announced last month that JUMP magazine's annual festival JUMP Festa is heading online for 'Jump Festa 2021 ONLINE' which will run from December 19, 2020 to December 20, 2020. The application needed to access the festival was finally made available on Wednesday (December 9), as was the timetable.

Concept Movie

Jump Festa 2021 ONLINE App

The festival can be attended either by download the Jump Festa 2021 ONLINE app (ジャンプフェスタ2021 ONLINE) or by going on the event's official website. However, certain content is restricted on the website. The festival takes place on Jump Festa Island, a virtual space where visitors can access content related to Jump-related media from the free-to-access library to the theatre, an online shop, and more. There's also a zoo area, photo spots, and mini games. If visitors use the 'attend with a friend' function or chat function, they can also take a special commemorative photo as well as watch the stage performances.

22 Original Art Pieces

Jump Festa is a celebration of five manga magazine publications by Shueisha: Weekly Shonen Jump, Shonen Jump+, V Jump, Jump SQ., and Saikyo Jump. Each of the five publications have had 22 of their own original characters drawn with original artwork for this online event which people can use as their avatar to roam around Jump Festa Island.

2-Day Stage Events

42 stage performances will take place on December 19 and 20. Content will include live streams from special guests at Makuhari Messe, videos, and more. There are three virtual stages to watch: the Jump Super Stage, Jump Studio, and Jump Amusement Tower.

Jump Super Stage

The Jump Super Stage is centred on anime and media adaptations of Jump manga. Performances will be streamed like from Makuhari Messe.

December 19, 2020

10:00-10:30 / Dr.STONE
11:30-12:00 / World Trigger
13:00-13:30 / Jujutsu Kaisen
14:30-15:00 / Boruto: Naruto Next Generations
16:20-16:50 / My Hero Academia

December 20, 2020

10:00-10:30 / World's End Harem
11:30-12:00 / Black Clover
13:00-13:30 / The New Prince of Tennis
14:30-15:00 / Dragon Quest: The Adventure of Dai
16:10-16:50 / One Piece

Jump Amusement Tower

This stage is centred on V Jump and Saikyo Jump. It will give the latest information on Jump games live from Makuhari Messe.

December 19, 2020

9:30~ / Jump Festa 2021 ONLINE Introduction Stage – Presented by V Jump Play
11:00~ / One Piece Bounty Rush Jump Festa 2021 Battle Stage ONE PIECE
12:20~ / Naruto & Boruto Game New Information
14:00~ / Yu-Gi-Oh! New Information JF 2021 Stage
15:50~ / JUMP FORCE Special Stage

December 20, 2020

9:30~ / Jump Festa 2021 ONLINE Introduction Stage – Presented by V Jump Play
11:00~ / Dragon Ball App Stage
12:30~ / Dragon Quest: The Adventure of Dai Cross Blade Special Stage
14:00~ / Yu-Gi-Oh! New Information JF 2021 Stage
15:00~ / Super Dragon Ball Heroes Ultimate Stage

Jump Stage

This stage is centred on Weekly Shonen Jump, Shonen Jump+, and ,Jump SQ. It will feature video footage.

December 19, 2020

9:10~ / Digital DJ Special Program
9:45~ / Kemono Jihen
10:30~ / Hell's Paradise: Jigokuraku
11:05~ / Haikyu!!
12:00~ / Super HxEros
12:35~ / Bōkyaku Battery
13:30~ / Blue Exorcist
14:05~ / Chainsaw Man
14:40~ / "Platinum End" Special
15:05~ / Demon Slayer: Kimetsu no Yaiba
15:50 / Gintama

December 20, 2020

9:10~ / Weekly Shonen Jump New Hero Stage
9:45~ / Hetalia World☆Stars
10:30~ / Rurouni Kenshin: The Hokkaido Arc
11:10~ / Moriarty the Patriot
12:00~ / 2.5D no Yuuwaku
12:35~ / Blood Blockade Battlefront Back 2 back
13:10~ /  SPY x FAMILY
13:45~ / Showa Otome Otogibanashi
14:30~ / 2nd Nationwide One Piece Knowledge King Battle Final Stage
15:05~ /  BLEACH/BURN THE WITCH
15:50~ / The Promised Neverland

JF Coins From 24 Jump Series

On Jump Festa Island, visitors can collect JF Coins from 24 different Jump series from across the five magazines which they can spend on mini games to earn limited-edition items, enjoy the Capsule Character Tower, and more. Some spots also give Rare Coins.

There and three original mini games to play. Gain a high score and earn one of twelve stamps.

Jump Photo Spots From 24 Series

Take a photo at one of the many photo spots that recreate famous scenes from 24 different Jump series. Have your character avatar look like they're part of the scene.

TikTok x Jump Festa Special Collaboration

This year, Jump Festa is collaborating with TikTok with its own official account as well as original video effects. There will also be a special TikTok LIVE stream in collaboration with the festival before the start date on December 18 at 19:00 (JST).

© SHUEISHA Inc. All rights reserved.

My Hero Academia Themed Puzzle Game to Open in Shibuya in January 2021

Asobi Factory no Asobiba is a new shop set to open on the 6th floor of Shibuya Marui on January 2, 2021 where visitors can get hands-on and immersed in puzzle-solving games.

Asobi Factory is a puzzles and goods brand that first began its journey into the puzzle industry in 2011. Since then, it has hosted many interactive puzzle events based on anime series, games, television shows, and more. Its new Asobiba shop will collaborate exclusively with anime and games, offering puzzle experiences as well as selling puzzle goods and merchandise in collaboration with anime series.

Visitors can walk around the shop to enjoy experiencing different puzzle content. And these puzzles aren't bound to the shop – they will take visitors around the building and outside on the streets too. Puzzles can last anywhere from 1-3 hours, making for a fun day trip.

My Hero Academia features as the first collaboration

The popular anime series My Hero Academia hails as the first collaboration. The story begins at a hero office where word of an explosion reaches. You take the role of a pro hero take the call to figure out this mystery and head straight to the scene of the crime only to find mysteriously that the first reported explosion goes off in the instant you arrive. People are in a panic, and it's up to you, Deku, Ochako, and Todoroki to prevent the second blast from going off.

©堀越耕平/集英社・僕のヒーローアカデミア製作委員会

Information

Asobi Factory no Asobiba
Address: Shibuya Marui Floor 6F, 1-22-6 Jinnan, Shibuya, Tokyo

Running: January 2, 2021 – End of February 2021 (Subject to change)

Opening Hours: 11:00-20:30 (from 12:00 on January 2, 2021 only)

Official Website: https://www.yte.co.jp/asobi/asobiba/

Golden Island Zipang 2020 Illumination Event Lights Up Matsue in Shimane

The splendid Yuushien Garden in Matsue, Shimane, is now hosting a dazzling winter illumination event titled Kogane no Shima Zipang 2020 (Golden Island Zipang 2020) until January 11, 2021.

Golden Island Zipang 2020

Yuushien Garden is located on the eastern side of Matsue on Daikon Island, a volcanic island in Nakaumi. The garden has been called the most beautiful Japanese-style garden in all of Japan, which makes it the perfect setting for the illumination event. 50 projectors at the garden are using projection mapping to create a flurry of flashy illuminations.

It's a full pixel illumination display coupled with music that's sure to dazzle all who visit. this winter.

Information

Golden Island Zipang 2020 (Japanese: 黄金の島 ジパング 2020)
Event Schedule
Autumn Illuminations: November 14, 2020 – November 30, 2020

Christmas Illuminations: December 1, 2020 – December 27, 2020

New Year Illuminations: January 2, 2021 – January 11, 2021
Event Page: https://www.kankou-matsue.jp/rehappy/feature/illumination

Yuushien Garden
Address: 1260-2 Yatsukachō Hanyū, Matsue, Shimane
Opening Hours:9:00-17:00
Closed: December 30-31
TEL: 0852-76-2255
Official Website: https://www.yuushien.com

Karuizawa Shiraito Falls Midwinter Light Up Arrives For 2020-2021

Shiraito Highland Way has announced that this year's Karuizawa Shiraito Falls Midwinter Light Up will run from December 19, 2020 to February 14, 2021.

The illumination event will take place at Karuizawa Shiraito Falls, a 3-meter tall waterfall that spans 70-meters in length. The lights will add a warmth to the cool evening and glow under a starry night sky.

The event creates a different atmosphere from the summer light-up, allowing visitors to enjoy the enveloping nature in a way that they normally can't and see beauty they may not have noticed in the area before. The waterfall is located in Jōshin'etsu-kōgen National Park, a protected area which means the lights will be set up in a way that's considerate to the park.

If you're in Japan this winter then don't miss out on this year's Karuizawa Shiraito Falls Midwinter Light Up which will be split into three sessions: the Christmas Session, New Year Session, and St. Valentine Session. More details below.

Information

Karuizawa Shiraito Falls Midwinter Light Up
Location: Karuizawa Shiraito Falls
Running: December 19, 2020 – February 14, 2021
・Christmas Session: December 19th-20th, 24th-27th (17:00-19:00)
・New Year Session: January 2nd-3rd,  8th-11th (17:00-19:00)
・St.Valentine Session: February 11th-14th (17:30-19:30)

Access: https://karuizawa-shw.com/access/
*Please see the website for the latest information

*Entry restrictions may be made depending on the number of visitors

Official Website: https://karuizawa-shw.com/

Enjoy the Beautiful Taste of Kyoto at Isetan Shinjuku in Tokyo

Isetan Shinjuku has announced a special event dedicated to promoting the beautiful taste of Tokyo. Set to begin on December 2, the event will see both traditional and newer restaurants from Kyoto come together to serve up Kyoto-style cuisine to the people of Tokyo from oldies like sushi to dango to more modern dishes like okonomiyaki and katsu sandwiches. Visitors will also be able to watch real chefs from Kyoto at work.

Hi-Lite Shokudo's "Hi-Lite Katsu Sandwich" | ¥850

Since first opening in 1960, Hi-Lite Shokudo has continued to treasure the taste of home cooking and has continued to evolve that taste over the years to cater to each generation. Its famous katsu sandwich is made with a secret sauce that has kept it unbeaten against other popular eateries in Kyoto, and they've upped the taste for this event.

Kotoka's "Mitarashi-dango" | ¥864 (6 Sticks) 

These dango are made fresh in front of customers and are doused in a rich secret sauce. Their chewy texture is irresistible.

Izuu's Mackerel and Tilefish Assortment | ¥4,455 (3 of each per person)

Izuu is an iconic sushi restaurant in Kyoto that was first established in 1781. This assortment is made with chub mackerel from coastal waters, esumai rice from Shiga Prefecture, and kombu from Hokkaido.。

Yumeya's Fuwafuwa Okonomiyaki | ¥801 (1 portion)

Many people living outside of Kyoto search for the okonomiyaki flavour served by Yumeya. It's made fresh, fluffy, and is topped with lots of ingredients.

Daitokuji Saiki-ya's "Dashimaki Tamago" | ¥648 (1 portion)

Daitokuji Saiki-ya is a specialty store in Kyoto catered food in business for 1933 years. It serves Kyoto-style dashimaki tamago as well as lots of other delicious food that captures the taste of Kyoto.

Gifts Galore as Roppongi Hills Welcomes the Christmas Market Again For 2020

Christmas has sleighed into Roppongi Hills again this year, beginning with the Keyakizaka-dori Illuminations on November 13. The Christmas Market is also set to return to Oyane Plaza on November 28.

2020 marks the 14th run of the Roppongi Hills Christmas market which is inspired by the the famous Stuttgart Christmas Market in Germany. Visitors can sift through around 1,500 miscellaneous Christmas goods, enjoy German mulled wine and sausages, and more.

At the West Walk, visitors will also find an enormous 6.5m tall Christmas tree to complement the warm, cosy, festive atmosphere of the holiday season event.

Information

Roppongi Hills Christmas 2020
Running: November 13, 2020 – December 25, 2020
Location: Roppongi Hills (Keyakizaka-dori, West Walk Floor 2F, Oyane Plaza, and elsewhere)

Christmas Market 2020
Running: November 28, 2020 – December 25, 2020
Times: 11:00-21:00
Location: Oyane Plaza
Roppongi Hills Official Website: https://www.roppongihills.com/en/

Gucci's Shibuya Store Collaborates With Cassette Tape Shop waltz

To celebrate one year since opening, the Shibuya PARCO branch of Gucci in Tokyo is collaborating with the Nakameguro-based cassette tape shop waltz from November 20 to December 6.

waltz is a vintage-style boutique with shelves lined with old music and VHS tapes, cassette players, books, vinyl records, fashion and design magazines, stereo equipment, and more. Self-described as the "ultimate destination for retro multi media," the shop is a real nostalgia trip nostalgia, and is one of 13 Gucci Places alongside places like Chatsworth House in the UK and LACMA in Los Angeles.

Gucci Shibuya PARCO features its own booth where people can listen to old cassette tapes from waltz's Secret Room. The song selection includes tracks from the 1970's, which Gucci's Epilogue collection is inspired by, a playlist created by Gucci creative director Alessandro Michele, and more.

Gucci Shibuya PARCO incorporates Shibuya's creative and innovative spirit while lacing it with Gucci's contemporary and eclectic perspective.

Information

Gucci Shibuya PARCO x waltz Special Collaboration
Running: November 20, 2020 – December 6, 2020
Location: Gucci Shibuya PARCO
Gucci Japan Official Website: https://www.gucci.com/jp/ja/

JUMP Magazine Announces Online Festival For 2021

Shueisha has announced that JUMP magazine's annual festival JUMP Festa is heading online for 'JUMP Festa 2021 ONLINE' which will run from December 19, 2020 to December 20, 2020.

JUMP Festa is a celebration of five manga publications by Shueisha: Weekly Shonen Jump, Shonen Jump+, V Jump, Jump SQ., and Saikyo Jump. This year marks its 22nd run, but due to the COVID-19 pandemic, the event is unable to be held in real life and so will be held online for the first time. To enter, you can download the JUMP Festa app or head on over to the event's official website.

JUMP Festa Island – A Virtual Venue

JUMP Festa Island is where JUMP Festa 2021 ONLINE will take place, a virtual space where visitors can access content related to JUMP-related media from the free-to-access library to the theatre, an online shop, and more. There's also a zoo area, photo spots, and mini games.

Original characters created for JUMP Festa Island

Each of the five magazine publications have had their own original characters drawn for this online event. More details will be revealed about these characters in the coming weeks, but they can run around, pose, and more.

© SHUEISHA Inc. All rights reserved.

Information

JUMP Festa 2021 ONLINE
Running: December 19, 2020 – December 20, 2020

Time: 9:00-17:00
JUMP Festa Official Website: https://www.jumpfesta.com/