CAPSULE Announced to Perform at the Yasutaka Nakata-Produced Music Festival "OTONOKO"!
The first OTONOKO music festival produced by Yasutaka Nakata was held last year where Nakata himself along with his music group CAPSULE were the first artists announced to appear at the event.

Yasutaka Nakata is a record producer, composer and DJ known for producing some of Japan's biggest artists including Perfume and Kyary Pamyu Pamyu. His work is ubiquitous and has even been used at international ceremonies and on the Hokuriku Shinkansen at Kanazawa Station.
He has also provided music for many national and international movies including Hollywood films and is renowned as the driving force for Japanese pop music by many top artists.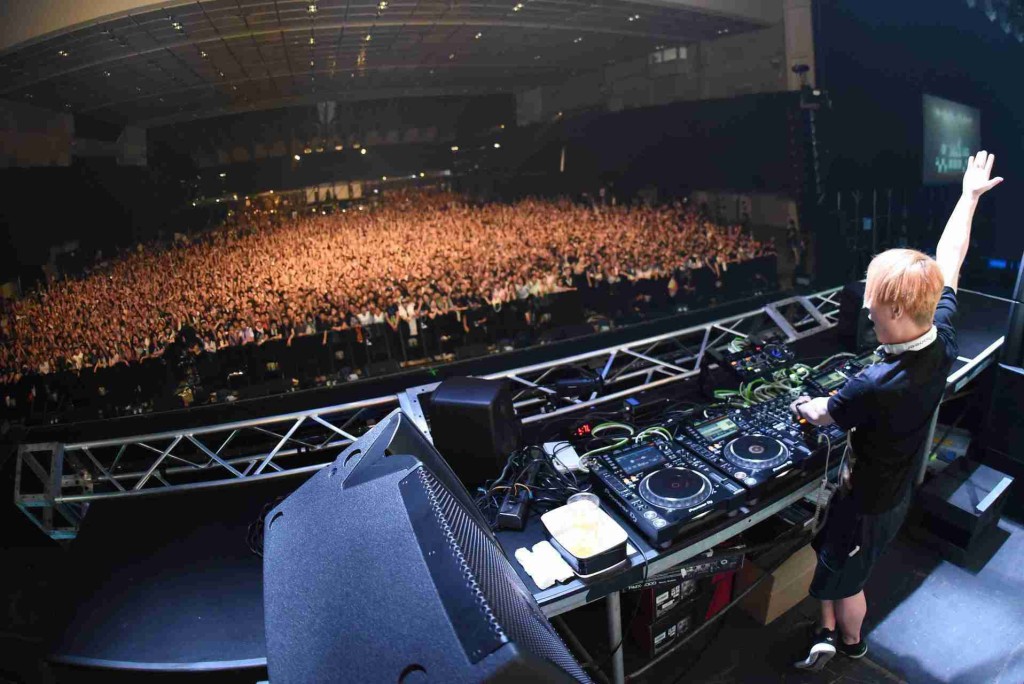 The next Nakata-produced "OTONOKO" music festival will be held on December 2nd at Ishikawa Sangyou Tenjikan 4 Goukan.
Nakata and his main music unit CAPSULE are set to return this year for OTONOKO.
There will also be an official bus tour heading to Tokyo and Osaka. People residing on the outskirts of Tokyo and Osaka should check out the special bus tour in addition to the tickets. Applications for the bus tour will open on Monday July 31st.
Nakata hopes to deliver his sound ("OTO") to the world from his hometown of Kanagawa with OTONOKO, a new kind of festival the likes you have never seen. Anticipation grows as we await the line-up for OTONOKO, spearheaded by Yasutaka Nakata, an internationally-renowned top-tier artist and DJ who is responsible as the driving force leading Japan's pop scene today.
■Information
Yasutaka Nakata presents "OTONOKO 2017"
Time/Date: December 2, 2017 – 11:00 OPEN / 13:00 START
Venue: Ishikawa Sangyou Tenjikan 4 Goukan
Price: Advance General Standing ¥6,800 (tax-inclusive)
Tickets will go on sale via all playguides on Sunday July 2nd at 10:00am
Official Bus Tour: Applications open on Monday July 31st
"OTONOKO" Official Website: http://www.otonoko.com (Japanese)
Related Article:Yasutaka Nakata's New Song "White Cube" Featured In Flashy Cup Noodle Promotional Video!
Related Article:Introducing the latest clips and videos from internationally acclaimed Japanese artists—from Kyary Pamyu Pamyu to Perfume & more!
RELATED ENTRIES
Yasutaka Nakata's Main Unit CAPSULE Set To Digitally Release All Albums

Music unit CAPSULE, which was formed by world-famous producer Yasutaka Nakata, is releasing all their albums on Apple Music and other worldwide music streaming services from July 10, 2020.

After debuting in 2001, Yasutaka Nakata has gone on to release 17 albums with CAPSULE and three albums in partnership with model Kate Sakai as the music unit COLTEMONIKHA. Nakata also produced albums for the soundtrack to the sensational drama Liar Game in which Shota Matsuda played the main role. All the above albums will also be released on subscription services.

This is just what fans across the world have been waiting for. As CAPSULE will be celebrating their 20th anniversary next year, make sure to check out their playlists.

Information

Release: July 10, 2020 from 12:00 AM

Available On: Apple Music, AWA, Spotify, Amazon Music, LINE Music (and more)

CAPSULE Official Website: http://www.capsule-official.com/

CAPSULE & Other Major Japanese Artists to Perform at ageHa's 2020 Countdown Party in Tokyo

ageHa is set to host one of Japan's biggest countdown parties again this year, falling on December 31, 2019 once more.

Headlining the ARENA is English DJ and producer Sigala. He released his debut single Easy Love in 2015 which shot to number one on the UK charts. Since then, he has continued to pump out club and festival bangers such as Sweet Lovin and Say You Do. Seven of his nine singles have gone platinum, proving that he is one of the main players in the scene right now.

Another headlining act for the show, this time from Japan, is CAPSULE, the music duo spearheaded by internationally-acclaimed Japanese DJ and record producer Yasutaka Nakata who is the official producer for two of the biggest names in Japanese music: Perfume and Kyari Pamyu Pamyu. CAPSULE plan to put on a special performance for the countdown party.

banvox is also making a return from last year's ageHa countdown concert, and CYBERJAPAN DANCERS are entering the fray for a special showcase.

In the WATER area of the venue, which is produced by WORLD CLASS and TCPT, France-based bass house duo Loge21, who have piled up t he releases since Confession, will perform in Japan for the very first time. DJ Remo-con will join the line-up as a guest too.

Over at the ISLAND area, the latest in cutting edge hip hop will take to the stage. Several DJs representing Tokyo will join rapper Jin Dogg, who is garnering attention right now, including HOKUTO, KEKKE, CHARI, and FUJI TRILL.

Finally, the BOX area will give rise to trance tunes, with performances from DJ KAYA, NORIO SP, FULLMOON RAVE, agefarre, and more.

But that's not all, because the famous Robot Restaurantーa major tourist attraction in Shinjukuーis making an unexpected collaboration with ageHa to put on their first ever show outside the restaurant.

A variety of other celebratory things are planned for the countdown party to chime in the new year, including servings of toshikoshi soba, omikuji fortunes, goshuin seals, and more. If you happen to be in Tokyo for the New Year, then don't miss out on this very special event.

Yasutaka Nakata, DJ KAORI & More to Perform at ASOBINITE!!! Summer Party in Tokyo

Driving the Japanese pop culture scene, ASOBISYSTEM's annual grand party ASOBINITE!!! is back! The party will be held on Saturday 20th July at Shinkiba ageHA @STUDIO COAST.

Japan's most iconic producer Yasutaka Nakata will be firing up the party as the resident DJ. He will be accompanied by many sensational guest performers including the DJ queen DJ Kaori; who was the resident DJ for ageHa's 15th anniversary concert THE BEST PARTY!! Nakata's main music unit CAPSULE will also be performing on stage for the first time in two years! TJO, TeddyLoid and many more big name DJs will also feature at the event.  

Filled with summer vibes, the WATER stage will be hosting the event BIKINI NIGHT. The lineup of famous performers includes MITOMI, TOKOTO, BUNNY, iamSHUM and SHOTA. This party is going to kick off by the spacious poolside and there's no doubt the night is gonna be a splash!

VIRTUAFREAK will be managing a spin-off stage with an army of famous VTubers who have influenced many creatives! Witness an army of wildly enthusiastic VTubers as they tear down the BOX stage at ageHa! The lineup includes Miori Ehara, Virtual Cat, and even Wani and Komori (Wani no Yaka & Hashiyan Takasaka)!

Limited early bird tickets will be released on Tuesday 28th May during the afternoon.  This summer festival of Japanese stars is something you don't want to miss so check it out as soon as you can!

Information

ASOBINITE!!! SUMMER SPECIAL

Date: Sat 20/07/2019

OPEN 23:00 / CLOSE 05:30

Prices:

On the door: ¥4,000

International guest discount (valid form of ID required) ¥3,000

20th Pass (20-year-olds only) ¥2,000

ADVANCE TICKETS:

EARLY BIRD TIER 1 : ¥2,500

U-25 TICKET / (Under 25s): ¥2,750

GA TICKET / (General Admission) : ¥3,250

GROUP TICKET (5 tickets ): ¥12,500

Ticket release date: From 12:00 pm on 28th May  

iFLYER: http://ifyr.tv/X1jCR

VIP TABLE

Enquiries:  reserve@ageha.com

Shinkiba ageHa @STUDIO COAST

Address: 2-2-10, Shinkiba, Koto Ward, Tokyo

Website: http://www.ageha.com/

Japanese Music Artists Performing Overseas in 2019: Part 3

With summer fast approaching, concertgoers are gearing up for this year's music festivals and live shows. We previously covered numerous Japanese bands and artists performing who overseas this year in parts one and two of this feature, but since the previous entry, even more acts have been announced.

Here is a new list of artists embarking outside Japan this summer.

Suchmos

For the first time in their career, rock group Suchmos are set to embark on their first ever Asia Tour this June. They will hit up 6 locations, beginning in Hong Kong before heading to Taipei, Seoul, Shenzhen, Shanghai and Beijing.

▶︎ Suchmos ASIA TOUR 2019

2019/6/2 @ Music Zone @ KITEC, Hong Kong

2019/6/7 @ Legacy Taipei, Taipei

2019/6/9/ @ YES24 Live Hall, Seoul (*w/ HYUKOH)

2019/6/12 @ B10 Live, Shenzhen

2019/6/14 @ Modern Sky Lab, Shanghai

2019/6/16 @ Tango Live (Floor 3F), Beijing

Suchmos Official Website: https://www.suchmos.com

→News Update (June 1, 2019)
Following unexpected illness of one of their members, Suchmos have cancelled all remaining dates on their upcoming overseas tour.

【NEWS】
アジアツアー追加公演が決定しました。

■6/28(金) ジャカルタ
会場は後日発表

■6/30(日) バンコク
Moon Star Studio 1

▼公演詳細はこちら▼https://t.co/HzrqIYa1FQ pic.twitter.com/ooz5TLntDL

— [ALEXANDROS] (@alexandroscrew) 2019年4月13日

[ALEXANDROS]

Rock band [ALEXANDROS] are also heading on tour in Asia throughout June and July. The band are currently on their "Sleepless in Japan Tour" in promotion of their newest album Sleepless in Brooklyn and will take their concerts across Asia for 8 shows, starting with Shanghai on June 21 and wrapping in Seoul on July 21. This also marks their first time performing in Shanghai and Beijing.

 

▶︎ Sleepless 2019 Asia Tour

2019/6/21 @ Modern Sky Lab, Shanghai

2019/6/23 @ Beijing Omni Space, Beijing

2019/6/28 @ Jakarta (*Venue TBA)

2019/6/30 @ Moon Star Studio 1, Bangkok

2019/7/5 @ Music Zone @ E-Max, Hong Kong

2019/7/7 @ Legacy Taipei, Taipei

2019/7/19/ @ Bentley Music Auditorium, Kuala Lumpur

2019/7/21 @ MUV HALL, Seoul

[ALEXANDROS] Official Website: https://alexandros.jp

SAKANAQUARIUM 2019 "834.194"
6月28日 上海&6月30日 深セン公演

明日5月1日12:00よりチケット販売が始まります。
券種・プレイガイドはサカナクションHPに掲載しています。https://t.co/GyH6y5B25n

— sakanaction (@sakanaction) 2019年4月30日

Sakanaction

Sakanaction have announced that they will play in Shanghai and Shenzhen at the end of June. Upon unveiling the news the band created their own Weibo account, a Chinese social media platform. The rock band will release their new album 834.194 in June, their first album release since sakanaction was released 6 years ago in March 2013. The Asia dates were added to their ongoing Japan tour. This will be their second set of headline concerts outside in Japan since they performed overseas for the first time back in 2013 in Taiwan. The band are known for their use of cutting-edge technology at their shows, so foreign fans can look forward to seeing what they have in store for them next month.

  

▶︎ SAKANAQUARIUM 2019 "834.194"

2019/6/28 @ Modern Sky Lab, Shanghai

2019/6/30 @ A8 Live, Shenzhen

Sakanaction Official Website: http://sakanaction.jp

BAND-MAID

Earlier this month, five-piece maid rock band BAND-MAID announced the European leg of their 2019 world tour, one which will begin this June and one whose decided theme is Gekidou, or "tumultuous." All shows on BAND-MAID's 2018 world tour sold out completely. The initial European leg of their long-awaited new world tour will take them to 3 countries for 4 performances. They will then head to the US in September.

Related Article: BAND-MAID Announces European Leg Of 'Tumultuous' 2019 World Tour

▶︎BAND-MAID WORLD DOMINATION TOUR 2019 【激動】 ~gekidou~

6/22 – London, UK @ Islington Assembly Hall

6/23 – Paris, France @ Le Trabendo

6/24 @ Bochum, Germany @ Zeche

6/26 @ Hamburg, Germany @ DAS LOGOS

9/26 @ NYC Gramercy Theater, US

9/28 @ Dallas Cambridge Room, US

9/30 @ LA ECHOPLEX, US

10/1 @ LA ECHOPLEX, US

World Tour Info: https://bandmaid.tokyo/contents/241952

BAND-MAID Official Website: https://bandmaid.tokyo/

Kyary Pamyu Pamyu, CAPSULE, m-flo & More

The biggest names in Japanese pop music are set to take over Los Angeles at QTAQUEST LIVE and OTAQUEST KICK OFF PARTY which is set to take place at THE NOVO by Microsoft on July 3, 2019. Both OTAQUEST LIVE and OTAQUEST KICK OFF PARTY serve as the opener to Anime Expo, the biggest anime convention in the US, which will run from July 4 to 7. CAPSULE, Kyary Pamyu Pamyu, Crazy Boy, HIROOMI TOSAKA and m-flo are set to deliver Japanese entertainment to US lovers of Japanese music and entertainment.

Related Article: Kyary Pamyu Pamyu, Yasutaka Nakata & CRAZYBOY to Perform at QTAQUEST LIVE in Los Angeles

▶︎OTAQUEST LIVE

Date: July 3, 2019

Time: OPEN 17:00 / START 18:30

Location: THE NOVO by Microsoft, Los Angeles, California, US

Line-Up: CRAZYBOY / HIROOMI TOSAKA / m-flo / CAPSULE / Kyary Pamyu Pamyu

OTAQUEST KICK OFF PARTY

Date: July 3, 2019

Time: OPEN/START 22:00

Location: THE NOVO by Microsoft, Los Angeles, California, US

Line-Up: ☆Taku Takahashi / TeddyLoid / Yasutaka Nakata (CAPSULE) / …and more

Event Website: https://live.otaquest.com/

Tickets: https://www.axs.com/events/372261/otaquest-live-tickets?skin=novo

Ai Otsuka

This year, Ai Otsuka celebrates her 15th anniversary since her debut. The singer-songwriter released her greatest hits album Ai am BEST, too in January this year, and she is currently in the midst of her nationwide Japan tour. 5 Asia dates have been added to the tour. Her previous Asia tour took her to just three cities: Taipei, Shenzhen and Guangzhou, but this year she is spreading her wings and will perform in Guangzhou, Chengdu, Shanghai and Taipei.

 

▶︎ AIO PIANO at ASIA vol.2 

2019/7/17 @ Dr. Sun Yat-sen's Memorial Hall, Guangzhou

2019/7/19 @ 特侖蘇音楽庁, Chengdu

2019/7/27 @ BANDAI NAMCO SHANGHAI BASE DREAM HALL, Shanghai

2019/7/28 @ BANDAI NAMCO SHANGHAI BASE DREAM HALL, Shanghai

2019/8/17 @ ATT SHOW BOX 大直, Taipei

Ai Otsuka Official Website:  http://avex.jp/ai/

If you love Japanese music and a Japanese band or artist are coming to a city near you this year, then be sure to show your love and support by getting your hands on a ticket to see them live.

Yasutaka Nakata, EXILE MAKIDA & More to Perform at ASOBEACH!!! in Okinawa

The popular long-running outdoor music festival ASOBEACH!!! is heading to Okinawa this summer with two shows at Umisora Park in the capital city Naha on June 1 and 2. The festival is taking place as the finale of Okinawa E-motion which is a collection of events centred around food, music and art that will bring an early summer to locals and tourists in Okinawa.

The line-up includes Japan's leading music producer and DJ Yasutaka Nakata, his main band CAPSULE, ☆Taku Takahashi (m-flo), EXILE MAKIDAI (PKCZ®), TeddyLoid, Yoshikazu Mera, DJ Ichiro Yatsui and more. Concertgoers can expect to enjoy a multitude of genres while feeling the cool sea breeze of Okinawa. Tickets are now on sale via Japanese ticket vendors.

Other events taking place as part of Okinawa E-motion include Magic Beach & Beach Bar Walk (May 18-19) which combines food with magic, the concert show KPP Camp (May 25) which is being produced by Kyary Pamyu Pamyu, Bar Walk Naha (May 25) which is bringing together famous Naha restaurants, and more. ASOBEACH!!! will be held at the same time as the popular food festival OKINAWA FOOD FLEA on June 1 and 2 so don't miss out.

Information

Okinawa E-motion「ASOBEACH!!!」

2019/6/1 @ OPEN 14:00 / START 15:00

2019/6/2 @ OPEN 14:00 / START 15:00

Venue: Umisora Park (3-3-1 Tsuji, Naha, Okinawa)

Day 1 Tickets

Advance: ¥3,000 (Tax Included)

Same-Day: ¥3,500 (Tax Included)

*No reserved seating

Day 2 Tickets

Advance: ¥5,000 (Tax Included)

*No reserved seating, no same-day tickets

Tickets via e+: https://eplus.jp/sf/word/0000132270

Line-Up

June 1 – Yasutaka Nakata, ☆Taku Takahashi (m-flo), TeddyLoid, Yoshikazu Mera (TeddyLoid Special Live Guest), and more

June 2 – Yasutaka Nakata, CAPSULE, EXILE MAKIDAI (PKCZ®), DJ Ichiro Yatsui, and more

*Prices are the same for adults and children. Preschoolers are granted free access.

*ID required to purchase alcohol.

Okinawa E-motion Official Website: https://www.okinawa-emotion.com/

Anime Anthology Film 'Modest Heroes' Music to be Composed by Yasutaka Nakata & Other Music Veterans

Studio Ponoc, formed by former Studio Ghibli lead film producer Yoshiaki Nishimura, is releasing its next animated movie after their debut release Mary and the Witch's Flower (2017).

Modest Heroes is a three-part anime anthology film set for release in Japan on August 24. Several composers including DJ, record producer, songwriter Yasutaka Nakata (Capsule, Perfume, Kyary Pamyu Pamyu) have been unveiled to have worked on the movie's soundtrack.

The film is split into three parts with different directors. Kanini & Kanino is a fantasy short directed by Hiromasa Yonebayashi―who also directed Mary and the Witch's Flower―and follows two crab brothers on a big adventure. Life Ain't Gonna Lose is a drama short directed by animator Yoshiyuki Momose, a great talent who worked under the late Isao Takahata of Studio Ghibli. It's based on a true story and tells a tale of love between a mother and a young boy. The final part, Invisible, is directed by veteran animator Akihiko Yamashita who is known for having worked on Hayao Miyazaki's Howl's Moving Castle. It focuses on the struggles of a lonely invisible man.

Modest Heroes features a voiceover cast of well-known actors and actress such as Joe Odagiri and Fumino Kimura. The soundtrack is composed by three huge names in music: film composer, pianist and singer-songwriter Takatsugu Muramatsu, music producer and keyboardist Masanori Shimada, and Yasutaka Nakata.

Which film short are you most looking forward to from the anthology?

■Information

Studio Ponoc – "Modest Heroes"

Release Date: August 24, 2018

"Kanini & Kanino" – Director: Hiromasa Yonebayashi / Music: Takatsugu Muramatsu / Cast: Fumino Kimura, Rio Suzuki

"Life Ain't Gonna Lose" – Director: Yoshiyuki Momose / Music: Masanori Shimada / Cast: Machiko Ono, Sota Shinohara, Kentaro Sakaguchi

"Invisible" – Director: Akihiko Yamashita / Music: Yasutaka Nakata / Cast: Joe Odagiri, Min Tanaka

Movie Trailer: https://youtu.be/e5HXDXM5S04

Official Website: http://www.ponoc.jp/eiyu/

©2018 STUDIO PONOC

Kyary Pamyu Pamyu, Yasutaka Nakata & Other ASOBISYSTEM Artists Perform at ASOBIEXPO ― Event Report

An army of Japanese pop culture leaders signed to ASOBISYSTEM attended ASOBIEXPO at Shinkiba STUDIO COAST on July 21, 2018 to celebrate the company's 10th anniversary, including Kyary Pamyu Pamyu, Yasutaka Nakata, Sebastian Masuda and more.

Close to 100 music artists, models, DJs and others attended the festival, which was split into two slots: ASOBIFES!!! was a free invitation-only concert and show event, and ASOBINITE!!! was a club event which was attended by some of Japan's representative artists.

Beginning the show was none other than MANON, ASOBISYSTEM's 16-year-old leader of the new generation of youth. She captivated the crowd with her soft and relaxed rapping and edgy lyrics with tracks like xxFANCYPOOLxx and COCO BOI ROMANCE.

Next to hit the stage was 4-member pop dance and vocal group TEMPURA KIDZ. They rolled out a string of infectious pop tunes that made you want to dance and gave a performance so foot-stomping you'd think it was the climax of the event already. A number of guests and dancers joined them on stage from Tamura in Fukushima Prefecture where TEMPURA KIDZ held workshops as part of a project to revitalise the region.

Sashaying onto the stage next was a list of models signed to ASOBISYSTEM for a special fashion show. The first theme was 'urban mood' which saw names like Shiho Takechi and Rinko Murata take over the runway. The second theme was 'Tokyo Street Vintage Mix' where Saki Shibata, Yuri Suganuma and others walked the walk.

After the fashion show, it was to change things up. Natsume Mito stepped onto stage followed by 6 others. They read aloud the children's picture book Mumu written by Natsume Mito herself which was accompanied with acting, music and lighting to bring the story to life. After the performance she announced a sequel to the book, Mumu ~Shima-chan no Otanjoubi~.

Things changed up again when Atarashii Gakkou no Leaders came on to fire everybody up again. They gave an electrifying vocal and dance performance during the Showa-style number Koi Shadanki feat. H ZETTRIO. The members also spoke about their recollections with ASOBISYSTEM and said, "Congratulations on 10 years! Let's keep working hard together!" They then performed Saishuu Jinrui. Their set was full of love for ASOBISYSTEM.

Now it was time to pull the big guns out. CAPSULE graced the stage, opening with Another World to get people pumped before hitting them with MORE MORE MORE, JUMPER and Hero. The crowd were pulled into the CAPSULE galaxy with the on-screen space visuals and giant mirror ball overhead for Starry Sky.

CAPSULE vocalist Koshijima shouted out softly, "Thank you for today! Congratulations on 10 years, ASOBISYSTEM. Have fun until the very end!" Their set concluded with a fantastic groove that shot the crowd into the stratosphere.

The final act of the night, and ASOBISYSTEM's representative artist, was of course Kyary Pamyu Pamyu. As the audience waited with smiles on their faces, four dancers dressed in black appeared to the tune of KPP On Stage. Kyary subsequently stepped out wearing a rough outfit―something much different to what she usually wears―to perform her hit tune Invader Invader.

"Thank you! Is everyone at ASOBIEXPO having fun? Congratulations on 10 years, ASOBISYSTEM. I have been with ASOBISYSTEM for 7 years. 7 years have passed since I met the company president, Army. Yasutaka Nakata has continued to make my songs, so I am always indebted to ASOBISYSTEM. Thank you so much!"

Kyary performed her mature-sounding hit Kimino Mikata before wrapping up the first slot of the festival, ASOBIFES!!!, with Harajuku Iyahoi. The room was left with a festive, feel-good atmosphere and bright lighting.

It was then time for the party – ASOBISYSTEM's flagship event ASOBINITE!!! A whole host of ASOBISYSTEM artists graced the stage including RAM RIDER, 80KIDZ, TeddyLoid, DJ KYOKO, Licaxxx, not to mention Yasutaka Nakata, amongst others. A line-up of guests also joined the event including SHINICHI OSAWA (MONDO GROSSO), TOMOYUKI TANAKA (FPM), ☆Taku Takahashi (m-flo, block.fm), DAISHI DANCE, and banvox. Everybody worked to cement ASOBISYSTEM's 10th anniversary into history.

ASOBIEXPO was an entire day of Japanese pop culture. ASOBISYSTEM continue to seek working as the architects of next-generation culture and will advance onto the world stage. This is the feeling that was left in the venue on this memorable day.

Text: Fukuryuu (Music Concierge)

■Information

ASOBISYSTEM 10TH ANV presents「ASOBIEXPO」

Date: July 21, 2018

Venue: Day Slot – Shinkiba STUDIO COAST / Night Slot – Shinkiba ageHa @STUDIO COAST

Daytime "ASOBIFES!!!" (OPEN 14:00)

Free & Invite-Only (Attendees chosen randomly through applications for the event)

Nighttime "ASOBINITE!!! -ASOBITOURS!!! FINAL!!!-" (OPEN 22:00)

Price: Doors ¥4,000 / Advance ¥3,000

Group Tickets: 2 Tickets ¥5,800 / 4 Tickets ¥11,000 / 10 Tickets ¥22,000

ASOBIEXPO Website: http://special.asobisystem.com/10th/

Final Fantasy XV Collaborates with DJ Nobunaga Game – Music Produced by Yasutaka Nakata

DJ Nobunaga is a new action and puzzle game for smartphones with music produced entirely by Yasutaka Nakata. The game is teaming up with Final Fantasy XV which will see Yasutaka Nakata remix music that will be put in the game.

The remixed track can be enjoyed during a limited time event in-game from July 19. A website explaining the collaboration as well as a promotional video have also been posted.

Collaboration Video

The game is set during the Sengoku period of Japanese history where all the warring state military commanders ('busho') have become DJs. Together with your ally busho, your mission is to go into DJ battles to unify the whole country. In this action battle game, you must trace "Inspiration" that appears onscreen with your busho DJ while inside a club DJ and fight with enemy busho as you collect more power. With just one finger the game is super easy to play and highly addictive.

All of the music in the game was created by music producer, artist and DJ Yasutaka Nakata who is known for producing the music for some of Japan's biggest artists including Perfume and Kyary Pamyu Pamyu. The characters were created by Tanaka Hideyuki who is responsible for having created many different character designs for anime series such as OH! Super Milk Chan and Generations Koukou TV. The game design was made by Reisuke Ishida who has worked on games such as Groove Coaster and Space Invaders Infinity Gene.

DJ Nobunaga will be released on July 12, so be sure to play it for yourself!

Additional Artists Announced for Yasutaka Nakata's OTONOKO 2018 Music Festival

The OTONOKO music festival was first held in October 2016 to an enormous crowd. A second wave of artists set for this year's line-up has just been revealed.

OTONOKO is produced by none other than Yasutaka Nakata. As well as being the man solely responsible for the entire music production behind some of Japan's biggest artists like Perfume and Kyary Pamyu Pamyu, he has just about done it all, whether that's providing music for international ceremonies, or creating the departure sound for the Hokuriku Shinkansen at Kanazawa Station. He has also produced music for a plethora of movies both inside and outside Japan, including Hollywood. He's Japan's representative musician, producer and DJ who has received praise and support from top international artists.

OTONOKO will return for its third run this year at the Ishikawa-ken Sangyo Tenjikan (Hall 4) on Saturday October 13, 2018.

The new artists announced for the line-up include m-flo who are back with all the original members including LISA, who has returned to the group after leaving 15 years ago in 2002, VERBAL and ☆Taku Takahashi. Also returning after playing OTONOKO two years in a row are banvox, DAISHI DANCE and TeddyLoid.

OTONOKO is described as an unprecedented kind of music festival that delivers Japanese culture to the world through OTO ('sound') from the hub of Kanazawa in Ishikawa Prefecture, Yasutaka Nakata's own hometown.

It's time to get excited about the line-up reveal, one that will give way to plenty of OTO thanks to Yasutaka Nakata producing the festival, an internationally active top artist and DJ and leader of today's pop scene in Japan.

■Information
Yasutaka Nakata presents "OTONOKO 2018"

Address: Ishikawa-ken Sangyo Tenjikan (Hall 4), 193 Minami, Fukurobatakemachi, Kanazawa-shi, Ishikawa Prefecture (Japanese: 金沢市袋畠町南193番地 石川県産業展示館4号館)
Date: October 13, 2018 @ 11:00 OPEN / 13:00 START / 19:00 FINISH (subject to change)
Price: Standing Tickets ¥6,800

Ticket Window: June 30, 2018 @ 10:00am – October 10, 2018 @ 11:59pm

Tickets available at all ticket vendors in Japan.

Line-Up: Yasutaka Nakata / CAPSULE / m-flo / DAISHI DANCE / TeddyLoid / banvox /

OTONOKO Official Website:http://www.otonoko.com/

OTONOKO Music Festival Produced by Yasutaka Nakata to Return in 2018

OTONOKO will take place again this year, a music festival with a consistent line-up of exceptional artists.

OTONOKO is produced by none other than Yasutaka Nakata. As well as being the man solely responsible for the entire music production behind some of Japan's biggest artists like Perfume and Kyary Pamyu Pamyu, he has just about done it all, whether that's providing music for international ceremonies, or creating the departure sound for the Hokuriku Shinkansen at Kanazawa Station. He has also produced music for a plethora of movies both inside and outside Japan, including Hollywood. He's Japan's representative musician, producer and DJ who has received praise and support from top international artists.

OTONOKO will return for its third run this year at the Ishikawa-ken Sangyo Tenjikan (Hall 4) on Saturday October 13, 2018.


Super early discounted pre-sale tickets that include priority entry and OTONOKO original stickers will go on sale April 21 at 10:00am (JST). They are limited in quantity, so be sure to get yours and enjoy the additional bonuses them come with!

OTONOKO is described as an unprecedented kind of music festival that delivers Japanese culture to the world through OTO ('sound') from the hub of Kanazawa in Ishikawa Prefecture, Yasutaka Nakata's own hometown.

It's time to get excited about the line-up reveal, one that will give way to plenty of OTO thanks to Yasutaka Nakata producing the festival, an internationally active top artist and DJ and leader of today's pop scene in Japan.

■Information
Yasutaka Nakata presents "OTONOKO 2018"

Address: Ishikawa-ken Sangyo Tenjikan (Hall 4), 193 Minami, Fukurobatakemachi, Kanazawa-shi, Ishikawa Prefecture (Japanese: 金沢市袋畠町南193番地 石川県産業展示館4号館)
Date: October 13, 2018 @ 11:00 OPEN / 13:00 START / 19:00 FINISH (subject to change)
Price: Pre-Sale Discount Tickets ¥6,000 (w/ priority entry & original tickets) / General Tickets ¥6,800

*Ticket prices include tax.

On Sale: April 21, 2018 at 10:00―May 1, 2018 at 23:59

Pre-Sale Discount Tickets:
Official Homepage Priority (¥0 handling fees for customers)
https://l-tike.com/st1/otonoko2018

TV Kanazawa Tickets (¥0 handling fees for customers)
https://l-tike.com/st1/ktk-ticket/

Lawson Tickets
http://l-tike.com/search/?lcd=53120
L-Code: 53120

OTONOKO Official Website: http://www.otonoko.com

Yasutaka Nakata to Release "White Cube" & "Give You More" From New Album on Vinyl

Yasutaka Nakata released his first ever solo album Digital Native under his name in February. It has been announced that the first and final tracks of the album will receive a limited run 7" vinyl release as part of Record Store Day 2018.

 

Yasutaka Nakata made his debut in 2001 with his two-member unit CAPSULE. He subsequently went on to work as the music producer for many artists including Perfume and Kyary Pamyu Pamyu. He is a world-class Japanese producer and artist who famous international artists such as Madeon, Porter Robinson and SOPHIE have cited as a source of influence.

"「White Cube」MV Teaser"

The new vinyl release features two symbolic anthems: the hit song White Cube which was used in a promotional video for a Nikkei Cup Noodle commercial for their "Chili Tomato" flavour and Give You More, which spearheaded as the theme song for the SOUND JUNCTION live event at Red Bull Music Festival Tokyo 2017.

White Cube graces the A-side of the record. It's grounded in the latest club music format with vocal cut-ups sliding into the digital beats and the colourful sounds of the synth lacing together a catchy melody. It has that Nakata-esque pop sense and is packed with production techniques.

The B-side is a complete flip, serving up future bass. It's a killer tune that incorporates elements of game music – which is a keyword of this album – and chiptune.

Yasutaka Nakata is gradually broadening his career so be sure stay up to date.

■Information

Yasutaka Nakata Digital Single – "White Cube (+Voice Version) [feat. Ichigo Rinahamu]"

To be released digitally on 9 March 2018.

Yasutaka Nakata – "Digital Native"

Released 7 February 2018.

First Press Limited Edition (2 CDs) – ¥3,300 (tax excl.) [WPCL-12695/6]

Regular Edition (1 CD) – ¥2,800 (tax excl.) [WPCL-12697]

Disc 1:

01. White Cube

02. Crazy Crazy (feat. Charli XCX & Kyary Pamyu Pamyu)

03. Love Don't Lie (Ultra Music Festival Anthem) (feat. ROSII)

04. NANIMONO (feat. Kenshi Yonezu)

05. Source of Light

06. Digital Native

07. Jump in Tonight (feat. Momo Mashiro)

08. Level Up (feat. banvox)

09. Wire Frame Baby (feat. MAMIKO [chelmico])

10. Give You More

Disc 2:

01. Zedd & Alessia Cara – "Stay – Yasutaka Nakata Remix"

02. Steve Aoki & Moxie – "I Love It When You Cry (Moxoki) – Yasutaka Nakata Remix"

03. Madeon – "Pay No Mind feat. Passion Pit – Yasutaka Nakata Remix"

04. Kylie Minogue – "Into The Blue – Yasutaka Nakata Remix"

05. Kylie Minogue – "Get Outta My Way – Yasutaka Nakata Remix"

06. Passion Pit – "The Reeling – Yasutaka Nakata Remix"

07. Sweetbox – "EVERYTHING'S GONNA BE ALRIGHT – Yasutaka Nakata Remix"

*First Press Limited Edition only

Yasutaka Nakata "Digital Native" Download & Streaming:

Yasutaka Nakata Official Website:http://yasutaka-nakata.com

Yasutaka Nakata to Feature Ichigo Hanamaru in New Version of "White Cube" From New Album "Digital Native"

Yasutaka Nakata released his new album Digital Native this month. It has been announced that the album's lead track, White Cube, will be re-released separately on digital music platforms including the iTunes Store, Apple Music and Spotify on March 9th.

The title of the recut single is White Cube (+Voice Version) [feat. Ichigo Rinahamu]. The song will feature Ichigo Rinahamu, a new generation artist who is active as a producer and an idol. As well as being the producer and main member of the idol group CY8ER, she performs as a DJ and vocalist under the name Hamrig and is also the representative of her own agency, Ichigo Style. CY8ER's first digital single release, Hakuchuumu, reached number one on the iTunes Store's Electro Charts.Look out for the new version of "White Cube" with culture innovator Yasutaka Nakata and Ichigo Rinahamu, who has been influenced by Nakata.

His new album Digital Native reached number one on the iTunes album charts in Japan and is already receiving huge attention.

Yasutaka Nakata continues to constantly reform and innovate pop music. Be sure to check out the new version of his track.

■Information

Yasutaka Nakata Digital Single – "White Cube (+Voice Version) [feat. Ichigo Rinahamu]"

On sale digitally on 9 March 2018.

Yasutaka Nakata – "Digital Native"
Released 7 February 2018.

First Press Limited Edition (2 CDs) – ¥3,300 (tax excl.) [WPCL-12695/6]
Regular Edition (1 CD) – ¥2,800 (tax excl.) [WPCL-12697]

Disc 1:
01. White Cube
02. Crazy Crazy (feat. Charli XCX & Kyary Pamyu Pamyu)
03. Love Don't Lie (Ultra Music Festival Anthem) (feat. ROSII)
04. NANIMONO (feat. Kenshi Yonezu)
05. Source of Light
06. Digital Native
07. Jump in Tonight (feat. Momo Mashiro)
08. Level Up (feat. banvox)
09. Wire Frame Baby (feat. MAMIKO [chelmico])
10. Give You More

Disc 2:
01. Zedd & Alessia Cara – "Stay – Yasutaka Nakata Remix"
02. Steve Aoki & Moxie – "I Love It When You Cry (Moxoki) – Yasutaka Nakata Remix"
03. Madeon – "Pay No Mind feat. Passion Pit – Yasutaka Nakata Remix"
04. Kylie Minogue – "Into The Blue – Yasutaka Nakata Remix"
05. Kylie Minogue – "Get Outta My Way – Yasutaka Nakata Remix"
06. Passion Pit – "The Reeling – Yasutaka Nakata Remix"
07. Sweetbox – "EVERYTHING'S GONNA BE ALRIGHT – Yasutaka Nakata Remix"

*First Press Limited Edition only

Yasutaka Nakata "Digital Native" Download & Streaming:

Yasutaka Nakata Official Website: http://yasutaka-nakata.com

CY8ER Official Website: http://icigostyle.com/cy8er