RADWIMPS Release Music Video for New Song, 'SUMMER DAZE'
The music video for RADWIMPS' surprise new track SUMMER DAZE is now available on the rock band's official YouTube channel. The SoundCloud link is also available.
RADWIMPS – SUMMER DAZE
https://soundcloud.com/radwimps_official/summerdaze
The inspiration behind the new track stemmed from the global depression that has carried over from 2020. Lead singer Yojiro Noda's friend and creative director Kunichi Nomura hoped to create a summer anthem that would make people feel a little better. With such pure intentions, a number of other creative minds gathered to contribute to the project, including art director YOSHIROTTEN, photographer Tomoyuki Kawakami, and up-and-coming model NANAMI KEYES.
RADWIMPS – SUMMER DAZE Music Video
SUMMER DAZE is a gift from RADWIMPS to everyone to enjoy during the summer of 2021, in the hopes that everyone can find some joy during this warm season.
Comment from lead singer Yojiro Noda
In 2020, music festivals were cancelled across the board. I was looking forward to 2021 and had such high hopes, even if it seemed as though things wouldn't get better. I talked about this to my friend Kun-chan (Kunichi Nomura) about it.
"It's going to be another depressing summer, isn't it? Let's at least make a summer anthem that will make people feel just a LITTLE better when they hear it. Something that will make you feel like you can run anywhere, and just dance through everything. Let's just condense all the dazzling things about summer into one song."
That's how SUMMER DAZE came to be.
As summer got closer, we gradually decided on the arrangement, and when we played it for our friends, they just started dancing. We started getting excited to make a music video, and as time went on, more and more creators wanted to join us. Everyone had to work during the day, and at night we'd have meetings and location scouting sessions. It was the first time for us to do everything on our own, including making the music, T-shirts, producing the video, jacket shooting…everything.
Consider this a gift from us to you, everyone living through summer of 2021. It will be uploaded to SoundCloud and YouTube for free. We hope that you'll be listening to it while you create some wonderful summer memories.
Thanks again to YOSHIROTTEN, who took time out of his busy schedule to help us; to Kawakami, the cameraman; to Kasai, who worked tireless on the video; to Nanami, who ran full-speed through the streets at midnight; and, of course, thanks to Kun-chan.
I wish everyone a bright summer.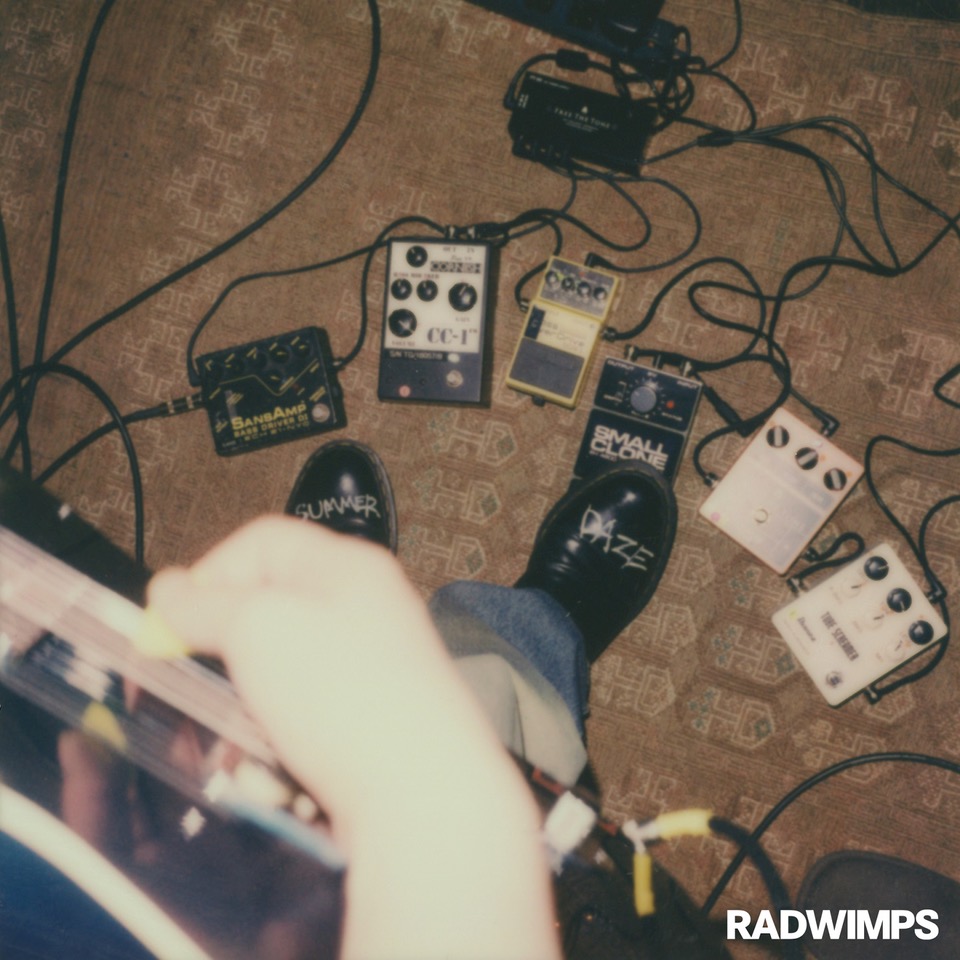 RELATED ENTRIES
7ORDER Releases Music Video for 'Moshimo,' Announce Autograph Sessions

Up-and-coming artist 7ORDER has revealed the music video fo Moshimo, written by singer-songwriter Mao Abe. The track will be included on the group's second album 'Re:ally?' which releases on February 2, 2022.

Moshimo is a sad love balled, the first song of its kind for 7ORDER. The music video feels like a short film capturing the fickleness of adolescence that everyone experiences. It conjures up memories of young life and things like career struggles and love triangles.


Moshimo Music Video (Drama Ver.)



The group has also announced an additional event limited to purchasers of their second album.

In addition to the online autograph sessions and rehearsal viewings, individual autograph sessions will be held face-to-face! This is an incredible opportunity to meet and talk with the 7ORDER members in person.



As they prepare for the final performance of their nationwide tour on February 26 and 27 at the Yoyogi National Stadium, keep an eye out for 7ORDER's future activities!

Limited First Edition

Standard Version

Fan Club Limited Edition

7ORDER Tour ~NICE "TWO" MEET YOU~ DVD/Blu-ray

Comment from Mao Abe


"I'm honored to be involved with 7ORDER by providing some of my music! I'm happy that the group played my personal favorite song Moshimo with such care and attention. Thank you so much. May this song, along with 7ORDER's charms, find its way into the hearts of the fans!"

Comment from 7ORDER


"This is the first love balled for 7ORDER. We spent a lot of time talking with Mao Abe before we started working on the song, and she took a lot of our thoughts into consideration. Moshimo means 'If…' I'm sure everyone has thought that at least once. We all look back at the past sometimes and think 'what if?' It can be a wonderful thing or a painful thing, but it also teaches the importance of dreaming about the future. It's a love song, but in this current world filled with so much sorrow, I would be happy if it could inspire people to dream about a brighter future."


Information

7ORDER 2nd Album 'Re:ally?'

Release Date: February 2, 2022

7ORDER Tour ~NICE "TWO" MEET YOU

Release Event for Purchasers Only
Those who buy the album will be entered to win participation in an individual autograph session, online meet and greet, rehearsal viewing session, and 'Re:ally?' off-shot footage viewing!

Rehearsal Viewing Session
February 20 at Pia Arena MM, February 27 at Yoyogi National Stadium

Stream
The songs agitate and Moshimo are now available to stream on all subscription music services!

agitate
https://nippon-columbia.lnk.to/7ORDER_agitate
Moshimo
https://nippon-columbia.lnk.to/7ORDER_moshimo

Official Site: https://columbia.jp/7order/

SNS Shonen Manga 'GABULI' Gets Fifth Music Video Collab Between Nilfruits and sekai

'GABULI' is a popular manga series published on social media by the masked and anonymous team No.965 (Croc). On December 26, 2021, the fifth music video for the series was posted to YouTube, and features a new collaborative track between Vocaloid producer Nilfruits and singer sekai. The dark dance number highlights the past of the newest heroine set to join the series. A sixth music video is currently in production and will be released in early January 2022. 

Baba Yaga – Nilfruits × sekai

https://youtu.be/J215uX4lolo?list=TLGGQ2BjqZyrW-0yNjEyMjAyMQ


This marks the first collaboration between Nilfruits and the mysterious singer sekai, and even more exciting mashups are coming soon. 

Vocaloid Producer Nilfruits: 
YouTube https://youtu.be/aOelHbwkRD4 


Released December 18, 2021
Fabric Flower – Hiiragi Magnetite x Wolpis Carter
https://youtu.be/hJ7dtfeCg38

Released December 26, 2021
Baba Yaga – Nilfruits × sekai
https://youtu.be/J215uX4lolo

Releasing Early January 2022
Title Unannounced – Aqu3ra × MARY

©︎965

Official Hige Dandism Releases Music Video for 'Pending Machine'

Official Hige Dandism has released the music video for Pending Machine from their new album 'Editorial.'

The video was directed by Takuto Shimpo, who has worked on a number of the band's music videos to date. The story begins as the members get into an elevator, and peering into a duffel bag, they discover what looks like a space suit. This video shows the funnier side of the group and is perfect for cheering viewers up on a bitterly cold winter day!

Pending Machine – Official Hige Dandism[Official Video]


Official Hige Dandism's new song Anarchy will serve as the theme song for the upcoming film 'The Confidence Man JP: Episode of the Hero. A clip of the track can be heard during the film's trailer, found on the official movie website.  

The band is currently on its first national arena tour, titled 'Official Hige Dandism One-Man Tour 2021-2022 -Editorial-.'

©2022「コンフィデンスマンJP」製作委員会

RADWIMPS to Provide Theme Song for 'The Last 10 Years' Film

The theme song for the film 'The Last 10 Years' will be performed by RADWIMPS. The track is titled Uruubito, and fans can look forward to hearing the heartwrenching song in the movie when it releases on March 4, 2022.

Vocalist and guitarist Noda Yojiro worked on the theme song as well as the film's soundtrack after reading the script. This will be the third time RADWIMPS will be in charge of the entire soundtrack of a film, previously working on 'Kimi no Na wa.' and 'Tenko no Ko.'

'The Last 10 Years' Trailer

Comment from Noda Yojiro (RADWIMPS)

This is my first time working on a live-action film, and it was a new and challenging experience. As I watched the scenes in the film, I had trouble deciding how I should approach Matsuri and Kazuto and those living around them. 

I've probably watched this film 100 times already, and yet, when all of the arrangements were completed and the orchestra performed the final recording, I was still in tears as I watched it on screen.

Matsuri's life is filled with meaning, and I know that viewers will leave with a new view of how best to live their life.

Comment from Fujii Michihito (Director)

When I read the script for 'The Last 10 Years,' the music created by Noda Yojiro flowed so naturally with the story of Matsuri and Kazuto.

Noda created the music before seeing the film, basing his inspiration on the script itself. Filming proceeded while the cast listened to his music. This work could have only been completed with his guidance. I hope that you'll experience this incredible film when it releases in theaters next year. 

'The Last 10 Years' is an adaptation of Kosaka Ruka's novel of the same name. It tells the story of Matsuri, a 20-year-old woman who learns that she only has 10 years to live due to an incurable disease. She makes the decision not to fall in love until she meets Kazuto, a man who has lost the will to live. Matsuri is portrayed by Komatsu Nana, while Kazuto is played by Sakaguchi Kentaro. 

©2022映画「余命10年」製作委員会

Information

The Last 10 Years

In Theaters March 4, 2022

Official Site: yomei10-movie.jp

RADWIMPS Official Site: http://radwimps.jp/

Live Report from RADWIMPS 'FOREVER IN THE DAZE' Tour

On November 23, 2021, RADWIMPS released their new album 'FOREVER DAZE' on the 16th anniversary of their major-label debut. A new report has been published highlighting the first day of the band's new tour on December 4 at Pia Arena MM. 

RADWIMPS Official Live Report

"It went by in the blink of an eye. Thank you so much for coming out. All I can do is say 'thank you.' There is so much more I'd love to say, but when I see all of your faces like this, all I can manage to get out is 'thank you.' Meeting each and every one of you makes this all more real. I've been waiting to be able to do this for such a long time. Thank you." 

This is how vocalist Yojiro Noda thanked the audience with all his heart and soul at the end of the show. The first day of the 'FOREVER IN THE DAZE TOUR 2021-2022' was a joyous occasion after nearly two years of the pandemic, with fans gathering to praise the band's first new album in three years 'FOREVER DAZE.' 

Day one took place on December 4 at Pia Arena MM in Kanagawa. In addition to RADWIMPS members, drummers Mizuki Mori and Masafumi Eno, as well as guitarists Taiking (Suchmos) and Mizuki Masuda (miida) joined the band for this tour only. Since the tour has just started, I won't spoil the set list and production, but the ensemble brought some incredible energy to the stage. RADWIMPS seemed to take on new life with each and every song performed, and the audience was slowly and steadily inspired by both Noda's incredible vocals and the powerful instrumentals. As Noda said in a comment regarding the new album, "No matter how hard things get, I can always make music." 

How will the new songs found on FOREVER DAZE fit in with the band's classic tracks? The performance features graphics from visual artist Kento Yamada that will wow audiences more than they could ever anticipate. The curtain has risen on this new RADWIMPS. Get ready to see them in a whole new light. 

(text: Shoichi Miyake)

The 'FOREVER IN THE DAZE TOUR 2021-2022' is coming to six locations across Japan for twelve shows total. For more information, check out the official website!

RADWIMPS Release Music Video for 'SHIWAKUCHA feat. Awich' From New Album

Rock band RADWIMPS released their new album FOREVER DAZE on November 23, the 16th anniversary of their major debut. The group has released the official music video for SHIWAKUCHA, a track featuring guest performer Awich. Directed by up-and-coming filmmaker Spikey John, the video harnesses the song's message through stillness, passion, and drama. Pay special attention to the lighting!

SHIWAKUCHA feat. Awich – RADWIMPS (Official Music Video)

Two guitarists make surprise appearances in the video: TAIKING (Suchmos) and Mizuki Masuda (miida) will also join RADWIMPS on their FOREVER IN THE DAZE TOUR 2021-2022 starting December 4. 

For more information on the new album and tour, check out the band's official website!

Information

FOREVER DAZE

・Regular Edition (CD only): ¥3,000 (Tax not included) 

・15th Anniversary Box (Limited First Edition)

CD+Blu-ray+68 page photobook: ¥10,000 (Tax not included) 

CD+2DVD+68 page photobook: ¥10,000 (Tax not included) 

・Made-to-order 15th Anniversary Box with Goods

CD+Blu-ray+68 page photobook+Goods: ¥15,000 (Tax not included)

CD+2DVD+68 page photobook+Goods: ¥15,000 (Tax not included)

Streaming Link: https://lnk.to/RadFD

FOREVER DAZE Special Site: https://radwimps.jp/foreverdaze/

MAISONdes' First Collaborative Track 'Rally, Rally feat. Pii, meiyo' Released

MAISONdes, the creator of the 'most-used song on social media' in 2021, has released a new collaborative track. The music video for Rally Rally is also available to watch on YouTube!

The new track has become a smash-hit in Japan, with the project's popularity across social media continuing to grow. MAISONdes is a unique music project. Extremely popular on TikTok, it's described only as 'a fictional apartment building somewhere,' where a different singer and creator features on each and every track. Each song is even labeled with a room number. This allows up-and-coming artists to collaborate in ways they never anticipated. Artist meiyo features on the new track, a creator who just recently made his major debut. The artist Pii remains a curious addition to the recent Japanese music scene, having never revealed her face and communicating her music through a self-animated character.

This new track will be used as the ending theme for the November edition of the morning show 'Mezamashi 8.' 

Popular artists like yama, Nakimushi, Kujira, Moka Sato, Riu Domura, Wanuka, and haruno have participated in the project.  Released in May, 'Yowanehaki feet. Wanuka, asmi' won the TikTok Song Ranking four times in a row and has over 100 million views on the app. In August, vocalist asmi appeared on THE FIRST TAKE. The song also attracted a great deal of attention on Line Music, Spotify, and Apple Music.

RADWIMPS Release Music Video for 'TWILIGHT' From Band's New Album

FOREVER DAZE, the new album from the hugely popular band RADWIMPS, is right around the corner, set to release on November 23. The group's track TWILIGHT was used to commemorate the 1,000th episode of the One Piece anime series and the 100th volume of the manga series, and the music video for the song has just been released. 

TWILIGHT – RADWIMPS Music Video 

RADWIMPS FOREVER DAZE Trailer

The group has explained that FOREVER DAZE is filled with musical challenges and unique collaborations. RADWIMPS will start a new six-city 12-show Japan tour in January 2022. 

GARNiDELiA Releases Music Video for 'my code' From New Album

On November 17, musical duo GARNiDELiA released the music video for the song my code, the main track from their newly-released fifth album 'Duality Code.' This marks the duo's first release since moving to the Pony Canyon label. Members MARiA and toku explained that much of the album was inspired by quarantine, and how the two, so used to traveling and performing in different areas, felt trapped and uncertain about the future. 

my code Music Video

 

The two have also been working on solo projects, and have brought many of their new skills and talents to the table in this new album. This album aims to take them back to their roots, while also showing what the future could hold. 

Along with the release of the album and music video, an exciting announcement has been unveiled: GARNiDELiA will be going on a nationwide tour starting on December 5. The GARNiDELiA stellacage tour 2021-2022 "Duality Code" tour will hit five cities, and both MARiA and toku have released comments ahead of the tour's start date. 

Comments from GARNiDELiA

This is MARiA from GARNiDELiA. 

I've reunited with toku after working solo for a while. 

This is the first GARNiDELiA album release in just over one year. 

I wanted to really express my feelings in this work, and I wanted to do so confidently. 

I'm proud of what we've made. 

These songs were written with a brighter future in mind, imagining what it would be like to tour for the first time in two years. I can't wait to meet you, and share my feelings through the tracks on 'Duality Code.' 

   

MARiA





After a year, we're so proud to announce our fifth album!

In the past year, we've both worked on our respective solo careers, and we've learned so much that we can apply here and now to this new tour and to our music. 

Please listen to 'Duality Code!' 

toku

Information

Duality Code

Release Date: November 17, 2021

Streaming Links: https://lnk.to/GARNiDELiA_streaming

Limited First Edition (CD+Blu-ray): ¥4,950 (Tax Included) 

Regular Edition (CD Only): ¥3,300 (Tax Included)

Canime Limited Edition (CD+Concert Blu-ray): ¥9,900 (Tax Included) 

GARNiDELiA Official Site: https://www.garnidelia.com/

RADWIMPS Release Full Music Video for MAKAFUKA

Used as the theme song for the mobile RPG Gran Saga, RADWIMPS' new song MAKAFUKA now has a full music video! The track will be included in the band's new album FOREVER DAZE, scheduled to release on November 23, 2021. The song is now available on streaming sites and can be pre-ordered on iTunes. Fans are also able to pre-add the full album to their libraries. 

RADWIMPS MAKAFUKA Music Video

To celebrate the new song, an SNS song sharing campaign has begun! Fans are encouraged to share the song from Amazon Music, Apple Music, Spotify, or YouTube Music with the hashtag #MAKAFUKA on Twitter or Instagram Stories. By taking a screenshot of their post and uploading it to the special entry page, listeners will snag a FOREVER DAZE wallpaper and background image perfect for a Zoom meeting. Those listening on Spotify will see a snippet of the MAKAFUKA music video in the background which can also be included in an Instagram Story.

The band's FOREVER IN THE DAZE TOUR 2021-2022 is underway, taking the band to six locations across Japan to play twelve shows.

Yuu Miyashita Releases Music Video for Platinum End Ending Theme

The Platinum End anime series premiered earlier this month, quickly becoming a hit around the world. Singer and illustrator Yuu Miyashita, a popular internet personality, has released the music video for the show's ending theme Koufuku-Ron (Theory of Surrender). The video shows the main character as he moves between life and death, struggling to find purpose but eventually finding a reason to live. 

Theory of Surrender Music Video

 

The track is already available on streaming services, with a physical release coming on November 17, 2021. The single will include another original song, bystander, as well as the track Phantom Raid, written by popular internet creator Ren. Limited Edition copies will include a music video DVD. Fun fact: the jacket art was drawn by Yuu Miyashita himself!

©大場つぐみ・小畑健/集英社・プラチナエンド製作委員会

Information

Theory of Surrender

Release Date: November 17, 2021

Limited Edition (CD+DVD): ¥1,870 (Tax Included) 

Regular Edition (CD Only): ¥1,320 (Tax Included) 

*First Edition Releases will feature an anime wrapper. 

Theory of Surrender Special Site: https://yuu-miyashita.com/special/

RADWIMPS Provide Theme Song for Mobile RPG Gran Saga, Short Anime Released

The Korean mobile RPG is coming to Japan next month, and to celebrate, a special anime promo featuring the title's theme song has been released. The track's title is MAKAFUKA, and it was performed by the globally-popular band RADWIMPS. The animation was provided by anime studio CloverWorks, best known for their work on titles like Wonder Egg Priority, Promised Neverland, and Horimiya. During an interview with the band about the new song, plenty of details were revealed about the creation of the track and the secret story it depicts. 

Interview with Yojiro Noda of RADWIMPS

Comment from Yojiro Noda (Taken from the above interview) 

"When I first heard about the project, I was impressed by the enthusiasm of the Gran Saga team. They said they wanted to make something new and exciting, and they were set on having RADWIMPS provide the music. The band and I, we're people who always like to set out on new journeys. Immediately after meeting them, we were more than happy to join the project. The real world is so chaotic right now, and the characters in this game are also struggling with their own situations. It was easy to pull from reality to infuse the music with these complex feelings. 

By listening to this track, I hope that people will feel emotions they haven't felt before when they've listened to our music. This collaboration might open you up to new sensations. Listen to the track as much as you can, and have fun playing the game." 

A 30-second version of the collaborative anime was recently released on the official RADWIMPS YouTube page. 

The music video for MAKAFUKA was produced by Genki Kawamura, known for his work on Your Name and Weathering With You. Set in a parallel version of Tokyo, the video is interspersed with gameplay footage of Gran Saga shown on the character's smartphones. 

 

Gran Saga x RADWIMPS Special Animation 'Profound Mystery'

MAKAFUKA will be included on RADWIMPS' new album 'FOREVER DAZE,' releasing on November 23, 2021. The track will be available to stream on November 5. 

Information

MAKAFUKA

Song Available to Stream on November 5, 2021

Official Site: http://radwimps.jp/

Gran Saga

Release Date: November 18, 2021

Price: Free-to-Play (In-app purchases) 

Official Site: https://gransaga.jp/