Yamaha's LovePiano Street Pianos to Appear Along the Hakone Ropeway
The colorfully painted street pianos seen around Japan are set to make an appearance in Kanagawa Prefecture! Two of Yamaha's upright LovePianos will be installed at two stations along the Hakone Ropeway from September 12 until September 25. During this time, anyone can freely play these pianos at Sounzan Station and Togendai Station. From the five distinctly designed LovePiano designs, numbers 1 and 2 will be installed for this event.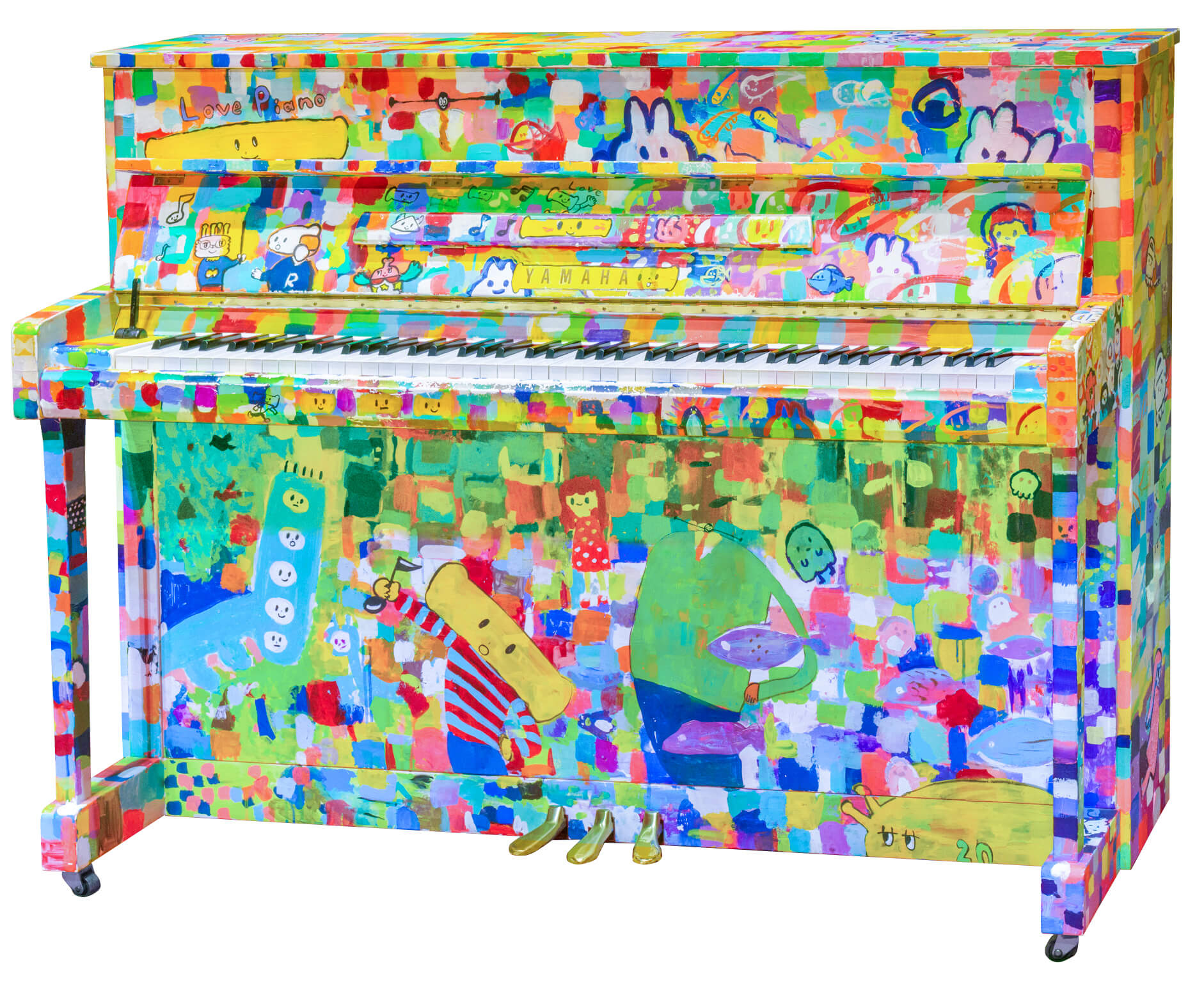 LovePiano #1
LovePiano #2
The Hakone Ropeway connects Sounzan Station and Togendai Station, a distance of about 4 kilometers, in 25 minutes. Those travelling this unique cable car line can catch glimpses of Mount Fuji and Lake Ashinoko along the journey.
From March 18 until March 31, one of the LovePianos was installed at Sounzan Station to massive crowds and fanfare. Yamaha Music Japan has continued installing pianos in open spaces such as train stations, airports, and other facilities as part of the LovePiano project, which promotes activities to get the masses interested in piano playing. So far, LovePianos have popped up at over 60 locations, including Shinjuku Station, Shinagawa Station, Sapporo Station, and Osaka International Airport.
LovePiano will also be installed at Odawara Sannomaru Hall and Umemaru Square in the HaRuNe Odawara underground shopping mall from September 5 until the 17th.
Would you want to play one of these pianos in public?
Information
LovePiano
LovePiano
LovePiano Unit 1
Hakone Ropeway, Sounzan Station, 2F cu-mo Hakone
(1300 Gora, Hakone-machi, Ashigarashimo-gun, Kanagawa)
Running: September 12 – September 25, 9:00-16:00
LovePiano Unit 2
Hakone Ropeway, Togendai Station, 1F Event Space
(164 Moto-Hakone, Hakone-machi, Ashigarashimo-gun, Kanagawa)
Running: September 12 – September 25, 9:00-16:00 (September 12, 12:00-16:00)
Official Site: https://jp.yamaha.com/products/contents/pianos/lovepiano/
RELATED ENTRIES
LOVOT Cafe Celebrates First Anniversary with Limited Time Desserts and Merch

The huggable next-generation pet robot LOVOT was first released one year ago, and to celebrate, some limited time merchandise and sweets are now on sale!

LOVOT LOVOT Anniversary Dessert Plate, available until October 31, 2021

Autumn Only! LOVOT LOVOT Chicken Plate with Mushroom Sauce, available until November 30, 2021

Coaster / Postcard / Clear Folder

LOVOT Cafe Original Coaster / LOVOT Cafe Original Smartphone Case

LOVOT Cafe Original Tote Bag / LOVOT Cafe Original T-Shirt (Unisex)

LOVOT Cafe Original Case / LOVOT Cafe Original Handtowel 

LOVOT Cafe Original Ballpen with Charm / LOVOT Cafe Original Mug

LOVOT Cafe Original American-style Cookie / LOVOT Cafe Original Natural Plate

LOVOT Cafe Original Pin

 

Featured in the special Dessert Plate is a loveable cake with LOVOT's face, along with mini rolls, mini cupcakes, and vanilla ice cream with fruit on top. The LOVOT cake is made with milk chocolate and coffee mousse, along with chocolate streusel for a more mature flavor that isn't overly sweet. Those who visit the store on or after October 1 will receive a limited-edition novelty drawing while supplies last. Coasters and postcards will also be given away on a first-come, first-served basis from October 1 until October 15, while clear folders will be gifted on or after October 16. 

The goods for this collection are based on the theme of 'LOVE is here,' so please look forward to these sweet collectibles and many more years of LOVOT!

Information

LOVOT Cafe

Address: LAZONA Kawasaki Plaza 2F (72-1 Horikawa-cho, Saiwai-ku, Kawasaki, Kanagawa)

Hours: 10:00-20:00 M-F / 10:00-21:00 Weekends and Holidays (Last Seating at 19:00)

Official Site: https://lovot.life/

Glamping Restaurant Malibu Farm to Open at Riviera Zushi Marina for Limited Time

Prepare for the ultimate comfy camping and dining experience! The Riviera Zushi Marina in Zushi City, Kanagawa, is opening a glamping-themed restaurant, Malibu Farm Kamakura Terrace, for a limited time only. Returning from a popular run last year, the comfy spot will be open from October 1 until February 28, 2022, with reservations now open. 

In addition to Malibu Farm's commitment to fresh, organic, and local ingredients, this year's menu will feature sustainable ingredients, with plenty of seafood and vegetables. Guests can relax in the luxurious comfort of their own private tent, enjoying a meal and the crisp sea air. 

Malibu Farm, incredibly popular with celebrities from L.A., opened its Japan location last March at the Riviera Zushi Marina Resort. Looking over the ocean, the locale offers breathtaking scenery with over 900 palm trees and a collection of luxury cruisers and yachts. 

Introduced last winter, the Kamakura Terrace is perfect for winter, with each private tent heated while not obstructing the view and giving guests a safe place to enjoy time with family and friends. This is the ideal location for birthdays and anniversaries, and watching the sunset will offer an unforgettable way to celebrate. 

Kanagawa Closed School Site Becomes New Camping Site 'CAMPiece'

UNDOKAIYA has turned Kyukitaashigarachu School into the new camping site CAMPiece which opened this month. The school, located in Minamiashigara, Kanagawa, closed in March 2010. UNDOKAIYA was the first in the priority list to acquire the rights to take over the site.

Photo of CAMPiece


Overhead view

Minamiashigara is known as the home town of Kintaro, a figure in Japanese folklore. It's also home to many historical spots, such as Daiyuzan Saijoji Temple, as well as tourist sites and facilities. CAMPiece aims to serve as an opportunity for people visiting Minamiashigara to enjoy its lush natural environment, to converse with the locals, help revitalise the regional economy, increase tourism, and increase job opportunities.

Information

CAMPiece

Address: 2586 Uchiyama, Minamiashigara, Kanagawa 250-0131, Japan

Opening: May 2021

Price: [Weekdays] ¥6,600 (Tax Included) / [Weekends & Public Holidays] ¥7,700 (Tax Included)

*Prices subject to change depending ons eason

*Visitors will be given a ticket to attend for free on their next visit

Official Website: https://campiece.com

Experience Japan's Rainy Season Hydrangea With This Special Hotel Plan

Hoshino Resorts KAI Hakone has announced a special hydrangea-themed hotel plan for Japan's rainy season which will run from June 12 to July 4.

Hydrangeas bloom before guest room benches

At KAI Hakone, there is a special guest room with an outdoor bench seating area which looks out into the green forest. Hydrangeas will bloom, providing a gorgeous backdrop as guests enjoy the sounds of the Sukumogawa River.

Hydrangea accessory kit

Guests will be given an accessory kit in their rooms to make their own flower accessories from hydrangea leaves and wooden mosaics. These accessories can be fitted to yukata, used as piercings, and more to serve a Japanese summer vibe.

Enjoy hydrangea sweets and shaved iced

Guests can turn their rooms into a little tearoom with the wooden mosaic plaques provided on which they can tuck into a range of hydrangea-flavoured sweets and desserts along with a cup of matcha. The shaved ice is a KAI Hakone-original made with jelly and syrup coloured purple with hydrangea.

The hydrangea is perhaps the most celebrated flower in all of Hakone, arriving in early summer. It's hailed in a variety of ways, one of the most popular being the Hydrangea Train, a nickname given to the train that runs from Odawara Station to Gora Station. Passangers are treated to an incredible view out the train window as their vision is filled with vivid hydrangea flowers.

This year marks the second that KAI Hakone is offering its seasonal hydrangea plan. If you're able to visit during this time, don't miss out.

New Doraemon and Korosuke Dessert Gets Served at the Fujiko F. Fujio Museum

The Kawasaki-based Fujiko F. Fujio Museum, which is dedicated to the Japanese manga writing duo who created Doraemon, is now serving up its new Doraemon Korosuke Chiffon Sandwich which was added to the menu on Wednesday.

Doraemon Korosuke Chiffon Sandwich | ¥1,280 (Tax Included)

The new arrival sees Doraemon and Korosuke turned into chiffon sandwiches with the beloved blue robot cat made from chocolate and filled with banana cream and his friend filled with mango cream.

Check out some of the other items available on the menu at the museum too.

Doraemon Arrabbiata | ¥1,230 (Tax Included)

French Toast de Anki Bread | ¥980 (Tax Included)

Fork into the Doraemon Arrabbiata with tomato sauce and a Doraemon face made from egg sheets, or a French toast inspired by Doraemon's Copying Tost, one of his many Secret Gadgets.

ⒸFujiko-Pro

Information

Doraemon Korosuke Chiffon Sandwich

Released: April 21, 2021

Where: Fujiko F. Fujio Museum

Address: 2-8-1 Nagao, Tama Ward, Kawasaki, Kanagawa 214-0023, Japan

Opening Hours: 10:00-18:00

Official Website: http://fujiko-museum.com/english/

Yamaha has set up its iconic yellow LovePiano inside Toyosu Foresia in Tokyo where it will stay until April 20. The piano is for public use so anyone can show off their playing skills.

The LovePiano was built to get more people having a go at playing pianos and music in general. It has seen to over 50 locations in Japan from Shinjuku Station to Shinagawa Station, Sapporo Station, Osaka International Airport, and elsewhere.

GUNDAM FACTORY YOKOHAMA x my route Launch Collaborative Campaign

Japanese company @YOKOHAMA is helping to promote the regional development of Yokohama by collaborating with GUNDAM FACTORY YOKOHAMA using the multimodal mobility service app "my route" with the launch of a campaign.

The campaign is taking place for residents of Yokohama, running from February 8 to 28. All people need to do is download and open the app and fill out the form. Fifty lucky people will have the chance to win a free ticket to GUNDAM FACTORY YOKOHAMA, an amusement park themed on the popular Gundam franchise.

my route is an app that lets users search for the most affordable way to travel as well as letting them book and buy tickets. @YOKOHAMA's portal site is also now linked to the app, offering information about local stores, events, and other information regarding Yokohama.

Information

GUNDAM FACTORY YOKOHAMA Collaboration Download Campaign
Running: February 8 – 28 2021

GUNDAM FACTORY YOKOHAMA
Open: December 19, 2020 – March 31, 2022
Location: Yokohama, Yamashita Futo
Address: 279-25, Yamashitacho, Naka Ward, Yokohama, Kanagawa

Access: Minato Mirai Line

7-minute walk from Motomachi-Chukagai Station (Minatomirai Line)
Yokohama BAYSIDE BLUE Bus: 3-minute walk from Yamashitafuto Bus Stop

GUNDAM FACTORY YOKOHAMA Official Website: https://gundam-factory.net/

Special Edition Website: https://www.at-yokohama.net/topics/article20210208_02.html

200 Varieties of Japanese Iris to Bloom at Odawara Flower Garden

The plum blossoms of Odawara Flower Garden, which is located in Odawara, Kanagawa, are at the height of their blossom right now. The park's Keiryu no Baien ("Mountain Stream Plum Garden") area boasts the largest collection of plum blossoms in Japan's Kanto region, with 480 trees spanning 200 species.

480 individual Japanese ayame plum blossoms of 200 varieties will adorn the garden once again this year. The event has a different theme each year, with this year's focusing on the interweaving of red and white coloured flowers on each tree branch.

Visitors will be able to see the beautiful colour combination from many different iris varieties such as the murui-shibori which sometimes sees red safflowers come to life, the wachigai which witnesses wonderful variegated flowering, the impeccably beautiful maki-tateyama, and more.

2021 Keiryu no Baien
Running: January 23, 2021 – March 7, 2021
Location: Odawara Flower Garden
Address: 3798-5 Kuno, Odawara, Kanagawa
Entry: Free
Parking: Free
Opening Hours: 9:00-17:00

*No holidays for the duration of the event – open every day

Keiryu no Baien Guide Tour

Takayuki Otsubo, the president of the garden, is also an advisor on the management of its plants. He will be offering a detailed tour for the event.

Date: February 21, 2021
Times: 10:30 / 13:30 (1 hour each)
Participation: Free
Capacity: 30 per slot (first-come, first-served)

*Tour will be held seated indoors if it rains

Keiryu no Baien Flowers and Kimono Girls

A kimono rental and fitting service will be available at the event so visitors can take photo next to the gorgeous flowers while adorned in traditional Japanese dress.

Date: February 13, 2021
Time: 9:30-16:00 (Bookable slots)
Price: ¥3,000 (Tax/Rental/Fitting included)
No. of People: 15 (Booking required)
Bookings: By phone call by February 7, 2021
TEL: 0465-34-2814

*Must be at least 140m tall
*Visitors are asked to do their own makeup
*Male kimono are available in limited quantities

Plum Menu

The Odawara Flower Garden cafe, Cafe Hibiscus, is serving a selection of plum blossom themed meals and drinks for the festival. This includes the above-pictured new soba noodle dish, which is topped with plum pulp grown in Odawara as well as kamaboko fish cake, shrimp fritters, and spring onion. The broth in particular is worth of note which the staff went to great lengths to create. There's also plum blossom ice cream too made with nanko plums, as well as other delicious bites.

Plum Blossom Festival Soba Noodles – ¥600 (Tax Included) / With Drink ¥700 (Tax Included)

Plum Ice Cream – ¥380 (Tax Included)

Location: Cafe Hibiscus
Opening Hours: 10:00-16:00 (Last Orders 15:30)
*No holidays for the duration of the event – open every day

Plum Blossom Souvenirs


A selection of plum blossom-themed souvenirs will be available like umeboshi dried plum, plum jelly, and more.

Available: From early January 2021
Location: Entrance souvenir corner
Opening Hours: 9:00-17:00

Natural and Organic Cosmetic Shop Biople by CosmeKitchen to Open New Branch in Shichirigahama

Biople by CosmeKitchen, a Japanese natural and organic select shop stocking everything from cosmetics to vitamins and more, has announced the opening of a new branch in Shichirigahama for early February. The ocean-facing store aims to promote the organic life to the people of Shichirigahama, a beach near Kamakura.

CONCEPT

Just as we have a beautiful sunrise and sunset each day, Biople by CosmeKitchen's outlook centres on helping people feel good all day long with its diverse stock of natural and organic products. Biople by CosmeKitchen Shichirigahama will promote a healthy and beautiful organic life while capturing the culture and energy of the locals.

An exclusive line-up for the beach lovers of Shichirigahama

The new store will of course stock Biople by CosmeKitchen's line-up of self-care items for both the inner and outer body, but it will also sell a range of items exclusive to the Shichirigahama branch. Customers can enjoy sifting through around 60 items from sun care supplements to UV cream and more.

To promote the protection of our beautiful oceans, the Shichirigahama store will also used limited-edition packaging from the New Zealand-based sustainability brand ecostore.

Biople by CosmeKitchen Shichirigahama will begin taking pre-sales of a new starter kit which contains mini skincare, hair care, body care, and other products.

Information

Biople by CosmeKitchen Shichirigahama
Address: Weekend House Alley 1F, 1-1-1 Shichirigahama, Kamakura, Kanagawa
Grand Opening: Early February 2021
TEL: 0467-81-4250
Official Website: https://store.biople.jp/

Rapeseed Flower Festival Offers a View of 100,000 Plants With Mount Fuji in the Background

The Rapeseed Flower Festival is set to bloom on Soleil Hill, a park in Yokosuka, Kanagawa, from December 18 when around 100,000 bright yellow rapeseed flowers will shine across the flower beds.

Turnip Rape (Photo taken December 1, 2020)

Soleil Hill is a 5,000㎡ rolling expanse in the Miura Peninsula in Yokosuka, Kanagawa. The turnip rape is an early springtime flower that is blooming around a month earlier this December due to there not having been many typhoon disasters in the area this year, which will welcome the flower's peak blossom.


Photo taken last year with 100,000 turnip rapes, Sagami Bay, and Mount Fuji in the shot

The flowers bloom for a long period from December to March, around 100 days, and the incredible view can be enjoyed with Sagami Bay and Mount Fuji in the background.

Rapeseed Flower Festival

Photo taken last year at the of December with the rapeseeds in full bloom

The Rapeseed Flower Festival will run from December 18, 2020 to March 31, 2020 in line with the turnip rape's peak blossom. Visitors can enjoy a selection of food inspired by the flower beds and view as well as take part in a variety of programs.

Mount Fuji & Rapeseed Curry | ¥1,000 (Before Tax)

The Mount Fuji & Rapeseed Curry is inspired by the view of Mount Fuji and the flower beds during a sunset as represented by the red curry.


Rapeseed Herbarium Workshop | ¥1,600 (Tax Included)

Visitors can try making their own rapeseed herbarium in a bottle at the crafts workshop too.

Information

Rapeseed Flower Festival
Running: December 18, 2020 – March 31, 2021
Location: Yokosuka Soleil Hill
Address: 4 Chome Nagai, Yokosuka, Kanagawa
Opening Hours: [March-November] 9:00-18:00 / [December-February] 9:30-17:00
Official Website: https://www.seibu-la.co.jp/soleil/
*Event is subject to postponement or cancellation depending on the pandemic

BUSTERCALL = ONE PIECE Exhibition to Take Place at Yokohama ASOBUILD

The BUSTERCALL Project is holding a One Piece themed exhibition called BUSTERCALL = ONE PIECE Exhibition at Yokohama ASOBUILD from November 20 to December 27 at Yokohama ASOBUILD. BUSTERCALL is a project formed of 200 artists and creators around the world to deliver events and exhibitions centred on the popular manga and anime series One Piece.

At BUSTERCALL = ONE PIECE Exhibition, fans can pick up a range of merchandise as well as make their own original T-shirts at the workshop.

Original Emblem: ¥1,000 (Tax Included) *27 designs

Original T-Shirt: ¥3,500 (Tax Included)  WHITE/BLACK SIZES: S/M/L/XL

 Fans can make their own original emblems which can be attached to one of 27 different T-shirts.

One Piece fans can also get their hands on a selection of apparel, figures, and other pieces of merchandise, some of which will also be available to buy online in Japan. Some creators are also selling special items in limited quantities.

Original Sticker

All fans who visit the art exhibition will get a free original sticker too.

Information

BUSTERCALL = ONE PIECE Exhibition

Venue: ASOBUILD Floor 2F ALE-BOX
Address: 2-14-9 Takashima, Nishi-ku, Yokohama, Kanagawa

Running: November 20, 2020 – December 27, 2020
Opening Hours: 10:00-20:00 (Last Entries 19:00)

Entry: Free
Official Website: https://jp.bustercall.com

Japan's Tom and Jerry Exhibition Celebrates 80 Years of the Animated Series

Tom and Jerry is an animated franchise created in 1940 by William Hanna and Joseph Barbera. Adored worldwide for its titular rival characters, the hit series has won Academy Awards for Animated Short Film.


The series is now getting its first ever exhibition, and it will take place in Japan, celebrating 80 years of the beloved franchise. Fans can look forward to seeing 250 original illustrations, animation cels from the debut animation short in the series Puss Gets the Boot, rough sketches, storyboards, and more. There will also be exhibits of the Hanna-Barbera cartoons loved by Japanese children.

The Exhibition Break-Down
Chapter One: The Birth of the Legendary Duo

Chapter One of the exhibition will look at the history behind the birth of Tom and Jerry in 1940, and visitors will be able to watch the episodes that received Academy Awards.

Chapter Two: The Charm of the Tom and Jerry Series

The episodes, layout, secondary characters, title backgrounds, and more will be explored in detail. There will also be 3D recreations of Tom being out-done by Jerry.

Chapter Three: Passing Onto Future Generations

This chapter will explore Tom and Jerry from 1986 onwards. Visitors will also be able to see a recreation of the desk of American animator Spike Brandt who worked on numerous Tom and Jerry films.

Chapter Four: Onto Television

Chapter Four will explore the limits of what Hanna-Barbera were able to do in the early days on a low budget. Episodes and sounds nostalgic to Japanese people who grew up with their animations will also be played.

Chapter Five: Tom and Jerry's Eternal Chase

Exhibits of the Tom and Jerry Show, as well as an exclusive animation made for this exhibition, will be showcased. Visitors can also get their hands on a selection of 200 pieces of exclusive merchandise and pre-sales on original items.

TOM AND JERRY and related characters and elements ⓒ & ™ Turner Entertainment Co. (s20)