Photography and Noh Theater Collide in New Collaboration between Hiroshi Seo and Hosho School
In a new fall collaboration, the prestigious Hosei School of Noh Theater, established during the Muromachi Period, and photographer Hiroshi Seo will present a unique blend of traditional culture. 'Experience Noh and Art in Autumn ~Noh at Night: The Tale of the Heike 'Kiyotsune' x BEYOND PHOTO BY HIROSHI SEO' will begin for four limited showings starting September 24, and will connect the photographer's work 'BEYOND' with the theme of water present in the classic tale of Heike. Ancient and modern will overlap during this special autumn event, so don't miss it if you're in Tokyo!
The Story of The Tale of Heike 'Kiyotsune'
During the 12th century, the Minamoto and Taira clans were at war. Awazu-no-Saburo returns to the capital after the Taira were defeated in battle, carrying with him a keepsake for his lord Kiyotsune's wife: a lock of hair that Kiyotsune left before committing suicide. Saburo visits the wife, and upon learning of Kiyotsune's death, she can barely stand the sight of his hair, ordering that the keepsake be returned to a shrine in Kyushu. Upon falling asleep, she sees his ghost in her dreams, and they argue over what has occurred. Kiyotsune recounts his final days, choosing suicide by drowning over capture and defeat. He is then blessed, and finds his way from Hell to eternal enlightenment.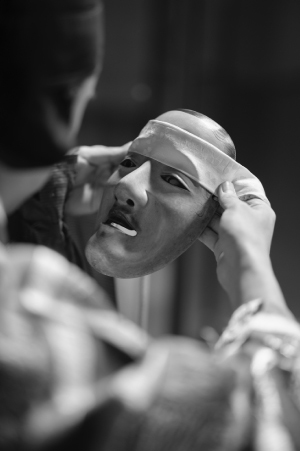 BEYOND PHOTO BY HIROSHI SEO Exhibition
In 2020, the COVID-19 pandemic changed the world. Yet even during this turmoil engulfing the world, artists were trying to make a new path. Photography is but a fragment of the real world, but through the eyes of the one taking the photo, it becomes an art form, and allows us to see the world in a different way. For this exhibition, Hiroshi Seo will present several new works, including photographs from Sado Island, the home of Noh, where one-third of all Noh stages in Japan are located. This chain of water-inspired images will weave together with the story of Kiyotsune, and will tell a brand-new story for modern audiences. 
Information
Experience Noh and Art in Autumn ~Noh at Night: The Tale of the Heike
'Kiyotsune' x BEYOND PHOTO BY HIROSHI SEO 
With Performance: September 24, 2021 (Tickets on sale now.)
No Performance: September 25, 2021 (Free admission for photo exhibition only. No admission to auditorium.) 
With Performance: October 29, 2021 (Tickets on sale now.)
With Performance: November 26, 2021, 17:00 (Tickets on sale September 25.) 
Address: Hosho Noh Theater, 1-5-9 Hongo, Bunkyo-ku, Tokyo
Tickets: https://nohlife.myshopify.com/
Official Site: http://www.hosho.or.jp/nohgakudo/
詳細・Official Site:http://www.hosho.or.jp/nohgakudo/
RELATED ENTRIES
Cinnamoroll Releases Second Single, Commemorative Event and Tower Records Collaboration Goods

Cinnamoroll, one of Sanrio's most popular characters, is collaborating with Tower Records to commemorate his second idol single 'Star Dome.' An event will be held, while collaboration goods will be available in 35 Tower Records stores nationwide and online.

Cinnamoroll is a male puppy who first appeared in 2001 and debuted in 2002. He is extremely popular, taking first place in the Sanrio Character Ranking four times. He made his idol debut with his first single in 2020 and is pushing forward with second single "Star Dome," which will be released as a CD on November 4.

34 Stockists / Products Available Online

Products Available in the Shibuya Store / Akihabara Store / Abeno Hoop Store / Online

Sweater

T-Shirt

Products Available in the Shibuya Store / Abeno Hoop Store / Online *Scheduled to be 

released on December 2.

Bracelet (Silver)

Bracelet (Pink Gold)

'Star Dome' Regular Edition Jacket

'Star Dome' First Press Limited Edition Jacket 

The collaboration goods scheduled to be released on November 3 will feature Cinnamoroll in his 'Star Dome' costume and the Tower Records logo in all-new illustrations. In addition, a release event will be held at the Shibuya store on November 3 and at the Abeno Hoop store on November 27. Customers who spend over ¥3,000 (Tax Incl.) on collaboration goods will be invited to participate in a mini live and photo session.

Be sure to check out Cinnamoroll's second single along with the limited edition merchandise!

Information

Cinnamoroll x TOWER RECORDS 2021

Online Products

Sales Start: November 3 (Bracelets will be sold on December 2)

Goods Reservation Start: October 14 In Store, New Year for Online Orders (*Mini live and photo sessions cannot be booked in advance. Tickets will be sold on a first-come first-serve basis in store on the day of the event. 

Details: https://tower.jp/cinnamoroll

Cinnamoroll Mini Live Shibuya: https://towershibuya.jp/2021/11/01/158634
Abeno Hoop: https://tower.jp/store/news/2021/11/118001

Cinnamoroll 'Star Dome'

Release Date: November 4

Regular Edition: ¥1,300 (Tax Incl.)

First Press Limited Edition: ¥1,800 (Tax Incl.)

New 'Uramichi Oniisan' Collab Hotel Room Designed Using 'URA' and 'OMOTE' Motifs

Sunshine City Prince Hotel has revealed a new "Uramichi Oniisan" themed plan, available to reserve for a limited time between October 2 and December 31.

Hotel Staff Costume Illustration

 Pajama Costume Chibi Illustration


©Kuze Gaku・Ichijinsha / Uramichi Oniisan Production Comittee

Star Can Badge / Hotel Keychain / Mask Case (URA & OMOTE ) / Original Notepad / Hotel Key Card 

Cafe & Dining 'Chef's Palette' Original Drink with Bonus Coaster

'URA-Room' with Chibi Character Illustration

 

The 'Uramichi Oniisan' anime became a hit in Summer 2021, known for its cast of famous voice actors.

The new artwork produced for the hotel features the characters in hotel staff uniforms and pajamas, perfect for the hotel-themed collaboration. The 'OMOTE ROOM' is designed using the new illustrations, while the 'URA ROOM' uses the chibi characters. Each room features a sound clip from Uramichi Omoteda (CV: Kamiya Hiroshi). Original merchandise and drinks are available to guests, plus the famous "Bird Finding Game" is available to play in each room, making it a must-see for fans!

Dive into the 'Uramichi Oniisan' world with this new collaboration hotel room!

R4G x Tokyo Revengers Collaboration Pop Up Store Opens in Hiroshima

Anime fashion brand R4G has collaborated with Tokyo Revengers to produce a lineup of limited collaboration items that will be sold in AZUL BY MOUSSY AEON MALL Hiroshima between October 8 and October 17.

TOKYO REVERSIBLE COACH JAKET ¥14,300 (Tax Incl.)

REVENGERS TEE ¥4,400 (Tax Incl.)


SCENE PHOTO TEE ¥4,400 (Tax Incl.)


SCENE PHOTO L/S TEE ¥5,500 (Tax Incl.)


REVENGERS CAP ¥3,300 (Tax Incl.)


REVENGERS RUBBER KEYCHAIN ¥660 (Tax Incl.)


REVENGERS COIN CASE ¥1,650 (Tax Incl.)


REVENGERS CREWNECK  ¥6,600 (Tax Incl.)


REVENGERS SWEATPANTS ¥8,800 (Tax Incl.)


REVENGERS ACRYLIC STAND Hanagaki Takemichi / Sano Manjirou / Ryūguji Ken  ¥1,650 (Tax Incl.)


REVENGERS CLEARFILE Hanagaki Takemichi / Sano Manjirou / Ryūguji Ken / 3shot ¥550 (Tax Incl.)


REVENGERS STICKER ¥1,100 (Tax Incl.)


REVENGERS RIBBON KEYCHAIN 花垣武道/佐野万次郎/龍宮寺堅 ¥1,100 (Tax Incl.)


REVENGERS FACE COVER(Reversible) ¥1,980 (Tax Incl.)

REVENGERS BADGE 75mm ¥550 (Tax Incl.)


 

A part of the store will be converted into a Tokyo Revengers pop up shop, with life-sized panels of Hanagaki Takemichi, Mikey (Sano Manjirou), and Draken (Ryūguji Ken) wearing the collaboration clothing. You'll find yourself wanting to get dressed up and twin with your favorite character! A scene from the anime will also be set up as a photo spot, making it the perfect space for any Tokyo Revengers fan.

The AEON MALL Hiroshima Fuchu store will be stocking 14 designs overall, including printed T-shirts, a brand-new reversible coach jacket, keychains with pixel dotted logo and gang name designs, and a coin case with the words "TOKYO" and "REVENGERS" printed all across the fabric. These items are all limited edition and are only available for a short time, so be sure to pick them up while you can! Some pieces will be released online, so be sure to check it out.

©Wakui Ken・Kodansha / Anime 'Tokyo Revengers' Production Committee

Information

R4G x 'Tokyo Revengers'
Availability: October 8 ~ October 17 2021 (10 Days)
Location: AZUL BY MOUSSY
AEON MALL Hiroshima Fuchu
Tokyo Revengers Corner
2-1-1 Osu, Fuchu, Aki District, Hiroshima
AEON MALL Hiroshima Fuchu 1F
TEL: 082-561-0750
Opening Hours: 10:00 ~ 20:00
Online Store: https://www.ec-store.net/category/R4G
Official Site: https://azul-m.com/

90 Year Old Renovated Public Bath-turn-Cafe 'Rebon Kaisaiyu' to Hold Collab Exhibition with Illustrator Miyaoka Chigav

Tokyo, Taito-ku based public bath cafe Rebon Kaisaiyu has announced a collaboration exhibition with illustrator Miyaoka Chiga, held between October 10 (public bath day) and October 24 2021, titled "Yu."

 

Rebon Kaisaiyu is a renovated public bath which was built 90 years ago, now transformed into a cafe serving home-roasted specialty coffee and handmade ice cream. The wooden tag shoe boxes, watch seats, ceilings, clocks, and Mt. Fuji paintings from the public bath have been preserved, retaining the comfort and warmth of the original building. 

The space was designed around the concept of "connecting memories through a cafe," striving to become a spot where locals could relax once more, connecting the building with the people of the new generation. The relaxing cafe has 16 seats available and is located only a five minute walk from Tokyo Metro Hibiya Station.

The collaboration exhibition will be filled with artwork using iconic public bath motifs. Miyaoka's gentle illustrations are sure to soothe your heart, immersing you in the warmth of "Yu" (public baths). Why not relax in this unique cafe with a comforting mug of hot coffee.

Information

Rebon Kaisaiyu x Miyaoka Chiga Collaboration Exhibition "Yu"

Duration: October 10 ~ October 24 2021 

Opening Hours: Weekdays 12:00 ~ 19:00 / Weekends, Holidays 11:00 ~ 19:00 (*Based on Rebon Kaisaiyu's opening hours.)

Admission Fee: Free (*Please order one item from the cafe if you decide to use the seats.)

Official Site: https://www.rebon.jp/ 

Hetalia World★Stars Takes Over Namjatown in Tokyo with Newly Drawn Illustrations

Located inside Ikebukuro Sunshine City, Namjatown is an indoor theme park offering a number of themed attractions and tons of tasty food! Known for collaborating with popular anime and manga series, the complex will be teaming up with Hetalia World★Stars starting on October 20! Following this, Namjatown in Osaka will host the event starting January 14, 2022. 

Original Merchandise

Riddle Solving Letter Set (14 varieties): ¥650 (Tax Included) *Random

Acrylic Pen Stand (14 varieties): ¥2,400 each (Tax Included) 

56mm Pin Collection (14 varieties): ¥550 each (Tax Included) *Random

 

In-Store Exclusive Merchandise

Bag Hooks (14 Varieties): ¥1,500 each (Tax Included)

Purchase Bonus

Cat-Shaped Illustration Sheet (14 varieties)

Web Shop/Hugood! from NAMJATOWN (Osaka) Exclusive Merchandise

Acrylic Picture Frame (1 type): ¥3,300 (Tax Included) *Not available at Namjatown. 

'Bon Appetit! Pasta Raffle' Mini-Game

Example of Prizes

A Prize: Pouch (14 Varieties)

B Prize: Keychain (14 Varieties)

C Prize: Pin Collection (14 Varieties, Random)

'Aim! Kugelschreiber!' Mini-Game

Example of Prizes

Winner's Prize: Acrylic Stand (14 Varieties)

Participation Prize: Photo Collection 2-piece set (14 Varieties, Random) *Includes 2 bromides of the same design

These prizes will also be available in online mini-games at the Namco Parks Online Shop. 

Weekly Commemorative Stamp

Original Themed Food and Desserts

Where to Buy: Namja Gyoza Stadium, Fukubukuro Dessert Alley

Italy, Germany, and Japan Assortment Plate: ¥1,200 (Tax Included) 

Czech Republic and Slovakia Coffee Float: ¥890 (Tax Included) 

Where to Buy: Hugood! CAFE

World★Stars Waffle: ¥780 (Tax Included) 

Icing Cookies, available for takeout (14 Varieties) / Acrylic Plate Set: ¥1,900 each (Tax Included) / Individual Cookies: ¥650 each (Tax Included) 

Fortune Latte 'World Greetings Latte' (14 Characters x 3 Greetings): ¥690 each (Tax Included) 

*The greeting on the cup will change depending on the time of day you order (morning, noon, or night). 

*Icing Cookies and Fortune Lattes do not come with a cat-shaped illustration sheet. 

Amusement Prizes

Sparkling Acrylic Keychain (14 Varieties)





Those familiar with the Hetalia series will recognize these country-based characters, even when they're sporting cat ears. Guests will be able to purchase a number of completely original goods, play mini-games for prizes, and chow down on themed menu items. Certain goods will also be available from the Namco Parks Online Store. 

During the event period, a total of six unique original stamp designs will be available on a weekly basis. Starting on October 20, the Italy, Germany, and Japan stamp will be available, with a new design popping up each Monday. 


©日丸屋秀和/集英社・ヘタリアW★S製作委員会

Information

Hetalia World★Stars in Namjatown

Running: October 20 – November 28, 2021

Details: https://event.bandainamco-am.co.jp/namja/hetalia-ws/

Namco Parks Online Store: https://parks2.bandainamco-am.co.jp/category/GOODS/

Open: October 20 – November 29, 2021, at 23:00

Premium Bandai Namjatown Online Shop: https://p-bandai.jp/namjaonlineshop/

Open: October 20 at 10:00 – November 29, 2021 at 23:00

Namco Parks Online Store (Mini-game Giveaway): https://parks2.bandainamco-am.co.jp/category/PRIZE/

Running: October 20 at 10:00 – November 29, 2021 at 23:00

Amusement

Date of Giveaway: October 20, 2021 *January 14, 2022 for namco HEP FIVE store. 

Participating Namco Amusement Stores: 

https://event.bandainamco-am.co.jp/namja/hetalia-ws/crane.html

Online Crane Mall Torumo

October 20, 2021, at 10:00

Torumo Site: https://s.torumo.namco.co.jp/sh/het_W

Torumo iOS App: https://s.torumo.namco.co.jp/sh/het_i

Torumo GooglePlay App: https://s.torumo.namco.co.jp/sh/het_A

Hetalia World★Stars in Namjatown – Umeda, Osaka

Running: January 14, 2022 – February 6, 2022

Address: Hugood! from NAMJATOWN (HEP FIVE 9F, 5-15 Kakudacho, Kita-ku, Osaka) 

Official Site: https://bandainamco-am.co.jp/tp/hugood/hugood-from-namjatown/

Official Twitter: https://twitter.com/Hugoodfn_osaka

*Please note that certain events may differ at each Namjatown location. 

Hotel Nikko Nara Teams Up with JR Tokai for Special Shinkansen Shaved Ice

Two new tasty types of shaved ice are now on sale at Hotel Nikko Nara! The Shinkansen Shaved Ice will be available until November 30, 2021, at the Lobby Lounge Fountain on the hotel's third floor. 

Shinkansen Shaved Ice – N700S

Sliced Mango, dried apricots, and almond jelly

Shinkansen Shaved Ice – Inspection Train

Caramel sauce, chocolate syrup, and dried apricots

This collaboration with JR Central Japan Railway is only available for a limited time, though Hotel Nikko Nara serves up tasty shaved ice year-round. This collaboration began on October 1 to celebrate the opening of the Tokaido Shinkansen. These treats are created with nitrous oxide, which transforms the shaved ice into a mousse-like foam!

For those able to make it to Nara in time, which of these special sweets will you be trying? 

Information

Shinkansen Shaved Ice

Available: October 1 – November 30, 2021, from 13:00-18:00 (Closed Thursdays)

Where to Buy: Hotel Nikko Nara Lobby Lounge Fountain (3F)

Official Site: https://www.nikkonara.jp/pr/

Tower Records x Kuromi Release Second Round of Collab Merchandise

My Melody's rival Kuromi is back for another collaboration with Tower Records! 26 participating locations will begin selling the second round of original merchandise on October 14, with preorders now open! The items will also be available to purchase from the Tower Records online store. 

Kuromi made her debut in 2005 and is a popular Sanrio character for those who want something less cute and more punk. This collaboration is fitting, as Kuromi's birthday is on Halloween!

Products Available In-Store and Online

Acrylic Keychain

Pins

Mascot Keychain

Towel

Clear Folder, Set of 2

Pouch

Cushion

Bucket Hat

Acrylic Stand

Acrylic Stand

Acrylic Stand

Acrylic Stand

Acrylic Stand

Acrylic Stand

Products Available at Shibuya and Shinjuku Stores and Online

T-Shirt

Long Sleeve T-Shirt

The first collaboration between Kuromi and Tower Records came in 2020 and saw products flying off the shelves. Be sure to preorder the items you like before they're gone!

Information

Tower Records x Kuromi Round 2

Available to Preorder Now

Release Date: October 14, 2021

*Mascot Keychains will go on sale on October 28. 

Participating Locations/Details: https://tower.jp/kuromi2021

Mickey Mouse Professional Baseball Collection Available During Fall/Winter 2021

Are you a fan of Japanese professional baseball? 12 of these teams are teaming up with the globally beloved character Mickey Mouse for a new fall/winter collection, with preorders open now! This year's items include long-sleeve T-shirts, pullover hoodies, jackets, iPhone cases, and cushions, all featuring these sporty designs. You might not be able to stop yourself from ordering everything! Head over to the official website and take a peek. 

© Disney
NTRL
©YOMIURI GIANTS ©ヤクルト球団 ©YOKOHAMA DeNA BAYSTARS ©中日ドラゴンズ
©HANSHIN TIGERS ©HIROSHIMA TOYO CARP ©H.N.F. ©Rakuten Eagles ©SEIBU Lions
©CHIBA LOTTE MARINES ©ORIX Buffaloes ©SoftBankHAWKS

JINS x Jujutsu Kaisen Limited Edition Collab Eyewear Unveiled, Orders Opening Soon

Eyewear brand JINS has collaborated with popular anime Jujutsu Kaisen to produce the new 'JINS x Jujutsu Kaisen' collaboration frames, which will be available on the JONS online shop and in limited quantities in JINS stores nationwide between October 10 and October 25 2021. 

Lineup

Itadori Yuuji Model ¥5,500 (Tax Incl.)

Fushiguro Megumi Model: ¥8,800 (Tax Incl.)


Kugisaki Nobara Model: ¥13,200 (Tax Incl.) 

Zenin Maki Model: ¥13,200 (Tax Incl.)

Inumaki Toge Model: ¥13,200 (Tax Incl.)

Nanami Kento Model|l: ¥13,200 (Tax Incl.)


Gojou Satoru Model: ¥13,200 (Tax Incl.)

Each product comes with an original soft case and glasses cloth.

Panda Glasses Case (sold separately)

 Anime Jujutsu Kaisen, based on the manga of the same name, tells the story of the Jujutsu Sorcerers who use their powers to take down the Curses born from the negative energy of humans. The  show was broadcast throughout 2020 and 2021 both within Japan and overseas, becoming one of the most popular anime of the current era.  

 

The products in the first JINS x Jujutsu Kaisen collaboration were designed with the daily lives of the unique anime characters in mind. Taking inspiration from the fashion and lifestyle of each character, the glasses are full of hidden references to the Jujutsu Kaisen world. Character motifs have been incorporated into the frame details, resulting in glasses that are both stylish and versatile.

The lineup features protagonist Itadori Yuuji along with Fushiguro Megumi, Kugisaki Nobara, Zenin Maki, Inumaki Toge, Nanami Kento, and Gojou Satoru. Each of the seven characters has their own original design. Each pair comes with a Tokyo Prefectural Jujutsu High School themed glasses case and cloth. 

Plus, don't miss out on the plush panda glasses case, which is only available to purchase separately on the JINS webshop!

 

 

Orders are available both online and instore. The popular 'MEGANE on MEGANE' service, which first started in 2019 and was installed in store on September 16,  allows customers to try on the glasses virtually over your current pair. The collaboration glasses will be available to try on virtually in all stores during the order period, while some stores may also have physical pairs available to try. 

 

 

Dive deeper into the 'Jujutsu Kaisen' world with these fun JINS glasses!

 

Information

JINS x Jujutsu Kaisen

Order Period: 10:00 on October 8 until October 25 2021 at 23:59 

※Instore pre orders will be available from October 8 until October 25 during store opening hours.

Order Locations: JINS Online Shop, JINS stores nationwide

Stores with display samples: Sapporo Passeo, Sendai Ichibancho, Shibuya, Atre Akihabara, Yokohama JOINUS, Odakyu ACE, Kotochika Kyoto, LINKS UMEDA, Canal City OPA

Details: https://www.jins.com/jp/collabo/jujutsukaisen/ 

Official Site: www.jins.com 

Collab Exhibition Opens Featuring DANDELION PROJECT & Japan Sinks Drama Series

An exhibition between the art initiative DANDELION PROJECT, formed by the creative company NAKED, and the TBS drama series Japan Sinks: People of Hope, will be held during the month of October on the first floor of Akasaka Biz Tower in Tokyo. 

The DANDELION PROJECT is inspired by the idea of world peace and hopes to help transcend barriers and connect people in an increasingly divided world. This networked initiative wants to bring this change about by planting (or installing) dandelion-inspired art around the world, while it invites people visiting these dandelion exhibits to send their prayers for peace as a digital flower in real-time. The theme of 'hope' found in the new Japan Sinks drama fits perfectly into this exhibition. 

When you see the petals of the dandelion flow through the air after being hit with a gust of wind, that means that someone from around the world caused that to happen. Due to the recent pandemic, rather than blow on cotton wool as is usually done at these exhibits, guests can hold up their smartphones to cause the same thing to happen. The DANDELION PROJECT will also be making an appearance at Tokyo Tower, Saga Prefectural Hall, and other places, so be sure to participate in this unique exhibit!

DANDELION PROJECT Installations Currently Open Around Japan

Saga Prefectural Exhibition Hall

Tokyo Tower Main Deck

Information

Japan Sinks x DANDELION PROJECT

Address: Akasaka Biz Tower SHOPS&DINING 1F (5-3-1 Akasaka, Minato-ku, Tokyo)

Running: October 1 – October 31, 2021

Hours: 11:00-18:00

Admission: Free

Official Site: https://naked.co.jp

Unique New Beer Released in Collaboration With HERALBONY and haccoba

Craft sake brewery haccoba is teaming up with the experimental social advocacy group HERALBONY to release an artful new brew! The All-Yeast IPA -Yay!Yay! Hazy!!- will go on sale September 26, 2021, in limited quantities. A portion of all sales of the product will go to the artist who designed the bottle. Before launch, a special discussion panel was held at the HERALBONY GALLERY, located in Iwate Prefecture. 

This release marks the first collaboration between Iwate-based HERALBONY, a company aiming to make strides in the social welfare sphere, and haccoba, a unique craft sake brewer from Fukushima. 

HERALBONY GALLERY

Art Hand Towel

Scratch Works Yay!Yay! Fukushima. – Yukihito Okabe

HERALBONY continues to make a positive impact in the community, with many sympathizing with their vision and approach to making social change. Artist Yukihito Okabe's original work Scratch Works Yay! Yay! Fukushima was made for this collaboration and was inspired by the sight, feeling, and taste of the materials that go into sake production. The way each vivid color overlaps with another to create new colors is similar to the process of fermentation, in which each microorganism weaves together with another to create something new. By combining art and alcohol, more people might be inspired to stop and ponder the issues currently facing the world. 

The All Yeast IPA -Yay! Yay! Hazy!!- is an India Pale Ale that brings a powerful hops flavor. It was inspired by the idea of blending the hoppiness of an IPA with the charm of sake, and the beverage was brewed with a unique blend of rice malt and steamed rice, leading to more sweetness, acidity, and umami. Beer lovers, don't miss this!

TGI Friday's Collaborates with Krispy Kreme Donuts with Limited Time Burger

To commemorate the 15th year of Krispy Kreme Donuts Japan, the franchise has announced a collaboration menu with TGI Friday's to be rolled out in TGI stores nationwide every weekend between October 2 and October 31

The 'Donut Hamburger' was first born in America. It combines the sweetness of donuts and the meatiness of beef patties, topped with gravy. The sweet and salty taste is even becoming popular in Japan, despite the recent health-conscious trend. This devilishly tasty treat has grown in popularity over the past few years. To celebrate their 15th year in Japan, Krispy Kreme Donuts have collaborated with TGI Friday's to create the tastiest donut hamburger. TGI Friday's high-quality beef patty is combined with buns made from Krispy Kreme's secret donut recipe, before the burger is topped with TGI's signature sauce. The collaboration menu consists of three new items, including the 'Friday's Signature Donut Burger.'

Be sure to check out the devilishly tasty new collaboration this Halloween!

Information

TGI Friday's x Krispy Kreme Donuts

Availability: October 2 ~ October 31 2021

Poly available on weekends: October 2, 3, 9, 10, 16, 17, 22, 24, 30, 31)

Participating Stores: 12 TGI Friday's restaurants nationwide.

Official Site:  https://www.tgifridays.co.jp/