10-Day Sustainability Themed Event 'Love Earth, Love Us' to Open at Sendai PARCO
Sendai PARCO will begin a 10-day event focusing on the idea of sustainability starting September 17 and concluding September 26, 2021. 'Love Earth, Love Us' will highlight sustainability-related products and services available at the shops within Sendai PARCO, and a web page has already been opened to get people thinking about this important subject. Those purchasing or using any of these products and services will receive certain added bonuses, as a way to raise awareness and give back to those making an effort to support the health of the planet. 
The main visual used in promoting the event was drawn by Toshiya Nakashima, and depicts Mount Vinicunca in Peru, often called Rainbow Mountain. The drawing was commissioned by Heralbony, an art gallery featuring pieces by those with intellectual disabilities, who will also hold a limited-time pop-up shop inside Sendai PARCO during the event. The shop will sell unique items, including hand towels featuring this gorgeous portrait of Rainbow Mountain, so don't miss out!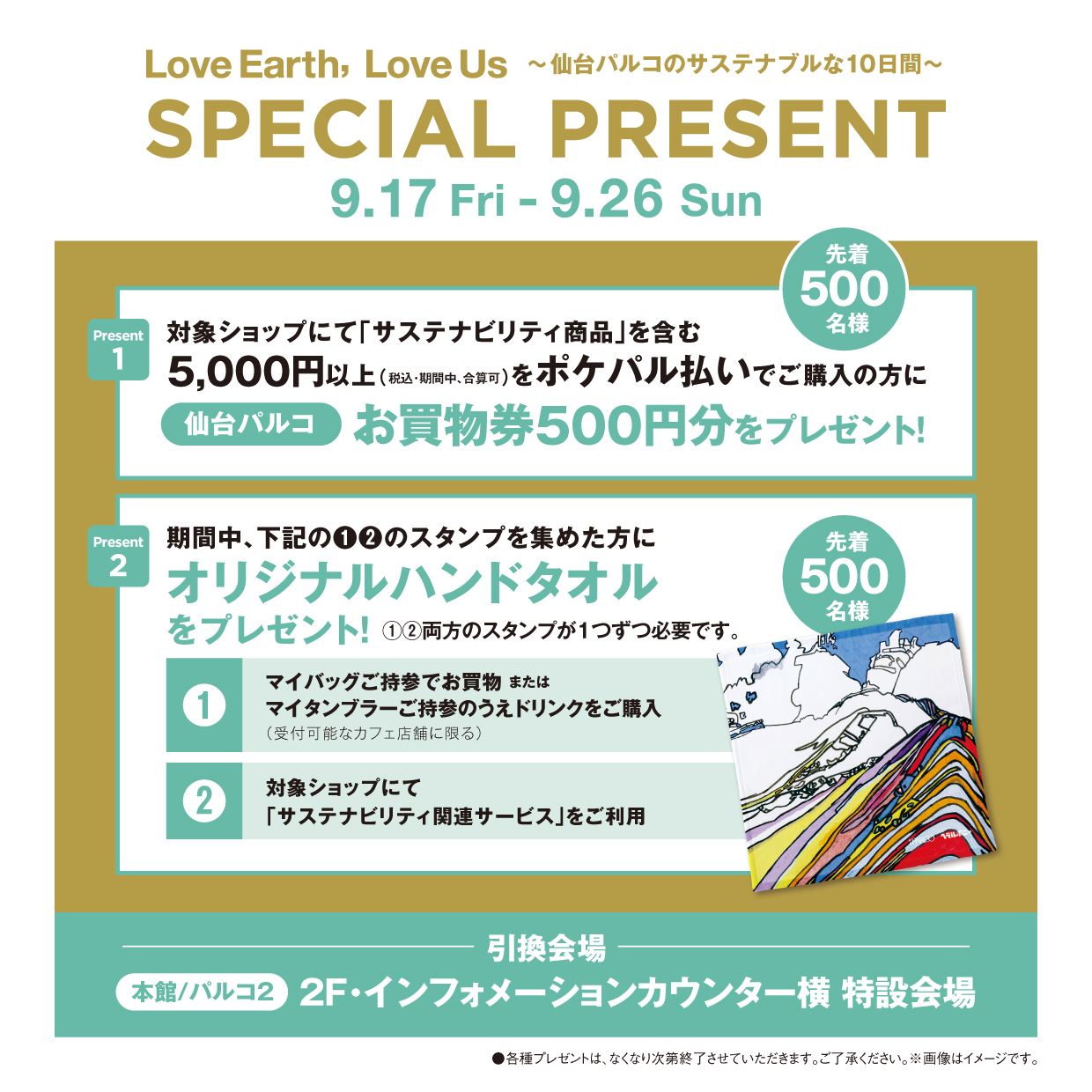 RELATED ENTRIES
Manga Artist Macoto Takahashi Collaborates With Tsudanuma PARCO for Christmas Event

Legendary shojo manga artist Macoto Takahashi is collaborating with Tsudanuma PARCO in Funabashi, Chiba, for the 2021 Christmas event from November 19 until December 25, 2021. The creator recently released an art book featuring many of his works titled 'Macoto Takahashi's Jewelry Box.' An exhibition featuring mini-prints and mini-panels of works featured in the book will also be held, and merchandise will be on sale both on-site and online. 

Main Visual

Window

After his debut in 1953, Takahashi published the manga series Arashi wo Koete and Princess Anne. His signature style of depicting glittering stars in the eyes of his protagonists would have a lasting influence on other manga artists. In the 1960s and 1970s, he was at the helm of many magazine covers and illustrations for popular girls' manga magazines like Nakayoshi, Shojo Friend, and Margaret. Despite his classic style, his works are still largely popular today. The main visual for the event 'Lucky Star' features a girl in a red Christmas-themed costume surrounded by animals, blue snowflakes, and delicate lace.

Information

MACOTO CHRISTMAS 2021

Running: November 19 – December 25, 2021

Location: Tsudanuma PARCO 1F Entrances, Windows (Christmas Decorations) /

B Building 4F, In front of ACADEMIA Kumazawa Bookstore, Next to Escalators (Exhibition / Shop)

Online Store: https://kaeru.parco.jp/shop/detail/shop000027204/

Yashahime: Princess Half-Demon Collaboration Cafe Coming to Shinsaibashi and Nagoya

Originally held within Shibuya PARCO, the Yashahime: Princess Half-Demon cafe is hitting the road! Starting November 11 at Shinsaibashi PARCO and November 27 at Nagoya PARCO, guests can enjoy a variety of Yashahime-themed food and merchandise for a limited time. The Shibuya location finished its run on November 9, and the new visual shows the show's characters in front of a traditional tea house. 

Food at a Glance

Drinks at a Glance

Novelty Coasters

Kirara's Manga Pancakes

(Returning Dishes) Inuyasha's Beef Sandwich / Sesshomaru's Cold Pasta

Stickers

Four-Color Pen with Charm

Rainbow Pearl Candy Tin

Random Washi Pins (10 varieties)

Due to fan demand, certain dishes from the previous Inuyasha cafe will be returning for the Yashahime: Princess Half-Demon cafe. Exclusive merchandise will be sold at the cafe and online at the PARCO online store, so be sure to check it out!

Hamster Sukeroku no Nichijou Gets Exhibition at Ikebukuro PARCO

Starting November 12, PARCO FACTORY in Ikebukuro will open an expansive exhibition dedicated to Hamster Sukeroku no Nichijou (Hamster Sukeroku's Daily Life), with over 300 items on display! This will be the first exhibition for the series, which is popular in Japan and throughout Asia. 

Drawn by illustrator GOTTE, the adorable and hilarious Sukeroku is a relatable character trying to make his way through life. The venue will feature hundreds of works, including some newly drawn illustrations made specifically for the exhibition. 

A part of Sukeroku's room will be recreated, and a video of the creation process will be available to view during the event. The shop will sell original replications of popular pieces of Sukeroku art and plenty of other goods, so be sure to take a look!

Information

Hamster Sukeroku no Nichijou Exhibition

Running: November 12 – November 29, 2021

Hours: 11:00-20:00 *Last entrance 30 minutes before closing. 

*Exhibition will close at 18:00 on November 29. 

Location: PARCO FACTORY, Ikebukuro PARCO Main Building 7F

Official Site: https://ikebukuro.parco.jp/

PARCO Jujutsu Kaisen Exhibition Coming to Sendai, Hiroshima, and Matsumoto

Jujutsu Kaisen is one of the most popular anime and manga series in the world right now. The Animation Jujutsu Kaisen Exhibition has already been held in Shibuya and Nagoya and is currently underway in Osaka. Now, it's been announced that the exhibition will be coming to Sendai, Hiroshima, and Matsumoto as well!

First Phase Ticket Bonus: Yuji Itadori, Megumi Fushiguro, Nobara Kugisaki / Second Phase Ticket Bonus: Maki Zenin, Toge Inumaki, Panda

Satoru Gojo Life-sized Figure

Original Merchandise

New Original Illustration for the First Phase

The exhibition will be divided into two phases, with different contents being displayed during each run. The first phase, "Curse Womb Must Die" and "Small Fry and Reverse Retribution," will focus on episodes one to thirteen, while the second phase, "Kyoto Sister School Exchange Event" and "The Origin of Blind Obedience," will focus on episode fourteen to twenty-four. Limited-edition merchandise featuring new illustrations will be available at each exhibition site.

Those who purchase a ticket for the exhibition will receive a Tokyo Metropolitan Curse Technical College student ID card featuring a random character. A life-sized figure of Satoru Gojo, created specifically for the exhibition, will be on display. Video from the series will be projected on massive screens, while guests are led through the event by an audio guide recorded by the show's cast. 

Who's your favorite Jujutsu Kaisen character?


©芥見下々/集英社・呪術廻戦製作委員会

Information

Animation Jujutsu Kaisen Exhibition

Sendai PARCO

Address: Sendai PARCO Main Bldg. 2F, Special Venue (1-2-3 Chuo, Aoba-ku, Sendai)

Running: 

1st Phase "Curse Womb Must Die" and "Small Fry and Reverse Retribution": November 26 – December 6, 2021

2nd Phase "Kyoto Sister School Exchange Event" and "The Origin of Blind Obedience": December 9 – December 19, 2021

Hiroshima PARCO

Address: PARCO FACTORY, Hiroshima PARCO Main Bldg 6F (10-1 Hondori, Naka-ku, Hiroshima)

Running: 

1st Phase "Curse Womb Must Die" and "Small Fry and Reverse Retribution": December 25, 2021 – January 10, 2022

2nd Phase "Kyoto Sister School Exchange Event" and "The Origin of Blind Obedience": January 13, 2022 – January 23, 2022

Matsumoto PARCO

Address: Matsumoto PARCO 5F, Special Venue (1-10-30 Chuo, Matsumoto City, Nagano)

1st Phase "Curse Womb Must Die" and "Small Fry and Reverse Retribution": January 28, 2022 – February 7, 2022

2nd Phase "Kyoto Sister School Exchange Event" and "The Origin of Blind Obedience": February 10, 2022 – February 20, 2022

*To prevent the spread of COVID-19, tickets will be available through e+, and will specify a specific date and time for guests to attend. Tickets will be sold on event days if any are still 

available. 

Presale Tickets

Sendai

All lottery & general sale tickets

Available until November 7 at 23:59

Lottery Drawing: November 12, 2021

Announcement of Winners/Payment Accepted: November 13 at 10:00 – November 17 at 21:00

General Sale Tickets available on November 20 at 12:00~

Presale Ticket Link: https://eplus.jp/anime_jujutsukaisenten_parco/

Event Details: https://art.parco.jp 

Official Twitter: https://twitter.com/animejujutsuten (@animejujutsuten)

Artist Maki Ohkojima Collaborates with UpcycleLino to Create Sustainable Items

Artist Maki Ohkojima is inspired by life and the environment. UpcycleLino is creating completely recyclable products that produce zero waste. It makes sense that these two would collaborate, and their new items ask people to think more about their relationship with nature. With a theme of 'circulation,' these items will be on sale at participating shops around Japan and online. 

UpcycleLino × MANDALĀJU Big Band Collared Shirt

UpcycleLino × MANDALĀJU Sketched Tote Bag

UpcycleLino × MANDALĀJU Scarf

The 'Tree of Life' project is inspired by the theme of coexistence between the environment and all living things. It is important to protect limited resources for future generations. UpcycleLino is a completely sustainable company, using fabric scraps from other projects to create brand new clothes. 

People, animals, insects, plants, and all other living things exist in the circle of life, and this is the message conveyed through Maki Ohkojima's art. What can we do to better coexist with the planet? 

©角川武蔵野ミュージアム

Information

Kadokawa Musashino Museum 'Maki Ohkojima Art Exhibition – Perforated Spiral' 

Date: October 8, 2021 ~

Address: Kadokawa Musashino Museum (3-31-3 Higashi Tokorozawa, Saitama)

Hours: Sunday-Thursday: 10:00-18:00 (Last Entry at 17:30) / Friday, Saturday: 10:00-20:00 (Last Entry at 19:30)

Official Site: https://kadcul.com/

Collaboration Items

October 8, 2021~

Where to Buy: 

Kadokawa Musashino Museum Shop

nest Robe: https://store.nestrobe.com/nestrobe/ / CONFECT Online Shop and the following shop locations: Omotesando, Ginza, KITTE Marunouchi, Takasaki, Umeda, Kyoto, Nagoya, Okayama, Hiroshima, Fukuoka, Osaka Takashimaya

CAPCOM vs. Tezuka Osamu CHARACTERS' Exhibition Coming to Ikebukuro PARCO

Originally held as a special exhibition at the Osamu Tezuka Manga Museum in Takurazuka, the CAPCOM vs. Tezuka Osamu CHARACTERS' Exhibition is coming to the Kanto Region for the first time starting October 1. The event will be held on the 7th floor of Ikebukuro PARCO until October 18, 2021.

The collection features characters from Tezuka's many manga works, and pits them against many popular characters from Capcom properties, including Street Fighter, Resident Evil, Monster Hunter, and more. Seeing popular personalities from Astro Boy and Black Jack with these modern video game characters is quite a sight!

This year's event will feature new main event illustrations, new Devil May Cry and Ace Attorney exhibits, and an updated layout.

In addition to the products previously sold in Takarazuka, new merchandise will also be available for purchase at the venue.

©CAPCOMCO.,LTD.ALLRIGHTSRESERVFD.

©TEZUKAPRODUCTIONS

Information

CAPCOM vs. Tezuka Osamu CHARACTERS' (Dash)

Running: October 1 – October 18, 2021 (11:00-20:00)

Where: PARCO FACTORY (Ikebukuro PARCO 7F)

Official Site: https://art.parco.jp/parcomuseum/detail/

Japanese Lifestyle Brand athletia to Launch in UK in October

Eco-friendly Japanese skincare and lifestyle brand athletia will release its products in the UK market this October. The UK version of the brand's website, including an e-shop, is planned to be available to consumers on October 6.

athletia was launched by Kao Group's cosmetics manufacturer e'quipe in February 2020, and prides itself on using only environmentally friendly ingredients, containers, and packaging.

At the time of launch, the company will adopt the DTC model, concentrating on e-commerce and social media in order to show transparency and build trust within the community. During the following year, athletia aims to specifically include other companies' e-commerce sites in its sales strategy, due to the changes the retail world has experienced due to COVID-19.

European consumers have high standards when it comes to sustainable products, social contributions, and corporate transparency, and athletia is confident it can meet the level of excellence needed for further growth in the region. Using the UK as a foothold, athletia plans to expand to other European countries within three years.

Popular Character Chiikawa Gets Large-Scale Exhibition at Hiroshima PARCO

Illustrator Nagano's popular character Chiikawa is coming to Hiroshima PARCO FACTORY (6F) from September 10 until September 26. Chiikawa no Mori will be the first large-scale exhibition for the tiny mouse and friends.

Guests to the venue will enter into a world taken over by the characters, and will be able to see a special movie made for the event, enjoy a Chiikawa photo booth, and more. Visitors will also be able to experience pulling weeds, as is mentioned so often in Chiikawa's comics, and write messages to the characters.

Entrance photospot

Chiikawa Diagnosis

Trick art

Weed-pulling game

Bye Bye photospot

Message board

Entrance ticket pochette bag bonus

Weed-pulling game stickers

Exclusive shopping bag for customers spending over ¥2,200 (Tax Included)

Chiikawa x Hiroshima Toyo Carp Exclusive Merchandise

A5-size Sticker Sheet: ¥880 (Tax Included) / Face Towel: ¥2,200 (Tax Included) / Tote Bag: ¥2,970 (Tax Included)
 

Acrylic Stand & Pin from Capsule Machine (6 varieties): ¥400 per try (Tax Included)

Cap (2 designs): ¥3,960 each (Tax Included)

T-shirt (3 designs): ¥3,190 (Tax Included)

Exclusive Chiikawa no Mori Postcard Book: ¥1,430 (Tax Included)

The event will feature a special collaboration with the Hiroshima Toyo Carps baseball team, with crossover goods only available during the exhibition. Other commemorative items, including a postcard book with visuals drawn specifically for the event, will be on sale at the goods corner.

Are you a Chiikawa fan? What message would you like to leave for the characters?

Information

Chiikawa no Mori

Running: September 10 – September 26, 2021

Location: Hiroshima PARCO (6F)

10-1 Hondori, Naka-ku, Hiroshima

*Goods corner located on 4F of the main building (only visitors with tickets will be admitted.)

Buy Tickets: https://eplus.jp/chiikawa/

*If there are openings on the day of the event, tickets will be sold at the venue.

*Please note that this information is subject to change.

Event Details: https://art.parco.jp/hiroshima/detail/?id=681

Official Site: https://art.parco.jp/

The Meguriwa Exhibition to Touch on Sustainability in Japan

Meguriwa, a project promoting sustainability in Japan, will hold a two-day market and exhibition on November 12-13, 2021. The venue for the event isn't a large convention center, but rather an old house forgotten by time in southern Shibuya, surrounded by new development. The space blends traditional Japanese atmosphere with a modern Western style, and promises a sense of nostalgia to all who attend. 

The event will bring together a large collection of artwork, products, and materials from creators and companies all over Japan who focus on recycling-centric creation. This includes products made from wood sourced from forest thinning, as well as those using a portion of proceeds to support environmental conservation efforts. In the midst of major societal changes, humans must continue to coexist with natural phenomena like climate change, viruses, and earthquakes. With this in mind, Meguriwa hopes to share their vision of a 'circular bioeconomy,' in which mankind doesn't separate themself from nature, but instead both fears and appreciates it. 

The event is advertised as a place where people can both learn and have fun while considering our impact on nature, and how we can impact the future. An online seminar, 'The Meguriwa Study Hall,' will take place each week for a month prior to the event!

This event is for a great cause. Get to know local craftsmen and more about long-term sustainability this November!

Information

Meguriwa Exhibition

Dates/Times: 

November 12, 2021   10:30-19:00
November 13, 2021   10:30-18:00

Location: OLD HAUS (An old house with a garden near Namikibashi)

Address: 1-26-32 Higashi, Shibuya, Tokyo

Price: Entrance Free
① Free Ticket: Free
② Priority Admission (Priority Entry): ¥1,000

Details: https://peatix.com/event/1833758/

Rain Goods Brand Wpc. Opens Preorders for PARCO x Super Mario Vinyl Umbrella Series

Rain goods brand Wpc. will be opening preorders for their limited edition Super Mario themed collection after it sold out at the PARCO x Super Mario Collaboration Item Fair.

Wpc. Vinyl Umbrella ¥1,980 (Tax Included)

The umbrella, which was released as a limited item at the PARCO x Super Mario Collaboration Item Fair, was released for pre-sale at Wpc.'s Shinsaibashi PARCO store on July 1 and sold out the same day. Following overwhelming feedback from customers, the company has announced a second run, with pre-orders opening on August 5 on both the Wpc. ONLINE STORE and PARCO ONLINE STORE.

Character Pattern Print

The umbrella comes in 2 designs. The first features a variety of Mario characters and is finished with mushrooms, stars, and other iconic Mario motifs. Check out the cute facial expressions on the characters, such as the peeking Boo and the falling Goomba.

Neon Character Print

The Neon Character Print umbrella is packed full of popular Mario characters and motifs. The neon colours will surely brighten up any rainy day!

KiU New Standard Rain Poncho ¥6,600 (Tax Included)

The collaboration poncho that had previously sold out on the PARCO ONLINE STORE will be rereleased along with the vinyl umbrellas.

This item is not a pre-order and will be shipped upon purchase.

©Nintendo
ファミリーコンピュータは任天堂株式会社の商標です。

Shibuya PARCO's Dwiky KA Exhibition Collaborates With Japanese Brands and Artists

PARCO opened the Dwiky KA Exhibition at its Shibuya branch on Friday where it's set to run until August 9. Dwiky KA is an Indonesian artist who has collaborated with many music artists and apparel brands.

Dwiky KA x HYSTERIC GLAMOUR

Dwiky KA x BiSH

Dwiky KA x Kosuke Kawamura

Dwiky KA x Kosuke Kawamura

Dwiky KA x Tappei

Robot exhibit

As part of the exhibition, a line-up of merchandise and original items is being sold, including collaborations with brands Hysteric Glamour and balansa x YAGI, artists Kosuke Kawamura and Yappei, and idol punk band BiSH.

Information

YAGIBOY & GALLERY X presents Dwiky KA exhibition "LABRAX"
Running: July 30, 2021 – August 9, 2021

Location: GALLERY X

Address: Shibuya PARCO Floor B1F, Udagawacho, Shibuya, Tokyo
Opening Hours: 11:00-20:00
Price: ¥500 (Tax Included)
Official Website: https://art.parco.jp

Pretty Boy Detective Club Anime Themed Cafe Menu to be Served in Osaka

As part of their AniCook project which gets people to enjoy anime through cooking, CookpadTV have announced that the 7th series they are collaborating with is Pretty Boy Detective Club. The collaboration includes a food menu inspired by the series that will be served on the 5th floor of Shinsaibashi PARCO in Osaka from August 19 to September 5.

Food

Trump Demi Hamburger / Hagoita Chirashi Chahan

Desserts

Starry Sky Cream Pancakes / Yubiwa Academy Middle School Gateau Chocolate / Auditorium Cheesecake

Drinks

Manabu's Assam Blue Moon Tea / Nagahiro's English Breakfast Sesame Tea / Michiru's Earl Grey Acerola Tea / Hyota's Ceylon Mango Tea / Sosaku's Darjeeling Hazelnut Tea

Get 1 of 5 stickers with every food and dessert order, and 1 of 5 postcards when ordering a drink

Exclusive merchandise

Acrylic Stands | 5 Designs

Acrylic Keyrings | 5 Designs

Acrylic Coasters | 5 Designs

Pins | 5 Designs

The dishes and drinks on the menu were created to get people enjoying food more. The cafe is also selling a range of exclusive merchandise both at the cafe and online.