BEAMS to Sell Limited-Time Goods Based on Post-Sauna Drink Mix Oropo
Ryusenji no Yu is a chain of bath facilities throughout Japan, offering saunas, bedrock baths, and artificial hot springs. Saunas are surprisingly popular throughout the country, and recently, a beverage called Oropo has been called the perfect drink to enjoy after sitting in the heat. A mixture of the vitamin drink Oronamin C and sports drink Pocari Sweat, it's a perfect blend to refuel after all that sweating.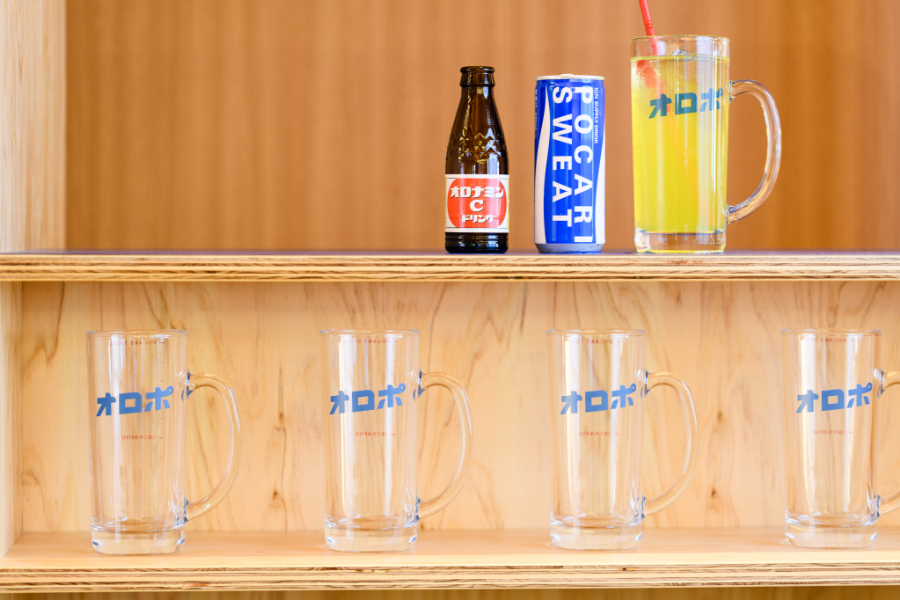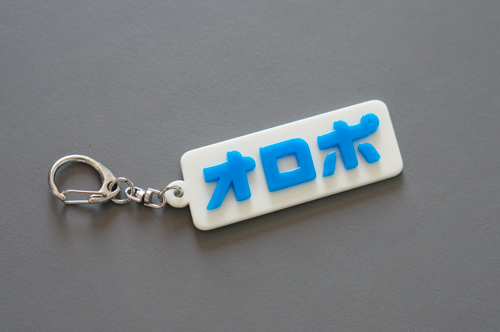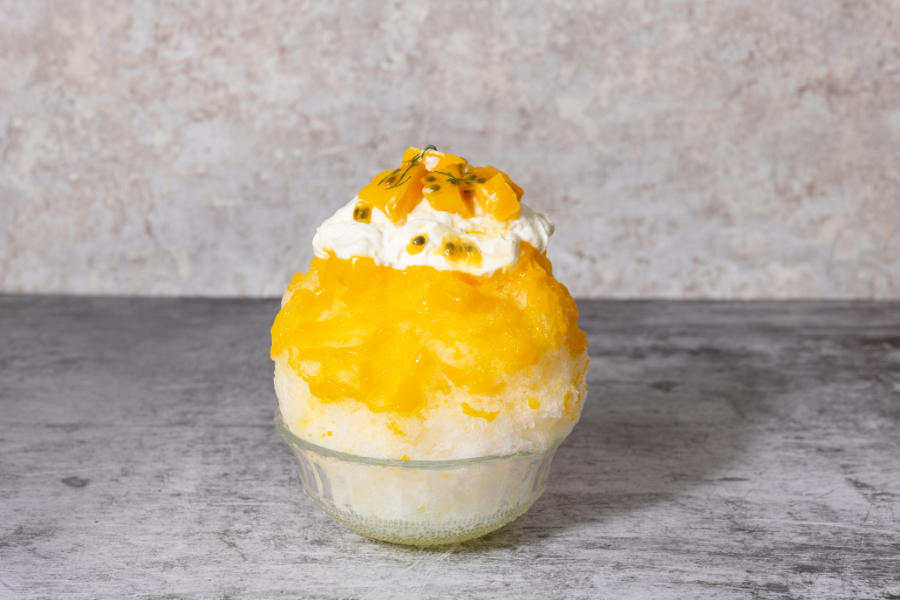 The Nagoya Moriyama location will begin selling Oropo-branded goods by BEAMS starting September 16!
Merchandise sold in the odd collaboration will include mugs featuring markings to help mix the perfect amount of Oronamin C and Pocari Sweat to make the ultimate Oropo. T-shirts with pop-up store character Oropo-kun are already the talk of social media. Those who purchase a certain amount of goods will be given a bonus sticker. 
As expected, Oropo will be served during the campaign, along with Oropo Shaved Ice, created by the queen of shaved ice Asako Harada!
Information
Ryusenji no Yu x BEAMS
On sale until September 26, 2021
Where to Buy: Ryusenji no Yu – Nagoya Moriyama Location
Official Site:https://www.ryusenjinoyu.com/
RELATED ENTRIES
Ariake Garden at Izumitenku Bathhouse in Tokyo Collaborates with Love Live! for the Third Time

Ariake Garden at the Izumitenku public bath facility in Tokyo will be teaming up with Love Live! Nijigasaki High School Idol Club for the third time! The new collaboration will begin on June 6, 2022, and will include towels decorated with brand-new illustrations of the girls in yukata. Special drinks will also be for sale.

Original Merchandise

Love Live! Nijigasaki High School Idol Club Towel

Izumitenku Bathhouse Original Bath Salts (Set of 2, Yukata version) / Includes random sticker (Yukata version)

Original Drawstring Bag

Collaboration Drinks

Why not come enjoy the world of Love Live while relaxing in a natural hot spring?

BEAMS MUSIC FESTIVAL 2022 'BE FES!' will be held at Zepp concert halls in Sapporo, Tokyo, Nagoya, Osaka, and Fukuoka from July 5 to August 10, 2022. 

The artist lineup and performance venues have been partially changed following the event's postponement. The lineup will include a variety of unique artists that are all up-and-coming in the Japanese music scene, and the official T-shirts that were previously available for preorder are now available to order again at the BEAMS online store.

Areas around the venue will also offer events, and the BEAMS HAPPY TICKET will be available for guests to enjoy. The ticket is part of a collaboration with restaurants and shops in the area recommended by BEAMS staff. 

 

The festival will be livestreamed so that those unable to attend the venues in person will still be able to enjoy!


BEAMS is a company that loves music and wants to bring happiness to the people of the world with the power of music. Who are you most excited to see perform?

 

Information

BEAMS MUSIC FESTIVAL 2022 'BE FES!!'
Dates/Locations/Times:


① July 5, 2022
Zepp Osaka Bayside
Doors Open 17:30, Show Starts 18:30, Show Ends 21:30

②2022年7月13日(水)
Zepp Nagoya 
Doors Open 17:30, Show Starts 18:30, Show Ends 21:30

③2022年7月21日(木)
Zepp Sapporo
Doors Open 18:00, Show Starts 19:00, Show Ends 21:30

④2022年8月2日(火)
Zepp Fukuoka
Doors Open 18:00, Show Starts 19:00, Show Ends 21:30

⑤2022年8月10日(水)
Zepp Haneda(TOKYO)
Doors Open 18:00, Show Starts 19:00, Show Ends 21:30

Performers

Osaka: Nobelbright|chilldspot |nishina|Saki Misaka
Nagoya: Nulbarich|D.A.N.|BIM|mitsume
Sapporo: Tamio Okuda|Takuma (TAKUMA/10-FEET)| ReN
Fukuoka: OKAMOTO'S | Saucy Dog | w.o.d.
Haneda: Tokyo Ska Paradise Orchestra / Guest:  Takao Tajima (Original Love) 

Details: https://www.beams.co.jp/special/befes/2022/

Ticket Preorders Open: March 31 – April 17 at 23:59
Tickets: https://w.pia.jp/s/befes22ofs/

Official T-shirt: https://www.beams.co.jp/tag/top_211124_beams/

Streaming Channel: https://www.beams.co.jp/special/befes/2022/

Odd Taxi to Collaborate with Sauna Town Shimokitazawa, Visual and Merch Info Revealed

Sauna Town Shimokitazawa, a sauna event currently being held at a special vacant lot event space in the popular Tokyo neighborhood of Shimokitazawa, will hold a collaboration event with the Odd Taxi anime series from February 26 until March 19, 2022!

The visual was inspired by the concept of 'Odokawa visiting Sauna Town,' and features an illustration of the man himself wearing a Sauna Town T-shirt and holding bath goods in his hand.

Odokawa Transport Promo Towel: ¥700 (Tax Included)

Clear Folder (Odd Taxi x Sauna Town): ¥1,000 (Tax Included)

3-piece Sticker Set (Odd Taxi x Sauna Town): ¥600 (Tax Included)


A total of five collab items will be sold at the event space, including a promo towel, clear folder, and sticker set.

To commemorate the release of the upcoming Odd Taxi in the Woods film on April 1, guests can also purchase special cards to give them a ¥100 discount off one purchase. An Odd Taxi panel will also be set up as the perfect photo spot for fans, so be sure to check it out!

© P.I.C.S. / 映画小戸川交通パートナーズ

Information

Odd Taxi x Sauna Town Shimokitazawa
Running: February 26 – March 19, 2022
Address: Shimokita Line Vacant Lot Pop-up Area / 4-minute walk from Shimokitazawa Station on the Odakyu Line

Sauna Town Shimokitazawa Official Twitter: https://twitter.com/SAUNATOWN2

Sweets Brand RURU MARY'S Collaborates with BEAMS COUTURE for Apparel Collection

BEAMS COUTURE, a BEAMS label focused on upcycling and handmade items, has teamed up with sweets brand RURU MARY'S for a special apparel collaboration collection.

Dress

Knit Sweater

Bag (Large)

Bag (Small)

Pouch

Chocolate Sable

The iconic floral illustrations used in RURU MARY'S packaging appear throughout the collection. The tote bag and pouch are made of insulating material, perfect for carrying chocolates! Each item also comes with a tag featuring a special rose sticker.

Nordisk Village Goto Islands Glamping Facility to Offer Tent Saunas

The Nordisk Village Goto Islands glamping facility has started offering tent saunas to further heighten the guest experience. 

This is the first time a tent sauna has been offered in a lodging facility in the Goto Islands. The main body of the sauna tent is made by MORZH, and sauna enthusiasts will appreciate the well-researched specifications and execution.


A wood-burning stove is used in the sauna, and guests can adjust the temperature while enjoying the view of the dancing flames. The facility also offers an original aroma oil scented with Camellia and herbs, perfect for relaxation.

Zero gravity chairs are also available for outdoor air bathing, and visitors can enjoy lounging under the starry sky and swaying trees. Why not travel to these islands in Nagasaki Prefecture for your next getaway?

BEAMS Starts Campaign to Highlight the Charms of Aomori Prefecture

BEAMS Japan has collaborated with 13 businesses to develop nearly 100 unique products to highlight the wonders of Aomori Prefecture. Under the title 'BEAMS EYE on AOMORI,' these products are now available to purchase from the BEAMS Official Online Store. They will be available at the BEAMS Japan shop in Shinjuku starting January 19, 2022. 

BEAMS EYE on AOMORI Products at a Glance

BEAMS Japan travelled to Aomori to search for inspiration and to learn more about the prefecture famous for its blue skies and apple orchards. The areas rich nature and traditions come to life in this new line of merchandise, so why not enjoy some of these products for yourself?

Information

BEAMS EYE on AOMORI

Running: December 20, 2021 – February 22, 2022
Where to Buy: 
BEAMS Japan (3-32-6 Shinjuku, Shinjuku-ku, Tokyo)
January 19 – February 22, 2022
Hours: 11:00-20:00 *Hours are subject to change. 


BEAMS Official Online Shop
December 20, 2021 – February 22, 2022
https://www.beams.co.jp/tag/211220_BJ_01/

BEAMS Japan Taipei Pop-Up Shop
February 8 – February 22, 2022
Address: Taiwan Eslite Life Nanshi Store 1F, 14 Nanjing West Road, Zhongshan, Taipei


Special Website: https://www.beams.co.jp/special/teamjapan/aomori2/

BEAMS EYE on OKAYAMA Event to be Held in Shinjuku and Taipei, Taiwan

BEAMS Japan will hold an event highlighting the wonders of Okayama Prefecture in both Shinjuku, Tokyo, and Taipei, Taiwan! The event will feature specialty products from 11 businesses in Okayama, and is now open in Shinjuku, with the Taipei event beginning in February 2022. Certain items are also available at the official BEAMS online shop.

Selected Products

Okayama prefecture is known for its mild climate and nature. BEAMS Japan has developed 81 unique products, with some highlighting the denim creation in the region and others showcasing local crafts.

As Okayama is closely associated with Momotaro, a figure out of Japanese folklore, peaches are very prominent in the region and can be seen in a number of these special products. 

Selected products from the collection will be available at the Taipei location from February 24 until March 13, 2022. Although travel has been made incredibly difficult during the pandemic, this pop-up shop was made possible by Okayama prefecture and BEAMS Japan. 

Hokkaido's OMO7 Asahikawa Resort Opens Animal Sauna

Hoshino Resorts OMO7 Asahikawa has announced a new 'Animal Sauna,' inviting guests to spend time with cute animals to heal the body and soul. The sauna will be open from March 1 to May 31, 2022. 

Fans of Gashapon capsule toys know that animal sauna figures are popular among sauna enthusiasts. These figures are only about four centimeters big, but during this sauna event, they will be life-sized and placed within the sauna space! These massive figures were made with the help of Bandai. 

Sauna hats protect guests' heads and hair from the heat, and sauna ponchos prevent guests from getting too cold after emerging from the space. Now, these hats feature cute animal ears, and the sauna mats are covered in animal prints as well. These will also be available to rent or buy! 

The lounge space will also be transformed, and a drink bar with animal-themed glasses will help guests to rehydrate after time in the sauna. Yes, the lounge space also features life-sized animals, perfect for nature lovers. 

Gashapon figures will be available to purchase on the first floor, so be sure to grab one as a souvenir! 

ⒸBANDAI

Information

Animal Sauna

Running: March 1 – May 31, 2022

Hours: 15:30-24:00 (Last entry 23:30)

*Only Available to Hotel Guests

Admission: Free

Official Site: https://omo-hotels.com/asahikawa/

Sauna Art Appears at Underground Experience in Tochigi Prefecture

From October 30 until November 23, 2021, a unique underground experience is taking place at a former quarry in Oyamachi, Utsunomiya. UnderMuseumChallenge 01 GATE invites guests to enjoy massive pieces of artwork while pondering the boundaries between society, nature, daily life, and the body. The main focal point of the exhibition is the Genki Furnace, a piece of sauna-inspired art.

Usually, this old quarry isn't open to the public. This year's event will offer two types of tickets: one allowing visitors to view art and drive through the underground space, and the sauna art experience. Takashi Kurimayashi's art will certainly stick with you, so either choice is a positive one. The sauna art experience will invite guests to stand within the furnace as they are surrounded by hot herbal steam. The website asks that visitors bring a swimsuit, change of clothes, and their own towel. 

The quarry is located about a 30-minute drive from the center of Utsunomiya. Stone from the area is well-known across Japan, and this particular region was named a Japanese Heritage Site in 2018. Last year, more than 700,000 tourists visited the region. 

Sauna-loving "Sauna Manager' Starts New Apparel Brand 'Saunatte Iiyone!'

'Saunatte Iiyone!' is a new street x sauna apparel brand from the mysterious Sauna-ryman (sauna + salaryman) Sauna Manager (@sauna_bucho37), a Tokyo-based Instagrammer who really loves saunas!

Sunglasses Bag Logo Long-sleeved T-shirt

Logo Towel

The manager checks out locations nationwide in search of the perfect sauna, conveying the charms of saunas each day through their Instagram. Their sensational and fun new brand fuses street with the sauna, conveying the owners knowledge and love for the experience. The first items include a long-sleeved t-shirt and towels featuring the brand logo.

They will continue to produce new sauna goods while paying careful attention to fabric and details, so be sure to keep an eye on them!

Information

Saunatte Iiyone

Release Date: September 18 at Noon

Purchase Location: Online Store

Official Site: https://saunaiiyone.com 

BEAMS Announces Virtual Sento Bath Experience at Virtual Market 6

BEAMS is set to have its own booth at Virtual Market 6 (Vket6) which will be hosted by HIKKY from August 14-28. At the BEAMS booth, they will be showcasing must-visit sento bathhouses. Vket is one of the biggest virtual events in the world, and uses Web to VR technology so you don't need a VR headset, meaning people can access it simply by connecting via mobile, PC, or other smart device. This will be BEAMS' second attendance at the event, and shop staff will appear inside as avatars.

Inside BEAMS 'Recommended Sento 2021' Booth at Vket 6

Inside BEAMS 'Recommended Sento 2021' Booth at Vket 6

Vket-chan wearing the free towel you get at the BEAMS booth

BEAMS is taking their ongoing 'Recommended Sento 2021' project, which is running at Kotobukiyu in Ueno, Tokyo, until September, to the virtual realm in a collaboration with COW BRAND SOAP. As well as collaboration merch, players can use Vket-chan's 3D avatar and combine it with the free towel to bathe in the bath as her.

The virtual space is decorated with sento pictures illustrated by manga artist and calligrapher Mari Yamazaki. Users can also launch fireworks, and there are various Japanese summer-themed attractions.

The official Vket merchandise will be available on the Merch by Amazon service and can be shipped to Japan, the US, UK, France, Germany, Italy, and Spain.

Miyako Hotel Kyoto Hachijo Launches Sento Bath Hotel Plan

Miyako Hotel Kyoto Hachijo launched a new hotel plan on July 26 which includes a ticket to bathhouses around Kyoto, a bath amenity set, a hotel-original sento t-shirt, and more.

Available until March 30, 2022, the plan was conceived as a way for tourists to enjoy the ordinary, everyday Kyoto in a way that's different from people's usual tourist and sightseeing experiences in the city. Kyoto continues to be a hub for sento bath culture.

Hinode-yu, a bathhouse in Minami Ward, Kyoto

Hotel-original tees are available as part of the plan

Receive a bath amenity set and bathhouse ticket

Kyoto is home to around 100 unique sento bathhouses where people can enjoy a relaxing soak in a giant public bath while chatting. It's a huge part of Kyoto culture and one which is seeing a steady increase in popularity again with the younger generation.

If you're staying in Kyoto this year or planning a trip early next year, don't miss out on this limited-time hotel plan.