Poo-shaped Rainbow Bath Bombs Now Available
Rainbombs, a collection of bath bombs that release rainbows when added to the tub, has a curious new product–the Rainbomb Mini Poop, now available to order online. Why a poo motif, we're not sure, but they're adorable regardless of the questionable subject matter. 
When added to the bath, three colors will spray from the base, like others in the Rainbombs collection. The bombs come in either Grape or Peach scents. (Thank goodness.)
Grape
With the scent of juicy grapes, this purple bath bomb exudes a strange sweetness with it's big eyes.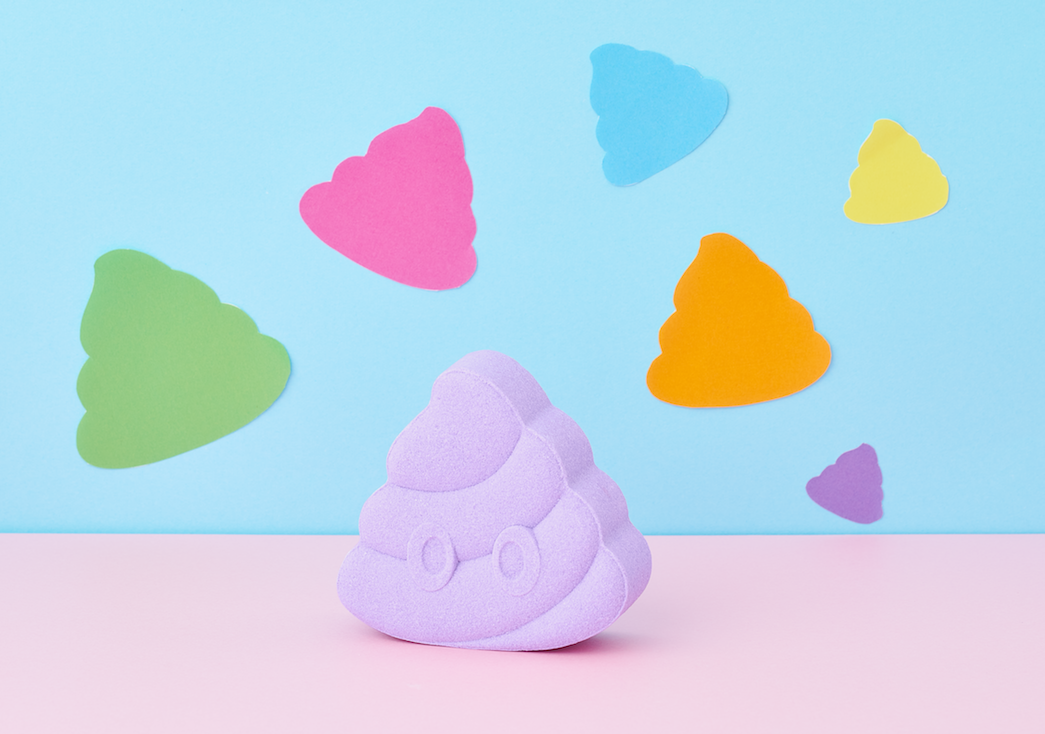 Peach
This pink poop gives off a fresh peach scent, sure to relax you after a long day.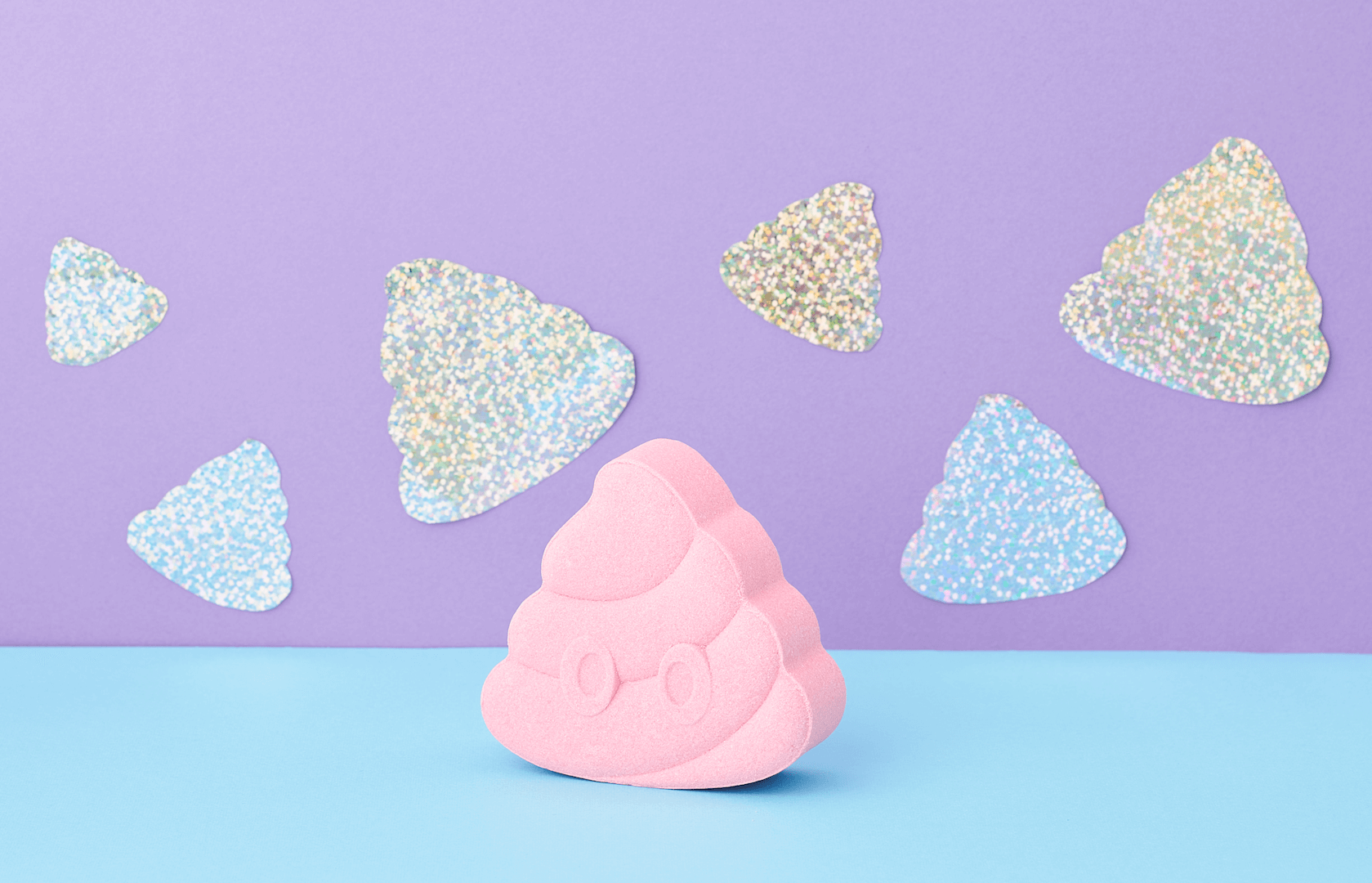 Check out how the rainbow appears here:
What do you think? Are poop-shaped bath bombs something you'd try? 
RELATED ENTRIES
The Original Capybara Open-air Bath Experience Celebrates 40th Anniversary in Izu

A winter tradition in Izu, the capybara open-air bath at Izu Shaboten Zoo will be held again this year from November 19 until April 2, 2023. During the event period, guests can watch the adorable capybaras as they enjoy a hot bath once a day at 1:30 PM on weekdays and twice a day at 10:30 AM and 1:30 PM on weekends and holidays. 

This season marks the 40th anniversary of the popular event, though it all began as a happy accident. In 1982, an employee cleaning the enclosure with hot water noticed that the capybaras were huddling together in a warm puddle. Since then, each year, employees prepare a warm bath for the animals during winter and early spring. 

During the event period, in addition to the standard open-air baths, the water will be decorated with unique items depending on the season, from yuzu to rose petals.

40th-anniversary goods will available at the Animal Mart Gift Shop at the zoo, as well as the official Izu Shaboten Zoo online store. 

For more information about the event's schedule, visit the official website.

Miffy Bath Set Made of Pure Japanese Cypress to be Released in September

The Miffy Bath Set, made from environmentally friendly thinned wood, will be available in early September 2022.

Miffy Bath Set: ¥16,500 (Tax Included)

A three-piece Miffy bath set including a small bath chair, a large bath chair, and a hot water basin will be available next month. Perfect for parent and child use, the smooth wood surface will fit with any bathroom decor.

Kanuma in Tochigi Prefecture is known for its thriving woodworking industry. The wood used for this set was thinned to protect the forest and minimize waste, and each product is handmade by local wood craftsmen and made entirely in Japan. The product is finished without paint to highlight its original quality.

These items can also be stacked for compact storage.

When you open the bathroom door, you'll be met with the fresh scent of cypress with the Miffy Bath Set!

© Mercis bv

ONE PIECE FILM RED Inspires Collaboration Event with Raku Spa

From August 18 until September 19, 20 Gokurakuyu and Raku Spa locations will hold a special collaboration to celebrate the release of ONE PIECE FILM RED. 

Goods

Menu

During the event, a new bath will be available each weekend. Guests can enjoy fragrant baths inspired by Luffy, Zoro, Nami, Usopp, Sanji, Shanks, and Uta. Check the website to see which baths will be available at which locations!

Those visiting can find some new merchandise featuring exclusive illustrations made for the campaign and a tasty menu inspired by One Piece characters, so don't miss it!

Hololive VTuber Members Collaborate with Raku Spa in 'Furolife' Campaign

Hololive has announced a special collaboration between HoloFantasy and Raku Spa, with special merchandise and VTuber-scented baths at participating locations around Japan!

Merchandise

Collaboration Menu (Coasters Available!)

Photo Spot

 

Guests can grab original merchandise with newly-drawn illustrations during the event period, and original food and beverages based on the five members will be on sale. Five unique baths have been prepared by the Hololive members, as each girl chose her favorite scent. The announcements in each location will also be broadcast by the popular VTubers.

Starting February 6, called Bath Day in Japan, specially-drawn yukata and chibi versions of the characters will be available on limited-edition postcards and new merchandise. To get one of these postcards, visitors will need to follow the official Raku Spa Twitter, retweet the campaign Tweet, and present it at the reception desk at their Raku Spa of choice. These are available on a first-come, first-served basis, so be sure to grab them before they're all gone!

Information

Hololive x Gokurakuyu/Raku Spa Collaboration Campaign
Running: January 27 – February 28, 2022
Locations: 25 participating Gokurakuyu/Raku Spa locations nationwide *Not available at some locations.
Details: https://rakuspa.com/hololive/

Online Shop: https://eshop.gokurakuyu.ne.jp/

Postcard Schedule ※Available while supplies last.
・Usada Pekora: January 27 – February 3
・Uruha Rushia: February 4 – February 10
・Shiranui Flare: February 11 – February 17
・Shirogane Noel: February 18 – February 24
・Houshou Marine: February 25 – February 28

Collaboration Bath Schedule
・Usada Pekora Bath / Japanese Cypress Scent
January 27 – January 30


・Uruha Rushi Bath / Peppermint Scent 
February 4 – February 6


・Shiranui Flare Bath / Grapefruit & Lemongrass Scent
February 11 – February 13, 2022


・ Shirogane Noel Bath / Milk Scent
February 18 – February 20


・Houshou Marine Bath / Flower Cologne Scent
February 25 – February 27


Gokurakuyu/Raku Spa Official Twitter: https://twitter.com/gokurakuyu_spa

Kumagaya City, Saitama Bath Cafe Hareniwa no Yu Opens After Rebranding

Cafe BIVOUAC, located in Kumagaya, Saitama Prefecture, will reopen Bath Cafe Hareniwa no Yu on September 18, 21, after a full rebranding.

The space aims to be 'a garden that clears a guest's body and mind.' Visitors can enjoy a full bath and sauna, freshly-picked vegetables at the Haruniwa Dining Room, and a lush green lounge in which to relax and unwind.

The Haruniwa Dining Room, run by The Farm, a resort in Chiba Prefecture, offers healthy dishes filled with fresh local vegetables from Kumagaya with carefully-selected main ingredients.

In addition, a collaboration with fashion brand 'niko and…' will also begin upon reopening, offering the perfect comfy clothes to wear while enjoying the property.  The lineup  includes an original bath bag and sauna hat, each sold exclusively at Hareniwa no Yu.

Information

Bath Cafe Hareniwa no Yu (Cafe BIVOUAC)

Open: September 18, 2021

Address: 939 Kubojima, Kumagaya-shi, Saitama

Phone: 048-533-2614

Official Site: https://ofurocafe-bivouac.com/

SHIRO Releases Relaxing New Hinoki and Hiba Fragrances

Japanese cosmetic brand SHIRO has announced two new soothing fragrances, the Hinoki Bath Salts and the Hiba Spray 80. These will be available at the SHIRO online store and at SHIRO retailers nationwide on September 9. 

The brand's first Hinoki and Hiba-based items


Hinoki, or Japanese Cypress bark, and Hiba, the leaves from these Cypress trees, have subtle scents which will make customers feel as though they're surrounded by nature. Having these items around will help clear anxious minds and soothe worried hearts. The bark used for the fragrances was sourced from the Kii mountain range, while the leaves came from Aomori prefecture. 

Hinoki Bath Salts (400g): ¥4,840 (Tax Included) 

These are the first bath salts to be released since rebranding. The soothing Japanese cypress essential oils were sourced from the Kii mountain range snaking through Mie and Wakayama prefectures, while the sun-dried salt from South Australia will help moisturize and hydrate the skin. Use this product during an evening bath to relax after a hard day's work, or mornings when you wake up a little earlier than usual to prepare your mind for what the day may bring. 

Hiba Spray 80 (80ml): ¥1,980 (Tax Included) 

This hand spray contains 80% alcohol, as well as fragrant Aomori Japanese cypress essential oil and distilled cypress water. 

If you're looking to practice more self-care, these items are sure to help. 

Information

Hinoki Bath Salts

Hiba Spray 80

Pre Orders Begin: August 26, 2021 on the SHIRO Online Store (10:00) and at SHIRO retailers nationwide

Release Date: September 9, 2021 on the SHIRO Online Store (10:00) and at SHIRO retailers nationwide

Official Site: https://shiro-shiro.jp/

Experience a Bath Like Never Before in a Luxurious Private Space at Yadoru KYOTO HANARE

Yadoru KYOTO HANARE is a hotel in Kyoto that blends seamlessly into the town, offering a stay experience that's like living there. For guests who use their baths, they have introduced a new selection of five ingredients to be put into the bath like bath salts. Each comes with a different effect, enhancing your bathing experience beyond getting clean.

Yadoru KYOTO HANARE is continuing to enforce precautions against the spread of COVID-19 so guests can enjoy getting away from home to relax and unwind safely. The hotel has and continues to enjoy many guests during this time who are seeking out some healing. One of the biggest selling points for guests is the hotel's bathing experience. With that in mind, they have set up the Yadoru YUAMI service which allows guests to try a variety of bathing products made by local Kyoto businesses.

'Yuami' is an old Japanese expression for getting in the bath. The word 'yadoru' in the hotel's name is also an old phrase meaning 'to stay at a lodging on your travels.' Yadoru KYOTO HANARE is wanting to have its site feel even more like a traditional Kyoto townhouse for guests to experience, so they are now using the word 'YUAMI' as part of their services.

With Yadoru YUAMI, guests can pick from five different bath products, each wrapped in pouches. Each offers a completely different bathing experience with different benefits and fragrances.

1. Sake Lees

Sake lees from Kyoto's long-standing and historical sake brewery Sasaki Shuzou. Massage the lees in the bathtub while they are still in the pouch to create a milky white water that fills the bathroom with the fragrant smell of sake lees. The ingredients in the lees have a moisturising effect, improve blood circulation, and leave skin looking beautiful.

2. Gyokuro Green Tea

The Kyoto Distillery stands as Japan's first establishment specialising in gin. One of their gins is called Ki no Bi, a Japanese craft gin. Its smell and taste is the result of a combination of 11 kinds of botanical products including gyokuro green tea, junpier berry, and hinoki cypress, all of which are featured individually on this list. Gyokuro is a type of high-grade Japanese green tea and contains theanine which stimulates relaxing, making it perfect for unwinding after a long day.

3. Juniper Berry

Juniper berry is an indispensable ingredient in making craft gin. This bathing product is made with the type that's actually used in making Ki no Bi craft gin. When submerged in the water, the air is filled with the woody, relaxing, and inviting scent of gin.

4. Hinoki Cypress

This bathing powder is also made with the same hinoki cypress used in Ki no Bi which, when put in the water, emits the smells of a forest. Hinoki cypress contains phytoncide which has a relaxation effect, calming the autonomic nervous system and blood pressure.

5. Matcha

Matcha is the quintessential flavour of Kyoto. Guests who check in at Yadoru KYOTO HANARE are offered a cup. They can also bathe in it with Yadoru YUAMI.

Information

Yadoru YUAMI

Release Date: June 1, 2021

Price: ¥1,000 (Before Tax)

Location: Yadoru KYOTO HANARE (Participating Branches: Washi no Yado/Kanade no Yado/Mizunoe no Yado/Roji no Yado)


Book by Telephone: 03-4510-8671
Book by E-mail: kyoto@yadoru.me

*Exclusive to Yadoru KYOTO HANARE guests

These Dessert Inspired Bath Items by Sweets Maison Look Good Enough to Eat

Sweets Maison has released a new collection of bath gift items perfect for those cold winter days.

Sweets Maison is known for its patisserie showcase of dessert and sweets-inspired items. This time, they have whipped up a new collection of bath items that look and smell like the real thing from macaron bath bombs to chocolate bath salts and more.

The Line-Up (Prices Include Tax)

 

Macaron Fizz Bath Gift – Left: Floral Mix / Right: Fruity Mix | ¥1,400

These bath bombs are made to look like macarons and come with two each of either the floral or fruity mix. Their sweet and gentle scents are perfect for indulging in for either yourself or someone special.

 

Spoon Chocolate Fizz & Cafe Tea Bath Salt Set – Left: Candy Mix / Fruity Mix | ¥1,000

Enjoy soaking in some sweet-smelling bath salts that are contained inside cute pastel-coloured coffee cups.

 

Cream Tart Fizz 3 Piece Set – Top: Sweet Mix / Bottom: Elegant Mix | ¥1,000

A collection of cute and romantic bath fizzes made to look like colourful cream tarts. The Sweet Mix includes cherry mousse, berry tart, and fruity chiffon fragrances while the elegant mix picks are vanilla soufflé, tea sparkle, and pear jasmine scented.

 

Treat your hardworking self or significant other to some well-deserved luxury bath time with Sweets Maison's new gift set collection.

UMI HOTEL ANNEX: The New Luxury Hotel Opens in Shizuoka's Resort Area Usami

Usami is known as the resort area of Ito in Shizuoka Prefecture, and it's here that the new luxury relaxation hotel UMI HOTEL ANNEX, which boasts a horizon-stretched ocean view, has openedーtogether with the new restaurant and bar known as The SEA.

UMI HOTEL ANNEX, a hotel for relaxation

UMI HOTEL ANNEX offers a breathtaking experience for guests with its ocean view, the sounds of the waves, and the natural scent of trees that envelop it. The hotel is on the small side, built with just six rooms, but this opens the door for greater hospitality, consideration, and comfort. If you want to wind down from a long day of travelling, need some adequate sleep, and wish to get away from the hustle and bustle of Japan's busy cities, then UMI HOTEL ANNEX has you covered.

Enjoy a sweeping ocean view

Upon entering a guest room, you are met with an unobstructed view of the sea. All rooms are also equipped with mirrorsーwhich span the entire wallーwhich bring the view of the ocean into your own room too. This means you can sleep soundly while surrounded by the sea, which is just 30 seconds from the hotel. *4 rooms of the rooms offer the ocean view

Rooms also have a pillar made from hiba cypress, a type of tree symbolic of Aomori Prefecture. The pillars not only serve to support the structure of the hotel, but also wrap the room with the natural scent of timber. Hiba is a strong antibacterial and pesticide wood, and its aroma also has a relaxing effect. 

Open-air infinity pool baths with water flowing from the source

The roof is decked out with infinity pool baths with water flowing in from the source. Everything in and around the pools is made from the same Aoyama hibi cypress, including the pools themselves, meaning all rooms enjoy that warm smell of cypress. The pool joins together with Usami Bay, which stretches 1km, offering a feeling of openness like no other. There are even waterproof sofas in the pool rooms for more relaxation.

Amenities galore for a quiet night's sleep

Amenities offered include items by Sansatia, a Bali-based natural cosmetics company. There's also an original line of room wear made from a special Japanese gauze which can also be used in the surrounding area outside too. The linen is provided by Imabari Towel, and the beds by Simmons. There's also bath salts, shoehorns, and more.

All guest rooms are equipped with pots, microwaves, refrigerators, irons, and trouser pressers. There's also coin operated laundry machines, accommodating for those longer stays.

Poop-Themed Exhibition to Teach People All About Poop in Fukuoka

Fukuoka PARCO and Higashiyama Zoo and Botanical Gardens are collaborating to hold a poop-themed exhibition entitled "Poop Exhibition: Poop Academy Cultural Festival in Fukuoka" on floor B1F of the south building of Fukuoka PARCO from September 27 to October 27.

There will be many elements to the exhibition. The first of these is the language section where sentences written in Japanese will be draped all across one room, each with references to poop.

Above photo taken from the Ikebukuro exhibition

In the "Outdoor Lesson" corner, there will be cased displays of different animal droppings with descriptions, enabling people to see the different shapes and sizes poop comes in.

In the "Poop Arithmetic 3rd Year Students" corner is a photo spot where you can pose like the Poop Maths Teacher as shown on the right.

At the end of the exhibition there's an exam room where you can take a test based on what you have learned from the exhibition.

There'll even be a range of original and exclusive merchandise.

Postcard Set (5 Designs) – ¥400

Folders – ¥300

Toilet Roll – ¥348 / Character Tape Cutter – ¥700 / Leather Futon Books (2 Designs) – ¥500 Each

Japan is having a poop craze right now, with the opening of the Unko Museum in Yokohama which is also set to arrive in Shanghai next month.

*Photos are for illustrative purposes only. Listed prices are pre-tax. Event content subject to change.

Information

Poop Exhibition: Poop Academy Cultural Festival in Fukuoka

Running: September 27, 2019 – October 27, 2019

Opening Hours: 10:00-20:30 (Until 18:00 on October 27; last entries 30 minutes before closing times)

Location: Fukuoka PARCO South Building Floor B1F

Entry Price: ¥600 (Free entry for preschoolers)

*POCKET PARCO members get ¥100 off

Event Page: https://art.parco.jp/fukuoka/detail/?id=297

Japan's Poop Museum Dumps Its Load in Shanghai

The poop-themed exhibition Unko Museum is set to roll into Shanghai on October 19 where it will run until January 3 next year.

The museum first appeared at the entertainment facility ASOBUILD, which is connected to Yokohama Station, where it is still running as Unko Museum YOKOHAMA. It was then followed by Unko Museum TOKYO where it is still open at DiverCity Tokyo Plaza. This will mark the museum's first trip overseas.

Just 4 months after opening in in Yokohama, the museum had amassed over 200,000 visitors. The subsequent Tokyo museum served to promote the new Japanese concept of "kawaii poop" to tourists both Japanese and foreign. It was a huge success and enjoyed substantially more visitors than predicted.

With the museum receiving huge attention from both Japan and overseas, Shanghai was chosen as the next destination as a means to develop the concept outside Japan since Shanghai is one of the main global cities of the Asian region. There is also the fact that mainland China has a population of over 1.4 billion. The Unko Museum aims to promote and establish itself as a new entertainment experience.

The museum will be set up at Joy City Shopping Mall, which is home to a whole host of experience entertainment, as well as restaurants, shops, and even a Ferris wheel. It will have the same content as the museum in Japan, including giant poop statues, the "Unstagenic Area," a combination of the Japanese word for "poop" (unko) and the words "Instagram" and "photogenic" with cute and stylish poops, and more.

Information

Unko Museum SHANGHAI
Address: Joy City Shopping Mall Floor 4F, 166 Xizang N Rd, Zhabei Qu, Shanghai Shi, China
Running: October 19, 2019 – January 3, 2019
Opening Hours: 10:00-22:00 (Last Entries 21:00)

Official Website: https://unkomuseum.com/

Poop Art Drops Its Load at the Unko Museum in Yokohama

The new Unko Museum Yokohama is set to open on March 15, 2019 on the second floor of the new ASOBUILD entertainment facility in Yokohama which is opening on the same day.

This limited-time museum features a range of poop-themed exhibitions from giant sculptures to cute and sparkly area known as the Unstagenic Area, a combination of the Japanese word for "poop" (unko) and the words "Instagram" and "photogenic." There's also the Untelligence Area where you can learn about the history of faeces and the conditions of people's poop around the world. There's even the Unteractive Area where you can enjoy playing poop-related games.

The UK is home to its own National Poo Museum and South Korea has a toilet museum called Mr. Toilet House. Japan has hosted numerous events related to faeces to discuss diet and toilets too, but this is the country's first amusement-type facility focused on it and it welcomes people of all ages and nationalities to get involved.

Advance tickets are now live on the ALE-BOX official website and will also be sold via e+ on February 16. Additionally, all people who visit the museum during the period  March 15 to 17 will receive some original merchandise.


Further information will be posted via the museum's official Twitter page in the run up to its grand opening.

An original pop/house song written has also been written for the museum and can only be heard by attending. It was written by Kenmochi Hidefumi of Wednesday Campanella with Frasco on vocals.

Information

Unko Museum Yokohama
Address: ALE-BOX, ASOBUILD Floor 2F, 2-14-9 Takashima, Nishi Ward, Yokohama, Kanagawa Prefecture
Running: March 15, 2019 – July 15, 2019

No Fixed Holidays.

Opening Hours

[Monday-Thursday] 11:00-20:00 (Last Entry 19:30)

[Friday-Sunday & Holidays] 10:00-21:00 (Last Entry 20:30)

Attending: You must order an advance ticket but will be permitted entry without one if there are enough spaces on the day
Entry Times: Entry times are fixed on weekends, national holidays and days before holidays for the following slots: ①10:00-14:00 / ②14:00-17:00 / ③17:00-20:30
Price: Junior High School Student and Older – ¥1,600 / Elementary School Student – ¥900 / Toddler – Free料
Official Website: https://ale-box.com/unkomuseum/