Space Hamsters BLUE HAMHAM Get Pop-Up Store at Newly-Reopened Hanshin Umeda Store
CHOCOLATE Inc. is bringing everyone's favorite music-eating space hamsters back to Osaka! The AUTUMN PLANET -BLUE HAMHAM POP UP SHOP- is coming to the newly-reopened Hanshin Department Store Umeda Main Store from October 8 until October 19, 2021. Designed by  Arimura Taishi, these cuddly characters have been featured by a number of popular stars, including Porter Robinson and Sia!
Merchandise at a Glance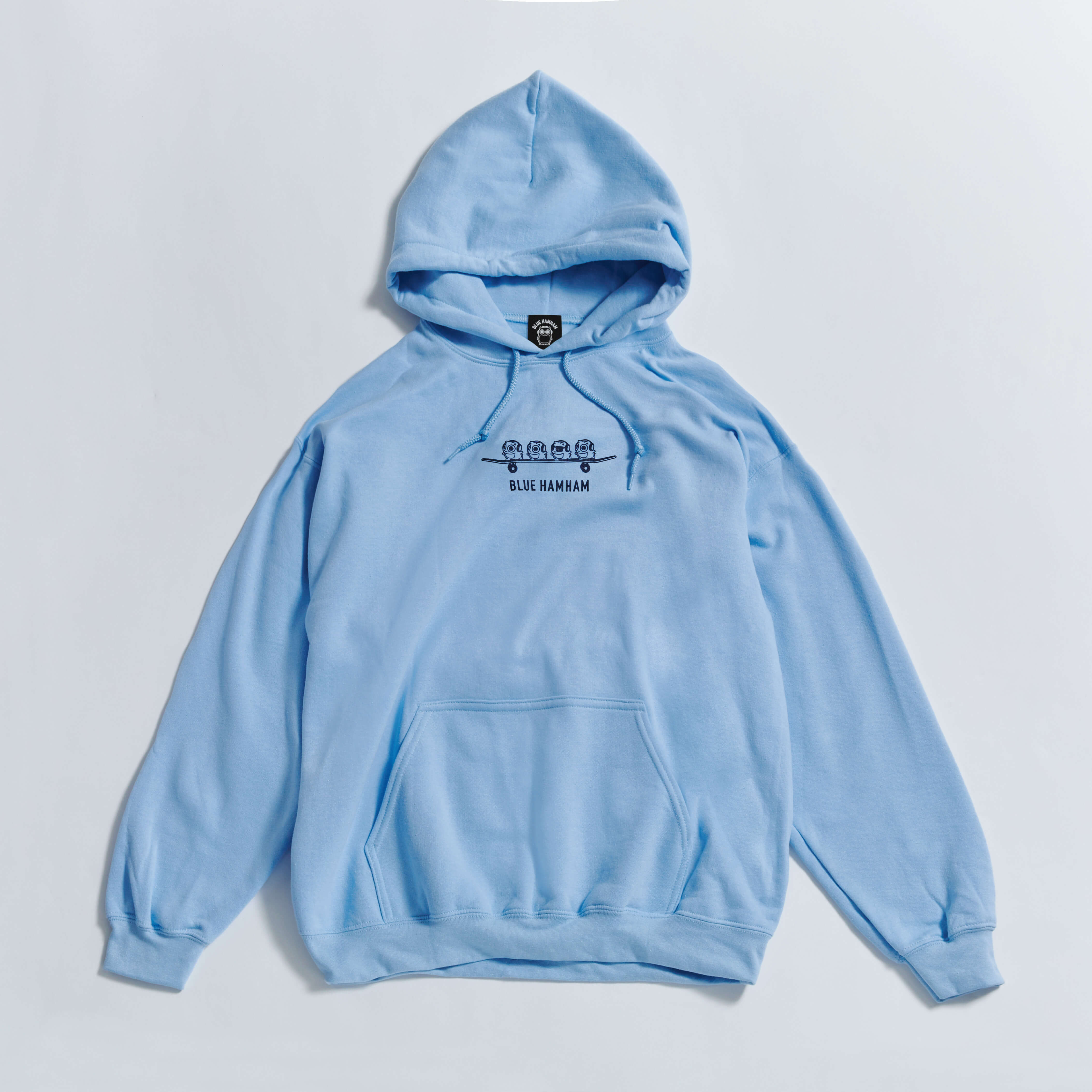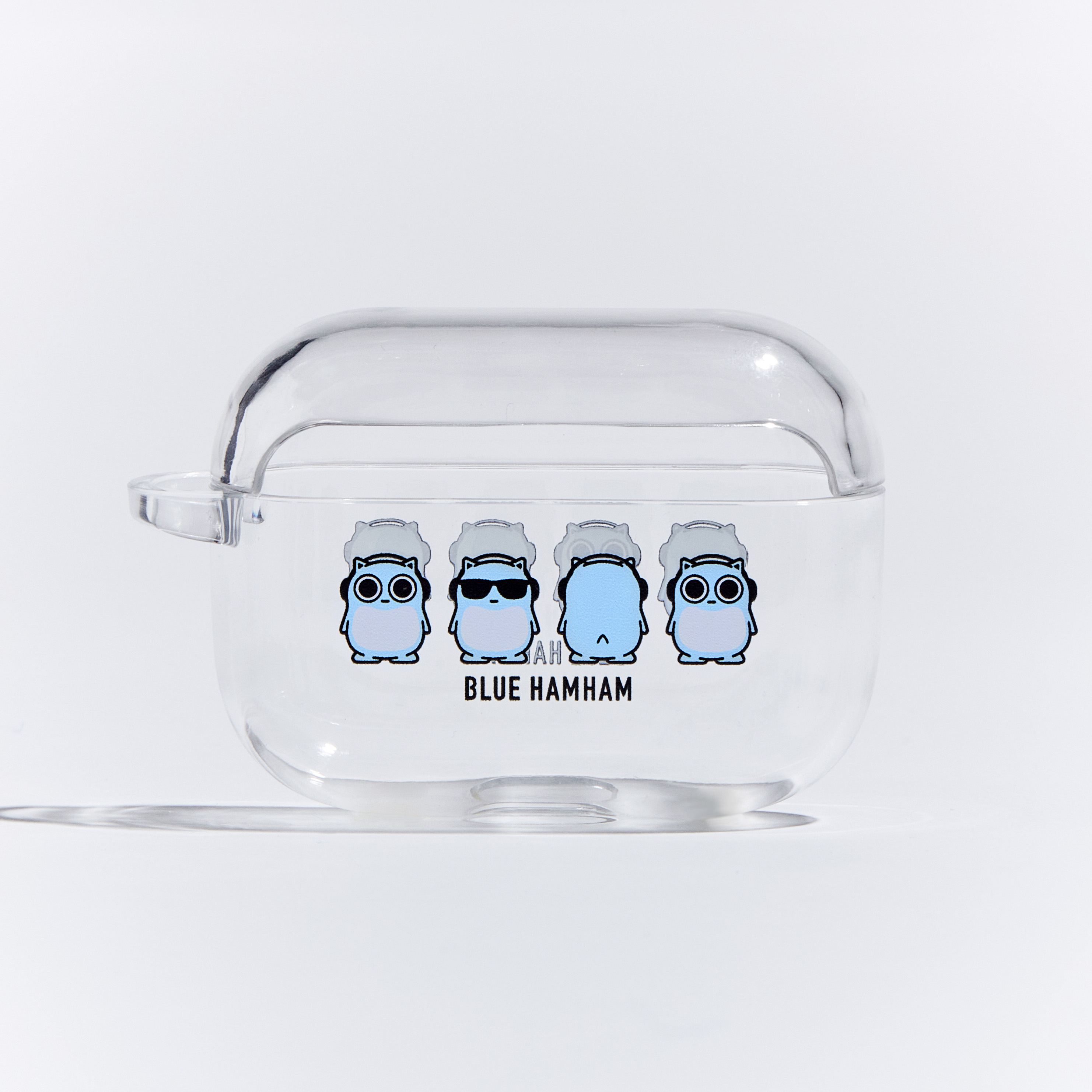 The pop-up shop will feature 15 new autumn and winter products featuring the BLUE HAMHAM characters, four brothers from the planet Proxima b who have achieved massive amounts of popularity on social media. Items for sale will include a collection of hoodies and mufflers perfect for the chilly weather, new iPhone and AirPod cases, and plenty of other goodies. 
Visitors will be greeted by the only BLUE HAMHAM statues in the world, all bundled up appropriately for the season. More info on the event will be released soon, so watch out for more!
©CHOCOLATE Inc.
Information
AUTUMN PLANET -BLUE HAMHAM POP UP SHOP-
Running: October 8 – October 19, 2021
Address: Hanshin Department Store Umeda Main Store 4F Event Space
(1-13-13 Umeda, Kita-ku, Osaka)
Official Site: https://bluehamham.com/
RELATED ENTRIES
atre Akihabara to Sell Original Tiger & Bunny Merchandise

Starting on October 30, a special Tiger & Bunny Character Pop Store will be open at atre Akihabara! The event is being held by Bandai Namco, and fans will be able to snag some merchandise featuring brand-new original illustrations!

Lineup

Tiger & Bunny Acrylic Stand (2 varieties): ¥1,850 each (Tax Included) 

Tiger & Bunny Acrylic Keychain (2 varieties): ¥950 each (Tax Included) 

Tiger & Bunny Mini Drawstring Bag Collection (8 varieties): ¥790 each (Tax Included) 

Lottery Prizes

A Prize

Tiger & Bunny A3-sized Cloth Poster (Winner can choose from 3 varieties) 

B Prize

Tiger & Bunny Magnet (Winner can choose from 8 varieties) 

C Prize

Tiger & Bunny Visual Card (8 varieties, random) 

Guests spending over ¥2,000 will receive a novelty illustration card (4 varieties) 

The store will feature plenty of goods and minigames for Tiger & Bunny fans to enjoy. After the new merchandise is released at atre Akihabara, it will also be sold online at the Namco Parks online store and the A-on store. 

Tiger & Bunny takes place in Stern Bild City, where 45 years before, superpowered individuals called NEXT began appearing. Each of these superheroes works for a sponsor company, and the popular television show Hero TV sees these characters performing heroic feats for points. The best-ranked hero at the end of the season is crowned King of Heroes. The original anime series ran from April until September 2011, with a film coming in 2012. Another was released in theaters in 2014, and a sequel, Tiger & Bunny 2, is scheduled to release next year. 

©BNP/T&B PARTNERS

Information

Tiger & Bunny Character Pop Store ~WRAPPING GIFT FOR…~

Running: October 30 – December 5, 2021

Hours: 10:00-21:00 *Hours of operation subject to change.

Address: 1-17-6 Sotokanda, Chiyoda-ku, Tokyo

Details: https://bandainamco-am.co.jp/chara_shop/tigerandbunny/

Popular SNS Character 'BLUE HAMHAM' has Landed at Hanshin Umeda, with New Limited Items

BLUE HAMHAM, a character by animator Arimura Taishi, will be featured at the 'BLUE HAMHAM POP UP SHOP -AUTUMN PLANET-,' open from October 8 until October 19 at Hanshin Umeda.  

Limited Goods

Event Limited T-Shirt (Size: M/L Colors: BLACK/WHITE): ¥4,400


Event Limited Sticker: ¥385



Event Limited Acrylic Stand: ¥1,320



Event Limited Keychain: ¥935

Novelties

Customers who spend over ¥6,000 will receive a free special shopping bag.

 

The event, which will be held in the newly opened Riakuro EVENT SPACE floor following the Umeda store renewal, will have four one meter-tall 3D BLUE HAM HAM statues greeting customers as they enter the store, each wearing adorable matching mufflers. There will be 15 new Autumn/Winter products overall, including T-shirts and stickers featuring artwork by creator Arimura Taishi. The BLUE HAMHAM muffler will also be available to purchase.

Customers who spend over ¥6,000 instore will receive a limited edition shopping bag for free! Not only that, customers who add the Official Hanshin Umeda LINE account will receive a coupon, while the first 200 customers will also receive an additional event-original postcard.

 

Popular animations will be looped on retro-themed TV monitors, allowing visitors to immerse themselves in the world of 'BLUE HAMHAM.' Be sure to check out this limited shop and the new Autumnal character designs! 

*Images are samples and may differ in real life.

©CHOCOLATE Inc.

Information

BLUE HAMHAM POP UP SHOP -AUTUMN PLANET-

Duration: October 8 2021 ~ October 19 2021 (Scheduled)

Location: Hanshin Umeda 4F Riakuro EVENT SPACE (13-13 Umeda 1-chome, Kita-ku, Osaka City, Osaka)

Official Site: https://bluehamham.com/ 

Seven OSAMU GOODS Pop-Up Shops Set to Open in Tokyo Metro Area

Osamu Harada was one of the most beloved illustrators in Japanese history, appealing to people of all ages and backgrounds. Starting on September 23, 2021, at JR Omiya Station, a total of seven pop-up shops will appear all over Tokyo to sell both nostalgic and new Osamu Goods featuring a number of his popular characters. 

The Osamu Harada exhibition began two years ago and has traveled all over Japan, attracting fans both young and old to appreciate Harada's collection of heartwarming works. The artist passed away in 2016 at the age of 70. 

Due to a recent boom on social media regarding the illustrator's works, these pop-up stores aim to meet the current demand for Harada merchandise. Starting last year, the artist's works have been featured in collaboration with a number of women's fashion brands, amping up the hype even more. Those purchasing ¥2,500 or more (tax included) at the pop-up shop will receive a limited edition sticker at random (7 varieties available). By following the official Twitter account and posting with relevant hashtags, those interested can also win an original balloon!

Exclusive Sticker (7 varieties), given to those spending ¥2,500 or more

Original Balloon gifted to those following the official Twitter account and posting with proper hashtags

Merchandise at a Glance

Cushion: ¥2,200 (Tax Included)

Mini Tote Bag (3 varieties): ¥2,750 (Tax Included)

Embroidered Handkerchief (5 varieties): ¥770 (Tax Included)

*Available while supplies last.

Glowing Acrylic Stand (3 varieties): ¥5,500 (Tax Included) *Limited to 200 pieces each.

Since Osamu Harada appeared on the scene in 1976, his simple illustrations and loveable characters have continued to touch people's hearts. The items on sale at the OSAMU GOODS Pop-Up Store blend nostalgia with current trends, offering something everyone will enjoy.

Information

OSAMU GOODS Pop-Up Store

Schedule: 

JR Omiya Station (In Free Passageway): September 23 – September 29, 2021

Cubic Plaza Shin-Yokohama (Q Plaza 3F): October 2 – October 17, 2021

JR Ikebukuro Station (South Ticket Gate): October 5 – October 18, 2021

JR Tokyo Station (Driving Wheel Underground Square): October 25 – October 31, 2021

JR Akihabara Station (In front of Tokyo Food Bar): November 2 – November 11, 2021

NEWoman Shinjuku (2F Event Space inside Station): November 2 – November 23, 2021

Urawa PARCO (1F): November 13 – November 23, 2021

Official Site: https://flowering.co.jp/

Coji-Coji Pop-Up Store Selling Parakeet Goods at Tokyo Solamachi

Popular Nippon Animation character Coji-Coji is getting a new pop-up store at Tokyo Solamachi, and this one is focused on the 3rd Year Parakeet Class from the series! The shop will be open from September 17 until October 10, 2021, and is located just underneath Tokyo Skytree–you can't miss it!

Novelty Items

Monday

Tuesday

Wednesday

Thursday

Friday

Reverse

Stamp Card

Original Business Card

Photo Spot

Full Layout

Magnified View (Partial)

 

Coji-Coji attends school in a fairy tale land, and the 3rd Year Parakeet Class is filled with all kinds of fun characters. The pop-up shop will sell 300 different Coji-Coji items, and will also feature a classroom-inspired photo spot! 

Those who spend more than ¥3,000 (including tax) on either Coji-Coji or Chibi Maruko-chan goods will get a special business card as a gift, with five unique cards available. A different character's card will be handed out depending on the day of the week!

A special stamp card will be given to guests visiting the shop. Just showing up to the store is enough to earn a stamp, and those with three stamps will receive an original business card as a present. 

Information

Coji-Coji Pop-up Shop  – 3rd Year Parakeet Class

Running: September 17 – October 10, 2021

Where: Tokyo Solamachi East Yard (4F, #12) 

Hours: 10:00 – 21:00 *Hours of Operation are the same as those of Tokyo Solamachi. 

Phone: 080-1327-4037

Official Site: http://cojicoji.site/

Kuroko's Basketball Pop-Up Shop in Akihabara to Features New Illustrations

BANDAI NAMCO Amusement is hosting a character pop-up store for anime 'Kuroko's Basketball,' featuring new illustrations of the characters dressed in trad style. The shop will be open from September 16 2021 at the Atre Akihabara Store, stocking original goods using the new artwork.

Kuroko's Basketball Acrylic Stand trad style ver. (7 types): ¥1,980 each (Tax Incl.)

Kuroko's Basketball Can Badge trad style ver. (7 types): ¥540 each (Tax Incl.)

Kuroko's Basketball A4 Acrylic File trad style ver.: ¥550 (Tax Incl.)

Kuroko's Basketball Cloth Poster trad style ver.: ¥1,800 (Tax Incl.)

Kuroko's Basketball Spoon trad style ver. (7 types): ¥1,200 each (Tax Incl.)

Kuroko's Basketball Fork trad style ver. (7 types): ¥1,200 each (Tax Incl.)

Kuroko's Basketball Acrylic Board trad style ver. (7 types): ¥530 per lottery ticket, A Prize

Kuroko's Basketball Jacket Style Acrylic Keychain trad style ver. (7 types): ¥530 per lottery ticket, B Prize

Kuroko's Basketball Can Badge trad style ver. (7 types): ¥530 per lottery ticket, C Prize

Kuroko's Basketball Die-cut Illustration Sheet trad style ver. (7 types): ¥530 per lottery ticket, D Prize (random)

Be sure to check out this limited shop to immerse yourself in the world of Kuroko's Basketball!

©Fujimaki Tadatoshi / Shueisha, Kuroko's Basketball Production Committee 

Popular Chichiyasu Chi-bou Fair 2021 Returns to LOFT Locations After Two Years

Household goods shop LOFT is teaming up with beverage company Chichiyasu for the Chichiyasu Chi-bou Fair 2021 at four locations nationwide. The event will run from September 16 until September 29 at Shibuya LOFT, and from October 20 until November 3 at Nagoya LOFT, Umeda LOFT, and Tenjin LOFT. Chi-bou is the name of the adorable character on the Chichiyasu logo.

Chi-bou Drawstring Bag (Set of 2): ¥1,650 (Tax Included)

Chi-bou Gauze Handkerchief: ¥770 each (Tax Included)

Chi-bou T-shirt: ¥2,200 each (Tax Included) *Only available at Shibuya LOFT and Umeda LOFT.

Chi-bou Pouch: ¥1,650 (Tax Included)

Chi-bou Rubber Keychain (Set of 2): ¥1,650 (Tax Included)

Chi-bou A5-size Notebook: ¥385 each (Tax Included)

Chi-bou Mug: ¥1,650 each (Tax Included)

Chi-bou Eco Bag (with Pouch): ¥2,200 (Tax Included)

Chi-bou Masking Tape (Chichiyasu Milk/Boxed Milk): ¥495 each (Tax Included)

 

The Chichiyasu Chi-bou Fair was a popular event held at Shibuya LOFT in 2018 and at Yokohama and Umeda LOFT locations in 2019.

How would you like to buy some of this adorable merchandise?

Information

Chichiyasu Chi-bou Fair 2021

Locations:

Shibuya LOFT 1F, Masaka Stage
Nagoya LOFT 5F, Variety Goods Section

Umeda LOFT 1F, Loft Market

Tenjin LOFT 5F, Variety Goods Section

Running:

Shibuya LOFT: September 16 – September 29, 2021

Nagoya LOFT, Umeda LOFT, Tenjin LOFT: October 20 – November 3, 2021

Hours: Same as LOFT business hours *Shibuya LOFT and Umeda LOFT to close at 18:00 on the final day.

Official Site: https://www.loft.co.jp/

Chiikawa Pop-up Store Opens in JR Ikebukuro Station

Popular character Chiikawa is getting a Pop-up store for a limited-time! The shop is located at the event space outside of the south ticket gate of JR Ikebukuro station, and will be open until September 6, 2021.

The pop-up shop will feature a variety of cute goods like pouches and plushies, along with apparel. Visitors can also pick up some household goods, including tableware, chopsticks, and mugs featuring these lovable characters.

Special Event Merchandise





August's New Products   

Purchase Bonus: Chiikawa Mask Case (1 per person)

These goods will only be available at the pop-up shop and Official Chiikawa online store Chiikawa Market, so don't miss out!





©️nagano

BLUE HAMHAM Event Featuring All-Pink Items to Open in Osaka

The BLUE HAMHAM brothers are coming to Osaka for a bright new collection! The "BLUE HAMHAM POP UP STORE -PINK COLLECTION-" will be open for a limited-time, from August 25 to August 31, 2021 at the Osaka Hankyu Umeda flagship store. The event is being held as one of many new "PINK Kawaii" pop-up shops set to open at the location. More than 20 different items will be available, including 7 completely new products, from T-shirts and hats to face towels and keychains.  

BLUE HAMHAM are four music-eating space hamster brothers from a planet called 'Proxima b.' Beginning in 2020, they began collaborating with international artists such as Porter Robinson and Sia. The group's animations have amassed over 300 million views on Twitter and TikTok. 

This marks the first time that BLUE HAMHAM has held an event at a department store in the Kansai region. The pop-up shop will have four 1-meter-tall 3D dolls on display, along with a retro-style TV playing some of the group's more popular videos. 

Item List

Backprint Tee_Trumpet ¥3,850 (Tax Included)

Tee_Keyboard ¥3,850 (Tax Included)

Tie-Dye Tee ¥4,510 (Tax Included)

Bucket Hat ¥6,380 (Tax Included)


Face Towel: ¥2,530 (Tax Included)

Tee_BLUEHAMHAM ¥3,850 (Tax Included)

Standing Sliding Pouch: ¥1,815 (Tax Included)

Clear Keychain: ¥900 (Tax Included)

Fans of the color pink won't want to miss this event!

©CHOCOLATE Inc.

Information

BLUE HAMHAM POP UP STORE -PINK COLLECTION-

Running: August 25-August 31, 2021

Location: Something Good Studio, Hankyu Umeda Main Store (3F)

Address: 8-7 Kakuta-cho, Kita-ku, Osaka

Official Site: https://bluehamham.com/

*The event may be postponed or cancelled depending on the current situation regarding the Coronavirus pandemic. In addition, admission may be restricted to prevent the spread of the Coronavirus. 

Kirby POP☆UP Shop Opening In Osaka LUCUA 1100

A Kirby POP☆UP Shop will be opening in Osaka's LUCUA 1100 1F Isetan Seasonal Selection from August 11th.

Shop Sample (photo from Nagoya autumn event.)

The shelves are covered in adorable Kirby goods, while the store has been decked out in fun, Kirby-esque summer motifs. You can even find items from the mature and simple  PLAYFUL KIRBY series or the colorful and stylish KIRBY'S FABRICS series! 

You can also spot Kirby playing as a train, with PU-PU-PU-TRAIN goods available to purchase.

There will be free gifts available for customers too; Customers who spend over ¥2,200 (Tax Included) will be eligible for a special Kirby POP☆UP Shop postcard. 

These are only available in limited quantities, so get them while you can!

 

© Nintendo / HAL Laboratory, Inc. KB21-P3040​

Information

Kirby POP☆UP Shop

Shop Duration: August 11 ~ August 24, 2021 (Free Entry) 

Opening Hours: 10:30 ~ 20:00

Location: 3-1-3 LUCUA 1100 1F isetan Seasonal Selection, Umeda, Kita-ku, Osaka

Access: 1 minute walk from JR Osaka St.

New atmos x NIKE Collection Inspired by Summer Festivals

Sneaker shop atmos will be releasing a colorful new collection of shoes inspired by Japan's famed summer festivals! Called the RETRO SUMMER PACK, sales will begin in most atmos stores on August 9, 2021, as well as on the atmos online shop. To celebrate the launch, a pop up shop will open in Harajuku for a limited-time on the same day. The lottery is now open on atmos-tokyo.com. 

NIKE AIR MORE UPTEMPO '96: ¥20,900 (Tax Included)

NIKE WMNS AIR FORCE 1 ʻ07 LV8 ¥13,200 (Tax Included)


NIKE WAFFLE TRAINER 2 ¥12,100 (Tax Included)


NIKE AS M NSW TEE MAX90 TD RESU ¥4,950 (Tax Included)


The AIR MORE UPTEMPO sneakers feature traditional Japanese patterns inspired by Kuniyoshi Utagawa, one of Japan's most famous ukiyo-e artists. Traditional Japanese patterns like chrysanthemums and pine needles decorate the AIR FORCE 1 shoes, while the lemon, strawberry and melon colors covering the WAFFLE TRAINER 2 and t-shirts were inspired by the most sought-after summer treat, shaved ice!

At the atmos pop up shop, it's all about the retro theme. Inside the store, visitors can stroll down memory lane, with every square-inch of space filled with Showa era nostalgia. Certain items will only be available here, so don't miss out! 

Information

Atmos RETRO SUMMER PACK

Lottery Now Open

How to Enter: http://www.atmos-tokyo.com

POP UP SHOP 'atmos shop' 

Event Period: August 9, 2021-August 22, 2021

Reservation Needed

Address: 1F 4-31-2 Jingumae, Shibuya, Tokyo

Telephone: 03-5411-4285

Hours: 11:00-20:00

Snoopy Museum Tokyo to Participate in Osaka's 'Umeda Snoopy Festival 2021'

The Snoopy Museum in Tokyo will be opening its museum shop 'BROWNS STORE' at the Umeda Snoopy Festival 2021 in Osaka! The pop-up shop will be located at the event venue, the Hankyu Department Store Umeda starting on August 11.

Snoopy Museum's Popular Plushie Workshop

Snoopy Museum Limited-Time LOGOS Outdoor Goods

Along with a collection of original Snoopy Museum items like tableware, stationary, plushies and outdoor goods, there will also be some limited-time merch from the first exhibition titled 'The Beagle Scouts are Here!' This is the perfect place to pick up some goodies for the Snoopy fan in your life, so why not pay a visit to the Hankyu Department Store to see the festivities?

The Snoopy Museum's popular Plushie Workshop will also be open, requiring reservations in advance. All parts, materials and clothing racks will be moved from the Tokyo Snoopy Museum and installed in the Hankyu Department Store for a limited time! Guests can enjoy the unique experience of creating a one-of-a-kind work of art, filling a fluffy Snoopy plushie with cotton and choosing their favorite outfit for him to wear. This is one of the best parts of the Snoopy Museum experience, sure to put a smile on your face!

PEANUTS (C) Peanuts Worldwide LLC

Snoopy and the Peanuts Gang Roll Up to Hankyu Umeda For a Special Summer Event

Hankyu Umeda has announced its fourth collaborative event with the Peanuts comic strip.

Set to run from August 11-24, the theme of the event this time around is spreading messages of positivity through friendship. Join Snoopy and his precious Peanuts Gang with a special line-up of items and content at various stores throughout the Hankyu Umeda shopping centre. The merch will also be available online in Japan from August 3-23.

gelato pique Pullovers: From ¥6,380 | Short Pants ¥4,840 | and more…

Available: August 11, 2021 – August 17, 2021 @ Floor 1F Koto Koto Stage 11

Kalita Coffee Milk: ¥6,050 | Sonobe Wooden Plates: ¥3,080 Each

Available: August 11, 2021 – August 24, 2021 @ Floor 7F Koto Koto Stage 71

Hotman Guest Towels: ¥1,980 | Pouches: ¥3,520 | and more… 

Available: August 11, 2021 – August 24, 2021 @ Floor 7F Koto Koto Stage 72

BE FRIENDS

BE THANKFUL

BE LOVING

Charity Auction Plush Toys

The friendship-themed event features five original Penauts messages created for Japan such as 'Be Thankful' and 'Be Loving.' Japanese fans can get their hands on a range of merch such as homeware, sustainable items like towels and socks made from fairtrade-certified cotton, fairtrade chocolate, and more. A charity auction will also be held to raise money for groups that contribute to society.

© 2021 Peanuts Worldwide LLC( 短縮形 © 2021 Peanuts )