Colorful Collection of Wajima Lacquered Goods Appear at Yokohama Takashimaya
An exhibition featuring artisan Hiroshi Nakakado's unique lacquerware will be on display at Yokohama Takashimaya from September 29 until October 5, 2021. Wajima, located in Ishikawa prefecture, is home to 25,000 people, and a number of craftsmen producing Wajima-nuri, known throughout the country as some of the most durable and beautiful lacquered products in Japan.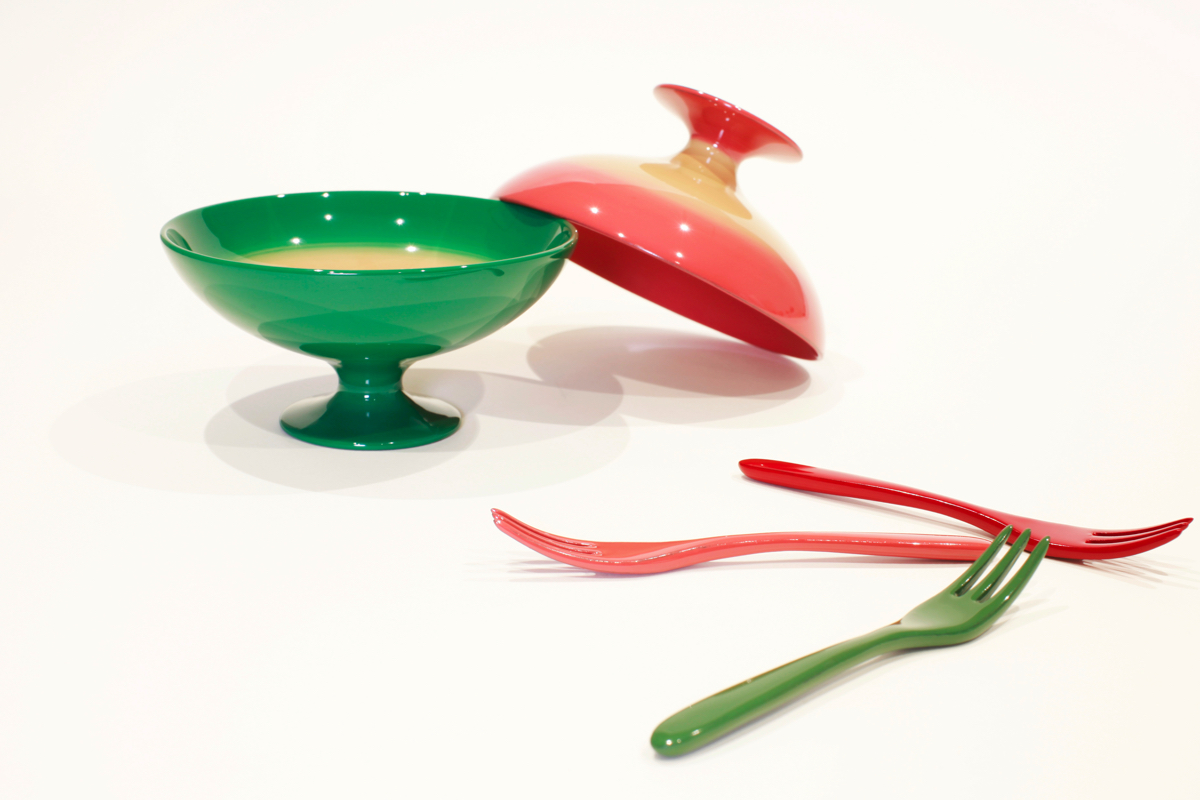 Umbrella Dessert Dish: ¥31,900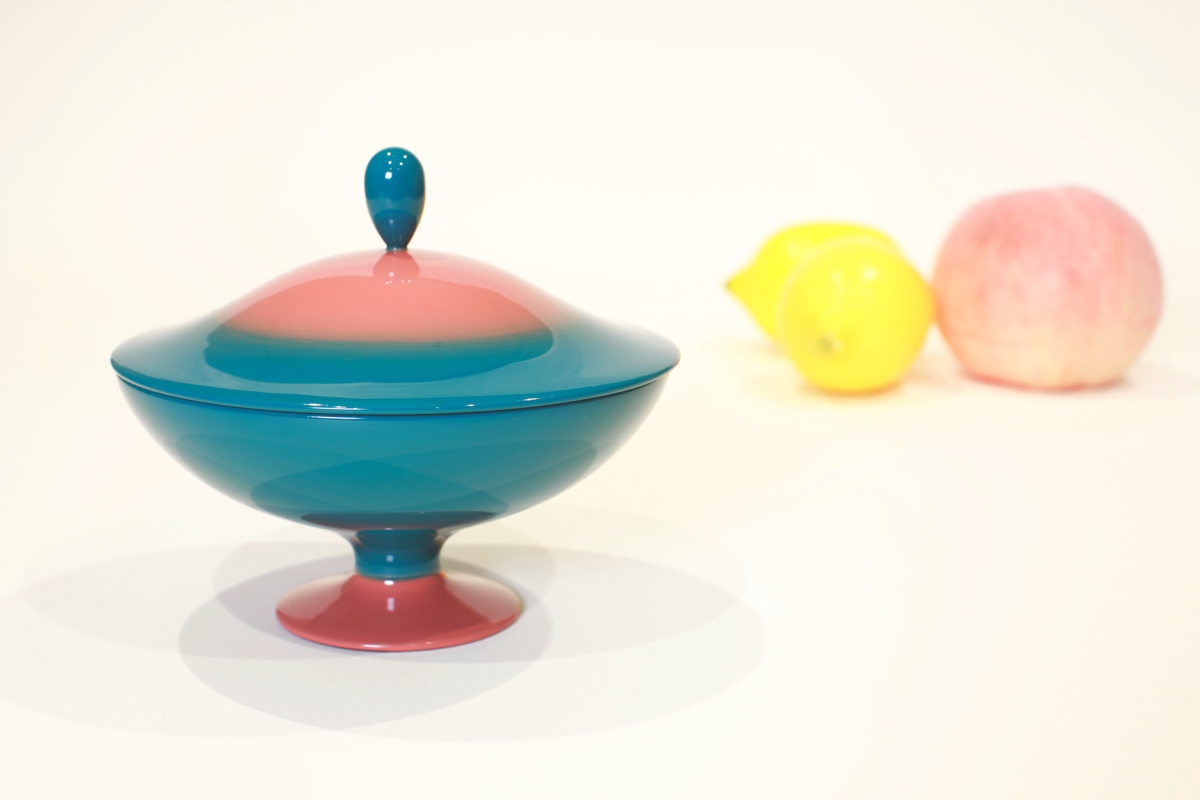 Umbrella Dessert Dish: ¥59,400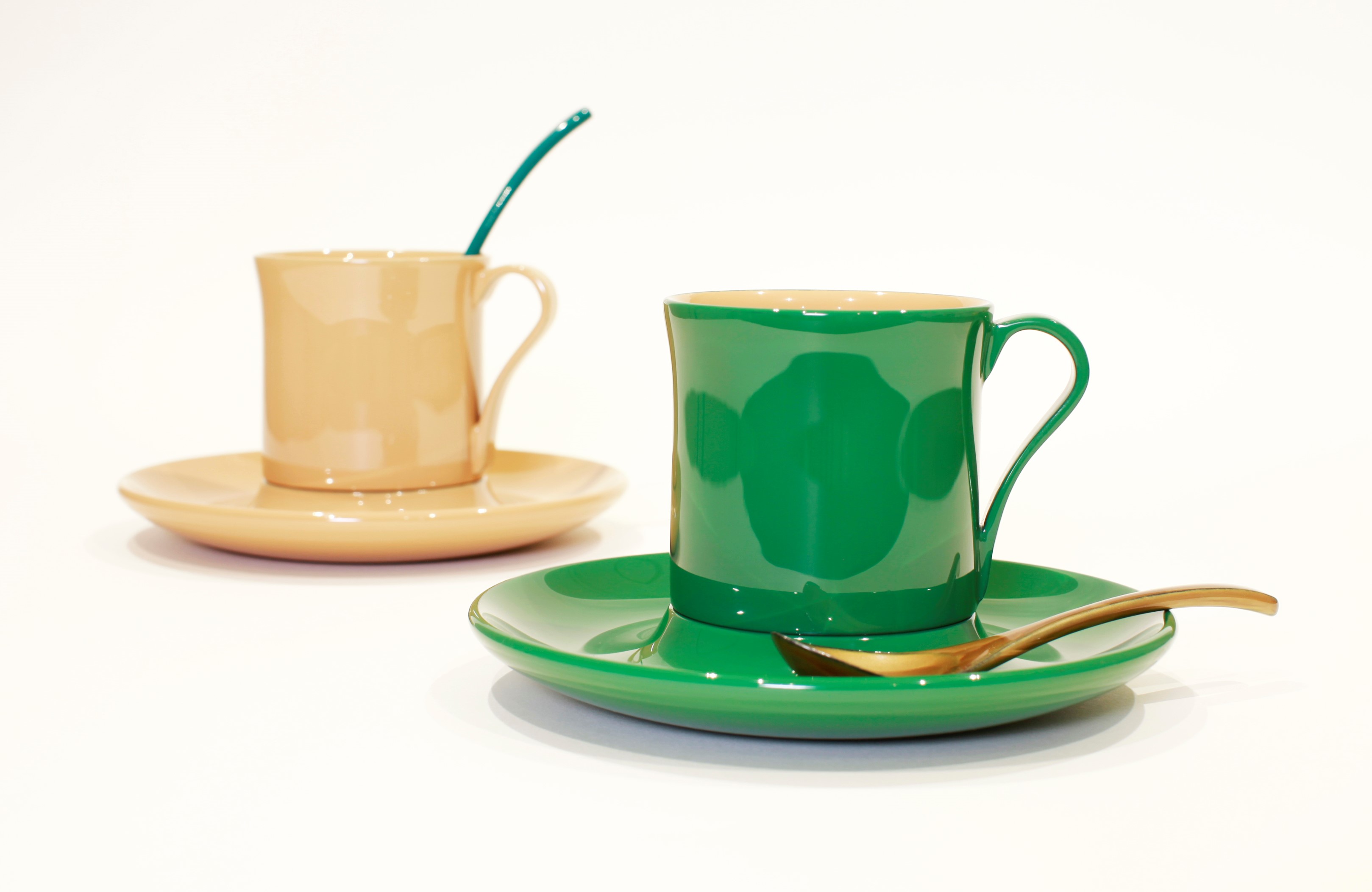 Coffee Cup & Saucer: ¥49,500
Pasta Bowl: ¥30,800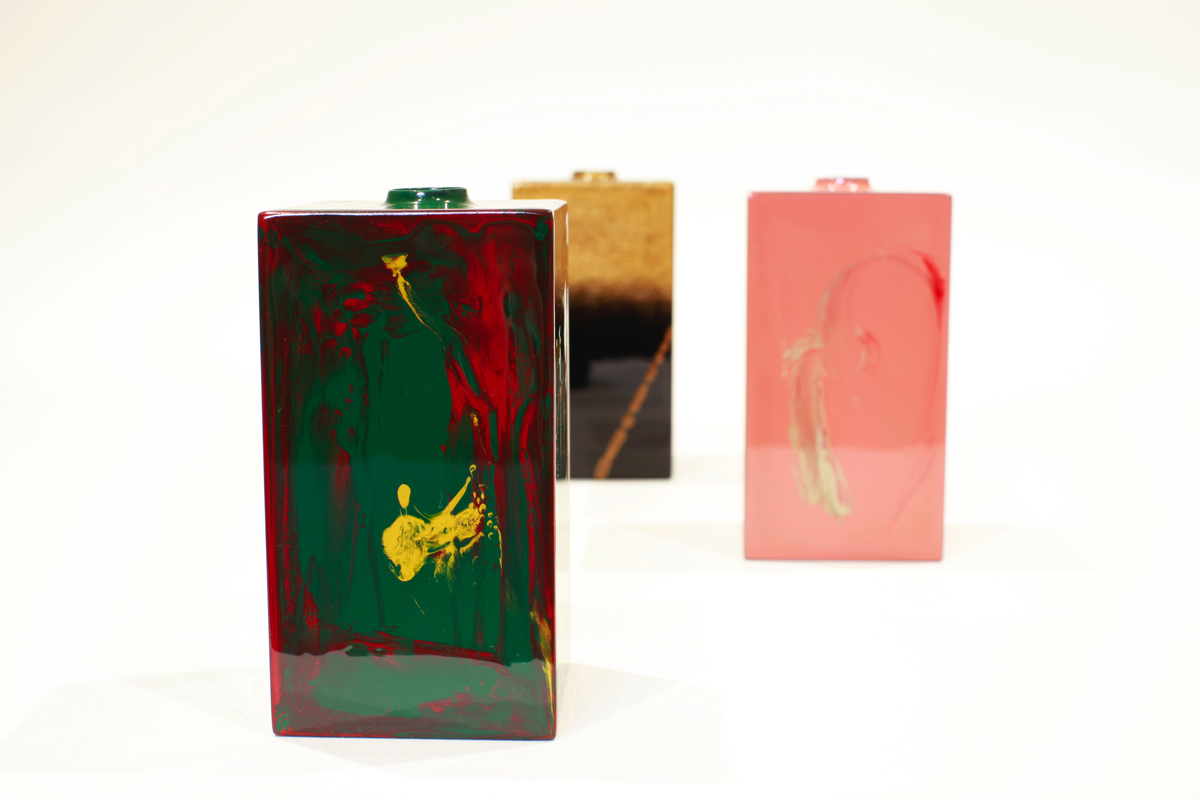 Cube Vase: ¥26,400
Umbrella Cup: ¥52,800
Limited-Edition Takashimaya 190th Anniversary Goods | Wine Glass: ¥67,100 / Dry Lacquer Sake Cup (small): ¥33,000 / Dry Lacquer Sake Cup (medium): ¥35,200 / Oval Tray: ¥60,500
Nakakado Lacquerware, established in 1928, specializes in the top coating of Wajima-nuri, the traditional lacquerware made in the small city of Wajima, in Ishikawa prefecture. Nakakado Hiroshi, a fourth-generation craftsman, is one of the leading experts on 'colored lacquer.' Using his unique technique, each piece is treated like a canvas and painted on appropriately. Gazing at each detailed piece, it's easy to see that Nakakado has over 40 years of experience in his field–he has created over 100 different colors of lacquer, and continues to create modern lacquerware featuring trendy techniques such as gradation. His innovative pieces break the mold of traditional Wajima-nuri, and are beginning to become popular with younger generations. 
In recent years, the production value of Wajima-nuri has begun to decline, largely due to changes in lifestyle, the aging population, and a lack of successors due to the low birth rate in Japan. Additionally, the COVID-19 pandemic has put a halt to foreign tourism, with local tourism also in a steep decline over the past year. Compared to the amount of production in 1991, the current rate is only 20%, and the number of workshops and craftsmen continues to decline year after year. 
If you're in the area, be sure to check out this exhibition highlighting one of the traditional crafting areas of Japan. Purchasing any of these items will also help revitalize Wajima city, and hopefully, bring more attention back to this fading craft. 
RELATED ENTRIES
Doraemon Appears in Traditional Ukiyo-e Woodblock Print Limited-Edition Release

Everyone's favorite robot cat is making a peculiar appearance inside a piece of famous Japanese art! Using traditional Ukiyo-e crafting techniques, the Hanzou company has successfully inserted Doraemon into the painting Fujimigahara in Owari Province by Hokusai, originally created between 1830 and 1832. The painting will be available to preorder online starting October 8, 2021, with only 300 copies available!

Ukiyo-e Woodblock Print Production Process

Engraving by Craftsman

Rubbing by Craftsman

First, a sketch is made, and a monochrome version of the print is carved. After carving a number of woodblocks for each color and using them to rub the painting tirelessly to bring it to life, one single woodblock print is completed. The extremely delicate and advanced techniques these craftsmen utilize have been passed down from the Edo period. 

The original painting was created after Hokusai turned 70, and took two years to complete. The painting is said to portray the view of Mount Fuji from Fujimi-cho, Naka-ku, Nagoya City. An eccentric piece for the time, looking closely shows that each and every line and dot was meticulously calculated. Note the vivid indigo sky and the abundance of blue shades that Hokusai loved to use. Doraemon and Nobita are shown having fun as they make barrels, a welcome departure from the more stoic figure in the original painting. 

Information

Doraemon Ukiyo-e Woodblock Print: Fujimigahara in Owari Province from the series Thirty-six Views of Mount Fuji

Preorders begin on October 8, 2021, at 12:00

Price: ¥46,000 (Tax and Shipping not Included)

Number of available copies: 300 

Echizen-Manufactured Washi Paper Provided by Iwano Ichibei

Online Shop: http://ukiyoework.com/

Nagoya Castle "O.SHIRO Collection" Fashion Show Streaming Online

GQ Japan and ITOCHU Textiles have released a video of The "O.SHIRO" Collection Vol.2 fashion show, highlighting domestic textile production areas around Japan. The video is now available on the special GQ Japan website, as well as the GQ Japan official YouTube channel. 

GQ was first published in the United States in 1957 and is now published in 21 countries around the world. 

The "O.SHIRO" Collection (o-shiro meaning 'castle' in Japanese) is a collaborative collection bringing Japanese textile producers and fashion brands together. The first event was held at Okayama Castle in 2019, with Okayama being an area known for denim production. The second event was held at Nagoya Castle, located in the famed Bishu wool production area. The theme of the most recent showing was 'ethical consumption,' a big topic in manufacturing. Three increasingly global brands took center stage: ANREALAGE, beautiful people, and sulvam. Models present include Taiki&Noah, Dori Sakurada, Mila Aina, and Satsuki Nakayama. 

A patchwork collection from ANREALAGE using textiles from the Bishu region was released on October 4. On October 7, a collection from beautiful people will include textiles from Wakayama, while on October 14, sulvam will release a collection made from Okayama and Hiroshima denim. Certain pieces from The "O.SHIRO" Collection will be on display on the 3rd floor of Shibuya PARCO. 

『GQ JAPAN』Illustration by Koji Toyama (C) 2021 Conde Nast Japan. All rights reserved.

Information

The "O.SHIRO" Collection

When: October 20 – October 24, 2021, from 11:00-20:00

*Hours are the same as Shibuya PARCO. 

Address: Shibuya PARCO 3F (15-1 Udagawa-cho, Shibuya-ku, Tokyo)

Official Site: https://www.gqjapan.jp/_special/toc/2021/

Exhibition Featuring Famed Silk Fabrics from Tsuruoka in Yamagata Prefecture Now Open

Tsuruoka, Yamagata prefecture is known throughout Japan and the world for its silk production. Beginning on September 18, a new exhibition is inviting guests to see some of the incredibly beautiful fabrics to come out of the area, particularly highlighting Reiko Sudo, an innovative cloth-maker living in the area. These stunning pieces are being displayed at the Matsugaoka Reclamation Site, celebrating 150 years of history in 2021 and known as the birthplace of Tsuruoka silk. In particular, Sudo's own Kibiso fabrics, created with the intent of blending long-held traditions with modern technologies, will be making an appearance! Kibiso refers to the first silk that comes off the cocoons in industrial silk spinning. 

Kibiso Stripes & Streaks: 2018 Photo Sue McNab

Kibiso Zori: Photo Keiko Matsubara

Swinging Cherries: 2021 Photo Keiko Matsubara

An exhibit featuring the production process, original design sketches, and prototypes

Kibiso – Ogarami Choshi Sheets: 2018 Photo Keiko Matsubara

Ogarami Choshi, the byproduct of the silk mill: Photo Keiko Matsubara

The First Cultivation of the Matsugaoka Reclamation Site 






Tsuruoka City is the only region in Japan where the entire silk-making process–from caring for silkworms to dying and wearing–is completed in a single place. Silk production began in 1872 when the former Shonai clam's samurai warriors began cultivating new lands around the Matsugaoka area. During the Meiji period, a local inventor named Saito Toichi invented the automatic weaving machine, making the production of silk fabrics much quicker and easier. The new fabrics were exported around the country to be used in dresses, and silk production quickly became the area's main industry. 

Kibiso, a type of thread made from the first silk discharged from a silkworm, has been in production since 2007 and is breathing new life into the area's industry. The thread is hard and thick, making it very difficult to work with–but once these works are completed, the textile is extremely durable. It holds moisture well, has antibacterial properties, and will help protect the wearer from UV rays. Combining new designs with functionality, Kibiso also cuts down on waste, and museums in the United States and the United Kingdom currently have some of these creations on display, with more requesting installations. 

At the current exhibition, 29 unique textiles, mainly Kibiso, are hung from the ceiling. Visitors are allowed to touch each of these pieces, and can also view the entire creative process from sketches and prototypes to the final product. All pieces were created together with the members of NUNO, a textile design studio directed by Sudo. The designs were decided on through conversations with craftsmen throughout Japan. By reviewing traditional processes and helping them evolve to suit modern needs, Kibiso was born and is helping to revitalize the silk industry in Tsuruoka. 

A highlight of the exhibition is ogarami choshi, a byproduct of silk production often caught in the thin metal tubes of silk mills. These can be torn into sheets and used for new creations, and by doing so, helps reduce waste. 

Information

Circular Design -Kibiso Continues- 

Running: September 18 – October 17, 2021 (Planned to be extended until the end of 2021) 

Hours: 9:00-16:00 (Closed on Wednesdays)

Address: Matsugaoka Reclamation Site, Silkwork-Raising Room 2F (29 Haguromachi Matsugaoka, Tsuruoka, Yamagata)

Yokohama Bay Sheraton Hotel & Towers Offers Halloween Menu to Enjoy in Lounge and at Home

Yokohama Bay Sheraton Hotel & Towers have announced a Halloween themed menu using seasonal Autumn ingredients. The 'Sweets Parade~ Halloween~' buffet will be held on the second floor of the Seawind lounge on Thursdays and Fridays between October 7 and October 29. In addition, a Halloween version of the popular take-out 'Home de Afternoon Tea' will be available in their basement floor pastry shop Dorer for a limited time between October 1 and October 31.

Lounge 'Sea Window' Sweets Parade ~Halloween~

'Purple Potato Mont Blanc' with Okinawan purple potatoes.

'Shiro-An Yokan' with skulls (front) Mousse Chocolate Marron (back right)

Caramel Coffee (left) / Matcha Anmitsu (right)

'Orange and Strawberry Jelly' with vivid graduation coloring (center)

Pumpkin Tart (front) / Eyeball 'Vanilla Cassis'

Pastry Shop Dorer 'Home de Afternoon Tea ~Halloween~'


Smoked Salmon Salad

Chestnut Rice with Pumpkin


Pumpkin Soup

Assorted Fruits

Five variations of Ronnefeldt Tea / Alain Milliat Strawberry Jam

Lounge 'Sea Window' is back with another charming 'Sweets Parade ~Halloween~'  sweets menu. The menu boasts a lineup of photogenic Halloween sweets, including a glossy 'Purple Potato Mont Blanc' made using Okinawan purple potatoes, a peering eyeball 'Vanilla Cassis,' a pumpkin and almond cream 'Pumpkin Tart,' and a jack-o-lantern themed gradient 'Orange and Strawberry Jelly.' 

There is also a selection of luxurious light meals, each featuring seasonal ingredients, that will offer you a taste of the hotel, including  the pumpkin-filled 'Chestnut Rice' and 'Pumpkin Soup', and the 'Chestnut Danish.'

For the first time, pastry shop Dorer will be offering a 'Home de Afternoon Tea ~Halloween~' experience, allowing customers to enjoy Halloween sweets from the comfort of their own home. The cute box is filled with a variety of fun sweets and savory snacks such as a 'Purple Potato Mont Blanc,' 'Monster Macarons,' a skull-covered 'Fig Tart' and 'Shining Grape Petit Cream Puffs.' The afternoon tea set makes the perfect gift to any loved ones!

You can visit the lounge and experience a luxurious time at the adult-aimed sweets buffet, gazing through the atrium during the long Autumn evenings, or you can enjoy the colorful afternoon tea set from the comfort of your own living room! 

 

Why not experience a special Halloween in your preferred setting?

New BT21 Cafe Coming to Tokyo, Yokohama, Nagoya, Osaka, and Okinawa

The 9th BT21 Cafe ~Relaxing Holiday~ will be open for a limited time in six venues across Tokyo, Yokohama, Nagoya, Osaka, and Okinawa. If you're a fan of these adorable LINE FRIENDS, just take a look at the menu items and goods on offer!

Main Visual

The Menu

Chicken and Orange Hot Sandwich: ¥1,760 (Tax Included) 

Grilled Vegetable Curry: ¥1,870 (Tax Included)

Tandoori Chicken Tacos: ¥1,870 (Tax Included)

Scrambled Eggs with Smoked Bacon: ¥1,870 (Tax Included)

Mug Collection

Combo Meals

Pistachio and Chocolate S'mores: ¥1,540 (Tax Included)

Cinnamon Apple Pie: ¥1,540 (Tax Included)

Maple Lemon German Pancake: ¥1,650 (Tax Included)

Mixed Berry German Pancake: ¥1,650 (Tax Included)

Strawberry Mojito/Kiwi Mojito/Peach Mojito: ¥990 each (Tax Included)

Coffee (Iced/Hot) / Black Tea (Iced/Hot): ¥550 (Tax Included)

Original Merchandise 

Pins (Random, 7 designs): ¥660 (Tax Included)

Acrylic Keyrings (7 designs): ¥770 (Tax Included) / Clear Folder: ¥440 (Tax Included)

Stickers (7 designs): ¥770 each (Tax Included) / Placemat (2 designs): ¥1,000 each (Tax Included)

Swizzle Stick (7 designs): ¥990 each (Tax Included) / Tote Bag: ¥1,650 (Tax Included)

Canvas Pouch: ¥1,980 (Tax Included) / Mini-towel (7 designs): ¥990 each (Tax Included)

Bandana (2 designs): ¥1,320 each (Tax Included) / Marshmallows: ¥972 (Tax Included)

Customers who book a table in advance will receive a randomly selected A5-size clear folder and a random clear coaster for each drink ordered.

The first installment of the 9th BT21 Cafe run, ~MY LITTLE BUDDY~, began in July 2021. The menu and goods, based on cute babies and their friends, received rave reviews. 

 

~Relaxing Holiday~ is inspired by summer and being outside with friends. Menu items look like what people may eat while camping, and the original character art features your favorite BT21 characters eating their favorite foods. Various soups and desserts are available in cute souvenir cups, and anything ordered is perfect for posting on social media!

Which menu item looks the most delicious to you? 

 

*Images for reference only. 

©BT21

Information

BT21 Cafe 9th Run ~Relaxing Holiday~

Tokyo 1:
Address: SHINJUKU BOX café&space Lumine EST (B1F 3-38-1 Shinjuku, Shinjuku-ku, Tokyo)
Running: August 28, 2021 – October 3, 2021

Tokyo 2:
Address: HARAJUKU BOX Alta (3F 16-4 Jingumae 1-chome, Shibuya-ku, Tokyo)
Running: September 16, 2021 – October 31, 2021

Yokohama:
Address: Collabo_Index Lumine Yokohama (6F 2-16-1 Takashima, Nishi-ku, Yokohama, Kanagawa)
Running: September 1, 2021 – October 3, 2021

Nagoya:
Address: Nagoya Box café&space (B1F LACHIC, 3-6-1 Sakae, Naka-ku, Nagoya, Aichi)
Running: September 30, 2021 – November 7, 2021

Osaka:
Address: Shinsaibashi contact (1-6-24 Kitahorie, Nishi-ku, Osaka)
Running: August 27, 2021 – September 23, 2021

Okinawa:
Address: OKINAWA BOX café&space (Naha OPA 2F, 1-20-1 Izumizaki, Naha, Okinawa)
Running: September 3, 2021 – October 3, 2021

Official Site: https://2021-2.box-cafe.jp/

BT21 is a globally popular cast of characters from LINE FRIENDS.
*The products and menu items produced and sold by LEGS COMPANY, Ltd. are the result of an official license agreement with LINE FRIENDS Co., Ltd. and may not be reproduced or sold without permission from LINE FRIENDS Co., Ltd. 

Pokémon Postboxes Arrive in Yokohama For a Whole Year

Japan Post Service has teamed up with Pokémon to set up three postboxes with Pikachu, Eevee, and Piplup designs in Yokohama. They first opened on July 7, 2021 and will be available until June 30, 2022.


Yokohama is no stranger to Pokémon as it is the city that hosts the annual Pikachu Outbreak event, one which is set to return this year from August 7-13. It is also one of the cities taking part in the Poké Lid project to place Pokémon manhole covers across Japan.

And if you post your letter in the postbox pictured below, located in Yokohama Port Post Office, your envelope will be stamped with a special Pokémon stamp.

Information

Pokémon Postboxes

Locations: 2 at Yokohama City Hall / 1 at Yokohama Sakuragi Post Office
Running: July 7, 2021 – June 30, 2022

Pokémon Stamp Post Service

Location: Yokohama Port Post Office
Running: July 7, 2021 – June 30, 2022

Key Coffee Releases Limited Edition 1920's Blend

Key Coffee has recreated its coffee from 1920's when the cafe chain first opened. Named the Yokohama 1920 Founding Blend, the coffee was released on July 20 and will be available at their 54 branches up and down Japan until August 24, the same date when the coffee shop first opened.

Yokohama 1920 Founding Blend

A picture of Key Coffee's Yokohama branch in 1936 when it was known as Kimura Coffee

Retro Showa-style espresso con panna

Milk Brûlée

Yokohama 1920 Founding Blend recreates the same flavour of coffee that the cafe served in 1920 when it first opened in Yokohama, an area bustling with restaurants serving both Asian and Western cuisine. It uses Brazilian coffee beans at its base, a type which was circulated a lot at the time. It has a distinct sweet fragrance and goes well with milk and sugar.

Back them, coffee was a commodity yearned for by the people of Japan. After releasing their hit coffee syrup in 1921, Key Coffee began serving coffee in a way that was simple, tasty, and accessible to everyone such as drip coffee and their Noi coffee-making series. In the 1930's their products began to line the shelves of department stores as they began to develop as a spearhead for the emergence of coffee culture in Japan. They also began selling TOARCO TORAJA in 1978, a highly-regarded premium coffee. Today, the chain continues to be a hub for coffee lovers, and is creating new coffees and techniques.

Japan has been a boom in junkissa in recent years, a classic cafe which blends the atmosphere of the Meiji and Showa periods. Key Coffee is showcasing two coffees on their recipe page which capture this flair including an espresso con panna and milk brûlée.

Japanese Michelin Star Chef to Open New Restaurant Kimura Don in Shinjuku

A new restaurant by the name of Kimura Don is set to open inside Shinjuku Takashimaya's Restaurant Square on July 20, 2021.

Kimura Don is a new donburi restaurant produced by Koji Kimura, a chef whose popular sushi bar Sushi Kimura, located in Futakotamagawa, has held two Michelin stars since 2013. His new eatery continues the traditions and techniques honed at Sushi Kimura while spinning innovation into new donburi rice bowl dishes conceived from the many ideas Kimura has conceived over the years.

The donburi to be served recreates that perfect balance between vinegared rice and toppings which Kimura mastered at his sushi bar. Customers can enjoy a range of additions including donburi classics such as meat and fish as well as seasonal ingredients. The restaurant also uses locally grown and reared produce and ingredients that's also environmentally-friendly from Tokyo such as Kinuhari rice from Hachiojo and Akigawagyu beef. This will help to foster a relationship between local farmers and consumers. 

Lunchtime Dishes | ¥3,500 Each | Serving Times: 11:00-17:00 (Last Orders 16:00)

Pick from five different donburi bowls such as tuna, pilchard, and roast beef. Each season will also has its own exclusive dish made with seasonal ingredients. There's also a special option to order a set of two smaller versions of the dishes too for ¥3,800. 

Evening Courses | From ¥12,000 | Serving Times: 17:00-23:00 (Last Orders 22:00)

The evening course line-up is also made up of five different bowls as well as seven seasonal snacks.

Koji Kimura | Comment

"I've been set up in Futakotamagawa for 16 years. I studied how to prepare sushi rice for many years, since it serves as the foundation, so that I could create unique sushi. I have made sushi rice that's unique and draws a line under other restaurants, rice which when combined with toppings explodes with umami flavour. I use this same sushi rice as the basis for lots of innovative donburi dishes, and I'd love for people to enjoy a taste at the first place in Japan to do this."

Sazae-san, Glass Mask, and Other Popular Anime Series Get Exhibition in Yokohama

Takashimaya Yokohama Store has announced a special exhibition centred on the Japanese animation studio Eiken. Titled "50 Years With the Sazae-san Series: The World of Eiken's Animation," the exhibition will begin on August 4 and touch on Eiken's long history of animation such as Sazae-san which has been running since 1969, Tetsujin 28-go, 8 Man, and more.

Chapter 1: Eiken Classical

This section of the exhibition will feature 11 nostalgic anime series such as Tetsujin 28-go and 8 Man.

Chapter 2: 50 Years of Anime History

Cel animations and manga artwork for 27 series from the past 50 years, such as Glass Mask, will be showcased.

Chapter 3: 50 Years of Sazae-san

170 works, such as cel animations and background artwork, of Sazae-san, which has been airing since 1969, will be displayed.

Tetsujin 28-go Photospot

Commemorative Merchandise

A4 Folder | ¥440

Dolomite Coasters | ¥1,100

Sazae-san Ivorn Tote Bag | ¥3,520

Manga Design A4 Folder | ¥385

The exhibition will be split into three 'chapters,' or areas, with around 400 pieces of animation and artwork displayed. Fans of Eiken's series can also get their hands on exclusive merchandise, snap a photo at the photospot, and more.

©小島 功・エイケン ©光プロダクション・エイケン ©平井和正・桑田二郎/TBS ©TBS ©エイケン ©白土三平©エイケン ©長谷川町子美術館   ©横山隆一・エイケン ©田河水泡/講談社・エイケン ©佐藤さとる・村上勉/講談社・エイケン ©1976 雁屋哲・エイケン ©フジテレビ・エイケン ©ちばあきお・エイケン ©畑 正憲・エイケン ©美内すずえ/エイケン ©サトウサンペイ・フジテレビ・エイケン ©村上もとか/小学館・エイケン ©みつはしちかこ・エイケン ©アーネストTシートン・エイケン ©植田まさし/植田プロダクション・エイケン ©うえやまとち/講談社・エイケン ©布浦 翼/講談社・TBS・エイケン ©松竹・TBS・エイケン ©BSフジ・エイケン ©TBS・エイケン ©久里洋二・TBS・エイケン ©2005 ちばあきお/エイケン・プレイボール製作委員会 ©いがらしみきお/竹書房・フジテレビ・エイケン

Information

50 Years With the Sazae-san Series: The World of Eiken's Animation

Japanese Title: アニメ サザエさんとともに50年 -エイケン制作アニメーションの世界-

Running: August 4, 2021 – August 23, 2021

Venue: Takashimaya Yokohama Store Gallery (Floor 8F)

Opening Hours: 10:00-18:30 (Until 16:30 on August 23)

Price: General ¥1,000 (¥800) / University & High School Students ¥800 (¥600) / Junior High School Students and Younger – Free

*Prices in brackets are for groups of 10+ people

Eiken Official Website: https://eiken-anime.jp/50th

Yusuke Nakamura Exhibition Opens at the 21st Century Museum of Contemporary Art, Kanazawa

The Yusuke Nakamura Exhibition opened at 21st Century Museum of Contemporary Art, Kanazawa, on April 29. It was also announced that the Japanese illustrator is releasing the first artbook to compile all of his CD cover art on May 28, but the book can be bought early at the exhibition.

Yusuke Nakamura Exhibition

Yusuke Nakamura Exhibition CD Artworks

Yusuke Nakamura has designed covers forASIAN KUNG-FU GENERATION, Masashi Sada, Spitz, and more

Commentary on the CD covers written by the Yusuke Nakamura himself

Rough sketches are featured in the book

A talk between Yusuke Nakamura and Masafumi Gotoh (ASIAN KUNG-FU GENERATION)

It wouldn't be an exaggeration to call Yusuke Nakamura one of Japan's most prolific artists, having worked with some of the country's biggest names such as ASIAN KUNG-FU GENERATION, Gentouki, Masashi Sada, and more. His new artbook, entitled PLAY, compiles all of his CD covers from 2002-2020, commentary, rough sketches, talks, and more. While many things from the book are explored at the exhibition, there's plenty of content exclusive to the book too, so it's a must-grab for fans.

Information

Yusuke Nakamura Exhibition

Running: April 29, 2021 – May 29, 2021

Location: 21st Century Museum of Contemporary Art, Kanazawa

Official Website: https://www.kanazawa21.jp/

PLAY
Release Date: May 28, 2021

Price: ¥2,273 (Tax Included)

Edo Period 'Robot' Karakuri Puppets Get Exhibition in Yokohama

Yokohama Takashimaya Gallery has announced an exhibition hosted by Tamaya Shobei IX, a master of traditional Karakuri puppets, which will run from April 21 to May 10.

Karakuri dolls are wooden mechanical dolls made in the image of humans with movable parts, such as the hands and legs which are fitted with special mechanisms. Each and every doll is handmade, and visitors can look forward to seeing around 40 of them at the exhibition, including newly-made ones.

Here are some of the pieces that will be on display at the exhibition.

Festival Float Karakuri Dolls

The culture of merchants in the Edo Period blossomed at float festivals. They crafted Karakuri dolls to be placed on floats. At the time, this was considered something very simple, but adding mechanisms to these dolls was the start of the Karakuri doll. A variety of these festival float dolls will be showcased, such as the Kamakiri mantis doll which was revived by the seventh generation Tamaya Shobei, as well as newer works from recent years like the Nue Japanese chimera (as pictured above).

Tatami Mat Karakuri Doll

Other famous dolls to be included in the exhibition are the chaun ningyo tea-serving doll, the koma-mawashi ningyo spinning top doll, the calligraphy doll, and more.

New Works

Also in the line-up are new works being created by Tamaya Shobei IX, like the revival of the Tsuru crane and another featuring a crow tengu.

TV Anime Romeo and the Black Brothers Opens Pop-Up Shops in Japan

Nippon Animation's 1995 anime series Romeo and the Black Brothers is opening four pop-up shops in Japan selling a variety of themed merchandise. And for every ¥3,000 spent at the shops, customers will receive a special shopping bag with a design from the series.

商品一覧

Original Shopping Bag

Epos Card Holders Exclusive Items

A-Prize: Canvas Board

B-Prize: Complete Postcard Set

C-Prize: One Postcard (6 Designs)

The Marui City Yokohama branch pop-up shop will also feature a special exhibition of illustrations, photos, and artwork that take a look back over scenes from the series.

Information

Romeo and the Black Brothers Pop-Up Shop

Japanese Pop-Up Shop Name: ロミオの青い空「ボルゴ横丁雑貨店」

Marui City Yokohama

Running: March 5, 2021 – March 14, 2021

Location: Marui City Yokohama Floor 7F

Hakata Marui

Running: March 27, 2021 – April 4, 2021

Location: Hakata Marui Floor 5F

Kokubunji Marui

Running: April 9, 2021 – April 25, 2021

Location: Kokubunji Marui Floor 4F

Kobe Marui

Running: April 16, 2021 – April 26, 2021

Location: Kobe Marui Floor 5F

Romeo and the Black Brothers Exhibition

Running: March 5, 2021 – March 14, 2021

Location: Marui City Yokohama Floor 7F

Opening Hours: 11:00-20:00 (Until 19:00 on March 14)

Entry: Free

Epos Card Members Prizes

Running: Until March 5, 2021 @ 23:59 (JST)

Winners to be Chosen: 3

Official Website: https://www.sekaimeisaku-nostalgia.com/