Massive Winter Illumination Event Begins at Ashikaga Flower Park in Tochigi
Ashikaga Flower Park in Tochigi prefecture is one of the best places in the country to view wisteria (fuji) flowers and is well-known for its tunnel of purple blooms. In recent years, the park has also become popular for its winter illumination, and from October 16, 2021, until February 14, 2022, over 5 million bulbs will be on display during the 20th Anniversary Garden of Light ~Flower Fantasy 2021~ event!
Flower Castle
Illuminated Flower Basin
Illuminated Flower Basin
Magnificent Wisteria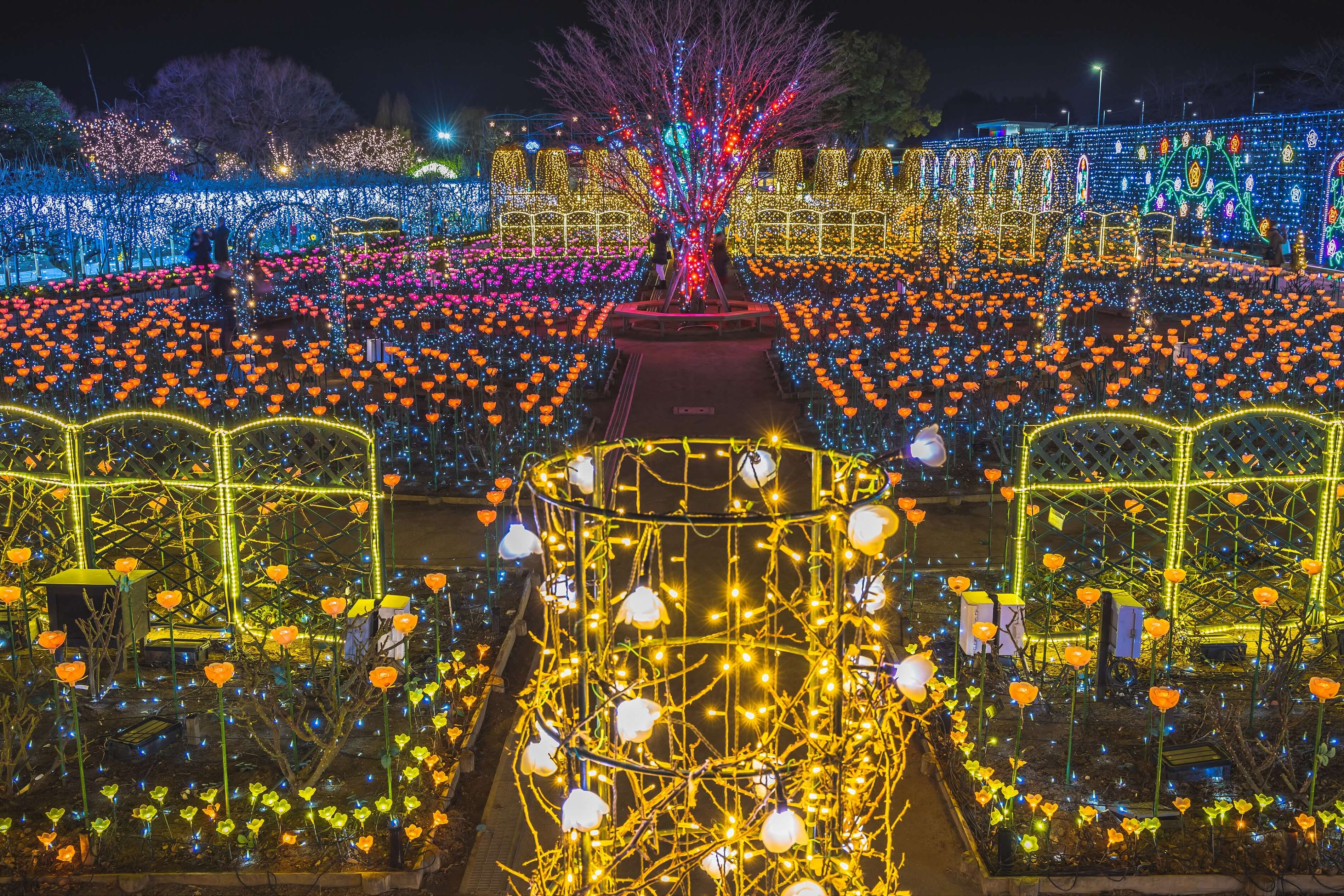 Rose Garden of Light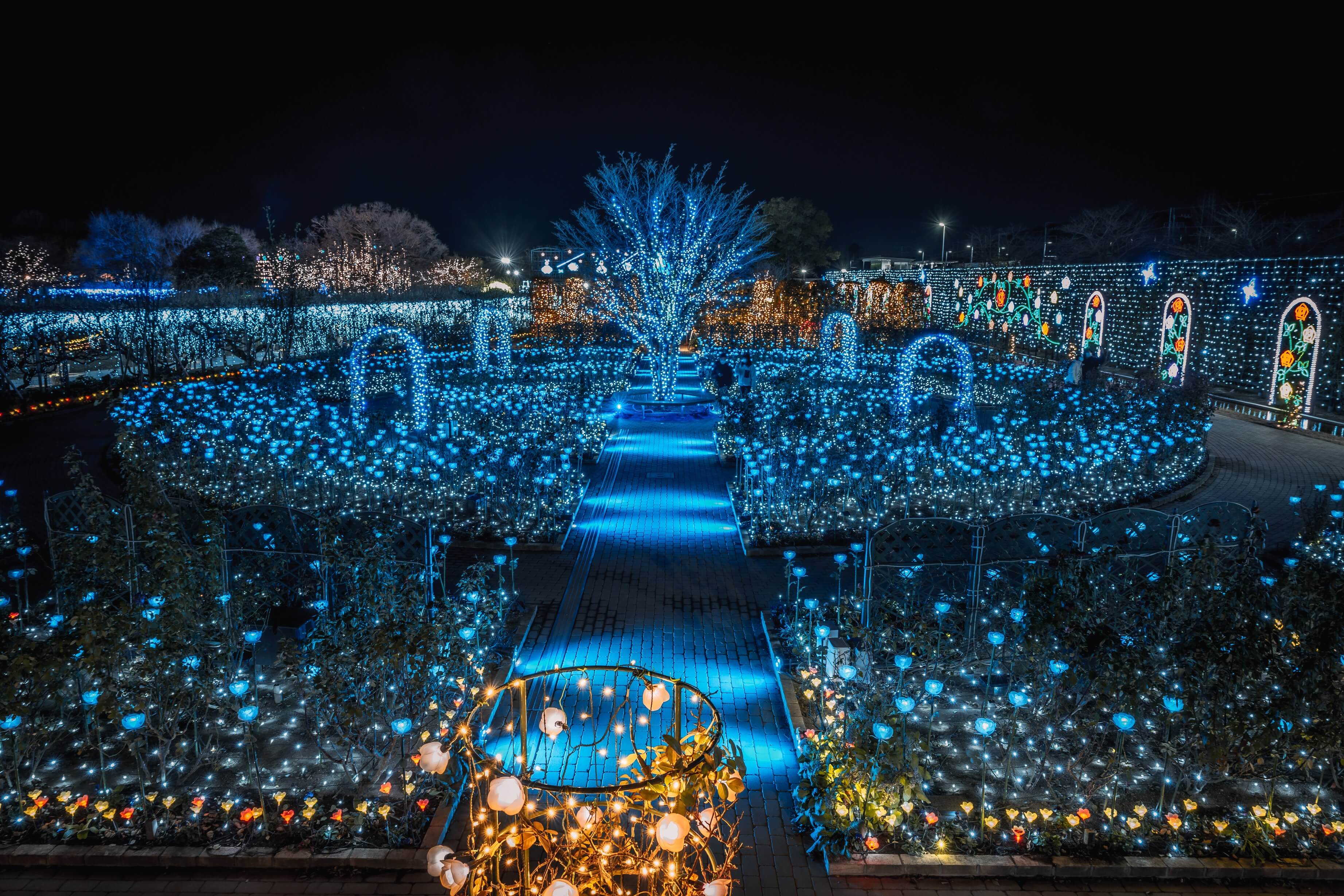 Rose Garden of Light – Blue Version
The Tale of the Wisteria of Light
Illuminated Water Lilies
Rainbow Magic
Everyone's Earth
The Tree of Life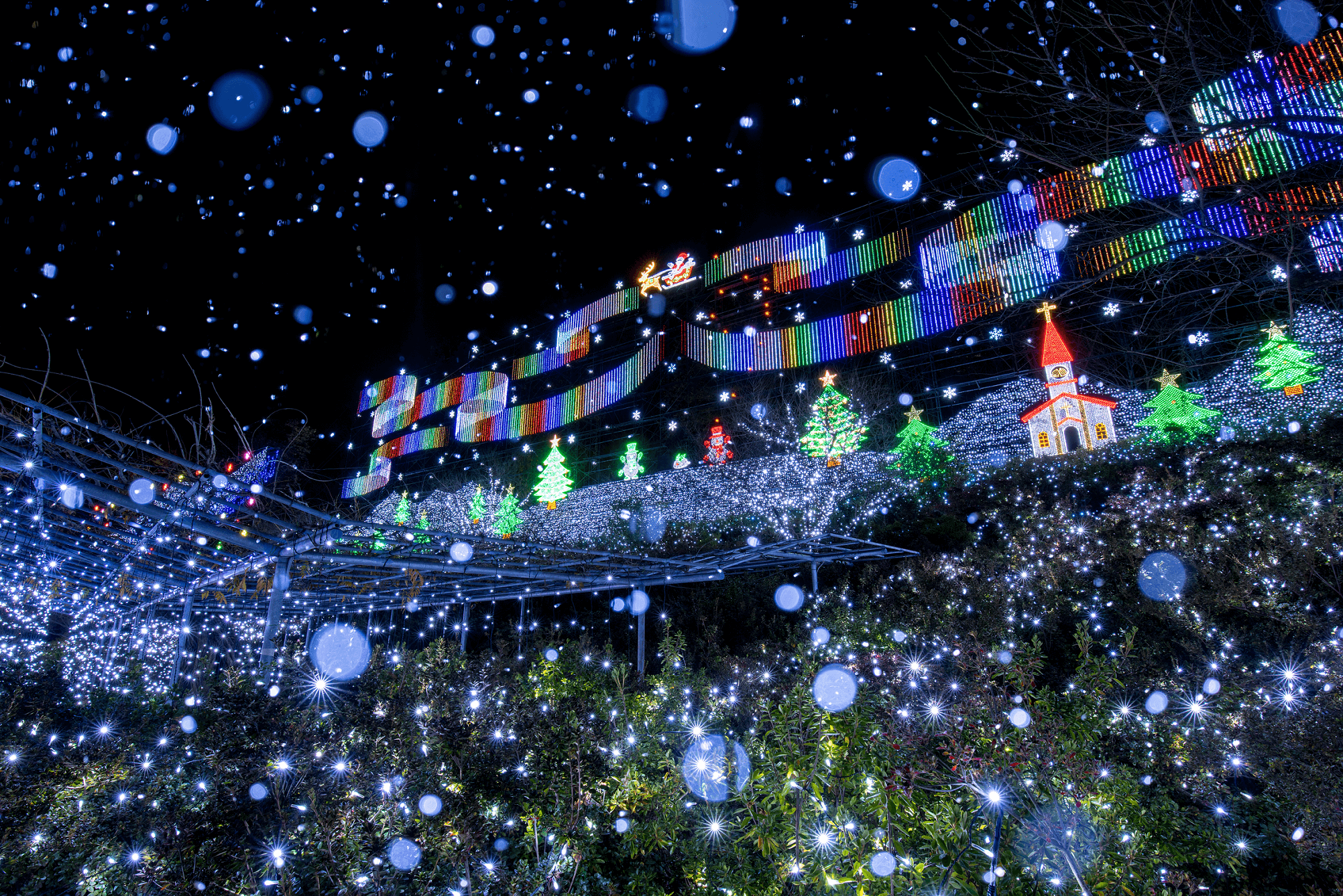 Snow World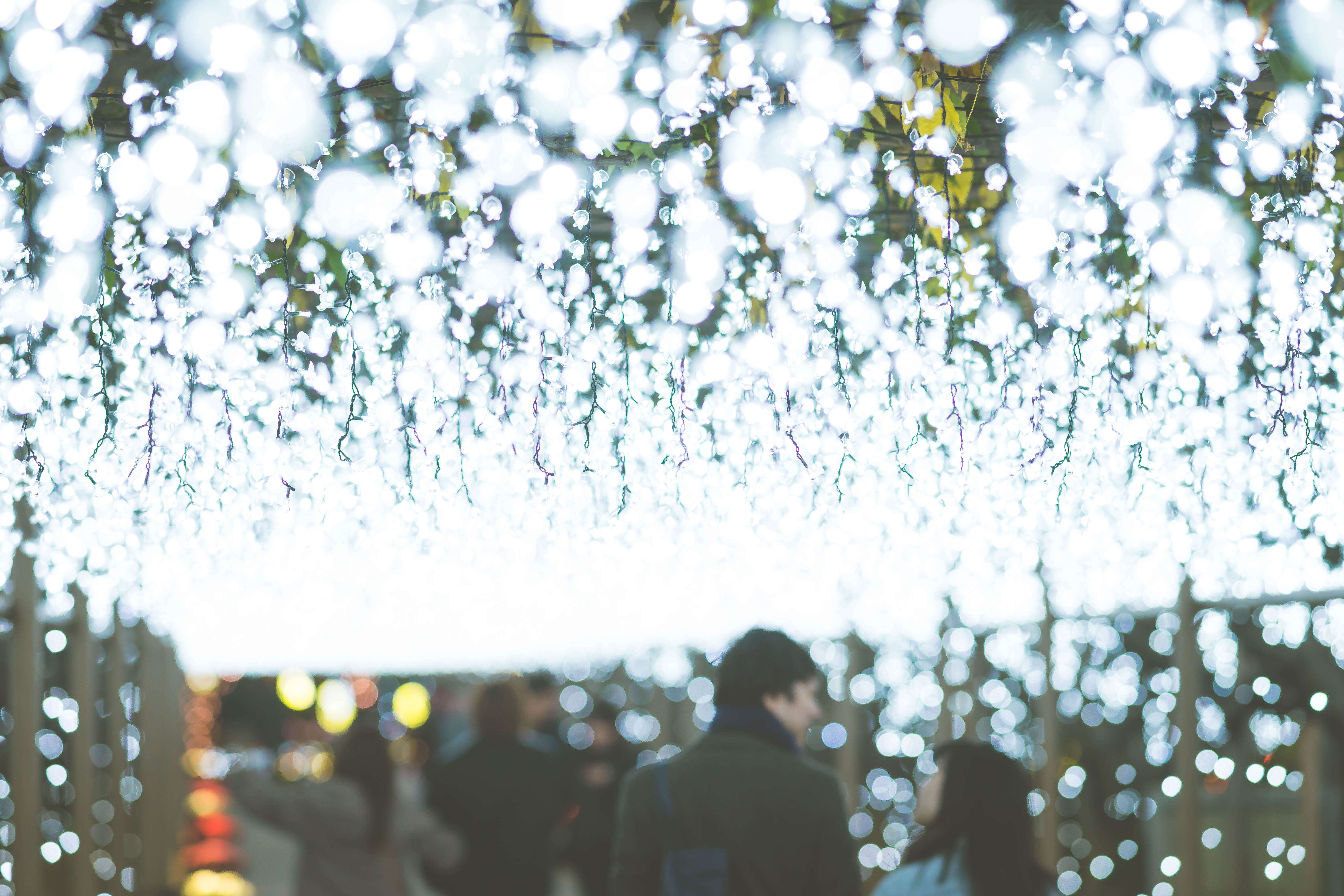 White Wisteria Tunnel
Yellow Wisteria Tunnel
2021 marks the 20th anniversary of the winter illumination event at Ashikaga Flower Park. In October 2017, the location was recognized as having one of the three best illumination events in Japan, along with the Sapporo White Illumination in Hokkaido and the Huis Ten Bosch Kingdom of Lights in Nagasaki. It has also ranked number one in the Night View Convention and Visitors Bureau Illumination Awards for five consecutive years from 2016 until 2020. 
The popular Flower Castle has been completely redone for the event's anniversary. A professional florist also helped design the illuminated flower basins. The park's famous wisteria flowers will be illuminated in many unique ways and in different colors. A special blue light performance will take place to show appreciation for medical professionals who have assisted during the pandemic. 
Information
20th Anniversary Garden of Light ~Flower Fantasy 2021~
Running: October 16, 2021 – February 14, 2022
Illumination Hours: 16:30-20:30 (Until 21:00 on weekends and holidays.) 
*Open until 21:00 on weekends and 21:30 on weekends and holidays from early December until early January (tentative)
Details: https://www.ashikaga.co.jp/flowerfantasy_special2021/jp/index.html
RELATED ENTRIES
Hibiya Area in Tokyo to Explode in Colorful Lights During HIBIYA Magic Time Illumination 2021

From November 18, 2021, until February 14, 2022, Tokyo Midtown Hibiya will be wrapped in countless lights during the HIBIYA Magic Time Illumination 2021 event.

During the period from November 18 until December 26, the HIBIYA WINTER SQUARE lights can be seen at Hibiya Step Square, the main area at the entrance to Tokyo Midtown Hibiya. A special performance will be held every 20 minutes based on this year's theme, "Tomorrow: A New Curtain Rises." This beautiful arrangement features the score from the classic musical 'Annie,' and utilizes gradation colors to depict the sky shifting from the dark of night to the dawn of a new day. From Hibiya Step Plaza, the light will radiate outwards to the main staircase and Naka-Dori Avenue, creating an unforgettable wave of light.

Visitors should also watch out for special decorations to commemorate the release of the latest Disney animated film 'Encanto!' A light show will feature original music, and a unique Christmas tree will be taking center stage, so don't miss it!

Roppongi Hills Christmas 2021 and Keyakizaka Lights, Tokyo's Signature Christmas Event, Begin

Tokyo's favorite Christmas event has begun! Roppongi Hills is a popular destination for shopping, eating, and having a good time, and the Roppongi Hills Christmas 2021 celebration brings the complex to life with plenty of holiday spirit. The Keyakizaka Lights signal the beginning of the Christmas season in the area, and this winter tradition is not to be missed! 

Keyakizaka Lights

The 400-meter-long Keyakizaka street is covered in over 700,000 blue and white LED lights, and the scene has become a popular representation of what Christmas looks like in Tokyo. This year's West Walk shopping arcade will also feature the special Bon-Bon Blossom installation, a Christmas tree made to look like bonbon chocolates.

Does this look like your ideal Christmas scene?

Information

Roppongi Hills Christmas 2021

Dates: Beginning of November – December 25, 2021

Address: Roppongi Hills (Roppongi Keyakizaka-dori, etc.)

Keyakizaka Lights

Dates: Beginning of November – December 25, 2021

Hours: 17:00-23:00

Address: Roppongi Keyakizaka Street

Bon-Bon Blossom at West Walk

Running: November 19 – December 25, 2021

Address: West Walk 2F South Atrium

Official Site: https://www.roppongihills.com

Sauna Art Appears at Underground Experience in Tochigi Prefecture

From October 30 until November 23, 2021, a unique underground experience is taking place at a former quarry in Oyamachi, Utsunomiya. UnderMuseumChallenge 01 GATE invites guests to enjoy massive pieces of artwork while pondering the boundaries between society, nature, daily life, and the body. The main focal point of the exhibition is the Genki Furnace, a piece of sauna-inspired art.

Usually, this old quarry isn't open to the public. This year's event will offer two types of tickets: one allowing visitors to view art and drive through the underground space, and the sauna art experience. Takashi Kurimayashi's art will certainly stick with you, so either choice is a positive one. The sauna art experience will invite guests to stand within the furnace as they are surrounded by hot herbal steam. The website asks that visitors bring a swimsuit, change of clothes, and their own towel. 

The quarry is located about a 30-minute drive from the center of Utsunomiya. Stone from the area is well-known across Japan, and this particular region was named a Japanese Heritage Site in 2018. Last year, more than 700,000 tourists visited the region. 

Four Must-See Winter Illuminations in the Kanto Region This Holiday Season

Even though it feels like 2021 just started, winter is already approaching! Though the weather is turning cold and the leaves are falling from the trees, there are plenty of colorful events taking place throughout the Kanto region sure to warm your body and soul. Holiday lights can transform even the darkest and most frigid evenings into magical memories. Here at Moshi Moshi Nippon, we've compiled the four best winter illumination locations for 2021, perfect for dates, family outings, or even solo reflection!

[Ashikaga, Tochigi Prefecture] 20th Anniversary Garden of Light ~Flower Fantasy 2021~

In October 2017, Ashikaga Flower Park was recognized as having one of the three best illumination events in Japan, along with the Sapporo White Illumination in Hokkaido and the Huis Ten Bosch Kingdom of Lights in Nagasaki. It has also ranked number one in the Night View Convention and Visitors Bureau Illumination Awards for five consecutive years from 2016 until 2020. Be sure to visit the popular and newly-renovated Flower Castle!

Location: Ashikaga Flower Park

Running: Until February 14, 2022

Details: https://www.moshimoshi-nippon.jp/515578

[Shinagawa, Tokyo] Tokyo Mega Illumination 2021-2022 x NAKED

Tokyo's Oi Racecourse will be decorated with over eight million lights until April 2022! The location is complete with a water fountain show and a 100-meter tunnel bathed in light, while creative production company NAKED has teamed up with the event to offer AR illuminations guests can only experience here!

Location: Oi Racecourse

Running: Until April 10, 2022

Details: https://www.moshimoshi-nippon.jp/512032

[Inagi, Tokyo] Yomiuriland Jewellumination The Light of Hope! ~A Diverse Symphony of Color~

Yomiuriland's newest illuminations were produced by Ishii Motoko, and the park is home to the world's first light display to use LED lights made to glitter like jewels. These lights have a low environmental impact, and are perfectly suited for the event's theme of "Hope." 

Location: Yomiuriland

Running: Until April 3, 2022

Details: https://www.moshimoshi-nippon.jp/503875

[Hibiya, Tokyo] HIBIYA Magic Time Illumination 2021

 

Locations throughout Hibiya in Tokyo will be transformed into magical Christmas scenes, with trees lit up in a gradient of colors. This year's lights were designed to be sustainable, with the LED lights used utilizing 40% less power compared to regular bulbs.

Location: Tokyo Midtown Hibiya, Hibiya Nakadoori, Hibiya Chanter locations

Running: Until February 14, 2022

Tokyo Mega Illumination at Tokyo City Keiba to Collaborate with NAKED for AR Experience

2021 marks the fourth year that the Oi Racecourse, also called Tokyo City Keiba, will be bathed in a sea of over eight million colorful lights! The Tokyo Mega Illumination is back from October 16, 2021, until April 10, 2022, and features a water fountain show synchronized to music, a 100-meter tunnel covered in twinkling lights, and more. This year, in the Twinkle area of the event, guests can enjoy various AR illuminations created as a collaboration with NAKED, a creative production company headquartered in Shibuya. The NAKED BIG BOOK interactive experience will also welcome visitors to enjoy a projection mapping experience like no other.

NAKED BIG BOOK

Pergola (Interactive)

Illuminated Logo

AR Horse Camera Filter

AR Lights
Limited-Time Area: Tree Playing with Lights (Lawn Area)

NAKED's most popular work, NAKED BIG BOOK, utilizes projection mapping to allow guests to turn the pages of a giant book and experience a unique world separate from their own. Using web filters and AR, guests can also see the object as a pop-up picture book! 

During this special collaboration held on a horse racing track, visitors can also see a giant white horse in AR as they explore the grounds. Colorful horseshoes and stars will pop up from people's footprints, and the sound of visitors' steps will take on the sound of a horse's hooves instead. Be sure to make some memories by snapping commemorative photos with themed filters during the event!

Information

Tokyo Mega Illumination 2021-2022

Open: 

October 16, 2021 – April 10, 2022

Open Saturday and Sunday throughout October (Closed October 31)

Open Daily from November 1, 2021 – January 10, 2022 (Closed on Race Days and January 1)

Open Friday, Saturday, Sunday, and Holidays from January 11, 2022 – April 10, 2022 (Closed April 1)

Tickets are sold for the following week. New tickets for the following week go on sale each day at 0:00. 

Tickets: https://www.asoview.com/channel/tickets/gCscCKZ8EA/

Official Site: https://www.tokyomegaillumi.jp/

Rosa & Berry Tawada English Garden Celebrates 10 Years with Light-Up Event

In scenic Shiga prefecture, visitors can find one of the largest light-up events in the Kansai region. The Rosa & Berry Tawada park is celebrating ten years in 2021, and to celebrate this milestone, the Rosa & Berry Illumination 2021 is covering the space in thousands of brightly colored rainbow lights!

Giant 4-meter Wreath and Treehouse

Constructing the Giant Wreath

Illuminated Flowers

Glittering Balloons & Rainbow Churros

The main stage, Stardust Lake, is located beside the Galaxy Railroad area. Guests can experience the beauty of Lake Biwa, the largest lake in Japan, as they wander the illuminated grounds. Don't miss this year's unique light show 'Rainbow of Hope,' a wish for the end of the COVID-19 pandemic. 

In commemoration of the park's 10th anniversary, a huge wreath over four meters wide will be hung within the park. Created by Yoshihi Futana, the wreath was created with carefully collected plants that were starting to wither. The size is sure to impress, so don't miss your chance to snap a picture with this work of art!

The church-like building sitting atop a hill in the park is decorated with illuminated flowers made by creative team You Ru Maru. Fans of Shaun the Sheep can enjoy a store dedicated to the popular character and his friends on-site, some hotpot during the cooler months at the Kotatsu Nabe restaurant, and a hot cup of tea overlooking the lights at the Hillside Cafe Tearoom. Don't forget to grab a rainbow churro as you wander around the park!

Information

Rosa & Berry Illumination 2021 ~Hills of Twinkling Lights~

Running: October 8, 2021 – February 14, 2022 (Closed Tuesdays)

Hours: 17:30-21:00 (*Hours change depending on the season)

Address: Rosa & Berry Tawada English Garden (Maibara, Shiga Prefecture) 

Official Site: https://www.rb-tawada.com

Enjoy "A Magical Moment" at the 'HIBIYA Magic Time Illumination 2021' Event

The 'HIBIYA Magic Time Illumination 2021' light event will be held in Tokyo Midtown Hibiya, as well as in related associations like Hibiya Area Management, Hibiya Chanter, Tokyo Midtown Hibiya, Hibiya Nakadoori, and Hibiya Chanter's Area Management locations, between November 18 2021 and February 14 2022. The theme for this year's illumination event is "A Magical Moment" that can be enjoyed from a distance. 

HIBIYA AREA ILLUMINATION

The 'HIBIYA AREA ILLUMINATION' transforms Hibiya into a sparkling Christmas scene every year. The trees surrounding the Hibiya area will be lit up in a gradient of colors to represent a new drawn, with the theme "may a wonderful tomorrow shine at the end of today." Each tree is lit up in a different colour, creating the gradation effect.





Duration: November 18 2021 ~ February 14 2022 (scheduled)

Switched On Between: 17:00 ~ 23:00

Location: Hibiya Nakadoori / Tokyo Midtown Hibiya

HIBIYA WINTER SQUARE

The 'HIBIYA WINTER SQUARE,' installed at the Hibiya Step Plaza, has been designed to be viewed while maintaining distance from the other visitors, creating an all-new experience for the New Normal era.

Duration: November 18 ~ December 26 2021 (scheduled)

*The main staircase illuminations are scheduled to remain installed until February 14 2022.

Switched On Between: 17:00 ~ 23:00

Location: Tokyo Midtown Hibiya 1F, Hibiya Step Plaza

PARK VIEW WINTER GARDEN

The 6F Park View Garden overlooks Hibiya Park, Kyoko Gaien, and Hibiya Doori, making it the perfect seasonal evening viewing spot. For the first time, this year the lawn will be decorated with gradation colors to match the Hibiya Step Plaza, creating a gorgeous space that looks amazing in photos! Get away from the hustle and bustle of the streets and enjoy the Hibiya illuminations from above.

Duration: November 18 2021 ~ February 14 2022 (scheduled)

Switched On Between: 17:00 ~ 23:00

Location: Tokyo Midtown Hibiya 6F Park View Garden

Earth Christmas Tree

Artificial Art Tree

This year's illuminations have been designed with Reduce, Reuse, Recycle in mind. The producers have made efforts to be sustainable while creating the Earth Christmas Tree and reduce waste by using LEDs that use 40% less power compared to regular bulbs, while the Artificial Art Tree can be reused year after year.

Enjoy a magical time this winter with the 'HIBIYA Magic Time Illumination' while maintaining a safe and considerate distance from the other guests!

Nature and Art Scene of Jozankei, Hokkaido on Display in New Night Walk Attraction

The Jozankei Tourism Association is currently hosting the JOZANKEI NATURE LUMINARIE -WATER LIGHT VALLEY- event until October 20, 2021. This marks the sixth year of the event, which presents the natural beauty of the rivers, valleys, and forests of Jozankei in a new light. 

Guests can enjoy an illuminated walk along the Toyohira River in the Jozankei area of Hokkaido, and wander across the picturesque Futami Suspension Bridge. The night walk takes places to the southwest of the Sapporo city center. 

Forest Illumination

Futami Valley

Visitors will encounter a variety of unique light art as they stroll through the rich nature of Jozankei guided by the elusive kappa, known to be the guardian Gods of the region. 

Nature Light Canvas

River Road

As visitors approach, the river begins to glow while flowers bloom in this interactive art experience. By using projection mapping across the Futami Suspension Bridge and an all-encompassing light show within the canyon, the event hopes to remind visitors that nature is important and worth preserving. 

Which part of the nature walk would you be most excited to see? 

Information

JOZANKEI NATURE LUMINARIE-WATER LIGHT VALLEY

Address: Jozankei Futami Park – Futami Suspension Bridge
Jozankei Onsen Nishi 4-chome, Minami-ku, Sapporo, Hokkaido

Running: July 1-October 20, 2021

Opening Hours: 

July/August: 19:00-21:00

September/October: 18:00-21:00

Tickets: Guests of Jozankei Onsen only

Official site: https://jozankei.jp/jozankei-nature-luminarie

Art and Illuminations Fuse at Chiba Park For Nighttime Entertainment

YohaS is set to collide the real and digital worlds at Chiba Park with an event titled YohaS 2021 Night Park Gallery which will run from July 6 to 10.

Lightning artwork (*For illustrative purposes only, art will be different for the event)

The event held back in 2019

YohaS is a collaborative project between Chiba City and Tsubakimori Komuna. It was launched to boost and develop the nighttime economy of Chiba, with its first event having taken place as the evening portion of the Ooga Hasu Flower Festival held in Chiba back in 2018. YohaS was unable to be held last year due to the pandemic and so an event was held online. This year sees its return with an event taking on the theme of "Silent Lips" which refers to the current situation with COVID-19 and how we cannot see peoples' smiles or lips due to them wearing face masks.

The title of the YohaS 2021 event is "Night Park Gallery" which will turn Chiba Park into an art gallery and fuse it with breathtaking lighting and illuminations by Sun Effects. There will be six stages produced by Hiroaki Kumagai, a former member of Cirque du Soleil, each of which will offer equally incredible performances with their own stories from July 6-9. Visitors can also purchase YohaS wristbands, t-shirts, anti-bacterial sprays, and more.

For those still unable to attend in person, YohaS will also open an online version of the event called Virtual YohaS in Chiba Park which can be accessed via a PC or smart device.

Information

YohaS 2021 Night Park Gallery

Running: July 6, 2021 – July 10, 2021
Opening Hours: 17:00-21:00
Location: Chiba Park

Address: 3 Chome-1-1 Benten, Chuo Ward, Chiba, 260-0045, Japan

Entry: Free
YohaS Official Website: https://www.yohas.fun/

Japanese Illustrator Mai Yoneyama Releases Limited-Edition T-Shirts

To commemorate her exhibition "EGO" exhibition currently taking place at Anicoremix Gallery in Harajuku, Japanese illustrator Mai Yoneyama has released a collection of limited-edition t-shirts in collaboration with the sneaker brand atmos. The exhibition, which is showcasing many of Yoneyama's works, is running until April 14.

Wear Mai Yoneyama's iconic pop style wherever you go with these limited-edition tees.

Hoshino Resorts BANTA CAFE Releases Video of Magical Beachside Illuminations

The incredible beachside Hoshino Resorts BANTA CAFE, which offers guests a breathtaking ocean view along the Okinawan coast, released a video on the official Hoshino Resorts YouTube page showcasing the cafe's ongoing illumination event, "Illumi Banta," which is running until February 28, 2021. Guests can enjoy some limited-time menu options and then take a romantic stroll along the beach with a warm lantern in hand.

Okinawa is known for its warm climate, rarely dipping below 15°C in the chilly season of winter. There are many celebratory days enjoyed every year around Christmas and New Years, and so BANTA CAFE decided to get in on the action with Illumi Banta, which has been running since December 1 last year—while following the necessary precautions against COVID-19 to ensure everyone stays safe. The spacious cafe is mostly outdoors so visitors can enjoy their time without worry.

A seat at the cafe in on a clear evening guarantees a front row seat to a beautiful orange sunset that sinks into the horizon. Normally, the cafe closes as sunset arrives, but for this event, opening hour have been extended into the night.

BANTA CAFE is located in the village of Yomitan where the beautiful ocean is surrounded by coral reef, enormous rocks, and a rich natural environment. It's a must-visit if travelling to Okinawa.

Information

Illumi Banta
Running: December 1, 2020 – February 28, 2021 (Except February 1st-5th)
Time: 18:00-22:00 (Last Orders 21:00)

BANTA CAFE
Address: 560 Gima, Yomitan, Nakagami District, Okinawa
TEL: 098-921-6810
Opening Hours: 10:00 to one hour after sunset (from 08:00 on weekends and holidays)
Official Website: https://banta-cafe.com/en/

Kyoto's Shinto Shrine Iwashimizu Hachimangu Announces Light-Up Event

Iwashimizu Hachimangu, a Shinto Shrine in Yawata, Kyoto, has announced that a 5-day light-up event will take place from February 10 to 14 at the site's main shrine which is listed as a national treasure of Japan.

Following government guidelines in response to COVID-19, the event will feature LED illuminations, glowing exhibits from craftsmen, lights made by locals from materials such as bamboo, and more, all in the hopes of creating a bit of evening-time sightseeing in the area. The event will also be streamed live online for those unable to attend where viewers can also enjoy watching ceremonial dance by shrine maidens.

Information

Iwashimizu Hachimangu Inori no Tomoshibi ~Wa no Kokoro~

Event Name in Japanese: 国宝・石清水八幡宮 祈りのともしび~和の心~
Running: February 10, 2021 – February 14, 2021
Light-Up Times: 17:00-20:00
Location: Iwashimizu Hachimangu (30 Takabo, Yawata, Kyoto)
Note: Face masks and COVID-19 Contact Confirming Applications required
Event Page: https://ochanokyoto.jp/event/detail.php?eid=569
Official Website: https://newnormaltourism.jp/