A BATHING APE® x READYMADE Reveal Third Collaboration Collection
A BATHING APE® first opened in 2013 and has since received support from many artists and celebrities. Now, they have revealed their third collaboration with the globally popular READYMADE, dropping on October 23 2021 in A BATHING APE® stores, GR8, MAXFIELD, and the BAPE.COM Webstore.
Lineup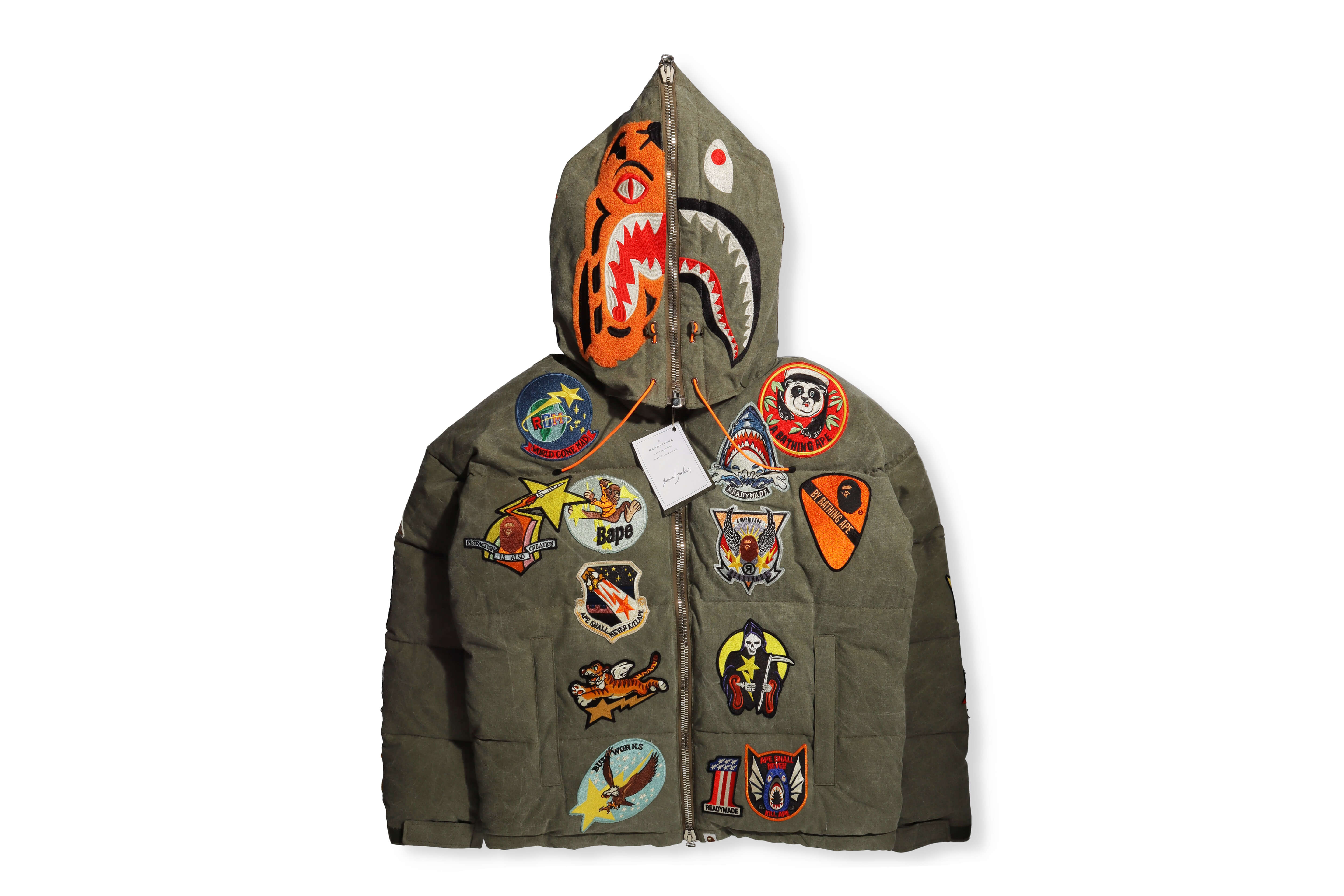 BAPE®×READYMADE TIGER SHARK DOWN JACKET : ¥607,200 (Tax Incl.)

BAPE®×READYMADE MULTI POCKET CARGO PANTS : ¥187,000 (Tax Incl.)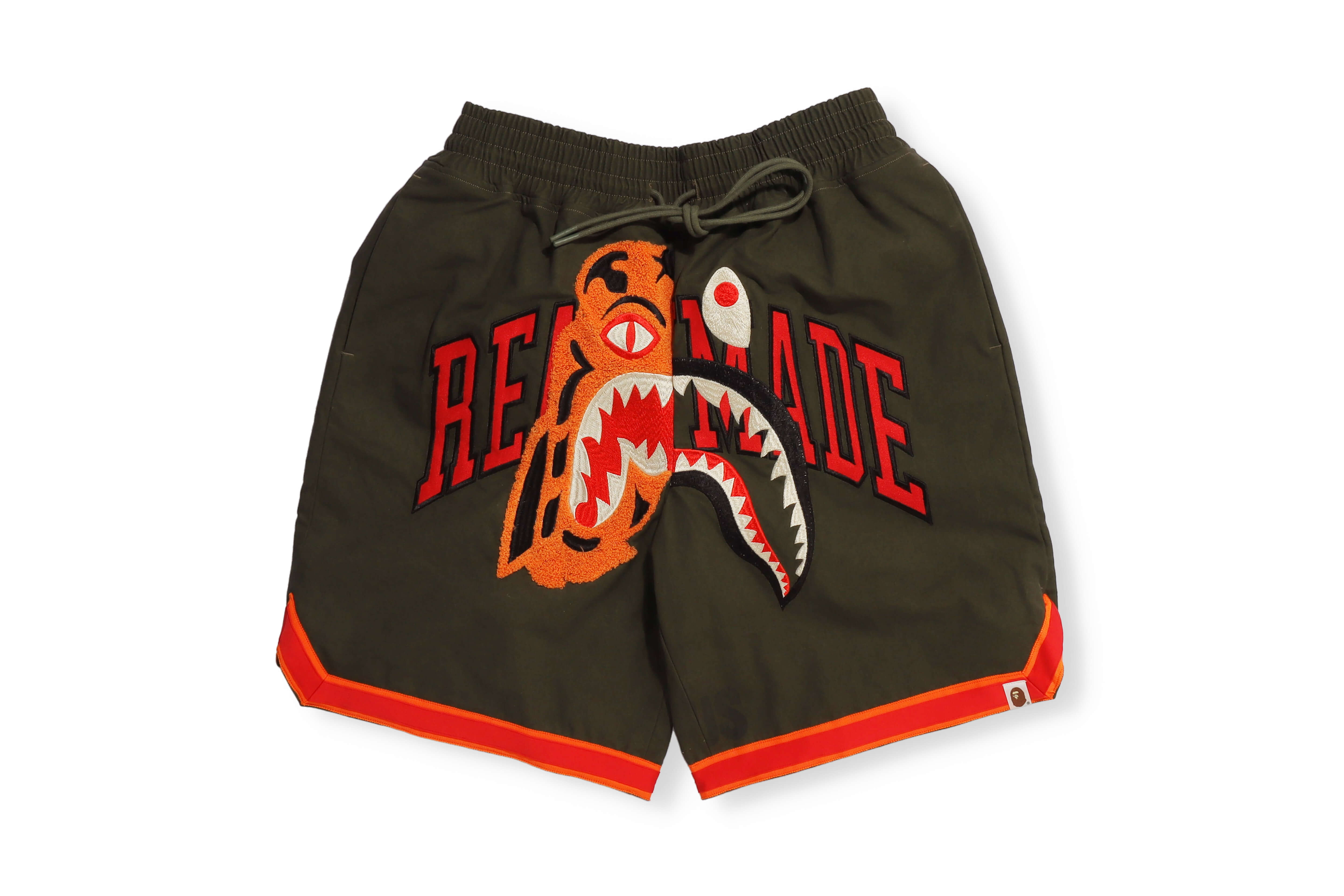 BAPE®×READYMADE TIGER SHARK BASKETBALL SHORTS : ¥165,000 (Tax Incl.)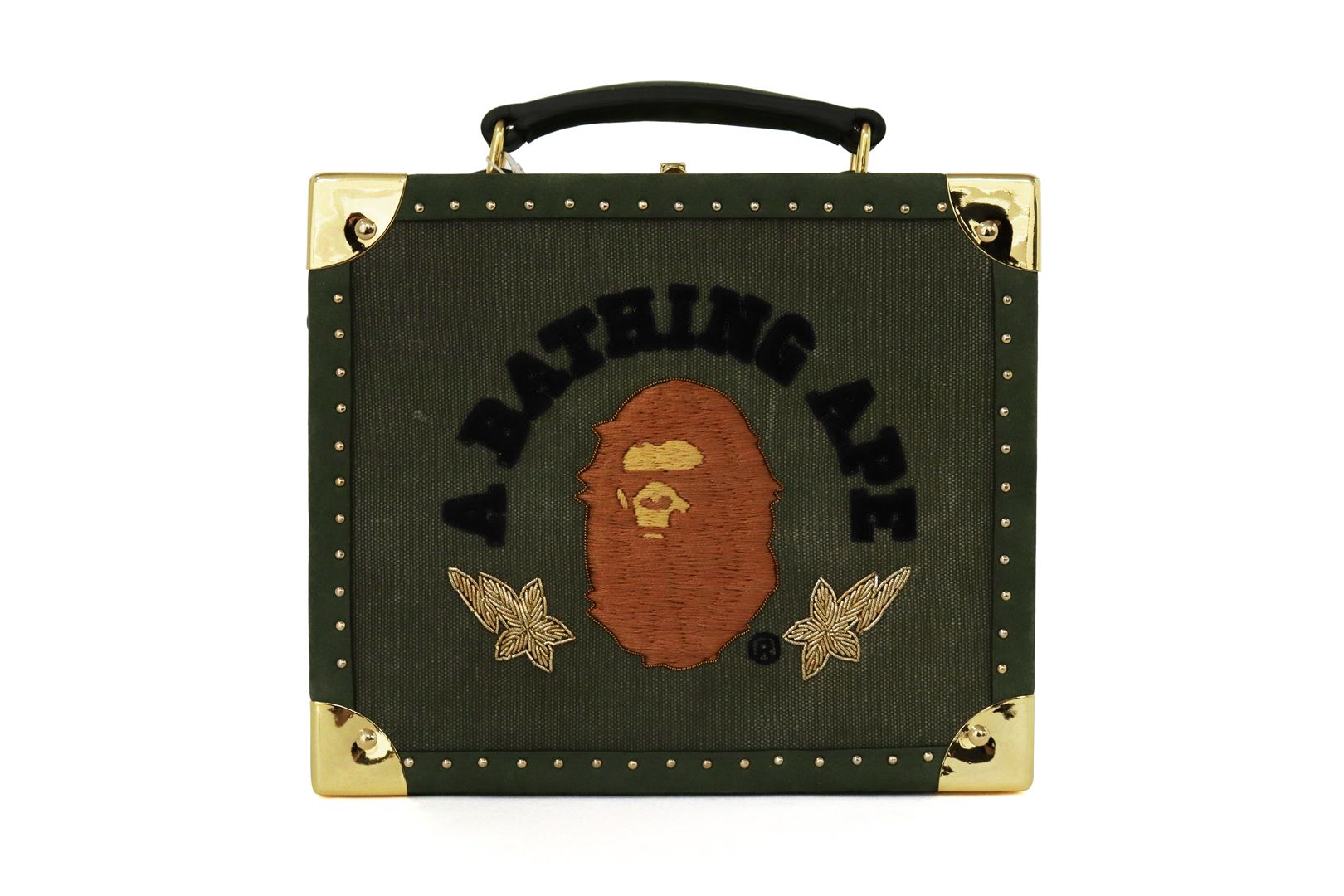 BAPE®×READYMADE CLUTCH BAG : ¥429,000 (Tax Incl.)
BAPE®×READYMADE BABY MILO® PLUSH DOLL : ¥220,000 (Tax Incl.)

 
BAPE®×READYMADE GHILLIE SUIT BAPE® 1000%BE@RBRICK : ¥330,000 (Tax Incl.)

The third collaboration collection is formed of six items; The luxurious down jacket, which is covered in logos, has made its long-awaited return following the first collaboration, where it sold out almost instantly. In addition to the shorts, which were super popular during the first and second collaborations, the iconic READY MADE cargo pants have also joined the collaboration. If you turn over the front pocket, you'll notice that it's covered in the famous BAPE® CAMO.
The BAPE® APE HEAD symbol has been combined with READYMADE's vintage military fabric to create a unique 60cm BABY MILO® PLUSH DOLL and GHILLIE SUIT BAPE® 1000%BE@RBRICK. With Akimoto Kozue as the main visual model, this collection is sure to leave an impact.
Don't miss out on this powerful third collaboration!
RELATED ENTRIES
Hat maker CA4LA to Unveil the First Set of Special Collection in Collaboration with DORAEMON

Hat maker CA4LA has unveiled its first item, the "DORAEMON KNIT CAP," which had only been displayed in silhouette on its special site for the collection in collaboration with DORAEMON.

DORAEMON KNIT CAP ¥9,900 (Tax Included)



DORAEMON is embroidered across the front of the knit cap. When the knit cap is folded over, DORAEMON's worst enemy, a mouse, emerges!

The item will be available from December 10 at CA4LA retail stores nationwide, CA4LA online store, ZOZOTOWN, and CA4LA retail stores in Taiwan. The second set of items will be announced soon, so stay tuned!

Canada Goose×CONCEPTS×BAPE® Release Collaboration Collection

Long-time partners CONCEPTS and BAPE® have launched collaboration collection which is now available at Canada Goose Sendagaya branch and Ron Herman Kyoto 'Canada Goose' shop in shop.

Line-up

CROFTON HOODY 

CHILLIWACK BOMBER 

EXPEDITION PARKA 

KNIT TOQUE 

DOWN SCARF 

DOWN BLANKET

The collection includes 6 pieces inspired by the heritage of Canada Goose featuring the iconic BAPE® ABE Camo and Snow Camo to take streetwear to the next level.

HENSHIN by KAMEN RIDER Sneakers Now Available in Limited Edition of 100 Pairs at atmos

HENSHIN by KAMEN RIDER, a company that develops sneakers featuring Heisei era Kamen Riders, has released its long-awaited new "Kamen Rider Genm Sneaker" and "Wolf Orphnoch Sneaker" on the official website of atmos and HENSHIN by KAMEN RIDER.

Line-up

atmos × HENSHIN by KAMEN RIDER TYPE EX-AID SNEAKERS T-SHIRT atmos original ve

atmos × HENSHIN by KAMEN RIDER TYPE RYUKI SNEAKERS T-SHIRT atmos original ver.

BANDAI HENSHIN by KAMEN RIDER Kamen Rider Genm Sneaker

BANDAI HENSHIN by KAMEN RIDER Wolf Orphnoch Sneaker

BANDAI HENSHIN by KAMEN RIDER Kamen Rider Ex-Aid Sneaker

BANDAI HENSHIN by KAMEN RIDER Kamen Rider Ryuki Sneaker

The long-awaited new release of these two pairs are inspired by the characters that play an important role in each story, and not only the backbone of the character, but also the details of the character have been designed with great care. An original T-shirt commemorating the collaboration has also been released.

The sneakers are produced using an original atmos body with a comfortable fit, featuring unreleased illustrations of "Kamen Rider Ryuki" and "Kamen Rider Ex-Aid" on the front. The back of the sneakers features the logos of both atmos and HENSHIN by KAMEN RIDER.



This time, the looks depicted the scenes in which each character appeared, making it a must-have look for any fanatic.

These sneakers are available until December 19, 2021. The collaboration tee shirt is available only at atmos online. The sneakers are limited to the first 100 pairs of each type, so don't miss out on these products which are sure to be a hit with Kamen Rider fanatics and sneakerheads alike!

Manga Series Dandadan Gets Collaboration Merch at Tower Records to Celebrate Volume 3

To celebrate the release of volume 3 of the Dandadan manga series, participating Tower Records locations in Japan will be selling some collaborative merchandise starting on December 3. The items will also be available to purchase on Tower Records Online. 

Acrylic Keychain (8 varieties): ¥715 (Tax Included) 

*This product is limited to 16 per person.

Square Pins (6 varieties): ¥605 (Tax Included) 

*This product is limited to 12 per person. 

Sticker (Momo Ayase, Okarun, Aira Shiratori & Turbo-Granny, 3 Varieties): ¥880 each

Tiny Pin: ¥660 (Tax Included) 

Sticky Note Set: ¥880 (Tax Included) 

Towel:  ¥2,200 (Tax Included) 

Reversible Reuseable Bag: ¥2,200 (Tax Included) 

T-shirt (Okarun, Turbo-Granny, 2 varieties): ¥3,850 each

©︎龍幸伸 / 集英社

Information

Dandadan x TOWER RECORDS

Release Date: December 3, 2021 *Reversable bag will go on sale December 10

Participating Locations: Shibuya, Shinjuku, Sapporo PIVOT, Sendai PARCO, Ikebukuro, Akihabara, Machida, Kawasaki, Nagoya Kintetsu Pass'e, Umeda NU Chayamachi, Fukuoka PARCO

Tower Records Online: https://tower.jp

Details: https://tower.jp

Pui Pui Molcar and Godiva Christmas Cake Now on Sale

Orders are now open for a Godiva Christmas Cake featuring the adorable hamster/car hybrid characters from Pui Pui Molcar! Godiva stores nationwide will accept orders until December 5, and those wanting to snag one can also put in an order at the Godiva online store. ZOZOTOWN is also selling collaborative goods based on this unlikely team. 

Pui Pui Molcar is the first animated television series directed by Asaki Misato and it instantly captured the hearts of children and adults alike with its short episodes and fluffy characters. The series began broadcasting in January 2021, and is only the first week, the official Molcar Twitter page exceeded 100,000 followers. Following a cast of tiny guinea pigs turned into cars, it's a fun watch for the entire family.

Pui Pui Molcar x Godiva Christmas Cake: ¥6,480 (Tax and Shipping Included) 

The collaborative cake features a chocolate plate with popular Molcar characters and is topped with kiwi, grapefruit, peaches, and other fruits. The chocolate cream is made with fresh Hokkaido cream with a hint of cocoa from Central and South America. Sweets and sour strawberries give the pastry a kick, and the sponge within is incredibly fluffy. The cake also comes with a limited-edition Pui Pui Molcar keychain!

Some collaboration merchandise such as bags, plushies, and apparel, are on sale at ZOZOTOWN. Check the site for more details!

 

MAISONdes' First Collaborative Track 'Rally, Rally feat. Pii, meiyo' Released

MAISONdes, the creator of the 'most-used song on social media' in 2021, has released a new collaborative track. The music video for Rally Rally is also available to watch on YouTube!

The new track has become a smash-hit in Japan, with the project's popularity across social media continuing to grow. MAISONdes is a unique music project. Extremely popular on TikTok, it's described only as 'a fictional apartment building somewhere,' where a different singer and creator features on each and every track. Each song is even labeled with a room number. This allows up-and-coming artists to collaborate in ways they never anticipated. Artist meiyo features on the new track, a creator who just recently made his major debut. The artist Pii remains a curious addition to the recent Japanese music scene, having never revealed her face and communicating her music through a self-animated character.

This new track will be used as the ending theme for the November edition of the morning show 'Mezamashi 8.' 

Popular artists like yama, Nakimushi, Kujira, Moka Sato, Riu Domura, Wanuka, and haruno have participated in the project.  Released in May, 'Yowanehaki feet. Wanuka, asmi' won the TikTok Song Ranking four times in a row and has over 100 million views on the app. In August, vocalist asmi appeared on THE FIRST TAKE. The song also attracted a great deal of attention on Line Music, Spotify, and Apple Music.

Popular voice actors Ayana Taketatsu and Yusuke Kobayashi to feature in HAKUNA Live project MV

Social Live Streaming App HAKUNA Live released the music video teaser for the project 'Today, I'll be where you belong' in collaboration with popular voice actors Ayana Taketatsu and Yusuke Kobayashi.

 

'Today, I'll be where you belong' Project MV  Teaser (30 seconds ver.) 


Ayana Taketatsu

Yusuke Kobayashi

Mikito P

The MV teaser is a compilation of parts featuring both Ayana Taketatsu and Yusuke Kobayashi. The full version of the MV will be available soon, so stay tuned!

MV Story

A girl from the countryside lives alone in the city as she enters college, and a boy looks forward to wearing a suit to work as a new member of society.

As they embarked on a new life, they lost their normal routine of life due to Covid-19.

They are taking online classes and working remotely from home, which makes their days blur.

Then they came across HAKUNA Live and found a new "place" after spending their time alone in their room for a long time.

©MOVEFAST Company. All rights reserved. 

Socks Specialist Tabio to Launch its 2nd Collection in Collaboration with Fashion Brand Toga

Japanese socks specialist Tabio has launched its second collection in collaboration with Toga, a Japanese fashion brand created by fashion designer Yasuko Furuta.

The Line-up

The collection consists of four different types of socks that combine Tabio's technology with TOGA's elements, including socks with the same patterns as TOGA's garments and sheer socks that sold out immediately last time. The socks are presented in a special package that makes them the perfect winter gift. You can purchase them at the official online store and other limited edition Tabio stores.

Information

TOGA × Tabio

Where to buy: Tabio Online Store(https://tabio.com/jp/)
10 Tabio Limited Stores (Tabio Japan GINZA SIX、Tabio Omotesando Hills, Tabio Roppongi Hills, Tabio Lumine EST, Tabio Tamagawa Takashimaya, Tabio NEWoMan Yokohama, Tabio JR Nagoya Takashimaya, Tabio Nagoya LACHIC, Tabio Grand Front Osaka, Tabio LACHIC Fukuoka Tenjin)

TOGA stores, TOGA Online Store (https://store.toga.jp/)

Details: https://tabio.com/jp/TOGA_Tabio/

Cardcaptor Sakura and Sanrio Collaborate on New Collection

A new collection of goods featuring Sakura Kinomoto and popular Sanrio characters is here! The collection features everyone's favorite magical girl combined with beloved characters such as Hello Kitty, My Melody Pompompurin, Cinnamoroll, and Kuromi. 

The Cardcaptor Sakura manga series was serialized from 1996 until 2000 in the monthly girls' manga magazine Nakayoshi. In 2016, a new version of the series was released titled Cardcaptor Sakura: Clear Card and the magical girl series is celebrating its 25th anniversary in 2021. An anime series aired from 1998 to 2000, with a Clear Card adaptation airing in 2018. 

Costume Design

This is the second collaboration between Sanrio and Cardcaptor Sakura, with the first coming in 2018 with Little Twin Stars. In these collaboration designs, each Sanrio character wears costumes made by Sakura's best friend Tomoyo, and Sakura wears a special costume with Hello Kitty and My Melody ears. One of these designs is only available at official Sanrio stores. 

Sanrio Store Designs

The Sanrio Characters x Cardcaptor Sakura series will be available starting November 26 at Sanrio stores and November 25 at the Sanrio online shop. 

Drawstring Bag Set: ¥1,980

Secret Acrylic Keychains (6 varieties): ¥715 each

Acrylic keychains and charms will come in blind packaging. Five of the designs have been revealed, but there is a sixth secret one to find!

Fluffy Designs

Square Tags (5 varieties): ¥660 each / A5 Clear Folder (6 varieties): ¥385 each

Special Rubber Mascot Keychains

These keychains will be available in capsule machines nationwide, and in March 2022, Cardcaptor Sakura x Sanrio plushies will also be available!

©️C,ST/K,EP,N ©️'21 SANRIO 著作(株)サンリオ

A Tachikoma From Ghost in the Shell SAC_2045 Arrives at New Balance Harajuku

As a part of the brand's 9BOX series, New Balance has released a new graphic T-shirt collection in collaboration with Ghost in the Shell SAC_2045. The items went on sale November 12, and to commemorate the release, a Tachikoma from the series has arrived at New Balance Harajuku! For those who may not have seen the series, a Tachikoma is an AI tank prominently featured in the Ghost in the Shell universe.

T-Shirt

Long Sleeve T-Shirt

Collaboration Sticker

Picture Frame

Motoko Kusanagi, the main character of the series, perfectly exemplifies the New Balance brand, which promotes 'fearless independence.' Five new t-shirt designs are now available, all drawn by Ilya Kuvshinov, the character designer for Ghost in the Shell SAC-2045. The collection is available at official New Balance stores nationwide, as well as the online store and participating ABC Marts. Those who purchase items from the collection will receive a collaboration sticker, and a special picture frame will be available on the New Balance official store app NB Shop. 

New Balance's flagship store in Harajuku is celebrating its fifth anniversary this year and was the backdrop for the cover of Rolling Stone Japan to promote the collaboration. Fans of the anime series shouldn't miss out on these stylish threads!

Furniture Maker Karimoku Releases Collaboration Collection with Blue Bottle Coffee

Blue Bottle Coffee Japan is collaborating with furniture maker Karimoku for a new collection scheduled for release on December 1, 2021. The items will be available at select Blue Bottle Coffee Cafes, at the Blue Bottle Coffee online store, and at pop-up store locations.

Karimoku is one of Japan's leading wooden furniture manufacturers. Each of the three items in the collection was not only designed to be easy to use but to be pieces of interior decoration. Karimoku has also produced furniture for some of Blue Bottle Coffee's cafes in the past, with their pieces being well-received for their design and comfort. 

Karimoku x Blue Bottle Coffee Morning Collection

Dripper Stand

Filter Case

Cutting Board

Blue Bottle cafes are known for their simple designs, and these items exemplify that, using soft curves perfect for adding warmth to any room. These items are completely sustainable and long-lasting, so why not snag one as a holiday gift?

Information

Karimoku x Blue Bottle Coffee Morning Collection

Release Date: December 1, 2021

Where to Buy: Participating Blue Bottle Coffee Cafes (Kiyosumi-Shirakawa Flagship, Shibuya, Ginza, Minatomirai, Kyoto, Umeda Chayamachi, Kobe) / Blue Bottle Coffee Official Online Store / Pop-up Store

Official Site: https://store.bluebottlecoffee.jp/

Apparel Brand KANGOL Opens Preorders for Tokyo Revengers Collaboration Goods

KANGOL has officially opened preorders for its new Tokyo Revengers collaboration collection on its online store. 

Lineup

The KANGOL brand originated in England in 1938 and is popular among street fashion-lovers around the world. Recognizable by its signature kangaroo mark, this new Tokyo Revengers collection combines the series' street sense with the high-quality KANGOL brand, popular among artists in the music scene. 

Tokyo Revengers has proven to be a driving force in bringing Japanese anime culture to people around the world, blending science fiction, action, suspense, and classic gangster swag. The recent feature film, in particular, shows a fast-paced representation of Japanese street culture from the past to the present, with each character having their own individual style and principles. Now, using this lineup from KANGOL, fans can show off their own style. Which piece are you after?