NAKED's Popular Art Exhibition NAKED FLOWERS Coming to Kochi Castle
Kochi Castle is known as one of the three most beautiful Japanese castles to see at night, along with Osaka Castle and Takada Castle. The site has now been chosen as the first location in the Chugoku and Shikoku region to display NAKED's popular NAKED FLOWERS exhibition, opening from November 19, 2021, until January 10, 2022. This outdoor art show filled with lights will be safe for all attendees, with staff taking measures to protect against the spread of COVID-19. 
NAKED FLOWERS is a hands-on art exhibition allowing guests to experience flowers with all five senses. One of NAKED's most popular events, it has been held in locations throughout Japan and abroad, including Nijo Castle in Kyoto, Nihonbashi in Tokyo, Hong Kong, and Korea. With the aroma of blossoms filling the air, the event will feature projection mapping covering every inch of Kochi Castle's main tower. 
Works connected to the DANDELION PROJECT will also be on display. The DANDELION PROJECT is inspired by the idea of world peace and hopes to help transcend barriers and connect people in an increasingly divided world. By planting (or installing) dandelion-inspired art around the world, people are invited to use these network-connected dandelion exhibits to send their prayers for peace as a digital flower in real-time. When visitors to Kochi Castle interact with the Dandelion, the projection mapping will display the petals flying across the castle tower. Petals will also appear from those interacting with installations at Tokyo Tower, Kyoto, and other locations.
Representative Works on Display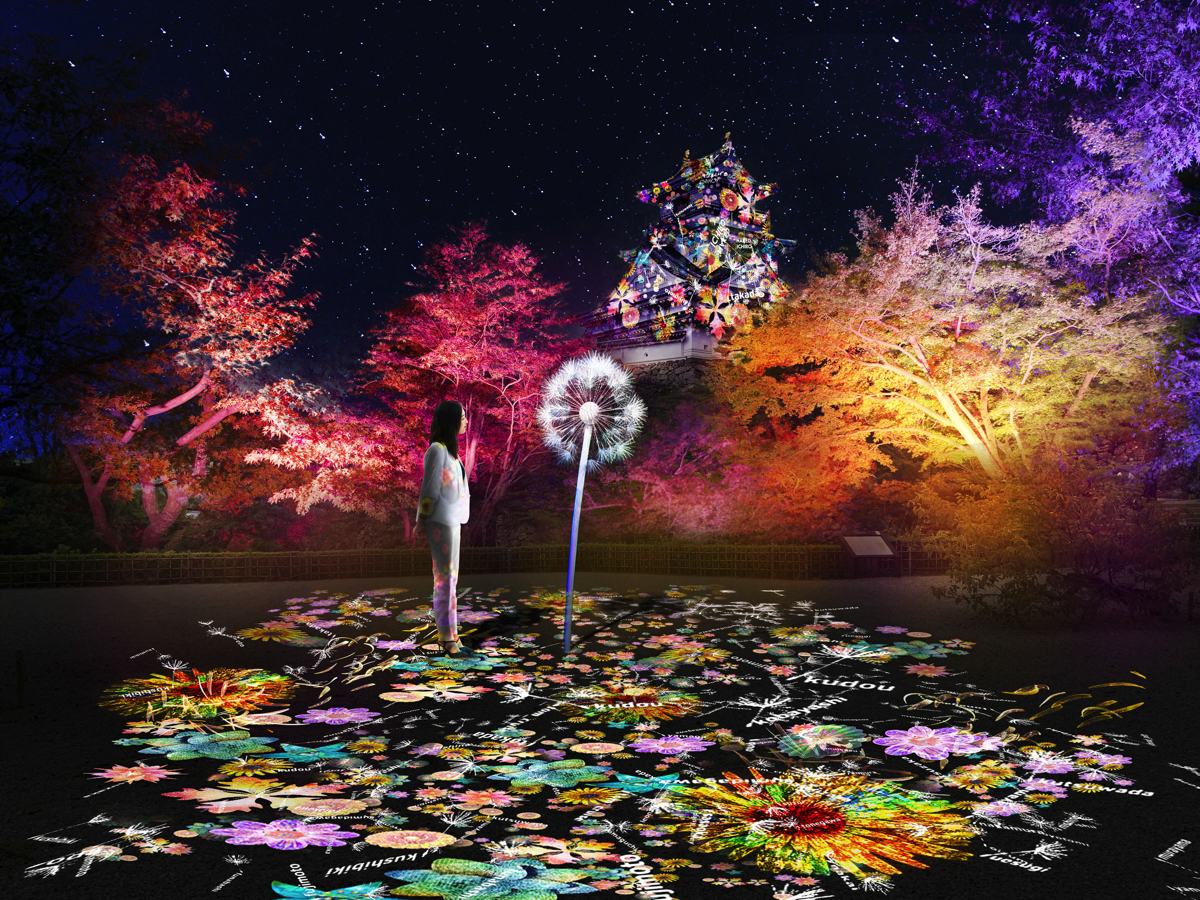 DANDELION
A Hundred Flowers Blooming in Unison (Kochi Castle Tower Projection Mapping)
NAKED BIG BOOK, 'Prologue' 
MOSAIC FLOWERS
NAKED Distance Lanterns (Kochi Castle version)
NAKED Flower Cleansing (Kochi Castle version)
Information
NAKED FLOWERS -Kochi Castle- 
Address: Kochi Castle, Kochi Park (1-2-1 Marunouchi, Kochi City, Kochi) 
*Those attending must wear a mask. 
Running: November 19, 2021 – January 10, 2022
Hours: 17:30-21:30 daily (Last entry at 21:00)
Tickets/Official Site: https://flowers.naked.works/kochi-castle/ 
RELATED ENTRIES
NAKED FLOWERS 2022 Autumn to Open at Nijo Castle in Kyoto

NAKED will hold the NAKED FLOWERS 2022 Autumn event at Nijo Castle, a World Heritage Site in Kyoto! The event will run from October 28 until December 4 and will feature both real and digital art, including a virtual experience in the Metaverse.

The phoenix depicted on the Kara-mon of Nijo Castle will be the guide for the exhibition, which will take visitors on a tour of the property, decorated and transformed by NAKED's art. Visitors can enjoy the fantastic night view of Nijo Castle, which includes historical buildings such as the Ninomaru Palace (National Treasure), the Great Eastern Gate (Important Cultural Property), and the Kara-mon. A projection-mapping show will shine across the Kara-mon, and fall colors will light up the night sky. On the stone wall of the inner moat, phoenixes will fly, and visitors can take part! In the garden, food and beverage stalls will provide plenty of autumn sweets and hot drinks from the popular cafe TREE by NAKED Yoyogi Park. 

Guests can also see a collaborative work between artist Ryotaro Muramatsu and Yuki Ikenobo, the headmaster of the historical flower arrangement school Ikenobo. Visible in both the real world and the Metaverse, the interactive art piece will invite visitors to create their own flower arrangements using digital flowers. Why not come create a piece of your own art using flowers that will never wilt? 

Kara-mon, Important Cultural Property
Projection-Mapping




Special Scenic Spot – Ninomaru Garden
Illumination




Inner Moat
Interactive Experience / Projection-Mapping Show




Koun-tei
Illumination




NAKED's Art to Prevent Disease
NAKED Tsukubai®︎


Seiryuu Garden
Illumination




Front Garden
DANDELION PROJECT



Front Garden
Ryotaro Muramatsu x Flower Arrangement School Ikenobo's Headmaster Yuki Ikenobo
Collaboration Work (Both real and linked to the Metaverse)

Information

NAKED FLOWERS 2022 Autumn at Nijo Castle (World Heritage Site)

Venue: Nijo Castle
Running: October 28 – December 4, 2022
Hours: 18:00-22:00 (Last entry at 21:00)
Tickets/Event Details: https://flowers.naked.works/

NAKED Night Walk Art Project to Open at Famed Zuiganji Temple in Matsushima

Japanese creative company NAKED will hold a Night Walk event at Zuiganji Temple in Matsushima, located near one of the top three most scenic spots in Japan. The event will run from October 29 until November 23, 2022.

The NAKED Night Walk was created to revitalize hot spring resorts and other tourist spots during the pandemic. This special event will bring the illuminated experience to Zuiganji Temple, one of the Tohoku Region's most famous Zen temples. Guests will be invited to carry beautiful lanterns around the grounds, maintaining social distancing while enjoying the cool evening weather. These lanterns will cast one of three unique designs onto the ground below–a starry sky, a camellia flower, or a lotus. 

Guests can also enjoy NAKED's Flower Fortune Telling, pulling unique paper flowers from a massive wall, with each holding a personalized fortune. These flowers can then be tied to a nearby tree to further spread NAKED's art. You can also take home your flower as a souvenir!

The event will only run for a limited time. For more information including admission fees and hours, see the official website!

Information

NAKED Night Walk – Matsushima, Zuiganji Temple (National Treasure)

Address: Zuiganji Temple (Chonai-91 Matsushima, Miyagi District, Miyagi Prefecture)

Running: October 29 – November 23, 2022

Hours: Weekdays 17:00-20:00 / Fridays, Weekends, Holidays 17:00-21:00

Official Site: https://zuiganji.or.jp/

NAKED to Open DANDELION PROJECT for Peace in Umeda, Osaka

NAKED and Ryotaro Muramatsu's interactive art installation, the DANDELION PROJECT, is coming to Umeda, Osaka. The project aims to connect people around the world, stressing the importance of world peace. Those wanting to participate may do so from October 7 until October 9 at Umekita Sotoniwa Square. 

In July 2020, Umekita Sotoniwa SQUARE opened under a unique premise–it would be open for 1,000 days only. The outdoor area was inspired by cities of the future, featuring plenty of green space. The DANDELION PROJECT fits in perfectly with this concept, using modern technology and networking to create art that also serves as a universal prayer for peace. This is the second time the work has been exhibited in Osaka–it was shown in Nakanoshima during the Osaka Hikari no Renaissance 2021 event last December.

 

The DANDELION PROJECT is inspired by the idea of world peace and hopes to help transcend barriers and connect people in an increasingly divided world. So far, it has appeared in 25 locations–19 in Japan and six abroad. In Japan, it has popped up at Tokyo Tower, Nijo Castle, and other historical sites. Abroad, it has been shown in Paris, Singapore, San Francisco, and Shanghai. The piece aims to bring about change by planting (or installing) dandelion-inspired art around the world, while it invites people visiting these dandelion exhibits to send their prayers for peace as a digital flower in real-time. 

 

The exhibition will also be a satellite venue for NAKED GARDEN ONE KYOTO, a next-gen art project allowing guests to experience Kyoto virtually from September 15 until December 25, 2022.

Information

NAKED – DANDELION

Running: October 7 – October 9, 2022

Venue: Umekita Sotoniwa Square
*Open daily during event period
Hours: 18:00-21:00
Entry: Free
Official Site: https://sotoniwa-uk.com/ 

NAKED's Halloween Event Coming to Tokyo Tower for a Limited Time

Digital art collective NAKED will hold a special Halloween projection mapping show at Tokyo Tower! The Tokyo Tower City Light Fantasia ~Halloween Party 2022~ event will run from September 16 until October 31 on the 2nd floor of the tower's main deck. 

NAKED has collaborated with Tokyo Tower in the past to create shows inspired by the seasons. These incredible illuminations captivate audiences at night, and this fall, visitors will be captivated by autumn leaves dancing in the breeze along with silvergrass swaying and the sound of chirping insects. The scene will eventually change into something more spooky–a ghost will appear alongside witches, bats, and pumpkins! The main deck will be enveloped in Halloween colors perfect for a fall photoshoot!

Information

TOKYO TOWER CITY LIGHT FANTASIA ~Halloween Party 2022~

Venue: Tokyo Tower Main Deck (150m), 2F North Side Floor
Running: September 16 – October 31, 2022
Hours:
September 16 – September 30 / 18:00-Close
October 1 – October 31 / 17:30-Close
Entry: Guests can enjoy the main deck for only the price of entry to the observation deck.

TOKYO LIGHTS 2022 International Projection Mapping Competition to be Held at Meiji Jingu

From September 17 until September 19, the TOKYO LIGHTS 2022 International Projection Mapping Competition will be held at Meiji Jingu! This will be the second such event and will bring together some of the most impressive and technologically advanced light displays from around the world to wow audiences.

The main event will be the 1-minute Projection Mapping Competition, in which competitors from around the world will project their art onto the historic Meiji Memorial Picture Gallery. In the Festival of Light area, a barrage of unique light shows will take visitors on a journey through a wonderful world of light and sound.

Image from Last Year's Event

The 19 Finalists

Light Shows at TOKYO LIGHTS 2021

The competition portion will feature a collection of short, one-minute projection mapping presentations. The theme chosen for 2022 is LIFE: Existence, living, and humanity.

 

19 finalists were chosen from 241 entries and 55 countries. Those unable to attend will be able to watch the event streamed on YouTube. The finalists for 2022 include Iran, Croatia, Spain, Poland, Hungary, Germany, Ukraine, two entries from Bulgaria and Thailand, five entries from China, and three entries from Japan. Don't miss the awards ceremony on the final day!

Information

TOKYO LIGHTS 2022 International Projection Mapping Competition

Venue: Meiji Jingu Gaien Seitoku Memorial Picture Gallery and Meijijingu Gaien Rubber Baseball Field (1-1 Kasumigaoka-cho, Shinjuku-ku, Tokyo)


Dates: 

September 17 – September 19 / 18:00-21:00

September 17-18 / International Competition (2 Performances)
Round 1: 18:30-19:20 / Round 2: 20:00-20:50

September 19 / International Competition (1 Performance) & Award Ceremony / 19:00-20:50


Official Site: https://tokyolights.jp

NAKED Exhibition Inspired by Tea Master Sen no Rikyu Opens at 21st Century Museum of Contemporary Art in Kanazawa

NAKED's newest work, inspired by Sen no Rikyu, has opened at the 21st Century Museum of Contemporary Art in Kanazawa! The exhibition will run through September 3 and blends physical art pieces found in the museum with the Metaverse. 

NAKED's first exhibition at this popular Kanazawa Museum brings visitors a modern version of chanoyu, or the 'Way of Tea.' This year marks the 500th birthday of Sen no Rikyu, a historical figure who had a significant influence on the tea ceremony still found in Japan today. NAKED wants to honor his contribution to shaping this massive part of Japanese culture. Visitors are invited to a traditional tea ceremony room, but the experience itself has been modernized by NAKED. This unprecedented art exhibition allows both those who know nothing about Sen no Rikyu and those who know him well to experience his philosophy and aesthetics in an entirely new way.

Gate: Greetings from the Master

Open-air: The Crossroads of this Transient World

Wash Basin: Where the Four Seasons Float

Dry Landscape Garden: The Teachings of Rikyu

Tea Whisk: "Make a Good Tea for your Guest."

Hanging Scroll: The Master's Memories

Small Room: Evolution

Tearoom: The End and the Beginning

NAKED Fuji Canele

Tsukubai, or a low stone basin filled with water, is used to cleanse the hands before entering a tearoom. Using interactive art, the water's surface is covered in digital flowers that blossom when a guest's hands pass over the basin. 

In the 'Small Room: Evolution' area, guests will find the Sustainable Contemporary Golden Tearoom, which was created by NAKED staff together with sixth graders using golden trash collected at Kanazawa University Elementary School. The calligraphy on display in the tearoom was also done by children, with the best creations selected to be included in the exhibition. The scent was produced by EarthRing, an aroma brand located in Hakusan, Ishikawa Prefecture. The 'Tea Whisk' area offers a unique experience for all five senses, including the scent of matcha, which guests can smell when they mimic the act of prepping tea. 

In addition, guests can purchase special NAKED Fuji Canele and a Kutani ware Original Tumbler with special tea-inspired motifs. The Canele is a triple collaboration with Fukumitsuya, the oldest sake brewery in Kanazawa, so don't miss out!

Information

NAKED Meets Sen no Rikyu

Venue: 21st Century Museum of Contemporary Art, Kanazawa, Civic Gallery B
(1-2-1 Hirosaka, Kanazawa, Ishikawa)

Running: August 6 – September 3, 2022
*For more information about tickets, please visit the official website.
Tickets / Details: https://meets.naked.works/kanazawa21/

Projection Mapping by Hitohata to be Displayed in the Historic Center of San Marino

San Marino's Historic Center and Mount Titano were named UNESCO World Heritage Sites in 2008. On July 15, 2022, the digital communication company Hitohata and the University of the Republic of San Marino will team up to illuminate the Palazzo Publico Government Building through projection mapping.

The event was organized by ISSHO-NI San Marino and the Japan Cultural Association. 

This event will feature projection-mapped images of Japanese traditional culture on the Palazzo Pubblico, a building in the historic center of San Marino. 


The Republic of San Marino is the oldest existing republic in the world with a population of about 30,000 people, and it is surrounded by Italy on all sides.

Palazzo Pubblico is the town hall of the City of San Marino as well as its official Government Building. Built between 1884 and 1894, the Neo-Gothic structure is the setting for State ceremonies and is the seat of the Republic's main administrative body.

Footage of the projection mapping event will be shown in an official video at a later date, so stay tuned!

Information

UNESCO World Heritage Site – The Historic Center of San Marino and Mount Titano Palazzo Pubblico Projection Mapping
Running: July 15, 22:00~ (Local Time)
Venue: Palazzo Pubblico della Repubblica di San Marino, Contrada del Pianello, 47890 Città di San Marino, San Marino

NAKED Summer Festival 2022 to be Held at Nijo Castle in Kyoto

This summer, the World Heritage Site Nijo Castle will host the NAKED Summer Festival 2022 event from July 22 until August 21. Visitors can explore the incredible location at night, illuminated by colorful lights and filled with summer fun.

Festival Stalls

Virtual Content via Smartphone

The entrance gate and Ninomaru Garden will both be illuminated for the event, and a digital fireworks display will be shown on the stone walls surrounding the inner moat.  Continuing from last year, the fan-favorite NAKED Distanced Lanterns and NAKED Tsukubai will be returning.

Come make some summer memories at Nijo Castle!

Next-Generation Town-Walking Project NAKED GARDEN -ONE KYOTO- to Begin this Fall

The creative team at NAKED is teaming up with Kyoto City, Uji City, and Otsu City in Shiga Prefecture for a one-of-a-kind project. This fall, guests will be able to experience NAKED GARDEN -ONE KYOTO, a next-generation town-walking project blending the real world and the Metaverse together. Visitors will be able to experience Kyoto's shrines, temples, and history in a whole new way.

NAKED has been working with the city of Kyoto since 2017, creating new cultural outreach and tourism programs. A number of nighttime events have taken place at Nijo Castle, including 'virtual flower viewing' in the midst of the pandemic. Last year, the DANDELION PROJECT began at Kamigamo Shrine, a World Heritage Site. The project brings guests around the world together virtually to pray for peace. Events have also taken place at Kiyomizu-dera, Heian Shrine, and Ninna-ji.

In 2022, NAKED will collaborate with Kyoto City, Uji City, Otsu City, and their respective tourism associations to create a Metaverse where visitors can enjoy Kyoto not only in the real world but also virtually. Art being experienced by visitors in real life can be reflected in the Metaverse, and experiences in the Metaverse can be enjoyed in a way that is unique to real events. As hard to describe as it may be, more details will be available on the NAKED GARDEN website when it opens this summer. 

Information

NAKED GARDEN -ONE KYOTO-

Coming Fall 2022

NAKED, INC. Official Site: https://naked.co.jp

Kyary Pamyu Pamyu Collaborates with Kochi Prefecture's Katsurahama Aquarium for LOCAL POWER JAPAN Project

Kyary Pamyu Pamyu concluded her tour stop in Kochi on May 29, and as expected, the singer has announced another collaboration with a local business as part of the LOCAL POWER JAPAN Project! Launched to energize Japan through the appeal of regional towns and cities, the project has received both domestic and global attention. 

In Kochi Prefecture, Kyary is collaborating with the Katsurahama Aquarium! Located on the water at Kochi's famous Katsurahama Beach park, the location is filled with Kochi flare and remains a valuable and beloved place to local residents. The building has long been popular as a museum and has been both a tourist attraction and a local hangout for decades. Known affectionately by locals as 'Hamasui,' the 99-year-old structure has often been a hot topic for its unique advertising strategy, with Hamasui Twitter posts going viral and making their way to late-night TV programs.

For the collaboration, the aquarium's cute creepy-crawly mascot Otodo-chan has been transformed as an homage to Kyary's music video for PONPONPON released in 2011. 

A collaborative T-shirt is also on sale featuring the new logo and the singer's 10th-anniversary logo. The shirt is available on the LOCAL POWER JAPAN Project website for two weeks only starting May 27!

Information

Katsurahama Aquarium (Kochi) x LOCAL POWER JAPAN Project

Collaboration T-shirt
Price: ¥3,300 (Tax Included)  
Where to Buy: Katsurahama Aquarium
Details: https://katurahama-aq.jp/ 


LOCAL POWER JAPAN Project Online Shop
Available: May 27 – June 9 at 23:59
https://store-localpowerjapan.com/


*Please allow two weeks to one month from order completion to product shipment.
*A portion of T-shirt sales will be donated to local projects and social programs.
*Please check the online shop for details.

NAKED's Popular Night Walk Returns to Illuminate Jozankei Onsen in Hokkaido

The JOZANKEI NATURE LUMINARIE -WATER LIGHT VALLEY- event is coming back in 2022! The event, which shows off the natural beauty of Jozankei's rivers, valleys, and forests, from June to October. Guests can enjoy an illuminated walk along the Toyohira River in the Jozankei area of Hokkaido and wander across the picturesque Futami Suspension Bridge. 

 

This year, the park area at the entrance to the event has been redesigned with new lights. A 2.5-meter-high blue dome will welcome guests with an image of water, and the trees and wisteria trellises will be decorated with twinkling golden lights.

Welcome Light Lake *Image from 2021

River Road

Forest Water Ripple

Nature Projection

Futami Valley

Visitors will encounter a variety of unique light art as they stroll through the rich nature of Jozankei guided by the elusive kappa, known to be the guardian Gods of the region. As visitors approach, the river begins to glow while flowers bloom in this interactive art experience. By using projection mapping across the Futami Suspension Bridge and an all-encompassing light show within the canyon, the event hopes to remind visitors that nature is important and worth preserving. 

How would you like to spend your summer deep in the illuminated nature of Hokkaido?

Information

JOZANKEI NATURE LUMINARIE – WATER LIGHT VALLEY

Address: Jozankei Futami Park – Futami Suspension Bridge
(Jozankei Onsen Nishi 4-chome, Minami-ku, Sapporo, Hokkaido)

Running: June 1 – October 23, 2022
Hours:
June – August: 19:00-21:00
September – October: 18:00-21:00

*Tickets available for guests of Jozankei Onsen only
Official Site: https://jozankei.jp/jozankei-nature-luminarie

NAKED's Projection Mapping Show at Tokyo Tower Illuminates the City at Night

Digital art collective NAKED has announced a new projection mapping show taking place at Tokyo Tower starting May 24! Welcome summer with the 'Tokyo Tower City Light Fantasia ~Summer Landscape 2022~ event on the second floor of the 150-meter-high main deck of the classic landmark.

In 2019, the company introduced the 'Tokyo Tower City Light Fantasia ~Cool Japanese Summer~ event, which has now been upgraded to a new version. Guests will now be treated to a colorful show highlighting the transition of the seasons in Japan from the rainy season to early summer to midsummer, filled with hydrangeas, sunflowers, and fireworks. Colorful flowers bloom in the rain giving way to a bright summer day complete with the sound of cicadas and bright white clouds in the sky. After the sun sets over the sunflower fields, fireworks light up the Tokyo sky.

The 'Tokyo Tower City Light Fantasia' nightscape event was planned, directed, and produced by NAKED, and began in 2014. By combining the night view from the observatory with projection mapping, guests can experience something one-of-a-kind.

Following the original launch of the event, it has traveled to towers and observatories around Japan including Abeno Harukas and the Nagoya TV Tower, playing off the particular characteristics of each locale.
 

This event isn't the only thing going on at Tokyo Tower this summer. Guests can also enjoy the DANDELION PROJECT by NAKED and Ryotaro Muramatsu in the northwest section of the second floor of Tokyo Tower's main deck. The project is based on the concept of world peace and harmony and was unveiled at Miyashita Park, Tokyo Tower, Gardens by the Bay in Singapore, and Nijo Castle in Kyoto in 2020. The networked art project invites guests to send their wishes for world peace on digital dandelion fluff to other locations where DANDELIONs are planted around the world, and these messages are delivered in real-time. 

Come enjoy this incredible night view while you can!

Information

CITY LIGHT FANTASIA ~Eternal Lights in TOKYO~

Venue: Tokyo Tower Main Deck (Height: 150m) 2F Facing North

Running: May 24 – September 4, 2022
Periods:
May 24 – June 5, 19:00 – Close
June 6 – July 18, 19:30 – Close

July 19 – August 21, 19:00 – Close

August 22 – September 4, 18:30 – Close
Fee: The event is included in the price of observation deck admission. 

Official Site: https://naked.co.jp