Beckii and Kelsey introduce Hyper Japan the Japanese cultural event in London
We are holding the Japanese cultural event, Hyper Japan in London at Tobacco Dock from the 14th until the 16th of July.
Becky and Kelsey, the London based youtubers have visited our MOSHI MOSHI NIPPON booth in this event.
Let's see what they have found here!
Pikachu pins that you can only get here!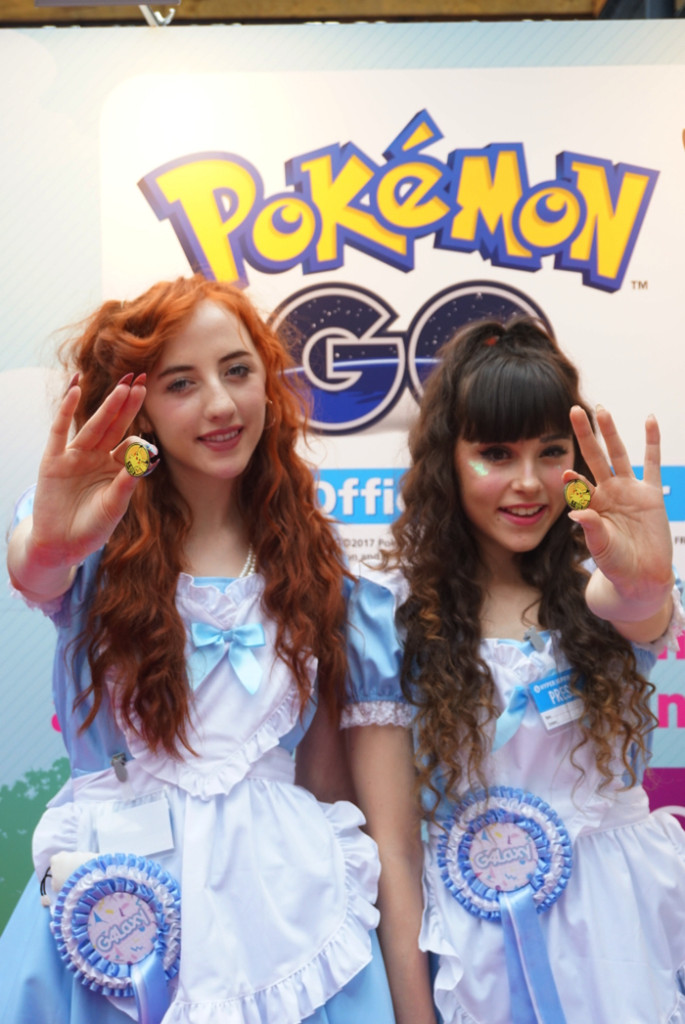 Pokemon pins that usually only available in AEON Japan are now with us at MOSHI MOSHI NIPPON booth in Hyper Japan London. We have only limited amounts of the pin each day during the event so come early to avoid any disappointments. Let's follow AEON RETAIL on SNS and get the pin!!
AEON x Miku Hatsune collaboration video
Come and see their special collaboration video at our booth!
Kawaii photo booth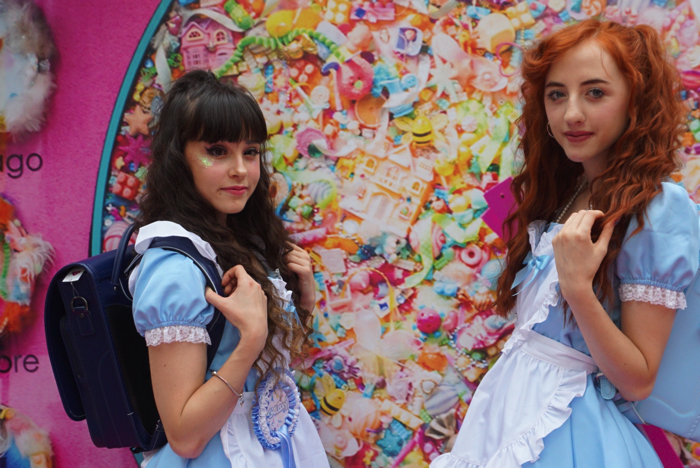 You can take photo with the traditional Japanese school back packs (Randsel) in colours.
Let's take Kawaii photo with one of the Harajuku's land mark spots as your background!
We are also selling these Randsells at our booth so feel free to have a look!
Made in Japan Yukata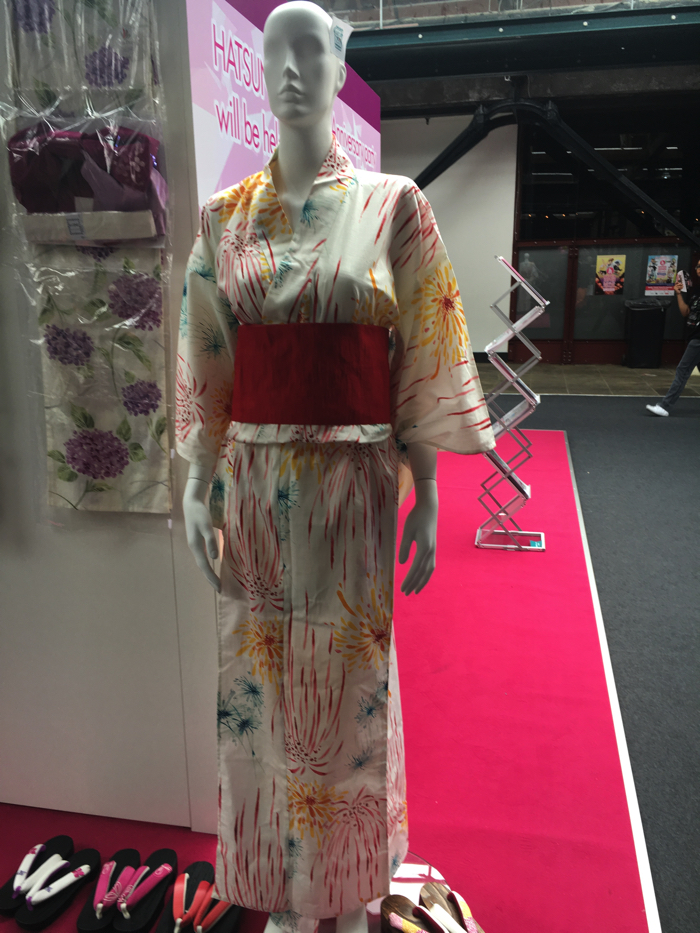 Here we have Yukata from AEON Japan. Featured designs of Japanese fireworks, hydrangea and more. They come with the set of Obi ribbon and Geta the traditional Japanese sandals!
They are already tied in shape for you to wear it easily! Why don't you wear this Yukata for this summer?
The selections of Marukome Miso 
We have different toppings of Miso soup in our booth. You just need to prepare a bowl of boiling water to serve yourself. Yummy and easy!
We are also showcasing our innovative yummy miso recipes at the booth!
Meet Kawaii Domo-kun! 
NHK WORLD booth is located just right next to us. DOMO-kun is having photo shooting several times each day during the event.
If you look him closely…he is wearing pretty make-up! He is so Kawaii, isn't he?♡
Hyper Japan is only util tomorrow, please come and visit us if you're in London!
Model
Beckii @BeckiiCruel
Kelsey @KelseyElison
■Information
Hyper Japan
2017年7月14〜16日
TOBACCO DOCC
Related article:JAPAN EXPO in Paris is over—next stop, HYPER JAPAN in London!
Related article:Interview with WASUTA – find out more about the idol group who will be performing at JAPAN EXPO!
RELATED ENTRIES
MOSHI MOSHI COOKING: Recipe to Make Kawaii Animal Rice Balls & Workshops to be Held in France and UK

This is a special edition of Kaori's featured character recipe series. For this recipe, you'll learn how to make kawaii animal rice balls with rice and different ingredients.

Putting herself to the challenge for this special edition is Yuna Yabe! Making cute-looking food isn't something she normally does. Will she be able to pull it off…?

Ingredients & Tools:

Rice

Olives

Cheese

Ham

Corn

Pasta

Salmon flakes

Heart-shaped pick

Clingfilm

Kitchen scissors

1: Cook the rice

Today we'll be cooking authentic rice in the microwave using a microwavable rice pot by HOME COORDY. Soak the rice in water and place it into the microwave for 10-minutes for freshly cooked rice!

Yuna: "I'm amazed you can make rice so easily with a pot and a microwave."

2: Prepare the rice

Yuna will be making three different animal onigiri (rice balls), so prepare three separate plates for each.

3: Mix one portion of rice prepare from step 2 with salmon flakes

There's no correct way to portion the bonito flakes, but in this recipe Yuna mixed in about one tablespoon.

4: Place the rice from steps 2 and 3 into clingfilm and roll into a ball

5: First we'll make a smiling bird. Here's what you'll need.

Face: Rice

Mouth: Corn

Eyes: Black olives

Cheeks: Ham

Crest: Pick

6: Cut the olives for the eyes and ham for the cheeks

7: Now to arrange the face. Use two pieces of corn for the beak and place on the eyes and cheeks from step 6.

8: Place in the heart-shaped pick for the crest and you're done!

Be careful! If you put the beak on too low the face will look too long! Be sure to place it close to the eyes and cheeks.

9: Next up is making a bear. Here's what you'll need.

Face: Rice

Ears & Mouth: Cheese

Eyes & Nose: Black olives

Cheeks: Ham

And pasta to fix the ears in place.

10: Cut olives for the eyes and nose, cheese for the mouth and ears, and ham for the cheeks.

11: Arrange the face with the cut ingredients just as you did with the bird. Push pasta into the places you want to put the ears.

12: Push ear-shaped cheese onto the pasta to make the ears.

Our bear is done!

13: The last animal is a pig. Here's what you'll need.

Face: Rice (mixed with salmon flakes for that pink colour)

Nose & Ears: Ham

Eyes: Black olives

14: Cut olives for the eyes and nose and ham for the ears and cheeks

15: Arrange the face with your ingredients.

Done!

Here's our three finished rice balls. The cutting was all done with scissors (instead of a knife!) so even people who aren't good at chopping can challenge themselves to this recipe

We are attending Japan Expo in France and Hyper Japan in the UK this year. In the MOSHI MOSHI NIPPON area there will be the AEON booth where you can join a free workshop to make your own rice balls! It's your chance to master the creation of kawaii onigiri with the help of your cooking sensei. Places are limited, so be sure to stop by!

This recipe was made with products by Topvalu, a private brand of AEON. For more details on their products, please visit their website below.

https://www.topvalu.net/ (Japanese only)

■Profile

Kaori Kubota(@kaopan27)

I live in Hokkaido and enjoy making dinner, sweet treats and character food using bread♡

I want to see my family smile, so I enjoy transforming food into characters and making cute meals♡

You can see more of my character food and bentos on my Instagram page → @kaopan27

■Information

Japan Expo

Running: July 5, 2018 – July 8, 2018

Venue: Paris-Nord Villepinte Exhibition Center

Official Website: http://www.japan-expo-france.jp/jp/

Hyper Japan

Running: July 13, 2018 – July 15, 2018

Venue: Olympia London

MOSHI MOSHI NIPPON to Attend Japan Expo & Hyper Japan 2018

MOSHI MOSHI NIPPON is set to return to Japan Expo this year, Europe's biggest event celebrating Japanese culture. We will also attend Hyper Japan next week.

Last year at the AEON booth we sold yukata and ransel backpacks, as well as cute Pokemon pins which you can only get in Japan.

This year's AEON booth will have a kawaii workshop. You will use tools ingredients by AEON to make your very own cute rice balls.

It may seem difficult, but it's actually quite simple and something that even kids can get involved with. Even better – it's free to join! If you're up for the challenge, then be sure to stop by.

We also have gifts ready for those who share the AEON video.

Japan's popular katsu curry brand Go Go Curry will also make its first appearance at Japan Expo. Although there's not actually any katsu, you'll have the opportunity to taste test Japanese style curry.

Japanese curry has a very different taste to curry eaten in Europe, so be sure to try it out. It will be available at Japan Expo only.

At the MOSHI MOSHI NIPPON booth, you can look forward to our colourful photo area once more which recreates the famous World Clock from Harajuku, a popular tourist attraction in Japan's hub for youth fashion. Also, those who give us a like and follow us on Facebook will not only be gifted a postcard and stickers but you'll get the chance to take a questionnaire to appear in one of our articles.

France and the UK – you'd best get ready for us coming back again this year!

JAPAN EXPO in Paris is over—next stop, HYPER JAPAN in London!

Japan Expo in Paris was once again a huge success this year. The event began on July 6th and wrapped up on July 9th.
It was a spectacular 4-days of everything Japanese. Artists and companies made their way to France from Japan to deliver an experience replete with culture from the Land of the Rising Sun.

The 'randosel' backpacks being sold at the AEON booth in the MOSHI MOSHI NIPPON (MMN) area proved to be very popular with children and adults like!

 

Lots of people were able to come into contact with the Japanese randoseru, a type of backpack usually worn by Japanese elementary schoolchildren but also used as a fashion accessory and often seen in anime. They picked out their favourite coloured backpacks to buy and took photos at our designated photospot.

The Marukome booth always has a huge line of people waiting for their serving of free delicious miso soup, and this year was no exception. People chose their favourite ingredients to put in their miso soup. There were people who came back for seconds, plenty of which bought some instant miso soup to take home with them. We effectively converted even more people into fans of tasty miso soup! People also watched the video we made together with Marukome and learned different recipes you can use to prepare miso soup. Everybody was able to discover lots of new flavours and combinations and had a really fun time.

At the Nijigen no Mori booth was a promotional video for "Crayon Shin-chan Adventure Park" which will be located in the new theme park "Nijigen no Mori" opening in Japan. There was also a suit of armour based on the movie "Crayon Shin-chan: The Storm Called: The Battle of the Warring States" that people could wear and take a photo of which was a big success with people.

Wa-suta, Niji no Conquistador, and THE HOOPERS who all performed at the event also came over to the booth to say hi.

We had a big board displayed where people could write their own personal messages to Wa-suta. But on the final day of the event it was so full that we almost couldn't put any more on!

There were even lots of people that wrote their messages in Japanese.

This year's Japan Expo has finally come to an end. Next week is Hyper Japan in London. We will have the randoseru exhibition set up which was a huge hit in France and will be streaming our miso soup recipe video, be selling different kinds of yukata, hosting a social media campaign to win Pokémon badges* that you can only get at Hyper Japan, and more. (*Please note that the Pokémon badges are limited in quantity)

If you're attending Hyper Japan this year then be sure to come over to play at the MOSHI MOSHI NIPPON booth!

Related article:Interview with WASUTA – find out more about the idol group who will be performing at JAPAN EXPO!

Related article:[Interview] Talking to "Niji no Conquistador" About Upcoming Performance at Japan Expo in France – Part One

Japanese Winter Snack-Sweet Potato

When it becomes winter in Japan, you will start to see various types of satsumaimo (sweet potato) flavored snacks.

You will also hear music from small trucks that are selling ishi-yaki-imo: "Ishi-ya-ki-imo~….yaki-imo~ yakitate~".

Since the 18th century, ishi-yaki-imo (stone roasted sweet potato) has traditionally been eaten in Japan as a snack.

When my friend and I were adventuring around Asakusa, we found an ishi-yaki-imo store called Amakara Enishi.

The owner gave us a sample of yaki-imo and it was so sweet and soft that there was no way we were going to leave there without buying one.

The price is decided according to the weight of the yaki-imo. It was ¥200 per 100g.

We chose a medium sized one and it was only ¥400. The owner halved it so we could share one.

The yaki-imo was soft and the inside was golden!

Sweet mild flavor made me feel like I was eating caramel…Ofcourse without the chewiness. One of the best yaki-imo I had in my life.Apparently, this yaki-imo would still taste delicious even if it cooled down.

The owner told us that they were on TV last week, so I would recommend you to visit before it gets super crowded!!

Come out and try this sweet sweet potato and enjoy the last few days of winter in Japan!

Writer:Jessica

SNS:@mintbaaby / Instagram

■Information

Webpage: http://www.amakaraenisi.net/home1

Address: 1 Taitouku Asakusa Tokyoto 29-8

Telephone: 03-3810-6327

Open: 8:30am to 19:30pm

Interview for MOSHI MOSHI NIPPION ambassadors! vol3

This is the interview to the MOSHI MOSHI NIPPON ambassadors vol3! They answered 2 quwstions. The theme is 'Fashion'. Please check their kawaii style!

———-

〇Kelsey, 24, British

–

Please show us your winter coordinate you like and tell the points!

    This was my favourite outfit I've worn around christmas! I was a pink elf! I loved the jingly elf shoes and the PVC skirt with love heart cut outs in it! It was made by a shop called "Chaotic Candy" ! I wore it for my Original Christmas song video called "Secret Santa" here!

–

Where do you buy your kawaii clothes?

    I buy my kawaii clothes from many different places! I like to buy from lots of independent fashion designers at anime conventions I perform at! Chaotic Candy was from one I went to! I also like vintage shopping and buying cute second hand clothes in English charity shops and online at eBay! When I was in Japan, my favourite shops were Bubbles, WEGO and SPINNS and I bought a lot from there!

〇Ada, 22, Porland

 

 –

Please show us your winter coordinate you like and tell the points!

    This is one of mine favorite outfit this winter. It is build around the red faux fur top I managed to buy in Tokyo in autumn. It's kinda a mix of classic with a little bit of magical girl. 🙂 I really like how it makes my hair pop out.

    The point of this outfit are golden details. You can see this color on the broach, the bag the socks and even the shoes. It keeps it together.

–

Where do you buy your kawaii clothes?

    I usually buy my clothes online or in second-hand stores. It's very easy to find there something special! However sometimes, if I have an opportunity to be in Japan I tend to spend everything in Harajuku tho.

〇Abi, 21, British

 –Please show us your winter coordinate you like and tell the points!

    For winter I dress very similar to as I would in Spring & Autumn~! ^-^ෆ
So for my favourite coordinate this winter is something nice and loose fitting with added Disney Cuteness! My favourite colour is pink so I always wear baby pink no matter what the weather! x'3
I am wearing a pink long sleeve crop top from ☆American Apparel☆  with some denim overalls from ☆Forever21☆ that are ☆Disney Pixar DORY☆ Themed!
     In the Spring I would pair it with some adorable Dory socks but in the winter I wear some black thick tights have have warm fleece inside to keep warm~! ^-^


     To complete the look I add some small pink platform shoes from ☆WEGO☆ that have heart designs around the edge with a ☆galaxxxy☆ See-through jacket that was personally given to me by "Go Kawashima" himself after I was apart of the London galaxxxy Fashion show♪
     Then to keep warm when traveling I add my Blue coat with fur collar~! Let's stay cute this winter!♪


–Where do you buy your kawaii clothes?

    I buy my kawaii clothing from all over the place in many different stores around the world~!! The main places I get cute clothes in the UK from is ☆ H&M ☆ TOPSHOP ☆PRIMARK ☆  JACK WILLS ☆ American Apparel ☆ eBay ☆~! But I always mix my parts of clothing with Japanese fashion from Japan! for example many clothing from ☆ WEGO ☆ BUBBLES ☆ galaxxxy☆ AYMMY ☆~!

    I never just buy my clothing from one store as I always go to every store that is open so I can see if they have that 1 piece of clothing that fits well with my fashion~! ^-^
    Sometimes buying 2nd hand clothing is the best way to get cute things you love & feel good in♪ ☆ I used "DEPOP" appn on my iPhone and got myself a new AYMMY dress to wear when I come to Japan in April 2017!

-SNS accounts

Instagram: https://www.instagram.com/crazytabbix/

Twitter: https://twitter.com/crazytabbix

YouTube: https://www.youtube.com/user/abigailm28

〇Yujie, 22, Taiwan

 –Please show us your winter coordinate you like and tell the points!

    Because I feel like to wear the pink shoes, I chose white and blue clothing to control the color! It has not been so cold in Taiwan, I can add the white gown for spring. That's a efficient outer. It makes me fresh!

-Where do you buy your kawaii clothes?

    I often bought them at Laforet HARAJUKU when I had been in Tokyo! There are a tons of unique fashion brands there, so I can spend all day in Laforet! I love it! And also, I loved to check out second-hand shops in Harajuku, Shimokitazawa, Koenji, Kichijoji. I noticed the places which you can find out your fashion were so facsinating that I have looked around the second-hand shops in Zhongshan, Taipei!

-SNS accounts

Facebook: https://www.facebook.com/yujiejie

〇Kimi, 21, Taiwan

 –Please show us your winter coordinate you like and tell the points!

    The point is pink! This winter, it has not been so cold in Taiwan, I can hang out only with the sweater wove the pink ribbon and the Alice's tights. Also, I put on the fluffy berets, it's the latest trend!

-Where do you buy your kawaii clothes?

    I always got my clothes in Harajuku and Shibuya when I went to Japan. When I had no chance to go to Tokyo, I have asked my friends to get the clothes for me.

-SNS accounts

Instagram: https://www.instagram.com/eatzz7/

Facebook: https://www.facebook.com/eatzz7/

〇Xuan, 19, Taiwan

 –Please show us your winter coordinate you like and tell the points!

    The scarf is the point! I think scarf suits every coordinate, so I often add a scarf to make up for the lack of my coordinate.

-Where do you buy your kawaii clothes?

    I got my clothes from the online shop on Instagram. I don't buy from a certain shop.

-SNS accounts

Instagram: https://www.instagram.com/1997xuan_/

———-

     In Jauary, we will ask them one more time about 'Valentine Day'! Please look forward their answers!

 

Interview with: "kimi" (紀ト心), a Taiwanese model with growing popularity in Japan that dazzles the stage and runway

kimi, without thinking much about it, suddenly began learning Japanese!

—How did you find today's MOSHI MOSHI NIPPON FESTIVAL?

"I participated last year too, but there were so many more booths this year, it was huge. And so much fun. I'm so happy I was able to work alongside some of my favourite models like Peko and Ayumi Seto."

—Your clothes today really suit you! Are there any differences between fashion in Japan and fashion in Taiwan?

"Hmm. I think Japanese fashion is a lot more colourful. There's a lot of fashion that uses darker colours in Taiwan, I think they give off a slightly more conservative impression. I really like colours and patterns, like in Harajuku fashion, so I'm taking a lot of tips from that! There's plenty to see in magazines, on Instagram and on TV, so I'm absorbing ideas from those."

—If I remember correctly, you do a lot of shopping in Harajuku!

"That's right! I really love Harajuku! A lot of my favourite shops are located there, so whenever I'm in Japan I always buy lots to take back with me. Due to my schedule I haven't had much time for that this time around, but next time I'm here I'd like to take my time looking around."

—What else do you like about Japanese culture? How about the food?

"I ate gyuu-katsu yesterday! I also love the cake at HARBS. It's so tasty! (said in Japanese). I feel like Japan and Taiwan have a similar palate when it comes to food. I will eat all the tasty things while I'm here in Japan!"

—Your Japanese just now! It was so natural!

"I remembered the word 'oishii' (laughs). I've actually just started studying Japanese."

Translation: 'oishii' = delicious, tasty

—You're really motivated to study! Lastly, please tell us about what you'd like to do in the near future.

"Since I love Japan and Japanese fashion, I'd like to challenge myself to doing more work in Japan. I'd really like to expand my activity at places like events, in magazines and in media!"

紀ト心(kimi)

Born on May 12th, 1995 in Taiwan. Popular blogger as a model. Known as "Middle-school Goddess" in Taiwan, she receives overwhelming support from teens in her home country. She's popular in Taiwan and even Japan for her cute personality and poppy and colourful fashion sense. She's recently appeared at events, in magazines and photobooks, and often goes to Japan.

Instagram:@eatzz7

■Related article:Interview for MOSHI MOSHI NIPPION ambassadors! vol2