MOSHI MOSHI COOKING: Recipe to Make Kawaii Animal Rice Balls & Workshops to be Held in France and UK
This is a special edition of Kaori's featured character recipe series. For this recipe, you'll learn how to make kawaii animal rice balls with rice and different ingredients.
Putting herself to the challenge for this special edition is Yuna Yabe! Making cute-looking food isn't something she normally does. Will she be able to pull it off…?
Ingredients & Tools:
Rice
Olives
Cheese
Ham
Corn
Pasta
Salmon flakes
Heart-shaped pick
Clingfilm
Kitchen scissors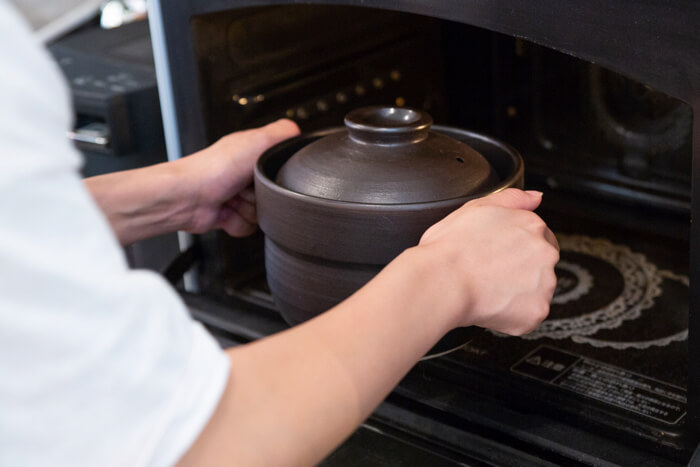 1: Cook the rice
Today we'll be cooking authentic rice in the microwave using a microwavable rice pot by HOME COORDY. Soak the rice in water and place it into the microwave for 10-minutes for freshly cooked rice!
Yuna: "I'm amazed you can make rice so easily with a pot and a microwave."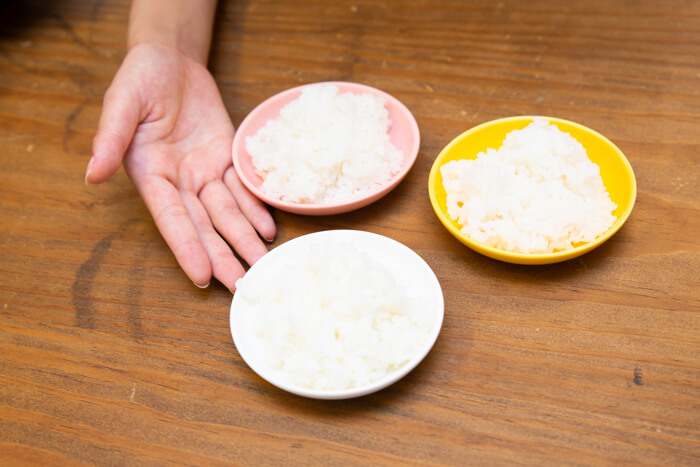 2: Prepare the rice
Yuna will be making three different animal onigiri (rice balls), so prepare three separate plates for each.
3: Mix one portion of rice prepare from step 2 with salmon flakes
There's no correct way to portion the bonito flakes, but in this recipe Yuna mixed in about one tablespoon.
4: Place the rice from steps 2 and 3 into clingfilm and roll into a ball
5: First we'll make a smiling bird. Here's what you'll need.
Face: Rice
Mouth: Corn
Eyes: Black olives
Cheeks: Ham
Crest: Pick
6: Cut the olives for the eyes and ham for the cheeks
7: Now to arrange the face. Use two pieces of corn for the beak and place on the eyes and cheeks from step 6.
8: Place in the heart-shaped pick for the crest and you're done!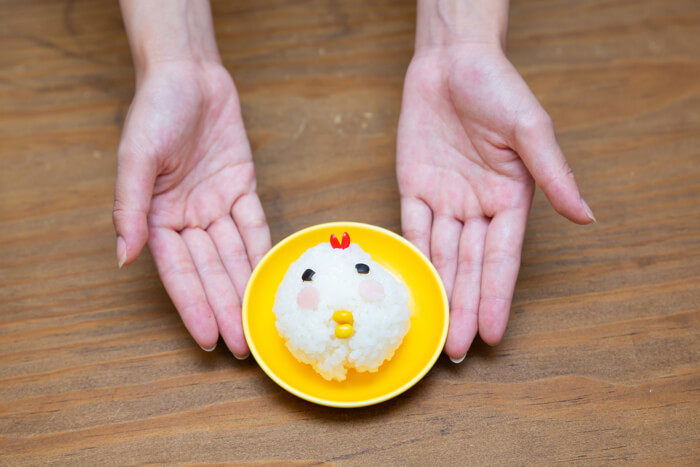 Be careful! If you put the beak on too low the face will look too long! Be sure to place it close to the eyes and cheeks.
9: Next up is making a bear. Here's what you'll need.
Face: Rice
Ears & Mouth: Cheese
Eyes & Nose: Black olives
Cheeks: Ham
And pasta to fix the ears in place.
10: Cut olives for the eyes and nose, cheese for the mouth and ears, and ham for the cheeks.
11: Arrange the face with the cut ingredients just as you did with the bird. Push pasta into the places you want to put the ears.
12: Push ear-shaped cheese onto the pasta to make the ears.
Our bear is done!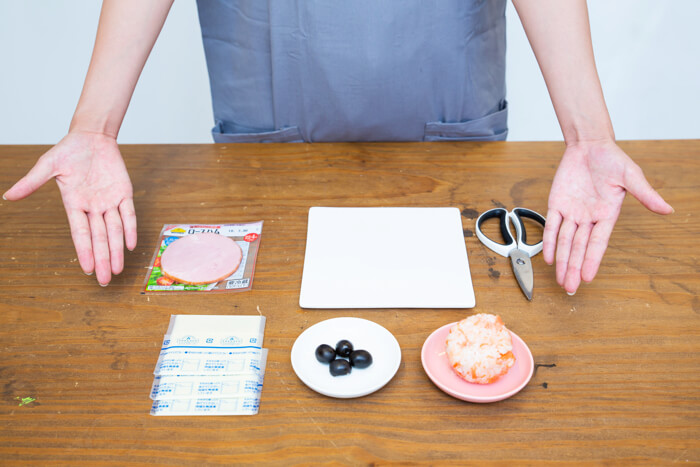 13: The last animal is a pig. Here's what you'll need.
Face: Rice (mixed with salmon flakes for that pink colour)
Nose & Ears: Ham
Eyes: Black olives
14: Cut olives for the eyes and nose and ham for the ears and cheeks
15: Arrange the face with your ingredients.
Done!
Here's our three finished rice balls. The cutting was all done with scissors (instead of a knife!) so even people who aren't good at chopping can challenge themselves to this recipe
We are attending Japan Expo in France and Hyper Japan in the UK this year. In the MOSHI MOSHI NIPPON area there will be the AEON booth where you can join a free workshop to make your own rice balls! It's your chance to master the creation of kawaii onigiri with the help of your cooking sensei. Places are limited, so be sure to stop by!
This recipe was made with products by Topvalu, a private brand of AEON. For more details on their products, please visit their website below.
https://www.topvalu.net/ (Japanese only)
■Profile
Kaori Kubota(@kaopan27)
I live in Hokkaido and enjoy making dinner, sweet treats and character food using bread♡
I want to see my family smile, so I enjoy transforming food into characters and making cute meals♡
You can see more of my character food and bentos on my Instagram page → @kaopan27
■Information
Japan Expo
Running: July 5, 2018 – July 8, 2018
Venue: Paris-Nord Villepinte Exhibition Center
Official Website: http://www.japan-expo-france.jp/jp/
Hyper Japan
Running: July 13, 2018 – July 15, 2018
Venue: Olympia London
RELATED ENTRIES
Made in OME: Japan's Millennials Promote Micro Tourism Project For Ome in Tokyo

Ome—a city located in western Tokyo that's about an hour's train ride from the populous Shinjuku. It's a place enjoyed by many for its hiking and river swimming locales, as well as its architecture, in which one can still feel the influences of Japan's Edo period, and kindness of the locals.

MATINOEKI OUME, an Ome-based company, recently launched its "Made in OME" project which aims to revitalise the city. The project will create a new kind of Ome through the eyes of the millennial generation. Its goal is to polish and refine the appealing aspects of Ome to offer up new tourism opportunities while bringing in new fans to the city.

Made in OME's first step towards that is teaming up with DJ and YouTuber Yuna Yabe and illustrator and streamer MIOCHIN, two models signed to ASOBISYSTEM who will represent the millennial generation as the navigators of this journey as they participate in workshops with local producers and manufacturers, developing a variety of products such as sweets made with ingredients from Ome, like baumkuchen and chocolate rolls, and more.

You can catch their activity live over on MIOCHIN's official Instagram page. Visit Made in OME's official website below for more details.

Yuna Yabe


MIOCHIN

The two of them will host a free 'monitor tour' on February 21, 2021. These monitor tours aim to have people developing a strong relationship with new products from Ome. Participants will learn about the history and culture of Ome via local producers and manufacturers with products such as sake and indigo dyeing. Made in OME plants to expand their range of tourist monitor tours in the future.

Local Ome residents will also be invited to the tour in the evening of the same day. Learn all there is to know about Ome at Made in OME's website which is available in English, Japanese, and Chinese.

Information

Made in OME
Instagram: made_in_ome
Official Website (English): http://madeinome.com/en/

MATINOEKI OUME opened in November 2016. Its focus is on livening up the city of Ome and getting more people to learn about its wonders by offering information on famous tourist spots, stocking a bounty of local products, and more.

MATINOEKI OUME Official Website: https://www.matinoeki-oume.com/

Review | ART AQUARIUM MUSEUM: A Magical Place Swimming With Life

ART AQUARIUM MUSEUM officially opened permanently in Nihonbashi, Tokyo, on August 28, 2020. Before that, it was simply an exhibition that was held around Tokyo which brought together over 10 million visitors throughout its run, exhibiting goldfish in a variety of breathtaking ways.

We visited ART AQUARIUM MUSEUM together with Japanese model Yuna Yabe to take a deeper dive into what lies within those doors.

ART AQUARIUM MUSEUM can be found in Nihonbashi, an area of which served as one of many places where ART AQUARIUM previously held its exhibitions. Nihonbashi is steeped in tradition and is actually the place where Japan's goldfish culture spawned from during the Edo Period.

ART AQUARIUM was conceived and is managed by Hidetomo Kimura, an author and general producer. It's a collaboration between art, design, and entertainment, all fused into an aquarium to create a completely unique experience. The museum has taken what was once a pop-up exhibition and expanded it many-fold, housing close around 30,000 goldfish.


The aquarium is divided into different areas each with its own unique theme that plunges visitors into a multitude of fantastical worlds. One of the must-sees when visiting ART AQUARIUM MUSEUM is the masterful Oiran works—giant goldfish bowls as pictured above—which are inspired by the red light district of the Edo Period.

Perhaps the most striking and gorgeous part of the Edo Period was Hanamachi, the districts where geisha worked. The high-ranking courtesans, known as Oiran, engaged in what was known as the Oiran Dochu, or procession of the courtesans, and this too has been captured at the museum in the designs of the beautiful fish tanks in this area.


Another unmissable part when visiting the aquarium are the Goldfish Shrines, towering fish tanks lined up like a column of water trees which make for an incredible viewing experience.

The lighting and music is ever-changing, and so transports visitors into a completely different realm every time. It can be one way one moment, and in the next instant it changes entirely.


From the second floor you can overlook the fish shrines with dynamic 3D visuals in the background. These visuals change depending on the season, so you'll be in for a treat however many times you visit.

There are countless works of goldfish art scattered throughout the aquarium—too many to count, so your eyes will never grow tired.


Suigian Lounge – Old Pine Tree Area

ART AQUARMIUM MUSEUM even has its own dining lounge where guests can enjoy a meal while gazing at a painting of old pine trees, a cultural property of the Edo Period said to have been painted by those of the Kano school of Japanese painting. Traditional performances are also carried out on the stage for diners.


These drinks are ¥1,200 each (before tax)

Every five days, a new line-up of cocktails is served at Suigian Lounge. Japan used to be divided into 24 sekki rather than the now-used four seasons of springs, summer, autumn, and winter. These were further divided into 72 Kō, which are five days apart each. That's where the lounge gets its idea for changing its cocktails every five days. So you're sure to find an interesting flavour on every visit.


Kagyo Ryoran – Joy Area 

Kagyo Ryoran is a separate cafe lounge at the aquarium where they serve authentic Japanese sweets in collaboration with famous confectionery shops.


From Left Clockwise: Goldfish Sarasa ¥750 / Palet D'or Cacao Soda ¥900 / Echire Butter & Cream Castella ¥800 / lohasbeans coffee Matcha Tiramisu ¥850 / Goldfish Jelly ¥750 (All Before Tax)

The cafe serves up range of tasty Japanese desserts, from traditional ones to others inspired by goldfish and some made in collaboration with other shops.

Large Plush Toys: ¥3,200 Each (Before Tax)

The aquarium event sells its own souvenirs, such as goldfish plushies in various sizes, original confections, collaborative products, and more.

"Everything was magical—the goldfish, the sounds, the lights, the atmosphere!" explains Yuna. "They have a lot of different varieties of goldfish, and the fish tanks come in all shapes and sizes, which makes for plenty of Instagram-worthy moments. And since it's inspired by Edo culture, it has a Japanese vibe to it too. The fish are always swimming around, so no two moments are ever the same, meaning you're offered something fresh every time you visit."

If you're visiting Tokyo, be sure to pay a visit to ART AQUARIUM MUSEUM.

Information

ART AQUARIUM MUSEUM
Address: 1-3 Nihonbashihoncho, Chuo Ward, Tokyo
Opening Hours: 10:00-22:00 (subject to change)
No Fixed Holidays
General Admission: Adults (13 and over) ¥2,300 (Tax Included) / After Dark Ticket: Adults (13 and over) ¥2,000 (Tax Included)

*Free for 12 and under
Official Website: https://artaquarium.jp/en/

*ART AQUARIUM MUSEUM is currently operating with social distancing and COVID-19 preventative measures. Special permission was granted to take these photos safely without a mask.

Tokyo Stroll: Shopping & Sightseeing with Mozuku-kun the Dog #5 – Uzumako Ceramic Art School

It's been a minute since we last ventured out with Japanese model Yuna Yabe and her beloved pet pup Mozuku. If you're new to this feature, Yuna Yabe takes her trusty partner Mozuku to various hot spots in Japan that you can enjoy with your pet dog. Their relationship continues to deepen in this priceless experience.

Today, Yuna and Mozuku head to Uzumako Ceramic Art School which is close to Shiba Park. You can get a good view of TokyoTower from this famous park.

What's unique about this art school is that visitors are allowed to take their pets with them. So this means you can take your dog with you to do some ceramics!

Yuna has always had an interest in ceramics. And what better way to experience creating something than with her partner in crime Mozuku! With him tottering beside her, she headed through the entrance curtain with a spring in her step.

When you enter the classroom, there are lots of examples of pottery ware lining the shelves. The room has that smell of craftsmanship which lingers as you begin the class with a demonstration by the teacher. Once you have your apron on and are fired up to begin, it's time to start.

The work begins with kneading the clay to make its firmness uniform. This step helps prevent air bubbles from forming.

Yuna asked the teacher many different questions as she enjoyed kneading her clay. "Where does ceramic work originate from?" "What kind of things to other dog owners make when they come here?"

"What's Yuna up to?" Mozuku's puzzled face seemed to imply as he listened to Yuna and the teacher talk.

Yuna turned to Mozuku and said to him, "I'm going to make you a food bowl!" It seemed like the message got through as his face read, "Looks like my owner is making something just for me."

Yuna wet her hands with some water and began forming a hole in the centre of her clay bundle. The hole forms and gets bigger as the pottery wheel spins.

Next, she used both of her hands to ensure the thickness of the bowl was even all the way around.

"Amazing! The shape of the clay changes in an instant!"

By adding a little bit of pressure the pile of clay can change shape rapidly. It's like a living thing.

"It's like the clay is my own child. I wanna wrap it up!"

Once the shape is formed, Yuna cut around the edges. She is a skilled individual, she got the hang of it straight away.

Mozuku sat right beside Yuna, quiet and curious.

"Is it my turn yet?"

He seemed itching to have a go at making something himself too.

He watched over Yuna's work from atop the table.

"I wanna try spinning the wheel too!"

Mozuku in fact had the most important job of all. Yuna popped a wooden mould onto his paw and stamped a paw print into thebottom of the bowl.

"There we go!" said Yuna

Mozuku mustered all of his strength to make his mark, his facial expression unusually serious as he carried out his big task.

Time to check if the print was done properly!

Here's the final product―Mozuku did a great job!

Their teamwork paid off as they were able to create a really cute dog bowl. The tiny footprint is packed with pet love. The art school actually sells a lot of different cute and stylish pet items but the owner making their own makes it unique―the only one in the world.

If that love is able to get through to your pup, the food they eat from the bowl is sure to be even more delicious.

Thanks for your help, Mozuku.

"I can't wait to fire it!" Yuna's excitement was peak from start to finish. She was very satisfied after the class finished.

After two weeks of waiting, the bowl was completely finished.

Why not try creating something unique special for your own pet―together with them?

Model: Yuna Yabe/Mozuku @yunaaay1030

Text: Ai Watanabe

Photographer: Kayo Sekiguchi

Translator: Joshua Kitosi-Isanga

Information

Uzumako Ceramic Art School
Address: Sekisui House Floor 1F, 3-29-11 Shiba, Minato Ward, Tokyo

Business Hours: 10:00-19:00

Access: https://www.uzumakotougei.com/en/access.html

TEL: 03-6809-6363

Official Website: https://www.uzumakotougei.com/en/index.html

*The course Yuna took with Mozuku was the "Pet Ceramics Plan" where you can make 2-4 ceramic items and fire them. For your first try the staff will carve and glaze the final product to completion. This can be picked up one to one-and-a-half months after your course for ¥4,500. Please check the website for more details.

*Obedient dogs permitted. Please note that there are other participants so dogs who bark a lot or cannot relax are not permitted.

TALENT PROFILE

Yuna Yabe

Yuna Yabe won the grand prix prize at the "Zipper×ASOBISYSTEM Model Auditions" at the age of 15. She is an expert not only in fashion but make-up and video editing too. She's an influential figure to the people in her generation. Recently, her work has expanded greatly, such as appearing in music videos. Her activity continues to grow and looks to be very promising indeed.

Tokyo Stroll: Shopping & Sightseeing with Mozuku-kun the Dog #4 – Instagram Hat Photoshoot

In this featured series, dog lover and model Yuna Yabe heads out with her trusty partner Mozuku to visit hot spots that people and their dogs enjoy, while deepening her bond with him.

In today's article, Yuna dresses up Mozuku with hats from a capsule toy series she likes called 'Inu no Kaburi Mono' (Things for Dogs to Wear).

The 'Inu no Kaburi Mono' series Yuna is interested in is by Kitan Club. She found capsule toy items for cats that she wanted Mozuku to try on, but she also wanted to try the dog ones, so she ended up having him wear a variety of things.

The Kitan Club hat series features 3 different designs: baseball caps, school caps and cop hats – and they all come in different colours!

First up is the black baseball caps, fittingly co-ordinated with a striped Marines uniform to complete this sporty look! A perfect outfit for exercise in the park.

Next is the white doggy cop hat. Mozuku is looking summery with the outdoor white polo shirt too. He looks like sailor!

This big dropping t-shirt gives Mozuku a kid look. He has a yellow school cap on and looks just like a Japanese kindergartener. It matches perfectly with the green!

The one Yuna wanted him to wear the most was the camo one. He's wearing it together with a border-type Western outfit remade by her grandma. He looks like a fashionable and heroic guy!

The last look is the red and navy co-ord. Wearing matching navy caps is a lot of fun.

Yuna said, "We got to see many different sides to Mozuku today. It's good to protect your head with a hat during summertime. If I wear a hat I can match looks with my dog, so I recommend it!"

If you're in Japan and come across capsule toy machines, known as gashapon, then be sure to look out for this series. They're ¥300 each.

■Information

Kitan Club Capsule Toys – Kaburi Mono

Price: ¥300 each (pre-tax)

Model:Yuna Yabe/Mozuku @yunaaay1030

Yuna Yabe won the grand prix prize at the "Zipper×ASOBISYSTEM Model Auditions" at the age of 15. She is an expert not only in fashion but make-up and video editing too. She's an influential figure to the people in her generation. Recently, her work has expanded greatly, such as appearing in music videos. Her activity continues to grow and looks to be very promising indeed.

Text: Sayoko Ishii

Photograph: Kayo Sekiguchi

Translation: Joshua Kitosi-Isanga

Event Report: Japan Expo 2018 – Europe's Biggest Japanese Culture Event

This year's Japan Expo was held from July 5 to 9. It was MOSHI MOSHI NIPPON's 5th time attending the event, which hails as Europe's biggest celebration of Japanese culture.

Having experienced the event five times, we noticed that less people were dressed up in cosplay this year. There was less of an otaku scene and an increase in families and older people.

This seems to be less that the number of otaku has decreased and more that the number of people in the general public has risen. This is supported by the fact that the anime and manga areas were as popular as ever, but other areas like the food, travel and traditional culture booths were also bustling.

Businesses & Food Booths

Go! Go! Curry


Japan's popular curry chain appeared at Japan Expo for the very first time. Japanese-style curry is currently on a steady rise in popularity in France. The Go! Go! Curry samples that were handed out too were immensely popular!

Many people enjoyed the bite that the spice gives, and there were many people expressing their want for a Go! Go! Curry branch to open in France.


AEON


The AEON booth had a variety of colourful 'randoseru' backpacks on display. They also handed out keyrings to people and held workshops.


The workshop where people used AEON products to make their very own kawaii rice balls was a huge success. Every time it was held the booth was packed with people who had reserved a place.

There were a lot of people surprised to know that all of the ingredients were products of AEON. We're also showcased onigiri recipes in our articles so be sure to check them out and try making them at home!

MOSHI MOSHI COOKING: Recipe to Make Kawaii Animal Rice Balls & Workshops to be Held in France and UK

Ministry of Agriculture, Forestry and Fisheries (MAFF)


The MAFF booth had their own VR set up where people could experience Japanese kaiseki ryori, dishes served before a tea ceremony. People could choose what they wanted to try eating from the course menu and it appear before them. It made a lot of people want to start eating Japanese food.

Japanese Information & Travel Booths


JAL

The JAL booth had pamphlets packed with useful information for travelling to Japan. They offer several services for foreigners travelling around Japan by plane that includes bargain tickets priced at ¥5,400, ¥7,560 and ¥10,800.

If you're planning to go to Japan and are going to a lot of different places, you should definitely check it out.

Tokyotokyo
You couldn't miss the Tokyotokyo booth, it was huge. They were showing the video below on a monitor.

The video shows traditions from Japan that have been passed down for generations, as well as contemporary pop culture which continues to bring out new things. There was something in there for everyone who had attended Japan Expo.

There was a bunch of other booths too for all locations in Japan, as well as regional pamphlets, displays of famous regional goods, and mascot characters who had come from Japan to promote local regions.

Japanese Cultural Booths

Kendama

Everybody was trying out the kendama at this booth. There were kids there in full force practicing.

Kendama can be seen in street acts in countries around the world. It's become something of a cool skill to be able to do.

Shogi, Karuta, and Igo
There was also an area where people could play games like shogi, karuta and go. How were there so many people skilled in each of these?

They were playing seriously so we weren't able to ask them this time around, but we'd like to interview people next time.

Nintendo

The line at the Nintendo booth was monstrous because they had games for people to play. There was a particularly long line of people waiting to try out the new Super Smash Bros. game.

We actually got to play the game ourselves. Be sure to check out our review here.

3 Ways Super Smash Bros. Ultimate Differs from the Other Titles – MOSHI MOSHI NIPPON Report

MOSHI MOSHI NIPPON

Finally, our booth! The many people who got involved at our booth came and scribbled on our wall. The topic was to write their thoughts and memories about Japan Expo, but they wrote lots of other things too.

Someone wrote the Japanese they knew

Another person wrote their favourite artist

This person drew a character

We also held a questionnaire at the booth where we asked people about their favourite things and what they're interested in. We got to meet lots of lovely people at Japan Expo again this year.

Until now we've often perceived Japan Expo as an event where anime lovers gather, but this year we've seen it's really a community of people who like Japan. Otaku are included in this number, but so are followers of kawaii culture, listeners of Japanese music, foodies of Japanese cuisine – all types.

We want to continue delivering the latest news on Japan and Japanese culture to these people – these people who so love the culture of Japan, a country so far away.

We'd like to thank everybody from the bottom of our hearts for coming to see us at our booth and for reading our articles.

Interview: Yuna Yabe discusses why people attend music festivals

In our previous article, we considered the appeal of FUJI ROCK FESTIVAL in the run up to this year's event and looked over our past coverage of it. In this article we interviewed Yuna Yabe, a model and DJ who made her real festival debut last year and who is a festival fanatic. We asked her what attracts young girls to festivals, her personal experiences attending them, and her advice to those who have never been to a festival but are thinking about going.

■Yuna Yabe – Profile

Born: October 30, 1997
Origin: Shizuoka Prefecture
Hobby: Shopping

Speciality: Dancing

Yuna Yabe has appeared in magazines, events and even music videos as a model, making full use of her unique fashion sense. Her love for music has taken her on the path of being a DJ. The moment she began her DJ career, she performed at EDJ JAPAN 2018.

==

—You love music and are often perceived as someone who has been attending festivals for a long time, but I heard you actually started going only last year.

Yes, last year's ITADAKI Festival was my first proper experience at a festival. Up to then I never had much interest in them and had never thought about going, but ITADAKI is in my hometown of Shizuoka and there were a lot of artists playing that I like. I thought wow, Shizuoka is going for it, so I decided to attend. EBIS BEATS and Tavito Nanao were the best!

—So, how was it actually going and experiencing one?

I was able to see so many of my favourite artists in one day, it was amazing! There was one on every hour, so I felt it was one of the fullest days of my life! I was guaranteed a front row spot for my favourite artists. I went all out, had the best time ever and came to be completely crazy about festivals.

One of the reasons I had never gone to one before was because I perceived them as being like a continuous riotous party, but I was glad to find out it was chill and open.

—Are there any memories or incidents from the festival that have stuck with you?

It wasn't an incident per se, but I met a lot of acquaintances by chance. That's one of the most fun things about a festival! Although it was a local festival I bumped into people I know from Tokyo. That moment when you see them and say "Huh!? Why are you here!?" is so much fun.

—If you were to choose the best act or performance you've seen so far which would it be?

I can't pick just one! But Tavito Nanao of GREEN ROOM this year and Sakanaction at ROCK IN JAPAN FES last year are unforgettable.

—You've already been to several festivals this year, correct? And you also performed at EDC. What festivals do you plan to go to or want to go to next, and which artists do you want to see?

I've been to JAPAN JAM BEACH, GREEN ROOM and KAMIKANE3000 this year.

The ones I'm planning to go to are FUJI ROCK and Summer Sonic. I want to go to RINGO FES at the start of summer too. I definitely want to see Kendrick Lamar at FUJI ROCK and Jorja Smith at Summer Sonic!

—You performed at EDC JAPAN very early in your DJ career. That's an incredible achievement, congratulations! How was it performing there?

I thought to myself all I can do is practice. There's a studio in front of EDC so I practiced there! The set was going to be a continuous hour with no changeovers, so I wondered to myself whether the real performance would turn out alright. My hands were sweating and I was very anxious, but the moment it started everybody put their hands up and danced. It was so much fun! In my set I moved from track to track while DJing, and I saw a lot of foreigners on board the entire time, so that made me extremely happy. Before I knew it I was having a lot of fun too, and the hour went by in an instant. It was my first time as a DJ experiencing the thrill of so many people listening to your favourite songs. I felt that if I get even better and play more boldly it'll be the best thing ever!

—How's your enthusiasm for this year's festivals?

I'm having fun knocking them down one by one!

 

—I'd now like to ask if you have any advice for people your age who are interested in attending a festival but have never gone before, or who want to try it out. What kind of preparation do you need in terms of fashion or things to take?

For fashion, I see a lot of people coordinating flashy colours, like reds and yellows. A lot of people wear baggy clothing too because it's easier to move around.

I take a cap and sunglasses to protect myself from the sun. Sunglasses make you look pretty in photos too (laughs). Most people wear their hair up. Also, a towel is a must!

I'm short, so I recommend sandals with thick soles if you're short too, since you want to be able to see the stage properly! You'll also be walking around a lot and spend long hours there, so it's important to wear something that your feet are used to and won't  get tired in!

Only wear small bags on your back that aren't going to be a nuisance to other people, and only take the absolute essentials. But I never fail to take my phone charger! (laughs)

—Are there any mistakes you've made at festivals?

I came down with heatstroke by only drinking alcohol despite it being so hot! It's very important to drink water so you don't get heatstroke.

—Is there any other advice you have for festival beginners or tips on how they can have fun?

Be weary of going to the toilet when travelling! Make an effort to know where the toilets are. You'll be in very long lines, so don't go the second you need it. Go well in advance and find windows of opportunity to go. Going in advance is very important!

Also, it's good not to meet up with a lot of friends or move around in big groups. I recommend moving around on your own or with just a few people. Seeing artists I didn't know or unexpected artists is great. Encounters like that are fun.

—Finally, what's the appeal of festivals for you?

There are many, but if I was to sum it up in a word, it would be the sense of openness! It's like taking off your shell. Everybody there is a lover of music and you can feel their excitement, so there's a sense of unity too which can be enjoyed!

==

Be sure to reference Yuna Yabe's advice and go and enjoy Japanese pop culture at a festival!

==

==

FUJI ROCK FESTIVAL '18

Running: July 27, 2018 – July 29, 2018

Venue: Naeba Ski Resort, Yuzawa, Niigata Prefecture

Time: Doors 9:00am / Start 11:00am / Finish 11:00pm

Official Website: http://www.fujirockfestival.com/

3 Ways Super Smash Bros. Ultimate Differs from the Other Titles – MOSHI MOSHI NIPPON Report

Nintendo attended this year's Japan Expo in Paris, which ran from July 4 to 8. They were set up in a 1,300m² space where fans had the opportunity to try out the highly-anticipated next entry to the Smash series, Super Smash Bros. Ultimate, which is set for release on December 7, 2018.

MOSHI MOSHI NIPPON had the opportunity to play the game at the event. Here's our report.

Nintendo's behemoth play space

Nintendo's huge area stood out from the other booths at the event. People could try playing Splatoon 2 and Nintendo Labo, and there was a stage area that could fit around 1,000 people. They really had it all.

Fans could even take a photo with their favourite characters.

Onto the main event – the Super Smash Bros. Ultimate booth. Despite it being 9:00am the line was huge!

Here it is, the new Smash game. As a side note, did you know the title of the game is different in Japan? In Japan it's called Super Smash Bros. Special.

The GameCube controller is compatible again just like with Super Smash Bros. Brawl. It feels great to hold and the L, R, A and B buttons are nice and easy to press.

The middle of the controller is decorated with the iconic Smash symbol.

His fingers were itching to play as Kirby first. The opponent was chosen randomly and ended up being the Pokémon Trainer.

■Point 1: Smoother & Speedier Gameplay

The in-game movement feels smoother than previous titles in the series and the response is much quicker.

Also, in the other games you were never able to freely move and attack while in mid-air, but in Ultimate you can move up, down, left and right after jumping.

■Point 2: Special Moves Changed

Bomberman is assisting us with his bomb explosion

The characters' special moves, including Kirby, have changed. We wanted to try out some of the other characters too, but we ran out of time. We're definitely excited to see the rest of the special moves once the game comes out.

Let's check out some of the new characters that have been added to the franchise. There's Daisy from the Mario series, Inkling from the Splatoon, and Ridley from Metroid.

First up we saw Inkling and Ridley. We also chose the new stage Moray Towers which is from Splatoon.

You have to move up and down on Moray Towers which can be a little difficult if you're not used to it.

This is Inkling's special move, it's pretty strong.

Inkling uses paint and ink tanks for her moves just like in Splatoon.

And Ridley's move set works kind of like Charizard.

■Point 3: Several Characters Have Unique Abilities

We heard from a member of staff that characters who used similar moves up to now have been given their own original abilities.

For example, Fox, Captain Falcon and Wolf have all had similar abilities up to now, but in the new game they are decked out with their own skill sets, so they all play differently.

Having gotten our fill of the game, this ends the report.

All the characters from the first title up to now will feature in Ultimate. The game is perfect for anyone who hasn't gamed much recently and were crazy for Smash when they were younger.

Look out for Super Smash Bros. Ultimate coming to Nintendo Switch on December 7.

Point Overview

①Smoother and speedier gameplay

②Special moves changed

③Several characters now decked out with their own unique abilities

MOSHI MOSHI NIPPON to Attend Japan Expo & Hyper Japan 2018

MOSHI MOSHI NIPPON is set to return to Japan Expo this year, Europe's biggest event celebrating Japanese culture. We will also attend Hyper Japan next week.

Last year at the AEON booth we sold yukata and ransel backpacks, as well as cute Pokemon pins which you can only get in Japan.

This year's AEON booth will have a kawaii workshop. You will use tools ingredients by AEON to make your very own cute rice balls.

It may seem difficult, but it's actually quite simple and something that even kids can get involved with. Even better – it's free to join! If you're up for the challenge, then be sure to stop by.

We also have gifts ready for those who share the AEON video.

Japan's popular katsu curry brand Go Go Curry will also make its first appearance at Japan Expo. Although there's not actually any katsu, you'll have the opportunity to taste test Japanese style curry.

Japanese curry has a very different taste to curry eaten in Europe, so be sure to try it out. It will be available at Japan Expo only.

At the MOSHI MOSHI NIPPON booth, you can look forward to our colourful photo area once more which recreates the famous World Clock from Harajuku, a popular tourist attraction in Japan's hub for youth fashion. Also, those who give us a like and follow us on Facebook will not only be gifted a postcard and stickers but you'll get the chance to take a questionnaire to appear in one of our articles.

France and the UK – you'd best get ready for us coming back again this year!

Additional performers of dance music festival, "EDC Japan 2018" were announced!

The world's largest dance music festival, "Electric Daisy Carnival" will be held in Japan named, "EDC JAPAN 2018" and the additional performers of the event were announced.

They announced that 5 artists including AMIAYA who is participating in various collections overseas , Yuna Yabe who was seriarizes in MOSHI MOSHI NIPPON and UNA+MATCHA will participate in the stage named, "BoomboxARTCAR."

As the name "BoomboxARTCAR" states, a radio cassette recorder-shaped car decorated with neon lights will be used as the DJ booth. The car will appear in various areas inside the venue.

In EDC, the DJs will perform in four unique and entertaining stages which are "kineticFIELD," the main stage with the big statue, "circuitGROUNDS," a beach stage using lots of laser beams and lights and "neonGARDEN," a tent-shaped stage covered with daisies and colorful decorations.

Let's enjoy this festival where many gorgeous artists will perform!

■Information

EDC Japan 2018

Address: Mihama 1, Mihamaku, Chibashi, Chiba Prefecture, ZOZO Marin Studium & Makuhari Kaihin Park EDC Special Stage

Date:2018/5/12 (Sat.), 13 (Sun) – Open/Start 12:00PM~9:00PM

Price: GA two days ticket – 29,000 yen / one day ticket – 15,000 yen / VIP two days ticket – 65,000 yen / one day ticket – 35,000 yen

Age limitation: persons 18 years old and younger cannot enter the venue, VIP ticket – persons 20 years old and younger cannot enter the venue.

Tokyo Stroll: Shopping & Sightseeing with Mozuku-kun the Dog #3 – Café Kitsuné, Minamiaoyama

In this featured series, dog lover and model Yuna Yabe heads out with her trusty partner Mozuku to visit hot spots that people and their dogs enjoy, while deepening her bond with him. In this article, the two of them stopped by Café Kitsuné during a morning stroll which is a coffee shop developed by French fashion brand Maison Kitsuné.

The time is 9am. Mozuku has a spring in his step as he walks the streets of Omotesando. The two companions cross the pedestrian crossing at Omotesando Crossing and gaze at the show windows of the high fashion brands. After walking a little, they arrive at Café Kitsuné.

The entrance to Café Kitsuné has a traditional Japanese vibe to it, fenced in with bamboo. The café is designed as a Japanese teahouse from the perspective of a French person.

The ceilings are low. Do you know why? It's a bit off topic, but if you don't have a low posture in a Japanese tearoom you can't enter. There's a reason for this. It's because when entering a tearoom, everyone is expected to be equal.

When you enter Café Kitsuné, there's not much distance between people – you are close to them. That sense of relief might be the reason.

 The wallpaper has an arrow feather design known as yagasuri and a water design called seigaiha. Although it has a French pop feel to it, it's relaxing, perhaps due to the traditional Japanese base décor.

You can also purchase souvenirs at the café, including original mugs and stationery. Is that a dog ear on the side of the mug?! … No, it's a fox ear.

The barista was working quietly but nimbly at the sheet copper counter.

A vase was placed in the middle of the table. The flowers were arranged by the café staff and breathe seasonal life into the Japanese space.

The menu includes things like French toast, a ham and cheese sandwich, pound cake and so on, all of which go perfect with coffee.

The espresso machine is a Marzocco Linea. It's a big machine with three portafilters. The taste of coffee changes depending on the day's temperature and level of humidity. To tackle that, the barista changes the quantity of beans each day to maintain the same taste of the coffee.

To convert the coffee into Maison Kitsuné's "New Classic" fashion theme, the espresso doesn't have that common acidic flavour to it. Instead, it's made with a classic taste and fragrance, making it stand out from the rest. The original blend coffee beans also has just a sweet touch of citrus fruits.

Yuna-chan ordered the iced latte (¥560). The sweetness of the coffee together with the milk was balanced perfectly. It had a mellow taste.

Dogs are allowed from the entrance all the way to the terrace. Here, Yuna popped Mozuku on her lap and enjoyed a short coffee break.

Mozuku climbed onto a terrace seat and stared at Yuna-chan sipping her iced latte. She had an expression on her face like she was immersed in the stylish, grown-up café.

This is the proper way to use an elegant café when taking a walk in the city. Enjoying stopping by a café with early summer budding before your eyes in the early morning with your dog is a wonderful thing. Yuna-chan, with her coffee in hand and Mozuku by her side walking the streets of Omotesando, looked like a polished, sophisticated Tokyo girl.

'Let's go out again, Mozuku!'

■Information

Café Kitsuné
Address: 3-17-1 Minamiaoyama, Minato, Tokyo
Opening Hours: 9:00-19:00
Access: 3-minutes on foot from Omotesando Station via the Tokyo Metro Chiyoda Line, Hanzomon Line and Ginza Line
TEL: 03-5786-4842
Website: https://shop.kitsune.fr/stores

*Dogs cannot walk with your inside the café. Please use a dog carrying bag when entering

Model:Yuna Yabe/Mozuku @yunaaay1030

Yuna Yabe won the grand prix prize at the "Zipper×ASOBISYSTEM Model Auditions" at the age of 15. She is an expert not only in fashion but make-up and video editing too. She's an influential figure to the people in her generation. Recently, her work has expanded greatly, such as appearing in music videos. Her activity continues to grow and looks to be very promising indeed.

Writer:Ai Watanabe

Photograph:Kayo Sekiguchi

Translator: Joshua Kitosi-Isanga

MOSHI MOSHI COOKING: Learn How to Make Wheat, Dairy and Egg Free Okonomiyaki With Rice Powder

Even in Japan, okonomiyaki is the soul food of the people that live in the Kansai region. It looks like a pancake, but inside it's filled with cabbage and stuffed with ingredients meat and seafood. This Japanese food is eaten drizzled with rich sauce and mayonnaise.

Today, we will see how to make okonomiyaki using "Okome de Tsukutta Mix Kona" from TOPVALU which uses neither wheat nor gluten.

Our cooks Ema and Eri are from Kyoto. The taste of okonomiyaki is one familiar to them since childhood, so they were really excited for this! They're both confident in their ability since they normally take turns when cooking.

The two of them will challenge themselves to making two types of okonomiyaki: a recommended recipe written on the powder mix packaging, and another made with tofu. Let's get cooking!

First, here's the ingredients for the recommended recipe.

・Powdered Mix: Approx. ¼ cup (30g)

・Water: 50g

・Bonito Powder: 1 tbsp (3g)

・Cabbage: 70g

・Yamaimo: Approx. 2 tbsp (15g)

・Squid: 30g

・Pork Belly (sliced): 40g

・Red Pickled Ginger: Approx. 1 tsp (5g)

・Dried Bonito Shaving: To taste

First, shred the cabbage and grate the yamaimo. Add the powdered mix, bonito powder and water into a large bowl and mix well. Then add the cabbage, yamaimo, squid thinly sliced to 1cm, and red pickled ginger and mix well to combine. The powdered mix is used as a base for rice flour so it will make your okonomiyaki cook plump and fluffy.

Next, here's the ingredients for the tofu recipe.

・Powdered Mix: Approx. ¼ cup (30g)

・Water: 50g

・Bonito Powder: 1 tbsp (3g)

・Cabbage: 70g

・Yamaimo: Approx. 2 tbsp (15g)

・Drained Tofu: ¼ block (approx. 70g)

・Shirasu: 2 tbsp (approx. 20g)

・Pork Belly (sliced): 40g

・Red Pickled Ginger: Approx. 1 tsp (5g)

・Negi: To taste

Just like the first recipe, start off by shredding the cabbage and grating the yamaimo. Ema is dexterous with a knife. She chopped up the cabbage skillfully and efficiently.

It's important to measure the ingredients out correctly to make it delicious. Be sure to use some kitchen scales to measure the amounts accurately. The powdered mix used in this recipe contains no egg, dairy, wheat, peanut, soba, ebi or crab. Instead, it's made from ingredients such as rice flour and sprouted brown rice. What's more is that it's produced at a factory in Akita, so you can feel at ease using it in your cooking.

Add the powdered mix, bonito powder and water into a large bowl and mix well. Then, add in the drained tofu and mix thoroughly into the raw mixture. As a side note, you can dry tofu easily by wrapping it with 2 sheets of kitchen roll and placing it into the microwave (500w) for 1 minute 30 seconds.

Next, add your cabbage, yamaimo, shirasu and red pickled ginger and mix well to combine.

Once your mix is done, it's time to start frying. Wait for the hot plate to heat up before adding oil (to taste). Wait for the oil to get hot and then spread your mixture on top of the place into a round shape.

Spread the sliced pork on to the mixture and cook for 3-minutes. Ema and Eri were super hungry and couldn't wait for them to be finished after hearing the juicy and delicious sounds.

After the 3-minutes have passed, flip and cook for a further 2-minutes. The powdered mix is made from rice and not wheat flour, so it can be tricky to tell when it's cooked. So a top tip is to be sure to cook it for the same amount time as specified in the recipe!

Once it's cooked through well, add sauce and mayonnaise to taste. Add dried bonito shavings to the okonomiyaki made using the recommended recipe and ponzu sauce and negi to the tofu okonomiyaki.

Our fluffy, well cooked and tasty-looking okonomiyaki are done!

Hungry Ema and Eri munched and made short work of their okonomiyaki in no time at all♪ The powdered mix made with rice flour makes the mixture springy and plump! The tofu okonomiyaki was Eri's favourite because of its soft texture. "Try making this yourself at home!" the lively bunch said.

The mixture used today was the "TOPVALU Okome de Tsukutta Mix Kona" (150g, ¥213 tax included). It can be used for numerous recipes as well as okonomiyaki such as deep frying. You can buy it from any AEON Group store in Japan, so be sure to try it out yourself.

Use this recipe and throw an okonomiyaki party for your friends and family.

■Infotmarion

AEON Official site:https://www.welcome-aeon.com/

About TOPVALU Okome de Tsukutta Mix Kona

"TOPVALU Yasashi Gohan" is a series that contains no eggs, dairy, wheat, ebi, crab, soba or peanuts, all of which are foods that can cause allergies for certain people. The "Okome de Tsukutta Mix Kona" (おこめで作ったミックス粉) is a powdered mix that can be used in cooking for okonomiyaki, deep frying and more!

*Please take care to check the recipe ingredients if you have an allergy.

【Tokyo Stroll】Shopping & Sightseeing with Mozuku-kun the Dog: #2 Makuhari Shintoshin Pecos Pet Mall (Part 2)

Yuna Yabe is a dog lover whose eyes are set on becoming a seasoned pet owner with her beloved pet dog Mozuku. Continuing from where we left off in part one of this two-part article, Yuna will show us more of the Makuhari Shintoshin branch of Pecos, a huge pet store located in AEON Pet Mall!

In this second part, Yuna will introduce us to the 1st floor facilities of Pecos. The first thing is the 24-hour AEON Pet hospital. This animal hospital offers first aid to pets at any time of the day. They provide CT scans, X-rays, surgery and internal medic treatment, so if you feel something if off with your pup then contact them immediately. They also offer physical examinations for your pet dog. If you take them for an examination you can detect signs of illness early on, so a lot of people take their dogs for a yearly checkup. (Checkups are offered until February 28th this year)

So Yuna took Mozuku for an examination too! The results showed that he was a good weight and in very good health. He was even complimented on his nice fur. Keep being healthy, okay, Mozuku? ♪

This is the "Doctor Car" for transporting pets. The original purpose of the car is that it's an ambulance used for pet care during natural disasters. There's even equipment inside for emergency first-aid treatment. On normal days, it's used for doctor's visits and seeing injured pets.

The showpiece of Pecos in Makuhari Shintoshin is the pool facility. The aqua fitness service uses the water's buoyancy and pressure to allow your pet to exercise in a short period of time in an efficient and low load manner. It's highly recommended for rehabilitation after an operation and for tackling a lack of exercise! During the aqua fitness, a trainer will be there to look after your pet with the utmost care and attention, so you can feel at ease when handing them over.

This was Mozuku's first time in the pool. He had a worried look on his face while floating in the water, so the first thing was for him to get used to it with a shower and a bath.

Your pup will wear a life jacket until it's gotten accustomed to being in the water, so you can let them enjoy swimming without worry of them sinking. There's also lots of toys for your dog to play with – perfect for helping them relax!

Mozuku wouldn't settle at first in this new environment, but he got used to the water straight away and showed off his dog paddling skills. The water current in the pool is always flowing, so big dogs can enjoy swimming too.

This is a treadmill that uses water resistance. It uses the flowing power of water but isn't a burden on your dog's body at all. It's rehabilitation for walking.

After a dip in the pool, it's some for shampooing. The shampoo uses safe ingredients so it's fine if your pup licks it off.

This is the pet hotel, a super convenient facility for if you're on a trip or going for some shopping. The hotel charges per hour, so you can even leave your dog in the hotel's hands if you need to do a bit of quick shopping. There's even a beauty salon where your dog can get a trim or use one of the oxygen capsules! Mozuku refreshed himself in a capsule too after a swim in the pool.

Yuna bought Mozuku a roll cake from a shop on the second floor for being such a good boy the entire time! There was quite a lot for Mozuku to eat, so Yuna helped him out.

Pesco in Makuhari Shintoshin has it all when it comes to your dog. They even have a dog run in the facility, so you should go try it out when the weather's nice for a stroll and some shopping!

■Information

Pecos (Makuhari Shintonshin branch)

Address: 1-8 Toyosuna, Mihama-ku, Chiba-shi, Chiba Prefecture

Access: "Kaihin Makuhari Station" and "Shin-Narashino Station" accessible via the JR Keiyo Line

Opening Hours: 10:00-21:00 (*the animal hospital is open 24-hours a day)

Contact: 043-298-1122

Homepage: https://www.aeonpet.com/pecos/makuharishintoshin/index.html

Model:Yuna Yabe/Mozuku @yunaaay1030

Yuna Yabe won the grand prix prize at the "Zipper×ASOBISYSTEM Model Auditions" at the age of 15. She is an expert not only in fashion but make-up and video editing too. She's an influential figure to the people in her generation. Recently, her work has expanded greatly, such as appearing in music videos. Her activity continues to grow and looks to be very promising indeed.

Writer:Ryoichi Komaba

Photograph:Kayo Sekiguchi

Translation:Joshua Kitosi-Isanga