How to enjoy the appealing points of the Japan Music Festival which represents a brand new pop culture
Japanese music festival Fuji Rock was held for the 20th time last year. Fuji Rock celebrates the latest pop culture and is firmly rooted into Japanese culture itself! With reputation this high, it's no wonder that the number of foreigners visiting Fuji Rock has been increasing over the years. Based on the Fuji Rock visitor report from last year, we'll be sharing the best highlights according to foreign fans.
【1】The best location!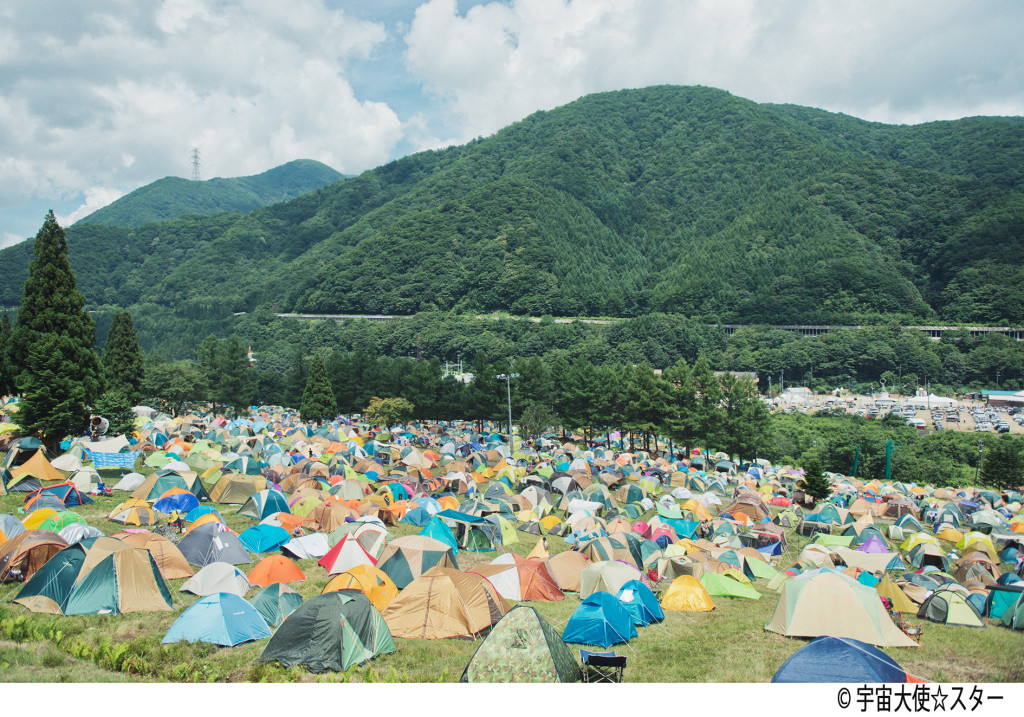 Naeba Ski Resort in Niigata prefecture is the venue for Fuji Rock. It is surrounded by mountains, making it the most extravagant location to enjoy music. The people at the venue, especially the staff, collected and separated the rubbish very thoroughly. The visitors were well mannered, and the whole venue was surprisingly clean and well kept. Compared to typical festivals in overseas countries, this was very surprising.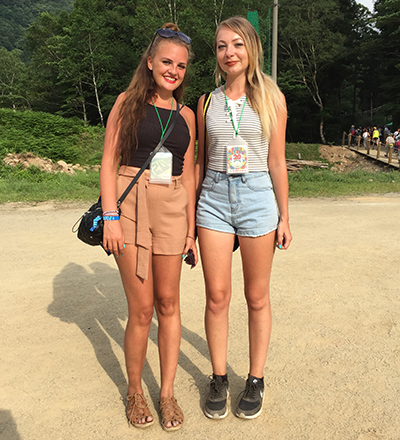 Two female travellers from England say they have never seen a festival as clean and beautiful as this one!
【2】 Japanese hospitality is the best!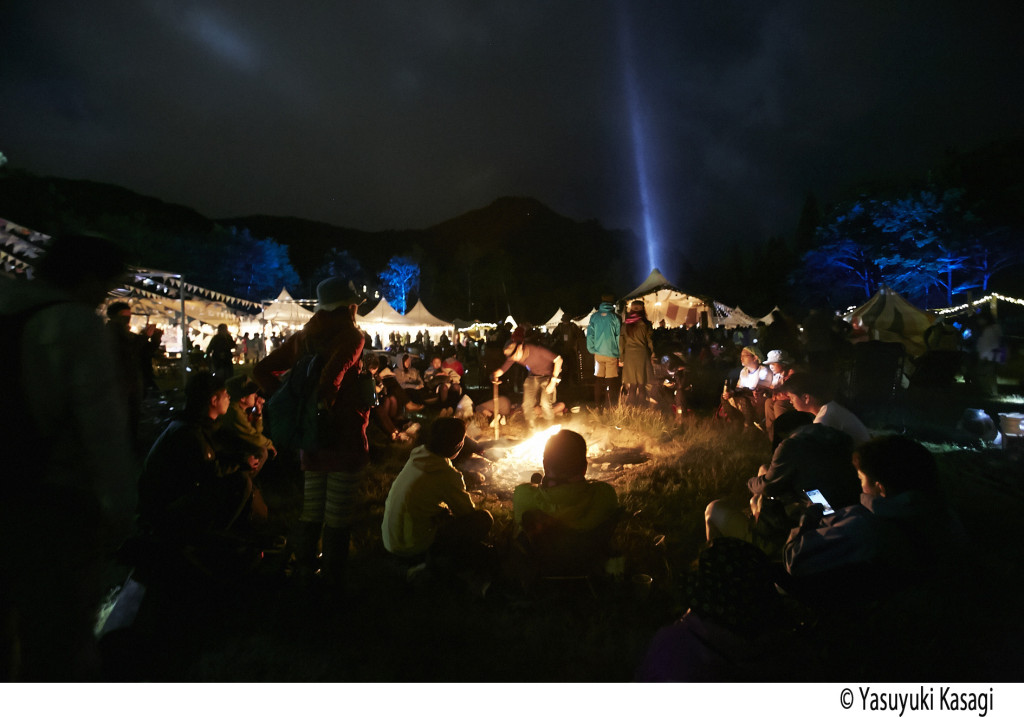 All over Japan, the word "fesu gohan" or festival food has struck the trend. It's now even become the standard to sell delicious food and alcoholic beverages at festivals. Fuji Rock also had such delicious foods selling at food stalls and booths. There were also many other booths that sold other things.
The foreigners really seemed to enjoy and have a great impression of not just the music, but also of the stalls and booths.
Not only the shops, but also seeing the visitors mingling and having fun together was another great point about the festival. Foreign fans and Japanese fans were having fun together all thanks to this event.
Three exchange students from Italy and their Japanese friend.
Comment: This is our first time at Fuji Rock. The atmosphere is the best! Japanese hospitality is the best! Everyone is nice to us and we're enjoying the festival!
【3】 A chance to enjoy the music of Japanese artists!
Of course there are many who came to Fuji Rock to enjoy big foreign artists, but every year, the Japanese artists are just as noteworthy!
 [Rekishi]
You can sing along to Japanese history with a live funk performance!
Sanada Kinenbi
[Cornelius]
After 11 years since his last album, Cornelius returned with a stunning live performance!
Gum
[Osaka Monaurail
Departing Osaka and embarking on a tremendously funky journey, Osaka Monaurail pumped their live performance with the essence of Naniwa and an overwhelming urge to dance!
SOULFUL STRUT
There is lots of Japanese culture that has been introduced to foreign countries, but there is something very unique and very "Japanese" about Japanese festivals. This is a point that Japan should be boasting about. Now we can finally understand what it means for something to become "Japanese". We are looking forward to seeing many foreign fans gathering together at Fuji Rock fest this summer!
You can also check out the Spotify playlists of the artists who perform at Fuji Rock!
■Information
FUJI ROCK FESTIVAL'17
Official website:http://www.fujirockfestival.com/
Event dates:         Friday 28th, Saturday 29th, Sunday 30th July
Opening/ performance start times: Open from: 9:00 / Performance start: 11:00 / Provisional performance end time: 23:00
Location: Naeba Ski Resort, Yuzawa-machi, Niigata prefecture
Hosted by: SMASH Corporation
Planning & Production: SMASH / HOT STUFF PROMOTION
Related article:Six new groups including the group, Ayane Fujisaki (AKA Pinky!) and one of the members of Denpagumi.inc will perform in MUSIC CIRCUS'17.
Related article:100 kinds of sparkling wine from all over the world be gathered at the festival called, "TOKYO Sparkling Fes 2017."
RELATED ENTRIES
Harajuku's Rilakkuma Fruits Cafe Entertains Customers With Projection Mapping

"HARAJUKU AR BOX -table projection mapping cafe-," a cafe in Harajuku whose name speaks for itself, has announced its second collaboration with Rilakkuma to bring the new Rilakkuma Fruits Cafe which will open for a limited time from April 3, 2020 to June 28, 2020.

The cafe's first collaboration with Rilakkuma was in December last year. It was called "Korilakkuma Cafe: another me in the mirror" and earned itself many fans for its cute food and decor, but especially for its interactive tables which used projection mapping technology to have Rilakkuma and friends running around people's tables.

Harajuku's Korilakkuma Cafe: another me in the mirror | Food Review: https://www.moshimoshi-nippon.jp/284456

Fruit is the theme of the new Rilakkuma Fruits Cafe, which follows that Chairoikoguma and the other characters have gathered lots of nutritious fruit to fill up the belly of hungry Rilakkuma.

Food

Rilakkuma's Fruit Salad – ¥1,590

Get your fill of refreshing fruit from this fruit salad plate which has Rilakkuma poking his cute face out from behind it all. When you order this dish, you'll need to touch the fruits that appear on the table to give them to Rilakkuma.

Korilakkuma's Apple Cheese Gratin – ¥1,690

A combination of hot apple and melted cheese, you'll find yourself addicted to the sweet and sour mix of flavours. Pick lots of apples with Rilakkuma and company with the projection mapping game. (*Serving April 3, 2020 – May 17, 2020 only)

Chairoikoguma's Orange Burger – ¥1,690

The bun of this hearty burger is branded with Chairokoguma's cute bear face. But what happens when you squeeze Rilakkuma's orange? (*Serving May 20, 2020 – June 28, 2020 only)

Desserts

Rilakkuma's Maku Maku Fruit Tree Parfait – ¥1,590

Korilakkuma's Maku Maku Strawberry Tree Parfait – ¥1,590 (Serving April 3, 2020 – May 17, 2020 only)

Kiiroitori's Maku Maku Peach Tree Parfait – ¥1,590 (Serving May 20, 2020 – June 28, 2020 only)

For dessert, you have a selection of fruit-topped parfaits to choose from featuring Rilakkuma, Korilakkuma, and Kiiroitori.

Drinks

Rilakkuma & Friends Maku Maku Drinks – ¥790 / With Glass – ¥1,990

Warm & Fluffy With Everyone Cafe Latte – ¥890

Pick between one of the cold beverages, or if it's a cold day, warm up with a hot drink. Feel warm and fluffy like Rilakkuma and his friends with a warm beverage after your parfait.

Exclusive Merchandise & Bonus Items

Pin Badges (9 Designs/Chosen Randomly) – ¥400

Acrylic Key Rings (8 Designs/Chosen Randomly) – ¥500

Get your hands on a selection of original merchandise too, including pin badges, acrylic key rings, and more.

Stickers (4 Designs/Chosen Randomly)

Coasters (4 Designs/Chosen Randomly)

Book a table online in advance and receive one of four possible stickers. Order a drink at the cafe and get one of the four coasters!

You're sure to get your five-a-day when you dine at the Rilakkuma Fruits Cafe, opening for spring on April 3, 2020 in Harajuku.

©2020San-X Co., Ltd. All Rights Reserved.

Information

Rilakkuma Fruits Cafe

Running: April 3, 2020 – June 28, 2020

Location: HARAJUKU AR BOX-table projection mapping cafe- (Lucessimo Bldg. Floor 2F, 4-28-28 Jingumae, Shibuya, Tokyo)

Table Bookings: Now Open

*Table Projection Mapping seats for two people are ¥2,960 (before Tax)

Official Website: https://rilakkuma-fruits-cafe.jp/

How to Unlock Mega Man Zero/ZX Legacy Collection's Hidden Stage

Mega Man Zero/ZX Legacy was released worldwide for the PlayStation 4, Xbox One, PC (Steam), and Nintendo Switch on February 25, 2020 as an updated version of the original title Mega Man Zero Collection released in 2010 for the Nintendo DS which compiles all four of the Mega Man Zero games. Mega Man Zero/ZX Legacy added Mega Man ZX and Mega Man ZX Advent into the collection in addition to several new features.


Today, the unlock conditions for the Z-Chaser hidden stage "Mega Man Antique" have been revealed. Additionally, the CD cover for the music compilation Mega Man Zero & ZX Sound Box, which was released on Wednesday, has also been unveiled.

What are the unlock conditions for the hidden Mega Man Antique stage?

Z-Chaser challenges players to race against the clock and clear all the stages. As more and more players have posted their clear times for the stages, the conditions have finally been discovered to unlock the hidden Mega Man Antique stage. To do this, you must clear all 12 stages of Z-Chaster from the beginning and get an S rank or above. But this clear condition doesn't come easy.

Tips on dealing with trash mobs and gimmicks, and how to take down bosses

Recommended button settings and equipment

The Japanese development staff, the "Chasers," posted a walkthrough on the best way to achieve the clear condition to unlock the hidden stage.

6-Disc Mega Man Zero & ZX Sound Box

Box Sleeve – Hero Side Illustration by 中山 徹

The Mega Man Zero & ZX Sound Box is a remaster of all the music across all six titles. It was released on Wednesday.

Digi Stack – Mega Man Zero Side Illustration by 中山 徹

Box Sleeve – Heroine Side Illustration by 中山 徹

Digi Stack – Mega Man ZX Side Illustration by Makoto Yabe

Makoto Yabe, the character designer and scenario writer for the Mega Man ZX series, also drew one of the CD cover illustrations.

The 6 discs feature remastered 199 songs from across the Zero and ZX games, including 9 new songs written for Mega Man Zero/ZX Legacy Collection, bringing it up to a total of 208 tracks. This is the first time the songs for Mega Man Zero 4, Mega Man ZX, and Mega Man ZX Advent have been released on CD. It also includes the song Promise – Next New World – from Mega Man Zero 4 with vocals.

©CAPCOM CO., LTD. 2020 ALL RIGHTS RESERVED.

Information

Mega Man Zero/ZX Legacy Collection

Official Website: https://www.megaman-zzxlc.com/us/

Mega Man Zero & ZX Sound Box

Released: March 25, 2020

Price: ¥8,000 (Before Tax)

Sailor Moon Nail Oil Set Released to Promote the Upcoming 'Sailor Moon Eternal' Movie

Bandai has developed a new Super Sailor Moon and Super Sailor Chibi Moon "Fragrance Nail Oil Set" on its online store Premium Bandai as part of its cosmetics brand Miracle Romance. Released on March 26, the set is inspired by the upcoming animated film Sailor Moon Eternal which will be released in September this year.

Miracle Romance Fragrance Oil Nail Set – ¥4,400 (Tax Included) *Shipping & handling fees not included

Both nail oils are made in the image of Super Sailor Moon and Super Sailor Chibi Moon who will appear in the upcoming Sailor Moon Eternal movie.

The Super Sailor Moon nail oil has an "Eternal Lemon" fragrance which is locked away inside its gorgeous bottle featuring yellow and blue coloured nail oilーthe same colours as the character's skirt.

Super Sailor Chibi Moon's skirt is yellow and pink, as represented by the colour nail oil for this bottle. It has a cute and sweet-smelling fragrance, and contains three ingredients that are great for the skin: jojoba oil, rose hip, and grapeseed oil. The oil can be used on the skin, where it's not sticky and is soaked up easily, as well as the nails and cuticles to moisturise them, leaving them nice and smooth.

The bottles are crafted with the finest details that showcase motifs of their respective characters. They are chic and made from glass which allow for the oils' colours to glisten through. They are also both branded with the sentence "Pretty Guardian Sailor Moon Eternal."

These aren't just made to look cuteーthey are expertly-made cosmetics for those who want to be a Pretty Guardian too.

©Naoko Takeuchi・PNP / "Bishojo Senshi Sailor Moon Eternal" Movie Production Committee

©Naoko Takeuchi

Information

Miracle Rose Fragrance Nail Oil Set

Orders: Opened March 26, 2020 (while supplies last)

Delivery Date: September 2020 (subject to change)

Product Page: https://p-bandai.jp/item/item-1000144652/

Masayoshi Ōishi to Perform New Monster Strike The Movie: Lucifer Zetsubō no Yoake Anime Film's Main Theme

It has been announced that Masayoshi Ōishi's new song Eiyū no Uta ("Song of Heroes") will be used as the opening theme for the upcoming anime film Monster Strike The Movie: Lucifer Zetsubō no Yoake which is set to premiere this June. The film will be the third in the Monster Strike anime film series.

Masayoshi Ōishi has written and performed song for numerous anime series, including Kemono Friends and SSSS.GRIDMAN. His new song, Eiyū no Uta, will form one half of his upcoming double A-side single alongside the track Sekai ga Kimi wo Hitsuyo to Suru Toki ga Kitanda, which will release on May 20, 2020. First Press copies of the single are coupled with a Blu-ray which features the music video for Sekai ga Kimi wo Hitsuyo to Suru Toki ga Kitanda as well as Ōishi's performance of Gakuten Toshi held at Zepp DiverCity in Tokyo on July 11 last year.

Masayoshi Ōishi is in charge of the theme song for Animelo Summer Live 2020ーhappening from August 28-30 this yearーthe world's biggest anime song event which sees over 80,000 attendees over its 3-day period each year. He will also perform solo at LINE CUBE SHIBUYA on May 21, 2020.

Masayoshi Ōishi | Comment

"I've been tasked with the main theme song for the [new] Monster Strike movie! A lot of monster heroes make an appearance in this one. I called the song 'Eiyū no Uta' [Song of Heroes], and I hope it uplifts all of you as well as all of the monster heroes we're all so familiar with! Look forward to the film's release!"

Information

Sekai ga Kimi wo Hitsuyo to Suru Toki ga Kitanda / Eiyū no Uta

Release Date: May 20, 2020

First Press Limited Edition (CD+Blu-ray): ¥1,900 (Before Tax) [PCCG-0190]

Regular Edition (CD-Only): ¥1,273 (Before Tax) [PCCG-01907]

Masayoshi Ōishi Solo Concert – "Sekai ga Kimi wo Hitsuyo to Suru Toki ga Kitanda"

Date: May 21, 2020

Venue: LINE CUBE SHIBUYA

THE CHARM PARK to Perform Fruits Basket Anime's Season Two Ending Theme

THE CHARM PARK is the next generation pop maestro who is enjoying great success right now in the scene. He has written music for a host of big artists in Japan like ASIAN KUNG-FU GENERATION, V6, and Sandaime J Soul Brothers vocalist Hiroomi Tosaka.

It has been announced that his new song ad meliora will be used as the ending theme for season two of Fruits Basket which will begin airing on April 6, 2020.

The song is described as having a gentle melody and vocals, something which THE CHARM PARK is known for, and is sung entirely in Japanese. It's a song about believing in people and wanting to protect them. The track will be released digitally on April 7, 2020.

Fruits Basket was serialised in Hana to Yume, published by Hakusensha, from 1998 to 2006. The entire 23-volume series has sold over 30 million copies worldwide. The original 26-episode anime adaptation by Studio Deen ran in 2001 from July to December. A new series with new cast and staff began aired from April to September last year. Its long-awaited second season will return next month on April 6.

THE CHARM PARK commented the following with regards to the announcement: "I was recommended Fruits Basket by those around me when I was in high school in LA. It's a series that really warms your heart, at times makes you a little sad, and one that you never forget. The song is about how I still treasure every day as I did back then, but wanting to work even harder. It was  inspired by the theme songs from the series back then which I love. A small homage." この発表に寄せて、THE CHARM PARKよりコメントが到着した。

©Natsuki Takaya・Hakusensha / Fruits Basket Production Committee

Information

ad meliora

Release Date: April 7, 2020

Download/Stream: https://lnk.to/the_charm_park

THE CHARM PARK Official Website: http://thecharmpark.com/

Fruits Basket – Season 2

Initial Broadcast: April 6, 2020。

2nd season Opening Theme: "Prism" by AmPm feat. Miyuna

2nd season Ending Theme: "ad meliora" by THE CHARM PARK

Fruits Basket Official Website: https://fruba.jp/

Bono, will.i.am, Jennifer Hudson, & YOSHIKI Collaborate On '#SING4LIFE' to Spread Love During Coronavirus Pandemic

will.i.am posted a video on his official YouTube channel for a song entitled #SING4LIFE which features himself, U2's Bono, and Jennifer Hudson on vocals and YOSHIKI on piano.

Bono wrote the song after being inspired by the people of Italy who, despite being isolated due to the COVID-19 pandemic, were singing from their rooftops and balconies.

As soon as Bono wrote the song he uploaded his solo version to his Instagram page. He subsequently collaborated with will.i.am who got his longtime friend YOSHIKI on board, and Jennifer Hudson joined thereafter.



YOSHIKI answered the call to arms and wrote the score immediately, recording the piano just two hours later.

will.i.am described the song's intention on Instagram: "When you see empty streets…The empty streets shouldn't make you feel depressed or afraid…When you see empty streets during these times, try to feel love…The empty streets is a sign that humanity is doing the right thing."

He continues: "There are a lot of people feeling anxiety and worry and stress…So we #SING4LIFE to lift up their spirits ..We #SING4LIFE to bring them some type of JOY during these times."

He also thanked his collaborators: "thank you #BONO @U2 for kicking this off and writing a beautiful song…thank you @iamjhud and @yoshikiofficial for lending your talents and massive hearts."

YOSHIKI added his own comment on Instagram: "I know you are trying hard to restrain yourself to fight against this virus. I believe that your effort… everyone's effort, will affect the entire human race. We will overcome, we can do this together. I'm praying for your health and safety."



YOSHIKI decided to stay in Los Angeles instead of returning home to Japan due to the coronavirus outbreak. He has continued to offer his support through his social media pages to fans around the world.

3 Must-Visit Cherry Blossoms Spots in Nagasaki Prefecture's Hirado City | Spring 2020

Spring has arrived in the city of Hirado, Nagasaki, which has been dyed a cherry blossom pink colour from the blossoming of the cherry trees. A simple glance at the signs of spring there is enough to have one feeling elated. It has also made the news that the budding of the cherry blossoms in Hirado has arrived earlier than usual.

We've made a list of 3 popular spots to enjoy Hanami in Hirado this spring.

Jigenzakura


Jigenzakura is a single sakura tree that stands proud and majestic. Aged 140 years old, the tree is listed as a National Treasure of Hirado. It's close to the Oshima variety of cherry tree, and was planted by Catholics who migrated to Japan at the beginning of the Meiji Period. A visit to Jigenzakura offers a splendid sight to behold as it blossoms in the ravine. The best time to see it in full bloom last year was March 31.

Address: Kigatsucho, Hirado, Nagasaki (35-minutes from Hirado Bridge)

Nagasaki Tabi Net: https://www.nagasaki-tabinet.com/guide/51690/

 

Kameoka Shrine / Kameoka Park


Kameoka Park is a famous cherry blossom site that's adjacent to Hirado Castle. It's home to around 1,000 sakura trees, which are best seen from the end of March to early April. It also has a very rare type of cherry blossom called the nidozaki-zakura which blooms twice. You can see these around mid-April at Kameoka Park.

Address: 1458 Iwanouechō, Hirado, Nagasaki (7-minutes from Hirado Bridge)

Nagasaki Tabi Net: https://www.nagasaki-tabinet.com/guide/370/

Tabira Park


Tabira Park is just over Hirado Bridge, and is a place where you can look out at both Hirado Bridge and Hirado Seto while gazing at the rows of cherry trees.

Address: 823-1 Tabirachō Kotedamen, Hirado, Nagasaki (Next to Hirado Bridge)

Official Website: http://nagasaki-park.or.jp/free/tabira

Hirado is easy to get to, and is a must-visit not just for Hanami, but for the food and its rich history too.

SKY-HI Releases Saucy Photos For His Upcoming Greatest Hits Album 'SKY-HI's THE BEST'

SKY-HI will drop his first ever greatest hits album SKY-HI's THE BEST on June 17, 2020. Today, the CD covers for the album have been released, with SKY-HI flaunting his power of seduction.

The photos taken during this photo session will be compiled in a photo book exclusive to Limited Pressing Edition copies of the album. This edition of the album is jam-packed: it will include 3 discs compiling the best of SKY-HI's pop songs, rap songs, and collaborative songs respectively, as well as new songs, fully-remastered tracks, and songs with re-recorded vocals.

Live Edition copies of the album can be bought with either a DVD or Blu-ray which features footage of SKY-HI's entire "Round A Ground 2019 ~Count Down SKY-HI~" live concert held at Toyosu PIT on December 11, 2019. For this show, fans submitted their favourite songs of SKY-HI, of which 20 of the most popular were chosen and performed in a "countdown" style. SKY-HI was joined by his band, SUPER FLYERS, on stage for the show.

Limited Pressing Edition copies are available to buy exclusively on mu-mo Shop, AAA Party, and AAA mobile. If you order before April 26, 2020 at 23:00 (JST) your name will be written on the CD box. This edition will also be sold with a DVD or Blu-ray featuring all of SKY-HI's music videos to date including commentary by the artist himself, a 100-page A4 size photo book, and exclusive merchandise.

SKY-HI also posted a teaser video of a piano arrangement of his song Iris Light which can be watched below.

Feel Like You're Living On Okinawa's Taketomi Island With HOSHINOYA's New 'Workation' Hotel Plan

HOSHINOYA Taketomi Island in Okinawa rolled out a new hotel plan on March 18 that's set to run until June 30 this year.

Taketomi Island can be said to be home to landscape of what Okinawa used to be, with the Ryukyuan red roof tiles of its buildings, stone walls, and alleys spread with coral sand. Someone plucks away at a three-stringed sanshinーthe Okinawan precursor to the mainland shamisenーas time flows with gentle ease on the island. Taketomi Island is rich in traditional culture which can be felt throughout.

The guest rooms at HOSHINOYA Taketomi Island emulate the island's traditional architecture. All guest rooms have south-facing windows that can be opened to let in the southern winds, which the local islanders say are lucky. HOSHINOYA Taketomi Island developed its new workation plan in response to the current situation when more people are having to do remote work and work from home. It enables people a private abode where they can work and relax simultaneously. And all the necessary amenities have been prepared for a workation.

The guest rooms at HOSHINOYA Taketomi Island are known as guest pavilions, which allow for you feel like you're living like a real islander. They are equipped with Wi-Fi, printers, pand photocopiers too, making it the perfect work environment. And you don't have to worry about hay fever as there are no Japanese cedar or cypress trees around.

The pavilions offer a beautiful view of the bright blue sky and sea. The beaches are also open from March, so you can take a dip in the springtime sea too while basking in the warm climate.

Information

Paikaji Workation

Running: March 18, 2020 – June 30, 2020
Price: From ¥278,460 (Before tax/service charge)

People: Up to 2 people per room

*70% off from the normal price. The above-listed price is calculated for 30 days of stay.

HOSHINOYA Taketomi Island

Address: Taketomi, Yaeyama District, Okinawa 907-1101

TEL: 0570-073-066

Official Website: https://hoshinoya.com/taketomijima/en/
*You must select the meal option if you require food

Smartphone App 'Tipsys' That Helps Women in Japan Make Friends Expands Service

Tipsys, a social app for women in Japan, has expanded its reach to the whole of Japan on March 17, 2020. It was previously only usable in major cities throughout the country.

Tipsys is an app aimed at women who are at a turning point in their livesーwhether it be going to university, looking for work, changing jobsーand helps them make friends with other women to hang out with so they can go going shopping, get a drink at a bar, and so on.

The app launched its service in Tokyo in March 2017, and subsequently rolled out at surrounding major cities. It has over 60,000 users, and that number is set to grow as the app now caters for the entire country.

The app allows you to customise your profile with tags and details, like hobbies, where you want to meet up with people, if you drink and what you like to drink, your outing budget, and so on. Tipsys aims to introduce more functions that cater to the needs of its users and their matchmaking needs too.

Information

tipsys

Price: Free (*Select services require fee)

Official Website:  https://tipsys.me

*Cannot be used by males or minors

New Visuals Released For Upcoming Anime Film 'Nakitai Watashi wa Neko wo Kaburu'

Studio Colorido's second original anime feature film Nakitai Watashi wa Neko wo Kaburu is set to release in Japan on June 5, 2020. The studio's first feature film Penguin Highway released in August 2018 to critical acclaim (August 2018 release) and went on to win the Japan Academy Prize for Animation of the Year as well as the Axis: The Satoshi Kon Award for Excellence in Animation award at Fantasia International Film Festival for the best-animated feature.

Several shots from the upcoming anime film have been released which portray the lighthearted and liberating feeling of youth.

Miyo Sasaki (voiced by Mirai Shida) is a 2nd year middle schooler a little different from the rest, and whose classmates called her "Muge" which is short for Mugendai Nazo Ningen in Japanese which roughly translates to "Infinitely Puzzling Human." She's head-over-heels for her classmates Kento Hinode, who she boldly tries to attack every day, but he pays her no attention. But she's not discouraged and continues to approach him. She also has a big secret she can't tell anyone about.

The reason for Muge not giving up on her situation with Hinode is thanks to a mysterious mask she received from a cat shop owner which allows the wearer to turn into a cat. Muge uses this power to turn into a cat every day to visit Hinode's house.

The new shots revealed from the film give some insight into Muge's lifeーwith her friends, and in cat form visiting Hinode. Hinode is of course oblivious to the true identity of the cat, even going as far to give her a name: Taro.

Muge has a split relationship with Hinode: as a human she is unable to get close to him, but as a cat she is free to hang out with him as much as she likes. But the line between being herself and being a cat may begin to blur as she spends more time in her furry form.

Nakitai Watashi wa Neko wo Kaburu will be released on June 5, 2020. Stay tuned for any news or updates.

©2020 "Nakitai Watashi wa Neko wo Kaburu" Production Committee

Information

Nakitai Watashi wa Neko wo Kaburu

Release Date: June 5, 2020

Official Website: nakineko-movie.com

Japan's First Guest House Meiji Kinenkan Officially Designated as Tangible Cultural Property

Meiji Kinenkan, located in Minato, Tokyo, was officially designated as a Tangible Cultural Property this month.

Meiji Kinenkan was built in 1881 as a dining and reception hall used for receiving important guests from abroad to the Akasaka Temporary Palace. In October 1881, a dinner was held at the site with Prince Albert Victor and Prince George who visited Japan that autumn. Five years later, in 1886, Empress Shōken received foreign guests in Western clothing for the first time. In 1888, a meeting attended by Emperor Meiji was held to discuss the draft of the Constitution, which is represented in artwork you can see on the walls of Meiji Kinenkan. During the construction of Meiji Jingu Gaien in 1918, Meiji Kinenkan was dedicated to Meiji Jingu from the Ito family and relocated to where it stands today. Before the war, the building was known as the "Constitution Memorial Hall" and was used for events related to the Imperial Family. It was renamed "Meiji Kinenkan" in 1947 and became a wedding hall of Meiji Jingu.

Dining hall used as the stage for Emperor Meiji's Imperial Court diplomacy

Golden roosters flutter on the walls around the black-lacquered mantle piece mirror

This building was used for court diplomacy under Emperor Meiji. Located on the grounds of Meiji Kinenkan, its interior exemplifies the idea of "Modern Meiji." It has survived two relocations, the Great Kantō earthquake of 1923, and the Second World War. The lavish decor is a harmonious fusion of the traditional and the modern, with the overhead chandeliers, golden roosters, and mantle piece with its black lacquering and towering mirror.

Overlooking the garden, offering not only a modern cafe experience but banquets too

The Meiji Kinenkan Main Building was designated as an Tangible Cultural Property for its 100+ years of history, honouring its historical background, cultural role, and value as a building. Today, it is used for many different things, from a wedding reception to a venue for company parties.

On weekdays, it is mainly used for its "kinkei" lounge, a spacious area that faces a gorgeous green garden planted with a variety of flowers that bloom through the seasons. Its interior decor also has history, such as its ceiling which is a reflection of the Meiji Period. They even serve cake from Meiji Kinenkan's original sweets brand "Kaminomi no Mori" and coffee.