Luxurious Warming-Up Bar "MEZZO" to Open in Roppongi!
A new luxury lounge and bar managed by RUBY will be opening in Roppongi on July 29th.
"MEZZO" was created with the intention of people going there to relax after dinner. It is also a place to head to before going out again to play – what they call a "warming up bar". It's easily accessed and can be found just 1-minutes' walk from Roppongi Station crossing.
The first floor is the standing bar, a casual environment with wooden and golden décor. The second floor is home to a luxury lounge with marble and black furnishing which can house up to 100 people.
 "MEZZO" also has a front terrace for people who prefer to chill outdoors at nighttime which can be used as a waiting area before you head on your night out. You can make VIP table reservations for the surrounding nightclubs in the area, book limousines, and get information about priority entries.
MEZZO is the kind of place you would only expect to see in Roppongi, where you can enjoy an international atmosphere, and receive the kind of hospitality that guests deserve.
Indulge in a variety of fresh fruit sours
just looking at them will quench your thirst!
MEZZO stocks a delicious fruit showcase that can be seen from the main street of Roppongi. Even just looking at the photogenic display will leave you feeling refreshed.
The sours sold at MEZZO use tropical fruits. Part of the menu changes with the season, which offers drinks that you can't get anywhere else.
The 1F bar's concept is "Woody & Gold
The first floor is decorated in wood and gold with spacious terrace seats and a standing style counter. The ceiling has LED lights fitted that change illuminations depending on the time. The interior also has the aforementioned refreshing showcase with all kinds of fruits lined up, all of which are mostly used to create luxurious sours (¥700). The bar also offers beers, wines, and cocktails.
The 2F boasts a secret VIP lounge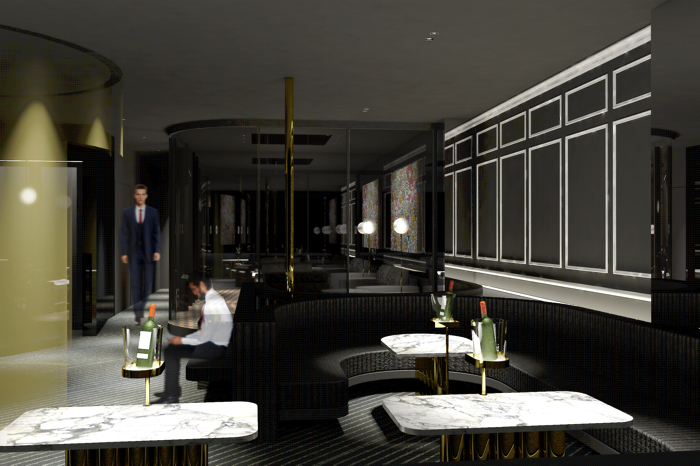 Different from the first floor, the second floor's décor is marble and black, and has a top rank secret VIP lounge called "NO ENTRY". This floor has sofa seats as well as luxury private rooms. When you enter one of the rooms at your reserved time you will enter a PIN number which will open the door.
The menu has a list of champagnes such as Dom Perignon and great food that uses carefully selected ingredients. (2F will open at the start of August).
■Information
MEZZO
Grand Opening:July 29, 2017
Address:Roppongi Street Bldg. 1F/2F, 5 Chome-1-7, Roppongi, Minato-ku, Tokyo
Business Hours:5pm-5am, Mon-Sat
Last Orders:4am
Closed: Sundays & National Holidays *Open on Sundays if the prior day is a national holiday.
 TEL:03-6438-9711
FAX:03-6447-4494
Related article:Visually Stunning Refreshing Sweets Available at Roppongi Hills!
Related article:Create your own custom burger at Roppongi's The Counter
RELATED ENTRIES
TSUTAYA TOKYO ROPPONGI Re-Opens After New Renovations Catering to International Customers

TSUTAYA TOKYO ROPPONGI originally opened in 2003 as a "BOOK & CAFE." On March 7, 2020, it has now reopened as a TSUTAYA BOOKS.

The concept of the newly-renovated location is to create a place that better caters to Roppongi's large population of foreign tourists. On average, 40 million travellers from around the world flock to Roppongi Hills annually, so to create a more comfortable environment for them, TSUTAYA TOKYO ROPPONGI has increased its number of Western books and magazines. It stands proud as a "Global Thinker" that serves what Roppongi has to offerーfrom a global perspective.

Customers can read a book or magazine while enjoying a cup of coffee at the coffee shop before they make their purchase, or they can enjoy a drink in the new "BOOK & BAR-LOUNGE."

as exotic as you can be, inspired by Giuseppe Arcimboldo's "Summer" – ¥2,400


after this , you may, inspired by Paul Gauguin's "Woman Holding a Fruit" – ¥2,200


Enjoy one of the many creative cocktails inspired by famous artworks.

The store also has its own souvenir shop for people to take a piece of Japan back home. Made by expert craftsmen, items include stationery, gadgets, items for decorating homes, and much more, all offering a new standard when it comes to lifestyle proposals.

TSUTAYA BOOKS goes above and beyond what an ordinary bookshop is, instead providing a place for people to really stand back and think what it is they are looking for. It's a place where you can discover what's going on in the world right now, what's popular, and where you stand amongst it all. You are sure to discover something new or surprising, so be sure to pay a visit to the new TSUTAYA TOKYO ROPPONGI if you're travelling to Tokyo.

Information

Information

TSUTAYA TOKYO ROPPONGI

Address: Roppongi Hills Keyakizaka-dori 1F/2F, 6-11-1 Roppongi, Minato Ward, Tokyo

Opening Hours: 7:00-Midnight (2nd floor BAR-LOUNGE is open 10:00-Midnight)

TEL: 03-5775-1515 (BAR-LOUNGE TEL: 03-5843-1467)

Official Website: https://store.tsite.jp/roppongi/

Grab Tokyo Souvenirs at Roppongi Hills' New Food & Gift Area

The new "Food & Gift Area" at Roppongi Hills is set to open in the North Tower on Floor B1F on April 10 where you can get your hands on a huge range of exclusive gifts and souvenirs, as well as quick and delicious food. It will house a total of 19 stores; that's 12 shops selling Japanese confections and other picks perfect as gifts to yourself or someone else, and 7 eateries offering takeout and eat-in options.

In the gift area, 12 storesーa mix of new establishments as well as well-known businesses setting up shop in Tokyo for the first timeーwill open their doors, such as the New Style Ginza Sembikiya cafe, Kashi no Kirokujo which sells exquisite cakes that are hard to get your hands on, and more. And there's a whole range of Roppongi Hills exclusives too, like artistic yokan sweet bean jelly inspired by Tokyo's streets, castella with the Roppongi Hills logo on it, senbei rice crackers, assorted sliced mochiーthe list goes on.

Gift Area – Roppongi Hill Exclusives

Tokyo Enbo – ¥4,320 (Tax Included) @ Wagashi Yui

Recreated are the landmarks of Tokyo in the morning sun, with the beautiful silhouettes of the city's skyrise buildings formed into sweet bean jelly. Try and find Roppongi Hills in this picturesque perfection.

Ukeian Castella Wasanbon – ¥2,160 (Tax Included) @ Ukeian

This castella cake is made rich and moist thanks to the eggs laid by specially-bred chickens. It's made with wasanbon fine-grained Japanese sugar,  which gives it a tantalizing smell. The logo stands out too, giving it a beautiful appearance in addition to the delicious flavour.

Roppongi Hills Sanmaido (5 Included) – ¥702 (Tax Included) @ Ginza Matsuzaki Senbei

The senbei rice crackers have a gentle flavour, handcrafted one by one by the shop's master chefsーincluding the Roppongi Hills logo design of these tile-shaped rice crackersーby adding eggs and sugar to wheat flour.

Kinanomiya Sando (Exclusive Packaging/3 Included) – ¥540 (Tax Included) @ KISSHOKARYO

KISSHOKARYO Japan Premium "Miyabi" – ¥1,870 (Tax Included) @ KISSHOKARYO

Munch down on these delicious chocolate cookies made with high quality soy flour, almonds, and oat milk.

They're also serving a special Japanese parfait for eating-in, made with specially-selected Uji matcha from Kyoto and homemade soy flour.

Sankaku Box Sando – ¥1,080 (Tax Included) @ New Style Ginza Sembikiya

Roppongi Hills Exclusive Melon Parfait – ¥2,700 (Tax Included) @ New Style Ginza Sembikiya

Added to the thick and fluffy bread is fresh fruit and subtly sweet cream to make a refreshing sandwich. The chocolate sandwich in the left of the picture is exclusive to Roppongi Hills.

The must-try is the melon parfait, which is made with melons grown in Shizuoka that have been specially selected by the shop.

Cake Shop Miracle Collaboration Set – ¥3,456 (Tax Included) @ Kashi no Kirokujo

This set is an assortment made by four long-standing cake makers: Akasaka Kakiyama, Obusedo, Ganyudo, and Nanohana.

Roppongi Lingotto – ¥3,240 (Tax Included) @ Bicerin

Caffe mocha al Bicerin – ¥660 (Tax Included) @ Bicerin

Served in a limited-edition Roppongi Hills box, the "Roppongi Lingotto" bears the shopping complex's logo, and is a popular gift that was even served to members of the Japanese government at the G7 Ise-Shima and G20 Osaka summits.

When dining in, you can order a rich bicerin which is a mix of espresso, milk, and chocolate sauce topped with whipped cream that's shaped to look like a hill.

Raw Pound Cake Assortment – ¥1,700 (Tax Included) @ Pavlov

Choose from seven adorable small-size cakes, including cream vanille, pistachio fruits rouges, chocolate orange, very berry, Kyoto matcha, caramel nuts, and mont blanc.

Roppongi Exclusive GIFT – ¥918 (Tax Included) @ Jiichiro

Wrapped in special Roppongi Hills packaging, this box contains an assortment of Jiichiro treats from their popular baumkuchen to rusk, gateau chocolat, and more.

In the Food Area, seven restaurants will open serving quick, authentic food. A number of popular restaurants are also making an appearance, like Kyu Yamutei which is famous for its Osaka spice curry, as well as THAI STREET FOOD by KRUNG SIAM. The menu line-ups will include dishes exclusive to Roppongi Hills.

Food Area – Roppongi Hill Exclusives

Curry-Gear MAX – ¥1,650 (Tax Included) @ Kyu Yamutei

This curry combines unique ingredients and spices. The ingredients and roux are switched up every month, and you can pick from one to four rouxs.

Khao Soi No-Broth Mazemen Noodle Curry – ¥1,200 (Tax Included) @ THAI STREET FOOD by KRUNG SIAM

This mazemen noodle curry is a spin on the hugely popular khao soi Chiang Mai ramen, made without any broth. It has the full-bodied aroma and spiciness that comes with Thai-style curry. Change up the flavour with a topping of homemade pepper.

Fisherman's Seafood Spaghetti alla Pescatora – ¥1,848 (Tax Included) @ Pasta & Pizza Uota

Piled with plenty of seafood, this luxurious and specially-made tomato pasta wastes no flavour of the fish used for its rich sauce.

Brioche Vendée N – ¥864 (Tax Included) @ Boulangerie Bonheur

A traditional brioche from Vendée in France. It's combined with orange flower water and contains raisins soaked in Kirsch. The center is moist and just melts in your mouth.

Seafood & Eel Dashi Chazuke – ¥1,320 (Tax Included) @ Dashi Chazuke En

Another exclusive to Roppongi Hills is this chazuke, filled with all the flavours and sea like tuna, porgy, eel, and more. Try it as it is first and then pour over the broth.

Spring Vegetables & Fried Fish Lunch Box – ¥900 (Tax Included) @ Dexee Deli

A set of seasonal vegetables like edible chrysanthemums, asparagus, and cabbage, combined with fried fish, rice, and bamboo shoots.

Find a whole world of food, desserts and gifts at Roppongi Hills' new Food & Gift Area.

Information

Roppongi Hills Food & Gift Area

Address: 6-10-1 Roppongi, Minato Ward, Tokyo

Grand Opening: April 10, 2020

Official Website: https://www.roppongihills.com/

Sanrio Character Museum to Open in Tokyo's Roppongi Hills For 60th Anniversary

Sanrio is set to turn 60-years-old in August 2020. To commemorate, the company has announced that it will open a museum called "Sanrio Character Museum" in summer 2020 where it will tour around Japan until 2025. The full dates and locations have yet to be announced, but its first stop will be the Tokyo City View Sky Gallery located on the 52nd floor of Roppongi Hills Mori Tower in Tokyo. Details for this first stop will be revealed sometime next month.

ⓒ '74, '75, '76, '77, '79, '80, '82, '83, '84, '85, '86, '88, '89, '90, '92, '93, '96, '98, '99, '01, '04, '05, '20 SANRIO CO., LTD.

Since its establishment, Sanrio has sought to spread kawaii culture to the world, as well as the message of everybody getting along and being friends. But how have gotten to this point with each passing generation? The museum exhibition will answer that very question, exploring its line-up of over 450 characters Sanrio has created over the years, including the most prominent ones like Hello Kitty, My Melody and Little Twin Stars who have been around for more than 40 years. It will also showcase characters that will be nostalgic to longtime Sanrio fans.

The exhibition will peruse the history of Sanrio from before it created its characters, and delve into the origin of the company's kawaii world. Fans can expect to see valuable prints, products, materials, and more. The exhibition will also include works made in collaboration with some of Japan's up-and-coming and prominent artists. Expect plenty of kawaii, and plenty of what is sure to be invaluable information for Sanrio fans.

Information

60th Anniversary Sanrio Character Museum

Start Date: Summer 2020

*Details TBA at the time of posting this article

BALCÓN TOKYO: Roppongi's Sophisticated New Bar and Restaurant Offers Luxurious Food & Drinks

BALCÓN TOKYO is the newest luxury bar and restaurant to hit Tokyo's Roppongi district. Set to open on the 14th floor of Mitsui Garden Hotel Roppongi Tokyo Premier on January 24, BALCÓN TOKYO offers opulent lounge and balcony spaces for fine wine and dining.

Located away from the hustle and bustle of busy Roppongi, the establishment offers a breathtaking view of Tokyo's city nightscape in both the eastern and western directions.

When customers pass through the beautiful bar and lounge they are met with the spacious museum-like balcony area where they can enjoy a dining experience wrapped in soft warm lights. For those looking for a more private meal, they can reserve one of the individual private rooms, each of which has its own distinct touch and flavour. Whether you're looking for a quiet drink or dinner, or even midnight teatime, BALCÓN TOKYO caters to customers' needs.

The interior design is the brainchild of none other than Yasumichi Morita of GLAMOROUS co.,ltd., and company that specialises not only on interior and exterior building and establishment designs, but graphic visuals, products, and more.

​Taking the spotlight at dinnertime is the restaurant's incredible and mouthwatering roast beef which is aged at ice temperature and cooked carefully with time and care. The gravy sauce drizzled over the meat takes three days to make and only adds to the delicious offering of the beef.

The restaurant also offers plenty of seasonal foods and ingredients that go perfect with a glass of champagne. Whether you're celebrating something special or just out for a casual meal, the restaurant caters to all.

For breakfast, a half-buffet of western-style food is prepared where you can pick one main. And so that foreign guests can get a taste of the quality of Japanese food, all ingredients used at the restaurant are domestic to Japan. The restaurant also uses organic vegetables shipped directly from growers and producers.

To celebrate the grand opening of BALCÓN TOKYO, customers who reserve a table online or via telephone between January 24 and February 29 this year will receive a 30% discount on meal courses.

Information

BALCÓN TOKYO
Address: Mitsui Garden Hotel Roppongi Tokyo Premier (Floor 14F), 3-15-17 Roppongi, Minato War, Tokyo
Opening Hours:
・Morning 6:30-10:30 (Last Orders 10:00) *Please note that there may be waiting times due to priority going to hotel guests
・Dinner 17:00-02:00 (Food Last Orders 01:00 / Drinks Last Orders 01:30)

Enquiries: 03-6441-3231
Official Website:  http://balcon-tokyo.jp/

Reservation Page: https://www.tablecheck.com/shops/balcon-tokyo/reserve

Relaxing Café by Day, Neon-Lit Bar by Night: Enjoy a Drink at Jinbōchō CAMPUS in Tokyo

Hello everyone, this is MOSHI MOSHI friend Banako.

Today I'll be introducing you to an interesting place in Jinbōchō, Tokyo that is a café by day and a café & bar at night.

From 9:00 to 17:00 it's known as COFFEE CAMPUS  and from 18:15 to 22:00 it runs as CAMPUS TOY cafe&bar. It first opened its doors approximately 48 years ago, solely operating as a café. Its current owner is an avid American toy and pop culture-lover who started running the café & bar seven years ago.

To get here, it's just a five-minute walk from exit A2 of Jinbōchō Station. The café is located in a quiet place just one turn off Odori Street.

Check out the menu:

The toast here is really good, so I ordered the Egg on Toast. (¥500)

To my surprise, an exceptionally large and thick slice of toast arrived at my table. The egg was evenly cooked and spread on top. I curiously sunk my knife into the toast to reveal the inside.

The egg dripped beautifully like melted cheese. It tasted wonderful with the freshly toasted slice of bread and was very filling. I was in a good mood after my very first bite.

Once the clock strikes 18:15, the café completely transforms into CAMPUS TOY cafe&bar which has a completely different atmosphere. 

One step into the newly-transformed café & bar and…

The calm undertones of the café were replaced with a cute pop-themed atmosphere illuminated by colourful neon lights. Rather than preparing a drinks menu, owner matz takes orders directly from customers, creating drinks catered to each individual customer based on what flavours and colours they like. 

Waiting to see what kind of drink is going to be brought to you is very exciting. Ordering drinks with friends and taking photos of the outcome is the best way to enjoy your time here. 

There are also lots of good spots to take photos for your Instagram so don't hold back! From time to time, there is a small market here where the owner sells small fantasy-themed items.

 Make sure to check out CAMPUSTOY cafe&bar on Instagram for their latest updates and information on opening hours. Whether you want to enjoy a pop-themed American atmosphere or are simply looking for a relaxing spot to chat, this café is for you. Matz the owner is very friendly and is full of interesting stories that you just got to hear.

Information

COFFEE CAMPUS /CAMPUS TOY cafe&bar

Address: Jinbōchō Mansion Floor 1, 2-10, Jinbōchō, Kanda Ward, Chiyoda, Tokyo

Opening Hours

COFFEE CAMPUS: 9:00 ー 17:00

CAMPUSTOY cafe&bar: 18:15 ー 22:00

* Please be careful to not mix up the opening hours of the café and café and bar.

Closed: Saturdays, Sundays and National Holidays

Access: Approx. 5-minute walk from Jimbocho Subway Station exit A2

CAMPUS TOY cafe&bar Instagram:https://instagram.com/campustoy_matz?igshid=2nblcij8r4b7

Roppongi Hills Kicks of New Year's Celebrations with Luxurious Food, Fukubukuro, Traditional Games and More

Roppongi Hills will be kicking off the New Year's celebrations from January 1 to 3, 2020 with New Year's good fortune around every corner. 

January 1 will be filled with exciting lion dances and Japanese drum performances. January 2 and 3 will see traditional and nostalgic games that are free to play, providing fun for the whole family. 

Restaurants and cafés will be serving New Year's food themed around good fortune, happiness, good omens and new beginnings. Indulge on Spiny Lobster, fatty tuna, sea bream and many other luxurious "good fortune" foods.

Spiny Lobster and Sea Bream Acqua Pazza (Limit of 15 sold per day): ¥3,278

Mohri Salvatore Cuomo

Colourful Chirashizushi Pintokona (Limit of 10 sold per day): ¥2,020

Angus Beef Steak Burger (Limit of 15 sold per day): ¥2,800
AS Classics Diner

Crêpe 2020 (Limit of 10 sold per day): ¥980
Cafe Crepe

There are also New Year's "Fukubukuro" to look out for. This is a Japanese New Year's custom where "lucky bags" are filled with unknown contents and sold at a substantial discount. There are even January sales with items up to 70% off. Travel agency H.I.S. Co., Ltd. is bringing back their yearly dream holiday package which includes a top-quality resort lodge in the Savanna and safari experience for just ¥4 million.

Have a wonderful New Year's celebration at Roppongi Hills.

Information

Event Information

January 1: 12:00-15:00

Free Entry

Japanese Drum Performance Start Times: 12:30, 13:30, 14:30

Lion Dance Start Times: 13:00, 14:00

Sake Offering: 13:00 (First-come-first-served, limit of 200 people, entry from 12:00. Obtain a ticket from the Seiriken Haifusho (整理券配布所)

 

January 2, 3: 11:00-16:00

Entry fee applies to certain areas

Japanese Drum Performance Start Times: 11:00, 13:50, 15:30

Lion Dance Start Times: 11:10, 12:30, 15:00

Koto Performance Start Times: 11:30, 12:30, 14:30

*The Koto experience corner will be closed between the following times: 11:30-11:50, 12:30-12:50, 14:30-14:50

Spinning Top Championships: January 2 from 13:00

*First-come-first-served, 12 places, please obtain a ticket from the Seiriken Haifusho (整理券配布所). Tickets will be available from 11:00.

Kendama Championships: January 3 from 13:00

*First-come-first-served, 20 places, please obtain a ticket from the Seiriken Haifusho (整理券配布所). Tickets will be available from 11:00.

Old traditional games available: Koma-mawashi (Spinning tops), kendama, beigoma, otedama and much more

Roppongi Hills

Address:  6-10-1 Roppongi, Minato City, Tokyo 106-6108, Japan

Official Website: https://www.roppongihills.com/en/

Roppongi Hills Christmas Market 2019: Authentic German Food, Christmas Ornaments, Desserts & More

Christmastime has fallen on Roppongi Hills as it kicked off Roppongi Hills Christmas 2019 on Monday. The event sees the return of the gorgeous Keyakizaka illuminations from last year.

Keyakizaka-dori Street runs almost 400 meters, along which "Snow & Blue" LED lights glow and glisten like frost-covered trees, turning the street into a winter wonderland. For 2019, a very special photo spot has been designed by Japanese illustrator Yu Nagaba as pictured above amongst the ocean of illuminations. Over on the West Walk, passersby will spot a draped Christmas tree.

Starting this Friday (November 15), more illuminations will light up over at Mori Garden, which will reflect enchantingly from the garden lake, and 66 Plaza will be lit up too. All of these illuminations will glow until late in the night, making them a perfect spot for a little evening date.

A Christmas market will take place starting on November 30 which will feature German food and drinks, a shop where you can buy a real fir Christmas tree, and more. And on November 15, restaurants and cafes at Roppongi Hills will adorn their menus with Christmas cakes, sweets, and dinner plans.

Christmas Market 2019

2019 marks the 13th year of the Roppongi Hills Christmas Market, and this year, many of Japan's leading shops are taking part. The market will recreate the atmosphere and decor of a German Christmas market, with gorgeous decorations lining the roof, as well as the 11 stalls which will sell German-made Christmas sundries, German mulled wine, frankfurter sausages, and more. There will be over 2,000 individual items to find.

Christmas Cakes & Merry Desserts

Top: Christmas Show Girl ¥3,672 / Bottom: Christmas Tree ¥10,800 @ LOLA'S Cupcakes Tokyo

Cafes and restaurants have cooked up various treats for the Christmas season which will be sold between November 15 to December 25, including Christmas cakes to complete your Christmas dinner, desserts so cute they almost seem a waste to eat, and little items perfect to give as gifts. There's plenty on the menu to be enjoyed with friends, family and loved ones.

Have a very special and merry little Christmas this year at Roppongi Hills.

Information

Roppongi Hills Christmas 2019 

Running: November 11, 2019 – December 25, 2019
Locations: Roppongi Hills (Roppongi Keyakizaka-dori, 66 Plaza, West Walk, Roppongi Hills Arena, Rooftop Plaza, and elsewhere)

Official Event Page: https://www.roppongihills.com/en/sp/christmas/2019/

Christmas Market 2019

Running: November 30, 2019 – December 25, 2019

Time: 11:00-21:00 (Until 22:00 on Fridays, Saturdays & Christmas Eve)

Location: Rooftop Plaza

Keyakizaka Illuminations

Running: November 11, 2019 – December 25, 2019

Time: 17:00-23:00

Location: Roppongi Keyakizaka-dori

ROPPONGI HILLS HAPPY HALLOWEEN 2019: Monster Desserts, Horror Film Parade & More

Roppongi Hills has announced this year's Halloween festival. Titled "ROPPONGI HILLS HAPPY HALLOWEEN 2019," it will take place from October 1 to 31, packed full of spooky fun from a Halloween costume parade to a ghoulish gourmet menu line-up, featuring an always-unique array of food and drink.

Halloween Cupcakes – ¥638 Each @ LOLA'S Cupcakes Tokyo (Available from October 5)

LOLA'S Cupcakes has baked up an assortment of cute monster motif cupcakes, with flavours including pumpkin, purple sweet potato and more. Whichever one you pick, it's sure to give you a smile and delight your taste buds.

Halloween Mixed Berry Cake – ¥530 @ Roasted coffee laboratory

Creepy eyeballs adorn this cake, which is topped with blackberries and blueberries while drizzled in bloody blackcurrant jam. The cake is layered with sponge, fresh cream and a sweet and sour strawberry jelly.

Happy Monster – ¥980 @ Cafe Crepe

Delight in this cute pumpkin and fresh cream crepe, filled with pumpkin ice cream and snug in an orange crepe wrap. Housed inside is an adorable purple sweet potato mont blanc monster wearing a witch's hat.

A movie-themed parade will take place on Saturday October 26 at the event in line with the 2019 Tokyo International Film Festival. Children and adults can take part in the parade if they dress up. The 1km parade will last 25 minutes.

Gift bags will be given to all kids who get involved!

▼Halloween Parade

Date: October 26, 2019

Time: 10:30-13:30 (subject to change)

Location: Roppongi Hills Arena

Participation Conditions: Anybody who dressed up can join (the theme is "Movies")

Participation: Free

Enquiries: 03-6406-6000 (Roppongi Hills Information)

Halloween will hit Roppongi Hills for the entire month of October. Be sure to visit if you're in Japan next month!

Roppongi Hills Renovates Food Court Revealing Mouthwatering Michelin Guide Restaurants

Looking for a delicious Michelin-approved food experience? You surely cannot go wrong with heading to Roppongi Hills; a large-scale development project located in Tokyo, which is known for its nightlife and and shopping. Roppongi Hills is also home to the shopping mall Metro Hat, which is currently renovating its food court on basement floor 2. The foodcourt will have its grand opening on October 29th. 

The renovation will introduce seven new restaurants to the food court. Some of these include ramen shops and Yakitori restaurants which are bringing brand new rare dishes and flavours to the table.

Let's look at our recommendations:

Ginza Kagari (銀座 篝)

Chicken Soba: ¥900 (before tax)

Ginza Kagari is known for their notorious never-ending queues. In 2016 and 2017, it earned a place in the Michelin Guide Tokyo and even became popular overseas. One of their specilaties is their chicken soba. The broth is packed with the goodness and flavour of the entire chicken and even the bones. The flavour of the broth is exquisite and rich. The salt kaeshi sauce which is made from a mix of soy sauce, mirin and sugar goes perfectly with the soup. The salt mixture in the sauce consists of a range of natural salts which contain the natural goodness of the sea and perfectly enhance the flavours of the soup.

Location: Metro Hat Hollywood Plaza Floor B2

Opening Hours: 11:00 ー 23:00 (L.O: 22:00)
Website: https://www.roppongihills.com/en/  (The website is scheduled to open during mid October)

Yakitori Kokorikoan (焼鳥 ここりこ庵)

Yakitori (chicken skewer): ¥200 (before tax)

You must not miss out on Kokorikoan's Chicken Skin Hotpot ー a dish that is rare even to Tokyo. This dish is the perfect opportunity to discover a new kind of flavour and a new way to enjoy food. This restaurant prepares their dishes using special and rare cuts of chicken and chicken that is freshly ground in the morning. The chicken is flavored using traditional flavorings such as tare sauce and salt as well as flavorings that are not so conventional in Japan such as balsamic vinegar, herb vinegar, madeira wine, brandy and much more. Each cut of meat is prepared with the most careful methods and best seasonings to fully bring out the flavours. 

Location: Metro Hat/ Hollywood Plaza Floor B2
Opening Hours: Lunch: 11:00 ー 15:30 (L.O.15:00)  Dinner: 17:00 ー 23:00 (L.O.22:00)

Website: https://www.roppongihills.com/en/ (The website is scheduled to open during mid October) 

 Pintokona (ぴんとこな)

As a cheap place to enjoy authentic sushi, Pintokona has become a very popular restaurant. Now, it is having a fresh renewal. This sushi is made by using seasonal ingredients from around Japan. From November 1 to 30, there will be an exciting new menu that includes fresh fish from Miyazaki and authentic shochu (Japanese spirit). There will also be a fair that you also should not miss out on. 

Location: Metro Hat/ Hollywood Plaza Floor B2
Opening Hours: Lunch: 11:00 ー 15:30 (L.O: 15:00) Dinner: 17:00 ー 23:00 (L.O: 22:00)

Website: https://www.roppongihills.com/en/ (The website is scheduled to open during mid October) 

AFURI(アフリ)

Yuzu Orange and Salt Ramen: ¥1000 (before tax) 

Popular ramen shop AFURI sells a ramen with a translucent gold-coloured soup made using the natural spring water that gushes from the foot of Mount Afuri (Mount Oyama) located in the Tanzawa Mountain Range of the Kanto Region. Carefully selected chicken bones, pot herbs, kombu (kelp) and katsuobushi (fermented and smoked fish) is boiled in the water to add to the flavour. The whole wheat flour used to make the noodles creates a wonderfully fresh, chewy texture. The chashu roast pork pieces are freshly barbecued upon each order, creating a fresh and delicious flavour. AFURI also sells vegan ramen which is particularly popular among foreigners.

We have a full report on our heavenly trip to AFURI so if you are curious to find out more, please check out our this article: Introducing AFURI—Harajuku's Michelin-Starred Ramen Restaurant

Location: Metro Hat/ Hollywood Plaza Floor B2
Opening Hours: 11:00 ー 23:00 (L.O:22:00)
Website: https://www.roppongihills.com/shops_restaurants/restaurants/00100.html

There are just so many popular shops and restaurants at Metro Hat that you will be spoilt for choice. We hope you enjoy exploring the rich culture of Roppongi. 

Experience the Attack on Titan VR Game at the MORI Tower Sky Deck in Roppongi Hills

As part of the ongoing Attack on Titan Exhibition FINAL event that is taking place at MORI Arts Center Gallery until September 8, a new addition has been added to the event that will take place from August 6 to September 8.

Titled "Sky Deck ~The Colossal Titan's Invasion~," the event will take place on the open-top roof of Roppongi Hills MORI Tower that will make use of the surrounding environment and utilise AR technology to project the Colossal Titan before your very eyes, up 270 meters high.

What happens when the Colossal Titan himself appears before you in real life? This virtual experience will give you a peek into the cruel and terrifying world of Attack on Titan.

Information

Attack on Titan Exhibition FINAL x Sky Deck ~The Colossal Titan's Invasion~

Location: Roppongi Hills Tokyo City View Sky Deck (Roppongi Hills MORI Tower Rooftop)

Running: August 6, 2019 – September 8, 2019

Time: 11:00-18:00

*Sky Deck opening hours extended to 22:00 (last entries 21:30) on August 25

*Sky Deck opening hours reduced to 17:00 on August 10 due to the firework festival (August 11 if postponed)

*Last entries are 30 minutes before each respective closing time

Price: Sky Deck fee only (AR is free to experience): General ¥500 / Aged 4-12 Years ¥300

*Separate fees are charged for entry to the exhibition, sky deck, and Mori Art Museum

*The recommended age for the AR experience is 7+ years

Full Details (Japanese): http://tcv.roppongihills.com/jp/news/2019/08/3400/index.html

Attack on Titan Exhibition FINAL (English): https://www.kyojinten.jp/en/

Night Party at Harajuku's Conveyor-Belt Dessert Cafe Ron Ron for 20 Year Olds Only

MAISON ABLE Cafe Ron Ron is a popular conveyor-belt dessert cafe in Harajuku. We visited the cafe last year when it had just dropped, so be sure to check out our cover story if you want more information.

The cafe has just announced a night party that is exclusive to those in their 20's. Titled "Cafe Ron Ron 20ty's Night Party -PINK FRIDAY- supported by MAISON ABLE," the event began yesterday and will run every night up to September 27.

Customers can enjoy all-you-can-eat unlimited snacks for just ¥500 with no time restrictions. For an additional fee, you can also pick from the food menu which features 5 dishes and order from the drinks menu which includes alcohol.

Everything on the food and drinks menu is ¥500 too, making it a delicious bargain!

Desserts are served at varying time slots from 19:00. Depending on what time you arrive or decide to start eating the menu will change which is all part of the fun!

The cafe has also teamed up with the fashion rental shop airCloset next door so customers can enjoy dining at Cafe Ron Ron while wearing a yukata.

You can even continue wearing the kimono after you've eaten so you can stroll the streets of Harajuku, go to nearby festivals and more for an exciting day out in Japan's youth and culture hub. The yukata can be rented by people of all ages – full details on the websites below.

Information

Cafe Ron Ron 20ty's Night Party -PINK FRIDAY- supported by MAISON ABLE

Location: MAISON ABLE Cafe Ron Ron (6-7-15 Jingumae, Shibuya, Tokyo)

Running: August 2, 2019 – September 27, 2019

Conditions: Restricted to those aged 20-29 years (*photo ID required upon entry)

Opening Hours: 19:00-22:00 (Last Entries 21:30)

Official Website: http://cafe-ronron.com/pinkfriday/

airCloset x ABLE

Address: 6-7-15 Jingumae, Shibuya, Tokyo

Running: July 27, 2019 – September 30, 2019

Opening Hours: Weekdays 11:00-21:00 / Weekends 11:00-19:00 (Last fittings at 17:00)

Return Periods: By 21:00 on weekdays / By 19:00 on weekends)

Closed: Tuesdays

Cautions:

・Please take a camisole or tank top that can be worn under your yukata

・Foreigners are asked to take a copy of their passport when renting

・There is a luggage storage service for those who are returning on the same day

Official Website: http://cafe-ronron.com/yukataderonron/

Shinagawa Prince Hotel's NINE BAR DJ Music Receives New Theme Everyday

DINING & BAR TABLE 9 TOKYO is a fabulous dining and bar venue located on the top floor of Shinagawa Prince Hotel. The establishment is known for its "DJ TIME" where a DJ plays music, and it has just been announced that the experience is set to be revamped on May 29 where the theme will change each day.

Ever since its grand opening, the bars of TABLE 9 TOKYO have been leaders of today's Tokyo with its night scene as its opening hours roll out until 4:00am. It is home to 3 different bars, NINE BAR being one of them, and each enjoys a huge attendance rate including many non-Japanese guests.

The bar and lounge is a place for adults to sit down, enjoy a drink and listen to music. The idea to have a theme change each day is a way for the bar to expand its services by having more options to choose from when it comes to the music.

The first week will begin with jazzy music, and there will be disco music on Wednesday and Thursday for which a new standing area has been set up in front of the DJ booth. On Friday night guests can enjoy getting down to some energetic dance music while on the weekends the playlist will span a wide variety of genres.

Enjoy a sophisticated night out in Tokyo at NINE BAR.

Information

DINING & BAR TABLE 9 TOKYO – NINE BAR –
Location: DINING & BAR TABLE 9 TOKYO (Shinagawa Prince Hotel Main Tower Floor 39F)
Business Hours: NINE BAR 5:00pm-4:00am (DJ TIME 9:00pm-11:45pm *Except Sundays and Mondays)
Charge: Cover Charge ¥1,080 / DJ TIME – Plus Charge Of ¥1,080
TEL: 03-5421-1114
Website:  https://www.princehotels.co.jp/shinagawa/restaurant/contents/table9tokyo/ninebar/

DJ TIME Daily Themes

Tuesday: "After hours lounge" – Chill at the start of a busy week with a selection of relaxing jazz music

Wednesday & Thursdays: "Disco NINE" – Disco sounds loved across the globe ★Standing Area available

Friday: "TGIF" – Celebrate the end of the week with some feel-good, energetic Friday night dance music

Saturday: "SIN CITY" – Weekend lounge with a variety of genres aimed at couples and girls

For details on the DJ schedule visit the official NINE BAR website: https://www.princehotels.co.jp/shinagawa/restaurant/contents/table9tokyo/ninebar/