Popular Novel 'We Couldn't Become Adults' Inspires Netflix Film
On November 5, the Netflix film adaptation of Moegara's popular novel 'We Couldn't Become Adults' premiered on the streaming service worldwide. It was also released at Cinem@rt Shinjuku, Ikebukuro cinema rosa, and Uplink Kichijoji. 
The story follows Makoto Sato (Mirai Moriyama), who met Kaori Sato (Sairi Itoh) in 1995. He fell in love with her and her positive spirit, and she inspired him to work hard for the first time in his life. In 1999, she left him, and in 2020, 46-year-old Makoto, working in the broadcasting industry, laments that he hasn't become the novelist he wanted to be. He also hasn't gotten over Kaori, and he soon embarks on a quest to find his missing hopes and dreams. 
This photo was taken by author Moegara, who visited the filming site and took a picture with the lead actors.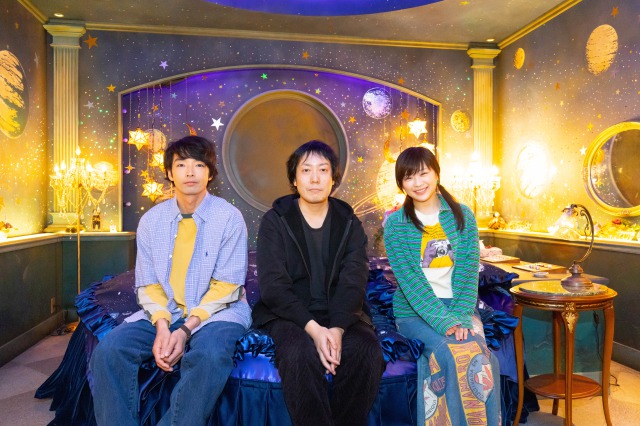 Moegara has stated that the work touches on many of his own experiences, and after seeing the film, he commented: "I felt as if I was being shown a home video to be played at my funeral. It felt like my past was being shown to be on a huge screen." 
Have you watched the film on Netflix yet?
RELATED ENTRIES
GAMERA -Rebirth- to Premiere Worldwide on Netflix

Fans of Gamera won't want to miss this newly-produced film coming to Netflix worldwide! GAMERA -Rebirth- will be coming to the streaming service in 2023. The fictional monster first debuted in the 1965 film Gamera.

 

To commemorate the return of the mighty beast, two teaser visuals have been released ahead of the film.

Gamera stomped onto the scene in the 60s to compete with Godzilla and this new film looks incredibly promising. Will you be tuning in?

©2023 KADOKAWA/ GAMERA Rebirth Production committee

Trailer Released for The Seven Deadly Sins: Grunge of Edinburgh Part 1 on Netflix

The Seven Deadly Sins: Grudge of Edinburgh Part 1 will air on Netflix worldwide on December 20, 2022. The new animated film was penned by the original series creator Nakaba Suzuki.

The story will focus on Tristan, the son of the protagonist Meliodas, and his mother Elizabeth. Cast members include Yuuki Kaji as Meliodas, Mikako Komatsu as young Tristan, and Ayumu Murase as teenage Tristan. Sora Amamiya will portray Elizabeth and Yohei Azakami will play Deathpierce.

The new trailer shows off the exciting new story and previews SawanoHiroyuki[nZk]:XAI's theme song Lemonade. The Seven Deadly Sins takes place in an ancient time when humans, demons, goddesses, fairies, and giants all lived together.

In the new film, Tristan inherits the power of the Goddess Clan and with it, the ability to heal people's wounds, but he often ends up hurting others due to his inability to control his Demon Clan power. To protect his family, Tristan heads to Edinburgh Castle and meets a ton of new friends along the way. The movie takes place 14 years after Meliodas restores peace to the world in the anime series.

The Seven Deadly Sins: Grunge of Edinburgh Part 1 Trailer


The theme song Lemonade is both peppy and emotional. Hiroyuki Sawano created the song as part of his vocal project SawanoHiroyuki[nZk], teaming up with up-and-coming artist XAI.


This song will be included in the first SawanoHiroyuki[nZk] album coming out on January 18, 2023, the first in two years. XAI's incredible voice has previously been featured in the GODZILLA animated trilogy of films.


|The upcoming film will connect The Seven Deadly Sins and the currently running sequel Four Knights of the Apocalypse currently running in Weekly Shonen Magazine.


Comment from Hiroyuki Sawano

"I've been involved with The Seven Deadly Sins since the anime began in 2014, through all of the movies and sequels. I'm so happy to be able to create the theme song for Grunge of Edinburgh as SawanoHiroyuki[nZk].

This time, I worked with the vocalist XAI. Her expressive, emotional, and powerful voice took the song to another level. It was something beyond my imagination! I hope that you'll enjoy the track along with this new story from the world of The Seven Deadly Sins."

Comment from XAI

"I'm so happy to perform the theme song for The Seven Deadly Sins, a series that is loved by so many people.

The characters in the series are so incredible. No matter what sins we carry, as long as we have friends by our side, we can't give up and we can always better ourselves. Lemonade is sure to fuel your sense of adventure, so I hope you'll enjoy it!"

Eve to Sing Theme Song for Christmas Comedy Film 'Black Night Parade'

Popular singer Eve will sing the theme song for the film Black Night Parade, coming to theaters nationwide on December 23, 2022. A new trailer featuring the track has also been released alongside the announcement.

Eve's YouTube channel has over 4.2 million subscribers with video views of over 1.9 billion. The new song, Shirayuki, was written by the singer himself, who has become incredibly popular with overseas music fans as well. The track manages to be both gentle and powerful in equal measure, combining an orchestra with Eve's unique vocals. In conjunction with the release of the trailer, an exclusive pre-release version of the song has been posted to TikTok.

Black Night Parade Trailer: https://youtu.be/57CkdVMky4o

Black Night Parade was originally manga series by Hikaru Nakamura, the creator of Arakawa Under the Bridge and Saint Young Men. The live-action film will be directed by Yuichi Fukuda, who has worked on a number of live-action film adaptations of manga series including Gintama and Kyo Kara Ore Wa! Fukuda also wrote the screenplay along with Tetsuo Kamata. The protagonist Miharu Hino will be played by Ryo Yoshizawa, while Shino Hojo will be played by Kanna Hashimoto. Taishi Nakagawa will play Kaizer Tanaka and Keisuke Watanabe will play Teppei Kohira.  

The story follows Miharu Hino, a man who is completely hopeless at everything he does. He failed his entrance exam, failed at job hunting, and has no love life to speak of. After working at a convenience store for three years, he meets a man in a black Santa suit who kidnaps him, offering him a job. Miharu then begins working at Santa Claus House, a mysterious company at the North Pole that delivers gifts to children around the world.

Comment from Eve

"I'm incredibly honored because I loved both the original manga and Fukuda's past works. I wrote this song Shirayuki with the hope that Christmas could be an important day for everyone. I would be so glad if this song makes you nostalgic for winter, making you imagine the cold air that stings your nose and the stars in the clear night sky. I love Kunehito, so I am looking forward to seeing him in the film."

©︎2022「ブラックナイトパレード」製作委員会 ©︎中村光/集英社

Sword Art Online Celebrates 10th Anniversary with New Original FIlm

Reki Kawahara's web novel Sword Art Online began in 2002, later becoming a popular light novel series. The anime series debuted in 2012, followed by a second season in 2014 and a third in 2018. Following the characters Kirito and Asuna as they traverse a virtual reality MMORPG, the series has seen major success, with the light novels selling over 30 million copies worldwide. 

During Sword Art Online's anniversary event on November 6, it was revealed that a new film project is in the works. A brief teaser was also revealed, though concrete information is hard to come by at this point in time. 

Be sure to check back soon for new information about the film!

【STORY】

"This may be a game, but it's not something to take lightly."

The world's first VRMMORPG, Sword Art Online, has turned into a game of death. Over a month has passed since 10,000 users were trapped in the game world.

Asuna, who conquered the first level of the floating castle of steel Aincrad, continues her journey to the top floor along with Kirito.

With the help of the female informant Argo, the attack seemed to be going well. However…

The top player groups leading the attack are the ALS (Aincrad Liberation Force) and the DKB (Dragon Knights Brigade).Although they should be working towards the same goal, war breaks out.
Behind the scenes, a mysterious figure lurks…

What awaits Kirito and Asuna as they continue their journey?

©2020 川原 礫/KADOKAWA/SAO-P Project

THE FIRST SLAM DUNK Film Reveals Main Cast, Theme Song

THE FIRST SLAM DUNK will be released in theaters nationwide on December 3, 2022.

Ahead of the film's release, more information about the main cast and music has been released. Toei Animation showed off a new promo video for the film during a livestream last week, and fans now know who will be playing the five main characters. 

The Birthday will perform the film's opening theme, while 10-FEET will perform the ending theme Dai Zero Kan. The newest trailer is available to watch on Toei Animation's official YouTube channel.

Shugo Nakamura will portray Ryota Miyagi, while Jun Kasama will play Hisashi MItsui. Shinichiro Kamio will play Kaede Rukawa, Subaru Kimura will play Hanamichi Sakuragi, and Kenta Miyake will play Takenori Akagi. More information about the film is expected to be released soon!

© I.T.PLANNING,INC.

© 2022 THE FIRST SLAM DUNK Film Partners

Mrs. GREEN APPLE Releases Music Video for 'Soranji'

Mrs. GREEN APPLE will release the new song Soranji on November 9. The 10th single comes over three years after the group's last release, and the Utopia ARENA SHOW Blu-ray and DVD will be released on December 14, 2022.

The music video for Soranji has been uploaded to YouTube. The song will serve as the theme for the film With Love from the Gulag, scheduled to be released in theaters nationwide on December 9. Motoki Ohmori is credited as the Music Video Planning Director, and the lyricist worked closely with video director Seri Yoshiharu to bring the song to life.

Soranji – Mrs. GREEN APPLE

The Soranji single also includes a cover of Ado's I'm Invincible, currently a hit track due to its inclusion in ONE PIECE FILM RED, and Floriginal, a song being used in the fragrance and music collaboration project PARFATUNE. The limited first edition includes a bonus DVD with documentary footage of the production process, as well as a luxurious original sleeve case and a 24-page Soranji photo book.

The Utopia Blu-ray and DVD will include all 23 songs from the one-night-only live performance held on July 8, 2022, as well as special behind-the-scenes rehearsal footage. 

Anime Film 'The Tunnel to Summer, the Exit of Goodbyes' Wins Special Award at Bucheon International Animation Festival

Mei Hachimoku and Kukka's light novel The Tunnel to Summer, the Exit of Goodbyes won the 13th Shogakukan Light Novel Award upon release. The film adaptation, which was released in theaters nationwide on September 9, 2022, managed to win the Korean Society of Cartoon and Animation Studies Award at the Buncheon International Animation Festival 2022.

The Buncheon International Animation Festival has been held in Buncheon, northern South Korea, for over 20 years, and is accredited by the Academy of Motion Picture Arts and Sciences as one of the leading international animation film festivals in Asia. There are six categories of competition, and the anime film was entered in the Feature Film category.

The special prize is awarded to the most popular film at the festival. "This film took us to a place that we could see, hear and feel. The impressive music also struck a chord with audiences," a comment reads.

"I never thought I'd win an award," said the film's director Tomohisa Taguchi. "I'm so happy and honored! The fact that this film was so appreciated in Korea is proof that we were able to create a universal film that transcends borders. I'm so happy to be a part of the long history of the Buncheon International Animation Festival!"

The film will also be screened in the Japanese Animation Competition at the 35th Tokyo International Film Festival, which starts on October 24. On October 31, the film was screened at an interview event featuring the film's director.

©2022 八目迷・小学館/映画『夏へのトンネル、さよならの出口』製作委員会

Voice Actress Rie Takahashi Discusses Netflix Anime Series Romantic Killer in New Interview

The anime adaptation of the Romantic Killer manga series will begin streaming on Netflix worldwide on October 27, 2022. The hyped series follows Anzu Hoshino, played by Rie Takahashi, a high school girl who just wants to play video games and who doesn't care about fashion or love.

Main voice actress Rie Takahashi sat down to discuss the series and Anzu's appeal in a new in-depth interview available to watch on YouTube.

Anzu's facial expressions vary wildly in the series, giving Takahashi a tough time. "Having been a voice actress for years now, I reached into my bag of tricks to try to find the best tone for each of her wild expressions," she said. Despite the character's hardships, she proves herself to be a dependable heroine as well. "Even in the worst situations, she says what she needs to say when she needs to say it. I love that about her!" 

Takahashi is known for having played a number of high-profile roles in anime, such as Emilia in Re:Zero, Ena Saitou in Laid Back Camp, and Megumin in KonoSuba. "I thought this was going to be a cutesy love story since the word 'Romantic' is in the title, but it turned out to be way funnier than I could have expected," she said. "Anzu knows what she wants and doesn't back down. That's such a cool characteristic to have." 

"We recorded lines early in the morning, so Gakuto Kajiwara and I would get coffee. We needed it to do our best," Takahashi explained. The actor plays Anzu's childhood friend who gets caught up in the love story. 

"Mikako Komatsu plays the wizard Riri, and she and I had so many difficult lines together, but we made it work," Takahashi said with a laugh.

Anzu's appeal lies in the bonds she creates with those around her. This is something that Takahashi noticed when she read the original manga series. "I was trying to read the entire thing and I just started crying…that's what the ending will do to you! I didn't expect it, and I absolutely loved what the manga emphasizes. I was happy to understand Anzu's personality on a deeper level."

"I did my best to express the emotion found in the original manga series through my voice," said Takahashi. Be sure to tune into this slapstick coming-of-age romantic comedy, streaming now on Netflix worldwide!

(C) 百世渡/集英社 (C)Netflix

Blue Giant Anime Film's Teaser Trailer Hints at Incredible Jazz Soundtrack

In 2013, Shinichi Ishizuka's Blue Giant manga series hit the scene. Serialized in Big Comic, the series has sold over 8.8 million copies to date, and readers seem to have fallen in love with the author's depiction of emotion. Ishizuka has even influenced the real-world jazz scene with his creation.

 

Blue Giant will be turned into an anime film in February 2023, directed by Yuzuru Tachikawa, known for his work on Mob Psycho 100 and Death Parade. The script is being written by NUMBER 8, the editor of the original manga and the story director for the Blue Giant Supreme spin-off. Studio NUT is handling the animation.

 

As the manga series largely focuses on the world of jazz, the film's soundtrack is already being highly anticipated by fans. World-renowned pianist Hiromi Uehara is composing the original music that the film's jazz trio JASS performs. He'll also play the piano for the character Yukinori Sawabe.

 

Saxophonist Tomoaki Baba will play the saxophone for the character Dai. Auditions were held in cooperation with Universal Music, featuring leading players from Japan and abroad. Baba was an easy choice, wowing judges with his large sax and powerful performance.

 

Shun Ishiwaka, the drummer of the band Millennium Parade, will play the drums for Dai's classmate Shunji Tamada. One of the most sought-after drummers on the scene, Ishiwaka is active in a number of genres. 

Hiromi Uehara's piano performance is sure to wow audiences. His incredible technique and emotionally-charged performances have wowed the world for years. 

 

"I never thought the day would come that I'd be able to truly recreate the music I had heard only in my head," Uehara said. "I'll put all my passion into it." The pianist is a fan of the work and has continuously expressed his excitement about the project. 

"As I performed the saxophone as Dai, I could feel his passion and his obsession for music," said Tomoaki Baba. Ishiwaka also expressed excitement. "We had a lot of fun going through the trial and error process," he said. Baba and Ishiwaka, both from Hokkaido, were in the same big band when they were in elementary school, and oddly enough, the members feel a connection like that of their respective characters.

Original manga author Shinichi Ishizuka expressed his excitement about the project. "I'm so glad that Uehara is on board. I want to thank all of the musicians for their awesome sounds!"

Be sure to check the film out when it releases next February!

 

©2023 映画「BLUE GIANT」製作委員会 ©2013 石塚真一/小学館

Netflix Anime Series Romantic Killer Unveils Special Clip

The anime adaptation of the Romantic Killer manga series will begin streaming on Netflix worldwide on October 27, 2022. The series follows Anzu Hoshino, played by Rie Takahashi, a high school girl who just wants to play video games and who doesn't care about fashion or love. A wizard named Riri, played by Mikako Komatsu, suddenly appears to force Anzu to fall in love.

Anzu then meets three handsome guys: Tsukasa Kazuki (played by Yuichiro Umehara), the most handsome guy at school, Junta Hayami (played by Gakuto Kajiwara), a baseball ace and Anzu's childhood friend, and Hijiri Koganei (played by Natsuki Hanae), a rich dreamboat. A new clip from the series has just been released, showing Kyoko's attempt to avoid anything lovey-dovey at every turn.

The first person Anzu meets is Tsukasa, played by Yuichiro Umehara, who is fed up with love after being pursued by countless girls since he was young. The actor is also known for his work as Weather Report in JoJo's Bizarre Adventure: Stone Ocean. As it begins to rain, the handsome gentleman holds out an umbrella for Anzu, who obviously refuses. 

Next is Junta, played by Gakuto Kajiwara, known for his work as Asta in Black Clover. Anzu's childhood friend, he looks completely different as an adult, totally taking the heroine off guard. 

Finally, Anzu meets Hijiri Koganei. Fans will recognize the voice actor as Natsuki Hanae, who previously played Tanjiro Kamado in Demon Slayer. As he and Anzu enjoy ice cream from the convenience store, Hijiri smiles, noting that although the snack is cheap, it doesn't taste bad. Saying it in such a sweet way, Anzu almost lets her guard down–but quickly smacks herself to stop any romantic feelings from welling up. 

On November 12, Rie Takahashi and Yuichiro Umehara will appear at a stage event to commemorate the start of the series and to talk about its setting and characters in-depth.

Be sure to tune into this slapstick coming-of-age romantic comedy when it airs globally later this month!

(C) 百世渡/集英社 (C)Netflix

The Seven Deadly Sins: Grudge of Edinburg Part 1 to Air Worldwide on Netflix in December

The Seven Deadly Sins: Grudge of Edinburgh Part 1 will air on Netflix worldwide in December 2022. The new animated film was penned by the original series creator Nakaba Suzuki.

The story will focus on Tristan, the son of the protagonist Meliodas, and his mother Elizabeth. This third film follows The Seven Deadly Sins the Movie: Prisoners of the Sky in 2018 and The Seven Deadly Sins: Cursed By Light in 2021. 

Recently, it was announced that Ayumu Murase and Mikako Komatsu would play the roles of Tristan as a young man and boy, respectively. Familiar members of the cast, including Yuki Kaji as Meliodas, will also appear!

The new cast will also include Koki Uchiyama as Fairy and Kazuyuki Okitsu as Priest. Yohei Azakami will return as Deathpierce, while Shinnosuke Tokudome will play Tyrone, Shino Shimoji will play Kurumiru, and Makoto Koichi will play Minika. Be sure to tune in this December!

The Klutzy Witch Anime Film Reveals First Key Visual, Stunning Main Cast

The first key visual for The Klutzy Witch: Fuka and the Dark Witch has been revealed. The main cast was also announced, with Honoka Inoue playing Fuka, Matsumi Tamura playing Fuka's childhood friend Chitose, and Manaka Iwami playing another of Fuka's friends Karin.

"I hope that both children and adults alike will come to the theater to enjoy the magic and fun together," Satoko Narita, the original children's book author, commented. Enaga Senno, the original illustrator, also gave a comment along with a new illustration. "I'm looking forward to seeing Fuka, Karin, and Chitose's adventure!"

"I've always wanted to be a witch, ever since I was a little girl, so I'm extremely happy," said Honoka Inoue.

Produced by Production I.G, the film, directed by Takayuki Hamana and written by Kiyoko Yoshimura, will be released in Spring 2023. It's based on the popular children's book series which has sold over 1.6 million copies in total and will feature character designs by Marumi Sugita. Set in a world filled with witches and wizards, the story follows the apprentice witch Fuka after she breaks the seal of a dark witch who almost destroyed the world.

Movie tickets paired with a clear bookmark set will be available for preorder at select theaters and online starting October 14, 2022.

Ⓒ成田サトコ・千野えなが・ポプラ社/アニメ「らくだい魔女」製作委員会