Perfume Star in New Upcoming Sunstar Commercial for "Ora2" Teeth Products
"Ora2", a company that promotes a healthy mouth and beautiful teeth, will release their new commercial "Ora2 to Dekakemashou" ("Let's Go Out With Ora2") in Japan on July 22, 2017.
Japan's techno-pop trio "Perfume" have been chosen as the face for the new commercial to promote the brand's "Kuchimoto Beauty Project". The video will feature Perfume's brand new song "If you wanna".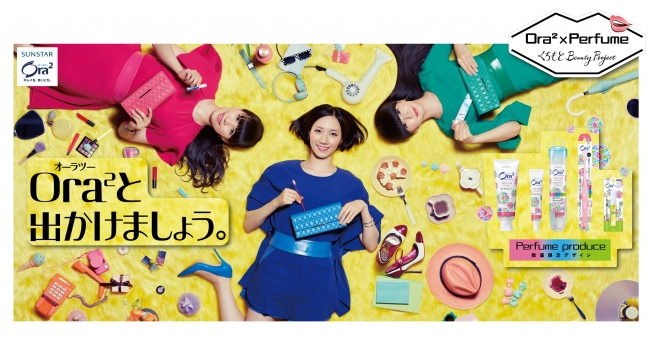 The theme of the commercial is "Ora2 to Dekakemashou" which encourages people to use Ora2 before heading out somewhere. Each member of Perfume will be placed in a different scene for the video: Nocchi will be in an office, A~chan will be in the city, and Kashiyuka will be travelling. The three of them will be seen gleaming after making sure to use Ora2 before leaving the house.
The set includes a line-up of must-have items a girl takes out with her in addition to her manicure items, perfume, scarf and such. In one scene with A~chan and Kashiyuka, there is a camera set up overlooking them at 6.7m high. We see what looks to be a building, but upon closer inspection, it's actually a table made up of items such as soap and present boxes to look like the window of a building. There's a lot of attention to detail in this cute commercial.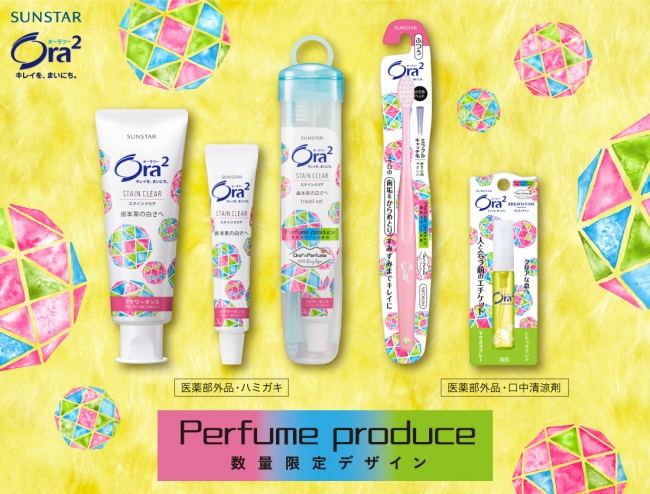 A limited edition product produced by Perfume is also set to go on sale. Not only did they produce the packaging design, but the flavour of the Ora2 Stain Clear Paste too. The product will hit shelves at shops around Japan in mid-July.
Related Article:"Perfume's" live footage of "Hamigaki no uta" is released. This song was composed by "Chatmonchy"
Related Article:Perfume release bubble-themed music video teaser for their new song "Everyday"!
RELATED ENTRIES
RADWIMPS Release New Song 'Nekojarashi' On Spotify and iTunes

RADWIMPS released their new song Nekojarashi on major download and streaming music services on April 5, 2020 including iTunes and Spotify.

Nekojarashi began featuring as part of a new commercial for Kirin's "Gogo no Kocha" (Afternoon Tea) brand of drinks last month. The song, like the commercial, is themed on those moments of happiness that are right in front of us. Two versions of the song were released digitally: the normal version, and an orchestral versionーthe latter of which is being used in the commercial and is featured under the name of the RADWIMPS frontman Yojiro Noda.

The commercial started airing on Japanese TV last month. Japanese actress Kyoko Fukada is the face of the commercial, which promotes how there is happiness to be found in those casual moments in our everyday lives even if we do not notice them.

Kiririn Gogo no Kocha (Straight Tea/Milk Tea/Lemon Tea)

A project has also been launched where people can take the frame of the Nekojarashi CD cover and create their own original cover by inserting a photo of themselves. Once uploaded, you can post on social media with the hashtag. Photos will then be selected to feature in a video. Full details can be found here.

Yojiro Noda | Comment

"The strengths that humans get used to is something amazing. Both the good and bad. For our own reasons, we seem to love and treasure having the breakfast we are so used to, the voice of someone saying 'I'm home,' the route we take back going home. The trick to living a fun life in this world might not be being overambitious, but the ability to notice those little joyful moments. Another thing is the existence of our selves with whom we spend every day with. Before we know it, we realise we didn't actually know what that meant, so we take notice and live our lives knowing it. The me that I don't even know might still be hidden away. That's what I wrote this song about."

Yojiro Noda Of RADWIMPS' New Song 'Nekojarashi' Gets Used in Japanese Commercial

Yojiro Noda, the lead singer and songwriter of Japanese rock band RADWIMPS, has written a new song entitled Nekojarashi for a television commercial in Japan.

The commercial in question is for Kirin's "Gogo no Kocha" (Afternoon Tea) brand of drinks, which is promoting a new theme beginning this month: "Happy Tea, Afternoon Tea." Japanese actress Kyoko Fukada is the face of the brand's new commercial, which promotes how there is happiness to be found in those casual moments in our everyday lives even if we do not notice them.

The first in the series of new commercials for Kirin Gogo no Kocha shows how there are many moments of happiness felt when spending time with loved ones, like friends and family, during an ordinary day. Yojiro Noda's new song, which he wrote for the commercial, too is themed on happiness, with its lyrics and gentle melody which is a perfect fit for the commercial. Check it out below.

Yojiro Noda said: "The strengths that humans get used to is something amazing. Both the good and bad. For our own reasons, we seem to love and treasure having the breakfast we are so used to, the voice of someone saying 'I'm home,' the route we take back going home. The trick to living a fun life in this world might not be being overambitious, but the ability to notice those little joyful moments. Another thing is the existence of our selves with whom we spend every day with. Before we know it, we realise we didn't actually know what that meant, so we take notice and live our lives knowing it. The me that I don't even know might still be hidden away. That's what I wrote this song about."

He concludes: "I'm also currently doing band sessions and writing stuff together with the other RADWIMPS members. I hope you look forward to that too."

Information

Nekojarashi

Lyrics/Composer/Arranger: Yojiro Noda

RADWIMPS Official Website: http://radwimps.jp/

Kirin Gogo no Kocha (Straight Tea/Milk Tea/Lemon Tea) New TV Commercial

"Kitto Shiawase wa, Sawareru Kurai, Soba ni Aru, Shiawase no Kocha" Chapter

Broadcast Date: March 17, 2020

Starring: Kyoko Fukada

Time: 30 Seconds

Broadcasting: Japan

Brand Website: https://www.kirin.co.jp/products/softdrink/gogo/

"Kirin Gogo no Kocha The Meisters" New TV Commercial

"The Meisters Kyoko Fukada Milk Tea Renewal & New Orange Tea" Chapter

Broadcast Date: March 17, 2020

Starring: Kyoko Fukada

Time: 15 Seconds

Broadcasting: Japan

Brand Website: https://www.kirin.co.jp/products/softdrink/gogo/mmt/

Kenkou Taima CBD Oil Commercial Stars Sumo Legend Kisenosato Yutaka

Meiji Shokuhin owns a brand of CBD oil known as Kenkou Taima which takes the classic CBD oil popular in Europe and America and adds a "Japanese quality" to it. Since January 2019, retired Japanese sumo wrestler Kisenosato Yutakaーwho became the 72nd yokozuna which is the highest ranked in sumoーhas been the face of the brand's promotional material.

CBD, or cannabidiol, is an active ingredient in cannabis that is extracted to make CBD oil. CBD oil is used for a variety of reasons, such as lowering stress or increasing sleep levels. Japanese culture has a close connection to hemp. From ancient times to today, hemp has been an indispensable plant used for shimenawa ropes at temples to cordon off sacred areas, as well as used in Shinto rituals. In respect of this cultural history, Meiji Shokuhin does not call their oil "CBD oil," but "Kenkou Taima Yu" instead which translates to "healthy cannabidiol oil."

Below is the latest trailer for the oil starring retired Japanese sumo wrestler Kisenosato Yutaka.

Kenkou Taima Yu is a safe and high-quality natural product made in Japan that is combined with hemp seed oil. It contains zero tetrahydrocannabinol, or THC, which is a psychoactive compound found in marijuana. Some CBD oils that are sold are imprecise when it comes to the ingredients used in them, but Kenkou Taima Yu is a completely pure product that adheres to Japanese standards and consistency and contains no additives. It is also officially CBD-certified by the The National Association for Medical Plants.

Kenkou Taima Yu is easy to enjoy: 30 drops can be used in a day, and the trick is to close your eyes while you taste it. It's also popular as it has no scent. If you're new to CBD oil, or are looking for something new to try, then why not check out Kenkou Taima Yu?

Kisenosato Yutaka said: "The world of Japan's national sport sumo is strict, and I've had my own battles with it. But it's important to find some time to relax. CBD oil is said to increase sleep quality, so I enjoy using it too. I recommend everyone to feel safe and use Meiji Kenkou Taima Yu." 

Information

Meiji Kenkou Taima Yu

Price: ¥9,800 (Before Tax)

Kounoudo Meiji Kenkou Taima Yu (High Concentration)

Price: ¥24,900 (Before Tax)

Online Store: https://kenkoutaima.jp/lp/

Yoshiki Covers 'Twinkle Twinkle Little Star' in New Wonda Coffee Commercial

Asahi Soft Drinks released a new television commercial in Japan on Tuesday for its Wonda X-BITTER black coffee drink which features Japanese singer-songwriter and musician Yoshiki.

The commercial is centred around making a fresh start, which is where Yoshiki's own arrangement of Twinkle Twinkle Little Star comes into play. We see him abducted in a UFO in comical style and then perform his own transcendent cover of Twinkle Twinkle Little Star in a forest.

As he sits in the evening forest, Yoshiki takes a sip of Wonda X-BITTER, after which a blue light shines down on him, signifying the turning of a new leaf. A boy looks at him in wonder as he begins to perform the song, and then agape as Yoshiki is beamed up by the UFO.


Yoshiki expressed his desire to add his own arrangement to the song on the day the video was shot and wrote the music score there and then. He went to practice the song alone in the studio after writing it, and in almost no time at all, returned for the main shoot. The staff couldn't hide their astonishment at Yoshiki's musical talent.

YOSHIKI Interview

Q: Please tell us which scene most left an impression on you, or a particular scene that you want people to look out for.
Yoshiki: Definitely the last scene when I fly up into the sky. I found that scene really amusing where I'm taken by the UFO together with the piano. The piano playing starts off super simple, but the performance quickly escalates into something complex. Be sure to check that out.

Q: Did you have to do any prep for this commercial shoot?
Yoshiki: I researched "Twinkle Twinkle Little Star." I wondered, how can I make this song that everyone knows interesting? I also studied Mozart's arrangement.

Q: What's a time when you have to concentrate during your everyday life?
Yoshiki: It's got to be when I'm writing music. It's the kind of work where you make something from nothing, so you need some serious concentration skills. When I'm composing, I mostly don't use any instruments. I work by writing music notes down on a blank sheet, so there are times when I go to concentrate for an hour, or two hours, and before I know it half the day has already gone."

Information

Commercial

Title: Wonda X-BITTER Black "Igai na Ensou" (15 Seconds)

Released: March 10, 2020 on Japanese TV



Product

Wonda X-BITTER Black (245ml Can)
Contents: Coffee
Released: March 10, 2020

Price: ¥115 (Before Tax)

Asahi Soft Drinks Official Website: https://www.asahiinryo.co.jp/

J-Pop Group Perfume to Open Fashion Pop-Up Shop 'Perfume Closet' at Laforet Harajuku

Worldwide famous Japanese pop group Perfume are taking their fashion project "Perfume Closet" to Laforet Harajuku where it will run in a pop-up shop from February 20-26 this year.

Perfume Closet is a fashion project helmed by Perfume which aims to connect with fans through Perfume's music by making outfits. This is the fourth time Perfume Closet has opened, and will feature a line-up entitled "Perfume Closet 2020SS" which is part of what Perfume are calling "Phase 2," which started in January this year and centres on clothing. It follows on from "Phase 1" which featured a line-up of miscellaneous items.

SATIN COMBI TRENCH COAT – ¥49,500 (Tax Included) / FLOWER PLEATS DRESS – ¥44,000 (Tax Included)

SHEER COMBI KNIT ¥17,600 (Tax Included) / 2 WAY PLEATS SKIRT ¥35,200 (Tax Included)

RELAX WEAR (LADIES) – ¥16,500 (Tax Included) / PLEATS SLEEVE TEE (WHITE) – ¥9,900 (Tax Included) / SHEER COMBI RELAX PANTS – ¥22,000 (Tax Included)

The pop-up shop will stock a plethora of items made by the Perfume members, who worked on the designs, chose the materials, and crafted the silhouettes. It includes everything from coats to one pieces, blouses, bottoms, as well as unisex items men can wear too like pants, shirts, and more.

Fans of Perfume and fans of Japanese fashion aren't going to want to miss out on the new Perfume Closet, open for one week only starting next Thursday!

Information

Perfume Closet

Running: February 20, 2020 – February 26, 2020

Location: Laforet Harajuku (Floor 2F CONTAINER)

Laforet Harajuku Official Website: https://www.laforet.ne.jp/

One Piece's Luffy, Ace and Whitebeard Appear in Anime's Final Commercial Collaboration With Nissin Cup Noodles

Instant noodle brand Nissin Foods released their final animated commercial in collaboration with the One Piece anime series on February 7. The commercial is part of the company's "HUNGRY DAYS" series of ads.

The commercial comes as the sequel to their first collaboration with the anime series which featured the character Zoro back in May. The video gained huge attention across social media with a combined view count of over 22 million views across Twitter, Facebook and YouTube, making it Nissin's most watched online video. Together with the trailer announcing the start of the series and the second collaboration, the series as a whole has amassed over 44 million views across their social media platforms.

In the final video, which translates to "Cavalry Battle," we see a shift in one from all the commercials up to now. It portrays the original story's Battle of Marineford as a massive, heated cavalry battle as seen in the series' sports episodes.

Keep an eye out for a number of different characters, such as Luffy, Ace, Whitebeard, Blackbeard, and more. The characters are voiced by the original cast, and there is also narration by popular Japanese voice actress Megumi Hayashibara who voices Rebecca in the One Piece anime. The character design is by Eisaku Kubonouchi, and the music used to portray the hot-blooded battle is Maximum the Hormone's song Hungry Pride.

See the epic conclusion to this series below.

Information

HUNGRY DAYS One Piece Cavalry Battle (Japanese Title: ワンピース頂上騎馬戦篇)

Released: February 7, 2020 (Airing in Japan until May 16, 2020)

Nissin Brand Website: https://www.cupnoodle.jp/

One Piece's Vivi Appears in Anime's Third Commercial Collaboration With Nissin Cup Noodles

Instant noodle brand Nissin Foods just dropped the third animated commercial in collaboration with the One Piece anime series on December 6. The commercial is part of the company's "HUNGRY DAYS" series of ads.

The commercial comes as the sequel to their first collaboration with the anime series which featured the character Zoro back in May. The video gained huge attention across social media with a combined view count of over 22 million views across Twitter, Facebook and YouTube, making it Nissin's most watched online video. Together with the trailer announcing the start of the series and the second collaboration, the series as a whole has amassed over 35 million views.

The new commercial sees Vivi taking the spotlight. Like the previous commercials, it re-imagines the characters as ordinary high school students. This edition sees Vivi announcing to the rest of the characters that she is transferring schools, and we see just how much she cherishes them as friends.

The video features over 50 characters in various scenes.

The video even features actual voice actors from the anime series reprising their roles for the commercial, including Misa Watanabe who voices Vivi, Mayumi Tanaka (Luffy), Akemi Okamura (Nami), Masako Nozawa (Doctor Kureha), and others. The character designs were designed by Eisaku Kubonouchi and the music is by BUMP OF CHICKEN.

We look forward to seeing who will play the main role of the next commercial. Stay tuned for the next edition.

Sho Sakurai Relaxes With a Cup Of Morinaga Milk Cocoa in New Commercial

Sho Sakurai will appear in a new television promo ad on November 21 for Morinaga & Company's "Morinaga Milk Cocoa" beverage which celebrates its 100th anniversary this year.

The commercial sees Sakurai challenging himself to pretty rigorous ways of relaxing, like yoga and bouldering, before he pours himself a nice cup of of Morinaga Milk Cocoa. A behind-the-scenes video is set to appear on the product's official website on November 18 where Sakurai discusses the making of the commercial.

Post-Shoot Interview

Q: Please tell us your thoughts on how the commercial went.

A: I ended up doing some pretty intense moves in it, like yoga and bouldering, so I think it turned out to be a pretty funny commercial.

Q: Tell us which part in particular to look out for.

A: Things like the yoga moves I couldn't do too well, or the hardcore bouldering exercises. The commercial makes free use of the latest technology, so I hope people catch on to that.

Q: In the commercial, you showcase bizarre ways to relax. Tell us of a way you like to relax that's different to other people.

A: When I take a bath at home, I sink myself down into the water this far <laughs> [places his hand to the side of his face and gestures how far]. Everything from my ears to my hair are dunked in. It's not something I want people to see <laughs>.

Q: How long have you been doing that for?

A: You want to know what started it, right? I think I've been doing it about 10 years now. I think the first time was probably when I had a bunch of product in my hair for work and I wanted to rinse my hair completely before showering. I think that's when it started. Then after that it just unexpectedly became a thing. Can you say it's like when you're still in the waters [in the womb]? <laughs>. So I ended up just loving relaxing like that. But just so you know, I don't do it in places like hot springs! Never in public places! Only at home! I do it alone in my own bath.

Information

Milk Cocoa Yarisugi (15 Sec. Commercial)

Initial Broadcast: November 21, 2019
Region: Japan

*The commercial w ill also be available to watch on the Morinaga Milk Cocoa official website on November 18 at 10:00 (JST)

Morinaga Milk Cocoa

Available: Japan

Price: ¥520 (Before Tax)

J-Pop Sensation Perfume Release First Greatest Hits Album 'Perfume The Best "P Cubed"'

19.September.2019 | MUSIC

Perfume just dropped their first-ever greatest hits album Perfume The Best "P Cubed" on September 18.

Perfume appeared as the first ever J-pop girl group to perform at the 2019 Coachella Valley Music and Arts Festival earlier this year―a year which marks 15 years since their major debut.


The enormous greatest hits album features a long list of 52 tracks, all created by Yasutaka Nakata, and all carefully selected by the group members and their staff. The line-up includes singles, hit tracks always perfumed at live shows, their latest track Nana Nana Nairo which was released digitally back in July, and an all-new song entitled Challenger.

The album will be released in several editions. Limited Pressing Edition and First Press Limited Edition copies are coupled with a bonus disc which features music video for the title track Future Pop as well as a digest live video compiling footage from the group's 4th world tour "FUTURE POP" which was taken across Shanghai, Taiwan and North America from February to April earlier this year. It also comes with the fan-favourite radio series featuring Perfume.


Additionally, Perfume's entire discography from their major debut to today, including albums and singles, was made available on major streaming platforms including Spotify on September 18. This includes everything from their 2005 major debut single Linear Motor Girl to the greatest hits album.

Celebrate 15 years of Japan's biggest J-pop group Perfume by listening to Perfume The Best "P Cubed".

Information

Perfume The Best "P Cubed"

Release Date: September 18, 2019

Limited Pressing Edition (3 CDs+Bonus Disc+Photo Book+Special Packaging): Blu-ray Ver. ¥7,037 [UPCP-9022] / DVD Ver. ¥6,574 [UPCP-9023]
First Press Limited Edition (3 CDs+Bonus Disc): Blu-ray Ver. ¥4,630 [UPCP-9024] / DVD Ver. ¥4,167 [UPCP-9025]

Regular Edition (3 CDs): ¥3,241 [UPCP-1005/7]

*Prices do not include tax



Special Limited Pressing Edition (ASMART/UNIVERSAL MUSIC STORE Exclusive)
Includes: 3 CDs+Bonus Disc+Photo Book+Special Packaging+Acrylic Photo Cube
Blu-ray: ¥8,300 (Tax Included) [PROJ-1909]

DVD: ¥7,800 (Tax Included) [PROJ-1910]
Official Universal Music Website (Japanese): https://www.universal-music.co.jp/perfume/

Perfume Official Website (English): https://www.perfume-web.jp/eng/

Meiji Chocolate Leaders Jun Matsumoto & Akihiro Miwa Appear in New Commercial

Jun Matsumoto and Akihiro Miwa are set to appear in a new commercial for the 2019 National Election for Meiji's long-selling chocolate brands Kinoko no Yama and Takenoko no Sato which will air in Japan on August 7.

The election has the nation of Japan voting for their favourite snack of the two. The Kinoko Party lost to the Takenoko Party in the 2018 elections. In March this year, the Kinoko Party changed their name to the New Kinoko Party and appointed singer, actor and model Jun Matsumoto as their party leader, calling for a new election. Voting for the 2019 National Election opened today.

The new commercial for the elections features not only the leader of the New Kinoko Party Jun Matsumoto, but Akihiro Miwa too, who has been chosen as the leader for the also re-branded New Takenoko Party. In the commercial, Miwa interrupts Matsumoto during his election speech.

Both products have been completely renewed with higher quality flavours and new packaging. With the two leaders now mobilised, how did they fair in the commercial shoot?

New Kinoko Party: Party Leader Jun Matsumoto Shoot Report

Matsumoto entered the studio with a relaxed air about him. Wearing his stylish and dapper suit, he engaged in friendly chat with the commercial director.

After their light conversation, Matsumoto was worried how he should portray himself in the recording, but he managed to pull it off perfect in just one take. He even suggested some of his own lines for the speech, really getting into the role like a real party leader.

It was a calm and peaceful mood from start to end. After the recording finished, he thanked the staff with a smile and exited the room.

New Takenoko Party: Party Leader Akihiro Miwa Shoot Report

Miwa entered the studio wearing a deep blue suit and bright green scarf. "Hello, very sorry to keep you waiting," he said as he walked with grace and with an aura that struck the staff. He nailed the part with his magnificent acting and like Matsumoto, successfully did it in one take. The tone of his lines were spot on which earned him praise from the director who simply said, "Perfect."

Miwa ensured to check with the director that each and every line was perfect. His stoic presence was enough to convince you that he won't lose to the New Kinoko Party.

Cells at Work! Short Film Released On YouTube in Collaboration With Pocari Sweat

Every year during summer in Japan there are ubiquitous alerts cautioning people to do everything they can to combat heatstroke. According to the Ministry of Internal Affairs and Communications in Japan, in 2018 (May-September), there were more emergency call outs due to heatstroke than in previous years.

To help spread awareness about the effects of heatstroke, Otsuka Pharmaceutical teamed up with the anime series Cells at Work! to promote their sports drink Pocari Sweat, a hugely popular non-carbonated sweet beverage in Japan. Together, they produced an alternative story to Episode 11 of the anime series entitled Heatstroke. They dubbed it Episode 11.5: Heatstroke ~If Only I Had Pocari Sweat~. The short episode was released both on YouTube and the official Pocari Sweat website on July 8.

Cells at Work! follows the stories of anthropomorphised cells in the human body. Episode 11 showcases what happens when the body suffers from heatstroke and what people can do it prevent it.

The special collaboration video with Pocari Sweat features several of the original voice cast including Maria Naganawa (Platelet) as well as Mamiko Noto reprising her role as the Narrator.

ⓒAkane Shimizu/Kodansha・Aniplex・davidproduction

Information

TV Anime Cells at Work! – Episode 11.5: Heatstroke ~If Only I Had Pocari Sweat~

Released: July 8, 2019

Original Series: Cells at Work!

Pocari Sweat Official Website: https://pocarisweat.jp/hs/

Fairy Tail Author Hiro Mashima Works With Kirin to Produce Special Manga Campaign, Interview & Illustration Video

Beverage company Kirin Holdings Co., Ltd who are most famous for their beer have released a video featuring Hiro Mashima, the author and illustrator of many famous manga series including Fairy Tail, Rave and Edens Zero. In the video, he will draw the Kirin from Kirin Holdings' logo. A Kirin is a mythical hooved creature that originated in ancient China.

Hiro Mashima draws the sacred Kirin in 60 minutes: short vid.

Hiro Mashima has 1.7 million followers on Twitter and is famous for his work on multiple manga series. In the video, he has 60 minutes to draw the sacred and mythical Kirin beast from the Kirin Holdings logo. The theme of his drawing is "the sacred Kirin that brings happiness". 

You can watch Mashima using his fine judgement and brush pens to carefully create the picture. Mashima has a completely unique touch that adds motion and life into his works. The video also includes an interview so you can watch Mashima paint whilst hearing his creative ideas and feelings about drawing the Kirin.

The Kirin is a mythical beast that originated from ancient Chinese history. These hooved creatures were said to appear before you as a sign that something fortunate is about to occur. It was seen as a symbol of calm, peaceful and happy days.

The general public can start getting involved from Saturday 1st June, when the 60-minute Kirin-drawing campaign will start. The #キリンの聖獣真剣お絵描き60分一本勝負  (draw the sacred Kirin in 60 minutes) campaign will run from 9 pm to 10 pm on 1st June. This involves drawing a Kirin and posting it online.

This is your chance to catch a special interview with Mashima along with the video! He will talk about things that you cannot normally hear anywhere else! Such topics include Mashima's feelings towards his manga and the story behind the making of his manga. This article includes just a small snippet of the interview!

Hiro Mashima: "It's been so long since I've last drawn anything by hand rather than using a computer. I'm really nervous! It really has been a long time."

Hiro Mashima: "I tried this out at home and I was finished within 10 minutes…"

Everyone: (gasps and laughs in surprise)

Q: So, what makes you feel the most happy in life?

Mashima: "I'm at my happiest when my fans are fascinated by my work. The Kirin has some similarities to the dragons in my manga Fairy Tail, don't you think? Well, none of them are sacred beasts, but I put a lot of giant beasts into this manga!"

Mashima: "Every moment and everywhere I go, I am constantly thinking about ideas for characters. For example, interesting people my characters could meet. Usually, I make lots of rough sketches of ideas and while I'm in the middle of these, there are many times that an amazing idea is born!"

Mashima: "Ok, I'm done."

Mashima: "I know I've mainly focussed on the top part of the Kirin but I wanted to make it seem like it is jumping out of the page. Well, I'll leave you to interpret it how you like."

Q: Are you going to give it a name?

Mashima: "Huh? Hasn't the title already been decided? I thought it was Kirin! (laughs ) Ok, I'll come up with something… how about, Hono [Fire]!"

Mashima: "I know it's a lot to ask ー drawing a picture within 60 minutes! But since you've made it all the way to this video, I would be so happy if you were to take part, too! I am really looking forward to seeing your drawings so please take part!"

Q: By the way… do you think that Plue and Nikora could ever become friends with the sacred Kirin?

Mashira: "Hmmm…. I think there is a chance they could! Now wouldn't that be terrifyingly exciting!"

Interviewer: "About the picture… what do you think about when you draw or paint?"

Mashima: "There are many things I think about… like how can I improve it or build on it… and of course, I'm constantly thinking about the manga. When i am drawing illustrations, I'm usually just talking like this while I'm at it so I'm not particularly thinking of anything. I know it's not good to just draw without really thinking [laughs] I should probably change that…{

Interviewer: "In your manga, friendship seems to be one of the most important themes. Do you feel happiness from friendship?"

Mashima: "Maybe aspiration is the stronger theme. I had so many friends when I was in school but when I started working, I lost most of my friends. It would be nice to have some."

Information

Send your Kirin illustration to Mashima in the official campaign!

Date: June 1, 2019 at 9:00pm – 10:00pm (JST) *60 minutes
To take part: Follow Kirin Beer's official Twitter account (@Kirin_Brewery)

Tweet your Kirin illustration with the hashtag:  #キリンの聖獣真剣お絵描き60分一本勝負

Done!

Find out more about the campaign from the official website: https://www.kirin.co.jp/campaign/seijyucp_01/index.html