Streetwear Brand "XLARGE®" to Release Dragon Ball Z Collaborative Clothing
Men's streetwear brand "XLARGE®" have teamed up with the quintessential Japanese anime series "Dragon Ball Z" to release a line of collaborative clothing, set for release on July 21st.
The designs in the new collection include Vegeta, Trunks, and Majin Buu, three characters recognisable all around the world.
The Vegeta and Trunks designs present the XLARGE company name in the same style font as the Dragon Ball Z font, superimposed on the characters themselves as they appear in the show.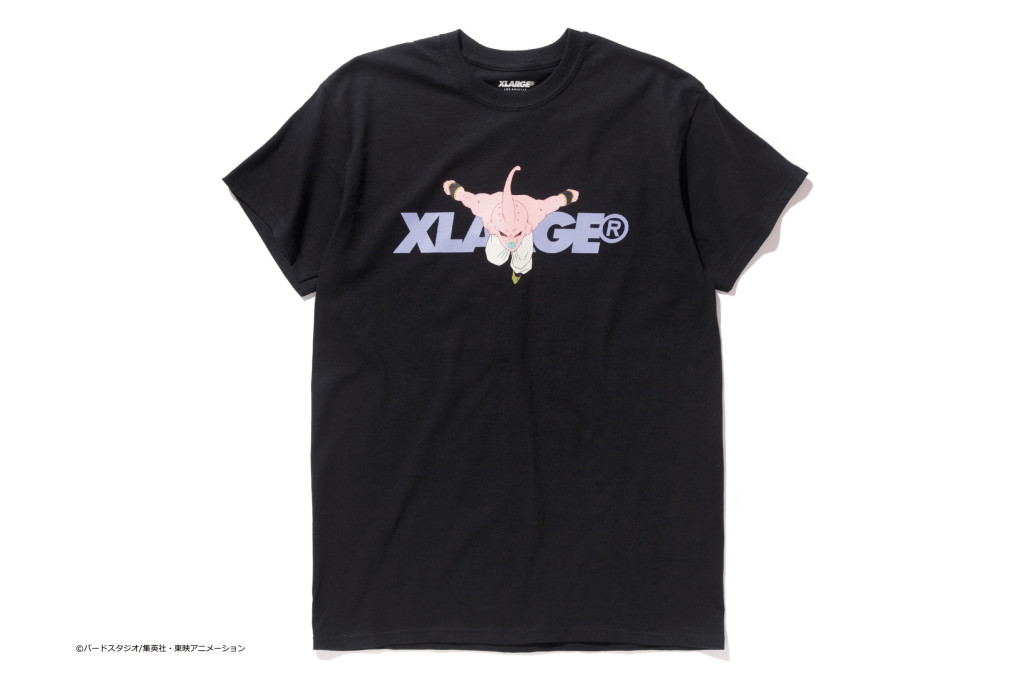 The Majin Buu design features the XLARGE logo in its standard design in a salmon pink colour just like Buu.
If you love streetwear and you love Dragon Ball, then be sure to pick up a t-shirt by XLARGE of your favourite character and join in with the new streetwear culture offered by this collaboration.
■Information
Available at XLARGE® and calif stores from July 21st for a limited time
Stores: XLARGE® – http://www.xlarge.jp/shoplist
 B's INTERNATIONAL Online Shop calif – http://calif.cc/
Dragon Ball S/S VEGETA
PRICE: ¥5,000+tax
SIZE : S, M, L, XL
COLOR: White, Black, Navy
Dragon Ball S/S TRUNKS
PRICE: ¥5,000+tax
SIZE :S, M, L, XL
COLOR: White, Black, Light Purple
Dragon Ball S/S MAJIN BUU
PRICE: ¥5,000+tax
SIZE : S, M, L, XL
COLOR: White, Black, Pink
Related Article:Make your original face logotype! XLARGE®and X-girl's collaborative campaign will start up
Related Article:Release of Best Album "God" for 30th Year Anniversary of TV Animation "Dragonball"!
RELATED ENTRIES
My Melody and Kuromi Bubble Tea to be Served at Pearl Lady in Japan

Bubble tea chain Pearl Lady, which is celebrating its 17th anniversary this year, is teaming up with Sanrio for the second time to release two new drinks themed on the popular characters My Melody and Kuromi on October 16, 2020. My Melody and Kuromi are also celebrating their 45th and 15th anniversaries respectively.

Black Lemonade | Strawberry Milk Tea (w/ Novelty) – ¥500 Each (Tax Included)

The two beverages are Sweet Strawberry Milk Tea, which is inspired by the cute My Melody, and Black Lemonade, which is based on her rival Kuromi.

When ordering either of the drinks at Pearl Lady, customers will also get one of 6 possible badges as pictured above. One of the designs is a secret, so you'll need some luck if you want that one.

Demon Slayer Confections Slash Their Way Into Lawson Convenience Stores in Japan

Bandai Candy's character-inspired Japanese confectionery series Tabemas collaborating with the popular TV anime series Demon Slayer: Kimetsu no Yaiba to release two confections themed on the show's main characters Tanjiro Kamado and Nezuko Kamado as well as a collection of tarts. The sweet treats will hit the chilled desserts corner of Lawson convenience stores in Japan on October 20, 2020.

Tabemas x Demon Slayer


Tabemas x Demon Slayer: Kimetsu no Yaiba (Tanjiro Kamado/Nezuko Kamado) – ¥264 Each (Before Tax)

The tarts feature all the little details of the beloved characters, from the scar on Tanjiro's forehead and his earrings to the bamboo pipe in his sister Nezuko's mouth and her hair adornment. It also captures the designs of their clothes. Both are filled with Japanese red bean paste with Tanjiro being chocolate flavoured and Nezuko strawberry flavoured.

Demon Slayer Tarts


Demon Slayer Tarts | ¥231 (Before Tax)

An assortment of biscuit base tarts laced with caramel mousse. The tart designs feature a range of popular characters from the anime series including the Kamado siblings, Zenitsu, Inosuke, Shinobu, and Tomioka.

Demon Slayer: Kimetsu no Yaiba is a manga series by Koyoharu Gotouge serialised in Weekly Shonen Jump. The popular series has over 100 million copies in circulation and spawned a hit anime series last year. The upcoming anime film Demon Slayer: Kimetsu no Yaiba the Movie: Mugen Train, which is being animated by ufotable, is set for release tomorrow on October 16, 2020 will serve as a direct sequel to the 2019 anime series.

©Koyoharu Gotouge/Shueisha・Aniplex・ufotable

An Otaku's Dream: The EJ Anime Hotel in Saitama Where You Can Stay in Rooms Themed On Anime Series

Manga publisher KADOKAWA opened the new anime concept hotel EJ Anime Hotel at Tokorozawa Sakura Town in Tokorozawa, Saitama, on October 1, 2020.

Tokorozawa Sakura Town is a new shopping complex set to open on November 6, 2020, where it will serve as a hub for the latest in Japanese pop culture with events, shops, restaurants, a museum, and more. EJ Anime Hotel opened on early Thursday in the run up to the complex's grand opening to welcome guests.

The 'EJ' of EJ Anime Hotel stands for 'Entertainment Japan.' The hotel aims to have guests living inside the stories they love from a wide range of Japanese media from anime to manga, movies, tokusatsu SFX movies, idol culture, and more.

As well as room decorations and the exclusive merch that will be on sale, the hotel is also offering a new kind of accommodation experience by incorporating videos, sounds, lighting, and more. Its restaurant will also offer a selection of food and drink in collaboration with various series including all-out full course dinners.

When using the hotel elevator, you will hear announcements from none other than popular Japanese voice actor Yuki Kaji who has played many big roles in anime including Eren Jaeger in Attack on Titan. "As an anime fan first and foremost, having such a fun concept hotel like this open, not to mention getting to be involved as an announcer, makes me really happy," explains Kaji. "I want guests to make some great memories staying at EJ Anime Hotel."

"Bofuri: I Don't Want to Get Hurt, so I'll Max Out My Defense." Collab Room ©2020 夕蜜柑・狐印/KADOKAWA/防振り製作委員会

"Uzaki-chan Wants to Hang Out!" Collab Room © 2020 丈/KADOKAWA/宇崎ちゃん製作委員会

"KonoSuba: God's Blessing on this Wonderful World!" Collab Room ©2019 暁なつめ・三嶋くろね/KADOKAWA/映画このすば製作委員会

"A Certain Scientific Railgun T" Collab Room ©2018 鎌池和馬/冬川基/KADOKAWA/PROJECT-RAILGUN T




"Yuki Yuna Is a Hero" Collab Room ©2017 Project 2H

Right now, EJ Anime Hotel is collaborating with five different anime series: Bofuri: I Don't Want to Get Hurt, so I'll Max Out My Defense., Uzaki-chan Wants to Hang Out!, KonoSuba: God's Blessing on this Wonderful World!, A Certain Scientific Railgun T, and Yuki Yuna Is a Hero. The hotel is taking bookings on its official website.

If you're thinking of travelling to Japan as an anime fanatic, then look no further and book with EJ Anime Hotel.

Information

EJ Anime Hotel
Grand Opening: October 1, 2020
Location: Tokorozawa Sakura Town Floor 6F
Address: 3-31-3 Higashitokorozawawada, Tokorozawa-shi, Saitama Prefecture
Opening Hours: 24 hours a day
Check In: 4pm / Check Out: 10am
No Fixed Holidays
Official Website: https://tokorozawa-sakuratown.jp/hotel/

Dragon Ball Confections Kamehameha Into FamilyMart Convenience Stores in Japan

Character-inspired Japanese confectionery series Tabemas has revealed that its next batch of sweet treats are Dragon Ball Super inspired. The sweets were released at FamilyMart convenience stores in Japan on July 28, 2020.

'Tabemas' is an abbreviation of the Japanese words taberareru masukotto, meaning 'mascots that you can eat.' It is a Japanese confectionery series that combines well-known characters and Japanese sweets made from ingredients like red bean paste, sugar and rice flour. The sweets are also made with a dough called "nerikiri" which is used in making traditional Japanese wagashi sweets.

Tabemas Dragon Ball Super: ¥369 Before Tax | 1 set of 2

The confection designs include the iconic Dragon Balls from the series up to Seven-Stars, as well as Shenron.

Shenron is matcha-flavoured. Using nerikiri dough, Tabemas has brought the dragon god to life with his iconic red gaze, whiskers, and tail. Each of the seven Dragon Balls are filled with custard cream. One set of these confections comes with both Shenreon and one of the Dragon Balls, so fans can enjoy both flavours.

As well as all of the seven Dragon Balls, there are two secrets ones too. What exactly they are requires a trip to FamilyMart.

©Bird Studio/Shueisha・Fuji TV・Toei Animation

Information

Tabemas Dragon Ball Super
Released: July 28, 2020

Available: At the chilled desserts section of FamilyMart convenience stores in Japan

*Available while supplies last

*Stock date may differ from branch to branch

*Select stores not participating

Official Website:  https://www.bandai.co.jp/candy/tabemas/dragonball/

Get Ready For Summer with mikko illustrations and HONEY SALON's Collection

Fashion brand HONEY SALON, which was developed by Stripe International Inc., is releasing a new line of items in collaboration with mikko illustrations. mikko illustrations is famous for their charming illustrations of women with sexy flair. The new line of items will be released from July 4, 2020.

About mikko illustrations

Charming, nostalgic with a touch of sexiness, mikko illustrations welcomes you to the adorable everyday life of a girl. mikko illustrations started off as a freelance illustrator in 2013. Their illustrations appeared in women's magazines, on websites and in apparel collections. They have also showcased their portraits and original merchandise at a number of exhibitions.

mikko illustrations and HONEY SALON Collaboration Collection

"An extraordinary girl like a sweet cherry" is the main concept of the collaboration. The sexy illustrations are also inspired by the retro and sexy 80's pin-up model. The collaboration items include t-shirts and skorts (skirts with shorts underneath). There are also tote bags, and two kinds of pouches.  The design seen above shows an adorable girl striking a pose with a cat helping itself to her scrumptious dessert.


sweetest cherry Puff Sleeve Shirt: ¥5,900 (Before Tax) Colours: White/ Light Pink


The illustration featured on this shirt shows the adorable young woman putting on her makeup while her mischievous cat seizes the opportunity to steal the cherries on her drink. The design is in full colour and in vintage style. Dainty and light material is used to make the puff sleeves which are decorated with ribbons to finish the vintage girly look. The skirt the girl is wearing in the illustration inspired the design for the gingham skorts in the collection.

sweetest cherry Gingham Skorts: ¥9,000 (Before Tax) Colours: Red/Black

The skorts are lined with a collaboration-limited gingham pattern. A beautiful ribbon hides the elastic that beautifully embraces the waistline while adorable round buttons decorate the front. Tuck in your top to enjoy this look. The high waist skort can be worn with the top for a beautiful silhouette.

sweetest cherry Compact Tote Bag: ¥4,800 (Before Tax) Colour: Ivory/ Pink

The tote bag comes with a useful pocket, making it easy to carry and use as one pleases. It is perfect for carrying a mini purse, train card and essential items to enjoy a day out. The back pocket design is adorable and cherry-themed. The tote bag is made from light satin, making it perfect for any kind of trip.

sweetest cherry Frilly Pouch: ¥2,900 (Before Tax) Colour: Ivory/ Pink

Every time you pull out this soft, frilly satin pouch, your heart will be overwhelmed by the kawaii world of mikko illustrations. This two-coloured pouch is fastened together with a heart-shaped charm. The round shape makes it easy to organise and easy to use.

sweetest cherry Multi-Pouch: ¥3,000 (Before Tax) Colour: Ivory/ Pink

The multi-pouch is made from water resistant fabric and shows off an original design. This pouch is perfect for your toothbrush and toothpaste, cosmetics, hair comb, handkerchief, mask and much more. A snap faster is affixed to close the pouch, making it easy to access.

If you want to get your hands on some of the items in this collection, head to Laforet Harajuku. These items will be sold from July 4 to July 17, 2020. Not only can you get your hands on these collaboration items here, but also many other items which feature original designs by mikko illustrations. Spend more than ¥13,000 (tax included) on mikko illustrations items and you will be given a ticket granting entry to a campaign where mikko illustrations creates digital portraits of participants.

As we're celebrating summer, this is the perfect opportunity to spice up your wardrobe.

Information

mikko illustrations X HONEY SALON Collaboration
Release Date: July 4, 2020

Avaialble At: HONEY SALON Shops across Japan ( Laforet Harajuku, Lumine EST Shinjuku, EST Umeda)

Online (STRIPE CLUB): https://stripe-club.com/honeysalon/

One Piece and Dragon Ball Z Design Watches Released by G-SHOCK

CASIO G-SHOCK has announced a collaboration with the popular anime series One Piece and Dragon Ball Z, with watch designs for each show releasing in July and August respectively.

GA-110JOP: ¥26,400 (Tax Included)

The GA-110JOP One Piece watch uses the popular GA-110 model G-SHOCK which has a distinct big case. It's covered in a black base colour and features an illustration of Luffy strong and grown up. At 9-o'clock is a motif of Luffy's straw hat, while at 3-o'clock is the word "WANTED." Additionally, when the hour and minute hands both strike 2-o'clock and 4-o'clock, they combine with slanted golden lines to create the "X" shape that Luffy has on his chest.

The back cover features the "G-SHOCK x One Piece" logo.

GA-110JDB: ¥26,400 (Tax Included)

Like the One Piece watch, the Dragon Ball Z one also uses the GA-110 model and is coloured in that iconic DBZ orange. The design is inspired by Goku going through training to become stronger. The lettering and logo is gold for accent. At 9-o'clock is the Four-Star Dragon Ball while at 3-o'clock is the letter "Z."

On the back cover of this one it features the Dragon Ball Z logo.

Both watch designs will for sure be appreciated by fans for their detailed designs and references.

Information

GA-110JOP
Release Date: July 2020

GA-110JDB
Release Date: August 2020

Dragon Ball Z Clothing and Accessory Collection to Drop in Collaboration With BAPE®

A BATHING APE® is teaming up with Dragon Ball Z to release a special collaborative collection of attire and accessories on June 27, 2020 at all BAPE STORE® branches in Japan, BAPE.COM, and ZOZOTOWN.

BAPE® last collaborated with Dragon Ball for the release of the hit anime film Dragon Ball Super: Broly. The design for the the new collaboration takes inspiration from the company's mascot character BABY MILO®.

The collection includes a T-shirt, hoodie, denim jacket, and other must-grab items.

Jump Force Deluxe Edition Arrives On Nintendo Switch This August

The Deluxe Edition of Spike Chunsoft's fighting game Jump Force published by Bandai Namco Entertainment is set to hit Nintendo Switch on August 27, 2020.

Jump Force is a fighting game that brings together a roster of over 50 characters from popular series the manga magazine Weekly Shonen Jump such as One Piece, Naruto, Dragon Ball, and many more. The game pits the characters in real world locations like New York and Matterhorn and has players battle it out.

The new trailer showcases some of the unique gameplay features which Nintendo Switch players will be able to enjoy, such as being able to play six-player local multiplayer games. The Nintendo Switch edition is packaged with the full game plus Character Pass 1 which introduces nine new characters into the long roster.

Those who pre-order the physical edition of the game will receive three One Piece, Dragon Ball, and Naruto avatar costumes and Frieza's pod as pictured below.

©JUMP 50th Anniversary
©BANDAI NAMCO Entertainment Inc. ©2017 Nintendo

Information

JUMP FORCE DELUXE EDITION Nintendo Switch™
Release Date: August 27, 2020
Platform: Nintendo Switch™
Official Website: https://www.bandainamcoent.com/games/jump-force

*Nintendo Switch and the Nintendo Switch logo are trademarks of Nintendo.

*YouTube is a trademark Google LLC.

Streetwear Brand XLARGE to Release My Hero Academia Collaborative Clothing

Established in November 1991 in Vermont Avenue los angeles, XLARGE has become one of the leading streetwear brands, infusing a range of culture such as music, art and comics into their designs and pioneering a new direction in fashion. 

 XLARGE is set to release a line of My Hero Academia collaborative clothing with Kōhei Horikoshi – the creator of the popular Weekly Shōnen Jump series (Shueisha. Inc).  

My Hero Academia is set in a world where 80 percent of the world possess some kind of superpower called "quirks". The main character Izuku Midoriya (Deku), who has dreamt of becoming a hero since childhood, discovers that he was born quirkless. After an unexpected encounter with the world's greatest hero All Might, Deku inherits the "One For All" quirk and is able to enter the prestigious hero school U.A. High School where he studies and fights alongside his new classmates to master his quirk. From children to adults, the series has become incredibly popular worldwide and the TV anime is set to release its fifth season. 

S/S TEE DEKU WHITE,BLACK,GREEN / S,M,L,XL / ¥5,500+TAX

S/S TEE ALLMIGHT WHITE,BLACK,NAVY / S,M,L,XL / ¥5,500+TAX

The new clothing series features Izuku Midoriya, his rival from childhood Katsuki Bakugo, the top-class hero Shoto Todoroki and the world's number one hero and Deku's biggest role model All Might. All the illustrations are original and include the XLARGE logo.

MY HERO ACADEMIA DENIM PANT LtINDIGO / 30,32,34,36inch / ¥20,000+TAX

If you're a fan of these new generation Jump characters then this stylish lineup is just what you need. The lineup will be sold from May 2, 2020 on calif and ZOZOTOWN online stores. 

This is perfect for any My Hero Academia fan looking to quirk up their look. 

©Kōhei Horikoshi/ SHUEISHA. Inc, My Hero Academia Production Committee

Dragon Ball Z Desk Tool Collection Releasing in Collaboration With DyDo Drinks

To celebrate the release of their two new drinks, DyDo DRINCO, Inc. is collaborating with Dragon Ball Z to release a unique collection of convenient tools for computer desks. They will be released together with the drinks in limited quantities from March 9, 2020 at convenience stores and volume sellers across Japan.

*Pete Licata, 14th World Barista Championship Champion

①Super Saiyan Goku – Card Stand / ②Great Ape Vegeta – Cotton Swab Holder / ③4th Form Frieza – Eye Drop Stand / ④Raditz – Pen Stand / ⑤Captain Ginyu – Mechanical Pen Refill Stand / ⑥1st Form Cell – Clip Holder / ⑦Majin Buu – Phone Stand

Seven different tools will be sold, each a model of popular characters from Dragon Ball Z. They not only decorate your desk space, but also tidy it up and make things more convenient.

These are the perfect gift to all Dragon Ball Z fans as well as anime fans who like to nerd-up their desks!

©Bird Studio/Shueisha・Toei Animation


Information

Information

Dragon Ball Z Desktop Tool Collection

Release Date: March 9, 2020 (While supplies last)

Target Products:

①DyDo Blend Low Sugar Sekaiichi no Barista Kanshu (260ml) – ¥130 (Before Tax)

②DyDo Blend Black Sekaiichi no Barista Kanshu (275ml) – ¥124 (Before Tax)

Available: At convenience stores and volume sellers in Japan

Kis-My-Ft2's Toshiya Miyata Appears in &CAST!!! App Commercial For Anime & Voice Actress Lovers

Toshiya Miyata, a member of the seven-member Japanese boy band Kis-My-Ft2, appeared in a new commercial for &CAST!!! on Wedneday. The video application is catered towards fans of anime and voice actors/actresses.

Miyata is the self-proclaimed (and proclaimed by others) number one Japanese anime fan. In the commercial, Miyata showcases the fun you can have with the app. This is his first commercial to appear by himself, and features a song written by Miyata for the commercial entitled Boku Dake no Princess with lyrics by MEGUMI.

The commercial begins with Miyata with a serious expression, explaining the hearts of anime fans in detail with difficult words, but in the second half his expression changes when he takes the phone in his hand and starts using the app.

&CAST!!! lets you message and use items on various "cast" members and they will reply to you.

In line with the new commercial, a log-in bonus campaign is being held right now until October 15 where you can receive the above-pictured clothing item when you log in.

Dragon Ball T-Shirts Designed by Collage Artist Kosuke Kawamura Releasing at UNIQLO

UNIQLO's graphic t-shirt brand UT is collaborating with Dragon Ball Z once more to release a new line of t-shirts designed by Japanese collage artist Kosuke Kawamura. The clothing items will be released in late November.

The line-up features men's and kid's t-shirts and sweaters.

Men's T-Shirts

★

★

The collection features a line-up of 28 t-shirts and sweaters in both men's and kid's sizes.

Men's Sweaters

★

Designs feature Kawamura's iconic collage style, with character illustrations, names, the title logo, Goku's famous Kamehameha, and more.

Kid's T-Shirts

The collection also features two UT originals not designed by Kawamura, with illustrations of Goten and Trunks.

Kid's Sweaters

If you're a fan of the DBZ universe then you won't want to miss out on this latest collection from UT. Check out the full collection here.

*Items marked with ★ are those designed by Kosuke Kawamura

©️@Bird Studio/Shueisha, Toei Animation

©️BIRD STUDIO/SHUEISHA ©️2018 DRAGON BALL SUPER the Movie Production Committee

©︎Kosuke Kawamura

Information

Dragon Ball UT

Release Date: Late November 2019 (subject to change)

Men's T-Shirts (12 Designs) – ¥1,500 (Before Tax)

Men's Sweaters (6 Designs) – ¥2,900 (Before Tax)

Kid's T-Shirts (6 Designs) – ¥990 (Before Tax)

Kid's Sweaters (4 Designs) – ¥1,500 (Before Tax)

Available: At UNIQLO Japan stores and online site

*Select items available at select stores and online onl

Full Collection: https://www.uniqlo.com/jp/store/feature/uq/ut/dragonball/