Evangelion Smartphone Cases Coming Soon from RADIO EVA
The RADIO EVA project is about to release a collection of stylish new Android phone cases in collaboration with Casely. Preorders are open until November 30, and the cases will be released on December 13, 2021.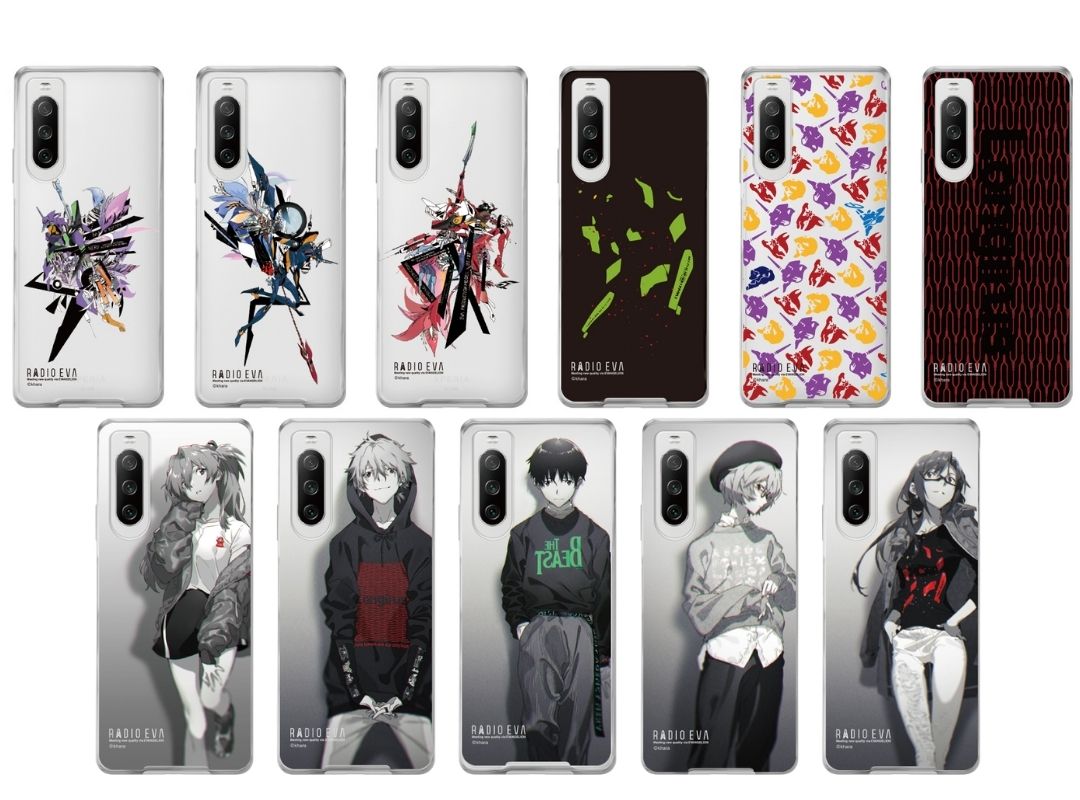 In 2008, the RADIO EVA project was launched as a way to blend the Evangelion series into everyday life. Rather than sell flashy items more suited for a stroll down the main street in Akihabara, the series features more subtle items perfect for everyday use. Main characters from the Evangelion anime series serve as models for every clothing release, and the images always make a massive splash on social media. 
Which one will you be ordering? 
RELATED ENTRIES
Evangelion to Collaborate with Sports Brand Mizuno for the First Time

The sports brand Mizuno is collaborating with the popular anime series Neon Genesis Evangelion for the first time! The new collection will introduce nine pieces of apparel, along with some very trendy masks. All items are available for preorder through April 12 at the Mizuno online store and the Evangelion online store.

Evangelion has been globally popular for decades, and the new collection will allow fans to show their love while not sacrificing their comfort. Original logos have been created with each Eva unit in mind, and certain items feature patterns inspired by the A.T. Field seen in the series. 

Experience the World of Demon Slayer with New AR Experience from au

Starting September 23, Japanese cell phone company au will be releasing a new collaborative project with the globally popular Demon Slayer: Kimetsu no Yaiba series! 

The new experience will allow users with a smartphone to transform into characters from the show, and reenact popular battle scenes from both the anime series and film. The collaboration is taking place to celebrate the return of the series in 2021 for it's second season. 

Demon Slayer x au AR Experience

Augmented Reality: Become Your Favorite Character!

Using a special Instagram AR filter, users can mix different backgrounds and effects from the Demon Slayer series to make it feel as though you're a part of the action!

Famous Quotes from the Series

By pressing a button on the special collaboration site, users can enjoy a collection of 45 random vertical videos featuring their favorite characters saying their famous lines. Take a screenshot of these clips and use one as your wallpaper!

Online Puzzle Game Escape Mission: Escape from the Mugen Train

In this fun escape game, users become a member of the Demon Slayer Corps sent to the Mugen Train to help rescue passengers. 

©吾峠呼世晴/集英社・アニプレックス・ufotable

*「煉獄」の「煉」は「火+東」が正しい表記となります。

Amazon Prime Video Releases Hideaki Anno + Hitoshi Matsumoto Interview Special

A special interview between Evangelion creator Hideaki Anno and popular Japanese comedian Hitoshi Matsumoto is coming to Amazon Prime Video on August 20. A trailer and teaser visual were also released with the exciting announcement.

The release of sci-fi mecha series Neon Genesis Evangelion in 1995 cemented Anno's legacy in the anime industry. As a director, he also worked on series like Gunbuster, Nadia: The Secret of Blue Water, Kare Kano, and 2004's Cutie Honey.

Evangelion 3.0+1.0: Thrice Upon a Time was released in theaters on March 8 and quickly became a phenomenon, making $92.7 million at the Japanese box office. Currently, all Evangelion films are available on Amazon Prime Video.

Hitoshi Matsumoto has been at the forefront of the Japanese entertainment industry for decades, working as a comedian, film director, writer, and producer. He makes up one half of comedy duo Downtown, along with fellow comedian Masatoshi Hamada.

Matsumoto currently hosts and produces the show Documental, available to stream on Amazon Prime Video. Currently on its ninth season, the show is the longest-running Amazon Original Series in Japan. It revolves around ten comedians trapped in a room with each other, with the last to laugh dubbed the winner. Each comedian is hand-picked by Matsumoto, and the show has become popular in the US, Mexico, Australia, Germany, France, Italy, Spain, India, and other countries around the world.

Matsumoto's other Amazon Prime series, FREEZE, features numerous celebrities, models, athletes, and comedians forced to remain perfectly still as a number of crazy things happen around them. The second season won the top prize at the Asia Television Awards for Original Digital Entertainment Program.

The trailer shows the moment in which Anno and Matsumoto meet for the first time, and viewers can sense the nervous energy in the air.

Hideaki Anno + Matsumoto Hitoshi Interview Special Trailer


What kind of conversation will these two have, considering how different they are? Watch and find out!

Information

Hideaki Anno + Hitoshi Matsumoto Interview Special

Release Date: August 20 on Amazon Prime Video

© 2021 YD Creation

New YouTube Video Highlights Famous Evangelion Scenes in 11 Languages

On August 13, 2021, the fourth and final installment of the Rebuild of Evangelion film series, Evangelion: 3.0+1.01 Thrice Upon a Time, was made available on Amazon Prime Video exclusively for Prime members. The service has also released Evangelion: 1.0 You are (Not) Alone, Evangelion: 2.0 You Can (Not) Advance, and Evangelion: 3.0 You Can (Not) Redo.  

To commemorate the newest film's worldwide streaming release, a new YouTube video is highlighting some of the most popular scenes from the Rebuild of Evangelion film series. Check out how the characters sound in 11 different languages! Be warned, it contains spoilers for the final film!





(The languages featured are: English, French, German, Italian, Brazilian Portuguese, Castilian Spanish, Latin-American Spanish, Chinese, Hindi, Korean, and the original Japanese.) 

 

From hearing Shinji's famed line 'I mustn't run away, I mustn't run away' in Japanese to hearing Kaworu utter "I'm looking forward to seeing you, Shinji Ikari," in German, the trailer is full of memorable moments in its brief two minute and 35 second runtime, with classic lines delivered in ways audiences may have not heard them before. Fans of the series may be able to quickly discern which line is which, even hearing them spoken in a foreign language!

The final line is spoken by Shinji's original English voice actor, Spike Spencer, bidding farewell to 'all Evangelions." 

Evangelion: 3.0+1.0 Thrice Upon a Time has made over ¥10.22 billion ($92.7 million) at the Japanese box office since it was released on March 8, 2021, making it the highest-grossing film in the series. 

©khara

*Translations and video availability may vary by country.


Information

Evangelion: 3.0 1.01 THRICE UPON A TIME

Now Available on Amazon Prime Video (released August 13, 2021)

Watch the Teaser for DAOKO's New Dragalia Lost Album

Dragalia Lost™ is an action role-playing smartphone game developed by Cygames and published by Nintendo. It has been one year since the game launched last year on September 27, and to commemorate, young famous singer DAOKO is collaborating with the title to release an anniversary album on October 9 called DAOKO x Dragalia Lost.

Check out the epic album teaser below released just moments ago.

The teaser gives us a cheeky taste of many songs that are included on DAOKO's new album and follows DAOKO's journey with Dragalia Lost. The range of game scenes in the teaser is enough to make any Dragalia Lost fan lose themselves in excitement. 

Don't forget to check out the album when it is released!

Information

DAOKO × Dragalia Lost 

Release Date: October 9, 2019  

First-Press Limited Edition

Includes 2 CDs in a luxury 3-sided sleeve case, Digipak and 60-page booklet

TFCC-86694 ¥4,000 (price before tax)

Regular Edition (CD Only)

TFCC-86695 ¥2,800 (price before tax)

 

DAOKO Official Website: http://daoko.jp/ 

Tokyo Disney Resort® To Release FASTPASS App

On July 23, 2019, Tokyo Disney Resort will launch a new Tokyo Disney Resort App for smartphones which allows you to obtain FASTPASS tickets for rides from any location in the park.

After entering the park, you can download your FASTPASS tickets using the app. This allows visitors to fully immerse themselves in the magical atmosphere of the park, giving them more time to enjoy the delicious food and discover the shops without having to rush to the other side of the park to get to the machines selling the FASTPASS tickets. 

You can use the app to get FASTPASS tickets at a total of 18 park attractions at the resort. This even includes tickets for the brand new DisneySea® attraction Soaring: Fantastic Flight, which will open on July 23, 2019. 

Downloading the Tokyo Disney Resort App is sure to save a lot of time and energy so you and your friends and family can focus on having a good time and discovering this enchanted world. 

©️Disney