VTuber Group Hololive Releases First Round of Limited-Edition Regional Goods
Japan is known for its distinct regions, and visitors to the country can find extremely unique souvenirs specific to certain towns or prefectures. Even globally-loved snacks have regional variants! Now, the popular VTuber group Hololive has decided to market a collection of limited-edition goods based on particular parts of Japan. Items from the first round will go on sale at participating shops on December 18, 2021.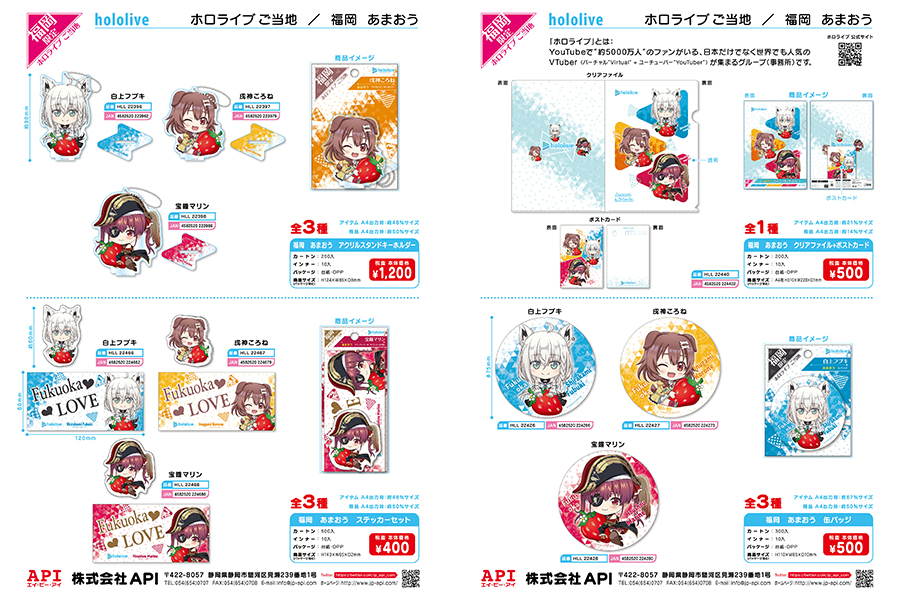 Tokyo Edition: Sakura Miko, Tokino Sora, Momosuzu Nene, Tsunomaki Watame
Osaka Edition: Natsuiro Matsuri, Nakiri Ayame, Himemori Luna
Fukuoka Edition: Shirakami Fubuki, Inugami Korone, Houshou Marine
Fans can snag acrylic stands, keychains, and pins featuring their favorite VTubers representing Tokyo, Osaka, and Fukuoka. This is only the first round of goods, and the second round will be announced soon.
© 2016 COVER Corp.
RELATED ENTRIES
EMOCAL, a Project to Support Japanese Regions, Releases Music Using Local Sound Samples

The EMOCAL project aims to support small-town areas of Japan. As a new initiative in the project, specific soundscapes only found in certain areas of the country have been combined with music to create some unique tracks. A selection of musical artists have collaborated with the project to bring these songs to life!


EMOCAL was created by ZOWA's original label, CatchyStuck. The project supports local regions and communities by using ASMR soundscape videos recorded in each region to convey their particular charms to all of Japan. The sounds recorded in each place are considered to be very valuable and are intended to serve two purposes: to bring tourism back after the pandemic and to provide fans of ASMR a way to experience these areas from afar.



Check out each of these unique ambient tracks created by four up-and-coming musicians! Each song is available on viviON's ASMR platform ZOWA and on Spotify.

Ube, Yamaguchi Prefecture / Ikkyuu x Hige Driver, I Love Ikkyuu

Beard Driver created this ambient track with sounds recorded inside of Ikkyuu, a ramen shop.

ZOWA: https://zowa.app/play/20019
Spotify: https://open.spotify.com/track/1RP4RcpJwMrFzoYQbnfDYm?si=f1f1e816adb14db0


Odawara, Kanagawa Prefecture / Miyuki no Hama x Powerless, Seiren

Powerless created this track, inspired by the sounds of waves crashing at Miyuki no Hama, a seaside recreation area 20 minutes from Odawara Station.

ZOWA: https://zowa.app/play/20016
Spotify: https://open.spotify.com/track/5DkQ9FeM7jQBacUf7Nbuxc?si=c7d771e73ddd44b6

Shizuoka, Shizuoka Prefecture / Wasabi Field x baker, On the silent hill

Utogi in Shizuoka city is surrounded by incredible nature. Known as the birthplace of wasabi cultivation, baker used sounds recorded in the area to create this ambient track.

ZOWA: https://zowa.app/play/20017
Spotify: https://open.spotify.com/track/0oIU4x7MjVKmpouRwEPaXZ?si=04dcb805cea540b7

Ibusuki, Kagoshima Prefecture / Cape Tara x SeA0, Akushu

Cape Tara is a popular spot featuring an 800-meter-long sandbar at low tide. The sounds captured here were used by artist SeA0, and this track is sure to make you miss the water.

ZOWA: https://zowa.app/play/20018
Spotify: https://open.spotify.com/track/1Utz5j0oB4GmSDOMVdUcXU?si=eafa1949b3ea44d0

Kyary Pamyu Pamyu Collaborates with Shelter Nanyo Hall in Yamagata for LOCAL POWER JAPAN Project

Last month, Kyary Pamyu Pamyu performed on the Gobi Stage at Coachella, one of the largest music festivals in the United States. The singer has now returned to Japan for the second half of her 'Kyary Pamyu Pamyu 10th ANNIVERSARY JAPAN TOUR 2022 CANDY WAVE,' seeing the singer performing 30 shows across Japan. The tour will conclude with a solo performance at Budokan in October. 

In conjunction with the nationwide tour, the LOCAL POWER JAPAN Project was launched to energize Japan through the appeal of regional towns and cities and has been attracting major attention. Kyary's newest collaboration in Yamagata has been announced ahead of her concert there on May 13!

The singer will be collaborating with Shelter Nanyo Hall in Nanyo, Yamagata, a small town of only around 30,000 people. The hall is the world's largest wooden concert hall, made entirely from laminated local cedar. It uses the most advanced fire-resistant technology for wood in Japan and was certified as the world's largest by Guinness World Records in December 2015. The multi-functional hall can seat over 1,400 people, and the property also features a Japanese-style tea room, meeting rooms, an open tree-growing space, and more.

"I want the local population to be incredibly proud of this magnificent wooden structure," said Norihito Shimanuki, the hall's director. "Through this concert hall, we'd like to promote Nanyo and Yamagata Prefecture both domestically and internationally." 

The collaboration logo for the newest partnership was inspired by the 'KPP NANDA COLLECTION LIVE in HAWAII' visual. The one-night-only concert was held in July 2014. Since the main focus of this team-up is 'wood,' the visual's palm tree has been transformed into a cedar tree!

A collaborative T-shirt is also on sale featuring the new logo and the singer's 10th-anniversary logo. The shirt is available on the LOCAL POWER JAPAN Project website for two weeks only starting May 12. Support Japanese businesses and pick one up while you can!

Information

Shelter Nanyo Hall Yamagata (Nanyo City Cultural Hall) x Local Power Japan Project

Collaboration T-shirt

Price: ¥3,300 (Tax Included)

Available: May 12 – May 25, 23:59

Where to Buy: 

LOCAL POWER JAPAN Project Online Shop

https://store-localpowerjapan.com/

Shelter Nanyo Hall (Nanyo City Cultural Hall): https://nanyoshi-bunkakaikan.jp

Tour Details: https://kpp10.jp/japantour2022/

Official Site: https://localpowerjapan.com 

*Please allow two weeks to one month after order for product to ship. All items are made-to-order.

*A portion of shirt sales will be donated to local development and social programs. 

VTuber Group Hololive Reveals New Unit 'ORIO,' Group Releases First Single

The Hololive VTuber collective has revealed a new unit! Kanata Amane and Toyokami Towahave formed the unit ORIO, releasing their first single Over Time on May 2, 2022.

Some of Hololive's female VTubers are a part of the Hololive IDOL PROJECT, singing and posting videos on YouTube and even holding live concerts. On February 17, 2021, Hololive IDOL PROJECT held its first concert 'Bloom' in which the talents performed only original songs. On April 21, 2021, the talents released their first full-length album Bouquet.


Over Time, the first single by ORIO, is now available on streaming services. The pair's unit name was announced during the recorded session of Hololive Idol Road Radio earlier this month.

The new song was written by Kana Yaginuma and composed and arranged by Kazuki Satou.



Over Time will be used as the ending theme to the May episode of 'Hololive IDOL PROJECT presents Hololive Idol Project Radio ~Listen to Our Songs!'

Members

Amane Kanata

An angel from the Celestial Academy. She is now studying how to heal people.
To hide her shyness, she pretends to be cool.

Character Design: Oshioshio (@oshioshio_info)
YouTube: https://www.youtube.com/channel/UCZlDXzGoo7d44bwdNObFacg
Twitter: https://twitter.com/amanekanatach


Tokoyami Towa

A young devil who is visiting human society to gain experience and develop her skills. But instead of studying, she became addicted to video games!
After learning about a tool for communicating with humans called "streaming," she's trying it out to help with her studies.


Character Design: rurudo (@rurudo_)
YouTube: https://www.youtube.com/channel/UC1uv2Oq6kNxgATlCiez59hw
Twitter: https://twitter.com/tokoyamitowa
 

Shueisha's Haruman!! 2022 Festival Celebrates Manga this Spring

Shueisha is currently offering a ton of manga for free as part of Haruman!! 2022. The campaign is running until May 15 at participating locations and tons of digital manga series are available for download.

©Shueisha

During Haruman!! 2022, users can read over 305 digital titles for free. This year's theme is 'Manga Festival,' and manga fans can find both recent and classic titles. Why not catch up on some manga history while you can?

A collaboration with the popular VTuber agency Hololive is also underway. One of the group's manga-loving members will be chosen each day to serve as Editor-in-Chief of an original manga magazine.

Popular authors are also commemorating the occasion with new illustrations. Eleven artists from Shueisha's manga department have drawn popular VTubers, and these awesome images are available exclusively on the Haruman!! website.

Stream Date: April 23, 2022

Participants: Shueisha x Hololive Traveling Editorial Department

Streaming Channel: https://www.youtube.com/channel/UCJFZiqLMntJufDCHc6bQixg

©Shueisha

In collaboration with puzzle game creators RIDDLER, 'The Search for the Great Manga King's Treasure' will be held. Pulling inspiration from One Piece, which is currently celebrating 25 years of serialization, fans will have to find clues to solve a massive mystery.

Find your new favorite manga series during Haruman!! 2022.

Information

Haruman!! 2022

Running: April 11 – May 15, 2022

Official Site: https://haruman.jp

VTubers Takanashi Kiara and IRyS to Perform at Germany's DoKomi Anime Convention

Hololive English VTubers Takanashi Kiara and IRyS have announced that they will appear at Germany's largest anime and manga convention DoKomi on June 4 and 5, 2022.


The two will also hold a mini-concert at the event, and selected fans will be able to participate in a chat session with each VTuber. Limited edition merchandise featuring both Kiara and IRyS will be available on-site.

Don't miss your chance to meet Kiara and IRyS from Hololive English!

Takanashi Kiara

An idol whose dream is to become the owner of a fast-food chain. Kiara is a phoenix, not a chicken or turkey. (Very important)

She burns brightly, working herself to the bone since she'll just be reborn from her ashes anyway.


Character Design: huke (@hukeweb)
YouTube: https://www.youtube.com/channel/UCHsx4Hqa-1ORjQTh9TYDhww
Twitter: https://twitter.com/takanashikiara

IRyS

IRyS, a half-demon, half-angel also known as a Nephilim, once brought hope to "The Paradise" during the ancient age. Her full name is — Irys. This current era, riddled with despair and desperation, has brought upon her second awakening. She has arrived to deliver hope, with her feelings put into her lyrics and songs, and determination in her voice.

Though she tends to retain her Nephilim form, she is still quite young within her race. With emotion and "other factors," it is possible that her form may lean to either side. When that occurs, she bears a brief change in her appearance. She does not speak of the events that preceded her second awakening. She faces ever forward, perhaps because she is Hope Incarnate, though no one knows for sure. Or could it be…

"The future is not what helps people; the future is made with our own hands. Salvation is hypocrisy. If people know they are to be saved, they simply will not try. From the depths of despair: a glimmer of light, the warmth of recovery. As long as we are with hope, we live. We stand tall."


Character Design: redjuice (@shiru)
YouTube: https://www.youtube.com/channel/UC8rcEBzJSleTkf_-agPM20g
Twitter: https://twitter.com/irys_en
 

Information

DoKomi

Dates: June 4 – June 5, 2022
Venue: D-Messe Süd/Congr. Center
Official Site: https://www.dokomi.de/ja

VTuber Group Hololive Unveils New Male Unit UPROAR!!

VTuber agency Hololive has announced that its male VTuber unit, Holostars, will be getting a new unit called UPROAR!!

The four new members are Yatogami Fuma, Minase Rio, Hizaki Gamma, and Utsugi Uyu. The members will hold their first collab stream on March 29 at 19:00!

Members

Yatogami Fuma

I love sweet treats! I love games! I love to chat!

A fixer who loves human pastimes.

Is also a bit of a clean freak. Started UPROAR!! upon receiving an odd-job request.


Character Designer: Sakusya 2 (@sakusya2honda)
YouTube: https://www.youtube.com/channel/UCc88OV45ICgHbn3ZqLLb52w
Twitter: https://twitter.com/yatogamifuma
Debut Stream: March 29 at 19:00

Utsugi Uyu

The phantom thief infatuated with beauty.

Rumor has it "there are treasures only an idol can obtain". He is becoming an idol to get his hands on these treasures.


Character Design: Yonemura (@yosk6000)
YouTube: https://www.youtube.com/channel/UCgRqGV1gBf2Esxh0Tz1vxzw
Twitter: https://twitter.com/utsugiuyu
Debut Stream: March 29 at 20:00

Hizaki Gamma

The party animal manga artist who also runs an underground business. He used to think manga was the most awesome, but he has since realized that singing and dancing idols are also awesome.

He is aiming to be the most awesome.


Character Design: Takida (@tkyk01c)
YouTube: https://www.youtube.com/channel/UCkT1u65YS49ca_LsFwcTakw
Twitter: https://twitter.com/hizakigamma
Debut Stream: March 30 at 19:00

Minase Rio

A ghost who passed away while still determined to become an idol.

He spent his early ghost days lazing around until, upon Fuma's invitation, he decided to aim to be an idol once again.

He can't deal with ghosts and scary things, himself excluded.

Character Design: KEKI (@rudecopper)
YouTube: https://www.youtube.com/channel/UCdfMHxjcCc2HSd9qFvfJgjg
Twitter: https://twitter.com/minaserioch
Debut Stream: March 30 at 20:00

After the four members hold their debut streams, they'll come together for a collaboration stream on March 31. Don't miss it!

VTuber Group Hololive Gets Front Page Newspaper Ads in All 47 Prefectures for 'Hololive SUPER EXPO 2022'

To promote the VTuber group Hololive's first major event as a full unit, the front page of newspapers across Japan are covered with popular members!  Promotion for Hololive SUPER EXPO 2022 and Hololive 3rd fes. Link Your Wish began on March 1, and fans across the country are invited to attend the major events at Makuhari Messe later this month.

Hokkaido/Tohoku Regions

Kanto Region

Chubu Region

Kinki Region

Chugoku/Shikoku Regions

Kyushu/Okinawa

On March 1, a full-page ad for Hololive SUPER EXPO 2022 appeared in the morning edition of the Asahi Shimbun, with a total of 47 unique front-page ads, one for each prefecture. Newspapers featuring these ads are also available on the official Asahi Shimbun website in limited quantities while supplies last!

Three Japanese Tourism Instagram Accounts to Follow for Travel Inspiration

The pandemic has changed our lives forever. People have spent the last two years missing travel as they spend more and more time at home, and while many are ready to travel again, it can be difficult to know if it's the right time to return to normalcy. To make the situation a little easier, many local tourism associations in Japan are posting images on Instagram to inspire people to give traveling another try. These three Instagram accounts are our personal favorites, and once Japan opens to tourists again, you won't want to miss visiting these areas!

[Official Kumamoto Tourism Association] Motto, motto, Kumamoto!

Discover the charms of Kumamoto on this local Instagram account featuring photos from four unique local photographers. Many will know the area as the home of the character Kumamon. The images capture the daily lives of Kumamoto residents and include local food and gorgeous scenery. The postings also include the location of the photo and comments from the photographers, making things feel more personal. 

[Official Hokkaido Tourism Association] GoodDay Hokkaido

Hokkaido is an area rich in gourmet seafood and dairy, but its spectacular landscapes are reason enough to visit. GoodDay Hokkaido shows off both the common and uncommon elements of Hokkaido life, often introducing little-known areas. Each photo is vividly colored, and followers can see different seasons at every time of day as they scroll through the feed. See the best images from Japan's northernmost island each and every day on your smartphone!

[Ome / Okutama] Umetama

Umetama is an account that introduces places of interest in Ome and Okutama, two of Tokyo's most scenic towns. Each can be reached in about an hour by train from Shinjuku Station. Visitors can enjoy a gorgeous day trip from the Tokyo center, with the area featuring plenty of campsites and hiking trails. There are tons of stargazing spots, and visitors are often surprised that such incredible nature is so close to Japan's hectic capital. Those with kids will find plenty to do here, so start taking notes while you scroll through the Umetama page!

More and more young people are finding the appeal of Ome and Okutama, and the area has become the perfect relaxation spot for those seeking refuge from their busy lives. In addition, the craft beer bar Ome Beer, located near Ome Station, sells local alcohol, including Okutama's popular craft beer 'Vertere.' See the lesser-known side of Tokyo on this picturesque account. 

Remember how wonderful it is to travel? Hopefully, Japan opens for tourism again soon, and you can visit all of these gorgeous locales.

Kyary Pamyu Pamyu Collaborates with Mentaiko Manufacturer Fukuya for LOCAL POWER JAPAN Project

Celebrating the 10th anniversary of her major label debut, Kyary Pamyu Pamyu is having a busy year. The artist will perform at this year's Coachella, one of the largest music festivals in the United States, and released her first full-length album in three years 'Candy Racer' in October 2021.  On January 16, Kyary embarked on the largest tour of her career, 'Kyary Pamyu Pamyu 10th ANNIVERSARY JAPAN TOUR 2022 CANDY WAVE,' which will see the singer performing 30 shows across Japan.

In conjunction with the nationwide tour, the "LOCAL POWER JAPAN Project" was launched to energize Japan through the appeal of regional towns and cities.  The 30 stops on the new tour include many that Kyary has not visited before, and were chosen based on the singer's desire to perform for fans who may not typically be able to attend one of her shows. On March 5, Kyary will perform in Fukuoka, and will also be collaborating with Fukuya, the oldest mentaiko producer in Japan. Fukuya has been selling the pollock roe product since 1949.

The company's logo has been reimagined, paying homage to the artwork associated with Kyary's 2016 song Sai & Co.

Fukuya's most popular product, pickled cod roe in oil, will be sold in an original collaborative package with new Kyary-inspired branding. Mentaiko and dried mentaiko will be packed in two unique packages that can be stacked to form one image. A message from Kyary is also included. These will be available at select Fukuya locations and online for a limited time, as well as at the March 5 concert in limited quantities.

A T-shirt with a collaboration logo and design has also been unveiled featuring the new color scheme and Kyary's 10th-anniversary logo. This shirt will only be available on the LOCAL POWER JAPAN Project website for two weeks and at certain Fukuya stores starting March 8.

New Apparel Brand Features Manhole Motifs

Japan's manhole covers are known around the world for their intricate designs and unique local motifs. Used to promote towns and destinations, a new apparel brand has taken notice of these neat pieces of culture, releasing t-shirts to continue boosting communities around Japan.

In most cases, local governments are in charge of designing manhole covers. The Japan Underground team travels around the country in a van, finding the most inspiring manhole covers and negotiating with local governments to use the designs. They are then posted daily on social media.

Hokkaido Collection (Otaru / Ishikari / Wakkanai / Kushiro / Sapporo)

Tohoku Collection (Aomori City / Akita City / Kamaishi, Iwate Prefecture / Higashimatsushima, Miyagi Prefecture / Higashine, Yamagata Prefecture / Minamisoma, Fukushima Prefecture)

Hokuriku Collection (Sanjo, Niigata Prefecture / Ojiya / Namerikawa, Toyama Prefecture / Komatsu, Ishikawa Prefecture / Fukui City / Katsuyama)

In July 2021, the group began their travels to sell the new products, starting in Hokkaido and continuing to the Tohoku and Hokuriku regions. In the future, they will continue to the Kanto, Chubu, Kansei, Shikoku, Chugoku, and Kyushu regions, adapting at least one manhole cover design from each municipality per prefecture. The goal is to reach Okinawa in September 2022.


Hololive VTuber Members Collaborate with Raku Spa in 'Furolife' Campaign

Hololive has announced a special collaboration between HoloFantasy and Raku Spa, with special merchandise and VTuber-scented baths at participating locations around Japan!

Merchandise

Collaboration Menu (Coasters Available!)

Photo Spot

 

Guests can grab original merchandise with newly-drawn illustrations during the event period, and original food and beverages based on the five members will be on sale. Five unique baths have been prepared by the Hololive members, as each girl chose her favorite scent. The announcements in each location will also be broadcast by the popular VTubers.

Starting February 6, called Bath Day in Japan, specially-drawn yukata and chibi versions of the characters will be available on limited-edition postcards and new merchandise. To get one of these postcards, visitors will need to follow the official Raku Spa Twitter, retweet the campaign Tweet, and present it at the reception desk at their Raku Spa of choice. These are available on a first-come, first-served basis, so be sure to grab them before they're all gone!

Information

Hololive x Gokurakuyu/Raku Spa Collaboration Campaign
Running: January 27 – February 28, 2022
Locations: 25 participating Gokurakuyu/Raku Spa locations nationwide *Not available at some locations.
Details: https://rakuspa.com/hololive/

Online Shop: https://eshop.gokurakuyu.ne.jp/

Postcard Schedule ※Available while supplies last.
・Usada Pekora: January 27 – February 3
・Uruha Rushia: February 4 – February 10
・Shiranui Flare: February 11 – February 17
・Shirogane Noel: February 18 – February 24
・Houshou Marine: February 25 – February 28

Collaboration Bath Schedule
・Usada Pekora Bath / Japanese Cypress Scent
January 27 – January 30


・Uruha Rushi Bath / Peppermint Scent 
February 4 – February 6


・Shiranui Flare Bath / Grapefruit & Lemongrass Scent
February 11 – February 13, 2022


・ Shirogane Noel Bath / Milk Scent
February 18 – February 20


・Houshou Marine Bath / Flower Cologne Scent
February 25 – February 27


Gokurakuyu/Raku Spa Official Twitter: https://twitter.com/gokurakuyu_spa

VTuber Group Hololive to Hold Second Collaboration with Joypolis for Lovely Party Event

VTuber group Hololive is holding a limited-time collaboration event with Tokyo Joypolis, an indoor theme park in Daiba, from January 7 until February 27, 2022. The Lovely Party event is the second collaboration between the two. 

Collaboration Ticket with Bonus

Collaboration Goods

※The acrylic stands and tapestries will go on sale on different dates. 

Collaboration Menu

The first collaboration between Hololive and Joypolis took place in January 2021 and was met with huge success. For 2022, Roboco-san and the group's second generation will take part in the festivities!

Collaboration merchandise will also be available to order at the Marui Anime Online Shop after the event concludes.

In addition to attraction collaborations and event-only goods with newly-drawn designs, the Frame Cafe will offer a special menu inspired by these select Hololive members. Those ordering drinks will receive clear coasters featuring their favorite VTubers! A birthday project will be held for Yuzuki Choco, who is celebrating her special day on February 14. 

Tickets bought during the event period will include a bonus case. These are available in eight different designs.