VTuber Group Hololive Releases First Round of Limited-Edition Regional Goods
Japan is known for its distinct regions, and visitors to the country can find extremely unique souvenirs specific to certain towns or prefectures. Even globally-loved snacks have regional variants! Now, the popular VTuber group Hololive has decided to market a collection of limited-edition goods based on particular parts of Japan. Items from the first round will go on sale at participating shops on December 18, 2021.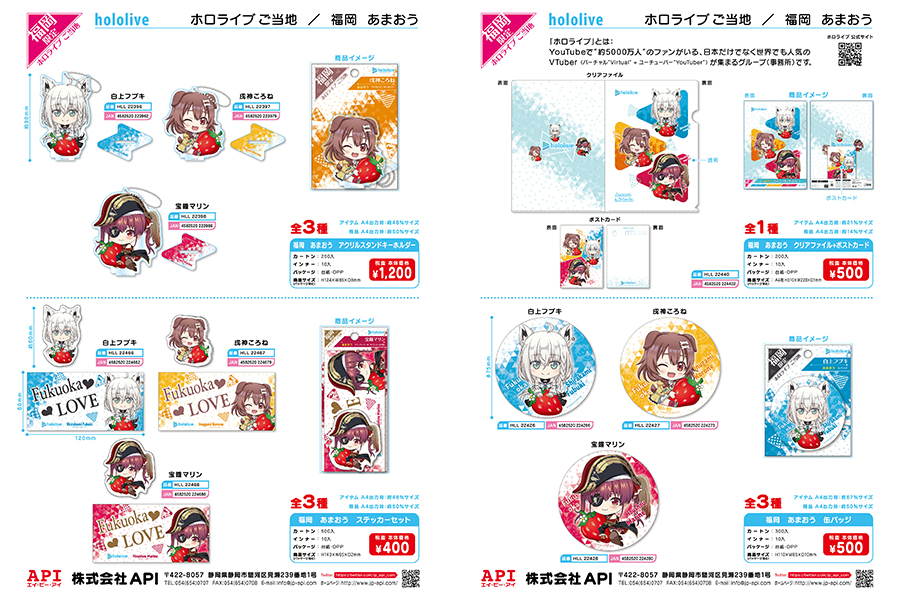 Tokyo Edition: Sakura Miko, Tokino Sora, Momosuzu Nene, Tsunomaki Watame
Osaka Edition: Natsuiro Matsuri, Nakiri Ayame, Himemori Luna
Fukuoka Edition: Shirakami Fubuki, Inugami Korone, Houshou Marine
Fans can snag acrylic stands, keychains, and pins featuring their favorite VTubers representing Tokyo, Osaka, and Fukuoka. This is only the first round of goods, and the second round will be announced soon.
© 2016 COVER Corp.
RELATED ENTRIES
Hololive's Secret Society holoX Celebrates First Anniversary with Streaming Event

The female VTuber group holoX, part of Hololive, is celebrating its first anniversary with a special stream relay!

A new key visual celebrating the group's huge milestone has also been released, created by Rei Hiroe, the artist of Black Lagoon. The members will also take part in a stream relay over the course of five days, and fans can look forward to information about new merchandise!

Each stream will highlight the individual member's personality and talents and the girls will be showing off their idol costumes for the first time. 

1st Anniversary Streaming Relay

La+ Darknesss
Date: November 26, 2022
Streaming Channel: Laplus ch. -holoX-
https://www.youtube.com/channel/UCENwRMx5Yh42zWpzURebzTw


Takane Lui
Date: November 27, 2022
Streaming Channel: Lui ch. -holoX-
https://www.youtube.com/channel/UCs9_O1tRPMQTHQ-N_L6FU2g


Hakui Koyori
Date: November 28, 2022
Streaming Channel: Koyori ch. -holoX-
https://www.youtube.com/channel/UC6eWCld0KwmyHFbAqK3V-Rw


Sakamata Chloe
Date: November 29, 2022
Streaming Channel: Chloe ch. -holoX-
https://www.youtube.com/channel/UCIBY1ollUsauvVi4hW4cumw


Kazama Iroha
Date: November 30, 2022
Streaming Channel: Iroha ch. -holoX-
https://www.youtube.com/channel/UC_vMYWcDjmfdpH6r4TTn1MQ

On December 4, a stream featuring all five members will be streamed on the official Hololive YouTube channel. The holoX girls will perform a mini-concert dressed in their new idol costumes and more merch info will be announced, so be sure not to miss it!

Hololive VTuber Shirakami Fubuki Appointed "Lifesaving Supporter" by the Japan AED Foundation

Shirakami Fubuki, a popular member of the VTuber group Hololive, has been appointed as a Lifesaving Supporter in the Japan AED Foundation's team ASUKA.  

The collaboration aims to stress the importance of AEDs, which can be used to stop sudden cardiac arrest. A newly-drawn illustration of Fubuki is being used to promote this important crossover, which will be found in leaflets, gacha machines, and online training course certificates, as well as on the official website and social media. More details about the collab will be announced in a video scheduled to be released on October 14. 

Hololive VTubers to Collaborate with RED° TOKYO TOWER for Collaboration Event

From November 3 until November 27, fans of Hololive will want to visit Tokyo Tower! The iconic location will host a collaboration with several popular VTubers at RED° TOKYO TOWER, the largest esports park in Japan. Usada Pekora, Shirogane Noel, Shishiro Botan, and Sakamata Chloe will take part in the collab, and during the event, a special video will be shown on a giant 15-meter LED monitor inside the complex. A special food and drink menu will also offer up goodies based on the girls themselves, and fans will find original merchandise showing the talents in casino costumes and bathrobes. 

Visitors can play poker with special collaboration chips, and visitors to the RED° E-SAUNA UENO, which will be running concurrently, can snag original sauna hats and towels before relaxing in a private sauna room with life-size panels of the Hololive members. Tickets must be purchased in advance, so don't miss out!

Information

Hololive x RED° TOKYO TOWER Collaboration

Venue: RED° TOKYO TOWER

Running: November 3 – November 27, 2022

Address: Tokyo Tower FOOT TOWN, 3F-5F (4-2-8 Shibakoen, Minato-ku, Tokyo)

Official Website: https://tokyotower.red-brand.jp/

VTuber Collective Hololive Collaborates with Popular Game Among Us for a Limited Time

Popular VTubers from Hololive Productions are collaborating with the multiplayer online game Among Us for a limited time! The collab began on September 21, 2022.

30 special collaboration skins featuring Hololive personalities are now available in the game. Along with these, players can snag hats and visors! These can be purchased in-game and unlocked through gameplay. The Collaboration Cosmicubes will be available for purchase for three months, so get yours while you can!

The company is also planning on selling real-life collaborative goods to commemorate the event, so keep an eye out for more details coming soon!

Information

Hololive Production x Among Us Limited Time Collaboration

Start Date: September 21, 2022

Hololive Production Official Site: https://www.hololive.tv/

Rina Sawayama Releases Second Album, Announces First Japan Tour

22.September.2022 | MUSIC

Born in Niigata and living in London, international singer-songwriter Rina Sawayama released her second album Hold The Girl on September 16. The album is Sawayama's first in two and a half years and was written and recorded over the past year and a half. With an overarching pop sound, the album blends other genres expertly, from country, electro, and R&B to folk, metal, and rock. Hold The Girl manages to track Sawayama's personal growth, sharing her goals for the future while fully accepting her past. The album has already received rave reviews from media outlets worldwide, including Rolling Stone, The Times, DIY, The Mail on Sunday, and more. "Among contemporary pop stars, Rina Sawayama certainly stands out," The Times reads.

 

Sawayama has also announced that she will hold her first solo Japan tour in January 2023, stopping in Tokyo, Nagoya, and Osaka. Her performance at Summer Sonic 2022 was a smash hit, so don't miss your chance to see her live if you couldn't make it!

Taisho Pharmaceuticals has announced a new flavor of Vicks Medicated Drops available only in Japan! The Matcha flavor will be available starting October 1, 2022.

VICKS Medicated Drops are lozenges perfect to relieve sore throats, and in an attempt to make a product for everyone's taste, 14 flavors have been developed so far–five fruit types, three refreshing types, and six sugarless types.

Matcha has become a more popular flavor among both young and old people in recent years, and this Japan-only flavor is sure to be a hit. The active ingredient, CPC, disinfects and sterilizes the mouth, so the next time you feel a cold coming on, try one of these lozenges out.

Craft Brewery Releases Beer in Collaboration with Hololive Vtuber Aki Rosenthal

Aki Rosenthal, a popular member of the Hololive VTuber collective, has teamed up with Hansharo Beer in Izu to create a tasty new brew. Called 'Good Job Again Today,' this is the perfect beverage to enjoy after a long day. Sales will begin on August 25, 2022.




The beer is fermented with champagne yeast and colored by malt to resemble rosé wine. Aki Rosenthal, a well-known beer lover herself, was involved in the creation of the beer, and the talent hopes that it will make workers' lives a little easier and more enjoyable. Even those who don't typically like beer might like this slightly fruity taste, so be sure to give it a try if you can!

Aki Rosenthal

A girl who traveled from a different universe. She has hyper curiosity and manages to reach out to all sorts of things. Her trademark pigtails float due to some sort of supernatural power.

Character Design: Azumiu Akitake @akitake_a
YouTube: https://www.youtube.com/channel/UCFTLzh12_nrtzqBPsTCqenA
Twitter: https://twitter.com/akirosenthal

Information

Good Job Again Today!
Preorders Now Available

Where to Preorder:
Kushigin Stand-up Bar (1-8-4 Kanda Sakumacho, Chiyoda-ku, Tokyo)
Robatayaki Kushigin, KS Corner 1F (2-15-1 Kanda Sudacho, Chikyoda-ku, Tokyo)
Kushigin Akihabara #3, Furukawa Building 6, 1-2F (2-12-5 Kanda Sudacho, Chiyokda-ku, Tokyo)

General Online Sales begin August 25 at 21:00
Buy Online: https://hansharo-beer.stores.jp/
Price: ¥3,000 (Set of 4, Tax Included) *Shipping not included

Hololive VTubers Collaborate with Convenience Store Chain FamilyMart

From August 16 until August 29, 16,000 FamilyMart stores nationwide will hold the HoloMart campaign, offering goods featuring the popular HoloLive VTubers Usada Pekora, Tokoyami Towa, and Shishiro Botan!

During the campaign period, for every three eligible items purchased, customers will receive an exclusive A5-sized clear folder with a special AR voice clip. By holding a smartphone up to the folder, lucky fans will be able to hear the VTuber's voices! *The voice clips will only be available during the event period.

HI-CHEW in Original Collaboration Packaging: ¥248 (Tax Included)

Each of the three talents will appear on special packages of HI-CHEW, with original flavors chosen by each VTuber! In addition to the standard packaging, lucky customers should also be on the lookout for rare and super rare packages designed by the Hololive talents themselves.


*The photos above are sample images only.
*Products available only while supplies last.

Come snag some snacks featuring your favorite Hololive talent!

Hololive VTubers Announce Hololive Summer Event and Comiket Appearance

The Hololive Summer event, first held in the summer of 2019, will return this year! 


A ton of new content and special panels will be shown at the 2022 event, so check the official Hololive Production Twitter account often for more information!

Hololive will also have a booth at this year's Comiket on August 13 and 14! A number of exclusive commemorative Hololive Summer 2022 goods will be on sale.

The back cover of the Comiket 100 catalog, on sale July 16, shows the official Hololive Summer 2022 key visual. Be sure to keep an eye out for more details!

Information

Comiket (Comic Market) 100

Booth Name: Hololive Production

Booth Location: Company Booths, South Hall 2, #511

Running: August 13 – 14

Hours: 10:30-16:00

Address: Tokyo Big Sight (3-11-1 Ariake, Koto-ku, Tokyo)

Tickets: https://www.comiket.co.jp/

Official Site: https://www.hololive.tv/

Creative Social Media Site Behance Promotes Traditional Japanese Culture in New Project

Behance, the world's largest creative social media network, has started a new project to promote Japanese traditional culture and arts and crafts to the world. Works on Behance will be transformed into NFTs, with the goal to establish a new way for traditional craftsmen to profit from their work.

Japan's traditional arts and crafts are well-known by many around the world. On the other hand, challenges still remain as many regions' traditional manufacturing industries are digitized. Sharing more detailed information about these crafts with overseas markets has also been difficult.

According to the "Survey on the Revitalization of Local Traditional Manufacturing Industries" published by the Development Bank of Japan in 2018, Japan's traditional arts and crafts industry peaked around 1980. Due to the recession caused by the burst of the bubble economy, the rise of inexpensive foreign products, and changes in lifestyle, the amount of production has been declining year by year. Compared with the peak period, current production has dropped to one-fifth or about 100 billion yen. The workers involved in traditional crafts are also aging, making it difficult to pass on their skills to younger creators.

On Behance, users can not only get inspiration from other people's work but can also publish their own works and receive helpful feedback and comments. Marketing professionals also use Behance to find creators for campaigns and collaborations, and previously, a Japanese creator who had uploaded his work to the social media site was asked to illustrate the cover of the New York Times. 

This project is designed to promote traditional Japanese arts and crafts in the hopes of supporting their continued development in the face of many difficult conditions.

Information

Digital Council for Traditional Culture x Adobe

Official Site: https://tcdc.jp

Hololive Meet to Bring Popular VTubers to Anime Expo 2022 in Los Angeles

Massively popular VTubers from Hololive Productions will appear at Anime Expo 2022 in Los Angeles from July 1 until July 4, 2022. The contention is one of the largest anime events in North America.

 

Fans will be able to purchase exclusive merchandise featuring the Hololive Meet ambassadors: Gawr Gura, Tokino Sora, and Ayunda Risu. The three represent Hololive English, Hololive, and Hololive Indonesia, respectively. Everything from shirts to wall scrolls will be on sale, so if you're in the LA area, be sure to come out and support your favorite streamer!

Information

Anime Expo 2022

Booth Number: Exhibit Hall #4606
Dates: July 1 – July 4, 2022
Hours: 10:00-18:00 (Closing at 15:00 on July 4)
Location: Los Angeles Convention Center
Official Site: https://www.anime-expo.org/

EMOCAL, a Project to Support Japanese Regions, Releases Music Using Local Sound Samples

The EMOCAL project aims to support small-town areas of Japan. As a new initiative in the project, specific soundscapes only found in certain areas of the country have been combined with music to create some unique tracks. A selection of musical artists have collaborated with the project to bring these songs to life!


EMOCAL was created by ZOWA's original label, CatchyStuck. The project supports local regions and communities by using ASMR soundscape videos recorded in each region to convey their particular charms to all of Japan. The sounds recorded in each place are considered to be very valuable and are intended to serve two purposes: to bring tourism back after the pandemic and to provide fans of ASMR a way to experience these areas from afar.



Check out each of these unique ambient tracks created by four up-and-coming musicians! Each song is available on viviON's ASMR platform ZOWA and on Spotify.

Ube, Yamaguchi Prefecture / Ikkyuu x Hige Driver, I Love Ikkyuu

Beard Driver created this ambient track with sounds recorded inside of Ikkyuu, a ramen shop.

ZOWA: https://zowa.app/play/20019
Spotify: https://open.spotify.com/track/1RP4RcpJwMrFzoYQbnfDYm?si=f1f1e816adb14db0


Odawara, Kanagawa Prefecture / Miyuki no Hama x Powerless, Seiren

Powerless created this track, inspired by the sounds of waves crashing at Miyuki no Hama, a seaside recreation area 20 minutes from Odawara Station.

ZOWA: https://zowa.app/play/20016
Spotify: https://open.spotify.com/track/5DkQ9FeM7jQBacUf7Nbuxc?si=c7d771e73ddd44b6

Shizuoka, Shizuoka Prefecture / Wasabi Field x baker, On the silent hill

Utogi in Shizuoka city is surrounded by incredible nature. Known as the birthplace of wasabi cultivation, baker used sounds recorded in the area to create this ambient track.

ZOWA: https://zowa.app/play/20017
Spotify: https://open.spotify.com/track/0oIU4x7MjVKmpouRwEPaXZ?si=04dcb805cea540b7

Ibusuki, Kagoshima Prefecture / Cape Tara x SeA0, Akushu

Cape Tara is a popular spot featuring an 800-meter-long sandbar at low tide. The sounds captured here were used by artist SeA0, and this track is sure to make you miss the water.

ZOWA: https://zowa.app/play/20018
Spotify: https://open.spotify.com/track/1Utz5j0oB4GmSDOMVdUcXU?si=eafa1949b3ea44d0