Details Revealed for World's Largest Metaverse VR Event Virtual Market 2021
HIKKY has announced new information regarding those participating in Virtual Market 2021, a massive event taking place in the Metaverse starting this week. The first batch of exhibitors has been uploaded to the official website, including Lawson, SMBC Nikko Securities, and TV Asahi. Each company will offer unique virtual experiences that utilize the power of the Metaverse. Virtual Market 2021 has been formally recognized by Guinness World Records for 'Most Booths at a Virtual Reality Market Event.' 
Parareal Shibuya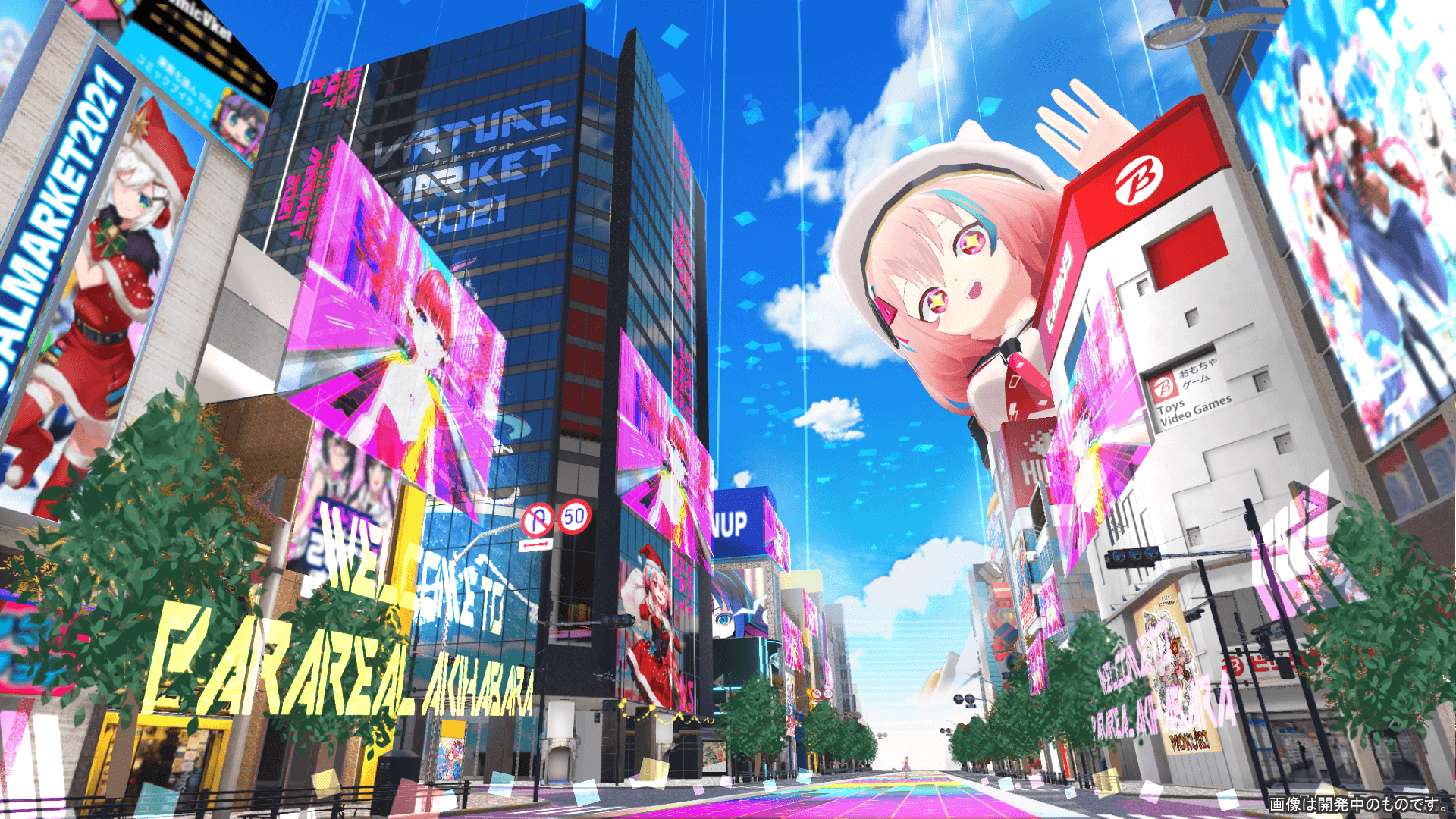 Parareal Akihabara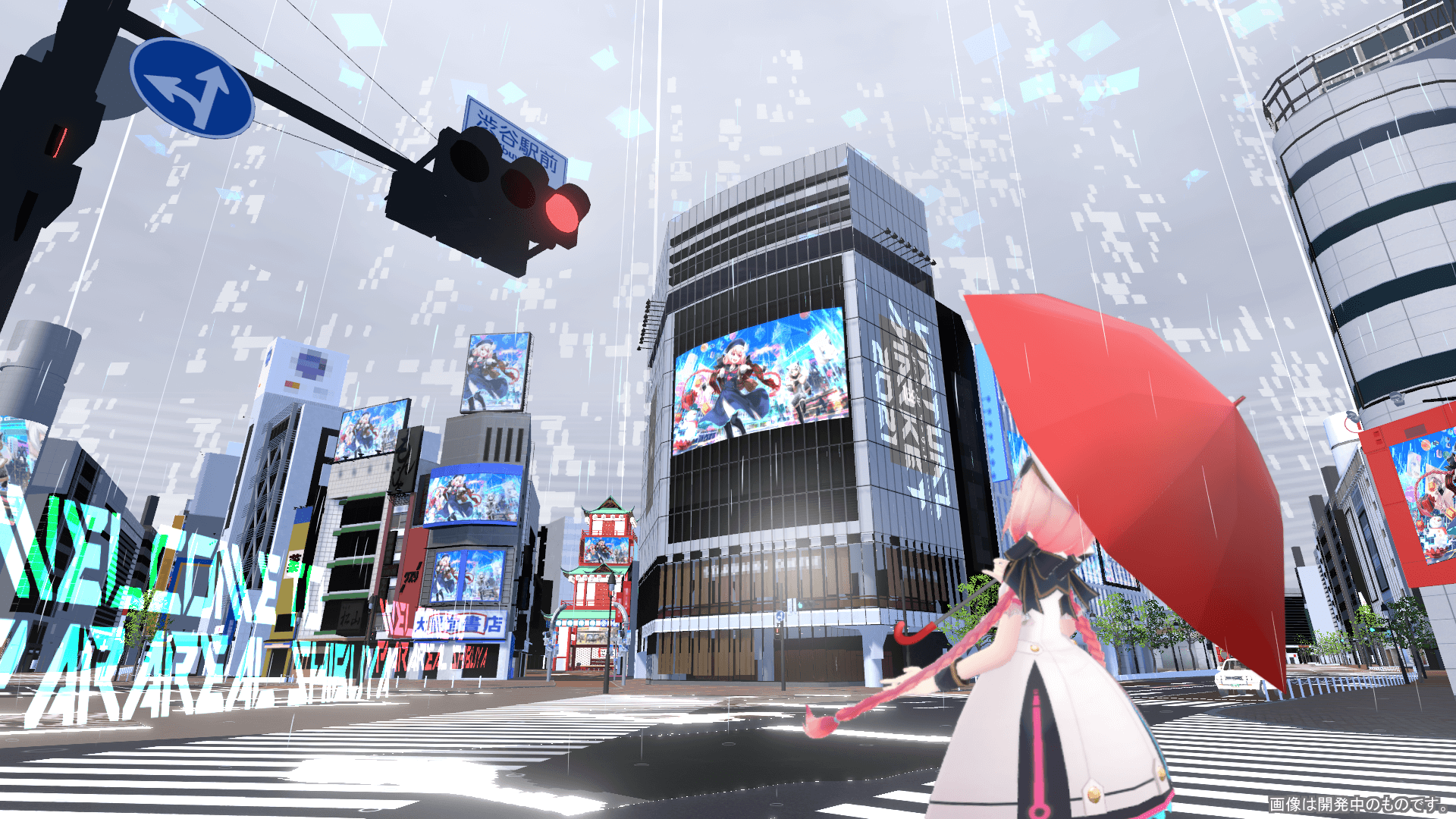 When it rains in the real world, it also rains in the virtual city.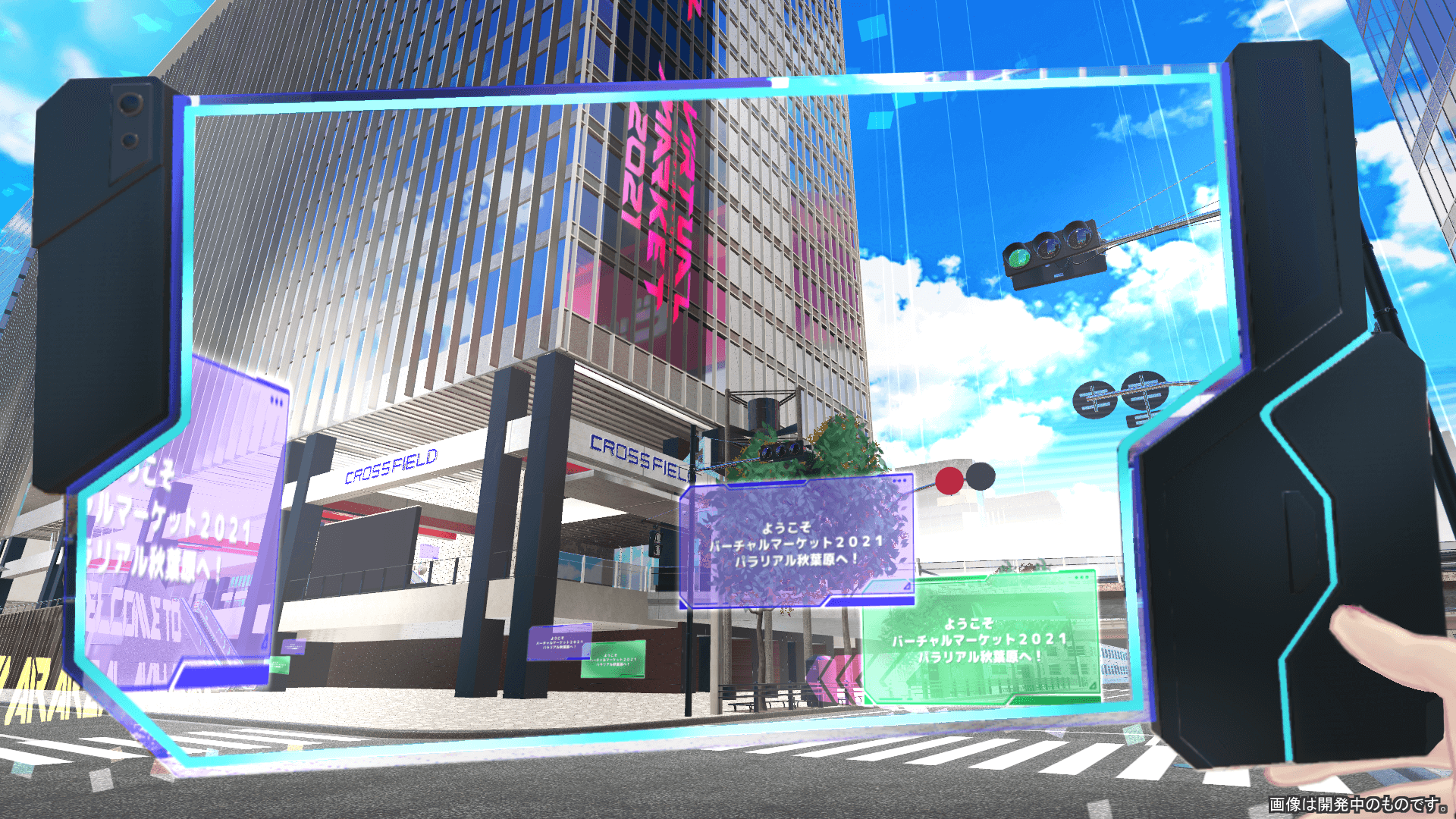 A 'spatial timeline' shows micro-information about both the real and virtual cities. 
The theme for this year's event is 'Metaverse City.' Visitors will feel as if they have really traveled to Shibuya and Akihabara, with weather that mirrors the real world. Buildings will even grow as the number of visitors increases!
Participating Companies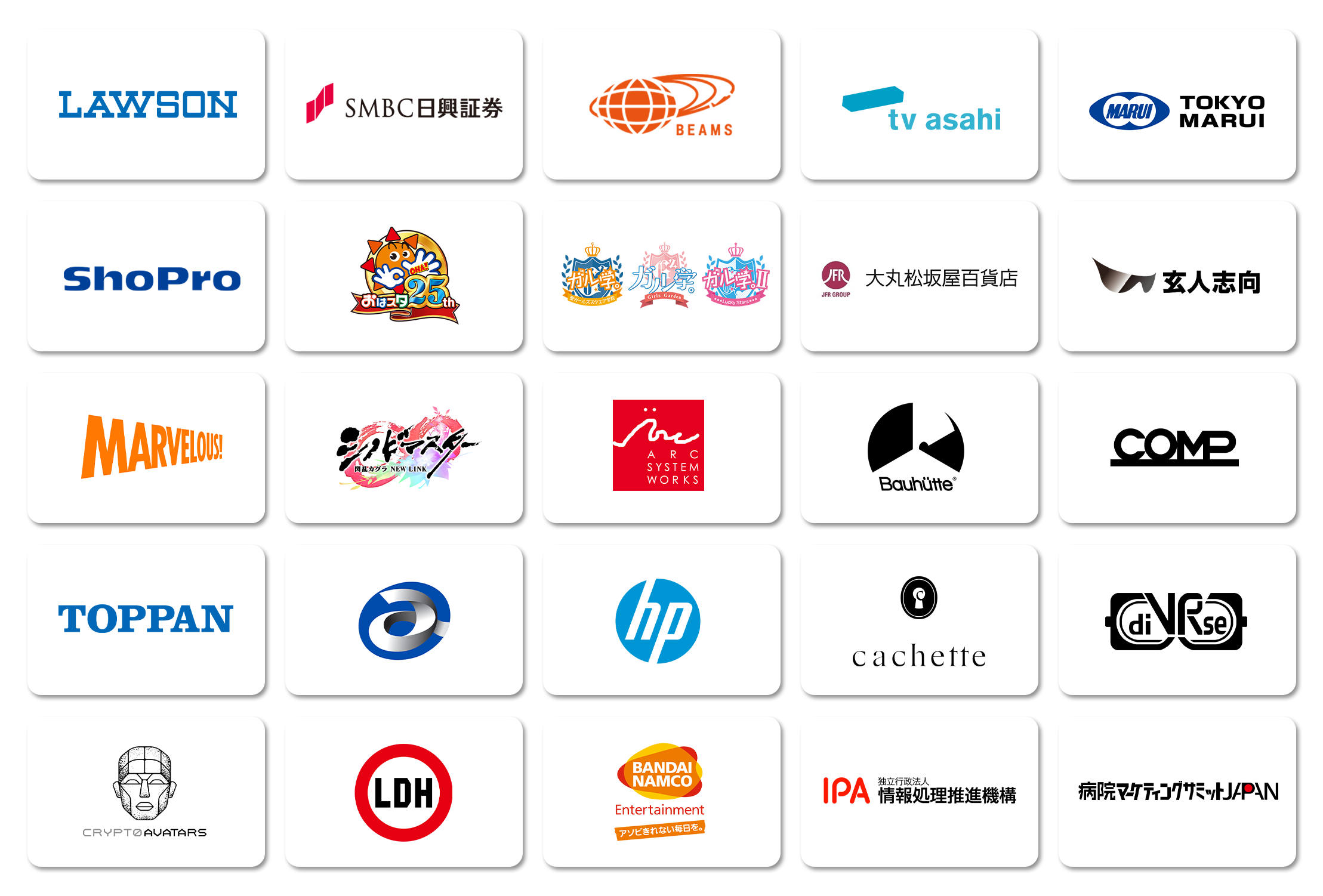 Information
Virtual Market 2021
Dates: December 4 – December 19, 2021
Venue: Parareal Shibuya / Parareal Akihabara
Official Site: https://winter2021.vket.com/
RELATED ENTRIES
NFT Platform Kollektion to Hold 'Month of MIYAVI' to Celebrate Performer's 20th Anniversary

Kollektion, a global platform connecting artists and fans through the sale of NFTs, will hold the 'Month of Miyavi' during the month of January 2022. NFTs and other items commemorating the 20th anniversary of the rock musician will be available.

MIYAVI started selling NFTs on the platform in October 2021 to positive fan response. In addition, fans who become holders of MIYAVI KLKTN Passes through the purchase of an NFT will be invited to a private Discord channel.



More details were announced during the Virtual Holiday Party on December 25, 2021. Fans from all over the world are invited to take part in this exciting sale!

1. MIYAVI KLKTN Pass
These NFTs were available for 24 hours only on January 2, 2022. Purchasing one gives fans access to over 380 MIYAVI NFT airdrops in the future. This also gives access to the private Discord channel.

2. Moments
These 'Moments' can only be seen in Kollektion, and include behind-the-scenes footage of MIYAVI's music production and private life. This time, each NFT has been sorted into one of three levels of rarity: Common, Rare, and Legendary. 


3. ArtKards
These NFTs were inspired by MIYAVI's album 'Imaginary.' Extremely limited and featuring a serial number, each item comes with a digital autographed photo card NFT and a raffle ticket for a personal video message NFT. 


4. Kodex
Introducing a new way to enjoy music in the modern era, cover art, lyrics, and liner notes will be included in each purchase.


5. Fender Official Guitar NFT (MIYAVI TELECASTER®)
FENDER and MIYAVI have come together to create a one-of-a-kind guitar NFT. Winners in the raffle will win a real signed guitar and other items!


6. Special Editions from the Hush Hush Music Video
A part of the limited-edition music video for MIYAVI's song Hush Hush has been made into goods and are on sale now! Each comes with premium extras like photo cards and extra commentary.


Comment from MIYAVI
"To celebrate the 20th anniversary since my solo debut, Kollektion will be holding the 'Month of MIYAVI!' I want to continue to take on new challenges and use the power of technology to better connect with my fans in both directions, not just one way. Don't miss out!"

KLKTN aims to create a new experience that deepens the connection between fans and creators, thereby increasing the enjoyment of fans and creating an environment where creators can enjoy their creative activities more.

Virtual Unit Tacitly to Participate in YouTube Music Weekend Vol.4

Virtual duo Tacitly from NTT Docomo's 'Live Animation Heart X Algorhythm' will be one of twelve participating VTubers appearing at YouTube Music Weekend Vol.4! This online event will take place from December 3 until December 5, and will feature a number of live performances to enjoy. The duo will also perform their new song Yume wo Mitte Ikiteiru for the first time on YouTube. Tacitly will appear on December 4 from 26:30 to 27:00 JST, so don't miss it!

Atsu Mizuno

"My name is Atsu Mizuno, and I wrote the lyrics and composed the arrangement for Tacitly's new song! I wanted to match the powerful yet delicate voices of the two members of the group and the incredible video by POPREQ. This time, I wrote about my own struggles with a weak heart and the wonderful friends that helped me become stronger. People can't achieve anything when they are alone, and this song made me want to treasure my friends who believe in me so much. The last part is my favorite, so be sure to check it out. Thank you so much!"

POPREQ

"I'm POPREQ from Hurray! I directed the new music video. 

When I heard Atsu Mizuno's song, I envisioned the story she was telling and placed the members of Tacitly within it.  It's the story of two people living on the edge of a crowded city thinking that no one will ever understand them, until one day, they meet. 

If we could only understand each other's loneliness, beliefs, and way of life…

That's what I was thinking about when I worked on this video. 

I hope you enjoy it!"

Tacitly (Lilia & Ciel)

Lilia

Ciel

(C)2021 project‐algorithm

Saki Ashizawa to Perform at SANRIO Virtual Fes in Sanrio Puroland Event

Saki Ashizawa, a member of the virtual music production company RIOT MUSIC, will perform at Sanrio's first-ever event in the metaverse 'SANRIO Virtual Fes in Sanrio Puroland.' The music and entertainment festival will take place on December 11 and 12, with Ashizawa taking the stage on December 12. 

Chosen as the second artist to perform on the 12th, Ashizawa will appear during the B3: FUTURE STAGE, which will blend both kawaii and futuristic space elements. Fans can also look forward to the Saki Ashizawa x Badtz-Maru collaboration figures for sale at the event's digital store. 

Saki Ashizawa

With a sharp and aggressive voice filled with passion, Ashizawa's performances are one-of-a-kind. Singing since before she can remember, she's said that singing is now the only way she knows how to live. Initially singing for fun, after meeting her current producer, she realized that even if she wasn't perfect she could still connect with people through her music. In 2020, she decided to go pro and joined RIOT MUSIC. She continues to perform to connect with the audience's heart.


Twitter: https://twitter.com/saki_ashizawa
YouTube: https://www.youtube.com/channel/UCPZgBtMYoFKypEG2SCvBN9A

©'21 SANRIO 著作(株)サンリオ

Information

Sanrio Virtual Fes in Sanrio Puroland

Dates: December 11 & 12

Stream Opens at 15:00, Show airs from 17:00-22:00 (Until 24:00 on B5)

Location: Virtual Sanrio Puroland

Official SNS: Twitter @SANRIO_VFes

XMarket: https://xr-marketplace.com/ 

Tickets/Official Site: https://v-Fes.sanrio.co.jp 

MetaTokyo Launches First Project in the Metaverse with Genereativemasks

The Metaverse has been in the news lately, and the future is looking more and more digital. ASOBISYSTEM, ParadeAll, and Fraction Ventures have teamed up to build Japan's first pop-up museum focusing on generative art in MetaTokyo, an open cultural city in the open Metaverse using NFT. This will exhibit one of the largest NFT art projects in Japan, Generativemasks. 

Generative art refers to artworks that are generated by code, using computer software.

MetaTokyo Pass (MetaTokyo Digital Passport) 

Generativemasks

The architecture of MetaTokyo was created by MISOSHITA, a Metaverse/VR creator active not only in Japan but around the world. The interior and exterior were designed in collaboration with Generativemasks and other contributors to make a completely unique structure in the Metaverse. The NFT MetaTokyo Pass, functioning as a digital passport, is on sale now, allowing owners to access a number of activities and special privileges, including access to exclusive events and restricted areas within the MetaVerse. 

MetaTokyo is the world's first project to connect NFTs with the MetaVerse and is the first project of its kind to be implemented globally. 

Sanrio Puroland to Hold First Virtual Music Festival

Get ready for your trip to Virtual Sanrio Puroland! For the first time ever, Sanrio is teaming up with U.S. company VRChat for an entirely virtual music festival, SANRIO Virtual Fes in Sanrio Puroland on December 11 and December 12, 2021. Guests will be able to enjoy the event using a VR Headset, a PC, or a smartphone. 

The concert space will feature both live and virtual artists (VTubers), as well as popular Sanrio characters in a massive five-story underground space beneath Virtual Sanrio Puroland. Participants will also be able to transform their avatar into the Sanrio character of their choice during the event! High-fiving other concert-goers will result in an explosion of Hello Kitty bows, and there will be plenty of surprises during the music performances, so don't miss it!

The lineup for the event includes Kizuna AI, Hatsune Miku+PinocchioP, AKB48(Team8), CHiCO with HoneyWorks, Haneru Inaba, Kaede Higuchi, KMNZ, VALSHE, Hakushi Hasegawa, YuNi, Pasocom Music Club, Mom, Megu Shinonome, AMOKA, Yukichi Kasaku/men, LAUSBUB, and Kinu. Plenty of Sanrio characters will also make appearances, including Hello Kitty, Cinnomoroll, Kuromi, Cogimyun, and Hapidanbui. 

Who are you looking forward to seeing perform in this adorable virtual space?

©'21 SANRIO ©'21 SANRIO SP-M © '21 SANRIO S/F・G 著作(株)サンリオ
©AKB48 ©Kizuna AI ©BANDAI NAMCO Arts Inc.  ©ANYCOLOR, Inc. Art by KEI ©Crypton Future Media, INC.

Information

SANRIO Virtual Fes in Sanrio Puroland

Dates: December 11 & 12, 2021

Stream Open at 15:00, Show airs from 17:00-22:00

Location: Virtual Sanrio Puroland

Official Site: https://v-Fes.sanrio.co.jp

Virtual Talent Kizuna Ai to Hold Global Online Fireworks Event

From her debut in 2016 until 2021, Kizuna Ai was the most subscribed VTuber on YouTube, and the one responsible for the term 'Virtual YouTuber.' Now, this legendary star will be holding a concert available to fans of Japanese culture around the world, while also showing off the beauty of a Japanese fireworks festival. The event will take place on Facebook's Oculus, on the Venues app, on September 25, 2021 in Japan. Anyone who has an Oculus Quest can view the concert for free.

Oculus Venues is a VR video platform, allowing users to enjoy a variety of concerts, sporting events, and comedy shows from the front row. There's no need to worry about grabbing expensive tickets or dealing with crowds when you can enjoy your favorite events from the comfort of your own home!

In January 2021, Kizuna Ai announced a contract with UTA (United Talent Agency), one of the four major agencies in the United States. In April and May, she went on her first virtual US tour. Under the theme of connecting with everyone in the world, Kizuna Ai is attempting this new challenge using Oculus to get closer to fans than ever before. As a guest artist, world-renowned performers HANABI will perform, blending traditional Japanese culture with cutting-edge technological art in this one-of-a-kind DJ-directed space.

Will you be tuning in to Kizuna Ai's fireworks concert?

Information

Kizuna Ai Virtual Fireworks Concert

Date: September 25, 2021, 12:00 (September 24, 20:00 PDT)

Where: Oculus Venues

Admission: Free

Restream: To be streamed on YouTube (Date to be announced.)

Official Site: https://www.oculus.com/

BEAMS Announces Virtual Sento Bath Experience at Virtual Market 6

BEAMS is set to have its own booth at Virtual Market 6 (Vket6) which will be hosted by HIKKY from August 14-28. At the BEAMS booth, they will be showcasing must-visit sento bathhouses. Vket is one of the biggest virtual events in the world, and uses Web to VR technology so you don't need a VR headset, meaning people can access it simply by connecting via mobile, PC, or other smart device. This will be BEAMS' second attendance at the event, and shop staff will appear inside as avatars.

Inside BEAMS 'Recommended Sento 2021' Booth at Vket 6

Inside BEAMS 'Recommended Sento 2021' Booth at Vket 6

Vket-chan wearing the free towel you get at the BEAMS booth

BEAMS is taking their ongoing 'Recommended Sento 2021' project, which is running at Kotobukiyu in Ueno, Tokyo, until September, to the virtual realm in a collaboration with COW BRAND SOAP. As well as collaboration merch, players can use Vket-chan's 3D avatar and combine it with the free towel to bathe in the bath as her.

The virtual space is decorated with sento pictures illustrated by manga artist and calligrapher Mari Yamazaki. Users can also launch fireworks, and there are various Japanese summer-themed attractions.

The official Vket merchandise will be available on the Merch by Amazon service and can be shipped to Japan, the US, UK, France, Germany, Italy, and Spain.

VIRTUAL MARKET 5: The World's Largest Virtual Market Festival Returns For 2020-2021

HIKKY has announced that VIRTUAL MARKET 5 is set to run from December 19, 2020 to January 10, 2021. VIRTUAL MARKET 4 began on April 29, 2020 and ran for 12 days. It was the biggest event to date and ended in huge success. VIRTUAL MARKET 5 will begin accepting general applications for the exhibition from June 9.

What is VIRTUAL MARKET?

VIRTUAL MARKET is the largest virtual marketplace in the world where visitors are free to choose their own 3D avatar and buy a bounty of 3D items. They can ride vehicles, watch movies, interact with other players in the market, and much more. Open 24 hours a day, anyone and everyone is free to join by using a PC and even a VR headset if they have one. The event was initially held for Japan but now sees visitors from across the globe.

The VIRTUAL MARKET 5 teaser website is now open and will be updated in the coming months: https://www.v-market.work/v5/lp

VIRTUAL MARKET 4 tried out many new things

VIRTUAL MARKET 4 ended on May 10 and was the biggest showcase to date, with many real-life companies and businesses taking part. Car company Audi Japan had their own booth where they showed off the currently unreleased electric bicycle known as "e-tron" (see ① above). In the fashion department, Isetan Mitsukoshi Holdings had employees serve customers virtually from their own homes (see ②). Seven & I Holdings fully recreated one of their their Tokyo-based stores located in Nibancho, Chiyoda (see ③), while Square Enix made the NieR: Automata character 2B available as a 3D avatar (see ③).

VIRTUAL MARKET 4 Parareal Tokyo Tour 

Panasonic Connected Solutions had their own observation deck (see ④), while the official Ultraman shop Ultraman World M78 (see ⑤) and Gundam (see ⑥) made an appearance.

43 companies and 1,400 circles participated in VIRTUAL MARKET 4. We look forward to seeing what the next market will have in store.