Details Revealed for World's Largest Metaverse VR Event Virtual Market 2021
HIKKY has announced new information regarding those participating in Virtual Market 2021, a massive event taking place in the Metaverse starting this week. The first batch of exhibitors has been uploaded to the official website, including Lawson, SMBC Nikko Securities, and TV Asahi. Each company will offer unique virtual experiences that utilize the power of the Metaverse. Virtual Market 2021 has been formally recognized by Guinness World Records for 'Most Booths at a Virtual Reality Market Event.' 
Parareal Shibuya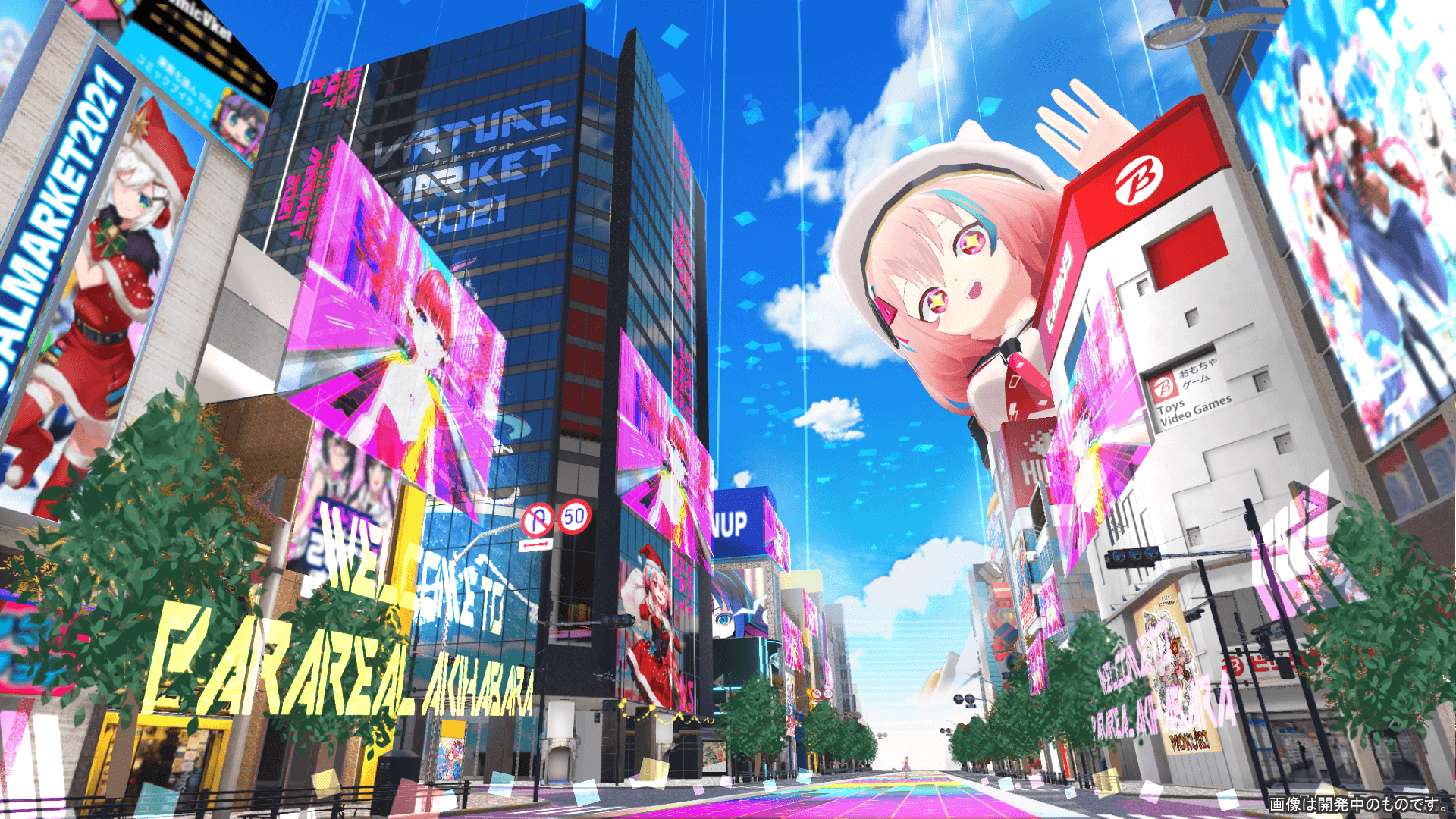 Parareal Akihabara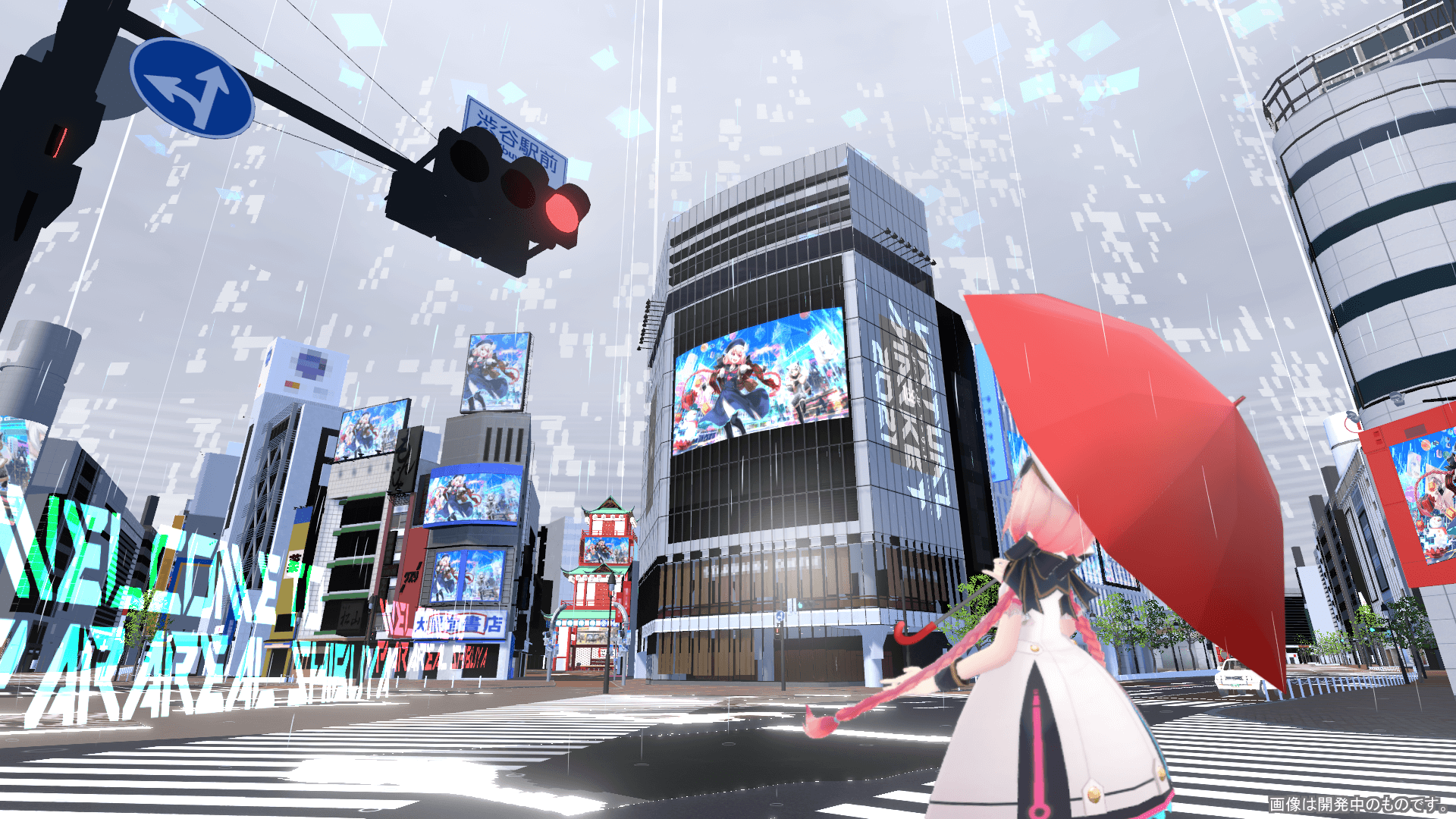 When it rains in the real world, it also rains in the virtual city.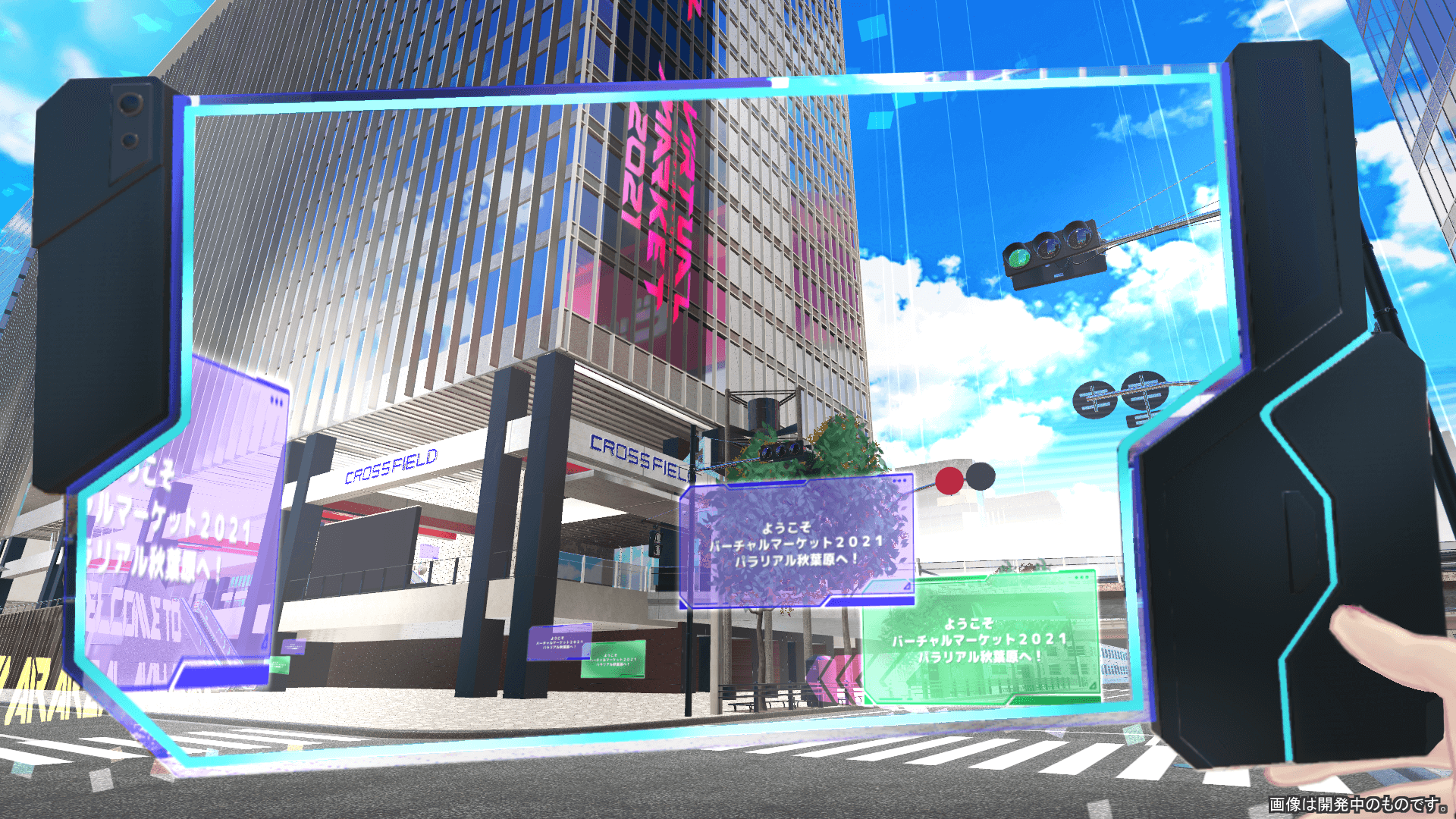 A 'spatial timeline' shows micro-information about both the real and virtual cities. 
The theme for this year's event is 'Metaverse City.' Visitors will feel as if they have really traveled to Shibuya and Akihabara, with weather that mirrors the real world. Buildings will even grow as the number of visitors increases!
Participating Companies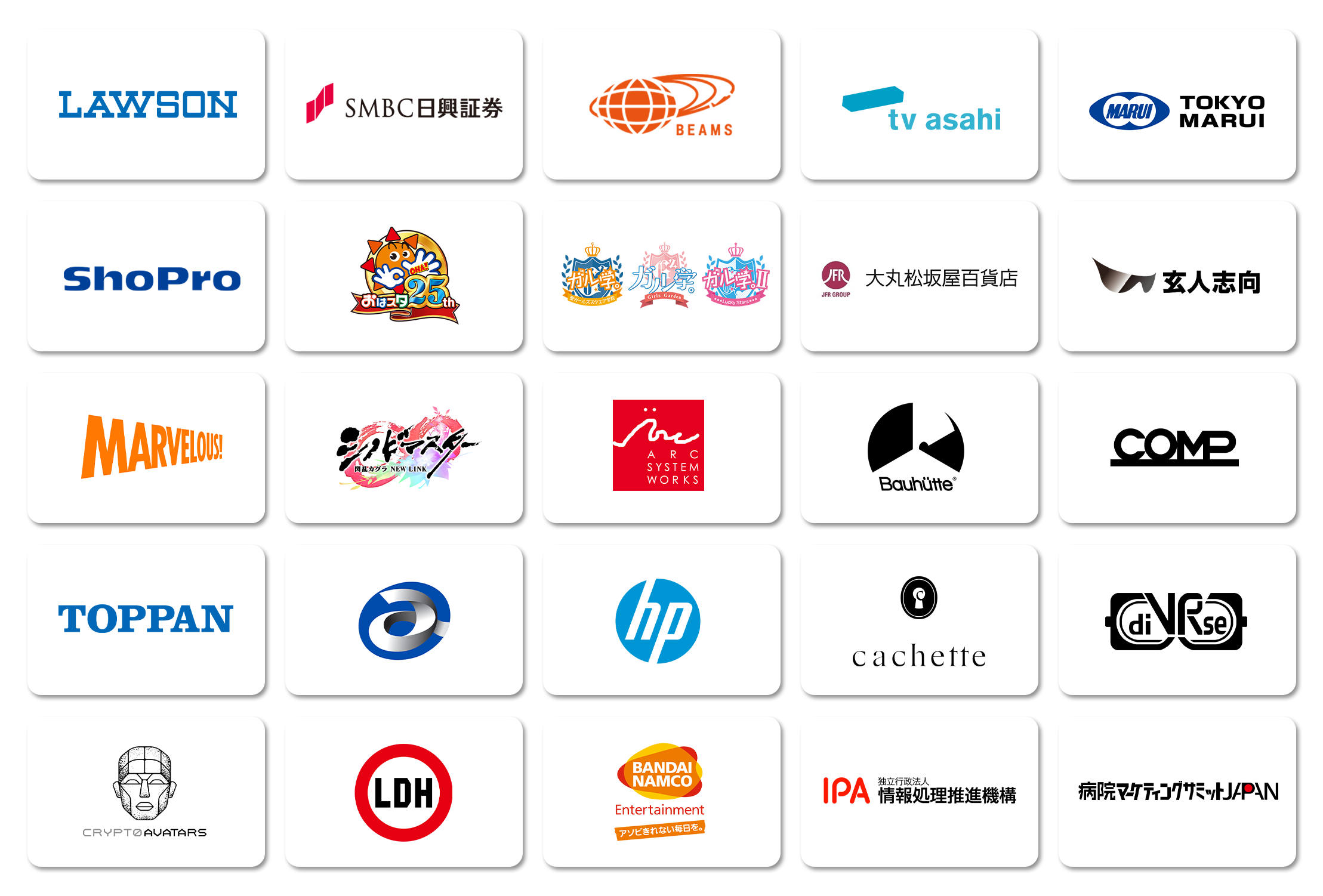 Information
Virtual Market 2021
Dates: December 4 – December 19, 2021
Venue: Parareal Shibuya / Parareal Akihabara
Official Site: https://winter2021.vket.com/
RELATED ENTRIES
FRUITS ZIPPER Performs for Audiences in 101 Countries in the Metaverse

The Metaverse Music Festival, a virtual event organized by the global Web3 platform Decentraland, took place starting on November 10, 2022, featuring a number of Japanese artists. 

FRUITS ZIPPER was one of the performing acts, appearing on the MetaTokyo stage on November 11 and November 12.

According to data from MetaTokyo, a total of 20,000 viewers from 101 countries around the world watched the performances, including those from the United States, Canada, Japan, Spain, Germany, and Brazil.

This spring, the idol group FRUITS ZIPPER released the track Watashino Ichiban Kawaiitokoro, which racked up over 600 million views on TikTok. The music video has amassed over 5.5 million views on YouTube, and despite having just debuted, the girls performed at all major idol festivals over the summer.

In November, the group's second solo concert at Shibuya WWW X was a major success. In February 2023, the girls will begin the FRUITS ZIPPER 1st LIVE TOUR 2023 WINTER scheduled to conclude at LINE CUBE SHIBUYA on February 12. The group will also perform at a New Year's Eve event in Tainan, Taiwan. Keep an eye out for them in 2023!

NFT Project "City Pop TOKYO" and "GEMIE" Announce NFT Audition "METAVERSE'S GOT TALENT"

SINGAPORE, Dec. 1, 2022 /PRNewswire/ — "City Pop TOKYO," an NFT project inspired by "City Pop," a popular music genre from Japan, will hold a talent audition event named " METAVERSE'S GOT TALENT" along with Entertainment metaverse platform GEMIE (CEO: John Fung). "METAVERSE'S GOT TALENT" is a brand new talent audition project which enables artists to showcase their talents in the metaverse and subsequently win a chance to become a metaverse superstar.

■City Pop TOKYO

"City Pop TOKYO," an NFT project will hold a talent audition event named " METAVERSE'S GOT TALENT" along with the Entertainment metaverse platform GEMIE to enable artists to showcase their talents in the metaverse.

As an NFT project, "City Pop TOKYO" is jointly funded by three companies: ASOBISYSTEM (CEO: Yusuke Nakagawa), which has a large number of diverse artists; Kingdom Labs (CEO: Maurice Ng), a venture studio in Hong Kong; and UPBOND (CEO: Gin Takahashi Mizuoka), which is developing a blockchain wallet for Web3 social adoption.

"City Pop TOKYO" plans to release 1984 NFTs based on "City Pop", a music genre from Japan that is immensely popular worldwide, particularly among Gen Z. The project's characters are featured in trendy outfits and makeup representing symbolic fashion styles in Japan, such as "GAL," "SHOWA," and "REIWA".

To enter "METAVERSE'S GOT TALENT", participants will first purchase a "City Pop TOKYO" NFT. NFT holders can then take part in auditions held in the GEMIE metaverse. The winner, represented by their City Pop TOKYO NFT, will be onboarded as a virtual idol under ASOBISYSTEM, and will start appearing in advertisements, releasing songs, etc. Other NFT holders from around the world can enjoy engaging in the project from various perspectives, including appearing and voting in audition events in the METAVERSE.

*These are part of the NFTs for some characters.

*Designs may change without further notice.

■METAVERSE'S GOT TALENT

The METAVERSE is powered by project partner GEMIE, Asia's leading entertainment metaverse built around fan culture which act as the virtual hub to bridge the gap between celebrities and fans through virtual experiences and utility-focused NFTs. Users worldwide can participate in the decision making process of the show via the GEMIE metavese.

Through this project, we will work to reaffirm the usefulness of Web 3.0 technology and NFT; and further promote Japanese culture to people worldwide.
More details will be available soon, please stay tuned for updates.

Information

City Pop TOKYO

Sanrio Virtual Festival 2023 in Sanrio Puroland to Bring Fans Into the Metaverse

The Metaverse event that was a smash hit in 2021 will be returning in 2023! Sanrio Virtual Festival 2023 in Sanrio Puroland, one of the world's largest music festivals blending both the real and virtual worlds, will be held starting January 13, 2023.

A lineup of high-profile performers has been announced, including Airi Suzuki, SKY-HI, Yabai T-Shirts Yasan, and Aoi Fuji. Popular Sanrio characters such as Hello Kitty, Cinnamoroll, and Kuromi will also appear, and visitors will be able to experience the virtual Puroland by utilizing unique avatars and taking part in a number of exciting events.

The 2021 event was incredibly popular, and the 2023 version will increase the duration and amount of content available. To do this, Puroland has joined forces with VRChat, a well-known US company and social platform. Artists, VTubers, and Sanrio characters will perform in a massive space on B5 of Virtual Sanrio Puroland, and fans can enjoy live performances while also communicating with other guests!

Highlights of SANRIO Virtual Festival 2023 in Sanrio Puroland

・Inspired by PURO VILLAGE at Sanrio Puroland, VIRTUAL PURO VILLAGE is now available in the Metaverse!

・The popular Sanrio Puroland parade will be performed in the virtual space with an original story!

・Starting January 13, 2023, visitors will be able to chat and play in an open space before the concert, and special events–like radio calisthenics–will be held.

・Guests can enjoy mini concerts featuring Sanrio characters every day from January 14 until January 20 (*Fee required.)

The event can be accessed via smartphone, PC, or other devices. Guests can have fun creating their own unique avatars and immersing themselves in the Sanrio Puroland atmosphere no matter where they are! Come experience this state-of-the-art Metaverse space while you can.

Experience Mini Live Shows Featuring Popular Sanrio Characters Every Day

A daily mini concert will be held daily from January 14 until January 20 with a different Sanrio character appearing each day. 

The mini-concert ticket allows guests to watch all seven mini-concerts and also includes digital items to use with your avatar, including a fan and a T-shirt. 

17 Artists Announced (So Far) to Perform During Virtual Music Festival!

Artists like Airi Suzuki, SKY-HI, and Yabai T-Shirts Yasan will take to the LUNA STAGE (*fee required), with virtual artists including Aoi Fuji appearing on the FUTURE STAGE (*fee required.)

Hello Kitty and other Sanrio characters will also appear at CHILL PARK, each giving a mini live performance. The second artist lineup and performance timetable will be announced in early December.

Free areas will be open to the public. More details and ticket information is available on the official website. 

Information

SANRIO Virtual Festival 2023 in Sanrio Puroland

Running: January 13 – January 22, 2023

Venue: Virtual Sanrio Puroland

Official Site: https://v-fes.sanrio.co.jp

Japanese Artists to Perform in MetaTokyo Area at Metaverse Music Festival

Metaverse Music Festival will feature a MetaTokyo area this year! The event is being organized by Decentraland, a global Web3 Metaverse platform. A number of Japanese artists will perform, including Edo Lena, MISOSHITA, and Atarashii Gakko! 

In the special MetaTokyo area, a giant Metaani x Kyary Pamyu Pamyu character will be dancing to the beat. The popular collab appeared in April of this year and was an instant hit with NFT fans around the world. Those with an interest in Japanese culture can also enjoy some unique content streamed in the area. The Metaverse Music Festival will be held from November 10 until November 13, 2022.

Participating Japanese Artists

According to a recent announcement from Decentraland, Ozzy Osbourne, Soulja Boy, Dillon Francis, SNH48, and others will perform at OZZFEST, a festival organized by Ozzy Osbourne. Atarashii Gakko! will perform on the main Tower of Babel Stage.

The festival area will also feature special stages and areas in collaboration with a number of partners. MetaTokyo is one such partner sure to be a hit with audiences around the world!

Within the MetaTokyo area, Metaverse diva and artist Edo Lena and Metaverse creator MISOSHITA will perform. Other J-pop artists are scheduled to perform for audiences worldwide.

Giant Metaani x Kyary Pamyu Pamyu 

A giant Metaani x Kyary Pamyu Pamyu will appear within the Metaverse. First appearing in April 2022, guests will be treated to Kyary's popular song Dodonpa when they first enter, and will be able to take selfies with the huge character in a way not possible in the real world.

Information

Metaverse Music Festival

Date: November 12, 2022 at 2:00AM (JST)

How to Participate: 

Visit the pre-registration page below and click "WANT TO GO." 

https://events.decentraland.org/event/?id=7148716b-ff25-4d5f-8267-55fed7ab15bc

*Only the PC version of Chrome is supported.

*Visitors entering the event as a guest won't need to have a virtual currency wallet. 

*Some restrictions apply

Admission: Free

Sonic Speed Simulator Played Over 500 Million Times

Sonic fans across Japan are thrilled to finally be able to see Sonic the Hedgehog 2 in theaters. The popular series isn't only finding success on the big screen, however, but also within the world of the Metaverse. 


In April 2022, the Sonic Speed Simulator was uploaded to Roblox, a global game creator connecting tens of millions of people each day. The game has surpassed 500 million plays worldwide as of August 21, 2022. The official Sonic game is completely free and was created by Gamefam, a leading game developer and publisher, in collaboration with Sega.

The title attracted more than 6 million daily active users worldwide in its first week after launching on April 16, 2022. Sonic Speed Simulator is currently the top-ranked Roblox game of 2022.

The game takes place in six immersive 3D worlds. In addition to regular gameplay, events, and mini-games, users can unlock player skins of popular characters such as Tails and Knuckles as they progress through the game.


Sonic Frontiers Teaser Site

https://sonic.sega.jp/SonicFrontiers



In conjunction with the Japanese release of Sonic the Hedgehog 2 in theaters, the Japanese version of Sonic Speed Simulator has been unveiled. Japan had the highest daily active user growth on Roblox in the first quarter of 2022 among the 25 largest internet markets worldwide.


Comment from Sonic Series Producer at SEGA, Takashi Iizuka

"Since its launch in April, Sonic Speed Simulator has seen a massively positive response from the global Roblox community, and I'm so happy to see a new fanbase growing in the Metaverse. With Sonic's popularity spreading around the world with audiences both young and old following the release of the film series, I hope that more fans will enjoy the world of Sonic with the release of Sonic Frontiers later this year!" 

 

A trial version of Sonic Speed Simulator has also been released on the Japanese App Store in cooperation with Apple Japan.


Hatsune Miku Stars as Model in New SPINNS and Gugenka Digital Fashion Project

Apparel brand SPINNS is teaming up with Gugenka, a digital goods company utilizing VR and AR to bring anime to life! A new collection of goods featuring Hatsune Miku and the official member of SPINNS virtual staff team Tsumugi Hinata will be available on ZOZOTOWN starting June 18, 2022.

SPINNS is a popular Japanese apparel brand amongst teenagers and those in their early 20s, with items available in stores nationwide. In 2020, the company announced that it would be employing 'virtual staff,' introducing the adorable Tsumugi Hinata. SPINNS is actively planning and releasing digital fashion items for users' avatars.

Models

Tsumugi Hinata (Official SPINNS Virtual Staff) / Hatsune Miku

Lineup

Regular Color

Polo Shirt

T-Shirt

Exclusive Hatsune Miku Color

Polo Shirt

T-Shirt

Hatsune Miku Digital Figure

Project iconic combines Gugenka's technology with SPINNS' fashion to introduce digital fashion to a wider audience and to encourage people to enjoy fashion both in real and digital life.

Each real clothing item sold comes with a digital figure that can be downloaded and enjoyed on XMarket. Come take part in this project and discover a new version of yourself in the Metaverse!

© Crypton Future Media, INC.

Next-Generation Town-Walking Project NAKED GARDEN -ONE KYOTO- to Begin this Fall

The creative team at NAKED is teaming up with Kyoto City, Uji City, and Otsu City in Shiga Prefecture for a one-of-a-kind project. This fall, guests will be able to experience NAKED GARDEN -ONE KYOTO, a next-generation town-walking project blending the real world and the Metaverse together. Visitors will be able to experience Kyoto's shrines, temples, and history in a whole new way.

NAKED has been working with the city of Kyoto since 2017, creating new cultural outreach and tourism programs. A number of nighttime events have taken place at Nijo Castle, including 'virtual flower viewing' in the midst of the pandemic. Last year, the DANDELION PROJECT began at Kamigamo Shrine, a World Heritage Site. The project brings guests around the world together virtually to pray for peace. Events have also taken place at Kiyomizu-dera, Heian Shrine, and Ninna-ji.

In 2022, NAKED will collaborate with Kyoto City, Uji City, Otsu City, and their respective tourism associations to create a Metaverse where visitors can enjoy Kyoto not only in the real world but also virtually. Art being experienced by visitors in real life can be reflected in the Metaverse, and experiences in the Metaverse can be enjoyed in a way that is unique to real events. As hard to describe as it may be, more details will be available on the NAKED GARDEN website when it opens this summer. 

Information

NAKED GARDEN -ONE KYOTO-

Coming Fall 2022

NAKED, INC. Official Site: https://naked.co.jp

Virtual Hanami Event MIKU LAND 2022 YOSAKURA Invites Guests to the Metaverse with Hatsune Miku

MIKU LAND is Hatsune Miku's official VR amusement park. The locale opens sporadically on the Virtual Cast platform, inviting fans of the virtual singer to interact with the star herself and other music lovers from around the world. From April 28 until May 1, the MIKU LAND 2022 YOSAKURA event will invite Vocaloid lovers to the metaverse to enjoy the cherry blossoms and a number of unique experiences. 

Guests can visit Senbonzakura World, Miku's Detective Agency, Rin & Len Kagamine's Post Office in the Sky, and even a virtual haunted house during the event. VTubers Megu Shinonome, Tokino Sora, and Mirai Akari have been chosen as the official ambassadors of the event.

Senbonzakura World

Hatsune Miku's iconic track Senbonzakura, written by Kurousa-P, turns 10 this year. What better way to enjoy it than beneath virtual cherry blossom trees? Even if you can't visit Japan quite yet, enjoy the Japanese shrine atmosphere as you spend time with friends in this gorgeous virtual space.



Miku's Detective Agency

This puzzle-solving attraction invites guests to become assistant detectives by passing a test handed out by Detective Hatsune Miku! Those able to complete the challenge will also receive a limited-edition item.


Rin & Len Kagamine's Post Office in the Sky

This post office in the clouds isn't just a quiet place to relax. Visitors can take on a few different challenges, from mazes to more physical tasks.



Official Ambassadors


Megu Shinonome Comment
"I've been chosen as an ambassador for MIKU LAND! My name is Megu Shinonome, and I'm so excited to work with Miku! MIKU LAND keeps getting bigger and bigger, so I'm wondering what it will look like this spring…I'm looking forward to it! I'll do my best along with my fellow ambassadors Tokino Sora and Mirai Akari to convey the many charms of MIKU LAND to as many people as possible. We can't wait to see you!"

Tokino Sora Comment
"I'm so excited to visit MIKU LAND again! I'll do my best to make this another incredible event, and I'll be sure to enjoy myself as much as possible!"

Mirai Akari Comment
"I've been invited to MIKU LAND to act as the MC for this awesome event! During the SUMMER VACATION event, everyone on Virtual Cast was so kind to me. It was a blast, so I'm really looking forward to this too! I'll be sure to bring some extra excitement, so don't miss it!"

Information

Dates: April 28, 19:00 – May 1, 21:00
Location: Virtual Cast

Official Site: https://mikuland.com/

Sumikko Gurashi Event to Take Place in Metaverse Entertainment Facility VARK

The 'Sumikko Gurashi ~Let's Go to the Magic Island!~ event is being held on the VARK application until September 30, 2022! By passing through a magical door in the Metaverse by using VARK, users can teleport to the world of Sumikko Gurashi and friends. 

Interior of Paid Area

Your Usual Sumikko

Sumikko Tea House

Stage

Camp

The VARK app can be downloaded for free on iOS and Android devices. Even those without a VR headset can enjoy this event! Admission to specific areas may require a fee, but the main island can be experienced for free. 

Come and meet Sumikko and friends, no matter where you are!

Information

Sumikko Gurashi ~Let's Go to the Magic Island!~
Running: March 23 – September 30, 2022
Platform: VARK
Supported Devices: iOS, Android, Meta Quest 2
Details: https://lp.vark.co.jp/sumikkogurashi-vark/


Japanese NFT Site Metaani Starts Collaboration with Kyary Pamyu Pamyu

Kyary Pamyu Pamyu is teaming up with the NFT project Metaani for a special collaboration during the month of April! To start, Kyary will be releasing an official dance video for the collab free of charge, with certain motion captures being available for purchase through the Metaani site. 

Metaani, launched in June 2021, is a collaboration between BeyondConcept and metaverse creator MISOSHITA aimed at supporting crypto artists' debuts. The adorable dancing scenes of cats, koalas, and other cute characters clad in cool graphic art quickly amassed tons of fans. 

The Metaani x Kyary Pamyu Pamyu project was launched after Metaani released fan art of Kyary to celebrate the artist's 10th anniversary. The artist released her first full-length album in three years, Candy Racer, last year, and will perform at Coachella, one of the biggest music festivals in the US, next month. BeyondConcept will continue to support Kyary Pamyu Pamyu's activities in the metaverse with Web 3.0 technology.

Digital Fashion, NFTs, and the Metaverse Come Together for AMIAYA x STREET x MetaTokyo Collab

AMIAYA, a twin fashion unit representing Tokyo and signed to ASOBISYSTEM, is diving into the Metaverse! MetaTokyo is teaming up with the models to create NFT photography, open a digital pop-up museum, and provide wearable items for fans' avatars. The collaboration is an official installation for Metaverse Fashion Week held on the global metaverse platform Decentraland. The event began on March 24, 2022.


'AMIAYA x STREET TOKYO FASHION 2021ss' takes center stage in this collaboration. The photobook was made with popular street snap magazine STREET with photos taken by editor-in-chief Shoichi Aoki. The two models are seen wearing the latest Tokyo fashion on the streets of Harajuku and other areas of Japan's capital city. The company is intent on promoting local culture and fashion worldwide as part of the 'Web 3.0 Era.'


SPACE, a pop-up museum built on land owned by MetaTokyo in Decentraland, is now highlighting the AMIAYA and STREET collaboration with an immersive photo exhibition. Fans can also snag AMIAYA-themed wearables for their avatars.

Photos from the AMIAYA x STREET collab are now available as NFTs on OpenSea, the world's largest NFT marketplace. A total of 330 unique items will be available, so don't miss out!

A Bathing Ape Reveals Collection of NFTs

With the metaverse and NFTs making waves on social media and in the news, BAPE is jumping into this new trend full force. These unique designs are sure to attract fans of the brand!

The official logo and a few of the 3D designs have been revealed ahead of the planned release date. The graphics are algorithmically generated and meticulously detailed to represent BAPE's unique look and personality.  Which is your favorite?