What's in Your Pocket?—Pocket Idol T-Shirts Available at Village Vanguard!
At first glace, it looks like an ordinary t-shirt pocket. But what do you think could be inside it? If you were to open it up and take a quick peek, what would you expect to see? You guessed it, an idol. This new t-shirt is part of a new t-shirt line fittingly dubbed "Girls In the Pocket."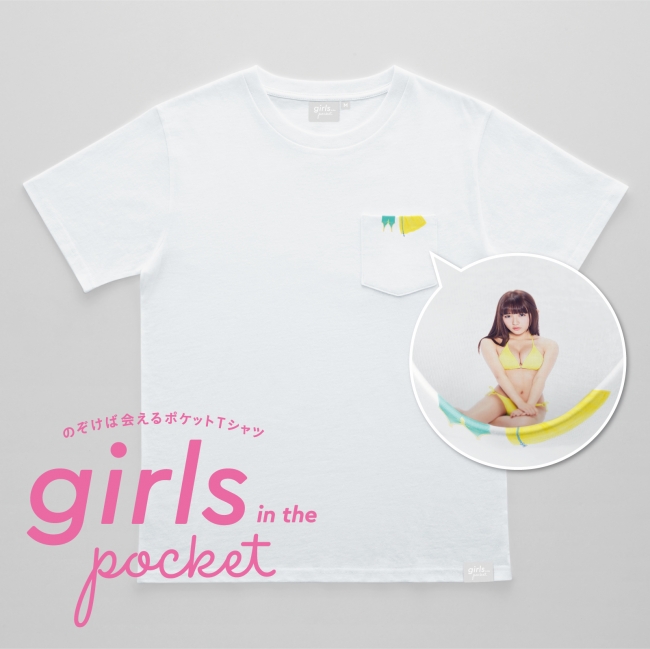 "Girls In the Pocket" was made by the capsule toy brand "Panda no Ana" and Vintage Vanguard's collabrative brand "VILLEPAN." Of course, there are many fan t-shirts displaying peoples' favourite idols, singers and anime character, but there are also those kind of t-shirts out there which you can't normally wear in public – those which are a little embarrassing to wear if you're by yourself.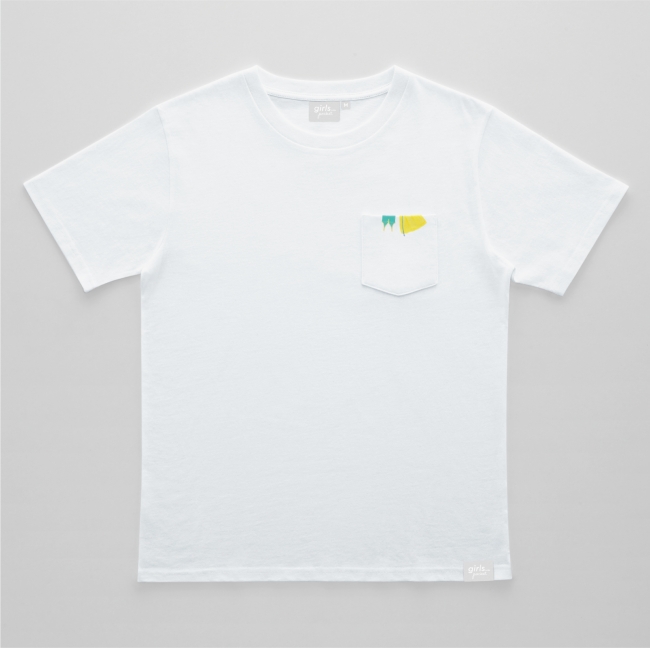 To combat that, "Girls In the Pocket" has been created, with original yet stylish designs which fans will be happy with. The pocket is seemingly standard, but if you open it up, your longed for idol will be inside!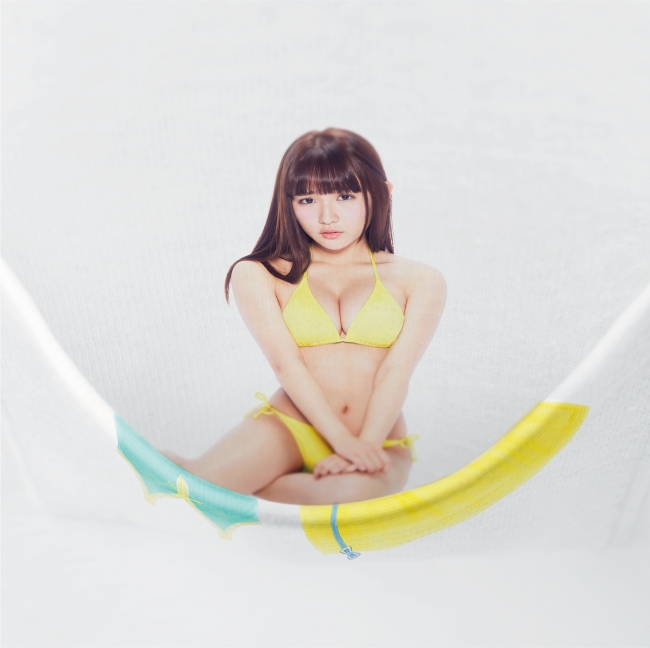 The first companion in this line of t-shirts is Nana Asakawa from the Japanese idol group SUPER☆GiRLS. As part of this first release, if you purchase a t-shirt, you will receive an A3-sized poster in the packaging completely free. A select few of the posters are also signed.
Who will be the next in line to appear in your pocket? Make sure to keep an eye out!
Related Article:Fruit-Scented Folding Fans Available This Summer on the Village Vanguard Online Store!
Related Article:Pokémon Face Packs to Protect You From the Sun this Summer! Who will you choose?
RELATED ENTRIES
Pour on the soy sauce and a scary Kabuki face will appear?! Order your Village Vanguard soy sauce dishes now!

Village Vanguard is well known for their collaborations with characters and their animal-themed designs. This time, they've made a Kabuki-themed soy sauce dish that you can order online.

Young, old, male or female, Japanese people love their traditional theatre shows called "Kabuki". One fascinating feature of Kabuki is the impressive makeup of the actors and actresses called "Kumadori


They made animal-themed soy sauce dishes, then character-themed ones, and now finally, we've got Kabuki-themed ones! There are many different designs in this new series ー you can enjoy all their different expressions! This is bound to make your dinner table a thousand times more exciting!

There are a total of six designs. Please come and choose from this wonderful selection!

Cute Neko no Buu-chan Merchandise Arrives at Village Vanguard

Village Vanguard are now selling cute new merchandise for Neko no Buu-chan, an adorable cat character created by Japanese illustrator Kino Takahashi.

This cute die cut smartphone ring functions as a stand to keep your phone propped up.

The cookie tin is filled with Buu-chan cookies! The designs are just too cute to eat.

There's even Buu-chan's first ever line of t-shirts. There's 3 colours to choose from. A must-have for this summer.

There's a range of other new Buu-chan items to get your hands on too, like stickers and badges. Litter your room with this cute kitty!

Shogi Rucksack Now Available for Pre-Order at Village Vanguard

Village Vanguard is now taking pre-orders for their shogi backpacks.

Shogi is often referred to as 'Japanese chess.' Japan is currently undergoing a shogi boom. The anime series March Comes in Like a Lion, which finished airing in March this year, follows the story of Rei Kiriyama, a 17-year-old professional shogi player. The two-season series became a hit in Japan and overseas, even getting a live action adaptation.

Sota Fujii is a 15-year-old high school student in Japan who made headlines for becoming the youngest person to achieve professional status as ranked by the Japan Shogi Association. He is currently ranked 7-dan.

Thanks to anime fans and budding young shogi players, the scene is gaining much attention with males and females of all ages. Now they can express their love for the game by wearing this backpack.

The bag comes with a pouch reading Oushou (王将), or 'King,' one of the shogi pieces. You can stow away all of your shogi pieces inside for easy access if a new opponent appears.

The bag is also perfect for mirushou, a rapidly growing population of shogi fans who like to watch shogi games but don't play and don't necessarily know the rules.

The bag can be used for carrying bigger items too, whether they're related to shogi or not. They're great for day-trips, overnight stays or as a souvenir from Japan!

If you're a fan of shogi or know someone who is, then look no further for a present than this!

Scary! Ice Made to Look Like Legs Sticking Out of Water

If you're in Japan this summer and can't bear the heat, then we've got a recommendation to cool you off. A fun and innovative ice cube tray made by Kyoto Ohata of Mousou Kousaku―who won the 2nd Zakka Awards―has been released at Village Vanguard.

The ice cube tray make your ice cubes look like human legs. Stick them into your drink and it'll look like someone's thighs, legs and feet are poking out. It costs ¥1,296.

The ice cubes are simple to make!

Prepare the silicon ice cube tray.

Pour lots of water into the holes at the top.

Place in the freezer for 5-6 hours.

Take off the seal and detach.

Open up the silicon tray to reveal your ice legs.

Put into your favourite drink!

You can combine the ice cubes with a bunch of different things for summer, not just drinks.

You can watch a funny example video showing how the ice cubes can be used. A male bartender makes a female customer a specially made 'cursed' cocktail. Be sure to check it out yourself!

Nothing's better in summer than a nice cold beverage chilled with some ice. How about shaking things up a bit this summer with this ice cube tray?

VR Idol Group "Enogu" to Perform Their First Virtual Concert on August 10

Enogu is a virtual idol group managed by Iwamotocho Geinousha who are set to perform their first ever live show on August 10 at Iwamotocho Theater. The show will service as a pre-opening for the first ever theater dedicated to performances by virtual idols.

Iwamotocho Geinousha made their name known at last year's Comiket 92 with their virtual theater. They subsequently went on to take their VR equipment around the country, eventually racking up over 10,000 followers on Twitter.

Enogu are set to release their CD debut via Universal Music Japan.

The group originally consisted of two members, Anzu Suzuki and Tamaki Shirafuji, but three other idols from the company have joined to make it five, including Nao Hinata, Sakurako Kurihara, and Haru Natsume. Their current activity is centred around live streams and radio appearances.

Enogu is the name of their first song, and it hit YouTube on May 5. It showcases the talent of characters virtual world, with full choreography for the complete song.

There are plans for a new song to be released every month by the group from July 14. Their performances are sure to pull on the heartstrings of viewers once more.

It's time to get excited in seeing what kind of group the world's first VR idol unit will become. Let's all watch over their story together.

These Towels Look Just Like Norimaki Sushi Rolls

geodesign are a design team known for their amusing creations. They have just put out their new Super Norimaki Towel which is a rolled towel that looks just like norimaki. It's available online at Village Vanguard.

They're made to look just like the norimaki you'd find at the supermarket from the gold and black colours to the packaging.

There are five types to choose from.

Super Norimaki Towel (Thick Roll)

Super Tamago Maki Towel (Thick Roll)

Super Norimaki Towel (Tuna Sushi Roll)

Super Norimaki Towel (Cucumber Roll)

Super Norimaki Towel (Natto Roll)

Beat the summer heat with one of these fun towels!

■Information

Super Norimaki Towel
https://vvstore.jp/feature/detail/3841/?utm_source=press

Village Vanguard Online
http://vvstore.jp/?utm_source=press

Super Norimaki Towel (Thick Roll)

Price: ¥918 (Tax-Included)

Super Tamago Maki Towel (Thick Roll)

Price: ¥918 (Tax-Included)

Super Norimaki Towel (Tuna Sushi Roll)

Price: ¥702 (Tax-Included)

Super Norimaki Towel (Cucumber Roll)

Price: ¥702 (Tax-Included)

Super Norimaki Towel (Natto Roll)

Price: ¥702 (Tax-Included)

TOKYO IDOL FESTIVAL 2018: New Artists Announced & Tickets Now on Sale

TOKYO IDOL PROJECT is set to hold the 9th TOKYO IDOL FESTIVAL (TIF) this year around the Daiba and Aomi areas from August 3 to 5. A fifth wave of new artists has just been announced.

A total of 23 new artists have been added to the line-up, including BiS 1st and BiS 2nd who are beginning their activities as part of BiS.LEAGUE which will determine both groups' members through a fan poll.

TIF2018の出演発表済アイドルは107組。

The number of idols and idol groups performing at TIF 2018 now totals 107, including a special TIF-only collaboration between Tokyo Girls' Style and Yuno Ohara which was announced on May 13.

Pre-sale tickets are now available, so idol-lovers best get their reservations in fast!

■Information

TOKYO IDOL FESTIVAL 2018

Location: Odaiba and Aomi area

Date: August 3, 2018―August 5, 2018

Website: http://www.idolfes.com

Tickets w/ Original T-Shirt

Price:

3-Day Ticket – ¥18,700 (Tax Included)

1-Day Ticket – ¥9,200 (Tax Included)

Regular Tickets

Price:

3-Day Ticket – ¥16,500 (Tax Included)

1-Day Ticket – ¥7,000 (Tax Included)

Ticket Window: March 27, 2017 at 19:00―June 15, 2018 at 23:59

Ticket Link:

Kawaii 'Cat Ear' Lingerie Now On Sale at Village Vanguard

A new line of cute kitty lingerie is now available for pre-order at Village Vanguard, including lace cat ears, a collar with a bell and lingerie with a heart in the top piece. The set is available in both black and white, with orders shipping in early to mid June.

The black set transforms its wearer into a sexy black cat, with a cute golden bell on the collar.

The white set is more cute and pure with plenty of frills to make you into a fluffy white cat.

The characteristic silhouette is the selling point of this lingerie – whether you look from the front, side or back it's cute.

This cute and sexy nekomimi ('cat ear') lingerie sets are sure to blow up online once they are released.

There's a lingerie feature over on Village Vanguard right now so be sure to check that out along with this new release.

Tokyo Idol Festival Expands Overseas to Bangkok for the First Time

Tokyo Idol Festival (TIF)―the world's biggest idol festival―saw a staggering line-up of 223 idol groups perform on stage in August 2017 with an attendance rate well over 80,000. In order to deliver Japan's idol culture to the rest of the world, TIF departed overseas and began its expansion to the rest of Asia this year.

The first of those countries was Bangkok, a place where there is a particular love for idol culture. Tokyo Idol Festival in Bangkok Comic Con was held on April 27 to 29.


Kicking off the three-day festival in Thailand was Maneki-kecak. Other groups included Lovely ☆Doll, Akishibu Project, and a host of other idols also popular in Japan.

The final act of the first day was none other than NGT48. The event kicked into high gear with a collaboration between the event's hosts BNK48, and 365 Nichi no Kamihikouki and Koisuru Fortune Cookie.

Special guests JKT48 from Jakarta, Indonesia dashed on stage for the second day, greatly demonstrating the extent of the idol culture in the Asian region.


On the final day, while BNK48 were reaching their climax on their solo stage, TIF's producer Ryo Kikutake (Fuji Television Network, Inc.) stepped onto stage, giving a surprise announcement that BNK48 will perform at Tokyo Idol Festival 2018 at Odaiba, Tokyo in August.

Ryo Kikutake gave his thoughts on the overseas embarkment of TIF, saying: "We have made a good showing to the people overseas in showing just how charming and powerful Japan's idols are. It has been a huge step in the run up to the Tokyo 2020 Olympics. I want to continue spinning all kinds of stories both inside and outside Japan."

Let us continue to give our undivided attention to the ever growing force that is the Tokyo Idol Project!

■Information
TOKYO IDOL FESTIVAL 2018

Idol Yokocho Natsumatsuri 2018 – One of Japan's 3 Biggest Idol Festivals

Lots and lots of idol groups are set to take to the stage at Idol Yokocho Matsuri again this summer.

The festival has received huge recognition and hails as one of Japan's 3 big idol festivals. The event will return again to Yokohama Red Brick Warehouse on Saturday July 7 and Sunday July 8, promising to be even bigger than last year.

In line with the announcement, orders for pre-sale tickets are also now open. 1-day and 2-day pre-sale tickets will be available via a lottery system on Rakuten Ticket from 10:00 on April 14.

As a bonus, five lucky people who get their hands on a 2-day ticket have the chance to receive a specially signed flag from the performing artists.

Full details regarding the artist line-up will be announced at a later date. In the meantime, it's time to get excited and brush up on your otagei skills!

■Information

Idol Yokocho Natsumatsuri!! ~2018~
Location: Yokohama Red Brick Warehouse, 1-1 Shinko, Naka-ku, Yokohama-shi, Kanagawa Prefecture

Dates: July 7, 2018 – July 8, 2018

Time:
 July 7: 09:00 DOORS / 10:00 START / 20:00 FINISH
 July 8: 09:00 DOORS / 10:00 START / 19:00 FINISH

Ticket Prices:

Pre-Sale Tickets & General Tickets
 1-Day Ticket – ¥6,800
 2-Day Ticket – ¥12,000
Same-Day Tickets
 1-Day Ticket – ¥7,800
 2-Day Ticket – ¥14,000
Pre-Sales (Lottery)
 April 14, 2018 at 10:00 – April 22, 2018 at 23:59
 *During the pre-sale period you can earn 5x Rakuten Super Points! (2-day tickets & both day tickets only)

Rakuten Ticket: http://r-t.jp/idolyokocho

Official Event Page: http://summerfes.idolyokocho.com/2018/

MMN Festival 2018 Report: Idol Stage at Tower Records Shibuya Rooftop SKY GARDEN

MOSHI MOSHI NIPPON FESTIVAL 2018 in SHIBUYA delivered Japanese culture to the world from Shibuya. The event saw 16,000 people attend across the two-day period to experience a new kind of Japanese festival.

This report will cover the Featuring Japanese new music "MOSHI MOSHI MUSIC FESTIVAL" event that took place at SKY GARDEN on the rooftop of Tower Records Shibuya, a place which which has built a history of music in Shibuya.

Idols are one aspect of Japanese culture that Japan can boast to the world. The event showcased a line-up of idols groups that MOSHI MOSHI NIPPON (MMN) want to introduce to the world. Let's take a look at the idol stage which was packed full of Japanese 'kawaii'!

Kicking off the performances on Day One was two-member idol unit C-Style from the city of Kisarazu. They left a strong impact on the crowd dressed in red and blue sailor outfits and donning sunglasses.

Next was another two-member unit, Kus Kus. Their perfectly coordinated choreography captivated the audience as they danced to the tune of easy-listening electro pop.

Wyenra were the third act. If you were to divide shadows and sunshine they are a group who certainly bring the 'shadow,' wrapping the crowd with the dark side of springtime weather.

The fourth group were dancing rock idols QUEENS. Wyenra debuted this year on February 10th while QUEENS debuted on January 31st. You would never know these groups had formed so recently with their magnificent performances.

As the sun started setting on SKY GARDEN, Jewel☆Neige stepped onto stage wearing dazzlingly beautiful white and silver outfits. The audience made a huge display of their excitement with the group's unshakable performance.

Act number six was 5-member group CY8ER. There was a sense of mutual elation with everyone gathered in the crowd with the group's Japanese-esque-incorporated future bass songs with easy choreography that even first-timers seeing the group could copy.

The seventh group on stage was Nankini! Unfortunately, one member was unable to make it, but the remaining two put on a thrilling performance with everything they had. If you wanted to see them three of them together then be sure to check out another one of their events.

The final idol group of Day One was Yamakatsu whose fired up performance also had the people in the crowd psyched and singing as they wrapped up the day with the right amount of exhilaration.

The top batters for Day Two were C-Style once again. For the second day the members wore special green happi coats which had the Japanese character 'mo' (も) on the back.

Following them was NEO JAPONISM who made their debut in December 2017. Their 'neo' sound had the crowd pumped. Their outfits had a mode taste to them and incorporated a traditional Japanese style which looked pretty even on an outdoor stage.

Act three was Yamakatsu who also performed on Day One. They put on a galvanizing performance to even more people this time. And although they didn't perform it on this day, people are looking forward to their new single distopia set to hit shelves on April 17th.

Next was The Dance for Philosophy for which over 400 people turned up to the roof. The group wowed the packed venue with their funk numbers and outstanding vocal abilities.

PPP!PiXiON were next to grace the stage. Despite one member graduating from the group leaving them with four members, there was some serious support from the fans as each of them put on an energetic performance.

Sakidori Hasshinkyoku who went on stage as the sixth act began their performance with their song Karimen Destiny which was released in February. They wrapped up their setlist with their staple track Gimirepa and brought much excitement to the floor.

Following them was APPARE! Harajuku who are tied to the same studio as Sakidori Hasshinkyoku. Their setlist also inevitably livened the atmosphere, and their final song Harajuku Sunny Day had the crowd so pumped as if the building was going to fall down.

As night turned and the rooftop turned to black, the progressive sound and singing abilities of the four members from sora tob sakana established their style as unique – even in the idol world.

Pulling the curtains shut on Day Two was idol group Lovely Doll. The performance from the seven members was the kind of performance you'd expect from such a seasoned group. They finished up Day Two with Calendar Girl which was voted as the number one most popular song amongst fans.

MOSHI MOSHI NIPPON FESTIVAL in SHIBUYA 2018

MMN Festival 2018 Report: MOSHI MOSHI MUSIC FESTIVAL & Up-and-Coming Artists at Tower Records

The MOSHI MOSHI NIPPON Project has one goal: to promote Japanese pop culture to the people of the world. On March 24th and 25th, MOSHI MOSHI NIPPON FESTIVAL 2018 in SHIBUYA was held, delivering Japan's popular culture to the world from the Shibuya and Harajuku area.

There were several places this year's festival took place. One of those locations was Tower Records Shibuya, where we held a music event titled "Featuring Japanese New Music: MOSHI MOSHI MUSIC FESTIVAL." Here, music artists with huge influence in the scene, as well as music media companies who have hooked up with new talent, came together as curators to deliver a fantastic showcase of promising artists. The event took place at the CUTUP STUDIO on B1F of Tower Records Shibuya.

Day One at the CUPUP STUDIO saw many performers. This included MANON, a hopeful new artist signed to ASOBISYSTEM, as well as three other artists recommended by music media company Spincoaster: SIRUP, Mizuki Ohira with Kobayashi Utena, and The Wisely Brothers.

Recognised R&B artist SIRUP warmed and spellbound the room with his sugary vocals and mellow, infectious beats.

Mizuki Ohira rocked the steelpans while Kobayashi Utena played the marimba, giving rise to an exotic musical co-performance. Three-piece female band The Wisely Brothers sent forth new-age girl power with their heavy garage rock. They also spoke about there being so much manga in Japan as one of the things they like about the country.

The second half of the event was graced by an MC battle produced by WREP, a hip-hop radio channel, hosted by Zeebra and Hachi Moji. Four spectators from the audience were appointed as team leaders and had to create teams from the 12 battle MCs present at the show.

The 4 teams battled it out in a tournament for the title of best MC. MCs that participated in the battle included MC Seishain, MC Matsushima, MC MIRI, Kizal, SAM, SHO GEN, Datemegiri, TKdakurobuchi, NiLL Nico, 8×8=49, FRANKEN, and Yuma.

Team SHO GEN, TKdakurobuchi & NiLL Nico and Team MC Matsushima, MC Seishain & SAM came out victorious. At the end of the battle, the chief members of the teams SAM and TKdakurobuchi clashed in a final battle with SAM taking the crown. The winning team took home a cash prize with the hip-hop fans in the crowd in a flurry of excitement. This marked the end of the first day.

For Day Two, Natalie Music worked as curators for the live stage event "Live Natalie meets MOSHI MOSHI NIPPON." MISMOPE were the first on stage with their spacey performance, followed by Nemuri Haru, who left a huge impact with her mad mix of poetry and rap.

Monari Wakita fitted in nine songs in 30 minutes, demonstrating her multi-layered musicianship. The packed-out CUTUP STUDIO also got involved with some fiery call & response.

Atarashii Gakkou no Leaders wowed the audience with their infectious outlook and sharp, nimble dancing. During their song Saishuu Jinrui, which is the lead song taken from their first major album Mae Narawanai released on March 21st, they demonstrated their acrobatic bodies to the tune of a lively piano.

Five-member band Luby Sparks, who are recognised in the British alternative rock scene, also announced their new vocalist Erika for the first time.

The last performer of the day was SHE IS SUMMER, who performed a string of popular hits such as Machiawase wa Kimi no Iru Shinsen and Tobikiri no Oshare Shite Wakarebanashi wo. The two-day festival came to a close with MICO's energetic, jumpy performance.