World Trigger Anime Series gets Valentine's Day Pop-Up Store at LOFT Locations
Popular anime series World Trigger is getting a Valentine's Day pop-up store at six LOFT locations starting January 7, 2022. The event will feature exclusive illustrations of the main characters with lots of chocolate motifs. 
Replica Small Avatar Mascot: ¥1,100 (Tax Included)
World Trigger Acrylic Stand VD: ¥1,650 each (Tax Included)

Acrylic Keychain VD: ¥792 each (Tax Included)
World Trigger Acrylic Stand Heart Cat: ¥990 each (Tax Included) 
World Trigger Acrylic Keychain Heart Cat: ¥792 (Tax Included)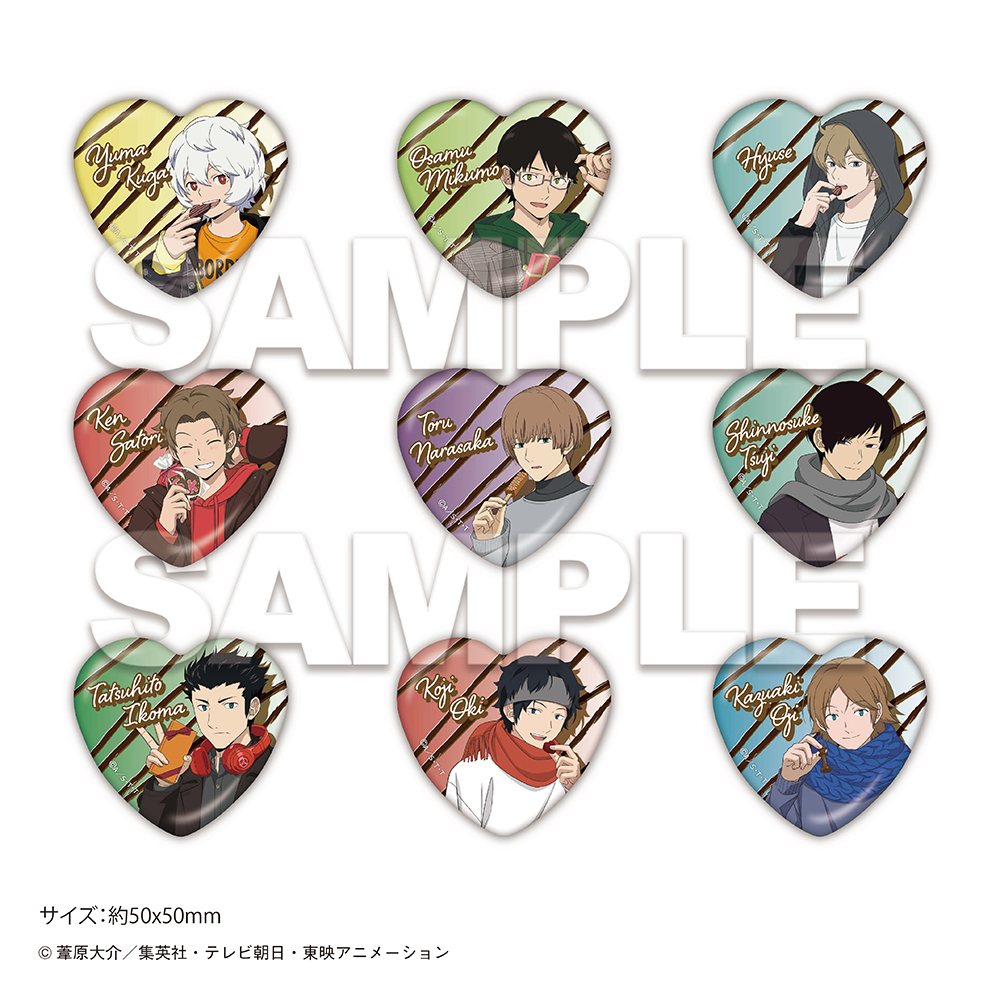 World Trigger Heart Pins: ¥440 each (Tax Included) / BOX: ¥3,960 (Tax Included)

World Trigger Imabari Towel Replica: ¥990 each (Tax Included)
World Trigger Pen: ¥396 each (Tax Included) 
World Trigger Clear Folder: ¥440 each (Tax Included)

World Trigger Hoodie: ¥5,720 (Tax Included)
World Trigger Crunchy Chocolate Pin Sweets: ¥864 (Tax Included)

World Trigger – Ikoma's Eggplant Curry: ¥972 (Tax Included)
World Trigger Acrylic Stand Badge Sweets: ¥880 (Tax Included) / BOX: ¥7,920 (Tax Included)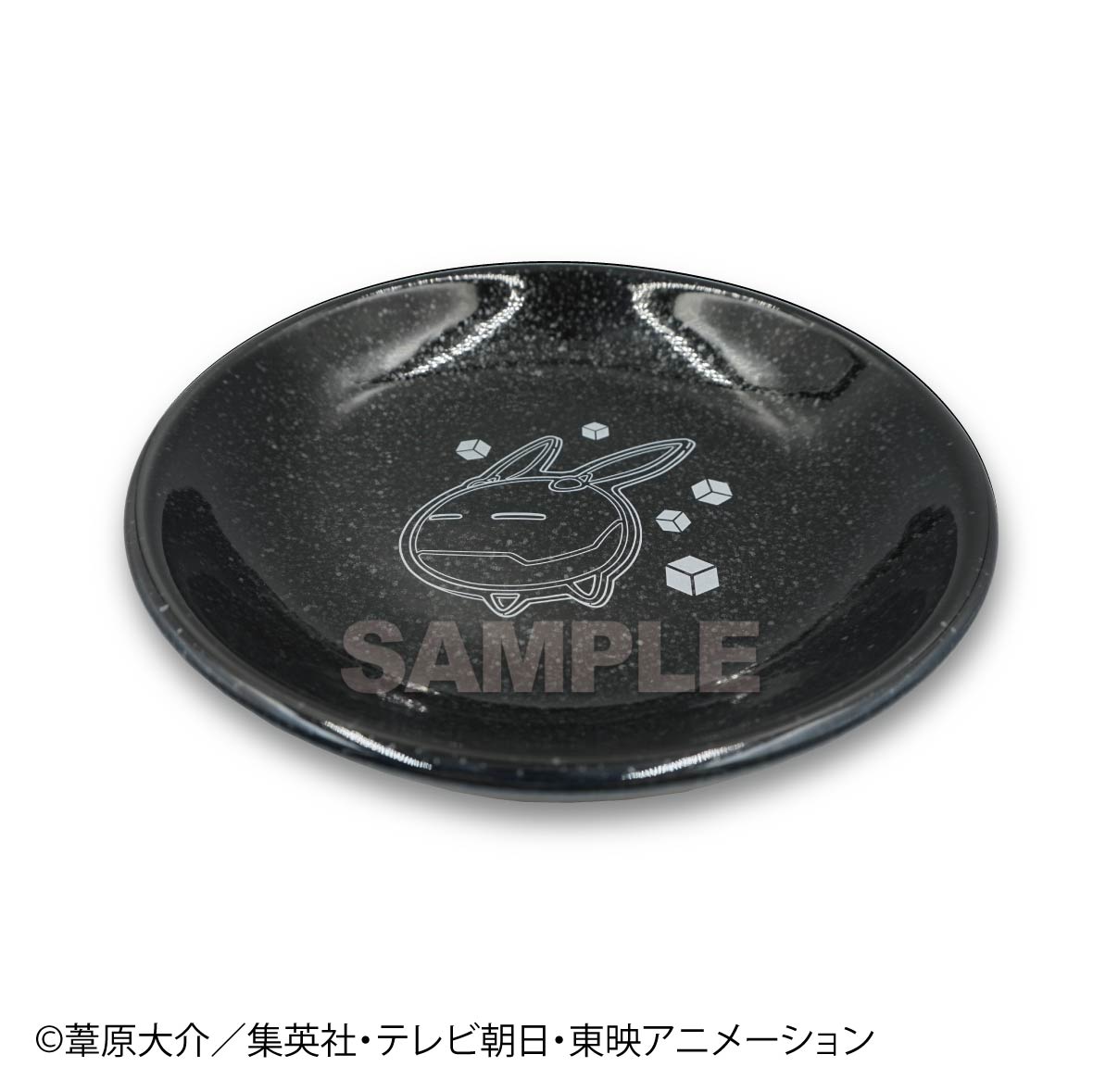 World Trigger Plate: ¥1,650 (Tax Included)
World Trigger Chocolate: ¥880 each (Tax Included) *Available in February
World Trigger Masking Tape: ¥462 each (Tax Included) *Available in February
©葦原大介/集英社・テレビ朝日・東映アニメーション
Information
World Trigger POP UP STORE in LOFT
Running/Locations:
January 7 – January 27, 2022 (Nagoya)
January 12 – January 25, 2022 (Sapporo)
February 5 – February 25, 2022 (Yokohama)
February 10 – March 1, 2022 (Umeda)
March 10 – March 31, 2022 (Shibuya) 
March 15 – March 31, 2022 (Tenjin)
Details: https://www.muzzle.co.jp/world-trigger/loft20220107/
RELATED ENTRIES
BE:FIRST to Hold Photo Exhibition at Umeda LOFT in Osaka

BE:FIRST is a seven-member dance and vocal group created during THE FIRST boy band audition. Organized by BMSG, a company founded by popular rapper SKY-HI, the group immediately amassed an army of fans who immediately fell in love with the suave members. The group's first photo exhibition was held for three months in Tokyo, Nagoya, and online, with more than 10,000 people showing up. 

Because of the incredible response to the event, a second version is coming to Osaka for a limited time from January 7 until January 23, 2022. The exhibition will feature about 200 photos highlighting their debut, their first solo concert, and other curious moments in their career. Those interested will be able to see the photos online as well!

Jujutsu Kaisen Pop-Up Store Opening at Seven LOFT Locations in Japan

Popular anime series Jujutsu Kaisen will receive a themed pop-up store at seven LOFT locations around Japan from November 9, 2021, until January 31, 2022. 

Novelty

RT Campaign

A number of limited-edition goods will be on sale at each location, including postcards featuring popular characters that are perfect to use in smartphone cases. Fans won't want to miss these rare goods while they're here, so head to a LOFT location if you can!

Information

Jujutsu Kaisen COLLECTION in LOFT Pop-Up Store

Running: November 9, 2021 – January 31, 2022

Location: LOFT (7 Locations Nationwide) 

Location: Kyoto LOFT

Address: mina Kyoto 4F (58 Daikokucho, Nakagyo-ku, Kyoto)

Running: November 9 – November 21, 2021

Location: Shibuya LOFT

Address: 21-1 Udagawa-cho, Shibuya-ku, Tokyo

Running: November 12 – November 29, 2021

Location: Nagoya LOFT

Address: Nadya Park 5F (3-18-1 Sakae, Naka-ku, Nagoya) 

Running: November 26, 2021 – December 13, 2021

Location: Umeda LOFT (1F LOFT Market) 

Address: 16-7 Chayamachi, Kita-ku, Osaka

Running: December 17, 2021 – January 10, 2022

Location: Sapporo LOFT

Address: ESTA 6F (2-1 Kita5 Jonishi, Chuo-ku, Sapporo)

Running: December 29, 2021 – January 10, 2022

Location: Tenjin LOFT 5F

Address: 4-9-25 Watanabedori, Chuo-ku, Fukuoka

Running: January 14, 2022 – January 31, 2022

Location: Sendai LOFT

Address: 1-10-10 Chuo, Aoba-ku, Sendai

Running: January 15, 2022 – January 30, 2022 *Closes at 5PM on January 30

Popular Chichiyasu Chi-bou Fair 2021 Returns to LOFT Locations After Two Years

Household goods shop LOFT is teaming up with beverage company Chichiyasu for the Chichiyasu Chi-bou Fair 2021 at four locations nationwide. The event will run from September 16 until September 29 at Shibuya LOFT, and from October 20 until November 3 at Nagoya LOFT, Umeda LOFT, and Tenjin LOFT. Chi-bou is the name of the adorable character on the Chichiyasu logo.

Chi-bou Drawstring Bag (Set of 2): ¥1,650 (Tax Included)

Chi-bou Gauze Handkerchief: ¥770 each (Tax Included)

Chi-bou T-shirt: ¥2,200 each (Tax Included) *Only available at Shibuya LOFT and Umeda LOFT.

Chi-bou Pouch: ¥1,650 (Tax Included)

Chi-bou Rubber Keychain (Set of 2): ¥1,650 (Tax Included)

Chi-bou A5-size Notebook: ¥385 each (Tax Included)

Chi-bou Mug: ¥1,650 each (Tax Included)

Chi-bou Eco Bag (with Pouch): ¥2,200 (Tax Included)

Chi-bou Masking Tape (Chichiyasu Milk/Boxed Milk): ¥495 each (Tax Included)

 

The Chichiyasu Chi-bou Fair was a popular event held at Shibuya LOFT in 2018 and at Yokohama and Umeda LOFT locations in 2019.

How would you like to buy some of this adorable merchandise?

Information

Chichiyasu Chi-bou Fair 2021

Locations:

Shibuya LOFT 1F, Masaka Stage
Nagoya LOFT 5F, Variety Goods Section

Umeda LOFT 1F, Loft Market

Tenjin LOFT 5F, Variety Goods Section

Running:

Shibuya LOFT: September 16 – September 29, 2021

Nagoya LOFT, Umeda LOFT, Tenjin LOFT: October 20 – November 3, 2021

Hours: Same as LOFT business hours *Shibuya LOFT and Umeda LOFT to close at 18:00 on the final day.

Official Site: https://www.loft.co.jp/

City Hunter Manga Pop-Up Store to Open at Umeda LOFT in Osaka

Anime, manga, and tokusatsu event organiser CRAZY BUMP has announced the opening of a pop-up store centred on Tsukasa Hojo's manga series City Hunter which will run from May 12 to 25.

The pop-up shop first ran in Nagano in Tokyo last month and is now heading to Osaka. It's themed on Ryo Saeba versus Umibozu.

©北条司/コアミックス 1985,版権許諾証AG-301

Information

City Hunter Pop-Up Store: Ryo Saeba vs. Umibozu in Umeda LOFT

Japanese Shop Name: POP UP STORE~冴羽獠VS海坊主墓場の決闘編~in梅田ロフト

Running: May 12, 2021 – May 25, 2021

Where: Umeda LOFT (Floor 1F Market)

Address: 16-7 Chayamachi, Kita-ku, Osaka-shi, Osaka

Opening Hours: 11:00-21:00 (Until 18:00 on May 25)

Entry: Free

Special Page: https://hakabanogarou.jp/archives/17920

Enjoy a Healthy Junk Food Menu at Shibuya LOFT's New Cafe 2foods

Shibuya LOFT opened its new '2foods' cafe on April 15 which serves junk food healthily.

2foods uses absolutely no eggs or milk in their menu – everything is plant based and healthy, making it a haven for vegan foodies, especially in Japan where there aren't as many vegan places as other countries. What's better is that everything's reasonably priced too. There are around 60 menu items to choose from, like curry and soba as well as desserts, organic coffees and lattes, cold pressed juice, and more.

Artist's rendition of the cafe

Curry | ¥1,023 (Tax Included)

A hearty and spicy curry served with brown rice which is better for digestion.

Tantanmen Ramen | ¥968 (Tax Included) | Shibuya LOFT exclusive

A ramen soup with 100% gluten free rice flour noodles, soy milk, sesame seeds, peanuts, soy meat, and other healthy and natural ingredients.

Egg Doughnut Sandwich | ¥528 (Tax Included)

A vegan egg sandwich that doesn't use eggs but tastes just like them.

Gateau Chocolate | ¥528 (Tax Included)

A rich chocolate gateau made with brown rice powder and soy cream.

Information

2foods Shibuya LOFT

Opened: April 15, 2021

Address: Shibuya LOFT (Floor 2F), 21-1 Udagawacho, Shibuya, Tokyo
Opening Hours: 11:00-20:00 
TEL: 03-6416-4025 

Official Website: https://www.loft.co.jp/

Monster Strike x World Trigger Collaboration Launches in the Mobile Game

XFLAG launched and in-game collaboration for the popular hunting RPG mobile game Monster Strike on Tuesday (February 2) in which players have the chance to obtain several characters from the anime series World Trigger.

World Trigger Characters to Appear in Gacha

Osamu Mikumo

Yūma Kuga

Chika Amatori

Yūichi Jin

Kirie Konami

World Trigger Characters to Appear in Quests

Hairein

Viza

Lamvanein

Hyuse

Enedra

World Trigger is an ongoing sci-fi action manga series written and illustrated by Daisuke Ashihara. It is serialised in Jump Square. The series received its first anime series in 2014 with a second season that began airing last month. The collaboration features a line-up of heroes and villains from the series entering the world of Monster Strike.

"ミクシィ", "mixi", the mixi logo, "XFLAG", the XFLAG logo, "モンスターストライク", "モンスト", and "MONSTER STRIKE" are registered trademarks of mixi, Inc.

Japan's leading household goods and stationery chain LOFT has announced the opening of a new branch at the Ito-Yokado department store in Chengdu, China on January 29, 2021. It comes as the company's second store to open outside of Japan following their first overseas branch in the Shanghai commercial district Xujiahui on July 24, 2020.

LOFT first made its face known with the opening of its store in Shibuya back in 1987. The company is known for its concept of "Showcase of Time" as its stores promote browsing and customers taking their time to look the assortment of goods on show rather than simply going to get what they need.

The new overseas branch and its shelves will focus on family households which it is advertising with the slogan "They're Sure To Have Something" (translated from Japanese).

Shuangnan LOFT grand opening promotion designs

LOFT Gift Tins (6 Designs)

LOFT Limited-Edition Tokyo Yellow Series

LOFT Limited-Edition stationery designed by CHALKBOY

Dragon Quest x LOFT Merch Collab

China-Exclusive LOFT Items

Chengdu Ito-Yokado LOFT exclusive grand opening merch design

LOFT Limited-Edition Hair Care & Skin Care Set (Available while supplies last)

LOFT APARTMENT

LOFT grand opening original eco-bag

Shuangnan LOFT will boast over 10,000 specially-select items from trending Japanese cosmetics to LOFT-exclusives, grand opening celebratory items, stationery, character goods, and much more. The store's LOFT APARTMENT section will feature items made in collaboration with over 100 Chinese artists from apparel to accessories.

To commemorate the store's grand opening, the first 10,000 customers to spend over 200 yuan will receive an original LOFT eco-bag for free. Coupons with 10% off  items will also be available on the WeChat mini program between January 29, 2021 and February 21, 2021.

Information

Shuangnan LOFT
Grand Opening: January 29, 2021
Address: Chengdu Ito-Yokado Floor 2F, Er Huan Lu Xi Yi Duan & Yi Du Lu, Shuang Nan Shang Quan, Wuhou Qu, Chengdu Shi, Sichuan Sheng, China
Opening Hours: 9:00-22:00
Official Website: https://www.loft.co.jp/

'World Trigger' Anime Series Is Getting A Third Season

The first season of the anime World Trigger by Toei Animation consisted of 73 episodes and aired between October 5, 2014 and April 3, 2016. The original sci-fi action manga was created by Daisuke Ashihara and featured in popular manga magazines such as Weekly Shōnen Jump and Jump Square (Shueisha Inc.). From its days in the Weekly Shōnen Jump to when it moved to Jump Square, the manga kept accumulating large numbers of fans, becoming one of the most popular stories out there. It has been announced that the anime is getting a second season and this is set to air on January 9, 2021 on TV Asahi Keiretsu. The broadcastings are scheduled to occur every Saturday from 1:30am.

A Third Season Has Also Been Announced

A third season is also scheduled to be made. In the second season, members of Galopoula from the Planet Nation attack the border agency. In the B Rank Battles Arc, Yūma, Osamu and the gang sharpen their skills to become B-rank agents. The third season is bound to be filled with even more thrilling content.

Right now we know that season two will air from January, however, more information on the broadcasting schedule for season three is yet to be released. It's not long now until we can finally enjoy season two!

©Daisuke Ashihara/Shueisha Inc., TV Asahi/ Toei Animation

Information

World Trigger Anime Season 3

Broadcast: TBA

World Trigger Anime Season 2

Broadcast: January 9, 2021 on TV Asahi Keiretsu NUMAnimation (Every Saturday from 1:30am)

Official Website: http://www.toei-anim.co.jp/tv/wt/

South Korean Cosmetic Brand CILY Launches Japan Edition Packaging

South Korean cosmetic brand CILY released a new "Japan Edition" packaging for its products at LOFT stores around the country on March 7.

CILY is a South Korean cosmetic brand produced by Kang Taeri. Having much experience with various brands of makeup from her fashion photo shoots, Taeri conceived the brand to offer ease-of-use when applying makeup to the masses. Her brand mimics the beauty of Asian women. Japan's first flagship store opened in Shinsaibashi, Osaka on January 25 this year, which caused the brand to trend on Japanese social media for the power of its products.

The Japan Edition packaging will have pre-sales in Japan. The two-colour chic Korea Edition packaging is available in-store and on CILY's official online shop.

CILY SILKY LIP – ¥1,500 (Before Tax)

This lipstick bears a creamy texture and high tone colouring. Apply for glossy and plump-looking lips.

CILY EYES ON ME – ¥1,200 (Before Tax)

Two mattes and four shimmery and glittery picks make up this collection of 6. Colour your eyes elegantly with this silky powder.

CILY BLOSSOM BLUSH – ¥1,400 (Before Tax)

Though this blush is a powder, it effortlessly slides across the skin with its silky texture.

CILY EVERLASTING MASCARA – ¥1.700 (Before Tax)

Make your eyelashes look natural but with plenty of volume. This mascara keeps your lashes looking beautiful all day.

Get ready for spring with Taeri's beautiful collection.

Information

CILY JAPAN EDITION

Released: March 7, 2020

CILY Japan Official Website: https://cily.jp/

Chuken Mochi Shiba―The Adorable Chubby Puppy Characters Get Their Own Store

The cute character line Chuken Mochi Shiba opened up its very own pop-up shops at LOFT branches across Japan on March 14.

At the same time as SK Japan's chubby puppy character line appeared in 2014, the Shiba Inu boom took over the world. Products in the line are sold mainly at amusement facilities in Japan and it has become a hit not just in Japan but overseas too, especially in South Korea and Taiwan.

The name of the pop-up shop is Marufuku Shoutengai. The first store to open is at the Umeda branch of LOFT which is currently running until April 2. The shops will open sequentially at different branches across the country before closing up in early August.

There will be plenty of merchandise to get your paws on at the Chuken Mochi Shiba-decorated store. Those who spend over ¥1,080 with tax in one purchase will receive a limited-edition postcard. These are available in limited quantities at each store. There are two postcard designs: the spring version will be available from this month until early May and the summer version will roll out in late May until August.

Sakura and Okaka, two characters in the line, are also scheduled to make an appearance at select stores. You will be able to have your photo taken with them.

Join the chubby Shiba Inu at a Chuken Mochi Shiba store near you!

Information

Chuken Mochi Shiba Pop-Up Store

Running: From March 14, 2019

*Beginning at Umeda LOFT. The store will roll out at other LOFT branches sequentially.

Chuken Mochi Shiba Official Homepage:  http://mochishiba.skj.jp/

©2014 SK JAPAN

Kaori's Easy Recipe: Learn to Make a Pompompurin Cookie Shot

With just a small bit of ingenuity, turn everyday food into something cute using Kaori's easy recipe! With a few simple ideas, an ordinary recipe magically transforms into a cute dish.

In this recipe you'll learn how to make a "Pompompurin Cookie Shot," perfect for Valentine's Day! It may look difficult but I have made it so it's nice and easy to make!

1: Ingredients/Equipment

2 glasses or purin cups

40g unsalted butter or margarine

75g flour

20g sugar

1 cup milk

Chocolate

 

2:

①Knead together the unsalted butter, flour and sugar.

②Add the milk in little by little while kneading. Knead until the it has a consistency moister than regular cookie dough.

③Coat one glass with a little oil or butter.

④Affix the dough from step ② around the inside of the glass as shown in the photo below.

✩It's best to make your dough a little softer than regular cookie dough to prevent cracks from forming.

✩Press the batter firmly to ensure air doesn't get into it. If you don't do this then the batter will split.

⑤Place aluminium foil into the centre of the dough to stop it from expanding when baking.

⑥Shape a cup handle and Pompompurin's ears with leftover dough from step ④.

✩Bake for approximately 10-minutes at 190° with the handle and ears. Remove the handle and ears and bake the cup for a further 5-10 minutes.

3: Melt the chocolate over a bain marie.

4: Remove the aluminium ball and once the cup has cooled remove the cookie and smear in the chocolate.

✩It's possible to remove the baked cookie smoothly by coating with butter but it will make it break easily so ensure to do it carefully.

The inside of the cookie will look a little uneven after removing the aluminium ball but you won't be able to see it after adding the chocolate.

Once completely cooled use the leftover chocolate to draw on Pompompurin's facial features and use it to attach the handle and ears. After attaching the handle and ears hold them in place for a moment for the chocolate to  harden. You can make a hat from the remaining chocolate but I made one from sliced chocolate.

All done!

Kaori invites you into her world of character-themed food dishes in her recipe series. Be sure to check out her Instagram where she has uploaded many pictures of her character dishes!

Information

■Profile
Kaori Kubota (@kaopan27)
I live in Hokkaido and I love to make character themed foods, desserts and pastries♡

I want to see my family smile, so I enjoy putting in a bit of effort to make character foods and changing food into something cute♡

You can see more of my character foods and character bento boxes on my Instagram page→@kaopan27

Chocolate Packed Honey Toast Released in Collaboration With Black Thunder & PASELA

Karaoke chain PASELA is teaming up with the Black Thunder chocolate bar from February 1, 2019 which will see select PASELA branches getting decked out with Black Thunder chocolate products.

PASELA branches to sell Black Thunder Honey Toast

Black Thunder Honey Toast: ¥1,290 (Tax Included)

PASELA's famous honey toast is topped with chocolate sauce and baked, but this version takes it to the next level by crowning it with an entire Black Thunder bar, adding a satisfying crunch to the fluffy honey bread.

Black Thunder Cafe Mocha: ¥690 (Tax Included)

Sip on a sumptuously sweet cafe mocha made with lots of Black Thunder chocolate and finished whipped cream and mint.

These chocolate treats can also be enjoyed when going to karaoke with your sweetheart for Valentine's Day or with a friend.

Select PASELA branches to open Black Thunder shop!


Special Black Thunder shops will be open at select PASELA branches from February 1 to 14 where the eye-catching chocolate bars will be sold. The bars are enough to please anyone so why not pick some up as presents to your friends?

10,000 Black Thunder chocolate bars to be handed out on Valentine's Day!


Select PASELA branches will be handing out 10,000 Black Thunder bars to customers. First-come, first-served!

Information

Black Thunder Collaborative Menu
Location: 18 PASELA branches
Running: February 1, 2019 – February 28, 2019

Black Thunder Shop
Location: 6 PASELA branches (Shinjuku, Ikebukuro, AKIBA Multi Entertainment, Shibuya, Yokohama EAS, Osaka Namba Dotombori)
Running: February 1, 2019 – February 14, 2019
Content: Black Thunder chocolate bars to be sold

Free Black Thunder Bars
Location: 18 PASELA branches
Running: February 14, 2019
*Limited stock. First-come, first-served.

*Subject to change at each branch.