Japan's First Fidget Spinner Pop-up Shop to Open in Shibuya Loft!
Who hasn't heard of fidget spinners by now? The first ever fidget spinner pop-up shop will be opening in Japan this month. They are called "hand spinners" in Japan, and for two days, the "Nippon Hand Spinner Club" will be open in Shibuya Loft.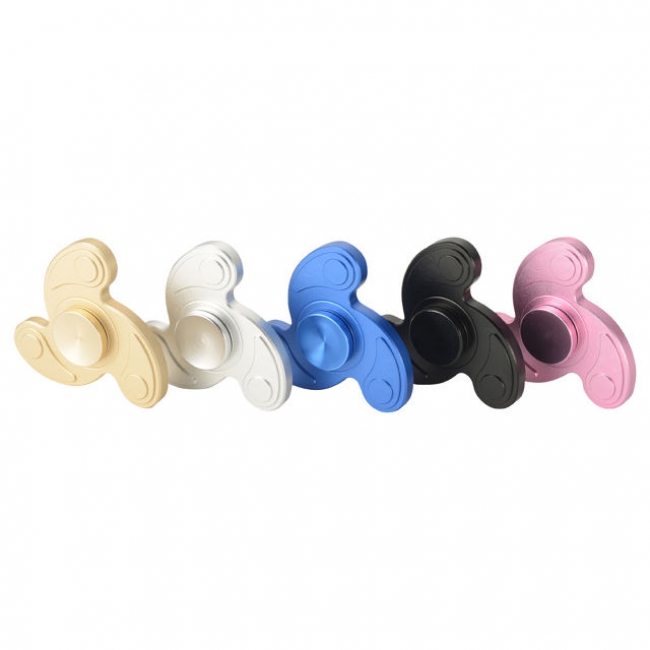 This is the first pop-up shop in Japan to specialise in fidget spinners. There will be 30 varieties to choose from, and you can even have a go at testing them out. The fidget spinner is a compact palm-sized toy with a bearing in the middle which allows you to spin it. With just one spin, it will continue to go around and around for several minutes. The fidget spinner boom began in America at the end of 2016 and has now found its way over to Japan.
There are numerous ways to play with a fidget spinner besides watching it. You can compete with other people to see how long you can make it spin, and you can even learn how to do tricks with them.
Whether you own a fidget spinner or have never even held one, Shibuya Loft has a big line-up for you to choose from and try. If you're in Tokyo, head on over and find one you like!
■Information
"Nippon Hand Spinner Club" Pop-up Shop
Date/Time: July 28, 2017 to July 29, 2017 – 2pm-8pm both days
Location: Shibuya Loft B1F Entrance
Product Examples:
・Triple Spinner – ¥1,280
Standard plastic fidget spinner.
・Arumitto – ¥2,980 (photo)
Popular light weight fidget spinner made of aluminium.
・Spins – ¥4,298
Highly customizable fidget spinner. Outer parts removable.
※All prices listed include tax.
※Products sold at the pop-up shop are available for purchase on the official "Nippon Hand Spinner Club" website. If you cannot make the pop-up shop, then check their website – https://www.fidgetspinner.biz/)
※Other fidget spinners are also available on the 5th floor of Shibuya Loft.
Related article:Loft Opens New Store in Ginza & Stocks Cosmetic Gift Box Designed by Rina Tanaka
Related article:5-Day Bonsai Appreciation Event to be Held in Ginza
RELATED ENTRIES
Tokyo Welcomes New KISS,TOKYO Bench at Shibuya River Street

What is being dubbed as a new sightseeing spot in Shibuya, "KISS,TOKYO," an artistic bench, appeared at Shibuya River Street on Christmas Day. The street runs from SHIBUYA STREAM towards Daikanyama.

About KISS,TOKYO

"KISS,TOKYO" is a project and nod towards those who love Tokyo, taking inspiration from the "I♡NY" slogan and logo. Japan isn't a country where kisses are used as greetings like other places around the world, but the bold notion of "KISS,TOKYO" expresses the feeling of love wards the people and city. It's a mark to welcome visitors to the capital of Japan.

The bench was made in cooperation with the Shibuya City Tourism Association and Tokyu and under a crowdfunder.

Pop-Up Store

A pop-up shop is now open at WIRED SHIBUYA selling merchandise with the KISS,TOKYO logo on it. It will run until January 31, 2021.

If you're planning a trip to Shibuya, make sure you get a photo with the city's new sightseeing and tourist spot.

Information

KISS,TOKYO Bench

Location: Shibuya River Street (3-22 Shibuya, Shibuya-ku, Tokyo)

Pop-Up Store
Running: December 25, 2020 – January 31, 2021
Location: WIRED SHIBUYA (3-27-1 Shibuya, Shibuya-ku, Tokyo)

KISS,TOKYO Official Homepage: https://kiss.tokyo/

Gintama Themed Cafes to Open in Shibuya and Sapporo in Collaboration With Tower Records

Tower Records is promoting the upcoming release of the anime film Gintama The Final by turning two of its own Tower Records Cafe branches in Sapporo and Shibuya into Gintama-themed spaces serving inspired dishes and selling exclusive merchandise.

Merch Collab

Gintama x  Tower Records Trading Acrylic Key Rings (6 Designs) | ¥800 (Before Tax)


Gintama x  Tower Records Towel | ¥2,500 (Before Tax)

Get your hands on a Gintama x  Tower Records key ring or towel featuring the main cast wearing Tower Records aprons just like the real-life staff at the music store chain. These items are available to pick up at 41 Tower Records stores, three Tower Records Cafes, and their official website.

Cafe Collab

Tower Records Cafe has collaborated with numerous anime series before, but this will be its first with Gintama. Two menus will be rolled out, the first being served from January 1, 2021 to January 14, 2021 and the second from January 15, 2021 to January 24, 2021. The first menu is themed on the series's six main characters while the second menu will be based around Gintama The Final as well as the two-part anime special Gintama The Semi-Final.

Menu ① (Excerpt)


Kagura's Tenshidon With Kombu Salad | ¥1,480 (Before Tax)

Inspired by the heroine of Gintama, Kagura, and served with her favourite vinegar kombu salad.

Toshiro Hijikata's Mayo Chicken Nanban | ¥1,480 (Before Tax)

Hijikata is known for his love of mayo, so it was only right that this mayo chicken nanban be served with three types of mayonnaise.

Gintoki's Week's Worth Of Sugar Parfait | ¥1,380 (Before Tax)

A strawberry-loaded parfait with plenty of sugar content, just how Gitoki likes it.

Kotaro Katsura's Elizabeth Dessert | ¥1,380 (Before Tax)

An Elizabeth crepe with something hidden inside…

Gintoki's Perm Drink | ¥750 (Before Tax)

A cotton candy dessert drink inspired by Gintoki's luscious natural perm.

Shinsuke Takasugi's Blueberry Smoothie | ¥750 (Before Tax)

A cool blueberry smoothie whose delicious flavour comes from it being chilled in the refrigerator.

Menu ② (Excerpt)


Yorozuya's Special Curry | ¥1,480 (Before Tax)

Inspired by the friendship between the three members of Yorozuya, with the white rice representing Gintoki, the pink (sakura denbu) Kagura, and the blue (powdered cheese) Shinpachi.

Sadaharu's Pancakes | ¥1,280 (Before Tax)

Inspired by the pet of Yorozuya, served with three sides representing the three members.

Shinpachi's Ramune | ¥750 (Before Tax)

A ramune based on Shinpachi, topped with a cherry to express his cherry boy-ness!

Takeout-Only Menu

Gintama Quote Omurice | ¥1,280 (Before Tax)

Classic Japanese omurice served with one of six famous quotes in Japanese from the series. Not available at the Nagoya Sakae SKYLE or Umeda NU Chayamachi branches.

Yorozuya Gin-chan's Takeout Drink | ¥900 (Before Tax)

A takeout drink based on Yorozuya Gin-chan with two different coloured jellies at the bottom to represent Shinpachi and Kagura with the white Calpis drink being Gintoki.

Bonus Items


Coasters (6 Designs)

Those who reserve the bonus item ticket at Ticket Pia machines will receive one of six possible Tower Records x Gintama coasters.

Menu ① Postcards (6 Designs)

Menu ② Postcards (6 Designs)

For every item ordered on the menu, you'll get a free postcard. This includes takeout items.

Set of 3 Bookmarkers (6 Designs)

Those who order a food item, dessert, and a drink all together will get a set of three bookmarkers.

Lunch Mat (During Menu ② Servings Only)

Those who dine at the cafe during the second menuy serving will receive a free lunch mat featuring the key visual for Gintama The Semi-Final.

©空知英秋/劇場版銀魂製作委員会
©空知英秋/集英社・テレビ東京・電通・BNP・アニプレックス

Information

Gintama x Tower Records Merch Collab
Pre-Orders: December 10, 2020

Release Date: December 24, 2020
Merch Collab Page: https://tower.jp/gintama/

Gintama x Tower Records Cafe Collab
TOWER RECORDS CAFE Shibuya
Address: Tower Records Shibuya Floor 2F, 1-22-14 Jinnan, Shibuya, Tokyo

Opening Hours: 10:45-20:50
Menu ①: December 24, 2020 – January 7, 2021

Menu ②: January 8, 2021 – January 17, 2021

*Closes at 17:20 on December 31 and closed for the day on January 1 and 2

TOWER RECODRS CAFE Sapporo PIVOT
Address: PIVOT Floor 5F, 4 Chome Minami 2 Jonishi, Chuo Ward, Sapporo, Hokkaido
Opening Hours: 11:20-20:00

Menu ①: January 5, 2021 – January 21, 2021

Menu ②: January 22, 2021 – February 7, 2021

TOWER RECODRS CAFE Nagoya Sakae SKYLE (Takeout Menu Only)
TOWER RECORDS CAFE Umeda NU Chayamachi (Takeout Menu Only)
Menu ①: January 5, 2021 – January 14, 2021
Menu ②: January 15, 2021 – January 24, 2021

Cafe Collab Website: https://tower.jp/gintamacafe

Gintama The Final
Release Date: January 8, 2021
Official Website: https://wwws.warnerbros.co.jp/gintamamovie/

Gintama The Semi-Final (dTV Japan Only)
Episode 1: January 15, 2021

Episode 2: January 20, 2021
Official Website: https://pc.video.dmkt-sp.jp/ft/s0007147?campaign=sgm100149

My Hero Academia Themed Puzzle Game to Open in Shibuya in January 2021

Asobi Factory no Asobiba is a new shop set to open on the 6th floor of Shibuya Marui on January 2, 2021 where visitors can get hands-on and immersed in puzzle-solving games.

Asobi Factory is a puzzles and goods brand that first began its journey into the puzzle industry in 2011. Since then, it has hosted many interactive puzzle events based on anime series, games, television shows, and more. Its new Asobiba shop will collaborate exclusively with anime and games, offering puzzle experiences as well as selling puzzle goods and merchandise in collaboration with anime series.

Visitors can walk around the shop to enjoy experiencing different puzzle content. And these puzzles aren't bound to the shop – they will take visitors around the building and outside on the streets too. Puzzles can last anywhere from 1-3 hours, making for a fun day trip.

My Hero Academia features as the first collaboration

The popular anime series My Hero Academia hails as the first collaboration. The story begins at a hero office where word of an explosion reaches. You take the role of a pro hero take the call to figure out this mystery and head straight to the scene of the crime only to find mysteriously that the first reported explosion goes off in the instant you arrive. People are in a panic, and it's up to you, Deku, Ochako, and Todoroki to prevent the second blast from going off.

©堀越耕平/集英社・僕のヒーローアカデミア製作委員会

Information

Asobi Factory no Asobiba
Address: Shibuya Marui Floor 6F, 1-22-6 Jinnan, Shibuya, Tokyo

Running: January 2, 2021 – End of February 2021 (Subject to change)

Opening Hours: 11:00-20:30 (from 12:00 on January 2, 2021 only)

Official Website: https://www.yte.co.jp/asobi/asobiba/

Gucci's Shibuya Store Collaborates With Cassette Tape Shop waltz

To celebrate one year since opening, the Shibuya PARCO branch of Gucci in Tokyo is collaborating with the Nakameguro-based cassette tape shop waltz from November 20 to December 6.

waltz is a vintage-style boutique with shelves lined with old music and VHS tapes, cassette players, books, vinyl records, fashion and design magazines, stereo equipment, and more. Self-described as the "ultimate destination for retro multi media," the shop is a real nostalgia trip nostalgia, and is one of 13 Gucci Places alongside places like Chatsworth House in the UK and LACMA in Los Angeles.

Gucci Shibuya PARCO features its own booth where people can listen to old cassette tapes from waltz's Secret Room. The song selection includes tracks from the 1970's, which Gucci's Epilogue collection is inspired by, a playlist created by Gucci creative director Alessandro Michele, and more.

Gucci Shibuya PARCO incorporates Shibuya's creative and innovative spirit while lacing it with Gucci's contemporary and eclectic perspective.

Information

Gucci Shibuya PARCO x waltz Special Collaboration
Running: November 20, 2020 – December 6, 2020
Location: Gucci Shibuya PARCO
Gucci Japan Official Website: https://www.gucci.com/jp/ja/

SOAK: Tokyo's New Entertainment Restaurant & Bar Opens Bookings

Japanese creative company BAKERU has opened bookings for the new entertainment restaurant and bar SOAK which is set to open on November 13, 2020 on the top floor of MIYASHITA PARK's new brand hotel "sequence MIYASHITA PARK" in Shibuya, Tokyo. The restaurant will served up a 'Japanese innovative' menu made by Takeshi Nagashima of Nishiazabu 81 and Hideaki Nagaya of L'Effervescence.

An otherworldly restaurant and bar serving Japanese innovative cuisine

"BUILD NEO TOKYO" is the theme of SOAK. SOAK welcomes by Takeshi Nagashima of Nishiazabu 81 which delivers performance style-entertainment to customes, and Hideaki Nagaya of L'Effervescence, who was chosen for "JAPANESE CUSINE TOP 5 CHEF IN HONG KONG." Bartending will be Takashi Goto who has worked as the main bartender at Sake Bar DECIBEL in New York and Shampoo in Shinjuku Golden Gai.

An event and party space which can hold up to 100 people

Located just a 3-minute walk from Shibuya Station, SOAK can be used as a party and event space with a maximum capacity of 100 people whether it be a wedding reception or a gathering of friends, family, or business, as well as for events, catering to any and every need. The space was designed by Noiz, a leading interior designer in Japan. The monuments were designed by contemporary artist Akira Yoshida, while the audio design is by Acoustic Engineering and the music is selected by Hirokazu Yamasaki from the post-rock and instrumental band Toe.

OYU: The rooftop terrace offering a panoramic view of Shibuya

Take in a panoramic view of Shibuya atop the rooftop terrace, and enjoy the pool either in the sunlight or shrouded luxuriously in the night with gorgeous illuminations and a glass in hand.

The pre-opening is set for November 13, 2020, but this is subject to change depending on the state of the pandemic.

Information

SOAK

Pre-Opening: November 13, 2020

Address: MIYASHITA PARK North Floor 18F, 6-20-10 Jingumae, Shibuya, Tokyo

Opening Hours: 17:00-24:00 (Last Orders 23:30)

Closed: Mondays

TEL: 03-6427-9989 (17:00-22:00)

Official Website: https://soaks.tokyo/

Sai Sai Jaran Jaran #10: SILENT SIREN's Hinanchu Visits Tokyo's New Hotel sequence MIYASHITA PARK

Sai Sai Jaran Jaran is a featured series here on MOSHI MOSHI NIPPON from the members of the all-female band SILEN SIREN (aka Sai Sai) who visit various hot spots in Japan and experience different things, the Sai Sai way.

In Episode #10, SILENT SIREN drummer Hinanchu wanted to go and stay at a hotel in Tokyo, so she decided to take a trip to sequence MIYASHITA PARK, a new hotel inside Shibuya's new landmark shopping complex MIYASHITA PARK which itself opened in August 2020.

The newly-reborn MIYASHITA PARK is a four-storey shopping complex with stores located on the first three floors and the top floor being home to the park. The park houses a range of exercise and sports sites like a skate park and bouldering wall as well as the green area and even a Starbucks. This park is so spacious that it's easy to forget it's right next to busy Shibuya Station. It has been open for three months now and is already adored by the community.


sequence MIYASHITA PARK is an 18-storey hotel that stands on the north side of MIYASHITA PARK. It can even be accessed from the complex's fourth floor park which leads visitors to the lobby lounge. The park side of the hotel is also home to a cafe called VALLEY PARK STAND.


VALLEY PARK STAND can be used by non-guests at the hotel too and is open from morning to night time. The windows tower from the floor to the ceiling, allowing plenty of natural light into the cafe. There's plenty of seating areas with table seats, sofas, and benches.


MIYA PITA CHICKEN SHAWARMA ¥900 | FRENCH FRIES & COCKTAIL COMBO ¥800 (Tax Included)

VALLEY PARK STAND is a cafe themed on a fictitious valley park, acting as one big park situated in the middle of bustling Shibuya. Adventuring through the valley park is best done with one of the cafe's signature "MIYA PITA" pita sandwiches in hand.


The cafe offers a selection of coffees, pastries, and pitas for lunch and breakfast. In the evenings, customers can switch to the bar to enjoy something alcoholic. Their original craft cocktails are very popular and are made by a bartender who honed their craft while working in New York.

Hinanchu ordered the "Park & Pomegranate Bellini." Normally hotel cocktails are small, but the ones served at VALLEY PARK STAND are much more generous.


The cafe even sell their own merchandise, from mugs to tumblers and even picnic blankets so you can have a picnic in MIYASHITA PARK if the weather calls for it!

For more information about VALLEY PARK STAND, check out our full breakdown here.

VALLEY PARK STAND
Address: sequence MIYASHITA PARK 4F, 6-20-10 Jingumae, Shibuya, Tokyo
Opening Hours: 7:30-23:00 (Last Orders 22:30)
TEL: 03-6712-5442

Instagram: https://www.instagram.com/valleyparkstand/

The hotel check-in lounge can be found on fourth floor, the same as VALLEY PARK STAND. Check-in uses a new unmanned self-service system so all you need to do is follow the instructions.


Guest rooms are simple but the furniture and fixtures are of high quality. Hinanchu stayed in the 4-person "BUNK BED 4" room. Prices vary depending on the season, but it can cost less than ¥5,000 for one person to stay in a 4-person room which is a bargain!


The wide windows in guest rooms look out across MIYASHITA PARK. Depending on the hotel room you're in, you'll also be able to see landmarks like Tokyo Tower and Tokyo Skytree. The windows also read "Hi, TOKYO!" on them which makes for the perfect photo opportunity.


All rooms are also fitted with reading material by young authors. If you scan the QR code next to their piece, you can learn more about them and even make a donation.


Check-in is at 17:00 and check-out is 14:00 so guests can enjoy their stay leading into the early afternoon of the next day. The MIYASHITA PARK shops open at 11:00, so after checking-out, guests can go straight to shopping or lunch.

So, how did you find MIYASHITA PARK, Hinanchu?

"I've always lived in Tokyo, so I never imagined I'd stay in Shibuya, but you can really feel like a queen staying here! Despite it being smack bang in the middle of Tokyo, it's right next to the park which feels good. I definitely recommend it to those who live in rural areas that want to come and play in Tokyo since places like Shibuya and Harajuku are close by. The hotel is littered with art and stylish design, so it's not simply a stay but a creative experience too which I think will be popular with foreigners. I want to come here again on my own for a relaxing time!"


On the fifth floor of the hotel is the restaurant and bar Dōngxī Restaurant & Sakaba which offers both breakfast, and dinner. The new entertainment restaurant and bar SOAK is also opening on November 13.

If you're thinking of staying in Tokyo or Shibuya, be sure to look up sequence MIYASHITA PARK.

Photo: Kayo Sekiguchi
Text: Sayoko Ishii

Translation: Joshua Kitosi-Isanga

 

SILENT SIREN


SILENT SIREN is a four-member all-female band consisting of vocalist & guitarist Sumire "Suu" Yoshida, drummer Hinako "Hinanchu" Umemura, bassist Aina "Ainyan" Yamauchi, keyboardist Yukako "Yukarun" Kurosaka. In 2015, they performed their first solo concert at Nippon Budokan, making them the fastest Japanese all-female band in history to perform there since making their major debut. In April this year, they launched their own YouTube channel called "Sai Sai Channel." They released their 7th album mix10th on September 2, 2020. The band celebrated their 10th anniversary with a special live performance at Yamanakako Communication Plaza Kirara on September 20, 2020. For the latest information on SILENT SIREN, visit their official website here: http://silent-siren.com/

Cute Miffy Travel Merchandise to be Sold at Pop-Up Store in Shibuya

Pinkoi, the company that runs Asia's biggest global e-commerce site of the same name, has announced a collaboration with Dick Bruna's popular character Miffy, who is celebrating her 65th anniversary this year. A special pop-up store that will open up at Hotel Koe Tokyo from November 19 to December 6.

Miffy fans can look forward to getting their hands on 180 different exclusive items made in collaboration with designers from Taiwan, Hong Kong, Thailand, China, and Japan

Pinkoi x Miffy 〜TRAVEL with Miffy〜

"TRAVEL with Miffy" is the name of the collaboration which features a collection of travel-themed Miffy goods.

Merchandise (Sample)

Re-Mask (Hong Kong) | Face Masks

Face masks have become a normal part of everybody's life this year as a result of the pandemic, so why not go for a cute design? These cotton masks were made by a face mask company in Hong Kong and come in a variety of colours such s white, pink, and navy.


agooday (Taiwan) | Food Eco Bag

An eco-bag perfect for taking to the supermarket when grocery shopping. The inside of the bag is made from vinyl so can be washed. Its small size also makes it conveniently compact for carrying around.


一帆布包 (Taiwan) | Drink Holder

This drink sleeve has a strap on it so you can carry around your hot or cold beverage like a handbag. These are made by a Taiwanese bag brand which has been going for over 30 years.


pupupu (Japan) | Bags

Cute bags with minimalist designs and made from warm and fluffy material perfect for the winter season. Miffy's ears are actually the handles.


寺沼麻美 (Japan) | Mobiles

These cute Miffy mobiles are all handmade, with swaying stars and clouds to help you drift you off to sleep.

Limited Edition Presents

Stickers / Tote Bag / Handkerchief

There's also a selection of goodies visitors can get their hands on. If they post on Twitter, Instagram, or Facebook using the hashtag #pinkoixmiffy while at the pop-up store they can get some Miffy stickers. If they spend over ¥8,000 they'll get the tote bag. Pinkoi members will get one of four possible Miffy handkerchiefs.

Special Website

A special page for the pop-up store will open on Pinkoi's official website on November 12 less than a week before the pop-up store opens so Miffy fans can order items online early.

Information

Pinkoi x Miffy 〜TRAVEL with Miffy〜 TOKYO Pop-up Store
Running: November 19, 2020 – December 6, 2020

Opening Hours: 11:00-19:00 (Open from 14:00 on November 19)

Location: hotel koe tokyo 2F pop up space

Address: 3-7 Udagawacho, Shibuya, Tokyo
Access: 5-minutes on foot from Shibuya Station's A6b Exit

Pinkoi Official Website: https://jp.pinkoi.com

IKEA to Open New 7-Floor Branch in Shibuya This November

IKEA Japan has announced that it will open a new branch in Shibuya, Tokyo, on November 30, 2020.

IKEA Shibuya comes soon after IKEA Harajuku which opened in June of this year. The new branch will boast seven floors: the first six will offer lifestyle products and open on November 30 while the 7th floor will house the restaurant which is set to open in Spring 2021.

A special pre-opening will be available to IKEA Family members on November 27 and 28 who can get their hands on products before anyone else at a special price. Members must book their place by November 10.

Shibuya's L'OCCITANE CAFE Reveals Spooky Parfait For Halloween 2020

L'OCCITANE CAFE Shibuya is getting ready for Halloween with the reveal of its sweet potato and apple parfait which will be served from October 21 to 31. The Tokyo-based cafe is centred on the food culture and lifestyle of Provence in southern France.

Sweet Potato and Apple Parfait | ¥1,280 (Tax Included)

The seasonal treat is a mix of purple sweet potato and regular sweet potato, baked apples, apple sherbet, and vanilla ice, all topped off with whipped cream, roasted nuts, and almond tuile biscuits in the shape of ghosts and a pumpkin.

Information

Sweet Potato and Apple Parfait
Serving: October 21, 2020 – October 31, 2020

L'OCCITANE CAFE Shibuya
Address: 2-3-1 Dogenzaka, Shibuya, Tokyo
Opening Hours:
[Sun-Thur] 11:00~22:00 (Last Orders 21:00)
[Fri-Sat] 11:00-23:00 (Last Orders 22:00)
TEL:03-5428-1563
Access: Straight ahead of Shibuya Station's 5th Exit (Inokashira Exit)
L'OCCITANE Japan Official Website: https://jp.loccitane.com/

Tokyo's Cheese Dish Factory Releases New Tart Parfait Mont Blancs

Cheese Dish Factory, a restaurant in Shibuya MODI in Tokyo, released a new seasonal dessert for the autumn season on Monday called the 'Tart Parfait Mont Blanc.' The tasty bite's foundation is an almond tart which is filled and layered with ingredients like a parfait before being topped off with mont blanc cream.


The dessert comes in for delightful variations such as the 'Chestnut & Tiramisu' which tops tiramisu with the flavours of autumn like chestnut ice cream and chestnut cream, and the 'Berry & Berry' which is piled full of strawberry cream and topped off with a strawberry. Sweet-tooths will discover a labyrinth of flavours as they gradually make their way through whichever they decide to order.

Chestnut & Tiramisu (Mascarpone Cheese) | ¥880 (Before Tax)

The tiramisu is made with mascarpone and has on top of it Japanese chestnut and chestnut ice cream. The chestnut cream is arranged like a mont blanc. The inner tiramisu adds a unique touch to make this a mont blanc for the ages.

Berry & Berry (Cream Cheese) | ¥820 (Before Tax)

This tiramisu is made from cream cheese which is topped with strawberry sauce and vanilla ice cream. A parfait mont blanc for the strawberry lover who won't be able to resist the strawberry cream and the crowning fresh strawberry.

Fromage & No-Bake Cheesecake (Parmigiano-Reggiano Cheese) | ¥780 (Before Tax)

A no-bake cheese cake combined with cream cheese ice cream and cream cheese. Inside you'll find fresh white peach. There's also a crispy texture brought by the Parmigiano-Reggiano. A must-try for cheese fanatics.

Matcha & Brown Sugar Syrup Soy Flour (Ricotta Cheese) | ¥780 (Before Tax)

A mountain made from matcha warabimochi, adzuki red bean paste, brown sugar syrup soy flour, and vanilla ice cream. This one's full of Japanese flavours, but also ricotta cheese, making it a Japan x Western fusion.

Information

Cheese Dish Factory Shibuya MODI
Address: Shibuya MODI Floor 9F, 1-21-3 Jinnan, Shibuya-ku, Tokyo

Access: 3-minutes from Shibuya Station
TEL: 03-6416-5179
Business Hours: Lunch 11:00-15:00 / Cafe 15:00-17:00 / DINNER 17:00-23:30
Official Website: http://www.sld-inc.com/cheesedishfactory.html

Experience Shinjuku's Famous Halloween Event Online at Virtual Shibuya

The Virtual Halloween Committee has announced that it will host an online Halloween event inside Virtual Shibuya as a result of the pandemic and to mitigate crowded streets in Shibuya, a place which becomes a sea of people during the spooky holiday season.

The event, titled Virtual Shibuya au 5G Halloween Fes, will begin on October 26 and run up to Halloween Day. It is being promoted with the hashtag #StayVirtual.


Shibuya 5G Entertainment Project launched its new digital platform "Virtual Shibuya" back in May of this year. Officially recognised by Shibuya City, Virtual Shibuya comes in response to the effects of the novel coronavirus (COVID-19) which has brought tight restrictions to the economy and people's way of life. It will enable people to continue enjoying entertainment from the comfort of their homes by participating in a whole host of virtual events and activities. The project aims to deliver content from Shibuya with live performances from artists, art exhibitions, talks, and more. The use of 5G and the latest cutting edge technology will connect the real Shibuya to a virtual space, combining the realms of the digital and real world.

The Halloween event is inviting a host of Japanese artists and comedians to perform inside the virtual space, which itself will be littered with all things Halloween like Jack-o'-lanterns, bats, and more. Users will also be able to dress their avatars in the appropriate clothing in line with the holiday season of scares. All of this aims to deliver the famous Shibuya Halloween experience that the people of Tokyo are so used to.

Virtual Shibuya au Halloween Fes

Virtual Shibuya is evolving and will be updated for the upcoming Halloween event. Users can look forward to a host of music events and talk events during this age of the 'new normal.'

au 5G Presents Kyary Pamyu Pamyu: Virtual Mini Live

Virtual Shibuya will host its very first virtual live concert to open the Halloween festival. Japanese pop star Kyary Pamyu Pamyu is included in the performance line-up, who will be serving a very special one-night-only Halloween themed show inspired by horror movies. Titled "Kyary Pamyu Pamyu Online Halloween Live 2020 THE FAMILY 10.31," you can find out more about the concert here.

au 5G Presents BiSH: Virtual Live

Japanese idol group BiSH will also be playing a special Halloween show at the event.

au 5G Presents "Everyone's 5G" – Comedy Duo Wagyu Perform

Japanese comedy duo Wagyu will perform live using 5G technology which will render them in high-speed, high quality holograms.


The rest of the line-up and more details about the event will be announced in the coming weeks.

Review: The 30 Year Old Cafe Chatei Hatou in Shibuya

Hi, everyone. It's Banako of MOSHI MOSHI FRIENDS. Today I'm reviewing Chatei Hatou, a long-standing cafe in Shibuya, Tokyo.

Shibuya is a place that bustles with youth culture and fashion. It's also home to many eateries, but there aren't many places around that you can go to to get away from the busy streets for a quiet break.

Chatei Hatou opened in 1989 at Miyamasuzaka Shita in Shibuya, where it has gone unchanged and welcomed customers for the past 30 years. It's very easy to get to, being just a 3-minute stroll from the Hachiko Exit of Shibuya Station.

When opening the door to the cafe and stepping inside, the first thing to jump out at you are the rows of coffee cups lined up along shelves behind the counter.

The coffee cup collection features a selection of works by many different makers. There's even a cup in there valued at ¥200,000!

The antiques littered here and there around the cafe elevate the vibe of the cafe. There's a number of seating areas, including the counter seats as well as tables for two, four, or big groups.

I felt the faint tasty scent of the Japanese pudding calling to me so I went and ordered a pumpkin pudding along with a hot chocolate.


Cafe Chocolat (Hot) ¥950 / Pumpkin Pudding ¥500


The pumpkin pudding was nice and moist and rich in flavour. Nothing short of delicious. It's made even sweeter when eaten together with the fluffy whipped cream―which also elevates the flavour of the pumpkin too.


I was inspired by the cafe owner to go for the cup I chose for my hot chocolate. There is so much variety between the cups; it's fun getting to see rare ones. Be sure to check their Instagram page where they have more detailed write-ups about their coffee cups and coffee varieties.

The cafe has a selection of original coffee blends which they make fresh with the utmost care and consideration. You can buy their coffee beans, take cake away from you, and even order whole cakes, so you can enjoy their delights at home.

Chatei Hatou has stood together with Shibuya these past 30 years. According to the owner, the most important thing about running a cafe is making sure its doors are always open. It's been tough as a result of the pandemic this year, but the cafe is still there as a part of people's lives.

The next time you're in Shibuya, why not enjoy a drink and a sit down at Chatei Hatou?

Information

Chatei Hatou
Address: 1-15-19 Shibuya, Shibuya-ku, Tokyo
Opening Hours: 11:00-23:30 (Last Orders 22:30)
No Fixed Holidays (But may be closed during the New Year Holidays)
Access: 3-minutes on foot from Shibuya Station's Hachiko Exit
Official Instagram: https://instagram.com/hatou_coffee_shibuya?igshid=9ubwybwvpktb
*The cafe is cash-only and has an outdoor smoking area

Writer: Banako
Translator: Joshua Kitosi-Isanga