Aqua Park Shinagawa Partners with NAKED for Special Event
Maxell Aqua Park Shinagawa has started a special seasonal event, 'NAKED SNOW AQUARIUM.' Beginning on December 29, 2021, the festive scenes will continue until February 27, 2022. 
The event, which brings to life the beautiful, crystal-clear world of winter, has been a popular tradition at the aquarium since 2015. The snow, ice, and aurora images created using projection mapping were made by creative company NAKED.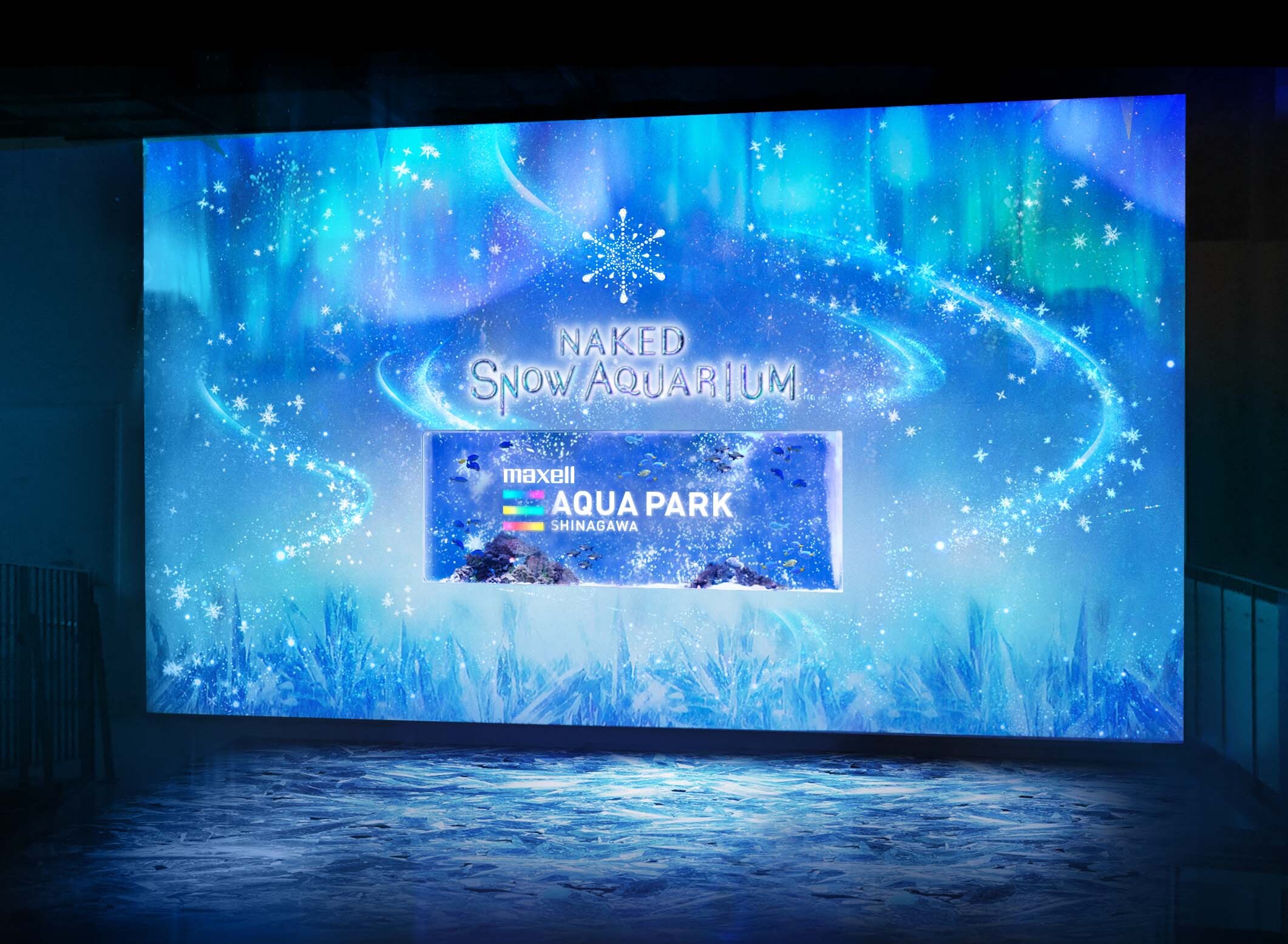 Bright Snow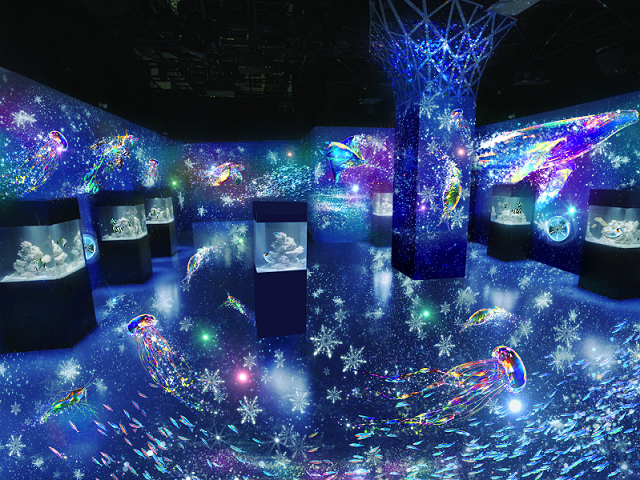 Marine Snow Dome
Winter Color Street
Crystal Bar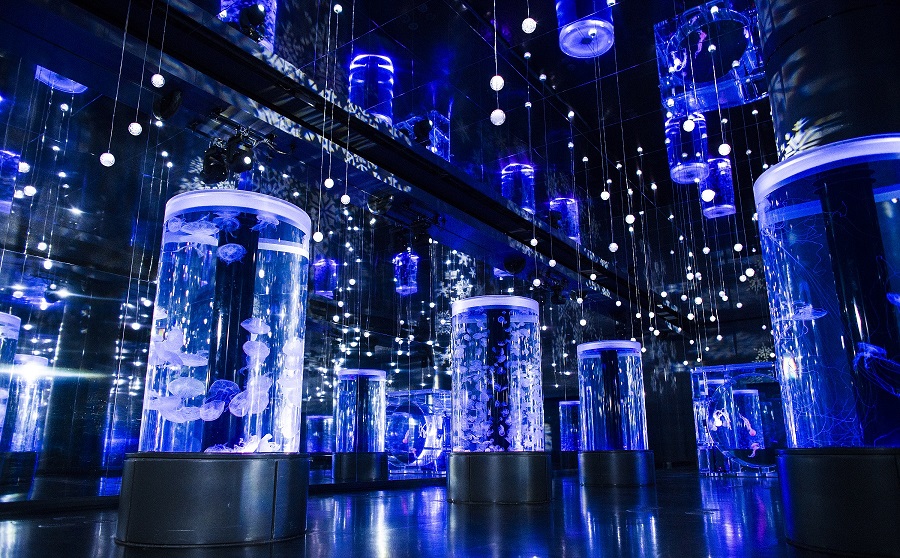 Jellyfish Ramble
Harmony for Winter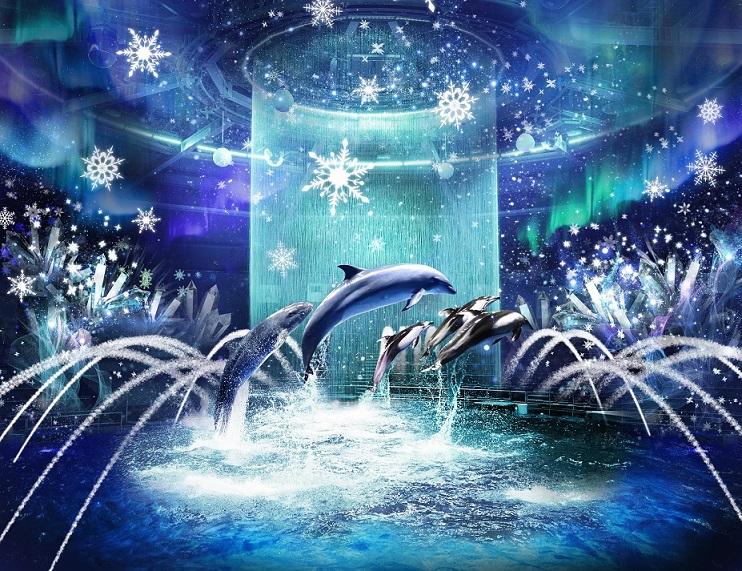 Bright Crystal (Night Version)
The main attraction, the 'Dolphin Performance,' consists of two programs: a 'winter orchestra' in the daytime and a 'mysterious world of snow and ice' at night. The dolphin's dynamic jumps will be performed on a seasonal stage, with a unique blend of lighting, snowfall effects by an on-site 'snow machine,' and projection mapping.

The 'Patterns' area is filled with snowflakes, and sea creatures with colors and patterns reminiscent of falling snow are on display. Watching these little critters along with the special projection mapping will create a scene visitors will never forget! 
Information
NAKED Snow Aquarium
Running: December 29, 2021 – February 27, 2022
Address: Maxell Aqua Park Shinagawa
Details: http://www.aqua-park.jp/aqua/
RELATED ENTRIES
NAKED Night Walk Art Project to Open at Famed Zuiganji Temple in Matsushima

Japanese creative company NAKED will hold a Night Walk event at Zuiganji Temple in Matsushima, located near one of the top three most scenic spots in Japan. The event will run from October 29 until November 23, 2022.

The NAKED Night Walk was created to revitalize hot spring resorts and other tourist spots during the pandemic. This special event will bring the illuminated experience to Zuiganji Temple, one of the Tohoku Region's most famous Zen temples. Guests will be invited to carry beautiful lanterns around the grounds, maintaining social distancing while enjoying the cool evening weather. These lanterns will cast one of three unique designs onto the ground below–a starry sky, a camellia flower, or a lotus. 

Guests can also enjoy NAKED's Flower Fortune Telling, pulling unique paper flowers from a massive wall, with each holding a personalized fortune. These flowers can then be tied to a nearby tree to further spread NAKED's art. You can also take home your flower as a souvenir!

The event will only run for a limited time. For more information including admission fees and hours, see the official website!

Information

NAKED Night Walk – Matsushima, Zuiganji Temple (National Treasure)

Address: Zuiganji Temple (Chonai-91 Matsushima, Miyagi District, Miyagi Prefecture)

Running: October 29 – November 23, 2022

Hours: Weekdays 17:00-20:00 / Fridays, Weekends, Holidays 17:00-21:00

Official Site: https://zuiganji.or.jp/

NAKED to Open DANDELION PROJECT for Peace in Umeda, Osaka

NAKED and Ryotaro Muramatsu's interactive art installation, the DANDELION PROJECT, is coming to Umeda, Osaka. The project aims to connect people around the world, stressing the importance of world peace. Those wanting to participate may do so from October 7 until October 9 at Umekita Sotoniwa Square. 

In July 2020, Umekita Sotoniwa SQUARE opened under a unique premise–it would be open for 1,000 days only. The outdoor area was inspired by cities of the future, featuring plenty of green space. The DANDELION PROJECT fits in perfectly with this concept, using modern technology and networking to create art that also serves as a universal prayer for peace. This is the second time the work has been exhibited in Osaka–it was shown in Nakanoshima during the Osaka Hikari no Renaissance 2021 event last December.

 

The DANDELION PROJECT is inspired by the idea of world peace and hopes to help transcend barriers and connect people in an increasingly divided world. So far, it has appeared in 25 locations–19 in Japan and six abroad. In Japan, it has popped up at Tokyo Tower, Nijo Castle, and other historical sites. Abroad, it has been shown in Paris, Singapore, San Francisco, and Shanghai. The piece aims to bring about change by planting (or installing) dandelion-inspired art around the world, while it invites people visiting these dandelion exhibits to send their prayers for peace as a digital flower in real-time. 

 

The exhibition will also be a satellite venue for NAKED GARDEN ONE KYOTO, a next-gen art project allowing guests to experience Kyoto virtually from September 15 until December 25, 2022.

Information

NAKED – DANDELION

Running: October 7 – October 9, 2022

Venue: Umekita Sotoniwa Square
*Open daily during event period
Hours: 18:00-21:00
Entry: Free
Official Site: https://sotoniwa-uk.com/ 

NAKED's Halloween Event Coming to Tokyo Tower for a Limited Time

Digital art collective NAKED will hold a special Halloween projection mapping show at Tokyo Tower! The Tokyo Tower City Light Fantasia ~Halloween Party 2022~ event will run from September 16 until October 31 on the 2nd floor of the tower's main deck. 

NAKED has collaborated with Tokyo Tower in the past to create shows inspired by the seasons. These incredible illuminations captivate audiences at night, and this fall, visitors will be captivated by autumn leaves dancing in the breeze along with silvergrass swaying and the sound of chirping insects. The scene will eventually change into something more spooky–a ghost will appear alongside witches, bats, and pumpkins! The main deck will be enveloped in Halloween colors perfect for a fall photoshoot!

Information

TOKYO TOWER CITY LIGHT FANTASIA ~Halloween Party 2022~

Venue: Tokyo Tower Main Deck (150m), 2F North Side Floor
Running: September 16 – October 31, 2022
Hours:
September 16 – September 30 / 18:00-Close
October 1 – October 31 / 17:30-Close
Entry: Guests can enjoy the main deck for only the price of entry to the observation deck.

NAKED Exhibition Inspired by Tea Master Sen no Rikyu Opens at 21st Century Museum of Contemporary Art in Kanazawa

NAKED's newest work, inspired by Sen no Rikyu, has opened at the 21st Century Museum of Contemporary Art in Kanazawa! The exhibition will run through September 3 and blends physical art pieces found in the museum with the Metaverse. 

NAKED's first exhibition at this popular Kanazawa Museum brings visitors a modern version of chanoyu, or the 'Way of Tea.' This year marks the 500th birthday of Sen no Rikyu, a historical figure who had a significant influence on the tea ceremony still found in Japan today. NAKED wants to honor his contribution to shaping this massive part of Japanese culture. Visitors are invited to a traditional tea ceremony room, but the experience itself has been modernized by NAKED. This unprecedented art exhibition allows both those who know nothing about Sen no Rikyu and those who know him well to experience his philosophy and aesthetics in an entirely new way.

Gate: Greetings from the Master

Open-air: The Crossroads of this Transient World

Wash Basin: Where the Four Seasons Float

Dry Landscape Garden: The Teachings of Rikyu

Tea Whisk: "Make a Good Tea for your Guest."

Hanging Scroll: The Master's Memories

Small Room: Evolution

Tearoom: The End and the Beginning

NAKED Fuji Canele

Tsukubai, or a low stone basin filled with water, is used to cleanse the hands before entering a tearoom. Using interactive art, the water's surface is covered in digital flowers that blossom when a guest's hands pass over the basin. 

In the 'Small Room: Evolution' area, guests will find the Sustainable Contemporary Golden Tearoom, which was created by NAKED staff together with sixth graders using golden trash collected at Kanazawa University Elementary School. The calligraphy on display in the tearoom was also done by children, with the best creations selected to be included in the exhibition. The scent was produced by EarthRing, an aroma brand located in Hakusan, Ishikawa Prefecture. The 'Tea Whisk' area offers a unique experience for all five senses, including the scent of matcha, which guests can smell when they mimic the act of prepping tea. 

In addition, guests can purchase special NAKED Fuji Canele and a Kutani ware Original Tumbler with special tea-inspired motifs. The Canele is a triple collaboration with Fukumitsuya, the oldest sake brewery in Kanazawa, so don't miss out!

Information

NAKED Meets Sen no Rikyu

Venue: 21st Century Museum of Contemporary Art, Kanazawa, Civic Gallery B
(1-2-1 Hirosaka, Kanazawa, Ishikawa)

Running: August 6 – September 3, 2022
*For more information about tickets, please visit the official website.
Tickets / Details: https://meets.naked.works/kanazawa21/

NAKED Summer Festival 2022 to be Held at Nijo Castle in Kyoto

This summer, the World Heritage Site Nijo Castle will host the NAKED Summer Festival 2022 event from July 22 until August 21. Visitors can explore the incredible location at night, illuminated by colorful lights and filled with summer fun.

Festival Stalls

Virtual Content via Smartphone

The entrance gate and Ninomaru Garden will both be illuminated for the event, and a digital fireworks display will be shown on the stone walls surrounding the inner moat.  Continuing from last year, the fan-favorite NAKED Distanced Lanterns and NAKED Tsukubai will be returning.

Come make some summer memories at Nijo Castle!

Next-Generation Town-Walking Project NAKED GARDEN -ONE KYOTO- to Begin this Fall

The creative team at NAKED is teaming up with Kyoto City, Uji City, and Otsu City in Shiga Prefecture for a one-of-a-kind project. This fall, guests will be able to experience NAKED GARDEN -ONE KYOTO, a next-generation town-walking project blending the real world and the Metaverse together. Visitors will be able to experience Kyoto's shrines, temples, and history in a whole new way.

NAKED has been working with the city of Kyoto since 2017, creating new cultural outreach and tourism programs. A number of nighttime events have taken place at Nijo Castle, including 'virtual flower viewing' in the midst of the pandemic. Last year, the DANDELION PROJECT began at Kamigamo Shrine, a World Heritage Site. The project brings guests around the world together virtually to pray for peace. Events have also taken place at Kiyomizu-dera, Heian Shrine, and Ninna-ji.

In 2022, NAKED will collaborate with Kyoto City, Uji City, Otsu City, and their respective tourism associations to create a Metaverse where visitors can enjoy Kyoto not only in the real world but also virtually. Art being experienced by visitors in real life can be reflected in the Metaverse, and experiences in the Metaverse can be enjoyed in a way that is unique to real events. As hard to describe as it may be, more details will be available on the NAKED GARDEN website when it opens this summer. 

Information

NAKED GARDEN -ONE KYOTO-

Coming Fall 2022

NAKED, INC. Official Site: https://naked.co.jp

NAKED's Popular Night Walk Returns to Illuminate Jozankei Onsen in Hokkaido

The JOZANKEI NATURE LUMINARIE -WATER LIGHT VALLEY- event is coming back in 2022! The event, which shows off the natural beauty of Jozankei's rivers, valleys, and forests, from June to October. Guests can enjoy an illuminated walk along the Toyohira River in the Jozankei area of Hokkaido and wander across the picturesque Futami Suspension Bridge. 

 

This year, the park area at the entrance to the event has been redesigned with new lights. A 2.5-meter-high blue dome will welcome guests with an image of water, and the trees and wisteria trellises will be decorated with twinkling golden lights.

Welcome Light Lake *Image from 2021

River Road

Forest Water Ripple

Nature Projection

Futami Valley

Visitors will encounter a variety of unique light art as they stroll through the rich nature of Jozankei guided by the elusive kappa, known to be the guardian Gods of the region. As visitors approach, the river begins to glow while flowers bloom in this interactive art experience. By using projection mapping across the Futami Suspension Bridge and an all-encompassing light show within the canyon, the event hopes to remind visitors that nature is important and worth preserving. 

How would you like to spend your summer deep in the illuminated nature of Hokkaido?

Information

JOZANKEI NATURE LUMINARIE – WATER LIGHT VALLEY

Address: Jozankei Futami Park – Futami Suspension Bridge
(Jozankei Onsen Nishi 4-chome, Minami-ku, Sapporo, Hokkaido)

Running: June 1 – October 23, 2022
Hours:
June – August: 19:00-21:00
September – October: 18:00-21:00

*Tickets available for guests of Jozankei Onsen only
Official Site: https://jozankei.jp/jozankei-nature-luminarie

NAKED's Projection Mapping Show at Tokyo Tower Illuminates the City at Night

Digital art collective NAKED has announced a new projection mapping show taking place at Tokyo Tower starting May 24! Welcome summer with the 'Tokyo Tower City Light Fantasia ~Summer Landscape 2022~ event on the second floor of the 150-meter-high main deck of the classic landmark.

In 2019, the company introduced the 'Tokyo Tower City Light Fantasia ~Cool Japanese Summer~ event, which has now been upgraded to a new version. Guests will now be treated to a colorful show highlighting the transition of the seasons in Japan from the rainy season to early summer to midsummer, filled with hydrangeas, sunflowers, and fireworks. Colorful flowers bloom in the rain giving way to a bright summer day complete with the sound of cicadas and bright white clouds in the sky. After the sun sets over the sunflower fields, fireworks light up the Tokyo sky.

The 'Tokyo Tower City Light Fantasia' nightscape event was planned, directed, and produced by NAKED, and began in 2014. By combining the night view from the observatory with projection mapping, guests can experience something one-of-a-kind.

Following the original launch of the event, it has traveled to towers and observatories around Japan including Abeno Harukas and the Nagoya TV Tower, playing off the particular characteristics of each locale.
 

This event isn't the only thing going on at Tokyo Tower this summer. Guests can also enjoy the DANDELION PROJECT by NAKED and Ryotaro Muramatsu in the northwest section of the second floor of Tokyo Tower's main deck. The project is based on the concept of world peace and harmony and was unveiled at Miyashita Park, Tokyo Tower, Gardens by the Bay in Singapore, and Nijo Castle in Kyoto in 2020. The networked art project invites guests to send their wishes for world peace on digital dandelion fluff to other locations where DANDELIONs are planted around the world, and these messages are delivered in real-time. 

Come enjoy this incredible night view while you can!

Information

CITY LIGHT FANTASIA ~Eternal Lights in TOKYO~

Venue: Tokyo Tower Main Deck (Height: 150m) 2F Facing North

Running: May 24 – September 4, 2022
Periods:
May 24 – June 5, 19:00 – Close
June 6 – July 18, 19:30 – Close

July 19 – August 21, 19:00 – Close

August 22 – September 4, 18:30 – Close
Fee: The event is included in the price of observation deck admission. 

Official Site: https://naked.co.jp

Toyokawa Inari to Bring Back Popular Naked YORU MO-DE Event in 2022

One of Japan's Three Great Inari Shrines, Toyokawa Inari in Aichi Prefecture, will be decorated in summer-themed lights from July 22 until August 8! The popular Naked YORU MO-DE event is coming back for 2022 after attracting over 40,000 visitors last year. 

Starting in 2021, Toyokawa Inari has held the Naked YORU MO-DE event monthly on the 22nd, the founding date of the shrine's founding. Using technology, Naked's artwork is updating the worship experience to fit into the 'new normal,' keeping social distancing in mind. 

Jihoukan Projection-Mapping – Summer Festival ver. 

Socially Distanced Art – Naked Distanced Lanterns, Summer Festival ver.

Naked Tsukubai – Summer Festival ver.

The theme for this new event is 'a summer festival for a new era.' Many of Toyokawa City's annual festivals, such as the Oiden Festival and the Mitama Festival, have been canceled since the spread of the coronavirus. This new kind of festival will pull inspiration from other local events and will feature handheld firework displays, a collection of gorgeous wind chimes, and tons of night stalls for guests to enjoy alongside Naked's digital artwork. The local handheld fireworks will be shown using projection mapping, and all of the fan-favorite Naked social distancing art projects will be transformed to suit the summer festival theme. The Naked Tsukubai hand sanitizing art project will show goldfish and fireworks in the palm of your hand, and the Naked Distanced Lanterns will be decorated with a summer firework pattern.

Information

Toyokawa Inari, One of Japan's Three Great Inari Shrines x Naked YORU MO-DE

Venue: Toyokawa Inari (1 Toyokawacho, Toyokawa, Aichi Prefecture)

Running: July 22 – August 6, 2022

*Held throughout the year starting on the 22nd of every month
Hours: 19:00-22:00
Official Site: https://event.naked.works/yoru-mo-de/

NAKED FLOWER AQUARIUM -Bring You Happiness- Event Opens at Maxell Aqua Park Shinagawa

Tokyo's Maxell Aqua Park Shinagawa has opened its seasonal event NAKED FLOWER AQUARIUM -Bring You Happiness- until June 19, 2022.

 

The aquarium has been continuously developing entertaining exhibits and events based on the beauty of each season. The creative company NAKED uses projection mapping to transform the space with cherry blossoms in spring and fireworks in summer, allowing guests to enjoy a special atmosphere indoors.

Welcome Flower Gate 

Marine Forest 

Blooming Street 

Jellyfish Ramble 

Floral Café Bar 

 

For spring, the Aqua Park has been decorated with gorgeous flowers and lush greenery. The new event uses state-of-the-art technology to surround visitors with a spectacular view of early summer. Each area of the aquarium was inspired by the subtheme of 'bringing happiness,' with seven different Happiness Experiences for guests to enjoy. These experiences offer things like healing sound effects and scents made to calm the mind and offer additional immersion.

The popular dolphin performance has both a day and night show. The day version offers guest participation, in which the dolphins will show off their choreographed moves. The night version was inspired by the early summer sea and uses projection mapping to bring the underwater world to life in a spectacular way.

Information

NAKED FLOWER AQUARIUM-Bring You Happiness-

Venue: Maxell Aqua Park Shinagawa
Address: Shinagawa Prince Hotel (4-10-30 Takanawa, Minato-ku, Tokyo)
Official Site: www.aqua-park.jp

Panasonic LUMIX and NAKED Team Up for Exhibition at LUMIX BAE TOKYO in Aoyama, Tokyo

Art collective NAKED is teaming up with Panasonic LUMIX digital cameras for a new version of the NAKED BIG BOOK. The new work is on display at LUMIX BASE TOKYO in Aoyama until May 29, 2022. 

LUMIX BASE TOKYO is a gallery inspired by the LUMIX brand of digital cameras. The location is meant to serve as a base for the next generation of creators and strives to bring tons of creative energy to those looking to hit it big as artists in the future. 

Naked and LUMIX have come together to make LUMIX BASE TOKYO not only a showroom but also a place where guests can experience creativity in a new way. The NAKED BIG BOOK," the brand's most famous work, has been decorated with seasonal flowers and will be exhibited for a limited time. 

NAKED BIG BOOK invites visitors to enter a storybook world with each turning page. The work uses projection mapping on a giant book sculpture to inspire audiences and wow guests with the wonders of technology. The book has appeared at FLOWERS BY NAKED and other locations throughout Japan in the past. 

The exhibition will also feature original artwork inspired by LUMIX's marketing campaign for 2022, 'COLORS OF LUMIX.'

Information

NAKED BIG BOOK – LUMIX Collaboration Version
Venue: LUMIX BASE TOKYO (2-chome-11-17 Minamiaoyama, Minato-ku, Tokyo)
Running: April 26 – May 29, 2022
Hours: 11:00-19:00 / Closed on Mondays, New Years holiday
Admission: Free
Official Site: https://lumix-base.jpn.panasonic.com/

NAKED Collaborates with Uta no Prince-sama Game for Special Art Installation

Creative company NAKED is bringing the world of Uta no Prince-sama to life! From April 16 until April 24, fans will want to come to Ikebukuro Sunshine Plaza to see MAJI LOVE KINGDOM MEMORIES, a sensory photo booth decorated with floral art.

The first Uta no Prince-sama game was released in 2010, with an anime series following in 2011. In 2019, the first Uta no Prince-sama film, Maji LOVE Kingdom, was released.

NAKED's project mapping and digital art are being used to create unique photo booths where guests can take pictures with their favorite idols as seen in the 2019 film.

Each photo booth was created using a variety of techniques, combining video, sound, scent, and even wind. The flowers included in each booth were inspired by the flowers that members of ST☆RISH, QUARTET NIGHT, and HE★VENS wear on their chests. How often do you get to experience a 3D photo booth with your favorite fictional boys?

Guests can also enjoy a unique AR experience at the venue by using NAKED INC PLAY!

©︎UTA☆PRI-MOVIE PROJECT

Information

Uta no Prince-sama on Stage: MAJI LOVE KINGDOM MEMORIES

Location: Ikebukuro Sunshine City World Import Building 4F Event Hall A

Running: April 16 – April 24, 2022
Hours: 10:00-20:00 (Last admission 60 minutes prior to closing)
*Open 10:00-17:00 on April 24

Official Site: https://ml-kingdom-memories.com/