BE:FIRST Photo Exhibition "We Just Gifted." Ver. 2 Opens at Shibuya PARCO
In October 2021, boy band BE:FIRST held their first photo exhibition at Shibuya PARCO. Now, a second version of the exhibition is triumphantly returning to the Tokyo venue!
BE:FIRST is a seven-member dance and vocal group created during THE FIRST boy band audition. Organized by BMSG, a company founded by popular rapper SKY-HI, the group immediately amassed an army of fans from around the world. The photo exhibition held in Tokyo, Nagoya, and online for three months starting in October attracted over 10,000 visitors. 
In response to the large demand, the BE:FIRST Photo Exhibition "We Just Gifted." recently visited Osaka, before returning to Tokyo. The first showing focused heavily on the member's journey towards a major debut, but now, more than 80% of the photos have been replaced. Since BE:FIRST's major debut on November 3, the boys have held their first solo concert and fan meetups. Over 200 photos of the members post-debut will be on display.
The online photo exhibition, which was scheduled to end on January 31, will be extended to coincide with the new exhibition at Shibuya PARCO. Be sure to check it out!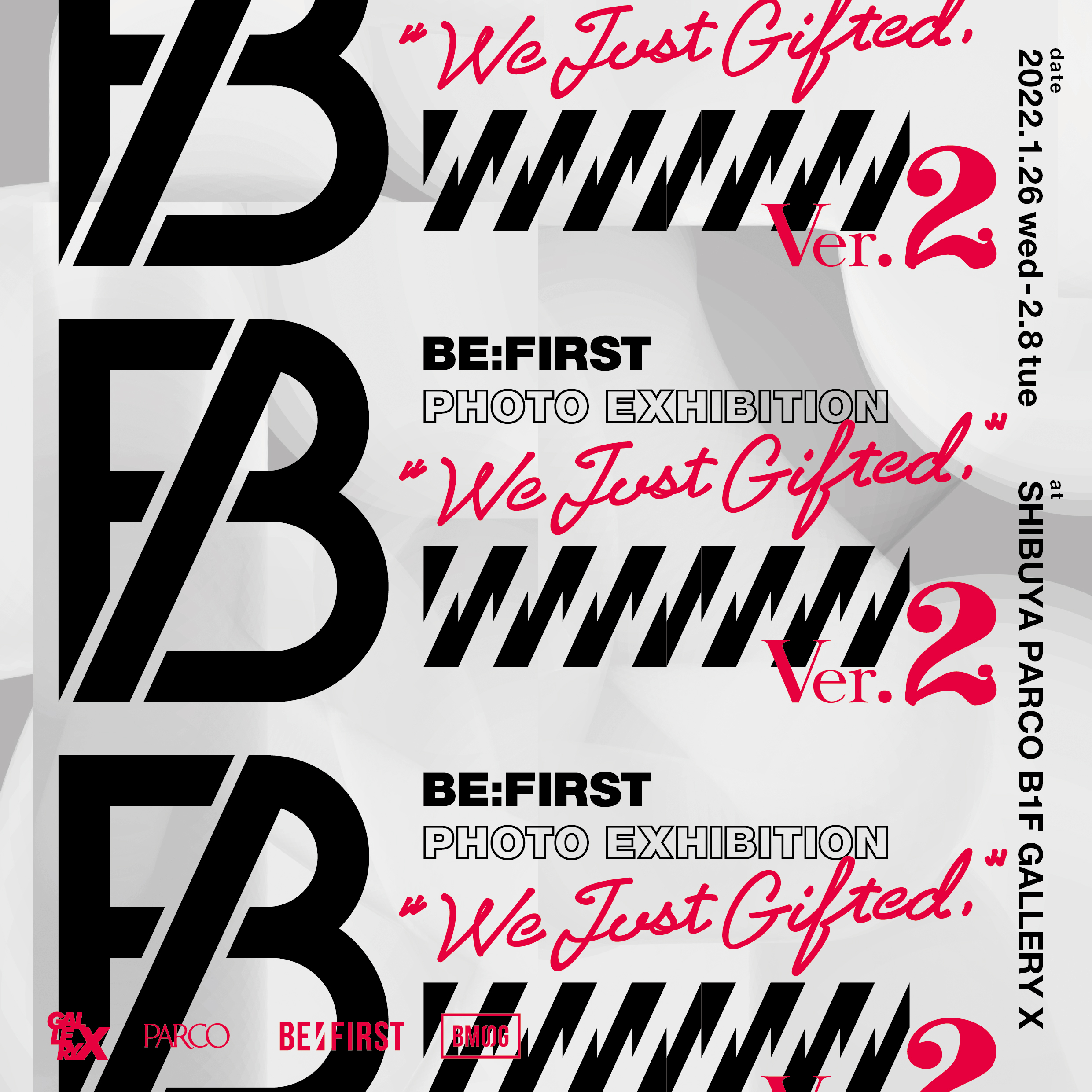 Information
BE:FIRST PHOTO EXHIBITION  "We Just Gifted." Ver.2
Running: January 26, 2022 – February 8, 2022
Location: Shibuya PARCO B1F GALLERY X BY PARCO (15-1 Udagawa-cho, Shibuya-ku, Tokyo)
Hours: 11:00-20:00 *Hours subject to change.
Admission: ¥500 (Tax Included) *Reservations required for all days. First-come, first-served. Re-entry is not permitted.
Official Exhibition Site: https://art.parco.jp/galleryx/detail/
*Content of the exhibition is subject to change without notice.
Tickets for the event are now available on the Livepocket website.
Buy Tickets: https://art.parco.jp/galleryx/detail/
RELATED ENTRIES
Sailor Moon Museum Reveals Collection of Original Drawings Made for Current Exhibition

The Sailor Moon franchise's 30th-anniversary museum will run from July 1 to December 30 at Tokyo's Roppongi Museum. The series became a global phenomenon in the 1990s and remains popular to this day.


The exhibition will feature the largest-ever collection of original illustrations by Sailor Moon's creator Naoko Takeuchi. Rare original color drawings and some never-before-scene creations will be on display. The museum will have three phases: volume 1 (July 1 – September 4), volume 2 (September 10 – November 6), and volume 3 (November 12 – December 30), and during each phase, new works will be available for guests to peruse.


The event will also include an 'immersive experience theater,' which will display colored images on a massive 4.5 x 8-meter screen with special effects. Fans can also enjoy a 'hologram manuscript exhibit,' which will display the Sailor Scouts' famous dialogue. Anime materials and a selection of classic merchandise from the 90s to the modern-day will be available to peruse, as well as outfits from the musicals.

Prior to the start of the exhibition, three new original drawings have been created by original author Naoko Takeuchi. These exclusive images will be on display throughout the event!

© Naoko Takeuchi

Information

Sailor Moon Museum

Running: July 1 – December 30, 2022

Vol.1: July 1 – September 4, 2022
Vol.2: September 10 – November 6, 2022

Vol.3: November 12 – December 30, 2022
*Closed September 5-9, November 7-11
Hours: 10:00-18:00 (Last entry at 17:30)

Venue: Roppongi Museum (5-6-20 Roppongi, Minato-ku, Tokyo)

Official Site: www.sailormoon-museum.com

The Rose of Versailles Celebrates 50th Anniversary with Exhibition at Tokyo City View

Tokyo City View in Roppongi Hills will hold The Rose of Versailles 50th Anniversary Exhibition -The Rose of Versailles Forever- from September 17 until November 20, 2022. 

Riyoko Ikeda's historical romance manga was first serialized in Shueisha's Weekly Margaret manga magazine from April 1972 to December 1973. The epic historical drama set in the French Revolution-era overturned the common perception at the time that historical stories were not appropriate for girls' manga, and the series was a huge hit, winning the hearts of girls from the start. It became so popular that it received tens of thousands of fan letters per month, and became an immortal masterpiece that changed the history of shoujo manga.

The Rose of Versailles tells a story over 2,000 pages long, but this exhibition focuses specifically on Marie Antoinette and Oscar François de Jarjayes, the two main characters of the story. Guests will be able to see rare original drawings, along with Ikeda's thoughts and words at the time. Ikeda was only 24 years old at the time when she drew some of these incredible pieces, and she continued studying painting during the series' serialization. 

Even after serialization ended in 1973, the series only continued to grow in popularity. Adapted for the stage by the Takarazuka Revue in 1974, it became a social phenomenon, and an anime series followed in 1979.

In the Takarazuka Revue section of the exhibition, Oscar's room from the play will be recreated, and stage costumes and props will be on display.

Come enter the dreamlike world of The Rose of Versailles while enjoying a spectacular view of Tokyo from 250 meters up!

©池田理代子プロダクション

©池田理代子プロダクション/集英社

©大野愛子

Information

The Rose of Versailles 50th Anniversary Exhibition – The Rose of Versailles Forever –

Running: September 17 – November 20, 2022
Venue: Tokyo City View
Official Site: https://verbaraten.com/



JoJo's Bizarre Adventure Anime Series Celebrates 10 Years with Tokyo Exhibition

This year marks the 10th anniversary of the JoJo's Bizarre Adventure anime. To commemorate the event, a special anniversary exhibition will be held around Japan starting in August! The first venue will be Ikebukuro Sunshine City in Tokyo.

Fans will be able to trace the history of the many JoJo's Bizarre Adventure anime releases, and the exhibition will feature characters from Phantom Blood and Stone Ocean.

Come enjoy celebrating this major milestone and check out some special illustrations drawn exclusively for the exhibition! Special video screenings and a behind-the-scenes look at the animation production process will be held as well. 

(C)荒木飛呂彦&LUCKY LAND COMMUNICATIONS/集英社・ジョジョの奇妙な冒険THE ANIMATION PROJECT

Information

JoJo's Bizarre Adventure Anime 10th Anniversary Exhibition
Opening in locations around Japan in August 2022
First Venue: Tokyo (Ikebukuro Sunshine City Bunka Kaikan Bldg. 3F Exhibition Hall C)
Scheduled to open in Hokkaido, Niigata, Aichi, Osaka, Fukuoka
*Venues and exhibition dates for exhibitions outside of Tokyo will be announced at a later date.

Official Site: https://jojoanime10th-ex.com/

Tokyo's TeNQ Space Museum to Host Cinnamoroll 20th Anniversary Exhibition

Tokyo's TeNQ Space Museum, located in Tokyo Dome City, will hold a special Cinnamoroll exhibition to celebrate the Sanrio character's 20th anniversary! The adorable white puppy won first place at the Sanrio Character Awards for two consecutive years and has been a beloved part of Sanrio's lineup for two decades. From July 7 until October 17, guests can visit this unique walk through Cinnamoroll's history. The exhibition's key visual has been unveiled ahead of the event.

Clear Folder

Face Towel

Postcard (2 varieties)


Visitors will learn tons of Cinnamoroll trivia at the exhibition and can also participate in Cinnamoroll Roulette, a fun fortune-telling event!

In addition, the first-ever Cinnamoroll Strawberry News Poster Gallery will be available to peruse. An academic exhibit unique to TeNQ where visitors can learn about the many kinds of clouds will also be opened in honor of Cinnamoroll, who was born on a fluffy cloud in the sky. Original merchandise will also make an appearance. It's sure to be fun for the whole family!

©2022 SANRIO CO., LTD. APPROVAL NO. SP630141

Anime Film 'Bubble' Gets Online Exhibition at Anique for a Limited Time

Anique has opened an online exhibition to celebrate the release of the animated film Bubble until June 30, 2022! The event is also offering limited-edition merchandise.

Merchandise Lineup

Acrylic Stand Diorama

Pin Set

Postcard Set

Clear Folder

Mug

Purchase Bonus: Round Stickers

The exhibition will serve as a deep dive into the world of Bubble, focusing on four categories: story, worldview, characters, and artwork.

 

Guests can enjoy browsing images from the film, and can also see valuable creation materials like storyboards and original sketches.

 

Jun Shison, who voices Hibiki in the film, contributed comments to the exhibition, along with director Tetsuro Araki.

 

Merchandise is also available to buy now! These items can only be found at this exhibition, so order while you can.

 

Have you watched Bubble on Netflix yet?

©2022「バブル」製作委員会

Extensive Demon Slayer: Kimetsu no Yaiba Exhibition to Open at Sapporo Factory in Hokkaido

An exhibition focusing on the Mugen Train and Entertainment District Arcs of Demon Slayer: Kimetsu no Yaiba will open at Sapporo Factory in Hokkaido from July 15 until August 7, 2022.

Fans of the series won't want to miss this huge showing of Demon Slayer materials, including a video exhibit showing off some of the best fight scenes from the film and anime series on a massive screen. 

Stay tuned for more details!

©吾峠呼世晴/集英社・アニプレックス・ufotable

Information

Demon Slayer: Kimetsu no Yaiba – Mugen Train Arc / Entertainment District Arc

Running: July 15 – August 7, 2022

Hours: 10:00-19:30 *Closing at 17:00 on August 7
*Admission permitted until one hour before closing time.

Venue: Sapporo Factory 3-jo 3F 

Official Site: http://www.stv.jp/

Nakamura Keith Haring Collection Holds 15th Anniversary Exhibition, 'Chaos and Hope'

The Nakamura Keith Haring Collection in Yamanashi Prefecture will be holding a celebratory exhibition in honor of the location's 15th anniversary from May 14, 2022 until May 7, 2023.

In April 2007, the Nakamura Keith Haring Collection opened in Kobuchisawa, located at the foot of Mt. Yatsugatake. The only museum in the world dedicated entirely to New York-based artist Keith Haring, Kazuo Nakamura collected the works and acts as the director of the museum. Over 300 works of art are on display along with 500 other pieces, from photographs and videos to merchandise. The new exhibition features approximately 150 works.

Three Lithographs (People Ladder), 1985

Icons (Radiant Baby), 1990

Untitled, 1984

Untitled, 1988

Untitled (Subway Drawing), 1981-1983

The 'Chaos and Hope' exhibition was originally held during the museum's first year of operation and looks back at Haring's first experiences in New York City in 1978. The artist was present at the dawn of the hip-hop movement and was struck by the clash between typical white art and underground minority artists. In only five years, Haring rose to stardom. Sadly, while traveling the world, he contracted AIDS, passing away at the age of 31. Behind the bright and cheerful artwork he left behind, he hid his inner suffering and desire for hope and freedom.

All Keith Haring Artwork ©Keith Haring Foundation
Courtesy of Nakamura Keith Haring Collection.

Information

Nakamura Keith Haring Collection 15th Anniversary: Chaos and Hope

Venue: Nakamura Keith Haring Collection

Running: May 14, 2022 – May 7, 2023

Official Site: https://www.nakamura-haring.com

teamLab Opens 8th Annual Art Exhibition at Mifuneyama Rakuen in Saga Prefecture

From July 15 until November 6, 2022, the 'teamLab: A Forest Where Gods Live' exhibition at Mifuneyama Rakuen, an ancient forest at the Takeo Hot Springs in Saga Prefecture. The massive event is held each summer and fall and was named CNN World's 'Best Outdoor Art Exhibition to Visit' in 2021 and one of the Top 10 Art Installations in the world by DesignboomMagazine in 2017.

Works on Display

Universe of Water Particles on a Sacred Rock, 2017

Drawing on the Water Surface Created by the Dance of Koi and Boats – Mifuneyama Rakuen Pond, 2015

Ever Blossoming Life Rock, 2017

 Life is Continuous Light – Azalea Valley, 2017

Rock Wall Spatial Calligraphy, Continuous Life – Five Hundred Arhats, 2017

Split Rock and Enso, 2017

Resonating Forest – Cherry Blossoms and Maple, 2017

Megaliths in the Bath House Ruins, 2019

Graffiti Nature – Living in the Ruins of a Bathhouse, Red List, 2017-

Resonating Forest in the Ravine, 2019

Abstract and Concrete – Forest Entrance, 2018

Flowers Bloom in an Infinite Universe inside a Teacup, 2016

Forest and Spiral of Resonating Lamps in the Forest – One Stroke, Summer Forest, 2018

Mifuneyama is said to have risen from the Ariake Sea 3 million years ago. The 500,000 square meter Mifuneyama Rakuen Park was created in 1845, at the end of the Edo period. The park is home to megaliths, caves, and forests that have been slowly shaped over thousands of years. teamLab believes that the shapes and textures of these objects are important, serving as traces of ancient people and natural changes over time.  The concept of the project is that non-material digital technology can turn nature into art without harming it.


The creative team will be holding a number of other high-profile exhibitions this year, including installations in Paris, Tallinn, Shanghai, and Geneva. Their sauna collaboration with TikTok for teamLab Reconnect in Roppongi made huge waves in 2021–guests would take alternating hot and cold baths to experience intense physical sensations while surrounded by digital art.

Sound Installation by DJ Licaxxx to be Unveiled at Yamaguchi Center for Arts and Media

The Yamaguchi Center for Arts and Media will house a new work by DJ Licaxxx, the fifth installment of the 'sound tectonics installation.' The new work, Reason and Emotion '22, will be on display in the museum's courtyard. 

Licaxxx is a popular DJ and beatmaker who has been active in many unique fields over the past few years. The artist has created music for commercials and other advertisements while also contributing works to museums and art spaces.

The new sound installation features trackmaker Dan Kubo and electronic musician Kazuki Muraoka as collaborators. The goal of this ongoing project is to critically examine the act of viewing art in general, including music, and to generate music in real-time based on the current environment. The installation is impacted by weather, temperature, and the number of people viewing the work. The courtyard venue faces the main foyer and features a large glass atrium. 

Come enjoy a new listening experience like no other before the installation disappears in November.

Information

sound tectonics installation #5 / Licaxxx New Installation

Reason and Emotion '22 YCAM Volume

Running: May 14 – November 13, 2022

Hours: 10:00-20:00 (Closed Tuesdays)

Venue: Yamaguchi Center for Arts and Media / YCAM Courtyard

Free Admission

Official Site: https://www.ycam.jp

Sanrio Inspired Touken Ranbu Collaboration Cafes to Open in Shibuya and Nagoya PARCO

Touken Ranbu has become a worldwide phenomenon over the past decade. The handsome characters are a hit with female fans, and now, PARCO is teaming up with Sanrio to reimagine everyone's favorite swords-turned-dudes into chibi, pastel versions of themselves. Fans can enjoy seeing the kawaii form of their favorite characters at a special collaboration cafe coming to Shibuya and Nagoya soon.

Lineup at a Glance

Menu

Kogitsunemaru's Lunch Plate for Kids

Oodenta Mitsuyo and Sohayanotsurugi's Mini Burger Plate

Izuminokami Kanesada and Horikawa Kunihiro's Berry Pancakes

Konnosuke's Fruit Parfait

Goods

Acrylic Pick A (20 varieties): ¥440 each

Acrylic Pick B (20 varieties): ¥440 each

Acrylic Magnet Round 2, Set A (Random, 20 varieties): ¥550 each

Acrylic Magnet Round 2, Set B (Random, 20 varieties): ¥550 each

The cafe will offer an original menu inspired by the characters from the free-to-play video game and anime series. A shop attached to the collaboration cafe will also be selling original merchandise, so fans won't want to miss stocking up.

The Heike Story, INU-OH Character Concept Art on Display at Kyoto International Manga Museum

The Heike Story anime series premiered in Japan on Fuji TV's +Ultra programming block on January 12. With character designs by Fumiko Takano, fans instantly fell in love with the show's cast of characters, and an art book will be released soon, with preorders opening this week.

 

The Kyoto International Manga Museum has opened an exhibition displaying character concept art from SCIENCE SARU's The Heike Story and INU-OH anime from April 21 to June 27. The exhibit commemorates The Heike Story's TV broadcast and INU-OH's theater opening in Japan. Fumiko Takano (The Heike Story) and Taiyo Matsumoto (INU-OH)'s character concept drawings are on display in Gallery 4. 

Both titles are based on Hideo Furukawa's modern language rendering of the classic Japanese epic The Tale of the Heike.


The Heike Story will additionally release an art book titled The Colors of The Heike Story in June. The book will feature an interview between art director Tomotaka Kubo and series director Naoko Yamada, and is scheduled for release in June. Those pre-ordering the book will receive a special gift.

©高野文子 /「平家物語」製作委員会 
©松本大洋 /2021 "INU-OH" Film Partners

Information

The Heike Story – Fumiko Takano and INU-OH's Taiyo Matsumoto Character Concept Art Exhibition

Running: April 21 – June 27, 2022

Venue: Kyoto International Manga Museum Gallery 4 (452 Kinbukicho, Nakagyo-ku, Kyoto)

Access: 2-minute walk from Exit 2 of Karasuma Oike Station on the Kyoto Municipal Subway Karasuma Line and Tozai Line



The Colors of The Heike Story

Price: ¥5,500 (Excluding Tax)
Format: A4 size, 112 pages
ISBN: 978-4-908062-41-4
Publisher: HeHe / hehepress.com

The Heike Story Anime Series
Official Site: HEIKE-anime.asmik-ace.co.jp

Panasonic LUMIX and NAKED Team Up for Exhibition at LUMIX BAE TOKYO in Aoyama, Tokyo

Art collective NAKED is teaming up with Panasonic LUMIX digital cameras for a new version of the NAKED BIG BOOK. The new work is on display at LUMIX BASE TOKYO in Aoyama until May 29, 2022. 

LUMIX BASE TOKYO is a gallery inspired by the LUMIX brand of digital cameras. The location is meant to serve as a base for the next generation of creators and strives to bring tons of creative energy to those looking to hit it big as artists in the future. 

Naked and LUMIX have come together to make LUMIX BASE TOKYO not only a showroom but also a place where guests can experience creativity in a new way. The NAKED BIG BOOK," the brand's most famous work, has been decorated with seasonal flowers and will be exhibited for a limited time. 

NAKED BIG BOOK invites visitors to enter a storybook world with each turning page. The work uses projection mapping on a giant book sculpture to inspire audiences and wow guests with the wonders of technology. The book has appeared at FLOWERS BY NAKED and other locations throughout Japan in the past. 

The exhibition will also feature original artwork inspired by LUMIX's marketing campaign for 2022, 'COLORS OF LUMIX.'

Information

NAKED BIG BOOK – LUMIX Collaboration Version
Venue: LUMIX BASE TOKYO (2-chome-11-17 Minamiaoyama, Minato-ku, Tokyo)
Running: April 26 – May 29, 2022
Hours: 11:00-19:00 / Closed on Mondays, New Years holiday
Admission: Free
Official Site: https://lumix-base.jpn.panasonic.com/