Lupin the Third Escape Room "Escape from the London Trap Tower" to Open Across Japan
TMS is teaming up with SCRAP, a company designing unique escape games, to open "Escape from the London Trap Tower" in collaboration with the anime series Lupin the Third Part 6. The real escape game will open in Tokyo, Sapporo, Sendai, Fukuoka, Nagoya, Yokohama, Okayama, and Osaka in 2022.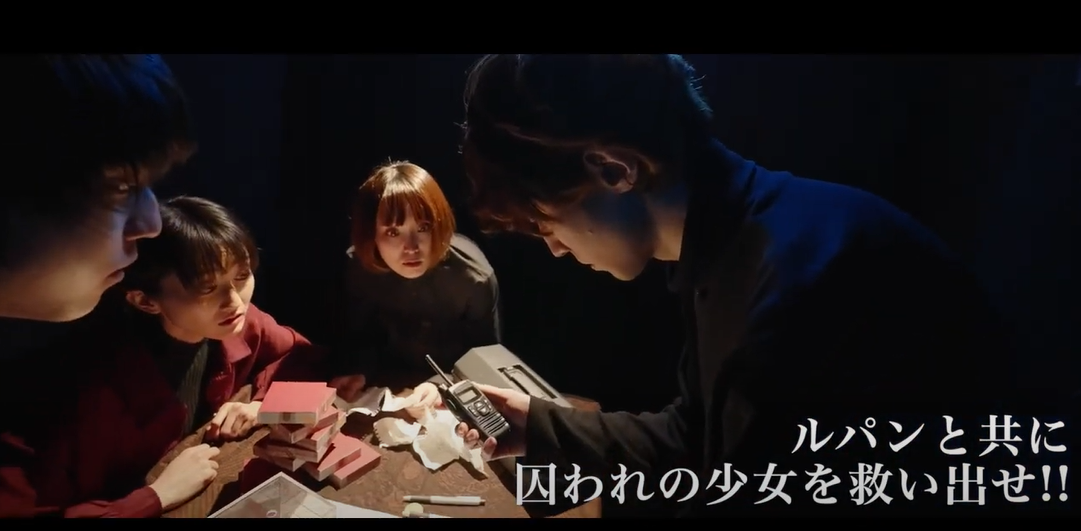 Up to four players can take part in the game at once, and the average run time is around two hours.
This escape game follows the story of Lily Watson, the teenage ward of Part 6's master detective Sherlock Holmes. After being kidnapped, she is held in a tower guarded by traps and puzzles that need to be solved. Unfortunately, the kidnapper has told Inspector Zenigata that Lupin is on the way to steal a valuable treasure, so it won't be easy!
Players will work with Lupin by speaking to him at designated communication points, and multiple strategies can be used to evade the guards. It's all about teamwork!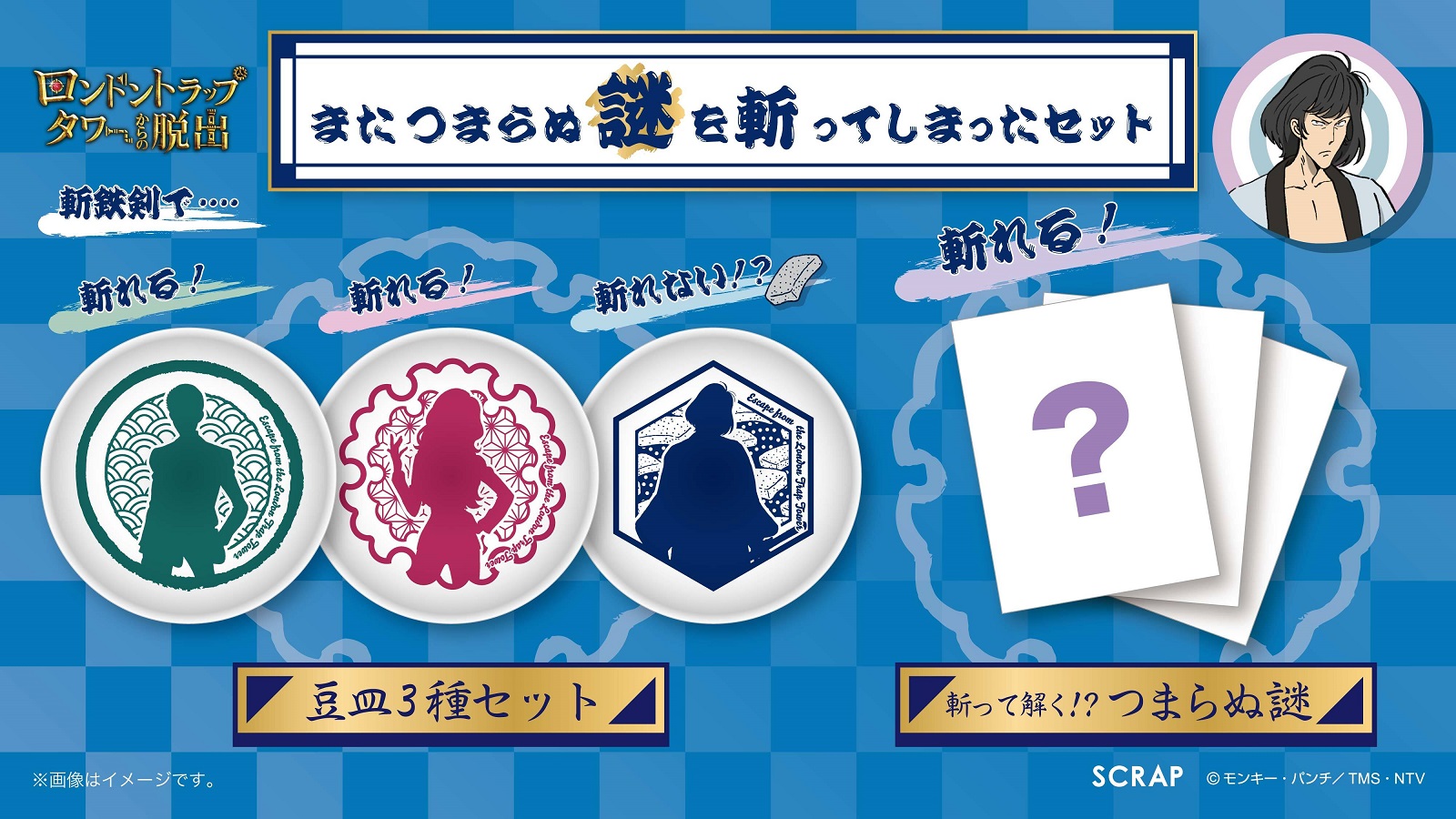 Bonus with Ticket Purchase 'Worthless Mystery Set' 
Group Ticket Bonus – Bookmarks (4 pieces)

Tickets for the escape room are on sale now, and those buying advanced tickets will receive three small plates featuring popular Lupin characters. Those purchasing a group ticket will receive four unique bookmarks!
On each floor of the tower, players can talk to Lupin, hand over items, have strategy meetings, and break through the guards' surveillance in surprising ways. Do you think you have what it takes to be a master thief and save Lily?
Information
Real Escape Game x Lupin the Third "Escape from the London Trap Tower"
Dates & Locations: 
Tokyo Mystery Circus / February 3 – May 8, 2022
Real Escape Game Sapporo / May 13 – June 12, 2022
Real Escape Game Sendai / May 13 – June 12, 2022
Real Escape Game Fukuoka / May 13 – June 12, 2022
Real Escape Game Nagoya / June 17 – July 24, 2022
Real Escape Game Yokohama / July 29 – August 28, 2022
Real Escape Game Okayama / July 29 – August 28, 2022
Real Escape Game Osaka Shinsaibashi / September 1 – October 2, 2022
Official Site: https://realdgame.jp/lupin-6th/ 
RELATED ENTRIES
Ace Attorney Escape Room Opens in Tokyo and Nagoya to Celebrate Series' 20th Anniversary

SCRAP has planned and produced a number of Real Escape Games, attracting over 9.4 million attendees worldwide. To celebrate the 20th anniversary of the Ace Attorney series, The Grand London Murder Case escape game will be returning to venues in Tokyo and Nagoya for a limited time starting July 29, 2022.

The Grand London Murder Case is an interactive event incorporating elements of deduction, in which guests must solve the case and prove the defendant not guilty. Held in 32 cities across Japan in 2015, it became extremely popular.

Gameplay Example


The story begins when protagonist Ryunosuke Naruhodo becomes a suspect in a murder case. The players in this event are given the role of lawyers tasked with proving Naruhodo's innocence. To do this, they must examine the testimony and available evidence to find inconsistencies and examine parts of the venue where the crime took place.

The Grand London Murder Case In-Game Image


The in-game film was created by the Ace Attorney development team exclusively for the event. It will be fully voiced by Ryunosuke Naruhodo (Hiro Shimono) and heroine Susato Mikotoba (Kana Hanazawa), along with other popular members of the cast.

 

The Ace Attorney series is celebrating its 20th anniversary with a number of exciting events. Keep an eye out for more!

Mystery Solving Meets Art in New Blue Period Escape Game

SCRAP, known for its immersive escape rooms based on tons of popular anime, manga, and game properties, is inviting fans of the Blue Period manga series to participate in a new escape game! The Blue Period 'Escape from the Art College Entrance Exam' event will begin on July 15 in Tokyo. 

The hands-on event will invite participants to use art materials to solve a number of riddles and puzzles while exploring the event space. The player will become a student at the Tokyo University of the Arts, the school that the main character Yatora Yaguchi seeks to attend.

Tickets to the event can be purchased in advance or on the same day on-site. There is no time limit, no limit on the number of participants, and plenty of hints if you need them, so escape room novices can have a great time as well!

At the event, players will also be able to communicate with the characters via LINE, have individual interviews with Yatora's teacher Ms. Oba, and actually use art materials. Come immerse yourself in the world of Blue Period!

Information

Real Escape Game x Blue Period 'Escape from the Art College Entrance Exam'

Venues/Dates

Tokyo: Tokyo Mystery Circus, July 15~

Aichi: Real Escape Game Nagoya, August 5~

Osaka: Real Escape game Osaka Ebisucho July 29~

Special Site: https://realdgame.jp/blue-period/

Lupin the Third Inspires Collaboration NFT Sneakers

Takeshi Koike's Lupin the Third series has inspired something truly unique. web3 creative studio 1BLOCK, inspired by a younger Lupin and friends, will be offering up some virtual sneakers in summer 2022. These sneakers are part of MetaSamurai, a 3D avatar project. Each of these NFTs will be the only one of their kind in the world.

 

MetaSamurai was inspired by Lupin III, Daisuke Jigen, and Goemon Ishikawa from the Lupin the Third series. The virtual sneakers were created with designs based on the three series: Lupin the Third: The Gravestone of Daisuke Jigen, Lupin the Third: The Blood Spray of Goemon Ishikawa, and Lupin the Third: Fujiko Mine's Lie.

Watch out for the world's first Lupin the Third 3DNFT project!

原作:モンキー・パンチ ©︎TMS

Tokyo Revengers Real Escape Game to Open in Shibuya in Fall 2022

SCRAP, a company designing unique escape games, will be opening a Tokyo Revengers real escape game in Shibuya this fall! 

The Tokyo Revengers manga series has been hugely popular, selling over 50 million copies and inspiring an anime series, films, and stage productions. The first Tokyo Revengers real escape game was held in February 2022, with two months of tickets selling out immediately after the event began.

The new escape room will be held this fall, with events happening all around Shibuya–the main location of Tokyo Revengers. Fans of the series will have a blast running around the streets of Shibuya, solving puzzles, and cooperating with characters from the show!

To commemorate the start of the event, a SCRAP x Tokyo Revengers stamp rally will be held around Shibuya from July 1 to July 24, 2022. Fans will need to find the members of the Tokyo Manji Gang by solving clues and collecting stamps as proof of their success. Anyone can participate in this free event! By finding every member, fans will receive an illustration card with an exclusive design. 

More details on the real escape game will be released on August 17, so stay tuned!

Information

Escape From the Never-ending Tokyo Revengers Conflict

Opening Fall 2022

Special Event Site: https://realdgame.jp/revengers-shibuya/

Stamp Rally Project – Find the Members of the Tokyo Manji Gang in Shibuya!

Running: July 1 – July 24, 2022

Stamp Rally Card Distribution Locations:
MEGA Don Quijote Shibuya / Shibuya MODI / Shibuya PARCO / Village Vanguard Shibuya / Animate Shibuya / Shibuya Tsutaya / HMV&BOOKS Shibuya / Shibuya LOFT / Bic Camera Shibuya East / Miyashita Park (2F 'The Shibuya Souvenir Store')

Special Site: https://realdgame.jp/revengers-shibuya/stamp-rally.html

Third Higurashi When They Cry Escape Room to Open This Summer

Yodaka, an Escape Room in Tokyo, will be opening a number of terrifying games inspired by the horror series Higurashi When They Cry this summer! The first installment will begin on June 10 and the second will open on June 21 at the location in Kitashinjuku.

The interactive puzzle game invites participants to become the protagonists of a newly-written story. By solving riddles, guests will uncover more and more of the story's details as they strive to complete the challenge.

The first installment of the Higurashi escape game was held in April 2018. The second came in June 2021, and due to fan demand, this summer will see the third challenge.

Third Escape Room Special Site (Teaser): https://yodaka.info/portal/2206higurashi

Guests can also take home some exclusive merchandise including acrylic keychains, stickers, and more. Come become part of the Higurashi story!

© 竜騎士07 / 07th Expansion

Godzilla Escape Room Opens at Atami Bay Resort Korakuen in Shizuoka

In February, Godzilla fans were excited to hear that they would be tasked with protecting Atami Bay Resort Korakuen in a new escape room coming soon. Now, the Escape from Godzilla event has a starting date: May 27, 2022!

Atami Bay Resort Korakuen has been a familiar sight in Atami since 1965. The beautiful property sits on the gorgeous Sagami Bay, treating guests to unforgettable views. The Escape from Godzilla event will ask players to solve mysteries throughout the hotel. Visitors will need to explore rooms and sometimes interact with hotel staff to reach the end. SCRAP, known for its numerous crossover escape games, created the project.

Atami is the setting of the decisive battle in the 1962 film King Kong vs. Godzilla. 2022 is the 60th anniversary of the film, and guests are invited to enjoy an original story and original images showing Godzilla's attack on present-day Atami in cooperation with Toho.

Five original pieces of merchandise have been announced as part of the project. These Godzilla-themed items can only be purchased during the event.

Commemorative Puzzle Game Set: ¥2,300 (Tax Included) / Door Plate / Sticker / Hotel Keychain

Plush: ¥1,800 (Tax Included)

Fans can grab a commemorative set including a special Godzilla sticker, a hotel keychain, and a door plate perfect for decorating at home. Clear folders and celebratory stickers for escape room winners will also be available, along with special hand towels printed with a special Atami design.

Tickets for the event are now on sale!

Information

Real Escape Game – Godzilla vs. Atami Bay Resort Korakuen "Escape from Godzilla"

Venue: Atami Bay Resort Korakuen (10-1 Wadahamaminamicho, Atami, Shizuoka)
Running: May 27, 2022~

Special Event Site: https://realdgame.jp/atami-godzilla/

Godzilla Escape Room to Open at Atami Bay Resort Korakuen in Spring

Escape rooms invite family and friends to solve exciting puzzles and riddles within a time limit, and have become massively popular around the world. Since the first one opened in 2007, over 8 million people in Japan have participated in one of these exciting events held everywhere from apartment buildings to amusement parks.

The Escape from Godzilla event will be held throughout the Atami Bay Resort Korakuen, and will ask players to solve mysteries throughout the hotel. Visitors will need to explore rooms and sometimes interact with hotel staff to reach the end. SCRAP, known for its numerous crossover escape games, created the project.

Atami is the setting of the decisive battle in the 1962 film King Kong vs. Godzilla. 2022 is the 60th anniversary of the film, and guests are invited to enjoy an original story and original images showing Godzilla's attack on present-day Atami in cooperation with Toho.


Keep an eye out for more details coming later in February!

©SCRAP TM & © TOHO CO., LTD.

Popular Puzzle-Solving Toy 'Nazokan' Returns to Shelves After Selling Out

SCRAP, a company known for its unique escape games, have recently started selling its 'Nazokan' (Mystery Can) product at stores nationwide starting December 22, 2021. These items sold out instantly upon initial release, and have been highly praised by puzzle-lovers, including popular actress and model Nanase Nishino!

Two kinds of 'Nazokan' are on sale: The 'Golden Angel Can' and the 'Silver Devil Can.' Each large can contains a number of difficult puzzles and riddles.

Following its initial launch in October 2021, the first production run sold out in only six days. Puzzle fans have been begging for a second production run, and to celebrate the re-release, actress and model Nanase Nishino has released her comments on the product. Nishino is known as major puzzle fan, so what does she have to say? 

Comment from Nanase Nishino

When I first grabbed a 'Nazokan,' I was excited to see what sorts of mysteries I'd find inside, and I was ready to take on the challenge.
Spending my time on each puzzle, I completely lost track of time, and I came away with a real sense of accomplishment.
You can solve it alone,
or work together with your friends,
or even give it as a gift to someone who loves riddles!
I hope everyone has fun with this amazing product!

Information

'Nazokan' (Mystery Can)
―Calling All Puzzle Lovers! We've Fit Tons of Puzzles and Riddles into this Can!―
Price: ¥3,000 (Tax Included)

Where to Buy: Real Escape Game Stores and Tokyo Mystery Circus

Special Site: https://www.scrapmagazine.com/nazokan/

Lupin III: The Castle of Cagliostro Cinema Concert to Commemorate Lupin Composer Yuji Ohno's 80th Birthday

Lupin III: The Castle of Cagliostro is one of the most beloved anime films of all time. To commemorate the composer Yuji Ohno's 80th birthday, the film will be screened and accompanied by a live concert at Tokyo International Forum Hall A on January 27 and 28, 2022.

As the film plays on a giant screen, the score will be performed by a live orchestra.  Part 1 of the performance will feature the film and the YOU & EXPLOSION BAND led by Yuji Ohno himself. Part 2 will be a celebration of Yuji Ohno's greatest hits, and will cover popular songs from a number of television series and films. 

Fukuoka-born singer-songwriter Sakura Fujiawara will also perform at the show. Recently, it was announced that she would sing the new ending theme song for Lupin III: Part 6, which will be broadcast on Nippon Television starting in January 2022. Attendees will enjoy a show featuring over 50 musicians playing some of the most iconic music in the history of the anime medium. 

Comment from Yuji Ohno

"Lupin III: The Castle of Cagliostro is a unique film in the Lupin universe. It's set in a Hayao Miyazaki world that feels very much like a fairytale. While the masterful story is filled with suspense, it has plenty of love for both nature and humanity. This cinema concert will be a live performance, with a large orchestra of over 50 people. I hope that you'll enjoy the live performance of not only the tracks from Lupin, but everything else from insert songs to bonus riffs. In order to do this, I rewrote the entire score and gathered the best musicians I could find. The more people in the audience, the more excited the musicians get, and the better they play. Even those who have seen this film many times before might be surprised, and might feel something they didn't in the past hearing this newly-rewritten music.

During the second part of the concert, I plan to perform as many of my popular songs as I can, including those from television, film, and even commercials. 

I've also invited Shigeru Matsuzaki and Sakura Fujiwara as guest performers. Matsuzaki is one of my favorite singers–he sings without pretention and at such a powerful volume. I can't think of another singer like that these days. Ms. Fujiwara is young, but has a very mature voice. I'm looking forward to seeing them perform, and I hope that guests will enjoy!"

Detective Conan x Real Escape Game Collab to Open in 7 More Cities Nationwide

SCRAP, known for its immersive escape rooms based on tons of popular anime, manga, and game properties, is inviting guests to test their detective skills! After massive popularity, the 'Escape from the Blood Task Force,' inspired by the newest Detective Conan film, is coming to seven more cities across Japan. Events currently running in Osaka, Tokyo, and Nagoya will also be extending their duration, allowing more fans to get a chance to test their skills of deduction!

Akai's Investigation Kit, gifted to those who purchase advance tickets

Escape games have been becoming more and more popular around the world over the last ten years. This particular Detective Conan collaboration has been held since 2013 and has attracted more than 1.3 million people to their local room to test their skills. 'Escape from the Blood Task Force,' the newest game in the series, tells the story of Shuichi Akai, the main character in the recent Detective Conan: The Scarlet Bullet film. 

Participants in the event will take on the role of FBI agents to help solve the case. Working with a team, players will head to their assigned areas to work alongside Conan and his team, or alone if they so wish. So far, this new event has seen over 20,000 visitors, with many complimenting the high levels of immersion. People have also commented that the escape room is like being a part of an entirely new movie!

How do you think you'd do at the Detective Conan Real Escape Room? 

Information

Real Escape Game – Escape from the Blood Task Force

Osaka 1: Real Escape Game Osaka Shinsaibashi

Open now until October 17, 2021

Tokyo: Tokyo Mystery Circus

Open now until December 12, 2021

Aichi: Real Escape Game Nagoya

Open now until December 19, 2021

Osaka 2: Yomiuri TV New Company Building 10hall

November 3 – December 31, 2021

Kyoto: Kyoto Shinbun Cultural Hall

December 4 – December 5, 2021

Hokkaido: Real Escape Game Sapporo

December 10, 2021 – January 10, 2022

Nagasaki: Nagasaki Seiyo-kan 2F Event Hall

December 10 – December 12, 2021

Kanagawa: Real Escape Game Yokohama

December 17, 2021 – January 16, 2022

Miyagi: Real Escape Game Sendai

December 24, 2021 – January 10, 2022

Okayama: Real Escape Game Okayama

December 24, 2021 – January 10, 2022

Hiroshima: JMS Aster Plaza Public Gallery

December 25 – December 26, 2021

Details: https://realdgame.jp/conan2020/

Online REAL Escape Game Summer Fest To Feature Nijicon's Marina Karin, Batten Shoujotai's Haruno Kiina

Running between August 4 and October 2, 2021, the Online REAL Escape Game Summer Fest is shaping up to be one of the biggest online festivals ever.

The Online REAL Escape Game Summer Fest is a free and fun story-based event where participants can try their hand at saving the world! Original merchandise and livestreams will be available throughout Summer 2021 to commemorate one of the largest online festivals in history. You can join the fun every day from the comfort of your own home, with more than 10 different events available to partake in.

The events are scheduled to release one-by-one, with the 10th being held as of writing. 'Save The World From The Clones' is the title of the current REAL Spot-the-Difference event, while the 'Escape From The Impregnable Dragon' puzzle-based battle royale has just been announced.

REAL Spot-The-Difference combines a regular spot-the-difference game with a filmed story. During the game, you must watch two almost identical clips and try to spot what has changed between the two. It could be the script or even the behaviour of certain characters. 

Karin Matoba of idol group Niji no Conquistador will be guest starring in the 'Save The World From The Clones' movie, so make sure to keep a close eye on her as you learn more about the mysterious story.

'Escape From The Impregnable Dragon' is a puzzle-based battle royale, starting with 10 participants per round. Whoever can solve the most mysteries amongst the players will survive! It could be you who turns the battle in this intense online puzzle-solving game.

The game will be assisted by Haruno Kiina of Batten Shoujoten, a Kyushu-based idol group under Stardust Planet's Stardust Promotion.

Join her in this battle to discover the No.1 puzzle solver!

 




Don't miss out on this ever-growing Online and Real summer festival, complete with star guests!

The Promised Neverland Escape Game Has You Running Away From the Forest Demons

Japanese real-life escape game creative company SCRAP is set to open a new game in collaboration with the anime series The Promised Neverland. Titled "Escape from the Demons' Forest," the game will open in seven cities across Japan on July 8.

Escape game bring people together in a themed space where they have to solve puzzles in order to escape. Players of this new game take on the role of one of the special children to be eaten like Emma, Ray, and Norman. They must work alongside the characters while avoiding the demons guarding the area. If you've always wanted to feel like you're in the world of The Promised Neverland, this immersive experience is on way of getting there.


SCRAP has collaborated with The Promised Neverland before, with their 2019 game receiving the Best Event Award for its original story and level of immersion. The new game is sure to be a similar experience, with newly-recorded voice lines for Emma, Norman, and Ray who players will interact with.

Players who book a ticket in advance can also receive a special message in a bottle.

©白井カイウ・出水ぽすか/集英社・約束のネバーランド製作委員会
*「リアル脱出ゲーム」は株式会社SCRAPの登録商標です。

Information

Escape From the Demons' Forest

Japanese Title:「人喰いの森からの脱出」

Duration: 60 minute
Players: 1-4

Location: SCRAP venues in Japan

Tickets: Now on Sale

Official Website: https://realdgame.jp/neverland2021/