RADWIMPS to Release Soundtrack for 'The Last 10 Years' Film
The soundtrack for the upcoming film The Last 10 Years will be released on March 4, the same day the movie will open in theaters across Japan. Popular rock band RADWIMPS wrote both the theme song and all music featured in the film. 
The soundtrack will include 29 original songs written by RADWIMPS for the film along with Uruubito, the theme song. Yojiro Noda, the lead singer of the band, met film director Michihito Fujii on the set of Million Yen Women. Noda played a lead role in the drama series, and the two became fast friends, wanting to collaborate musically. This is the first time that RADWIMPS has composed music for a live-action film. The group previously wrote the music for the animated films Weathering with You and Your Name.
Yojiro Noda worked on the film's soundtrack after reading the script. "Mr. Noda said that his biggest fear was ruining the delicate emotions surrounding Matsuri and Kazuto's lives with his music," Fujii said. "Even though we were recording with a full orchestra, he tried over and over to make sure that the dialogue didn't clash with the music."
The Last 10 Years Trailer
'The Last 10 Years' is an adaptation of Kosaka Ruka's novel of the same name. It tells the story of Matsuri, a 20-year-old woman who learns that she only has 10 years to live due to an incurable disease. She makes the decision not to fall in love until she meets Kazuto, a man who has lost the will to live. Matsuri is portrayed by Komatsu Nana, while Kazuto is played by Sakaguchi Kentaro.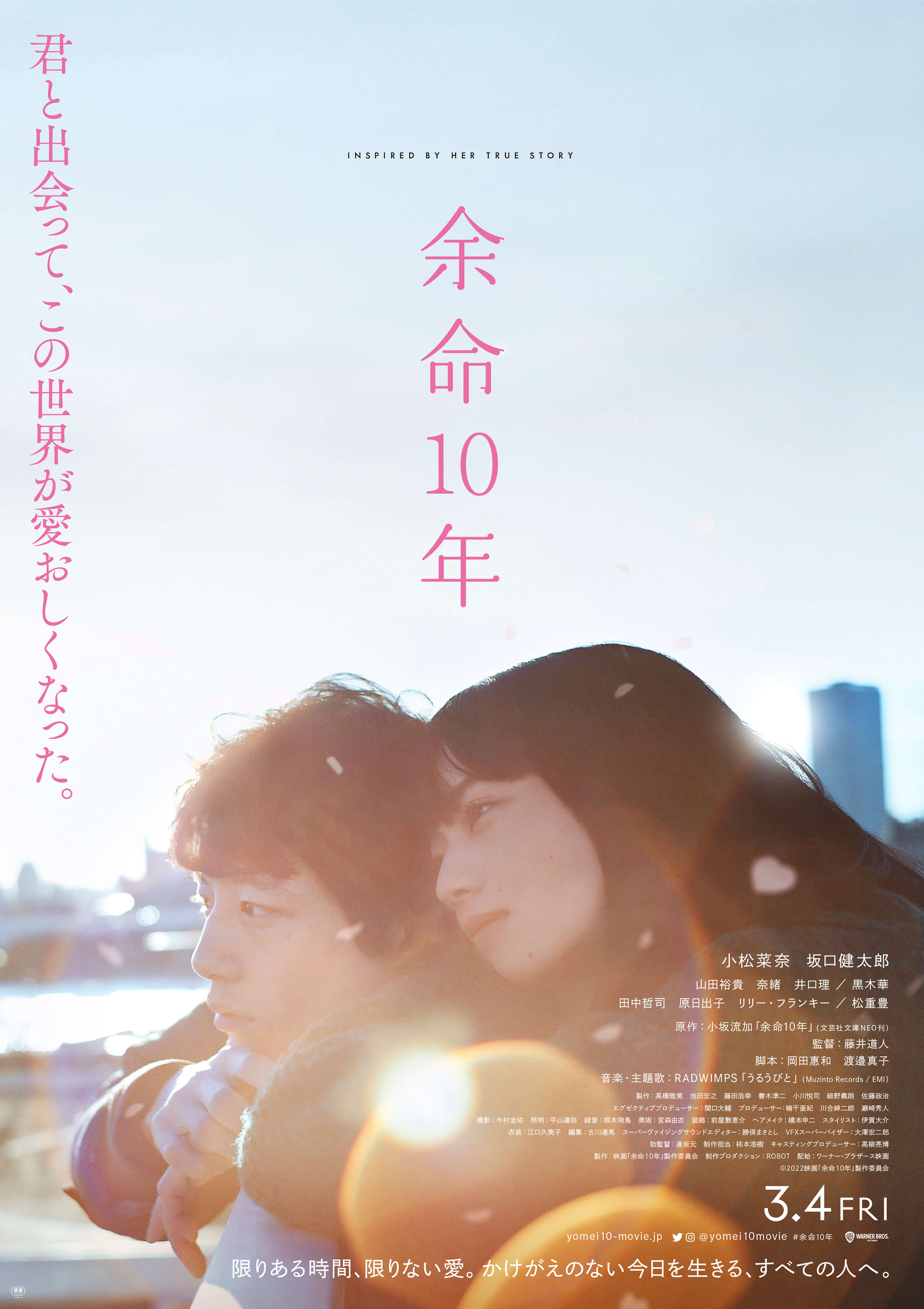 ©2022映画「余命10年」製作委員会
Information
The Last 10 Years: Original Soundtrack
Release Date: March 4, 2022
Price: ¥3,300
The Last 10 Years
Release Date: March 4, 2022
Official Site: yomei10-movie.jp
RELATED ENTRIES
RADWIMPS Begins Streaming Suzume no Tojimari Anime Film Theme Song

Anime director Makoto Shinkai and popular rock band RADWIMPS are teaming up for the third time, and fans are thrilled. The group will perform the theme for Shinkai's upcoming film Suzuka no Tojimari, set to be released on November 11. The theme, Suzume feat. Toaka, is now available to stream on all major music streaming sites. 

The theme can be heard in the film's trailer, and features Toaka, a famous female singer known for her appearances on TikTok. "I felt a connection between Toaka and this song. No one else could come close," RADWIMPS vocalist Yojiro Noda commented. 

Suzume no Tojimari, Shinkai's first new film in three years, is a coming-of-age story, following a girl named Suzume as she travels to disaster-stricken locations around Japan, closing doors to keep those nearby safe. Suzume Iwato, the heroine, will be played by Nanoka Hara. Hokuto Matsumura will portray Souta Munakata. Six more cast members have also been revealed, and the latest trailer shows off a bit more of the film's incredible cast and world. 

Suzume no Tojimari Trailer

The theme song and a bit of the film's musical score can be heard in the new trailer, and many are calling this the most robust musical structure ever heard in a Shinkai film. What do you think? 

©2022「すずめの戸締まり」製作委員会

Director Makoto Shinkai Chooses RADWIMPS to Perform Theme for Anime Film Suzume no Tojimari

Famed director Makoto Shinkai and rock band RADWIMPS are teaming up for the third time. The group will provide music for Shinkai's upcoming film Suzuka no Tojimari, scheduled to open in theaters nationwide on November 11, 2022. Kazuma Jinnouchi, a world-renowned film composer, will work with the group to form the strongest musical team in the history of Shinkai's films. Previously, RADWIMPS worked with Shinkai on 2016's Your Name and 2019's Weathering With You.

At the film's announcement press conference, Shinkai gave his thoughts. "I want to create a film that gives people a reason to come to the theater," he said. "I want to create imagery and sounds that will immerse every single person in the audience." With this determination to create a new and unique theater experience, Shinkai decided to have not only RADWIMPS work on the film's music, but Kazuma Jinnouchi as well. This would mean a bolder score, but also a larger challenge.

Yojiro Noda, the lead vocalist, songwriter, and guitarist of RADWIMPS, gave a comment. "Working with Kazuma Jinnouchi, who has such a long history of creating music for movies and video games, gave me a new perspective. His amount of experience is hard to put into words." 

"The music we created for the film's action scenes was largely influenced by my experience in Hollywood," Jinnouchi said. 

Some recording for the film was done overseas at the historic Abbey Road Studios in London, a first for a Shinkai film. 

The new theme song, aptly titled Suzume, can be heard in the trailer for the film. At Noda's request, the production team searched for the most suitable voice for the song–one that would truly express the film's vibe. After listening to audition tapes and a number of voices from around the web, TikTok sensation Toaka was chosen as the song's vocalist. "I felt a connection between Toaka and this song. No one else could come close," Noda commented. 

Suzume no Tojimari, Shinkai's first new film in three years, is a coming-of-age story, following a girl named Suzume as she travels to disaster-stricken locations around Japan, closing doors to keep those nearby safe. 

Suzume Iwato, the heroine, will be played by Nanoka Hara. Souta Munakata will be portrayed by Hokuto Matsumura. Be sure to check out the latest trailer!

Suzume no Tojimari Trailer

©2022「すずめの戸締まり」製作委員会

THE RAMPAGE, NCT 127, and BE:FIRST Release Trailer for Crossover Song 'Wings'

With over 5.56 million people seeing the films in theaters and box-office revenue of over ¥7.8 billion, the High&LoW film series has inspired audiences around Japan for years with its themes of friendship and struggle. In 2019, the film High&Low THE WORST was released as a collaboration with Hiroshi Takahashi's manga Worst and Crows, which have collectively sold over 80 million copies. A sequel, High&Low THE WORST X, will be released in theaters nationwide on September 9, 2022.

 

While the film itself is a massive collaboration between rivals, it will also feature a major collaboration between artists! Kazuma Kawamura and Hokuto Yoshino from THE RAMPAGE, Yuta Nakamoto from NCT 127, and Ryoki Miyama from BE:FIRST have come together to perform the song Wings. The track will be played during key scenes in the film and is sure to pull at your heartstrings.

The song came to be after the four became closer acting in the film. Wings is a positive and emotional song about friendship and trust and evokes the image of irreplaceable friends and a man who will never stop moving forward.

In the new trailer for the song, the images of the four artists performing the track overlap with the images of their characters in the film.

Wings – HiGH&LOW THE WORST X

https://www.flag-porter.jp/download/r4wWMAoVqQK9b6KMQdEvYnGpx8j6Jm

The film is sure to be the breakout hit of the summer, bringing together powerhouses from THE RAMPAGE, NCT 127, and BE:FIRST when it releases on September 9. The characters, action, and music have all been powered up when compared to the previous film, so be sure to tune in!

 

Comment from Kazuma Kawamura (Fujio Hanaoka) (THE RAMPAGE)

"This song transcended the boundaries of our group and a dream crossover was able to happen.

Without our collaboration in the film, I don't think we would have had this incredible opportunity to work together on music so quickly. 

We probably would have just ended up doing a cover or something like that.

It was such a joy for us to be able to collaborate on a new piece of music that was totally our own.

It's a coming-of-age song that matches our roles and certain scenes in the movie perfectly, and I hope it will touch your heart!"

Comment from Hokuto Yoshino (Tsukasa Takajo) (THE RAMPAGE)

"Even though we're all in different groups, we were so honored to come together to sing together as a foursome for this film!

I hope lots of people will enjoy this heartwarming and tender ballad, which shows our individuality but also has a real sense of unity.

I hope everyone will be able to experience the world of HiGH&LOW THE WORST X in theaters, and I also hope you'll pay attention to the scenes in which this song is played!"

Comment from Yuta Nakamoto (Ryo Suzaki) (NCT 127)

"It's rare to find a song with a medium tempo that's so emotionally moving, and it was a fresh and fun experience to sing a song for my first movie. Although some parts were difficult, it was a great experience and I'm grateful for it. 

Ryo and Amagai's relationship is reflected in the lyrics of Wings, and I think that this one will make you emotional."

Comment from Ryoki Miyama (Amagai Kouhei) (BE:FIRST/RYOKI)

"This was one of the most nerve-wracking recordings I've ever done.

Singing with everyone was a valuable experience, and I really wanted to give it my all. I discussed it with the director and after a number of takes, I think we were able to get the most emotional of the bunch.

We're so happy to bring this film to life, and along with so many talented artists and actors, this song is really the culmination of everyone's hard work."

©2022「HiGH&LOW THE WORST X」製作委員会 ©髙橋ヒロシ(秋田書店) HI-AX

Members of THE RAMPAGE, NCT127, and FANTASTICS to Appear in 'HiGH&LOW THE WORST X' Film

During the BATTLE OF TOKYO ~TIME 4 Jr.EXILE' performance at Saitama Super Arena on July 21, a new trailer for the upcoming film HiGH&LOW THE WORST X was shown to a massive audience. A new collaboration with Hiroshi Takahashi's manga Worst and Crows, fans are amped up for this new entry to the film series. A new visual for the movie was also revealed.

 

The new trailer is filled with incredible action scenes set to the film's theme song THE POWER, while the footage of the three-school alliance led by Amagai includes the rap song RIDE OR DIE by MA55IVE THE RAMPAGE. Expectations are high for this installation of the wildly popular film saga, with the final scene in the trailer showing a massive amount of rowdy high schoolers ready to brawl. The overwhelming scale of the movie is sure to impress both fans and newcomers alike.

The new poster visual features 31 members of the cast, with the blue and red graphics coming together to form a cross. HiGH&LOW THE WORST X will present the climax of the ongoing story, with the tagline reading 'To the top and beyond,' showing the character's lust for power.

 

The new cast members from Suzuran Boys' High School, known as the School of the Crows, have also been unveiled. Daichi Henry Mikami, a professional martial artist, will be making his acting debut, while Mizuki Itagaki, a popular young actor who has appeared in a number of high-profile films, will also appear. The cast will also include Yuki Tokito, FANTASTICS vocalist and actor Yusei Yagi, FANTASTICS performer Keito Kimura, and singer Yuri Takahashi.  

Another FANTASTICS member making an appearance will be Natsuki Hori. These three members of the up-and-coming group will be participating in the HiGH&LOW series for the first time, so be sure to show them your support!

This film will be a miraculous crossover, bringing together members from THE RAMPAGE, NCT127, BE:FIRST, and FANTASTICS to tell a powerful story, bringing audiences one of the most exciting action blockbusters in history. Will you be watching?

(C)2022「HiGH&LOW THE WORST X」製作委員会 (C)高橋ヒロシ(秋田書店) HI-AX

HiGH&LOW THE WORST X Screenshot Featuring NCT127's Yuta Nakamoto and BE:FIRST's Ryoki Miyama Released

With over 5.56 million people coming to see the films in theaters and box-office revenue of over ¥7.8 billion, the High&LoW film series has inspired audiences around Japan for years. In 2019, the film High&Low The Worst was released as a collaboration with Hiroshi Takahashi's manga Worst and Crows, which have collectively sold over 80 million copies. A sequel, High&Low The Worst X, will be released in theaters nationwide on September 9, 2022.

Kazuma Kawamura (THE RAMPAGE) plays Fujio Hanaoka, a seemingly well-mannered student at Oya High School who has a passion for taking on his enemies in battle. The school is filled with delinquents wanting to take power, each with their own crazy fighting styles. Wanting to challenge the leader of Oya, Yoshiki Murayama, Hanaoka must also get ready to take on the Housen Academy, as the two schools have hostilities yet to be squashed. This sequel will see the biggest showdown in series history on a massive scale never seen before. A new rival, Senomon Technical High School, will appear as well.

Yuta Nakamoto (NCT127) will play Ryo Suzaki, the right-hand man and childhood friend of Senomon Technical High School's gang leader. A loner, he gradually became unbeatable in fights as his physical abilities grew. Before transferring to Senomono, he was known as the 'loner genius' who never spent time with anyone. After reuniting with his childhood friend Amagai, he aims to become stronger with his friend by his side.

Amagai Kouhei, the head of Senomon, is played by Ryoki Miyama (BE:FIRST). A ruthless man, he thinks of others only as pawns in his game. He wants to unite the schools in the area, creating a 'three-school alliance' with Kamasaka High School and Ebara Commercial High School to take down Oya High. 

 

These new photos show off the power and swag that these characters are sure to bring to the big screen. How will Oya High School stand up to the three-school alliance? The most powerful high schools in the history of the series will clash in the film when it releases this September. The characters, action, music, and emotion have all been bumped up when compared to the previous film. Are you ready?

Keep an eye out for more information about the film coming soon. 

©2022「HiGH&LOW THE WORST X」製作委員会

©髙橋ヒロシ(秋田書店) HI-AX

Kin no Kuni Mizu no Kuni Manga Series Inspires Anime Film Starring Kento Kaku, Minami Hamabe

Nao Iwamoto's romance fantasy manga Kin no Kuni Mizu no Kuni (Gold Country, Water Country) will receive an animated film adaptation in the spring of 2023. The manga was voted No. 1 in the female section of the 'This Manga is Amazing! 2017' guidebook and was nominated for the 10th Manga Taisho, coming in second out of 13 nominees. 

The story involves two constantly bickering neighboring countries that eventually go to war, causing God to intervene. Country A is commanded to offer its most beautiful girl as a bride, while Country B is told to send its wisest young man as a groom. While this is going on, the princess of Country A has a chance encounter with a young man from Country B. 

Actor Kento Kaku will play Naranbayar, while Minami Hamabe will play Sarah.

 

Kaku previously played Simba in the Japanese dub of The Lion King. "I was fascinated by the wonderful world of the original manga and the richness of the characters," he said in an interview. "The clumsiness and straightforwardness of Naranbayar and Sarah will surely touch the hearts of everyone who sees the film. I couldn't stop my heart from pounding during recording." 

 

Hamabe previously played Ruri Ichigyo in Hello World and Ellie Ishioka in Detective Conan: The Scarlet Bullet. "My heart was wrapped up in the warm story, and I felt as though I'd been given a share of the character's tender feelings," she said. "What cheered me up when I was stuck was the humanity of Sarah and Naranbayar, the presence of Kento Kaku, and above all, the cuteness of Lukman the dog and Odontchimeg the cat, who appeared in the film. They're so adorable that they made me squirm!"



The new 45-second trailer shows the accidental encounter between Naranbayar and Sarah. The tagline is "What we fell in together was a love that could move nations." 

The trailer is narrated by Soma Saito, a popular voice actor and singer known for his work in Idolish Seven and Hypnosis Mic. He has been an avid fan of Iwamoto's manga since his college days. 

©「金の国 水の国」製作委員会

RADWIMPS Track 'Futarigoto' Covered by Ryotaro Akazawa for CrosSing Cover Project

In March 2022, the cover song project CrosSing was launched. Amassing instant popularity, tracks featured as part of the project have pulled in millions of views, and includes covers by popular voice actors Maaya Uchida, Kana Hanazawa, Akari Kito, and towana, the vocalist of popular ani-song unit fhána. 

 

On June 15, Ryotaro Akazawa appeared to perform his rendition of the popular RADWIMPS song Futarigoto. The actor called the song one of his most memorable, noting that it was one of the themes of his youth. Below, you can see the actor singing his heart out!

 

Futarigoto – Ryotaro Akazawa (Recording)

An interview with Ryotaro Akazawa in which the actor discusses his thoughts on the song will be released on June 17 at 20:00.

 

CrosSing has also announced two special campaigns! The first is a follow and Retweet campaign: two people following the official CrosSing Twitter and TikTok who retweet the appropriate Tweet will win autographs. A LINE MUSIC Playback campaign is also underway, and those playing the song over 300 times in the first two weeks will receive a special autographed image. See the CrosSing Twitter page for more details.

 

With the start of the second season, CrosSing is leveling up! Tune in to see who will be performing next.

'The Tunnel to Summer, the Exit of Goodbye' Anime Film Reveals Release Date, Details

The official website for Shogakukan's anime film of Mei Hachimoku and Kukka's The Tunnel to Summer, the Exit of Goodbye light novel has posted a teaser trailer and teaser poster for the film. The teaser features the two main characters voiced by Oji Suzuka and Marie Iitoyo. 

The original light novel was released in July 2019, and ranked #9 in the bunkobon category of the 2020 edition of Takarajimasha's This Light Novel is Amazing! guidebook.


The story follows Tono Kaoru, who hears a strange rumor one day: The laws of space and time mean nothing to the Urashima Tunnel. If you find it, walk through and you'll find your heart's desire on the other side…in exchange for years of your own life. On the night Kaoru just so happens to find himself standing in front of a tunnel that looks suspiciously like the one the rumor describes, he finds himself thinking of Karen, the sister he lost in an accident five years ago. To Kaoru's surprise, he's been followed by the new transfer student Anzu Hanaki, who promises to help him experiment with the mysterious tunnel–but what does she want from Kaoru in exchange? And what will he have left to give, after the tunnel's done with him?


Tomohisa Taguchi (Akudama Drive, Digimon Adventure: Last Evolution Kizuna) is directing the film at CLAP (Pompo: The Cinéphile), but the website also credits him as the film's scriptwriter and storyboarder, as well as line director alongside Kanji Miyake. Tomomi Yabuki (Pompo: The Cinéphile animation director) is the character designer and chief animation director, with Yabuki, Seiji Tachikawa, Akio Hasegawa, and Yasuhisa Kato as animation directors. Oji Suzuka will play Tono Kaoru and Marie Iitoyo will play Anzu Hanaki.

 

The 30-second teaser trailer features a flurry of emotional lines from the two main characters: "I'll get you back from that summer," "This is a secret between us," and "I thought we could leave this world behind." What is the truth behind the tunnel? You'll want to see this beautiful film to find out.

 

Teaser Trailer

Harumi Fuuki (Miss Hokusai, Forest of Piano, Tsurune) is composing the music. The pianist and composer graduated at the top of her class from Kunitachi College of Music, where she majored in composition. Over the years, she has composed music for over 30 TV series and anime series. She is the youngest-ever winner of the 36th Japan Academy Prize for Best Music Award, winning for the film Chronicle of my Mother in 2011.

 

The teaser poster features a new visual created by illustrator Kukka, who worked on the original light novel. Those buying advanced tickets will receive a clear folder with the new poster image. 

The light novel will be published in English on May 10, and the first volume of the manga series is set to release in the west on July 26.

See you at the theater in September!

©2022 八目迷・小学館/映画『夏へのトンネル、さよならの出口』製作委員会

Information

The Tunnel to Summer, the Exit of Goodbye

In Theaters September 9, 2022

Official Site: https://natsuton.com/

'Alien Artist,' Winner of Best New Director at Kanazawa Film Festival 2021, Released

The Kanazawa Film Festival aims to 'promote Japan's countryside culture to the world.' The event held from September 18 to September 20, 2021 marked the 15th anniversary. In addition to staging special works each year, the festival has an established reputation in the film community for its 'New Directors with Promising Talent' program.

The film Alien Artist was directed by Seiyo Hotani, who took home the promising director award in 2020. Given the excellent critic feedback for the movie, it has been decided that Alien Artist will be officially released this spring. Hotani is a university student studying philosophy at Kyoto University, and his directorial work certainly shows off his knowledge on the subject. The film was entirely shot in Kanazawa and Kaga, Ishikawa Prefecture.

Alien Artist inspired viewers with its bizarre storytelling and display of ideology and philosophy. If you could eradicate all of the 'evil' people on Earth, would you? Who decides who is evil? The movie follows a number of unique characters, each with their own personal stories and motivations, as the world faces destruction and rebirth. 

Alien Artist

Runtime: 90 Minutes
Release Year: 2021
Director: Seiyo Hotani
Script: Hifumi Keihan
Executive Producer: Ikuya Onodera
Cast: Kunihiko Watanabe, Yuuritsu Maruyama, Ryofu Karuma, Rui Kiriyama, Shigeo Osako, Jirou

Information

Channel 47

Channel 47 made a splash at the 2021 Kanazawa Film Festival by producing the short video 'HAKKEN -in Kanazawa Movie Festival.' Check it out at the YouTube link below.

Title: HAKKEN -in Kanazawa Movie Festival-

YouTube: https://youtu.be/ewrScVKQGXY

RADWIMPS Releases Music Video 'The Last 10 Years' Theme Song, 'Uruubito'

The Last 10 Days opened in Japanese theaters on March 4 and has taken the country by storm over the last two weeks, becoming the #1 film on its opening day and pulling over ¥300 million in its first three days. Now, the music video for the film's theme song, Uruubito, has just been unveiled!

This music video was directed by Michihito Fujii, who also directed the film. Fujii also reunited the actual film crew. Kentaro Sakaguchi, who starred in the film with Nana Komatsu, also appears in the music video. The video was inspired by the film, and shows Kazuto and Matsuri retracing their memories from Kazuto's perspective. 

The gorgeous music video almost feels like a sequel to the film, blending footage of RADWIMPS frontman Yojiro Noda with Kazuto's beloved memories of the past 10 years. The video also features unused footage from the film and stills by cinematographer Keisuke Imamura!

Uruubito – RADWIMPS (Music Video)

Comment from Kentaro Sakaguchi

"When I first heard the song Uruubito, I felt the urge live my life well–to become a person worthy of Mari. The song inspired me to focus more on Kazuto's feelings, so being able to participate in the music video felt like a fitting way to end this project…I don't know if that's the best way to put it, but that's how it felt.

I was happy to see a different ending for Kazuto. Tracing his memories with Matsuri made it feel like she was with him again. On the first day of shooting, the director played Uruubito in front of the original author, Kosaka Ruka's grave. I felt her say "thank you for letting me be next to you," and it proved to me that she still lives in the story. I almost couldn't hold my feelings back when I saw RADWIMPS actually playing the song. I was so happy that we could all come together again to make this video.

I hope that both those who haven't seen the film and those who have can come together and enjoy this song together. Remember Matsuri's story."

Comment from Michihito Fujii

"When Noda-san asked if I would shoot the music video of Uruubito, I was so thrilled. I don't think there was any part of Kazuto's life that couldn't be portrayed in the movie, but I thought this video would be a way to show his life after the events of the film. 

The staff consisted of the same team that worked on the film, and the scenes of Noda-san's performance were shot on 16mm film. The road that you see Kazuto walking on was filmed at the same location that appeared in the film. We were aware of the many overlapping locales, like the hill where they watch the sunset, the bridge where they watch fireworks, and Kazuto's room. The art director rebuilt Kazuto's room exactly how it was–it was taken down after filming ended six months ago. 

Noda-san visited the ocean, the mountains, Kazuto's apartment–all of the places that meant something to Matsuri and Kazuto.

I was impressed by the respect he showed to every aspect of the work, including his desire to visit the grave of Kosaka Ruka, the author of the original work.

I hope that those who have seen the movie once will see this music video and want to see the movie again. Even if you haven't seen the movie, I would be happy if this video inspires you to learn more about Kazuto's story."

Comment from Yojiro Noda (RADWIMPS)

"When the idea of shooting a music video for Uruubito came up, I asked Fujii-san to shoot it. In my mind, it wouldn't be right to have the film's story and the music video's story told by two different people. 

For the filming, we wanted Sakaguchi-san to participate along with the actual film crew. It was a strangely uplifting experience, as if I were being transported into the film's world. When I went to the rooftop of the apartment where Kazuto lives and to his room, I was so excited as a fan of the movie that I took a ton of pictures. There are so many incredible scenes shot in his apartment.

Just before the shooting date, the director asked for additional shooting in Mishima, and I had the opportunity to visit the hometown of Kosaka-san, the original author of the film. I was so thankful to be able to visit her grave and greet her family members between shoots.

I'm sure that I will watch this music video countless times, and each time I watch it, I will remember the movie 10 Years to Live, Matsuri and Kazuto, and Kosaka-san. I hope that I can share my strength with all of you going forward and that this work will become a part of your daily life." 

©2022映画「余命10年」製作委員会

Kenji Kamiyama Unveils Bonus Gift for People Seeing 'Eien no 831' in Theaters

Animation director and screenwriter Kenji Kamiyama, who has produced numerous masterpieces such as Ghost in the Shell S.A.C. and Eden of the East, is about to premiere his original feature-length anime film Eien no 831 on WOWOW and in select theaters around Japan.

 

The film will premiere in theaters on March 18, and those showing up to theaters will receive a limited-edition bonus gift! A Special Guidebook will be given to theatergoers at 36 theaters nationwide. 

These guidebooks are not for sale and were produced in limited quantities only for this theatrical release. The 26-page, full-color book is a must-read for fans and includes interviews with cast and staff members. 

Story


In the present day, the world is in turmoil due to an "unprecedented disaster.

A young man living in Tokyo, Suzushiro, has a secret he cannot tell anyone. That secret is that he can stop the time around him despite his thoughts.

One day, he meets a girl named Nazuna who has the same "power". When he learns that she is being used in a crime, he impulsively reaches out to help her.

'The Last 10 Years' Soundtrack by RADWIMPS Now Streaming

The soundtrack for the upcoming film The Last 10 Years is now streaming. Both the film and soundtrack were released on March 4, and fans of RADWIMPS can now enjoy all 29 powerful tracks on iTunes, Spotify, and other major music sites.


The Last 10 Years is an adaptation of Kosaka Ruka's novel of the same name. The members of RADWIMPS have expressed pure joy over being invited to provide the musical accompaniment for the film. 

Yojiro Noda worked on the film's soundtrack after reading the script. Nana Komatsu, who plays Matsuri, commented on the soundtrack. "I listened to it every day on the road, and it really gave me a sense of power." Kentaro Sakaguchi, who plays Kazuro, said that the lyrics of the film's theme song Uruubito was written from a uniquely Japanese perspective. The band's music had a profound influence on the director and cast.

"Without a doubt, being involved in this work has changed my life forever," said Noda. "I hope that the lives of the viewers will change as well."

©2022映画「余命10年」製作委員会